HyperWrite AI Review: A Viable Alternative to Jasper?
Last Updated on May 17, 2023
We've witnessed an explosion of AI-powered writing tools over the past couple of years, and it's hard to keep up. Which one is best for your use case? And how do they stack up against each other?
Among all the fantastic options out there, we have HyperWrite, a powerful AI writer that brings some unique features you won't find anywhere else.
In this HyperWrite AI review, we'll take a deep dive into features, costs, and, most importantly, performance, so you can decide if it's right for you. Plus, we'll be asking the big question: Can HyperWrite really compete with the reigning champ of AI writers, Jasper AI?
And if you're in the market for an AI writer, here's some more reading material:
Let's find out!
What is HyperWrite AI?
HyperWrite AI deems itself your "personal AI writing assistant," designed to make writing content faster and easier with the power of AI.
The app was born in 2020 as an email writer but has since grown to handle all kinds of writing tasks.
How Does HyperWrite Work?
HyperWrite works like most other AI writing tools.
The underlying AI-powered software (powered by GPT technology) has analyzed billions of pages of writing and has learned how to not only understand human text but also write convincingly human-sounding text based on a prompt.
On top of that, the AI tool provides tools designed to create specific types of content, like LinkedIn posts, email subject lines, or blog post introductions. All you need to do is describe the topic and tone you want the AI writer to follow as they write the content.
That all sounds great, but how does HyperWrite perform? That's the focus of the next section.
HyperWrite AI: Full Review
I can't write a good review without diving in and testing the app under real-life conditions. Here's what I found when I actually used HyperWrite to create content.
Platform Overview
After I created my free account and logged into the app, I was taken to a dashboard that is eerily similar to Jasper AI.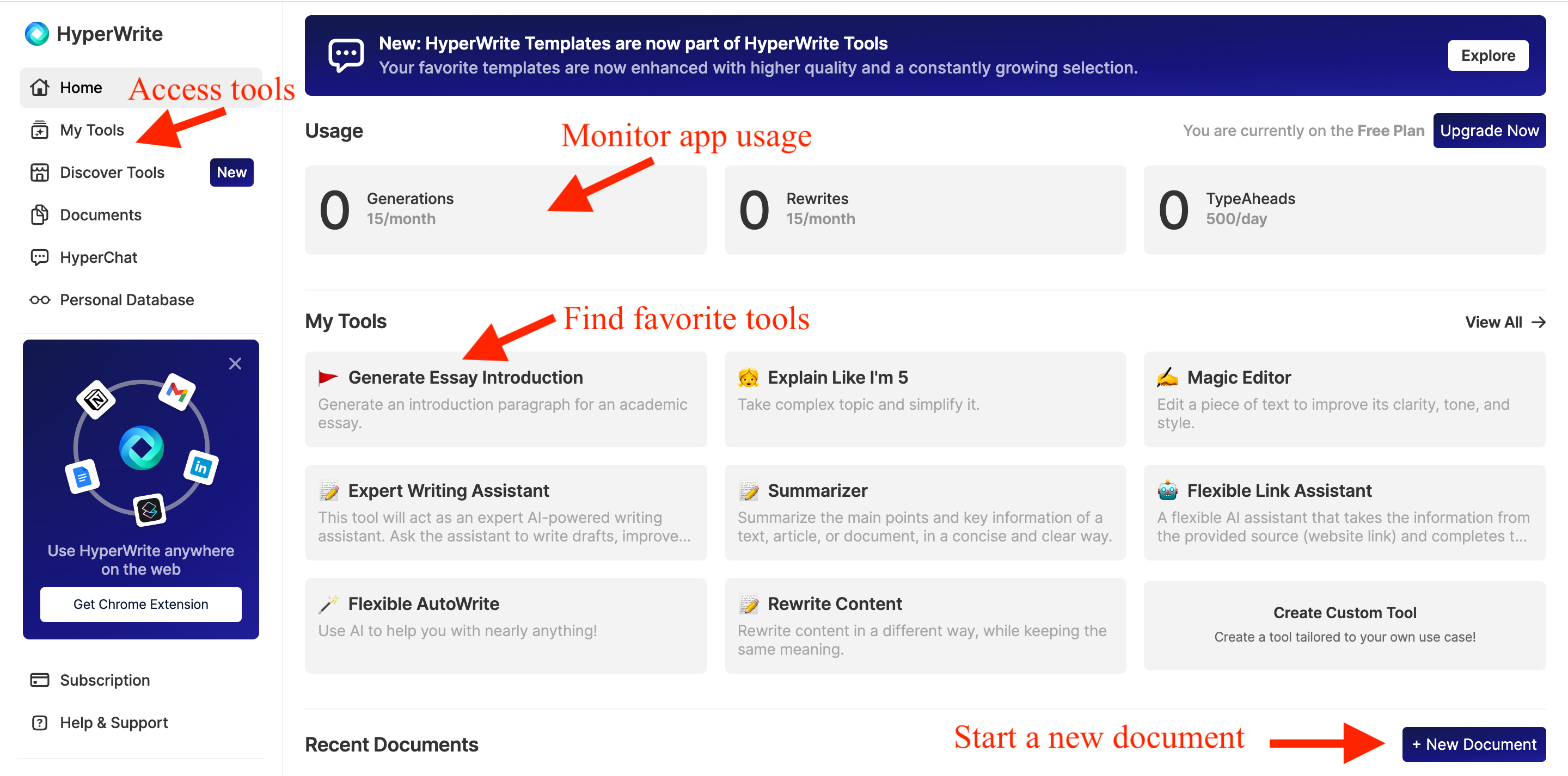 (By the way, if you want to see how Jasper AI performs, check out my full-length Jasper AI review.)
On the left sidebar, you'll find links to all the main pages:
Over on the left, you have your usage stats for the month, your favorite tools, and a list of recent documents.
Next, I started testing the tools to see how they performed.
I Tested The Top Features – Here's How They Performed
1. Long-Form Editor
Opening up the long-form editor, I found it very similar to the Boss Mode Editor in Jasper or other similar document editors in AI writing apps.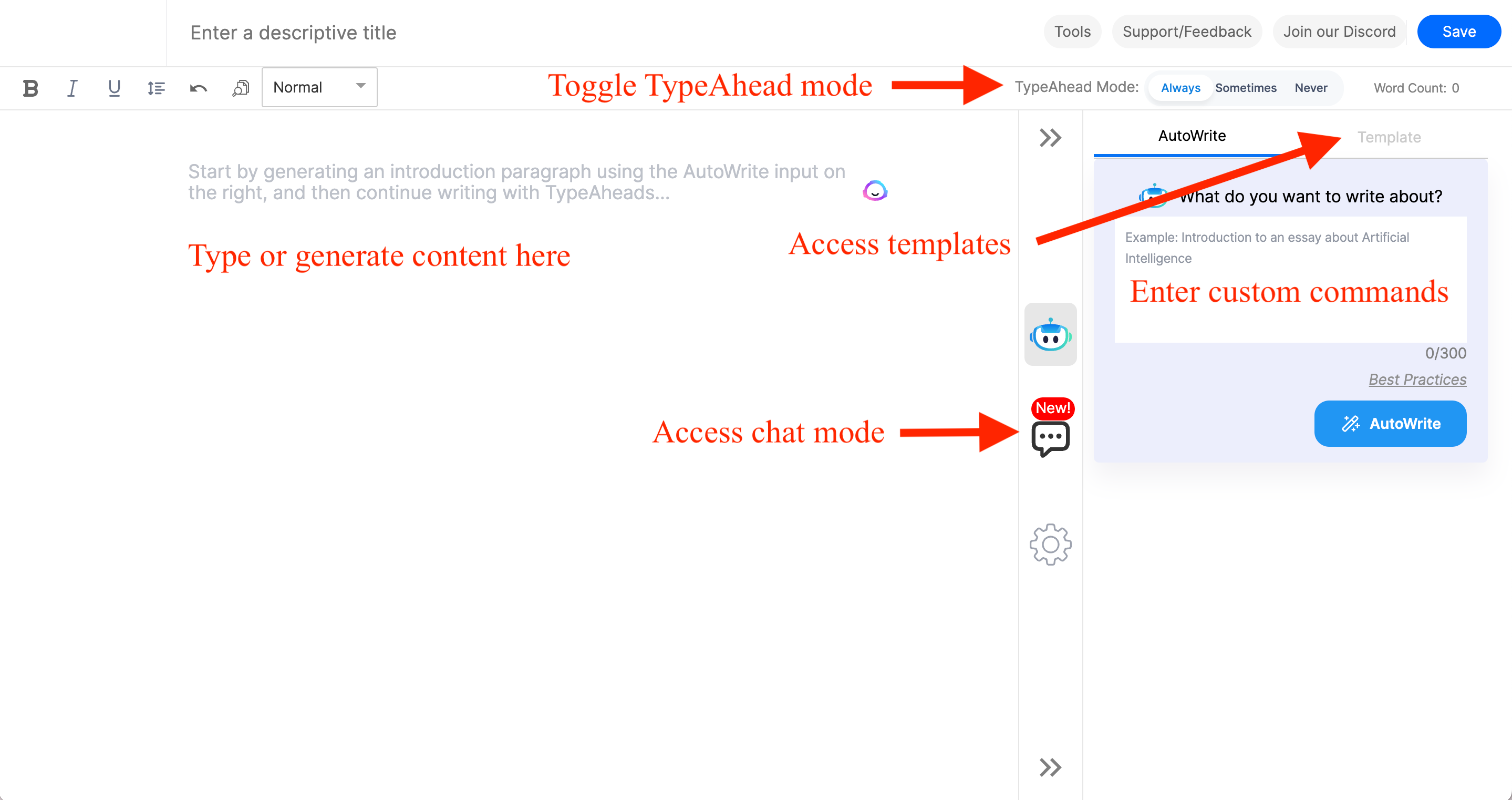 You can generate text in three ways: with custom commands (called AutoWrite), using tools, or by chatting with the AI bot Hyper in HyperChat mode.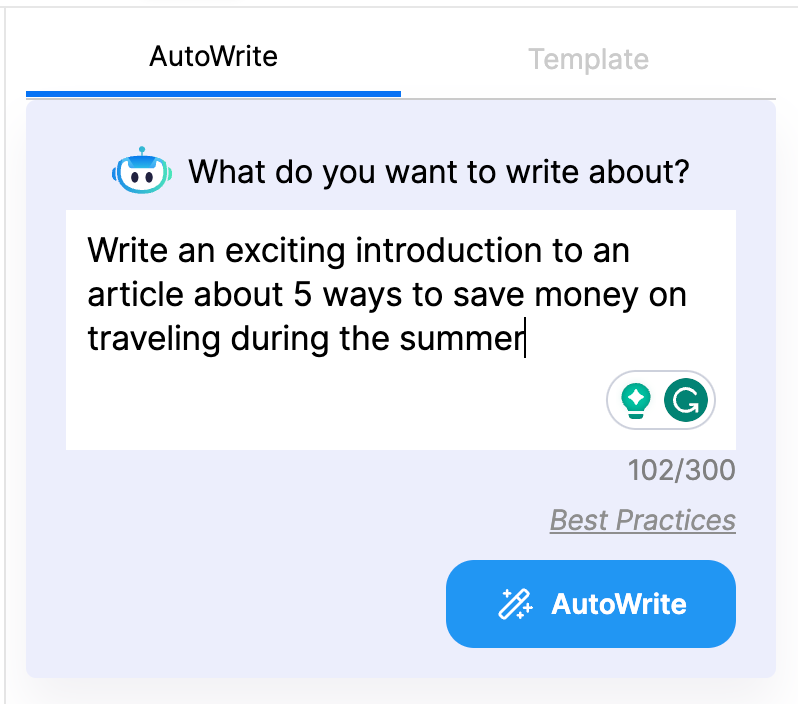 Each command I entered gave me 5 different text options to choose from and paste into the document window. It was fairly easy to use.
I clicked on the gear icon in the corner, which took me to a page called Personalize Hyper. Here you can add more context, set sentence length, and add other settings for the document.
As I typed out a few words, I discovered HyperWrite's unique TypeAhead feature. Every time you stop typing, Hyper will suggest the next few words to add. It took a couple tries to get used to, but it saves a lot of time while writing.

Besides this, the long-form editor had most of the same features as other AI writers.
Next, I tried some specific tools.
2. Blog Post Titles
Within the blog post titles tool, I asked for some titles about AI writing tools. I could've given more details for a better response, but the quality was not bad at all.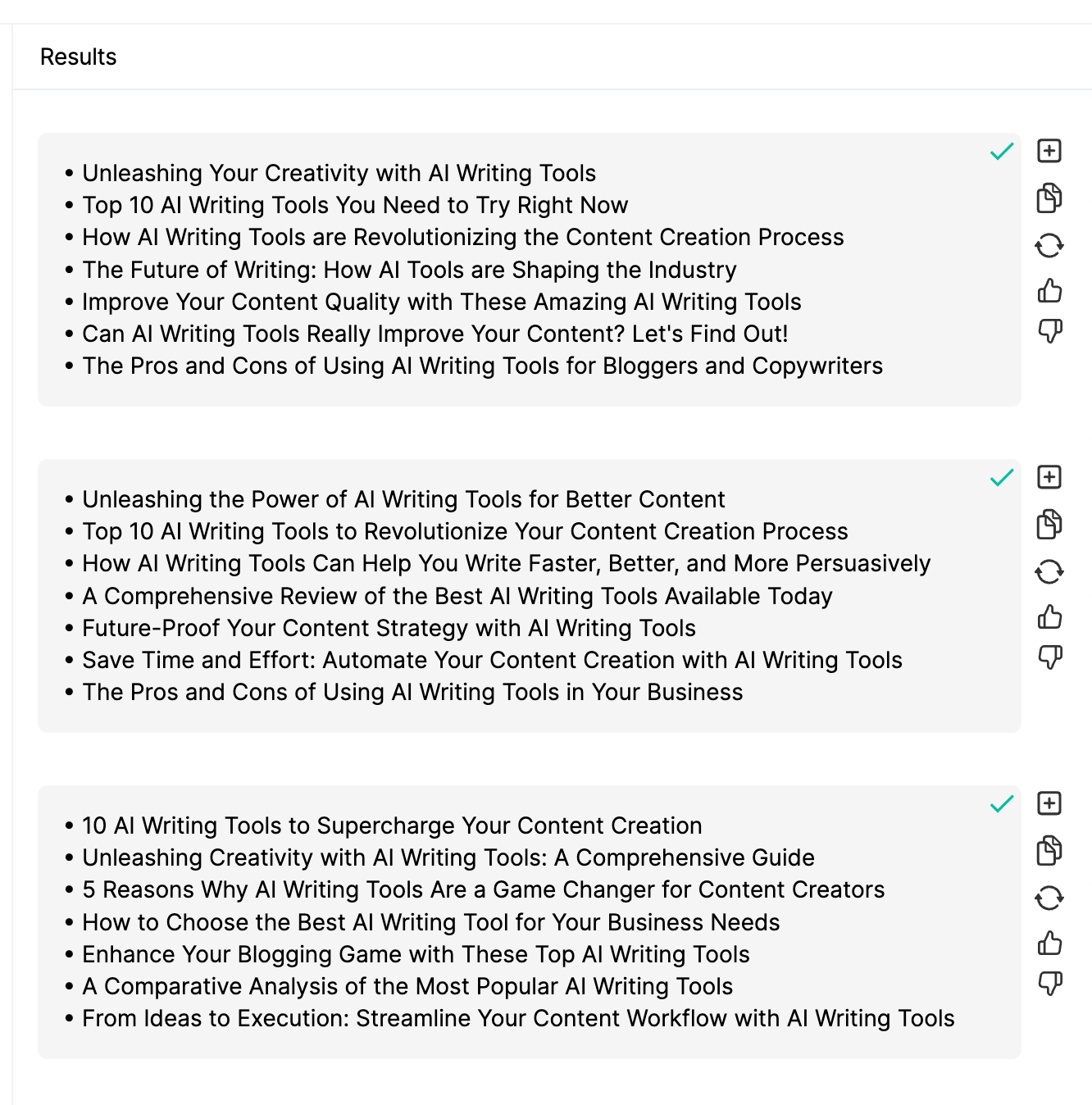 3. LinkedIn Post
Next, I tried the LinkedIn post feature to see what the tool would produce.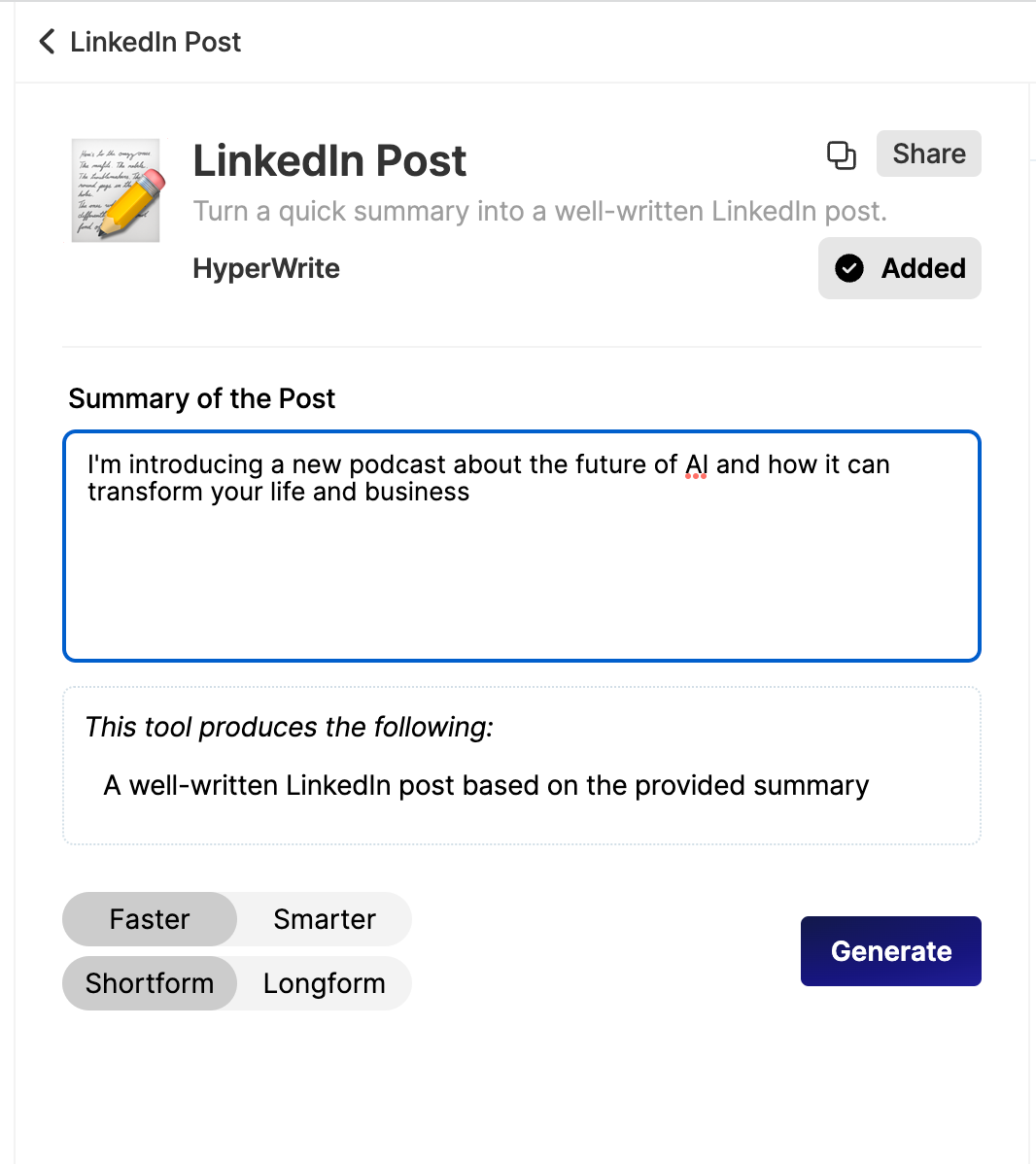 Here are the samples it gave me.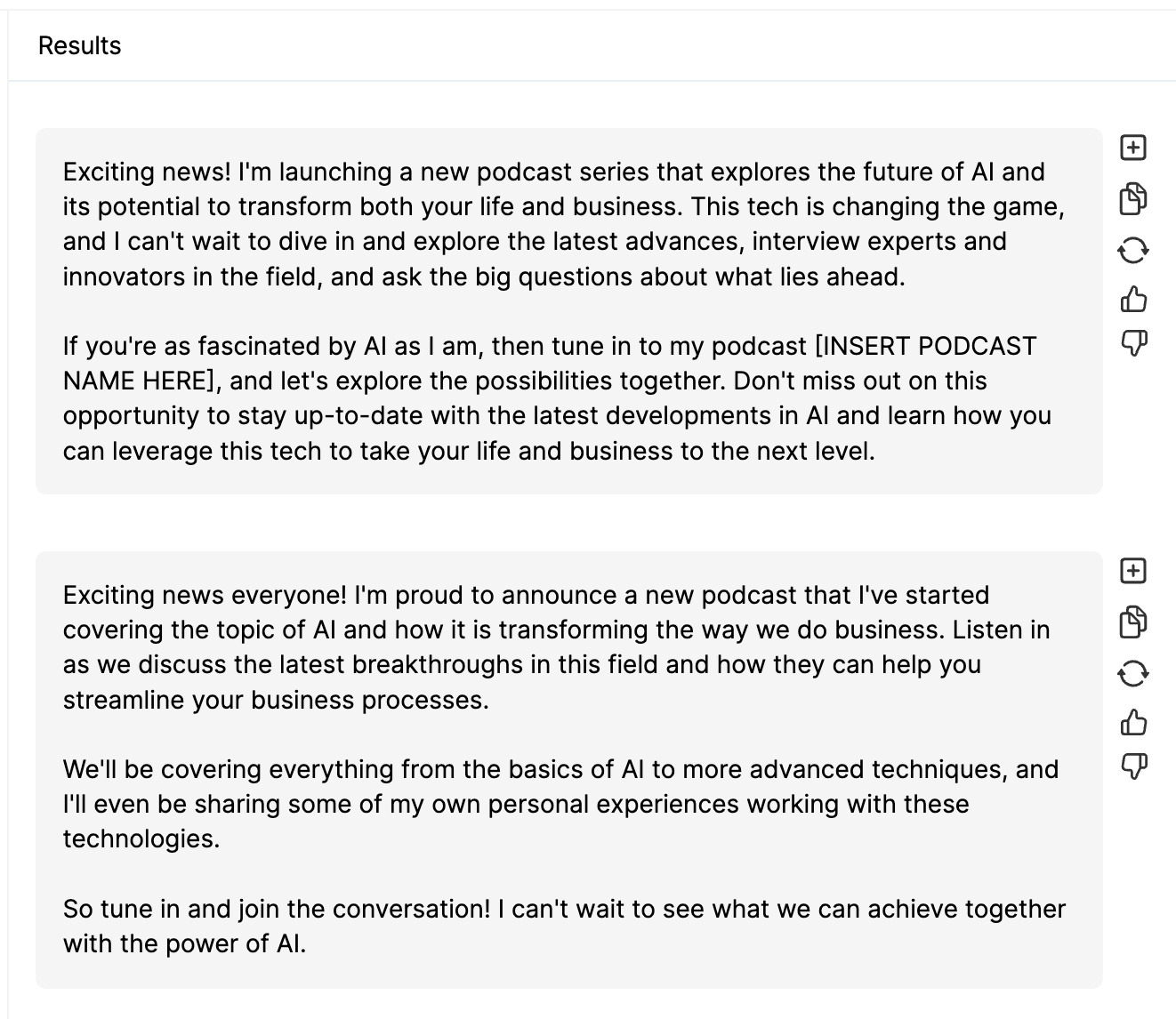 I found them to be pretty good as-is. I could definitely see myself using them (except I'm not actually starting a podcast).
4. Outline to Blog
Next, I tried a tool that's super helpful for bloggers—the Outline to Blog feature.
I gave the tool a custom outline I created about how to use an AI writer with success.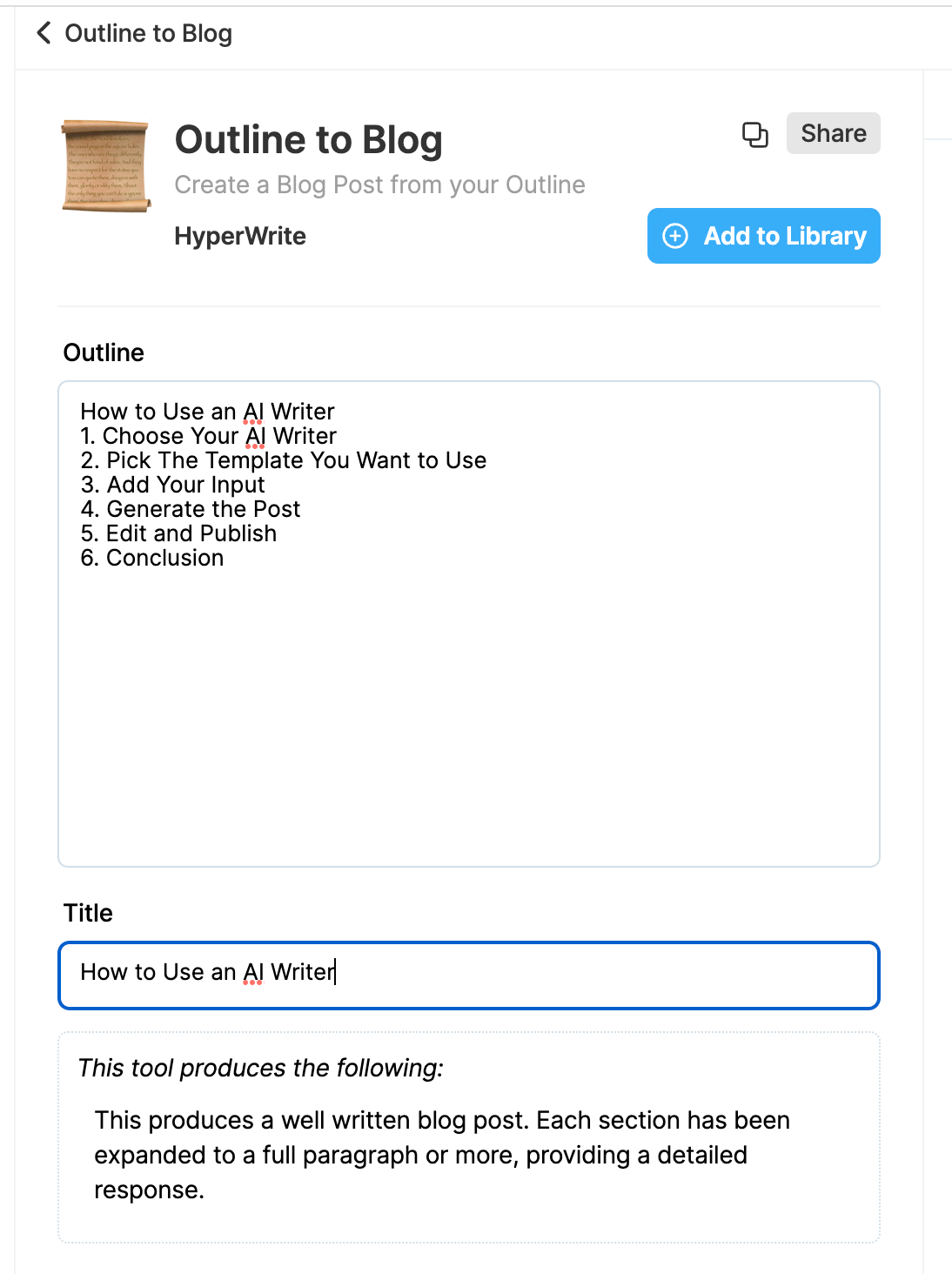 And it generated a great blog post, but it was really short.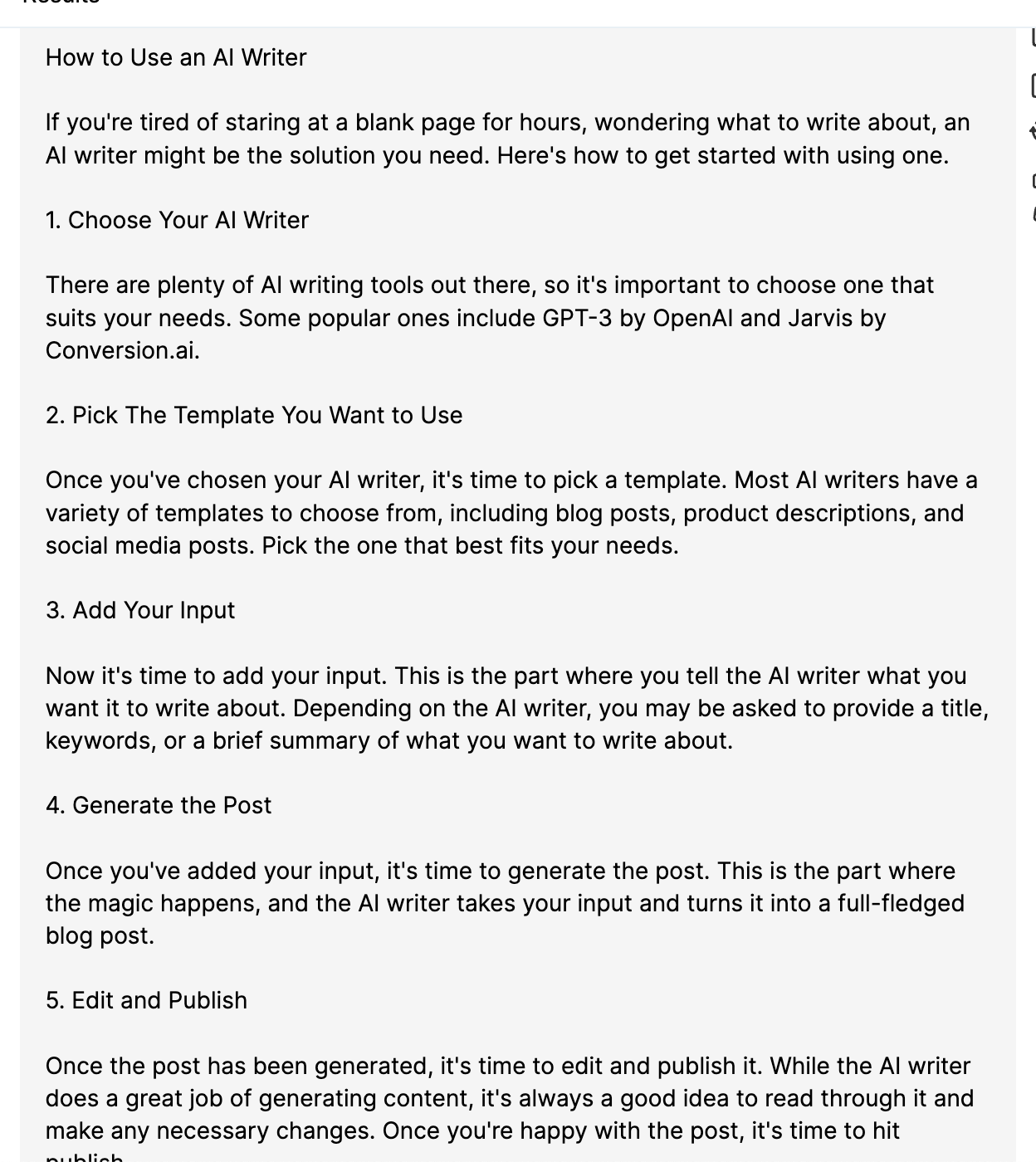 I noticed that I had some options at the bottom of the page to tweak the results.
I tried the "Smarter" option, which HyperWrite said would take more time, but generate a higher-quality result. Here's what it gave me.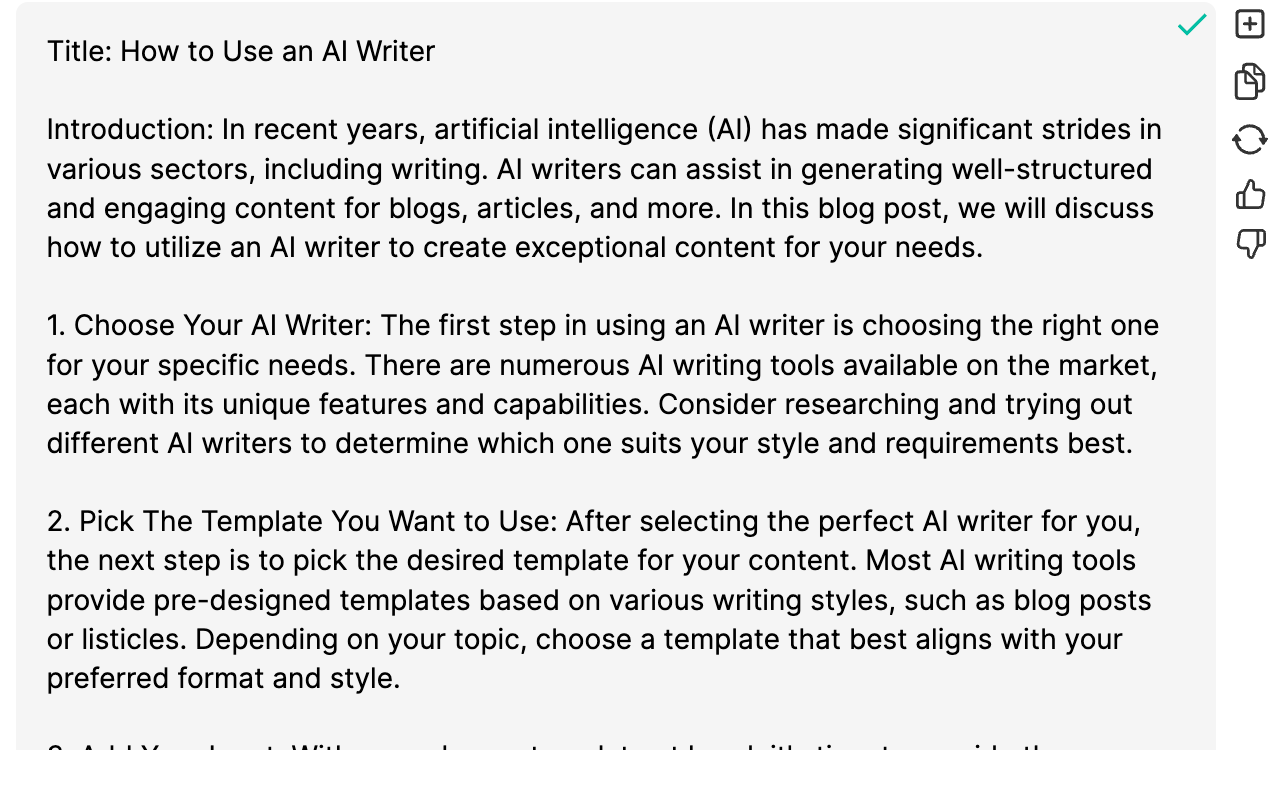 This one sounded too fancy, like it was trying to use too many big words. But the writing was certainly a bit more interesting.
Next, I switched it back to the "Faster" mode (which produces simpler writing), and changed it to the "Longform" setting instead of "Shortform." (HyperWrite says that this mode gives you longer content but only one variation per generation.)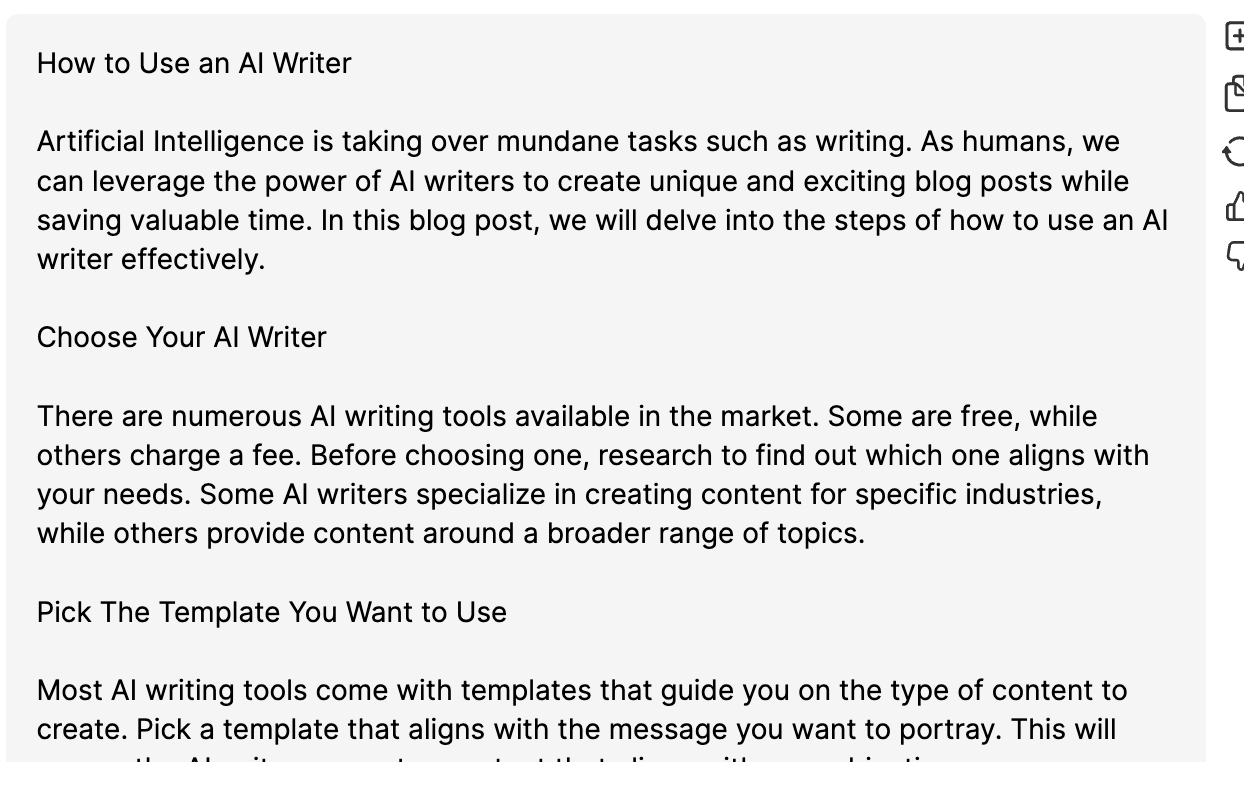 I expected a much longer article, but it was only slightly longer than the original.
5. Landing Page Generator
Finally, I tried the landing page generator because many other AI writing tools pride themselves on AI copywriting.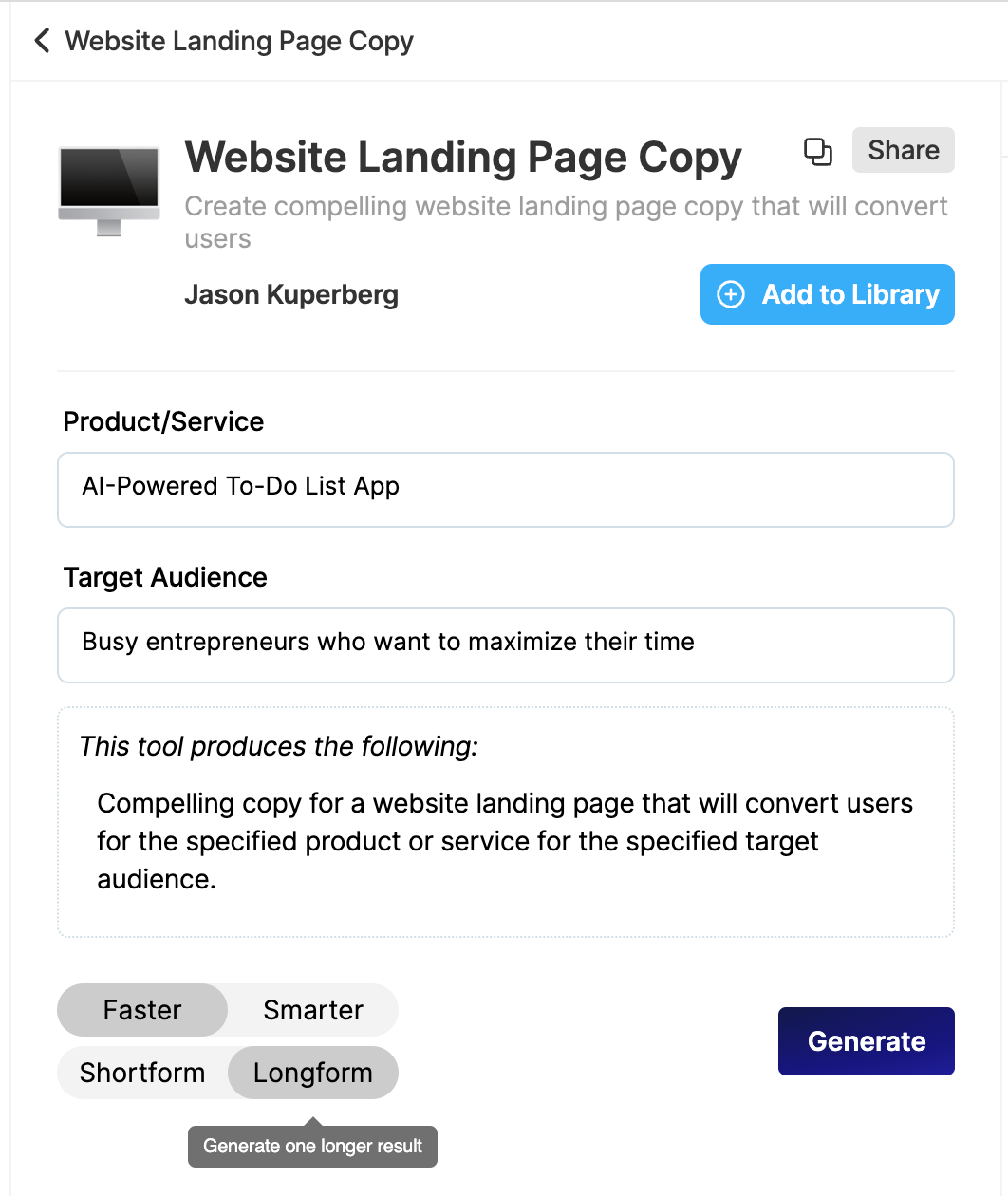 This tool didn't perform as well as the others.

Of course, I could have added more detail to the prompt, but the format and overall length just wouldn't work for a landing page.
What Other Templates Do You Get With HyperWrite AI?
The list of built-in templates at this point is small, though you get a lot more with community-built templates.
Here are some more built-in templates for an idea: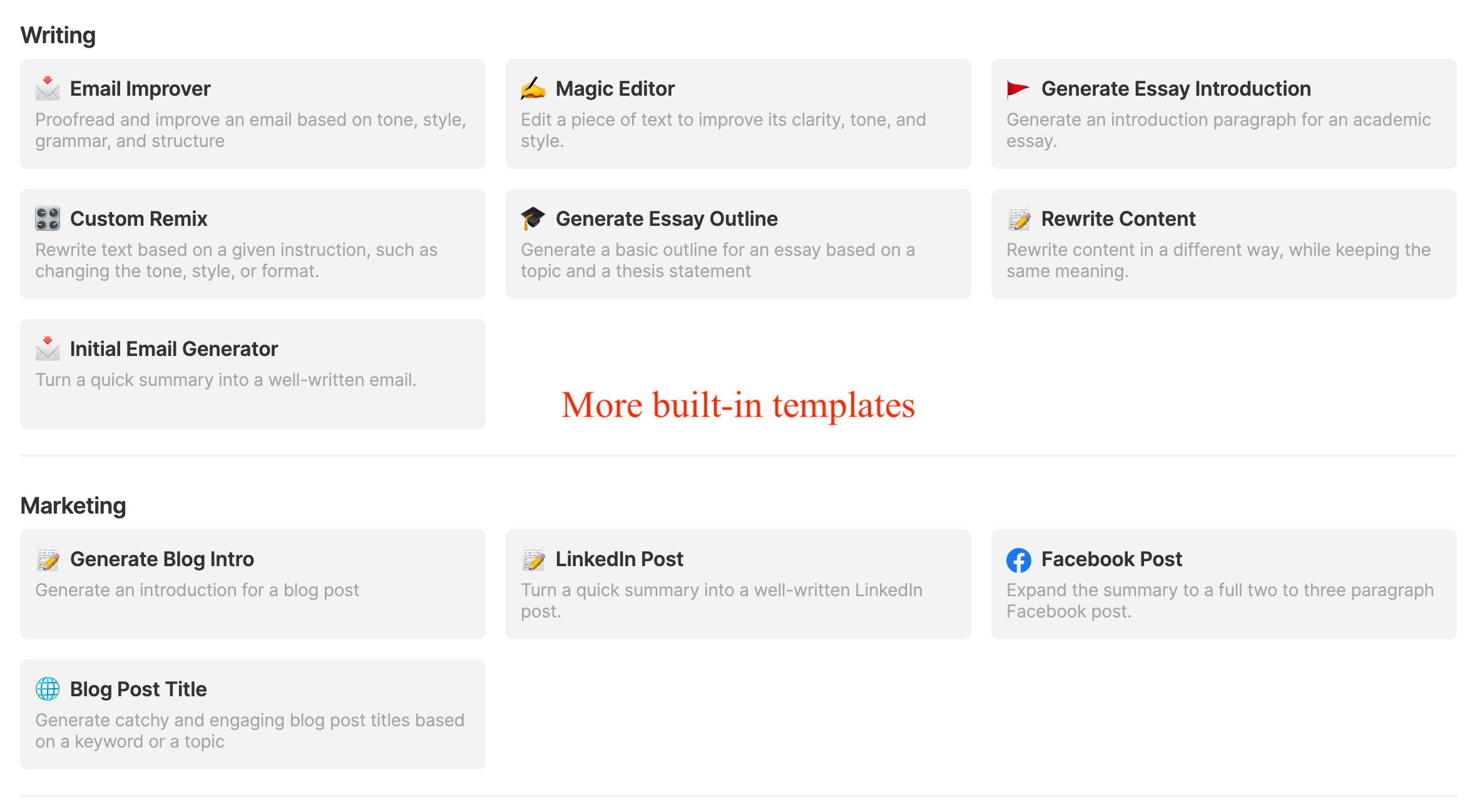 And here are some examples of marketing-focused community templates you can use: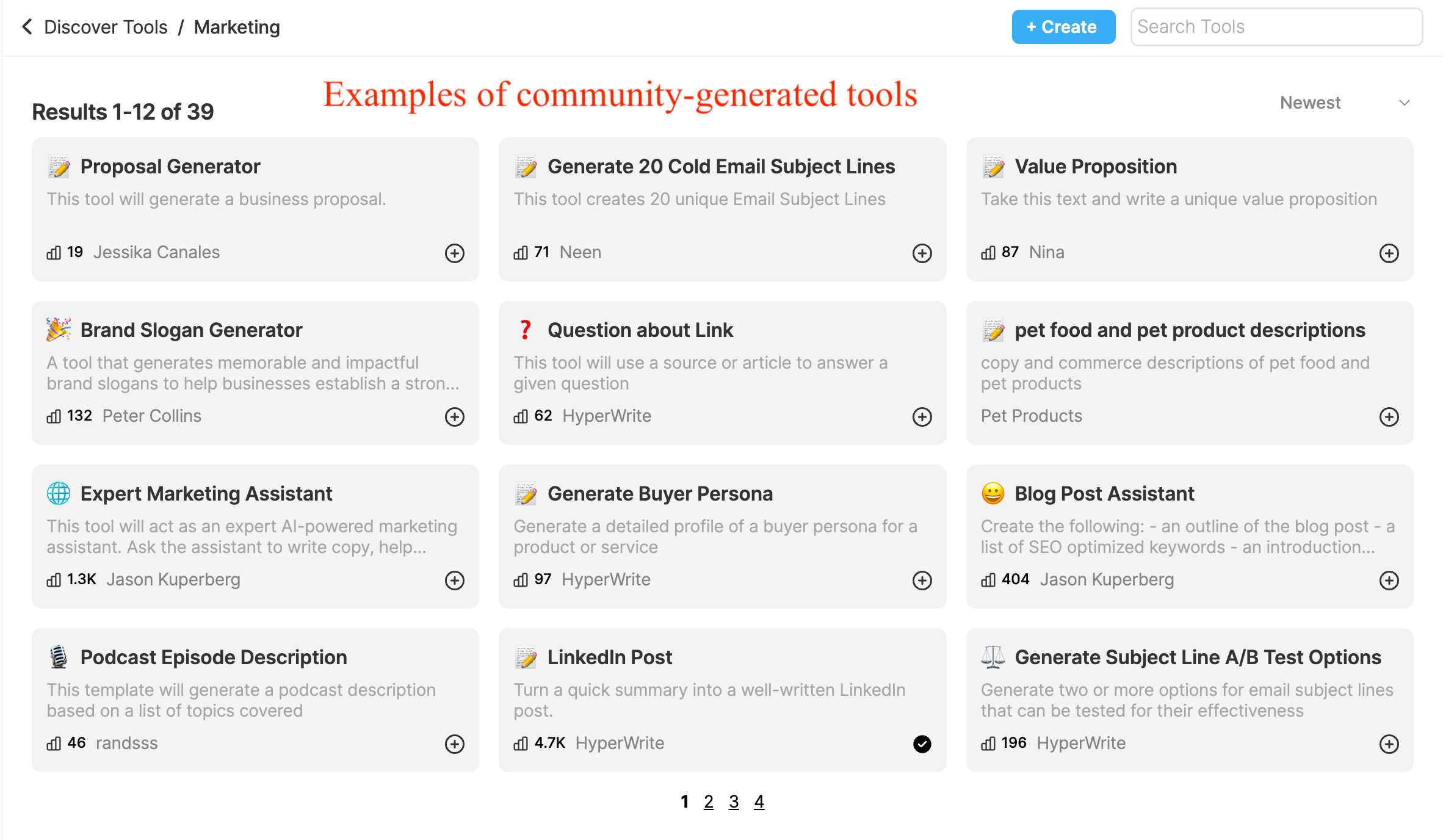 Besides these, you can find tons of other templates for other categories.
What Does the HyperWrite AI Chrome Extension Do?
Installing the HyperWrite AI Chrome Extension gets you some extra features:
It's a huge benefit if you enjoy using HyperWrite, and really adds to the overall usefulness of the tool.
HyperWrite AI Costs
HyperWrite's paid plans start at $20 per month for unlimited generations and TypeAheads. You can upgrade to the Ultra plan at $45 per month for extra memory and longer inputs.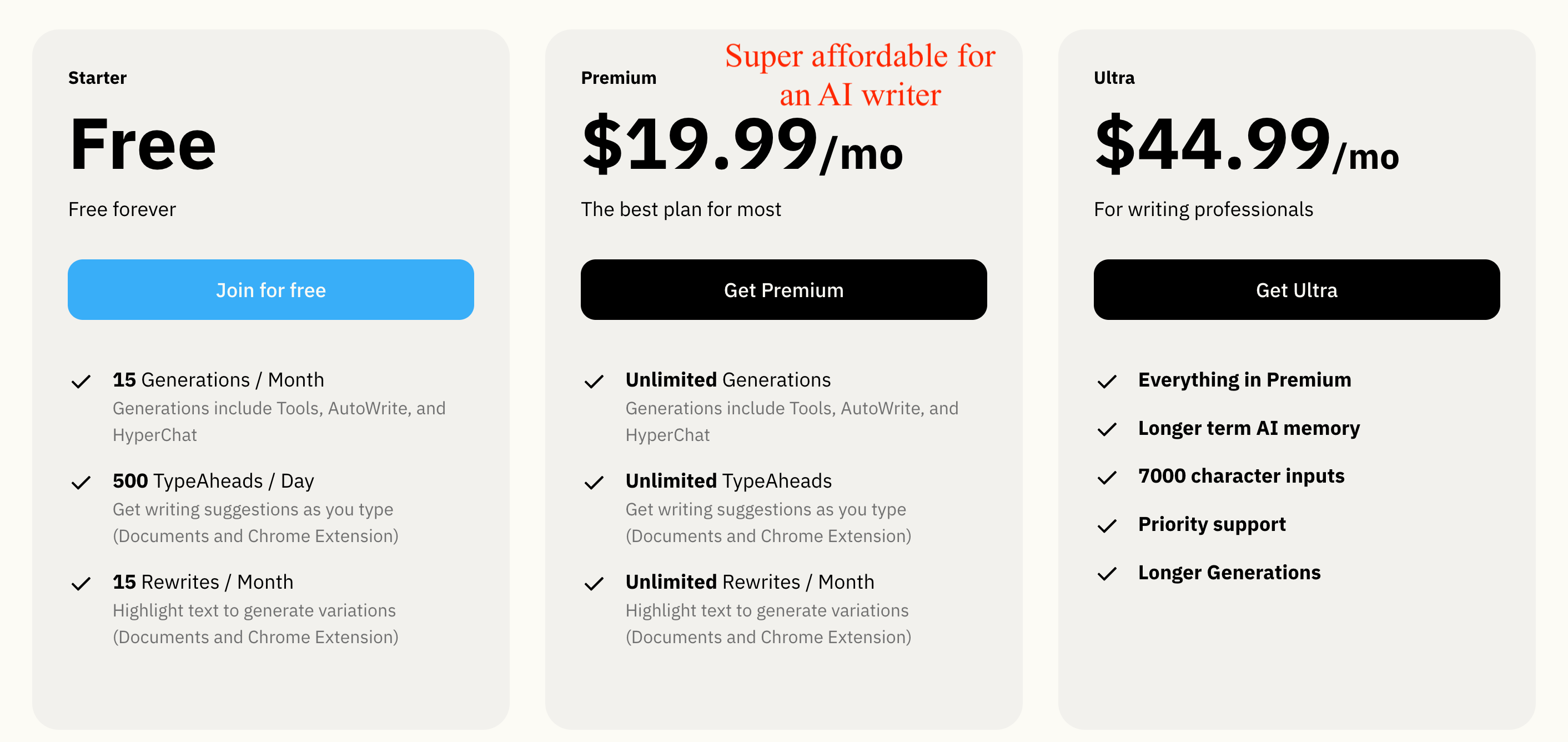 $20 a month for unlimited characters makes HyperWrite one of the most affordable AI writers out there.
HyperWrite Pros & Cons
With all the other platforms I've tested, here's where I think the overall strengths are for Hyperwrite:
Here's some of the letdowns:
Hyperwrite Alternatives: AI Tools Compared
HyperWrite AI vs. Jasper AI
Here's how HyperWrite stacks up to Jasper:
HyperWrite vs. Copy AI
HyperWrite vs. Rytr
My Take Home
Some of HyperWrite's features are unique and innovative. But overall, the AI-powered writing assistant doesn't quite hold its own over industry standards like Jasper or Copy AI. However, if you're looking for an affordable AI writer with community-built templates and a similar feel to Jasper, you should definitely check out HyperWrite.
Frequently Asked Questions (FAQs)
What do you get with the free version of HyperWrite AI?
The free version gets you 15 generations and 15 rewrites per month, and 500 TypeAheads a day.
Can you use HyperWrite AI inside Google Docs?
If you install the Hyperwrite Chrome Extension, you can use it inside of Google Docs.
What's the best affordable AI writing assistant available now?
I recommend Rytr, HyperWrite, or WriteSonic.