9 Best AI Design Software to Level Up Your Graphic Design
Last Updated on May 23, 2023
Whether you're a website creator, graphic designer, or startup entrepreneur looking to step up your visual game, then it's time to check out the latest AI tools that can help you get those creative juices flowing.
An AI design software can help you do just that- by helping you rev up your creative process and make better designs in less time.
In this article, I'll share the best AI design software you can find based on my own research and testing. Then I'll break down the pros and cons of each tool so you can find the perfect fit for your design needs.
Say goodbye to forgettable graphics and hello to some seriously impressive designs with this comprehensive AI graphic design tool review.
But first, what exactly do AI graphic design tools do?
In a nutshell, they use the power of artificial intelligence to automate some of the tasks involved in designing, from creating layouts based on a prompt to generating images, color palettes, and more.
I'll take a deeper look into how these design tools work later on in this article.
First, let's take a look at my top picks.
Designs AI
AdCreative
Canva
What is the Best AI Design Software?
Here's a quick TL;DR of the platforms I reviewed:
1. Designs.ai
Logos & Branding

Designs.ai is actually a suite of design tools powered by artificial intelligence, including an AI copywriting tool, a video maker, and a regular design maker. When it comes to design, they really offer so many different types of tools, that it's more for businesses looking to make social media content, graphic designs for posters or marketing purposes, and everything in between.
Here are the good and bad of Design AI's tools:
Pricing
Designs.ai has 3 pricing plans: Basic, Pro, and Entreprise, but the pricing wasn't available on the website when I checked it last. You can contact Designs.ai for more information.
Verdict
Designs.ai makes it super easy to design a logo that matches your industry and brand colors, so you can give your business a professional and polished look in minutes.
2. AdCreative.ai
Digital Ads

This AI software is so powerful because it combines two powerful AI features into one: AI copywriting and AI design. In a few clicks, you can generate the copy and creatives for any digital ad campaign you can dream up. Choose multiple layouts and then test them to discover which one performs the best.
Take-home point: If you're looking to generate and design social media content much more efficiently, then AdCreative is likely going to be your go-to.
Here's what's great about AdCreative.ai:
Pricing
AdCreative.ai's pricing structure is a little bit complicated, but essentially, there are 3 pricing levels: Startups, Professionals, and Agencies.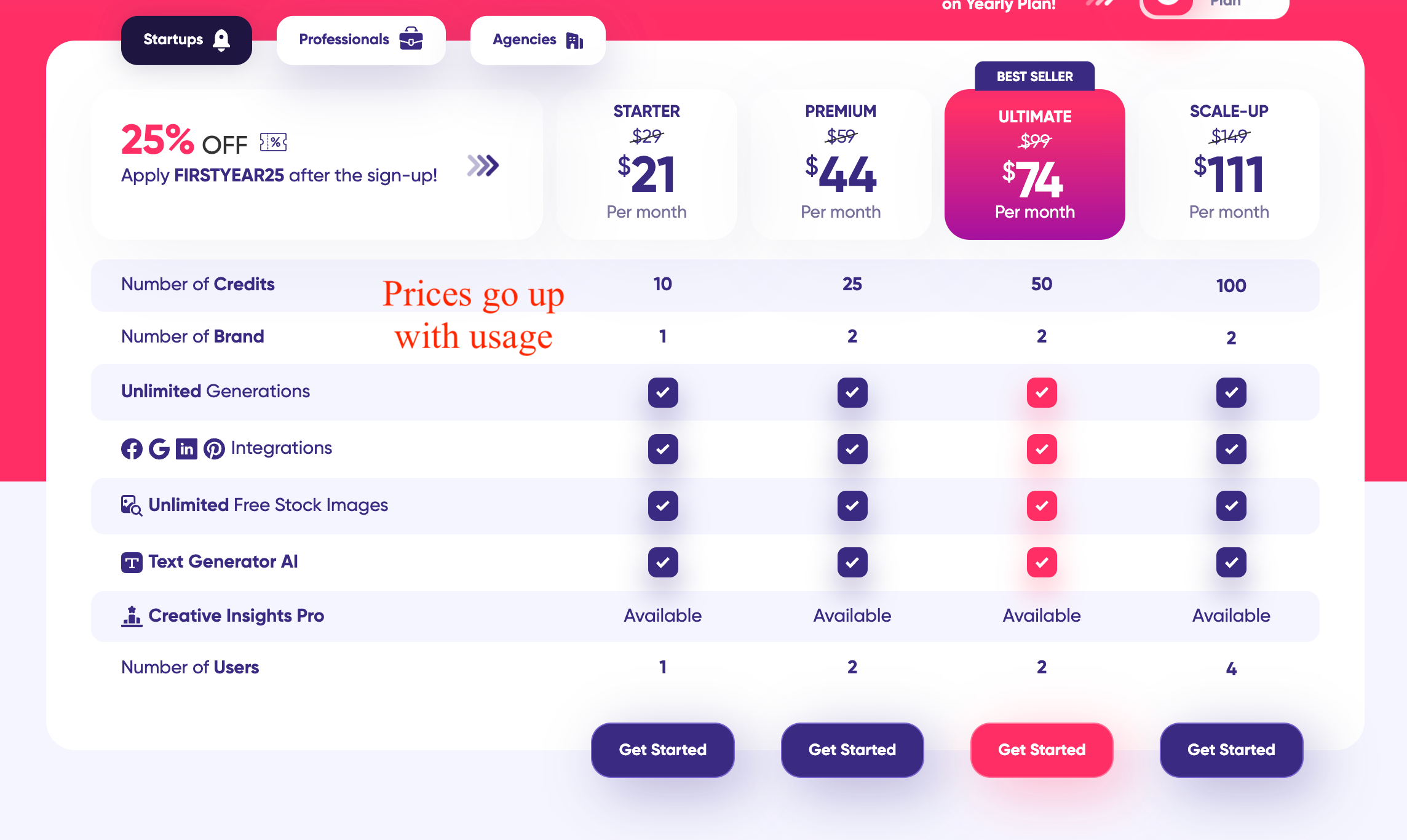 Prices vary based on how many ads you want to create and how many brands you're creating for. Startup pricing levels have 10 to 100 credits per month, while Agency pricing levels range up to 2000 credits for up to 200 brands. (One credit is used to download and use one generated ad.)
Verdict
There's really nothing else like AdCreative.ai, so if you need to create multiple creatives for your ad campaigns across various socials like TikTok and Insta, it's definitely worth a try.
3. Midjourney
AI Art Generator

Among all the hype around AI art generators, Midjourney is the one art generator that really stands out. Its clean, crisp images look like real photographs, paintings, or illustrations.
I've had a ton of fun playing with this program and used it to create a three-canvas poster series for my office. If I gave you a Midjourney picture and an artist picture, I willing to bet you would not be able to tell the difference (like the AI art that won a competition).
Simply type in "Create me a 4k photo of a colorful Phoenix, flying after being reborn from the ashes amid a black background", enhance the version you like, and you have a stellar photo in minutes. You can see more of my Midjourney trials in my post, best art generators.
Here's what you get when you use Midjourney:
Here are some examples of images generated by Midjourney users: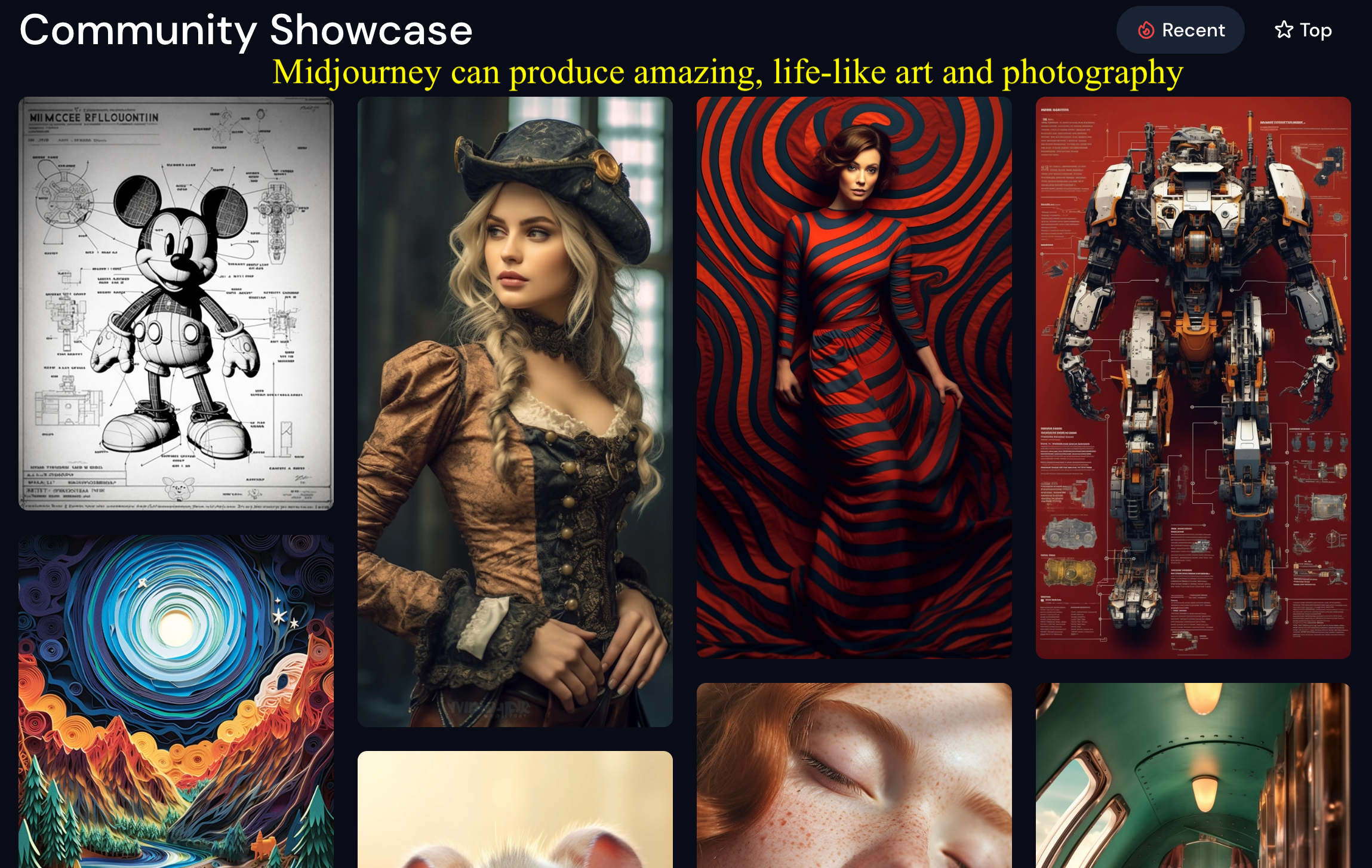 Pricing
Midjourney offers a free plan, but it's not always available due to high demand. If you want to pay for a subscription, you can pay a monthly fee for access.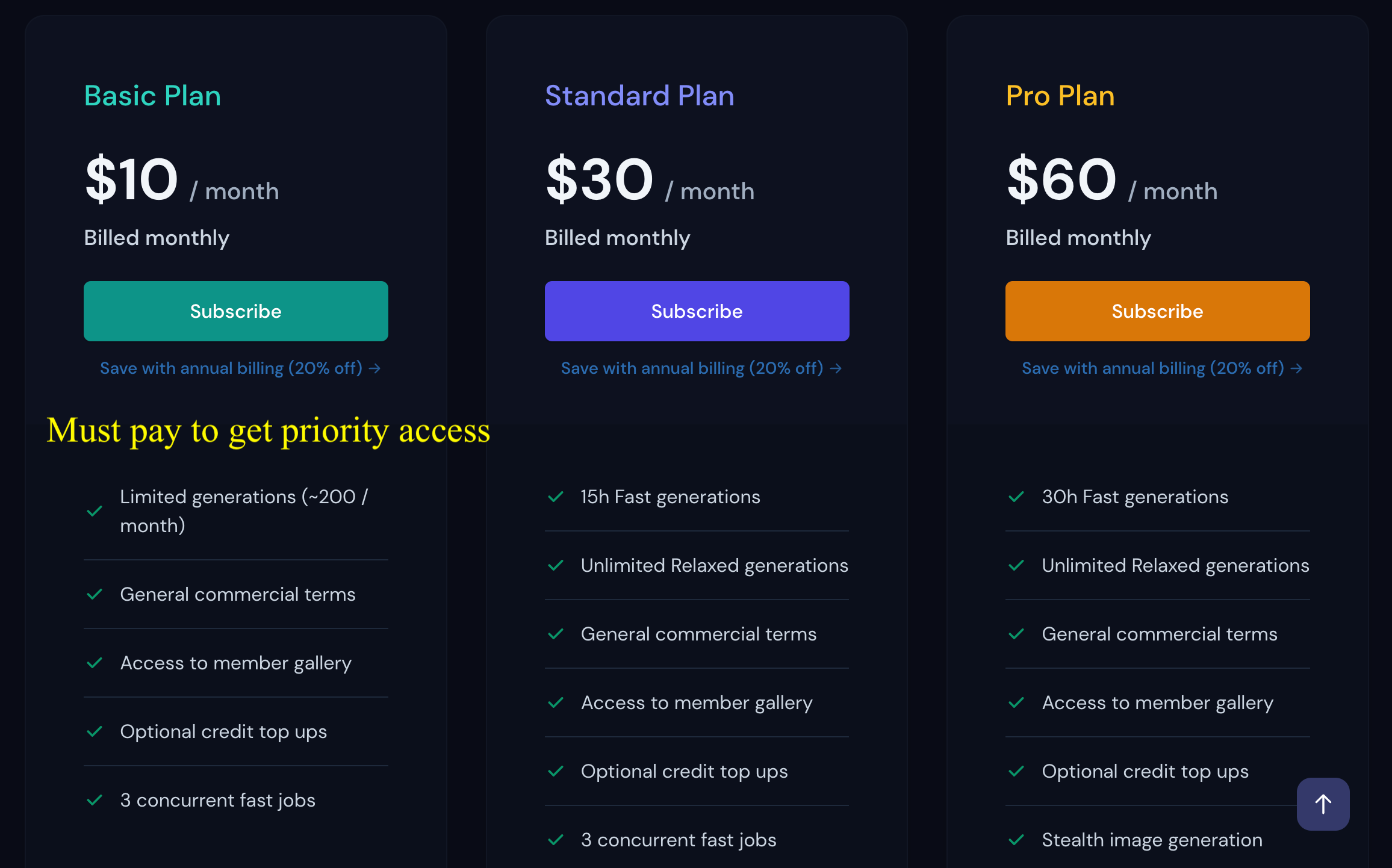 Verdict
If you want to create breathtakingly life-like yet completely unique graphics and images for your business, designs, or creative work, look no further than Midjourney.
4. Adobe Firefly
For Adobe Users

Adobe Firefly is Adobe's answer to AI design software. It brings the power of generative AI to Adobe's suite of design tools. While some of the functionality is available, the team is still developing some features, but with the major backing of Adobe, I think we can expect some major innovations coming our way soon.
Here's what you can do so far with Adobe Firefly:

And here are some cool things Adobe Firefly will be able to do:
Pricing
Pricing isn't available yet, but I assume it will be part of the standard Adobe subscription when it's fully released.
Verdict
If you're an avid Adobe user, you've got to check out Adobe Firefly. Even if you need to wait a while to use the features you want, it will only get better from here, so I'm excited to see what's coming down the pipeline.
For Canva Users

Businesses that design a lot for social media or need to make designs fast often choose Canva for its fast and easy interface. It's been a market leader for a reason, and you can bet they're jumping onto the AI train.
And Canva Magic Design makes it possible to design even faster with the power of AI.
Here's what you can do so far with Canva Magic Design:
Pricing
Magic Design comes with a free Canva account, though design features and available stock images are limited with the free plan. Upgrade to a paid plan if you want more advanced features.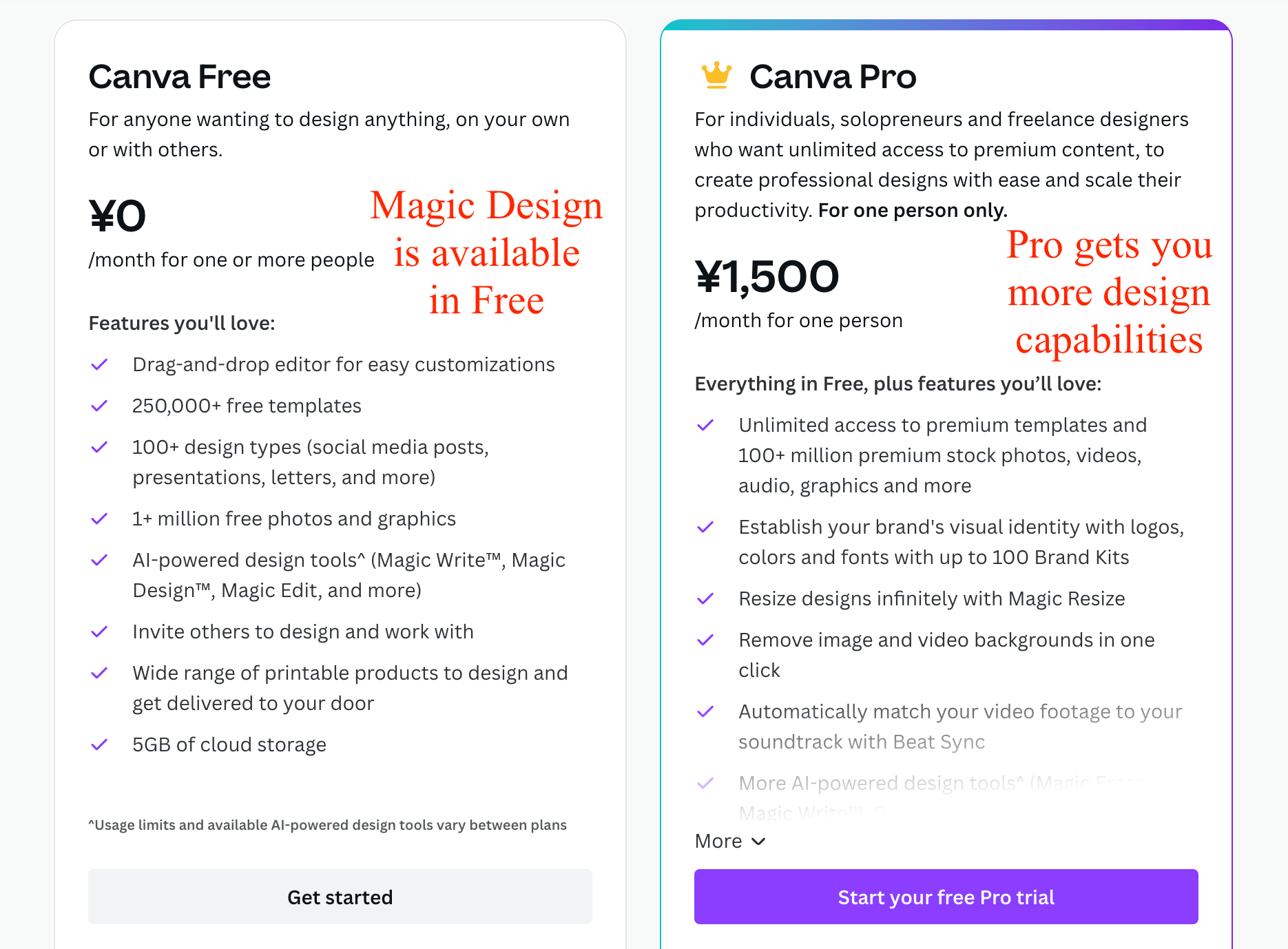 Verdict
If you're a Canva user, you've already got access to Magic Design. Go check it out and see what you can make with it. And if you're looking for an easy tool to make designs for your business, Canva is the tried and true design platform.
6. Uizard
UI Design

Uizard makes it easy to design UI interfaces (things like websites and apps) without any design background using its sophisticated AI-powered design tools. This is your way to design a user interface (UI) design, without spending thousands of dollars on a UI/UX figma guru.
As someone that recently just paid some heavy cash for a prototype, I wish I had stumbled upon this a bit sooner.
Here are Uizard's best features:
Pricing
You can start using Uizard for free, then upgrade to one of the paid plans to get the most out of the app.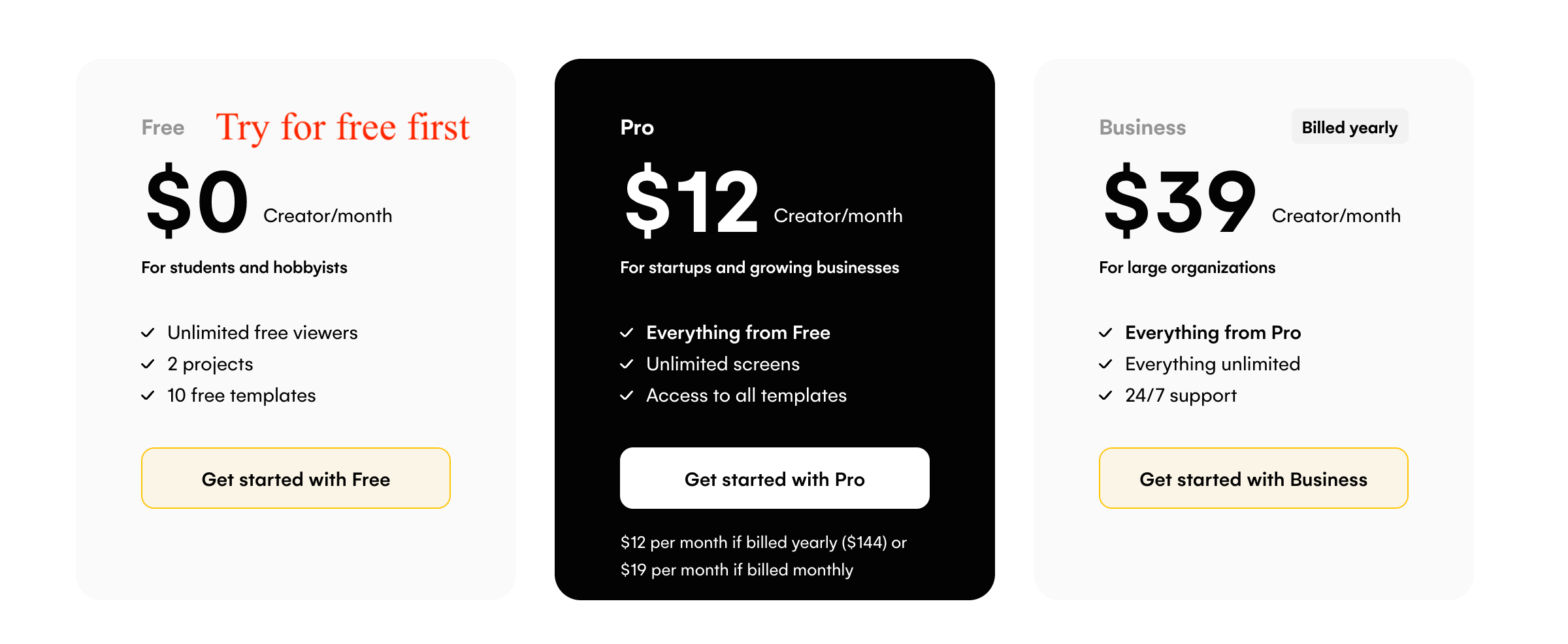 Verdict
Uizard is a huge help to those who have a great idea for a website or an app, but need a little help in the design department. Try it to save hours you would otherwise spend clicking around in Figma or Adobe XD.
7. VisualEyes
Design Testing

It's common practice to test an app, website design, or new marketing creative before it's released to the general public. Usually, designers will show their designs to tons of different people and measure their reactions to see how the design will perform.
VisualEyes has learned from tons of user review data and can "test" each design and give tips for improvement without actually showing it to anyone.
Here's what VisualEyes can do:
Pricing
Pricing wasn't available on the website. You can apply to access Neurons Predict to start using VisualEyes now.
Verdict
VisualEyes (or Neurons Predict) makes it easier to understand which designs will succeed and which will fail. If you normally conduct user testing with your designs, you should definitely try this app.
8. AutoDraw
Drawing Assistant

AutoDraw is an intuitive online drawing platform designed by Google Creative Lab that uses AI to predict what you want to draw (and then draw it for you).
I tested the app by drawing a jagged line, and it instantly gave me a long list of things I might want to draw, including a jacket, a mountain, and a pyramid. Clicking on any of those options would replace my jagged line with a really clean illustration, much better than my amateur drawing skills.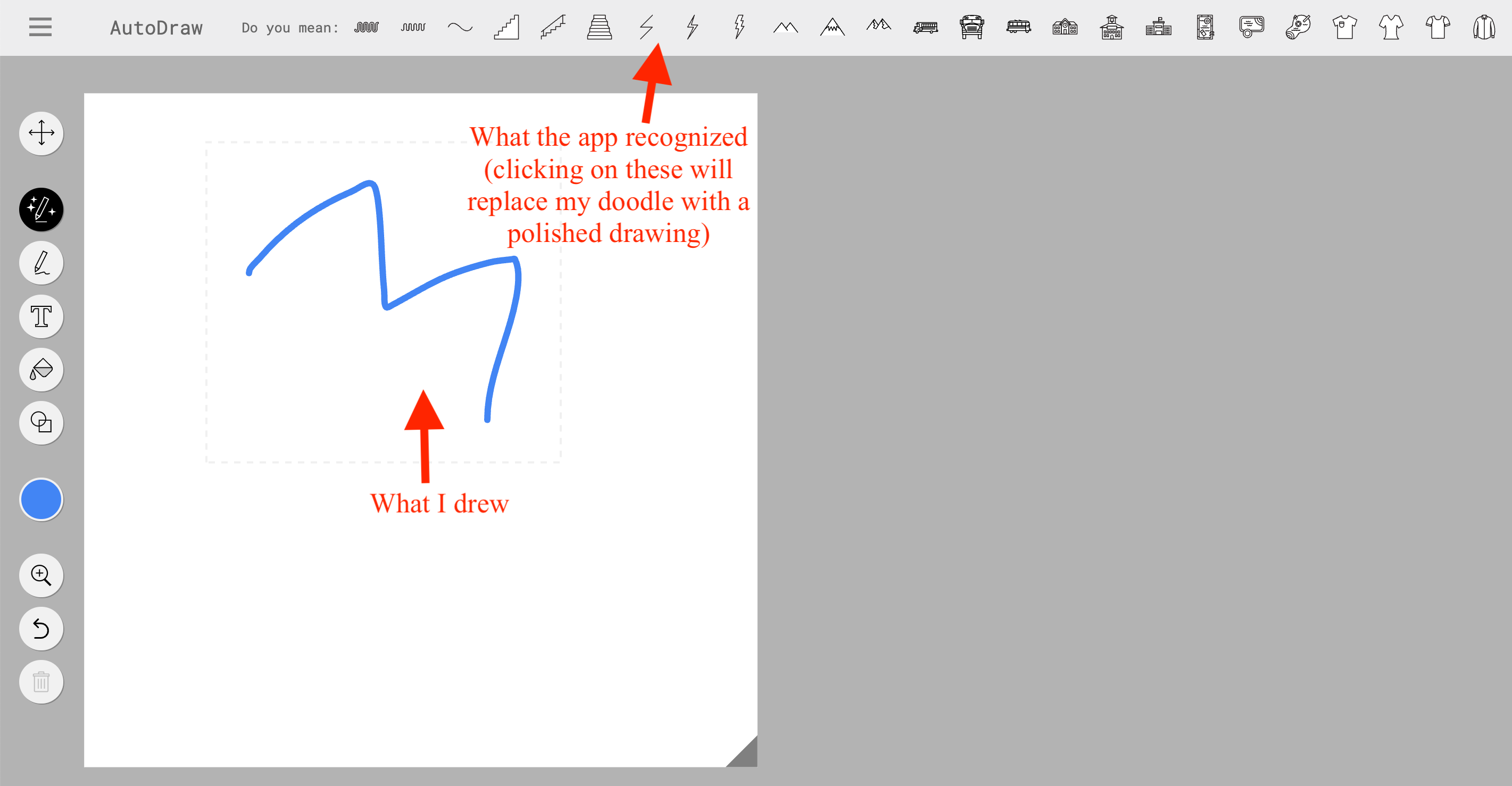 Here are the key features of AutoDraw:
Pricing
AutoDraw is absolutely free to use.
Verdict
Not great at drawing? You can still create graphics and visuals that look hand-drawn by using the totally-free AutoDraw web app.
9. Remove.bg
Smart Background Remover

When you start to look at popular designs out in the world, you see a lot of images with their backgrounds removed. YouTube thumbnails, flyers, and websites often use people's photos with no background, which looks a lot more professional than a full, uncropped photo.
The problem is, the ability to remove backgrounds from photos has usually been reserved for Canva Pro users or paid app subscribers.
Well no more! Remove.bg is a free web app that uses AI to remove the background of any photo, whether of a person, animal, or object so you can drop those images into any design software you use.
Here's what you can do with Remove.bg:
Pricing
This tool is absolutely free!
Verdict
If you've ever wanted to remove the background of your photos, but didn't have access to an app that did that, now you can! Access Remove.bg to try it now.
What is AI Design Software?
AI-powered design tools help people create designs and custom art (or optimize those designs) using the power of artificial intelligence.
Using these tools, you can create logos, flyers, presentations, custom art or stock photos, app or website mockups, and more, without having to design from scratch.
You can even come up with design ideas on the fly, with just a text prompt or a single graphic used as inspiration. This makes it easy for designers and non-designers to quickly generate stunning designs.
How Does an AI Design Tool Work?
Underneath the hood of these AI design tools, you'll find a combination of algorithms, machine learning, and neural networks.
Algorithms help the software decide how to position elements in a layout, how to use colors, and how to improve a design.
Machine learning is used to analyze millions of pieces of design and art data so the computer can learn how to create realistic art.
And neural networks take tons of data and connect them together, so the computer can learn from the data and make decisions based on it. This helps AI tools figure out how to write human-like text (in the case of AI writers) and put together designs that look like a real designer made them.
Why Use AI Graphic Design Tools?
Here are the benefits:
Who Benefits from AI Graphic Design Tools?
Frequently Asked Questions (FAQs)
Will an AI graphic design tool ever replace a human designer?
Not likely! AI design software can help you design, but it can't do everything. They're better used as a design assistant to speed up your design process, help you generate ideas, and automate menial tasks.
What's the best AI graphic design tool?
It really depends on what you need to design. For overall design help, try Canva's Magic Design or Adobe Firefly. For UI design, try Uizard. For logos, I recommend Designs.ai. And for image generation, I recommend Midjourney.
How can AI help graphic designers?
Graphic designers can benefit from using an AI-powered tool, even if they're capable of designing without one. For one, AI tools can come up with new ideas that the designer may not have thought of. And they can make it faster to create a rough draft layout or tweak the design to save the designer time.
Are AI graphic design tools easy to use?
Yes! AI tools are meant to be easy to use for anyone. Most of them can be controlled via text prompts or easy menus, meaning that you can ask for something just like you'd ask a skilled designer in a design brief.
Can I use an AI graphic design tool without design skills?
Yes, you can! Most tools do all the work for you, so you can simply drop in an image for inspiration and it will create a full design from it. Other design tools let you use a prompt to ask for the kind of design and art you want. If you can use ChatGPT or similar tools, you'll find using AI graphic design tools a breeze.