Jasper AI Review: Is The Writer & ArtWorth The Hype?!?
Last Updated on March 13, 2023
Welcome to the ultimate Jasper AI review! Whether you own a digital marketing agency or a freelance writing business, you're here because you're wondering if a great AI writer will meet your needs. Undoubtedly, Jasper AI is one of the best AI writers on the market.
I've been using the program for a couple of years now, and in this Jasper AI review, I'll give you all the information you need (in my honest opinion): how Jasper AI works, how it performs when writing content, if it actually increases your writing efficiency, and most importantly, what Google has to say about it.
By the end of this article, you'll know everything you need to know about Jasper AI so you can decide if it's right for you (and if not, you can check out the alternatives here).
I even timed how long it took me to write my first draft of this article with Jasper AI, and I clocked in at 1 hour and 45 minutes. Not too shabby!
What is an AI Writer?
At its core, an AI writer is a computer program that can generate text.
These apps use cutting-edge technologies, including artificial intelligence, deep learning, and natural language processing, to learn from existing content and then write something completely new.
This content can be in the form of articles, ads, social media posts, and more—practically any kind of content you could think of.
Typically, you'll either write a command like "write a blog post about cake baking tips" or fill out a template for a certain type of content, and it will write it according to your specifications.
The AI tool can produce content very quickly, under a few seconds for a decent-sized paragraph.
The first time I used an AI writer, I was blown away by the high-quality content it could generate. At first, I worried it might steal writers' jobs—it honestly felt like cheating.
But I figured out pretty quickly: not only does it NOT replace a writer, but it actually helps them tremendously.
The technology isn't good enough to completely replace a writer, but it's an excellent tool for getting over writer's block, finishing a first draft in record time, or rewording your existing content.
If anything, AI writers are an extremely valuable tool for writers because they can increase writers' output and help them make more money.
Now that you know about AI writers, it's time to talk about the leading AI writer on the market right now: Jasper AI.
Jasper AI (formerly known as Jarvis AI or Conversion AI) is at the top of the AI writing game right now. Its software is trained on the techniques of successful copywriters, which means it's specifically designed to write copy that converts.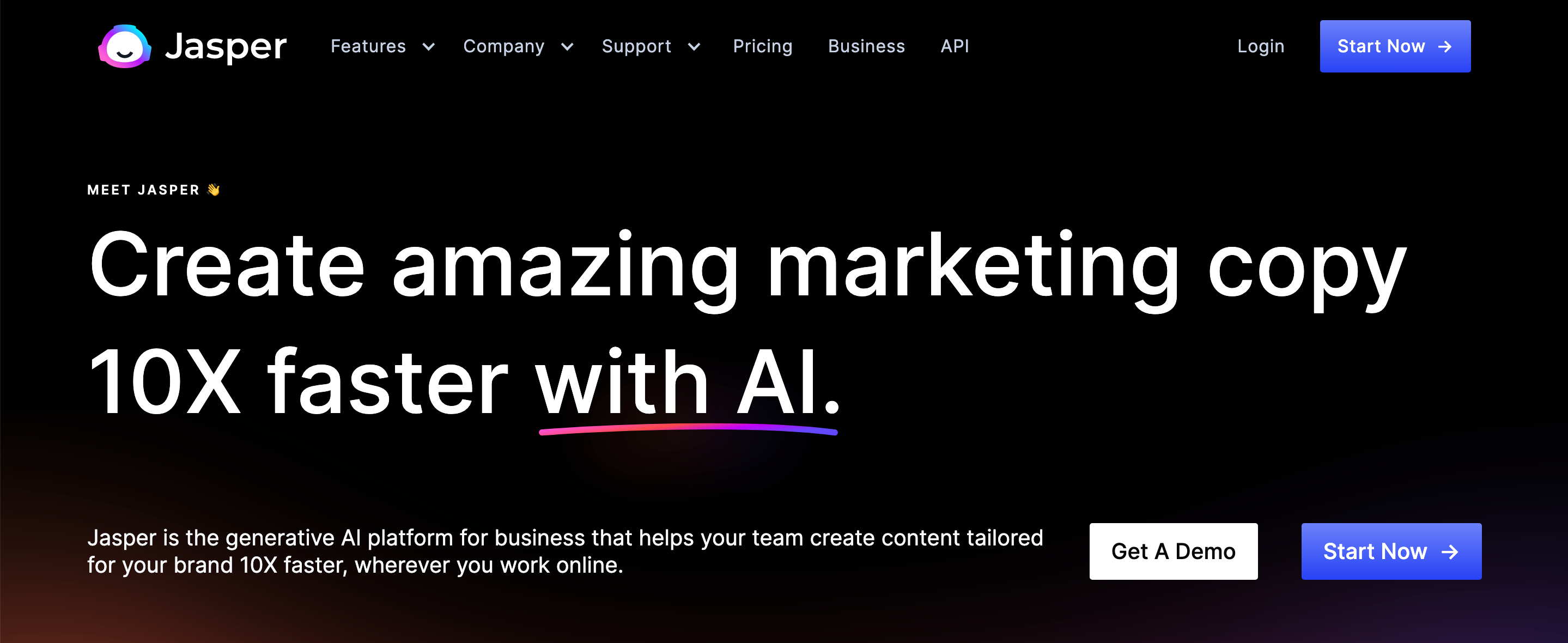 But that doesn't mean it only spits out sales copy.
In fact, Jasper AI can take almost any prompt you give it and generate smooth, high-quality pieces of content (including blog posts) that sound like a skilled writer put it together.
So how does it work?
The core software behind Jasper AI has read about 10% of the internet in order to understand how humans write and speak. It's poured over thousands of blog posts, web pages, and even Reddit threads, according to the Jasper team.
The catch is, this reading was done in 2019, and it hasn't read anything since.
So it's important to note that any new concepts from 2020 onward will not do as well in Jasper AI. It doesn't know about COVID, for example.
(Luckily, the new Jasper Chat feature can help with that. You can find more details in the Jasper Chat section below.)
Here's the technical jargon: Jasper AI takes your input and analyses it with a language model called GPT-3 to understand what it means. It breaks down the information into small chunks and parses the meaning. Then, using the same natural language processing technology, Jasper AI "writes" the piece of content you asked for.
What is GPT-3?
Under the hood of most AI writers today is something called GPT-3. GPT-3 is a huge language model (computerized map of human language) created by OpenAI (yes, the same team behind ChatGPT) that was released in 2020.

ChatGPT is the latest iteration of the GPT models, but it's not yet available through Jasper AI or other writers. For the moment, most apps use GPT-3 to process and write language through an API.
Do All GPT-3-Based Writing Tools Sound the Same?
Most AI writers (including Jasper AI) use GPT-3 as their core language model, but that doesn't mean every AI writing tool sounds the same.
Each company has coded its own writing style and algorithms into the apps, which means each writer offers its own unique writing style and custom templates you can't find anywhere else.
What makes Jasper AI different? Jasper AI happens to be one of the most eloquent and one of the best at copywriting. It also provides a lot more customization than other tools, plus cutting-edge features like Jasper Chat.
(Looking for more Jasper AI reviews? Check out my in-depth comparison of Copy AI vs. Jasper AI.)
What Types of Content Can Jasper Generate?
Jasper AI software can generate AI content for a variety of different purposes. Here are a few examples:
Combining all of the tools and features in Jasper AI, you can write a decent draft of any kind of content you want in less than thirty minutes (including custom graphics).
Overall, Jasper AI excels at writing conversion-focused copy. If you're looking for more AI copywriting tools to compare, you can check out my top recommendations of AI copywriting tools on par with Jasper AI.
Sure, you can generate a lot of content with Jasper AI, but will the information be correct?
Generally, yes. If it's a general statement or common knowledge, I found it to be generally accurate as its information comes from all types of internet sources (articles, Reddit, newspapers, etc).
But there's a caveat: Whenever a "stat" should be used in a particular article, Jasper AI will put in what they call "filler facts." These are not usually correct, and it's used as a placeholder for you to find a similar, real fact.
At the end of the day, you should be using Jasper AI to assist your writing, NOT write things entirely for you, and you should 100% verify every single fact or piece of information created by the writer.
Another concern people have about AI writers is plagiarism. Will the content written by Jasper AI be plagiarized?
In short, no. Jasper AI is not a plagiarism tool. It does not copy and paste content from other sources. Instead, it generates original content based on the data you provide.
However, it might write something that has been written before, which is why it's best to use a plagiarism checker before you hit publish (and Jasper has a built-in option).
I personally run my articles through Grammarly and Copyscape and have been pleasantly surprised to see them come back clean nearly every time.
In this section, I'm going to give you an up-close-and-personal tour of Jasper AI.
I'll show you what it looks like inside the app, and we'll test out some templates to see how they work. I'll also give you five ways to generate blog posts in the tool, complete with sample blog posts generated by each method.
After that, I'll give you an overview of Jasper Chat and the AI art generator before we list up the pros and cons of using Jasper AI for your content creation workflow.
Jasper Platform Overview
When you log in to Jasper AI, here's what you'll see: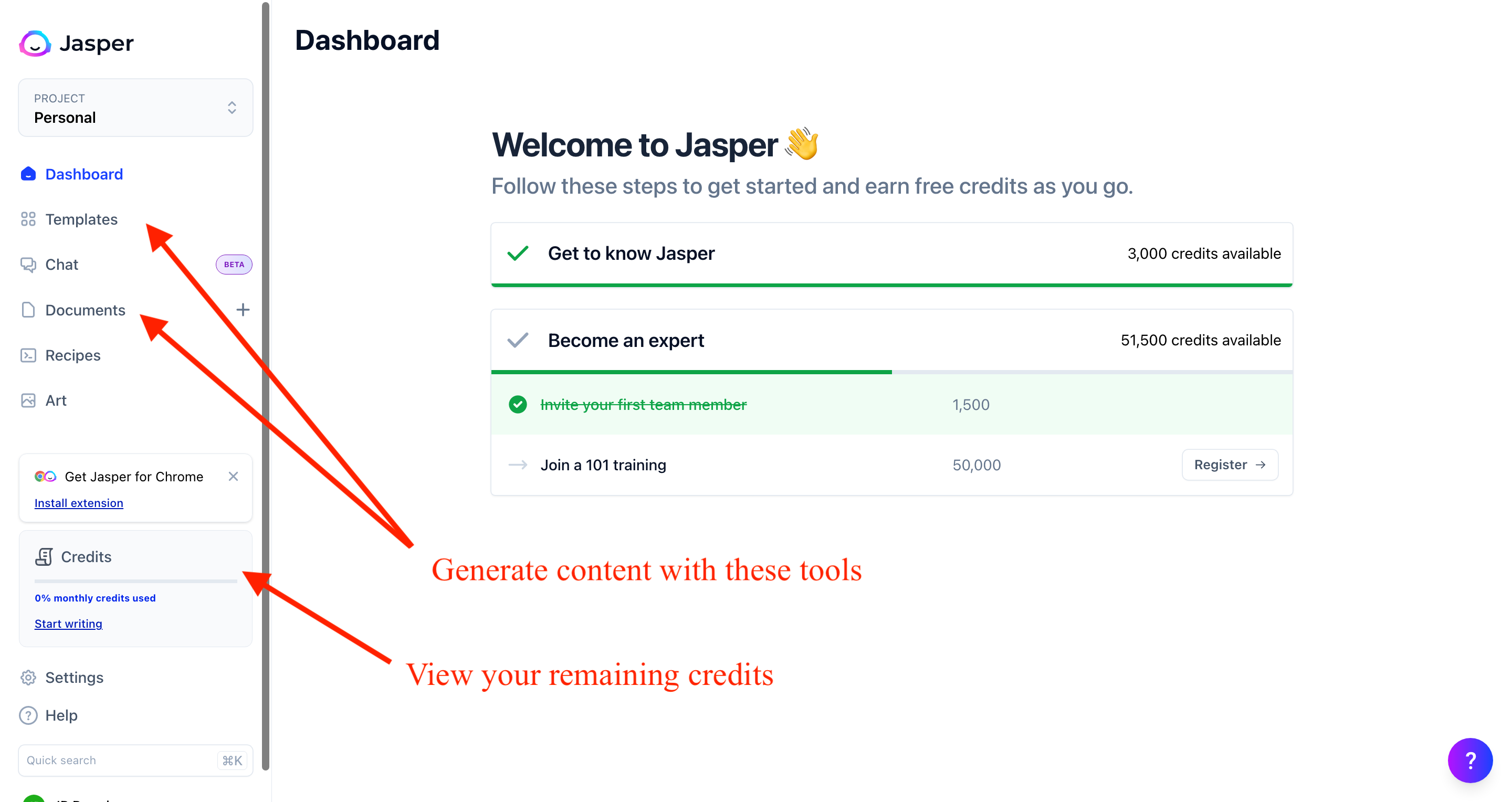 As you can see, there is a dashboard, which I honestly don't use much. Then you have your Templates, Jasper Chat, Documents (which takes you to the Boss Mode editor), Recipes, and Art.
It's a really clean, user-friendly design. You can access everything you might need from this page. And at the bottom left, you can toggle between different projects.
My only problem with this platform is that you can't create folders. So, for instance, if I want to generate AI content for this blog, I can't organize the documents into folders for my different topic clusters.
Now, I'm going to skip ahead to the "Documents" tab and open the editor screen, as that's where you are going to spend 99% of your time.
When you click "Add Document" and choose the long-form assistant (aka Boss Mode), it starts off looking a lot like Google Docs with the top toolbar: a place for your headings, bold, italics, etc.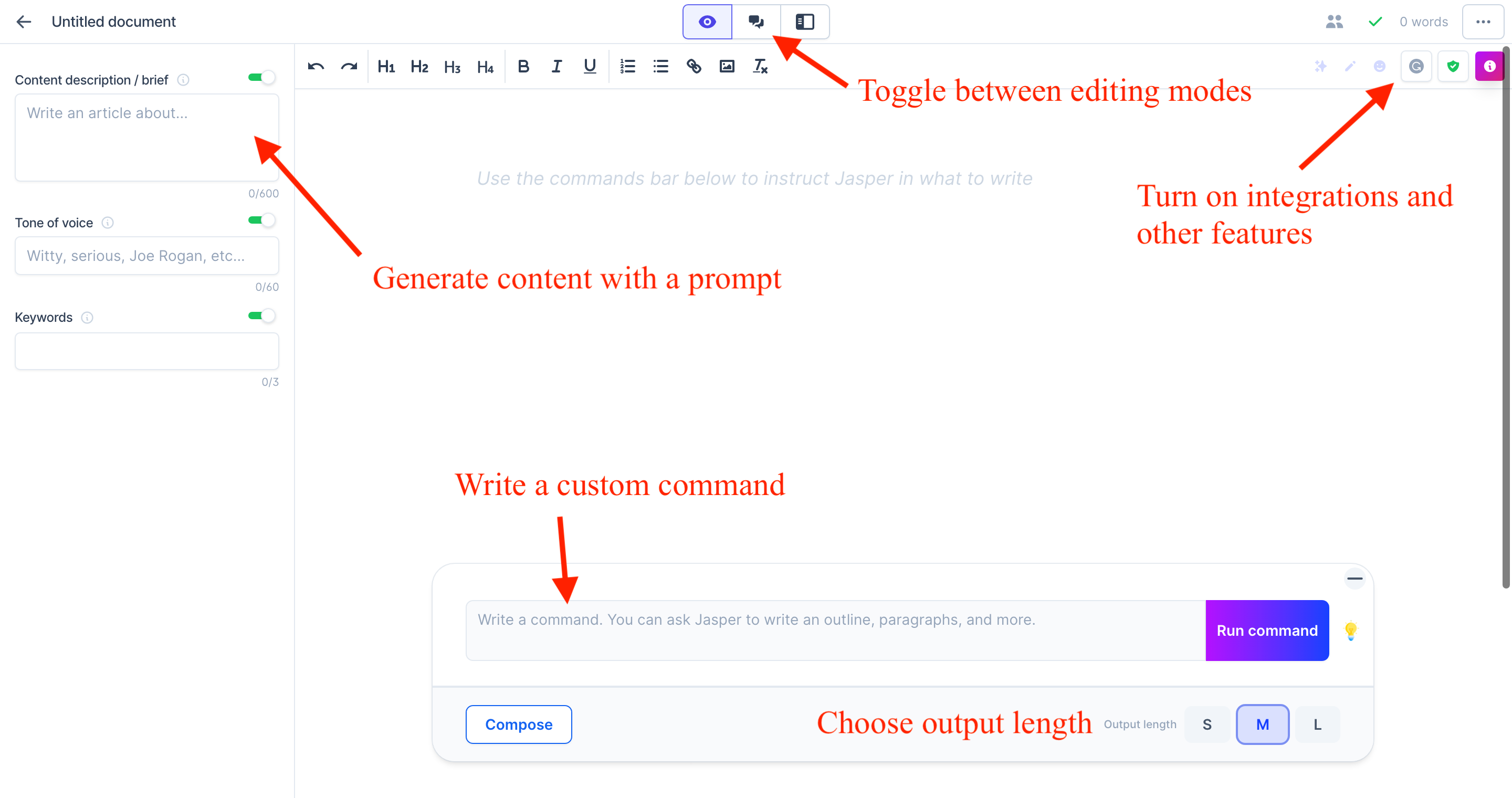 Also at the top of the editor are three modes you can choose from: Focus Mode, Chat Mode, and Power Mode. (And if you turn on the SurferSEO integration, you get a fourth option called SEO Mode.) I toggle between all four quite frequently.
Let me break down each one:
1. Focus Mode
I use this mode when I want to see my text in full screen and am in "writing mode." This is the most basic of the modes. You get a simple input prompt on the left sidebar and plenty of room to write. (This is the mode in the screenshot above.)
2. Chat Mode
Chat Mode brings up Jasper Chat in the sidebar, so you can generate content there and drop it into the editor as you go.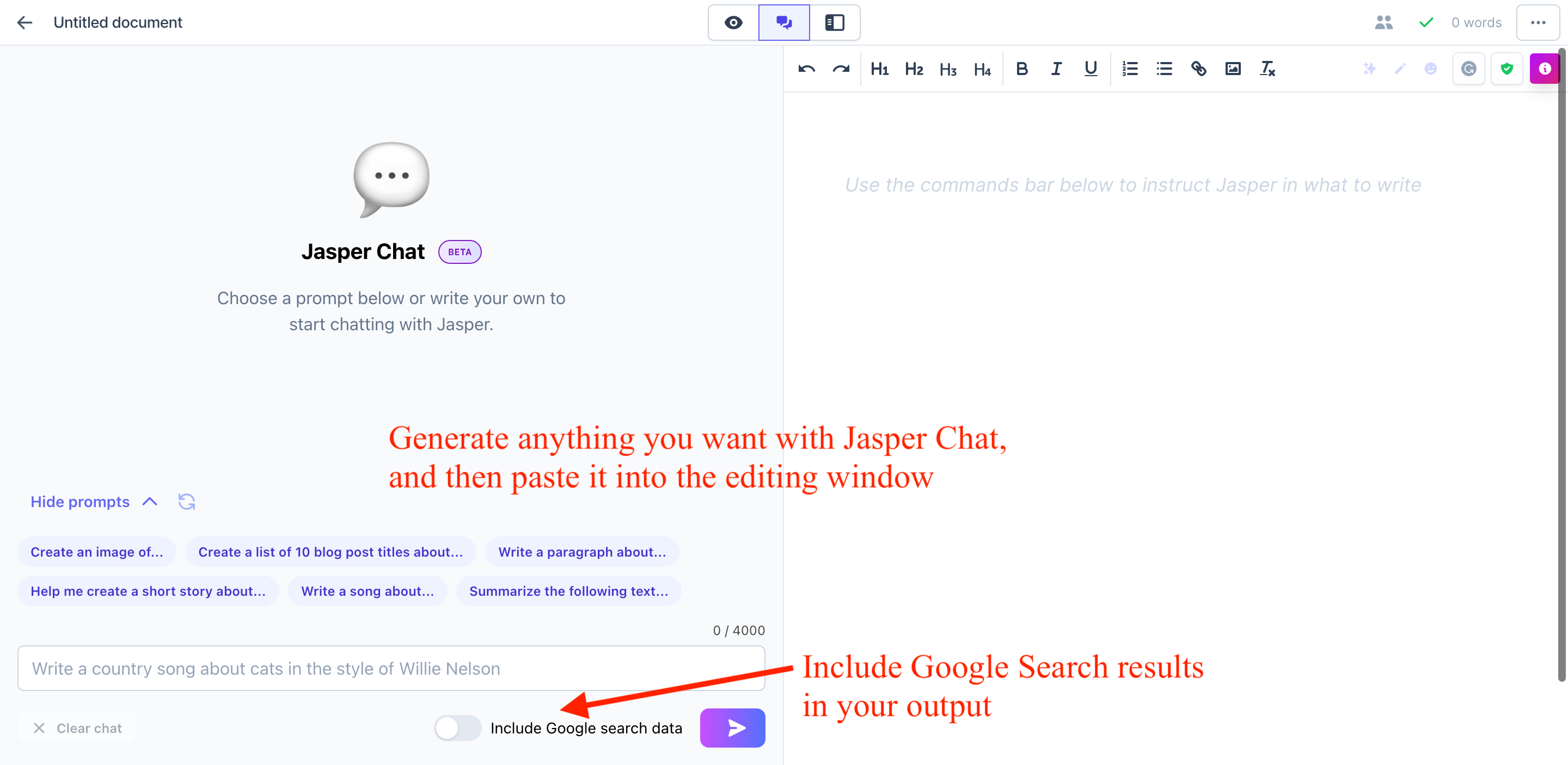 3. Power Mode
This mode brings all the templates available in Jasper to Boss Mode, plus a Jasper Chat window in the middle so you can generate any kind of content you want on the fly.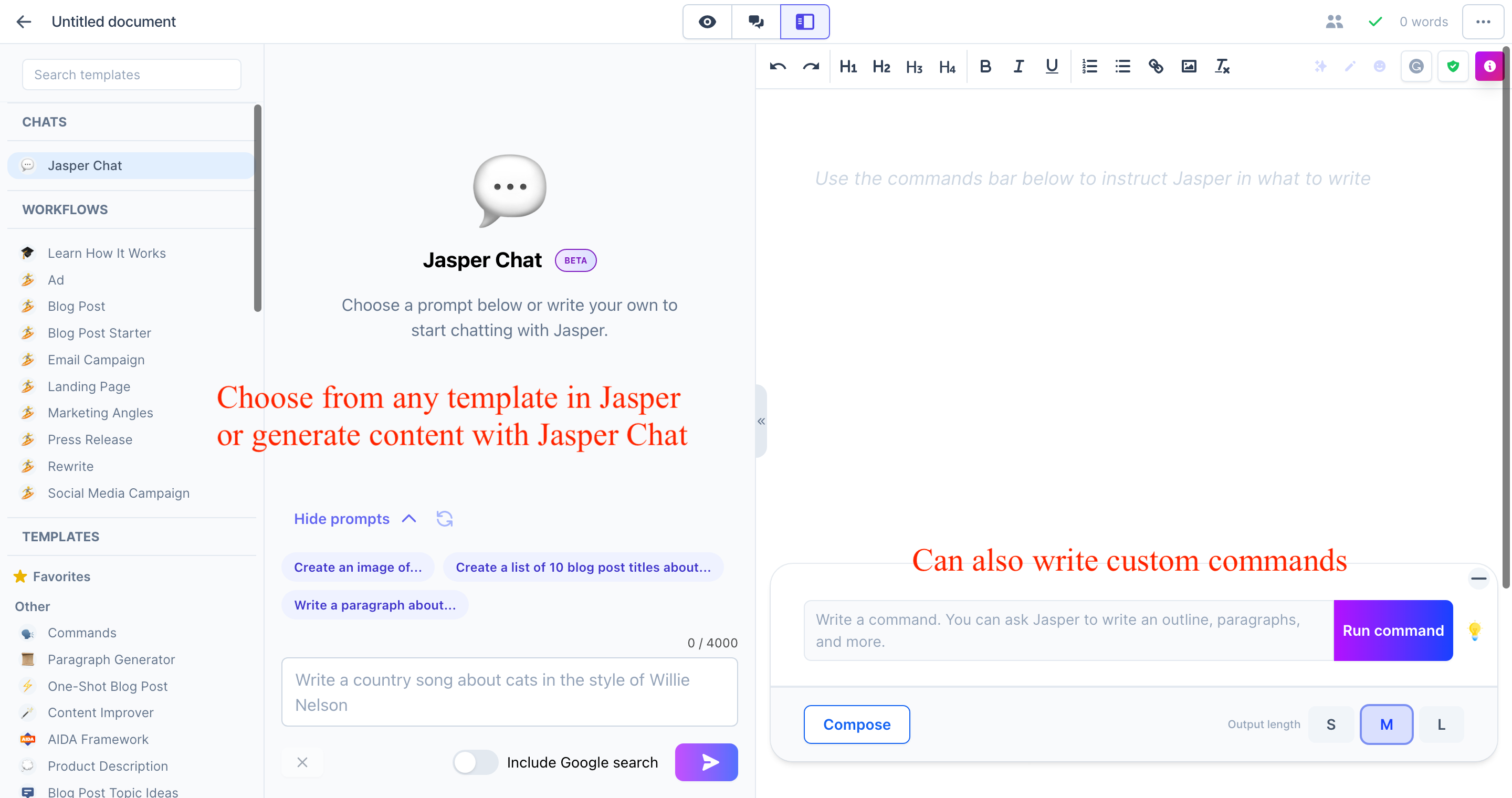 As you can see, there are tons of different writing features, which I'll discuss in more detail below.
4. SEO Mode
If you subscribe to SurferSEO, they integrate with Jasper AI Boss Mode on one screen, which is really helpful. You'll get a side-by-side view of both platforms, which will look like this: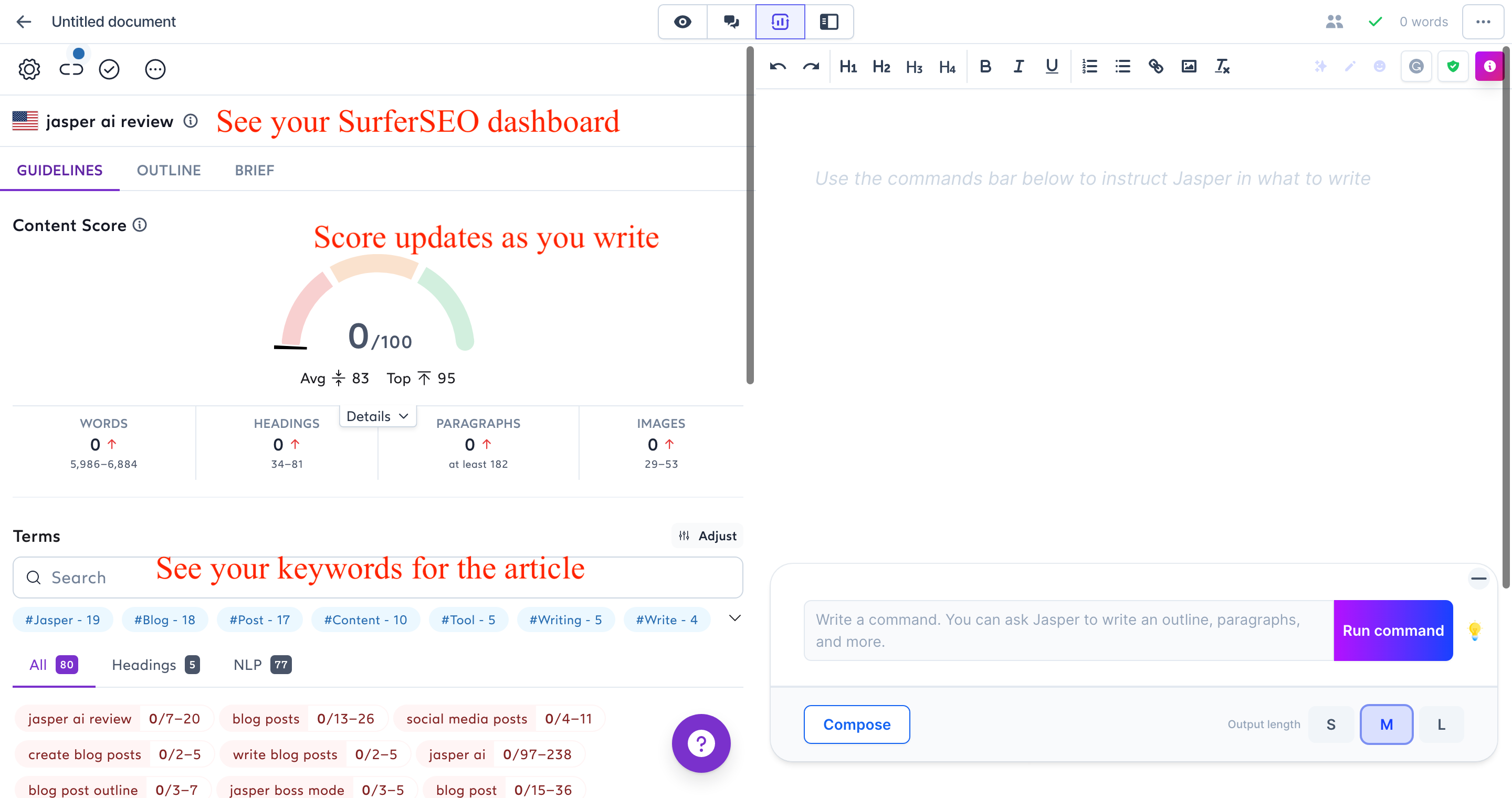 This is really handy as you can write and optimize blog posts at the same time, which makes the writing process faster.
I won't go into all the SurferSEO features, as that's a topic for another article. You can learn more in my AI SEO tool discussions.
All of the Jasper Writing Commands and Modes
So how does this writer actually perform when writing?
In order to give you the best overview in this Jasper AI review, I'm going to show you how some of the most popular templates perform.
(If you want to see how Jasper does with blog posts, I'll give you five ways to do that in the next section.)
The truth is, you don't even need to use a template to write content with Jasper AI.
You can create an outline inside of the editor, start writing, and then simply ask Jasper to keep writing from there.
Its software can look back to the last 3,000 characters you wrote, learn from context, and keep writing with the same tone and structure.
For instance, if you write a product review using a specific format (features, pricing, pros/cons, for example), you can then write the second product's name, hit "Compose" and it'll start writing another review in the same exact format.
When you have Jasper AI write for you inside of Boss Mode, you can choose from three output lengths: Small, Medium, and Long.
Now, when you use this basic writing feature (writing something and asking Jasper to continue writing), it's hit or miss. Sometimes I get such fantastic quality, I wonder if I was capable of writing it myself. But other times, it starts repeating itself.
Now let's look at some of the most popular templates and how they perform:
1. Paragraph Generator
The paragraph generator is the one I use most often. You can write a description of what you want to say, the keywords you want to include, and even choose a tone of voice for the content.
I've done things like "funny, engaging" and "formal and professional." They've all come out with stellar responses.
(By the way, you can ask Jasper AI to generate multiple versions of your content every time you submit a prompt. You can type in your own number of versions, from one to three or even ten plus. Just keep in mind that each word you generate counts toward your overall word count limit.)
To test the tool for this review, I asked Jasper to create paragraphs for three different blog posts in the home, finance, and health and wellness niches.
This is a paragraph generated for an article called How to Fix Your Garbage Disposal On Your Own (& When to Reach Out To an Investor: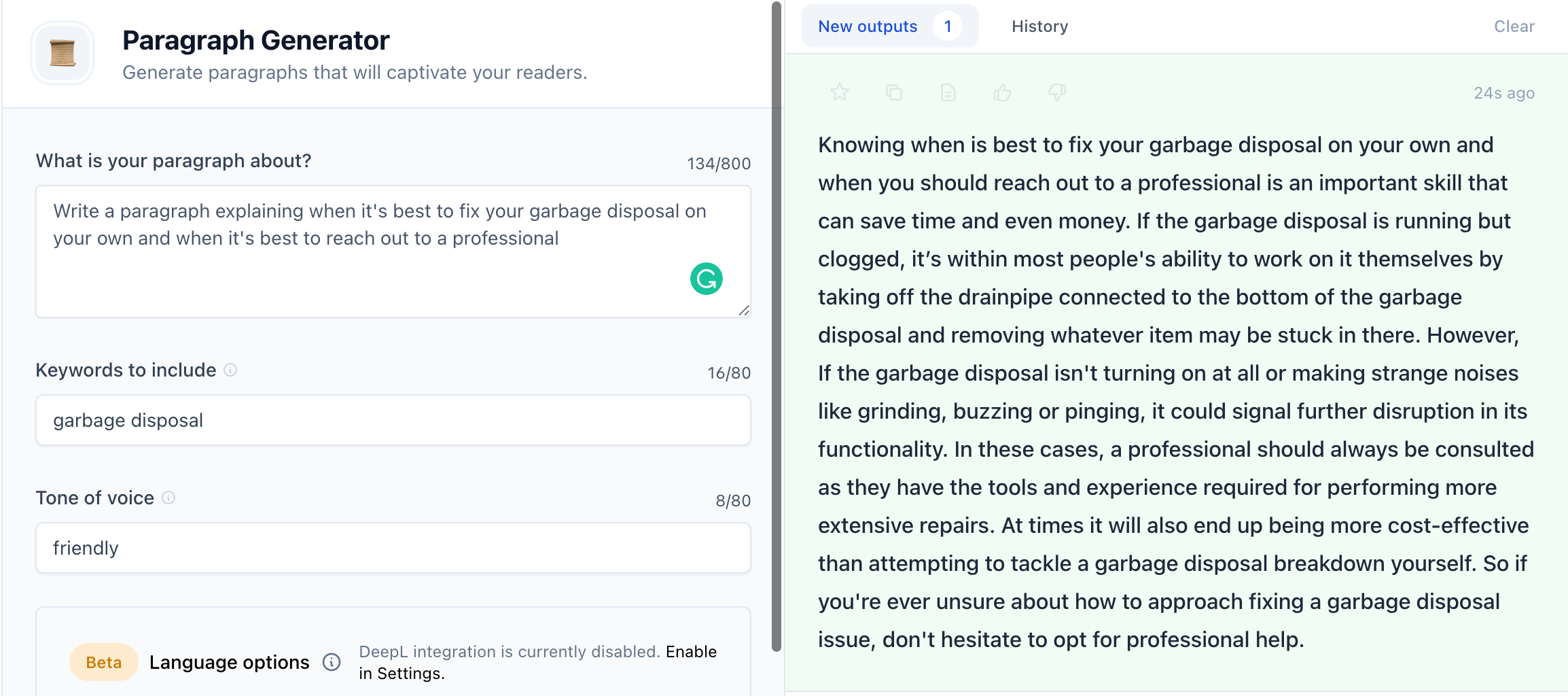 This one is for an article called 7 Investment Skills that Every New Investor Should Gain:

And this is what it put together for an article titled 6 Best Meditation Techniques to Start Your Day on the Right Foot: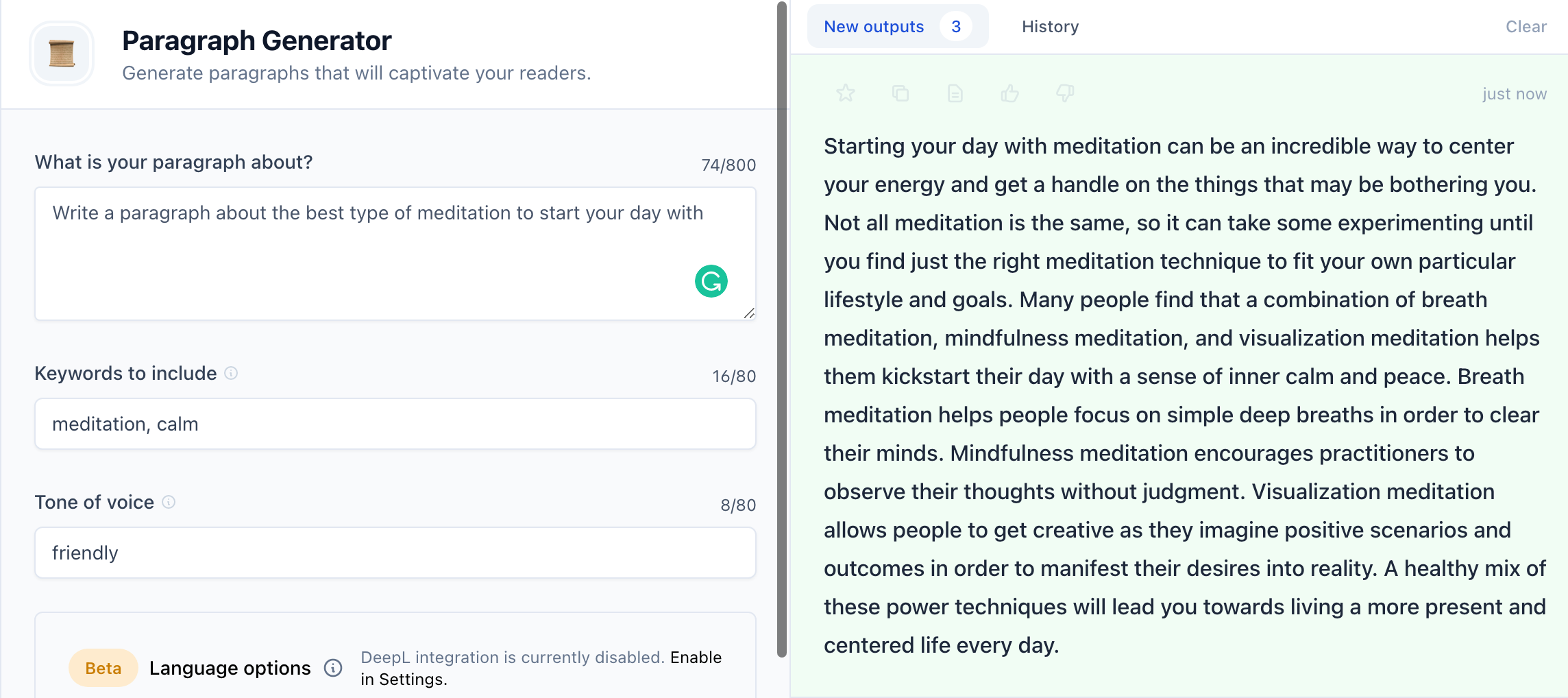 As you can see, these are pretty decent paragraphs. Yes, they lack some personalization and can be pretty "basic." But after using Jasper AI to generate a basic paragraph, all you need to do is spend a few seconds adding some personalization, and you're good to go.
2. Content Improver
Do you ever have a paragraph you've written, and it's just missing something? You spend thirty minutes mulling over the words, the tone, or the general readability and just lose your zone over it?
That's where Content Improver comes in. It helps you to paraphrase what you've already written.
Warning: Do not paraphrase what someone else wrote—that's called plagiarism, and I've seen people make this mistake.
Here's how the Content Improver template improved the meditation paragraph from the previous example: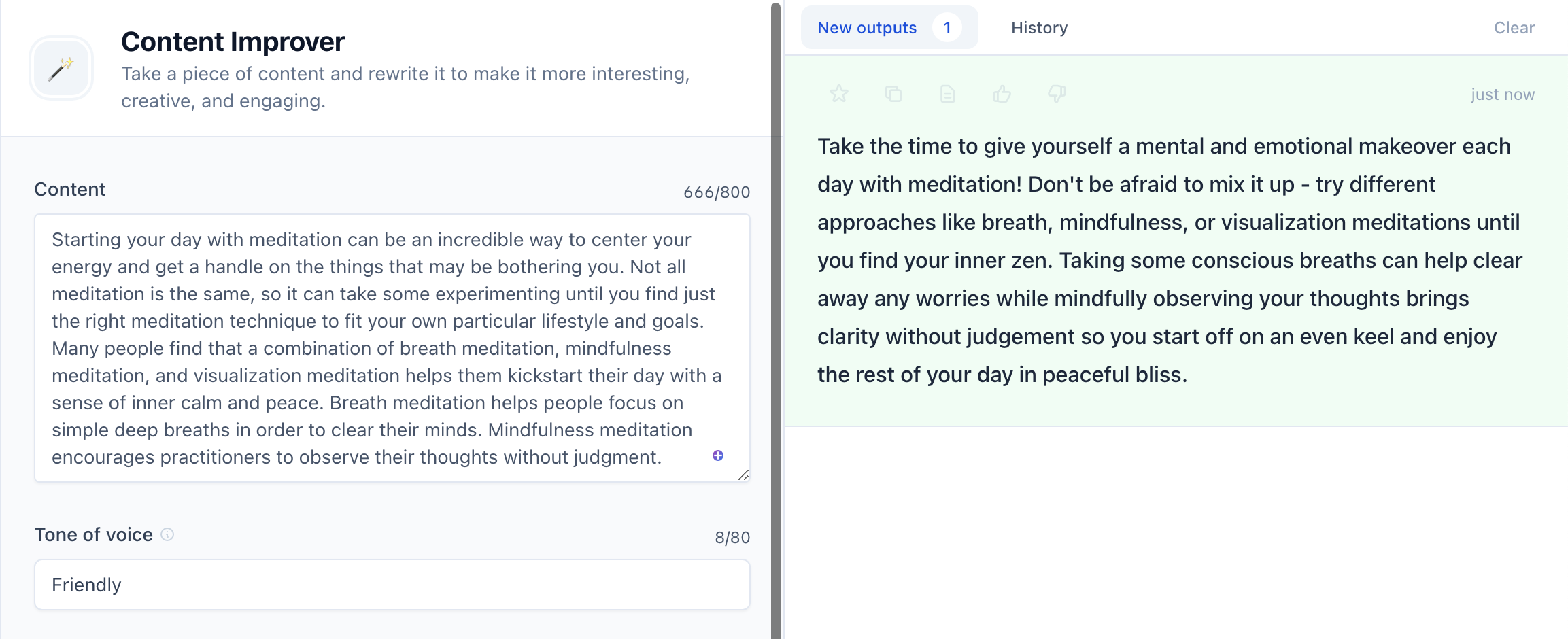 These can be hit or miss. Sometimes I'll find really great content, while other times, it will sound too promotional or poorly written.
3. AIDA Framework
For those of you not familiar with AIDA, it stands for Attention, Interest, Desire, and Action. It's a useful way to create copy intended for marketing or sales.
Here's what Jasper AI came up with when I prompted it to write an AIDA-style piece of copy about itself: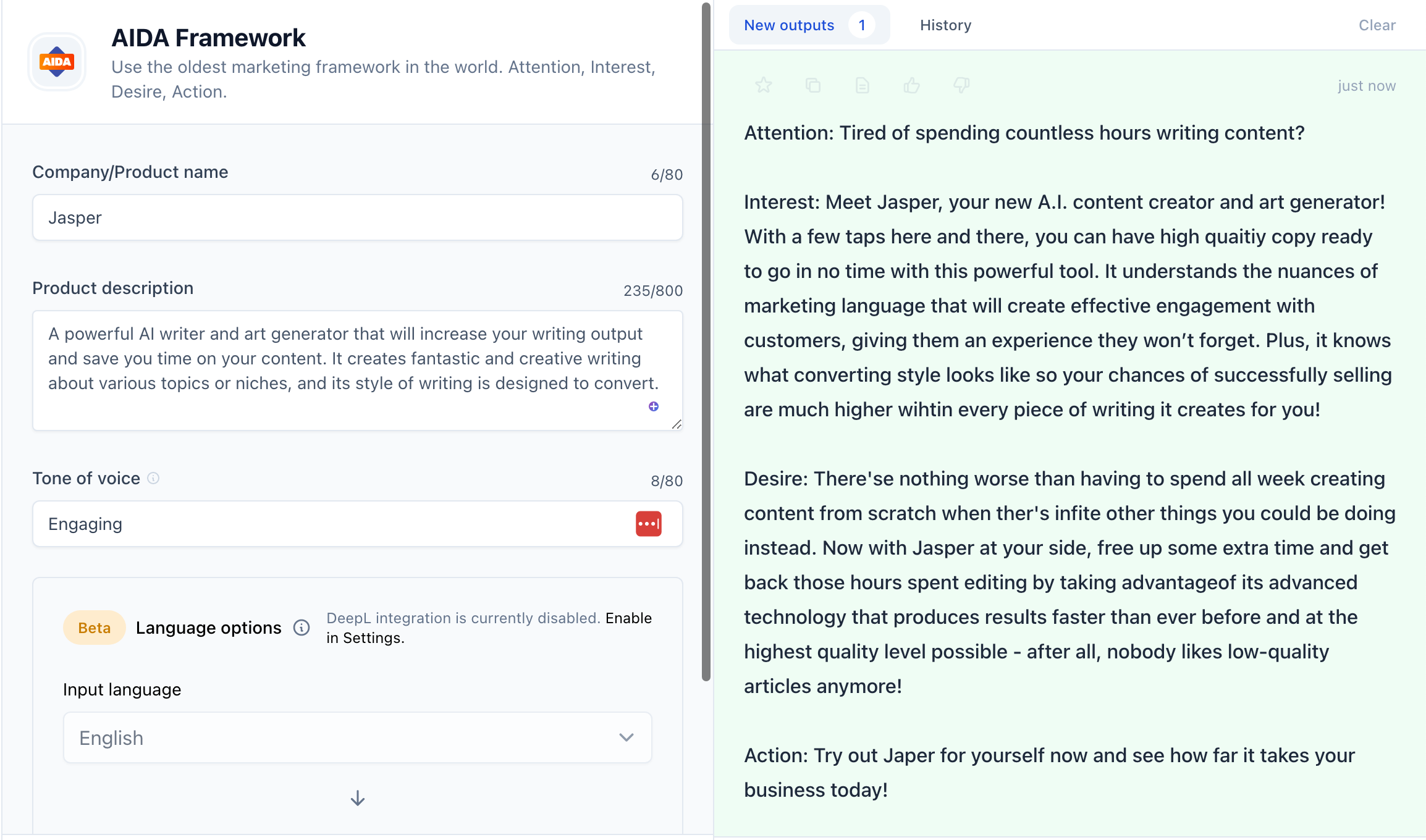 It's a little rough (and there are even a few typos), but you can get a solid start for a piece of copy that's written to convert. This is a great way to write ad copy and product descriptions that can lead to more conversions for your product.
4. One-Shot Landing Page
Next, I tried out the One-Shot Landing Page tool, which generates a full landing page for you in one click (!), including H1 and H2 headlines and the full structure of the page.
Here's my input and what it generated for me: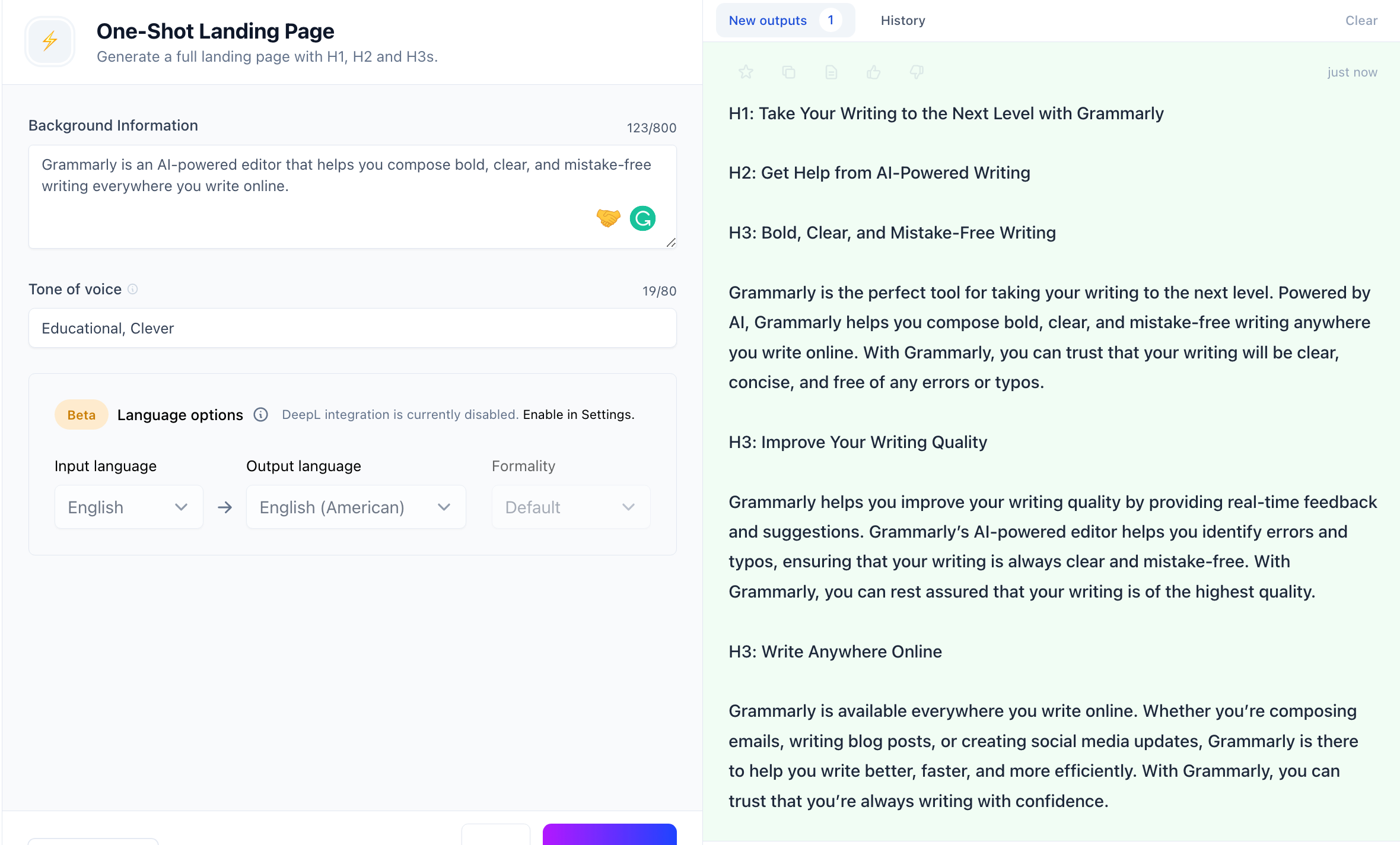 Could I take this, upload it, and expect to get sales? Probably not.
But thinking of the time it would take to write a whole landing page from scratch, this will save you a considerable amount of time writing sales copy for your products.
5. Mini VSL
Next, I tried another famous form of sales copy, the VSL or video sales letter. This template is based on a popular framework, and I was surprised that it required me to input several pieces of information before I could generate the copy (more than this screenshot shows).
In this case, I felt like I wrote most the copy myself, and the tool just put it together.
Still, the results were pretty good: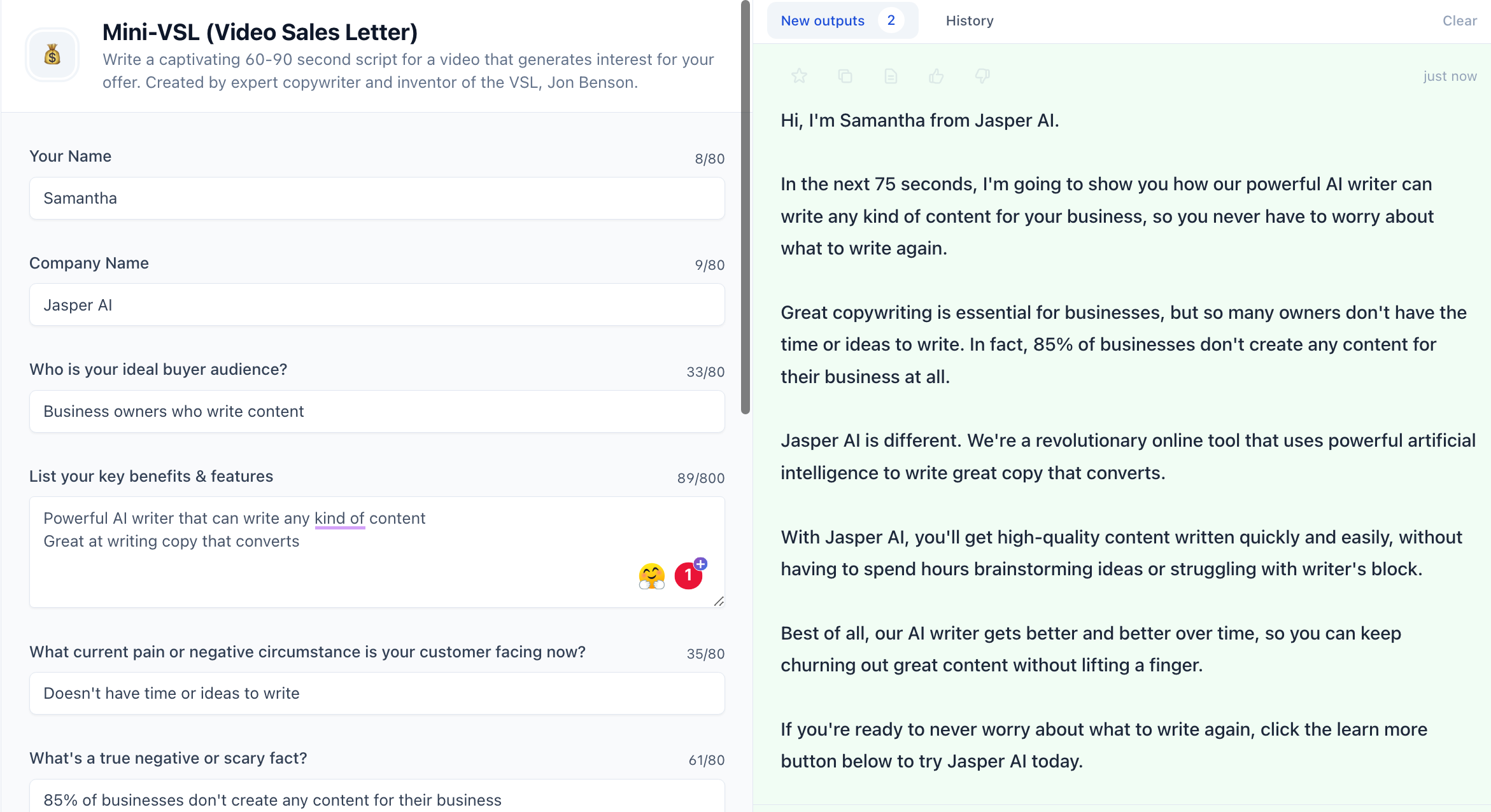 6. SEO Titles and META Descriptions
Another helpful tool Jasper AI provides is its SEO Title and Meta Description generator. If you give the tool your main keyword for an article and a description of the content, it'll create an SEO-friendly title and meta description that makes it sound more engaging (while still including crucial keywords).
Here's what I got when I tested the template: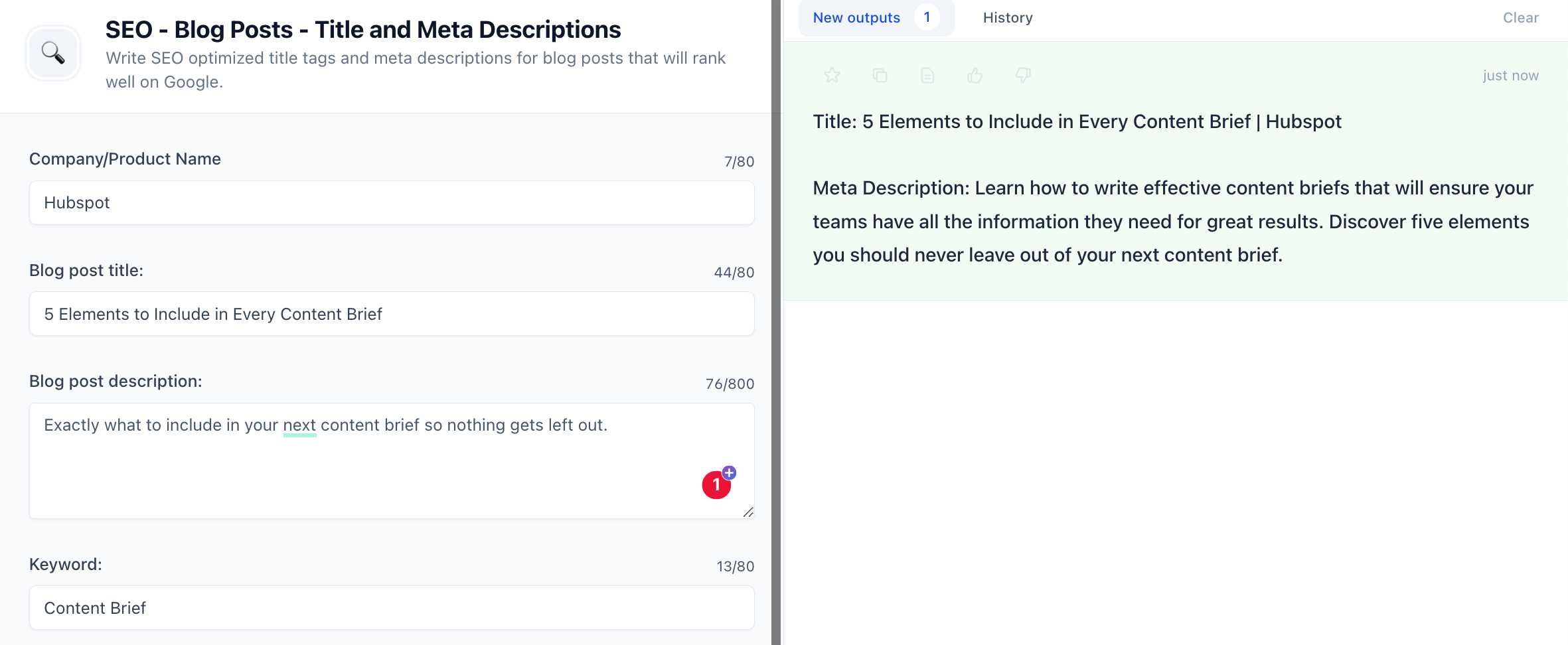 It took my boring article description and wrote it in a more engaging style that encourages readers to click and read.
7. Photo Post Captions
Most businesses find it hard to constantly churn out social media content, but Jasper AI has a lot of tools that can help you to create social media posts with minimum effort.
One of those templates is called Photo Post Captions, which writes captions for social media platforms like Instagram and Facebook.
(There are other templates that handle Pinterest pins, LinkedIn posts, TikTok captions, interesting tweets, YouTube videos, and more.)
I asked Jasper AI to write a caption about itself, which it did fairly well:

However, sometimes technical content doesn't do as well, so I also tried it with a lifestyle-focused post, and this is what it wrote=:

To get the best results from this tool, you'll definitely want to test different inputs and have Jasper generate multiple versions until you get something you like.
8. Other Writing Options
There are a ton more writing features available in Jasper AI that you can dive into when you start using it.
Jasper has an insane amount of templates to help you write blog articles, ads, social media posts, product descriptions, landing pages, and more across multiple channels.
Here's a non-comprehensive list of other writing options inside Jasper that I haven't yet written about:
Now let's take a look at one of the most popular use cases for Jasper AI, which is creating engaging, SEO-optimized blog posts. Here are five different ways you can write blog posts with Jasper AI, including the pros and cons of each.
How to Create Blog Posts in Jasper AI
Jasper AI makes it so easy to write blog posts. And this is crucial—to keep your blog competitive, you need to publish hundreds (if not thousands) of articles to reach authority status and start ranking for important keywords.
(By the way, I've covered Google's latest AI policy and what it means for bloggers below.)
But there are multiple ways to create a blog post with Jasper. What's the best one?
I'm going to run you through the five best ways to make a blog post, and give you the pros and cons so you can figure that out for yourself.
Method #1 – Use the Blog Post Workflow
Recently, Jasper AI released a new feature called Workflows which takes some of the work out of content creation for long-form content like blog posts and emails.
You can choose a Workflow when starting a new document in the Jasper Boss Mode editor: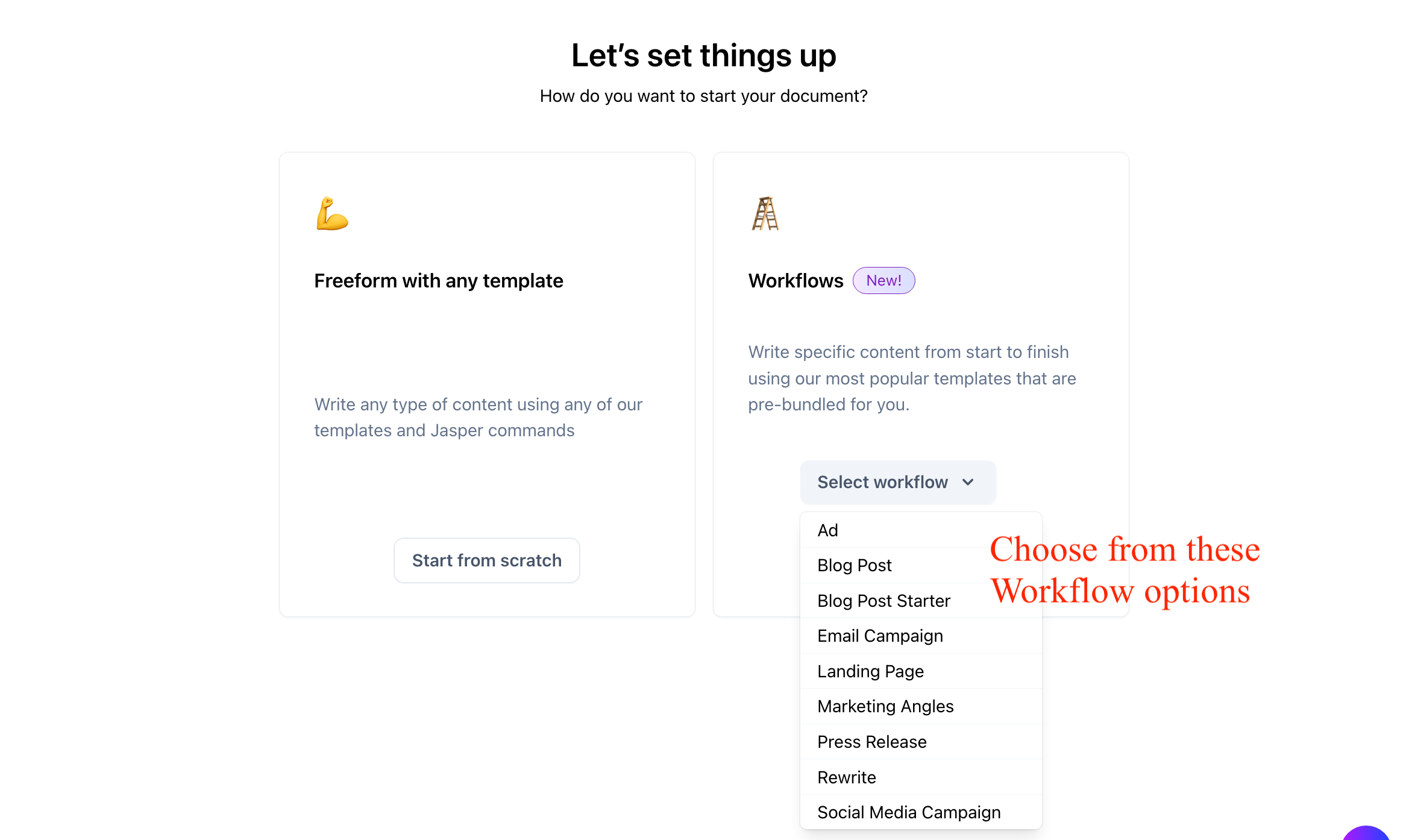 Instead of having to click through individual tools to create a blog post in pieces, the Blog Post Workflow combines templates like the blog post intro generator, blog post conclusion paragraph, and blog post outline tool into a step-by-step process that takes you from start to finish in just a few clicks.
If you want to generate outline-based articles (explaining a topic), this is the way to go. It will save you a lot of time but still give you lots of control over the output.
Here's a sample of the article I was able to write with the Blog Post Workflow: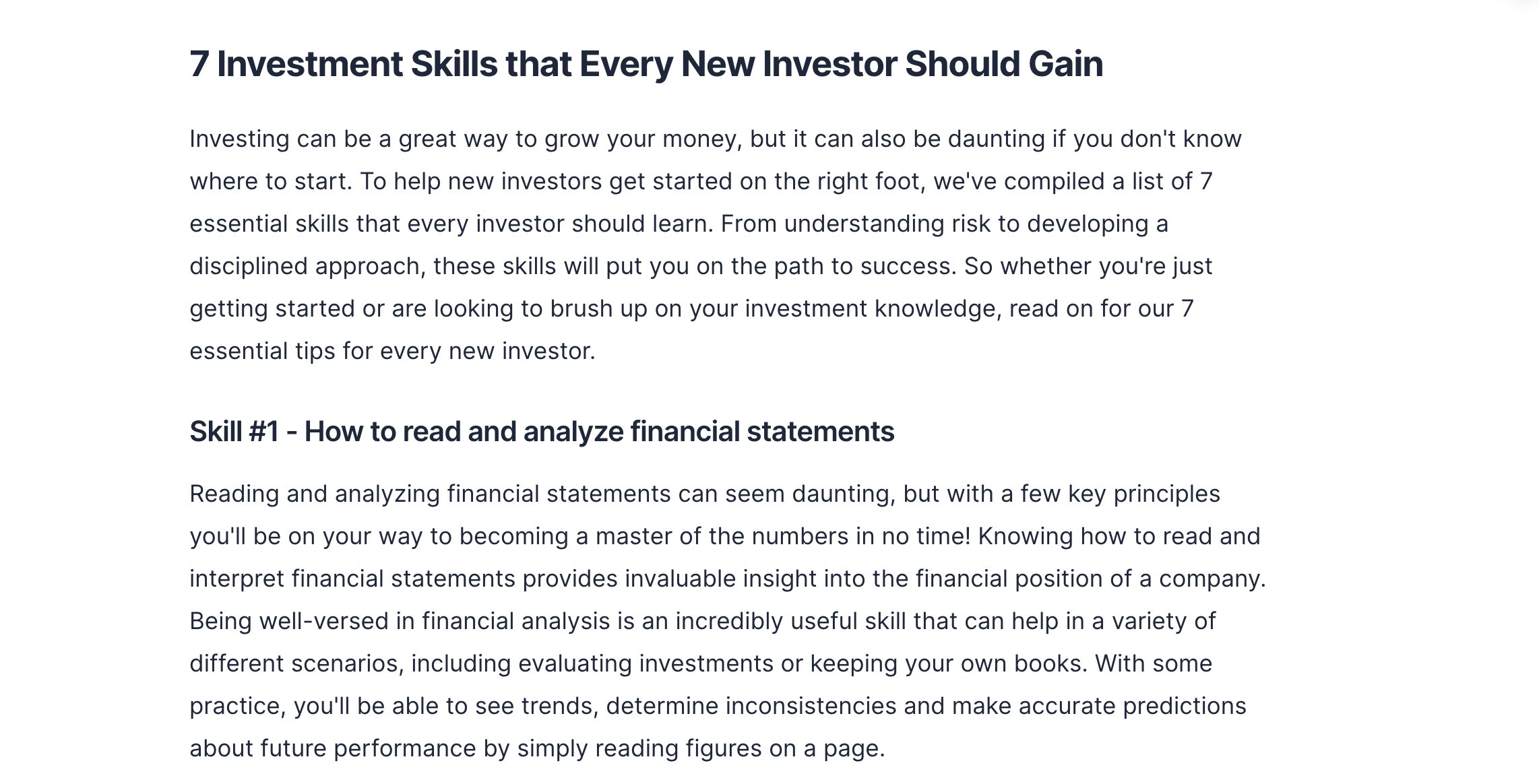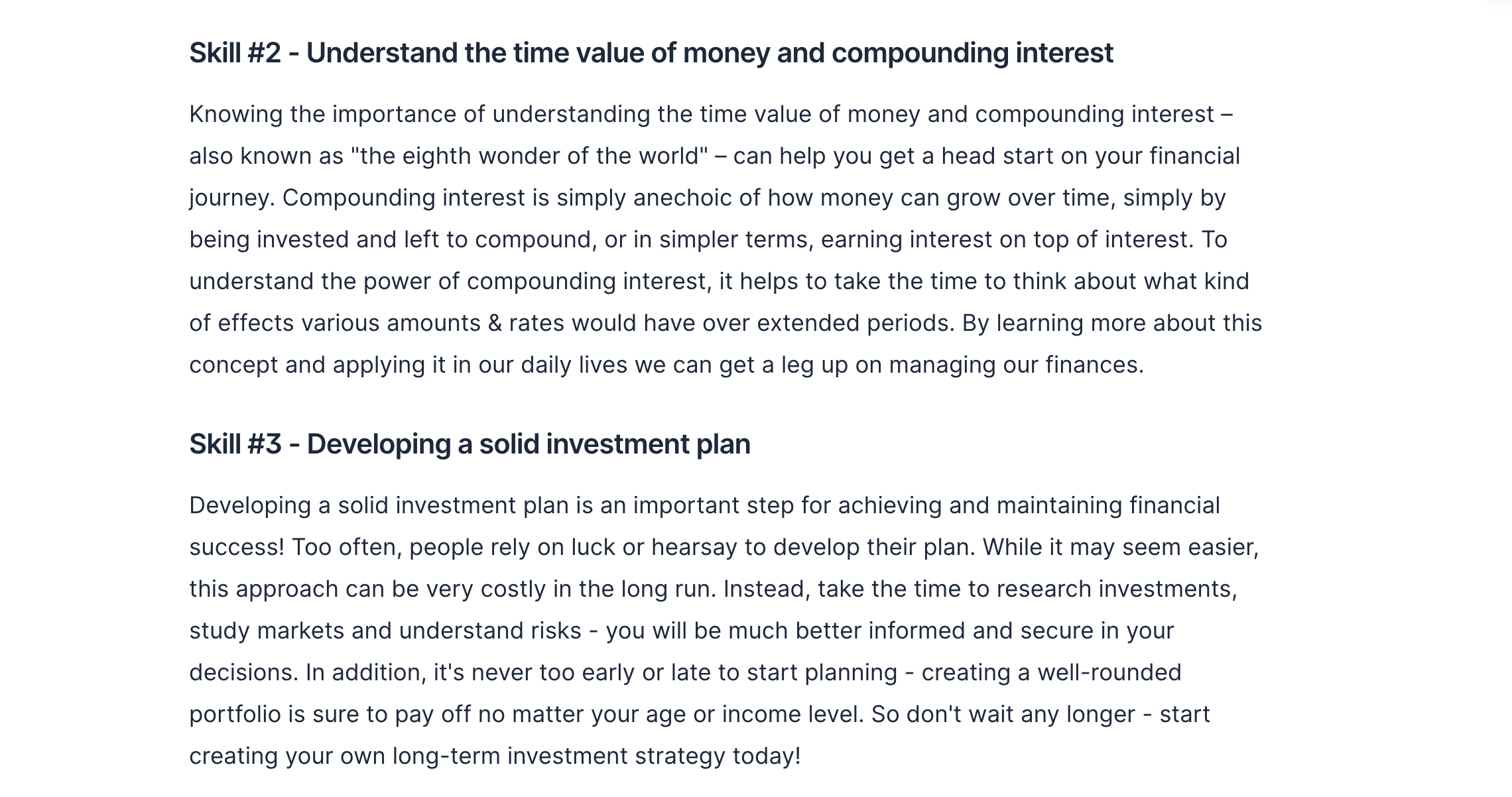 And here's the conclusion:

Pros of this method: Takes less time than writing an entire blog post from scratch. Still gives you fine-tune control over the content.
Cons of this method: Not an instant article generator. Doesn't support other blog types, like reviews.
Method #2 – Use a Blog Post Recipe
Another intuitive way Jasper AI allows you to create custom long-form content is by writing custom commands for the AI engine to follow.
You could ask it to "write a blog post about [topic]," and it will do so. However, this single command doesn't give you much control over the structure of the article.
Instead, you can write a chain of commands, like "Write 5 title ideas about [topic]," then "Generate a blog post outline on [topic]" and so on.
With Jasper Recipes, you can save a collection of custom commands in a template that you can use to generate custom content again and again. And after you generate an article from this template, you can use the Boss Mode editor to edit it as you like.
You even get access to something called "Jasper Community Recipes," which are generated by the Jasper AI team and other users. There are a number of blog post templates there that you can copy and use for your own content creation workflow. Here's a blog post Recipe you can find from the Jasper team:

I used this Recipe to generate the same article as the previous example, and here's what it came up with: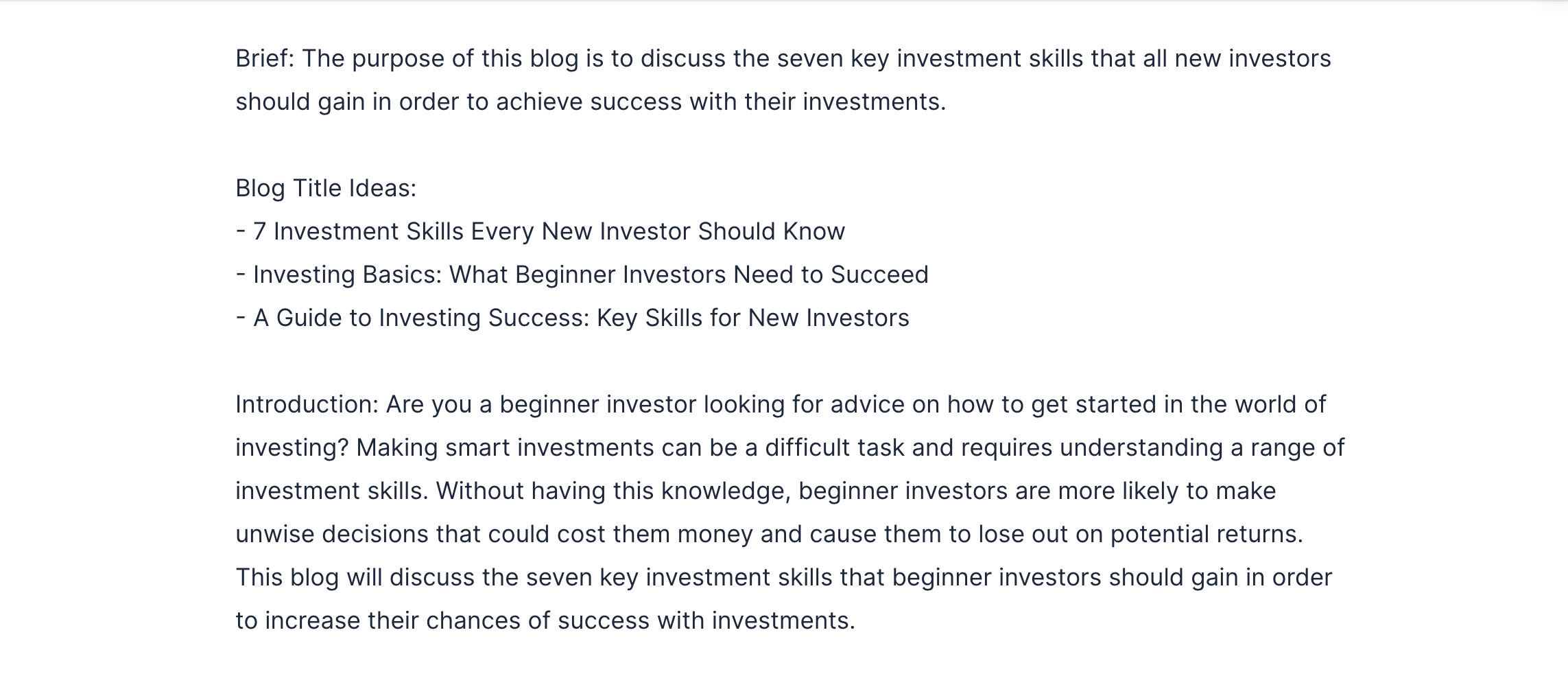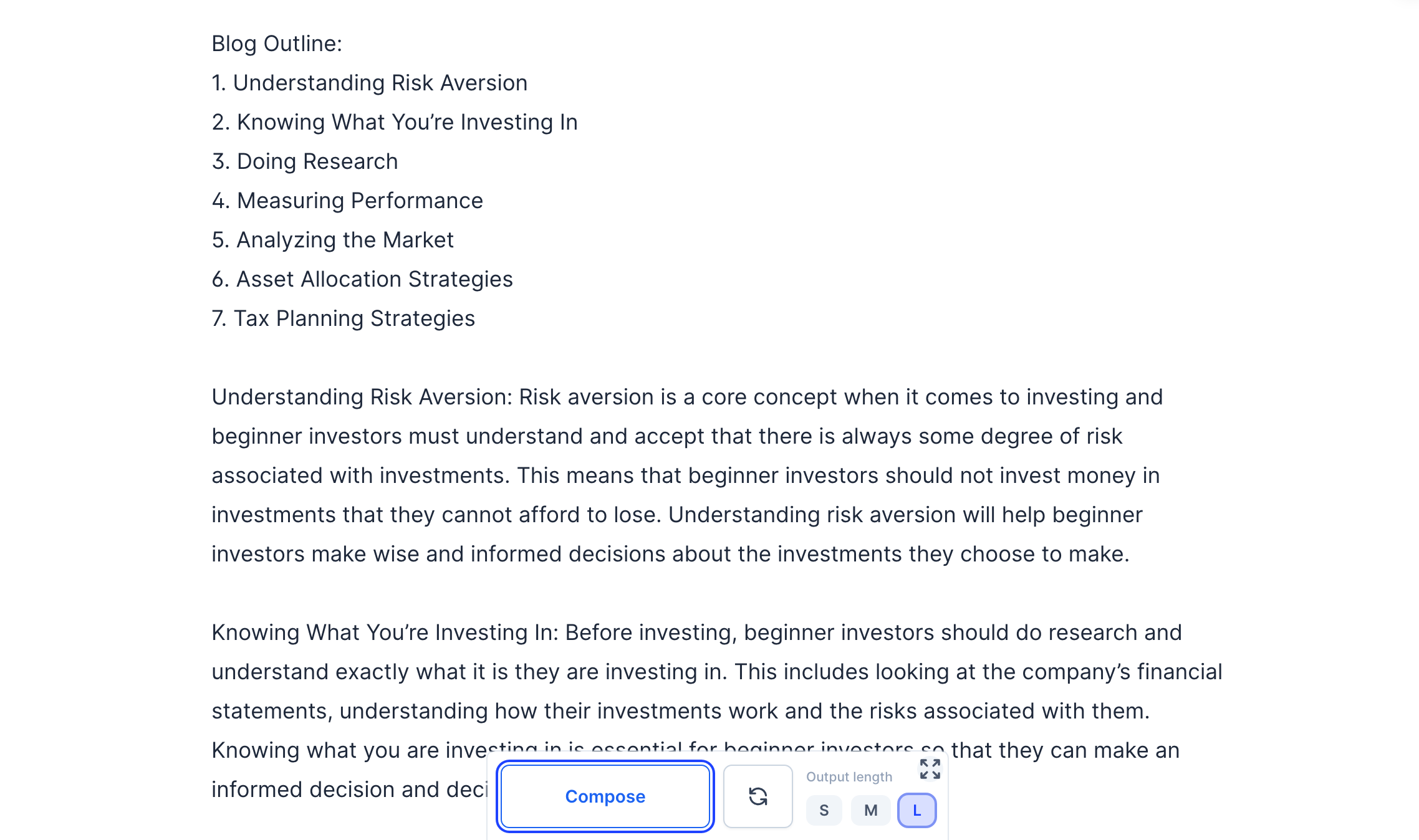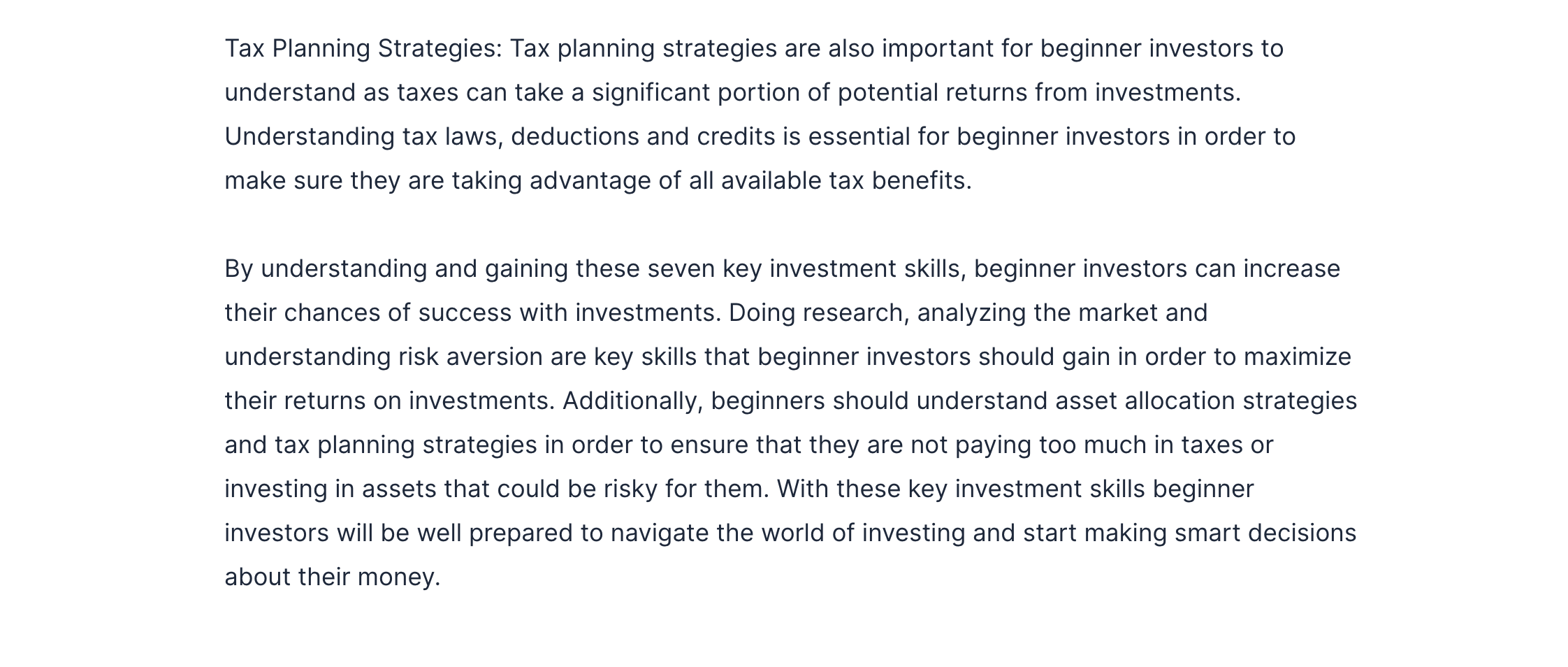 Pros of this method: Gives you full control over the output. Fast.
Cons of this method: May take time to set up or tweak until you get the output you want.
Method #3 – Use the One-Shot Blog Post Template
This is a new beta feature from Jasper AI that allows you to write a complete blog post in just one click.
Just enter a description of your topic (up to 800 characters), choose the tone of voice, and describe your intended audience, and Jasper AI will write a full blog post instantly.
Here's what I asked for, and here's a sample of the article I got: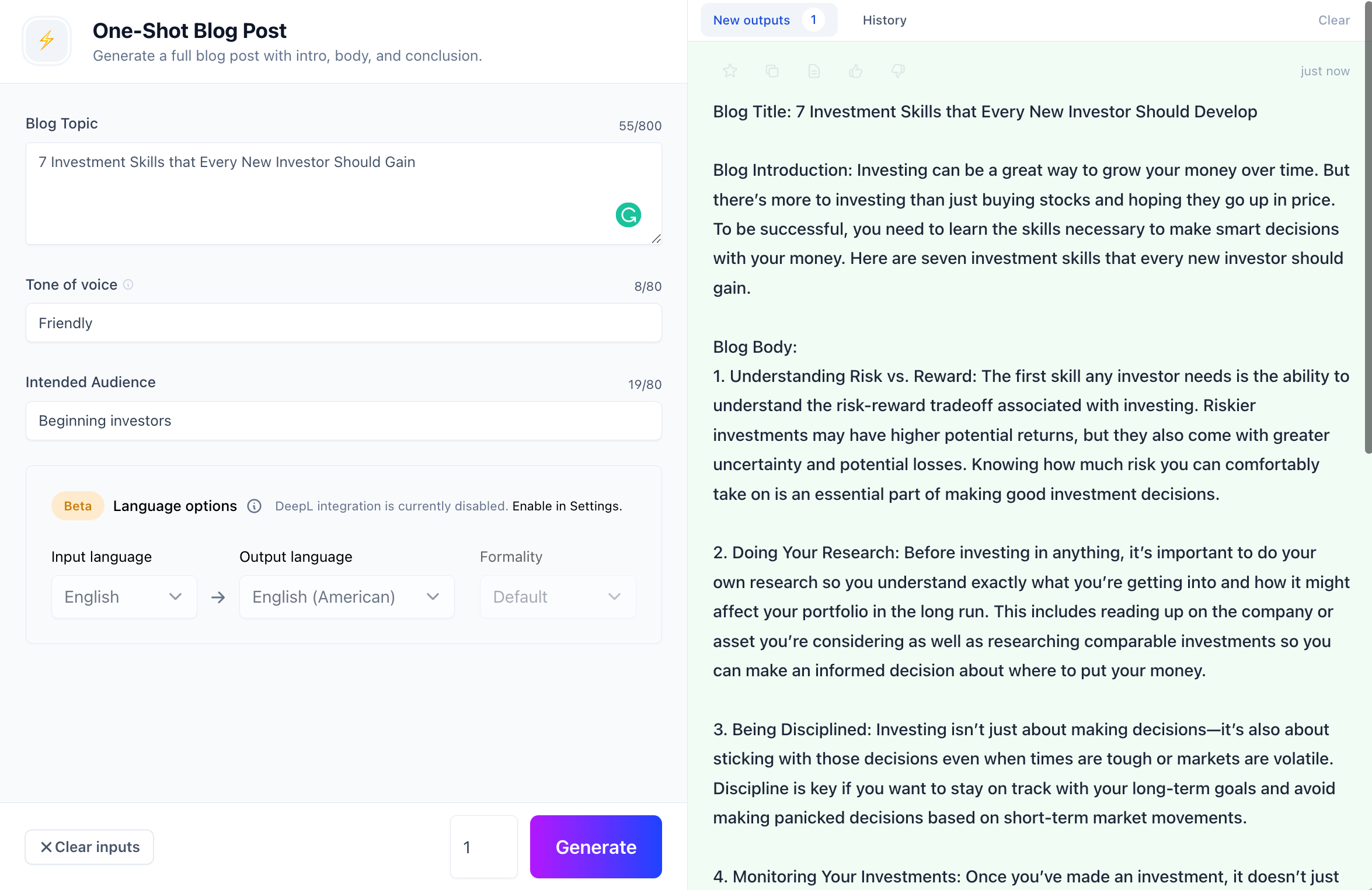 And the conclusion paragraph: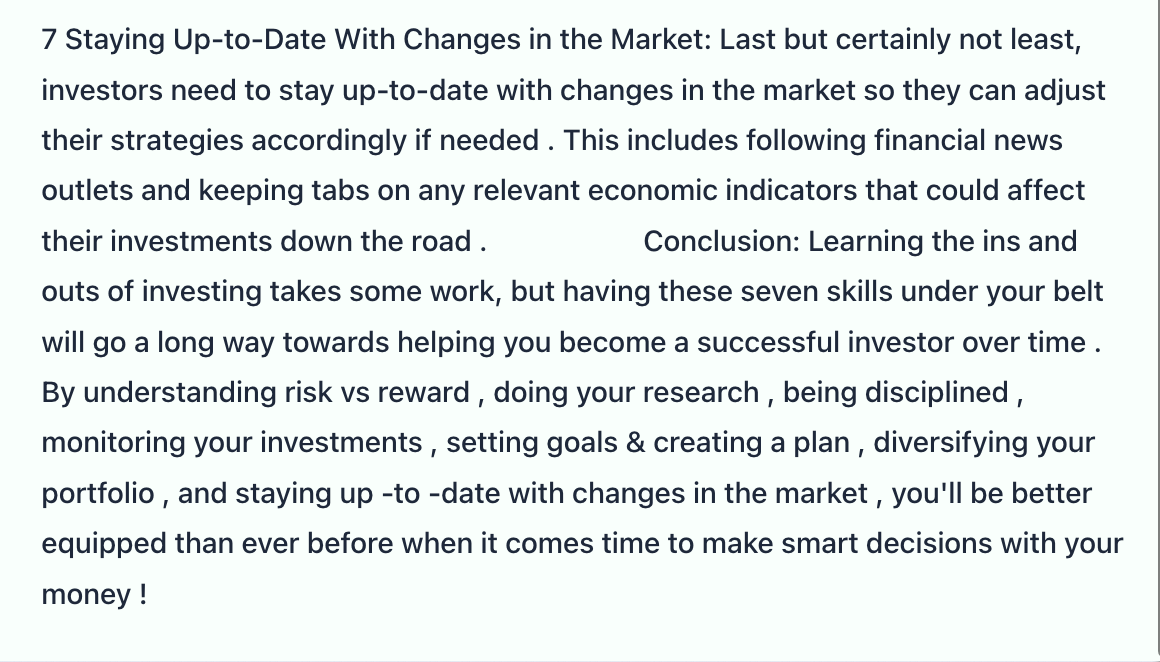 Pros of this method: Super fast. The fastest method of them all.
Cons of this method: Limited control over the article. Requires more editing. The length is shorter than other methods, too.
Method #4 – Generate Piece by Piece in the Editor
You don't have to rely on templates to generate the perfect blog post. Instead, you can use multiple tools to create custom pieces of content line-by-line in the Boss Mode editor.
You can use tools like the blog post topic ideas generator, blog post outline tool, paragraph generator, blog post conclusion paragraph generator, and more to generate your blog post piece by piece.
Or you can simply put your cursor anywhere in the blog post and hit "Compose" to have Jasper write more along the same lines.
I wrote the same investor article again with this method, using Power Mode inside the editor. I chose individual tools, generated the content, and then clicked a button to copy the output into the editor window.
For each paragraph, I could give more detailed descriptions of what I wanted the section to be about.
Here's a sample of what I could create with this method: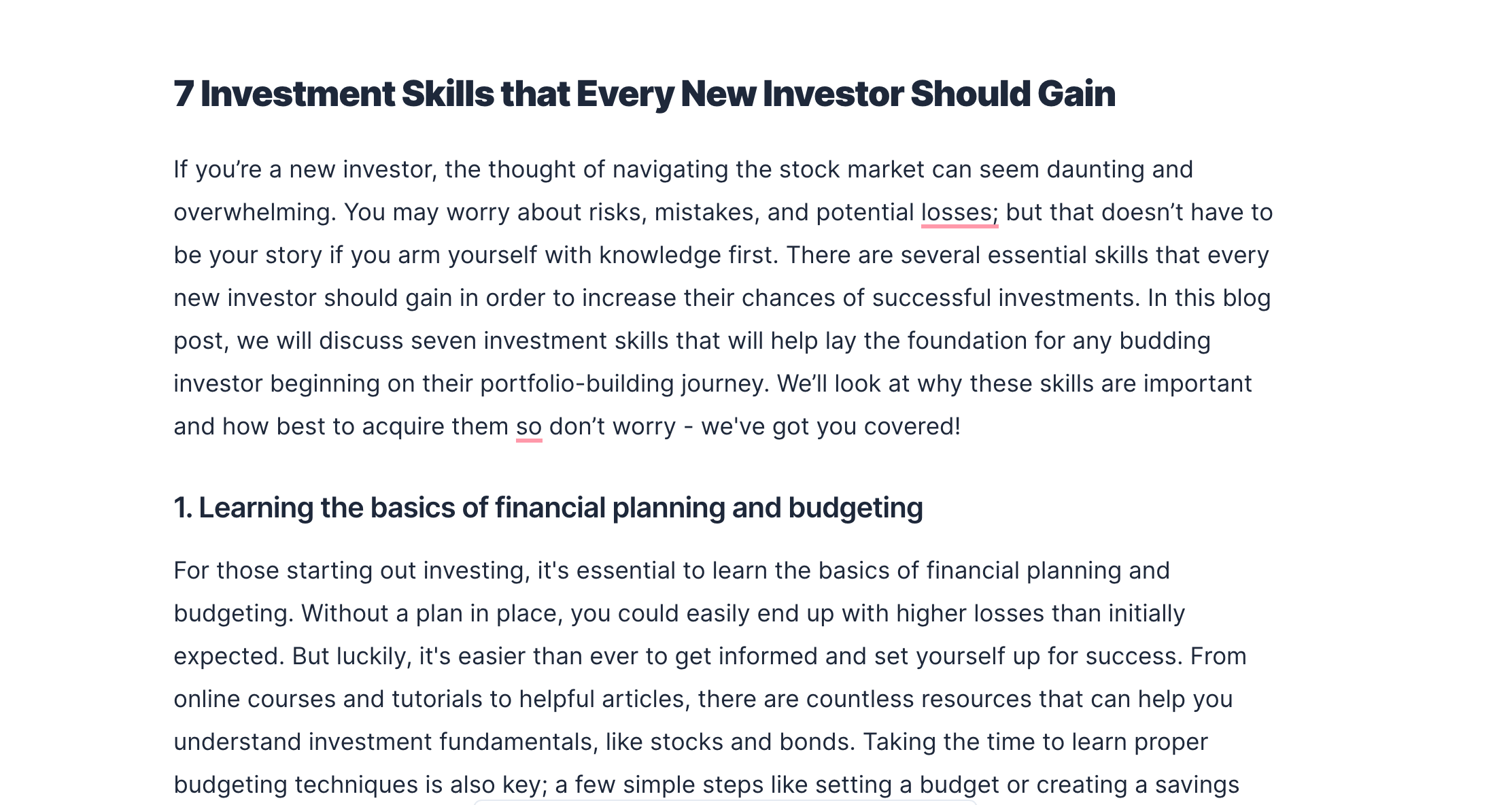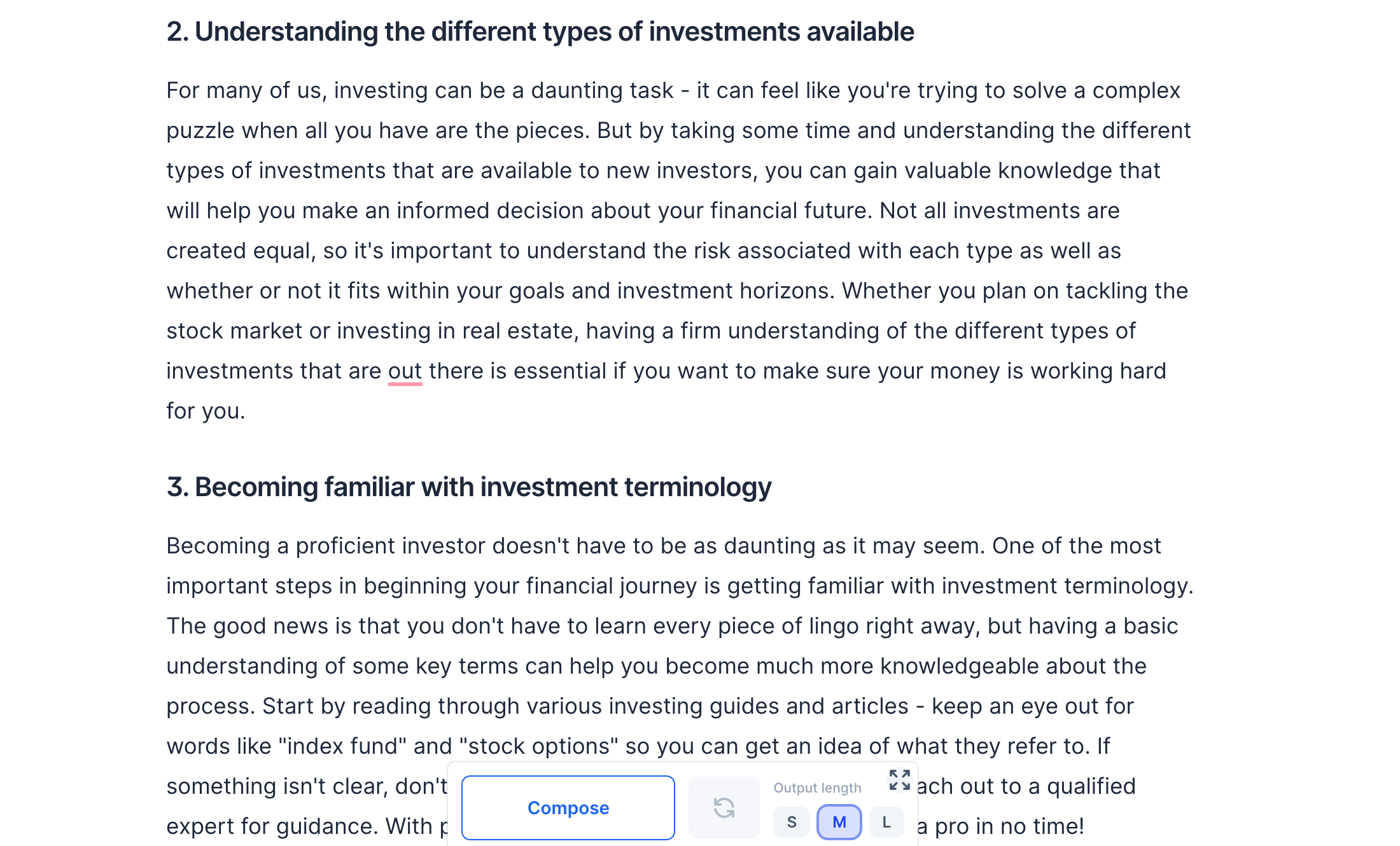 And the conclusion:

Pros of this method: Gives you the most control over the output.
Cons of this method: Takes more time than other methods. Can't save this as a template like Workflows or Recipes, so you'll have to go through the same steps every time you create a new article.
Method #5 – Ask Jasper Chat for a Blog Post
Finally, you can ask Jasper Chat to write you a blog post. (We'll go in-depth into Jasper Chat and how it works in the next section.)
You can ask it to generate pieces of your content little by little, or you can ask it to write a full blog post, depending on how much control you want over the content. (It will work similarly to custom commands in the Jasper editor.)
The advantage of using Jasper Chat is that it integrates with Google Search to bring the latest information on any topic. This essentially overcomes the weakness of GPT-3 (as it only knows information up until 2019), plus it includes sources for its information so you can fact-check the final output.
Here's what Jasper Chat came up with when I asked it for the investment article: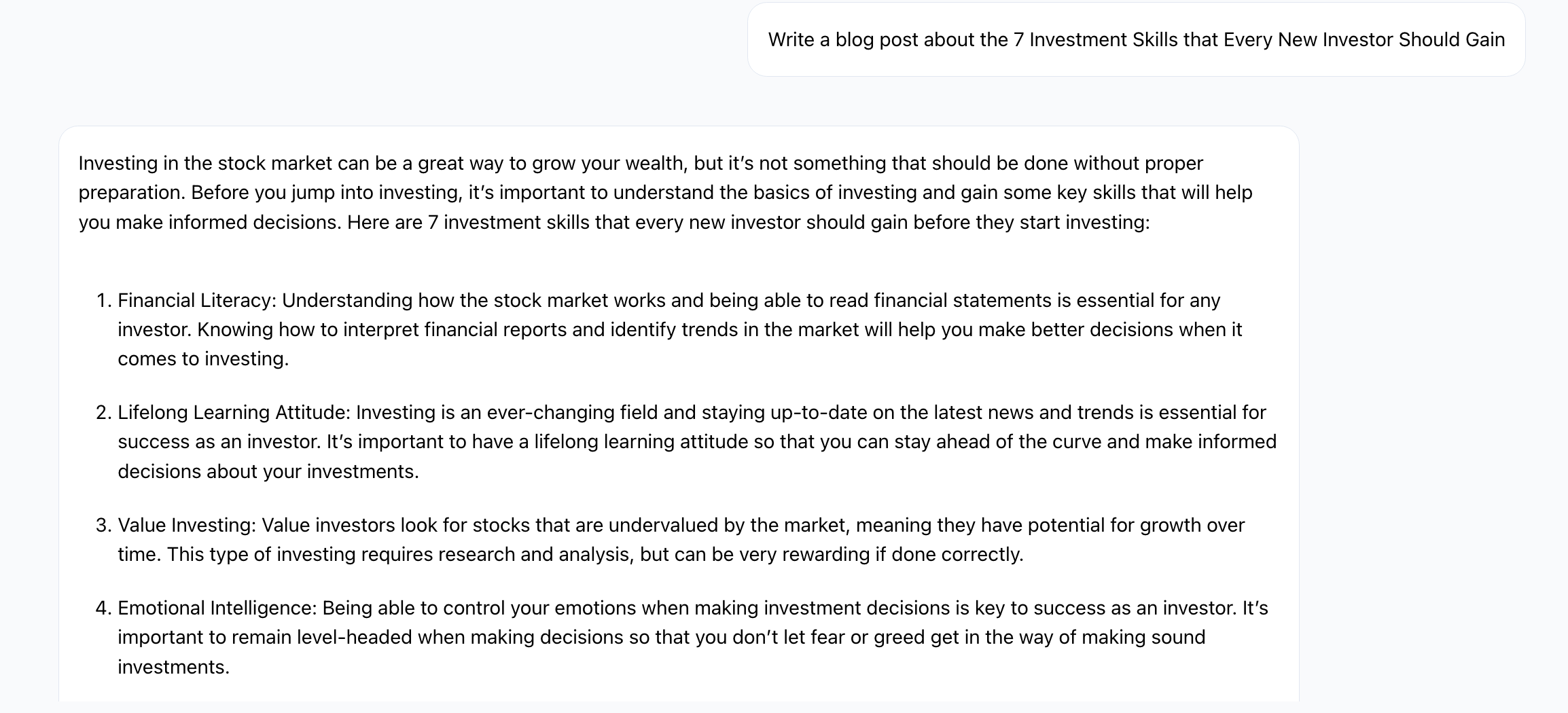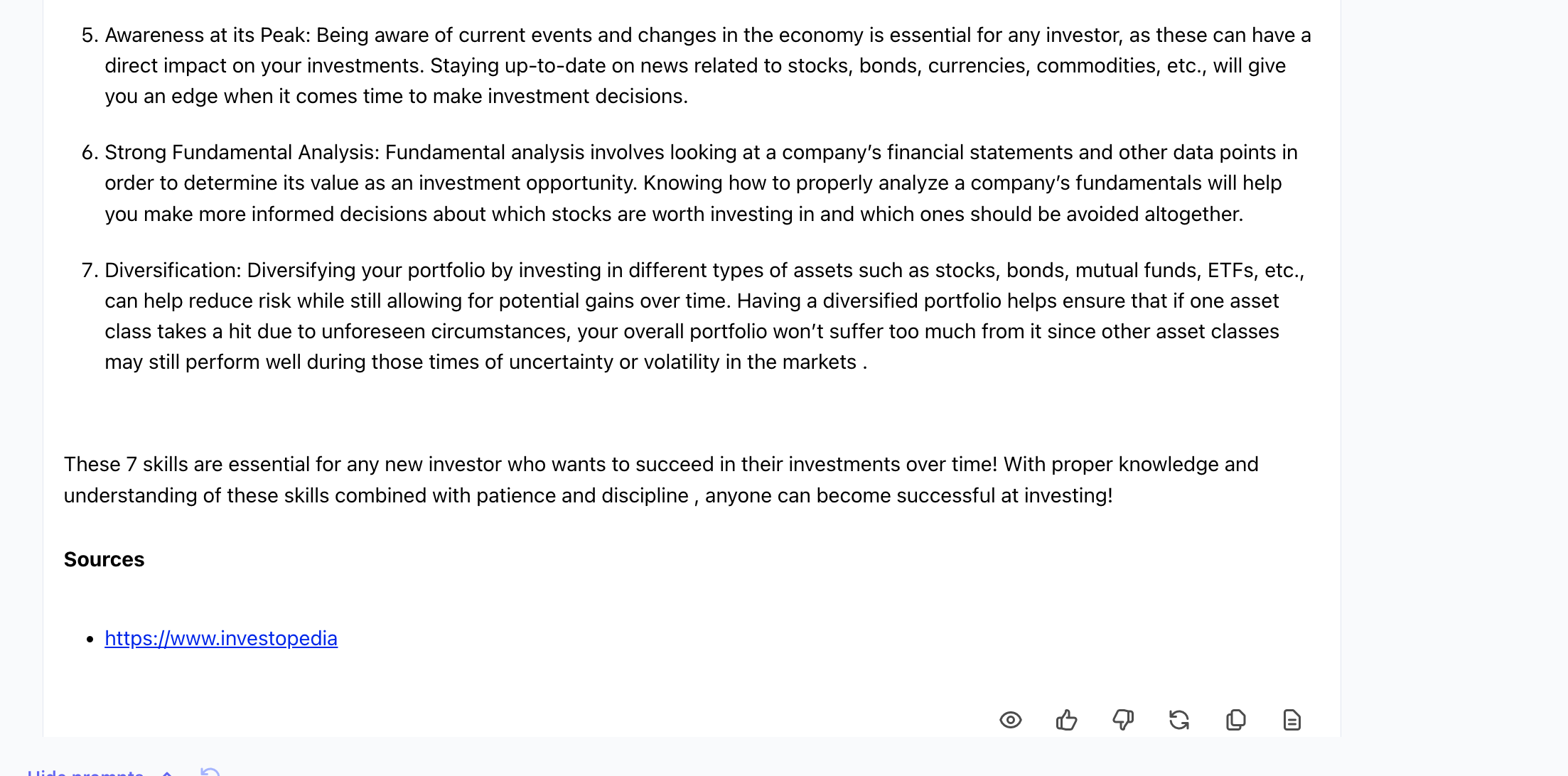 For this example, I connected it to Google Search for up-to-date results, but the link in the citations was broken. Then I tested it without Google Search, and it wrote basically the same article (but without sources). This is still a beta feature, so it might not always work as you expect.
You can even ask the chatbot to generate an image for your blog post, and depending on the way you ask, it can generate custom art with the AI art generator or find an appropriate royalty-free stock image from the internet for your post.
Pros of this method: Intuitive—it feels like you're asking an assistant to write something for you.Fast.
Cons of this method: Doesn't always work as advertised. Article is very short.
Next up, we'll look at Jasper Chat and see how it can make writing content easier than ever before.
Jasper Chat is one of the newest features in Jasper AI (still in beta at the time of writing), and it makes creating content, researching, and finding ideas so much easier.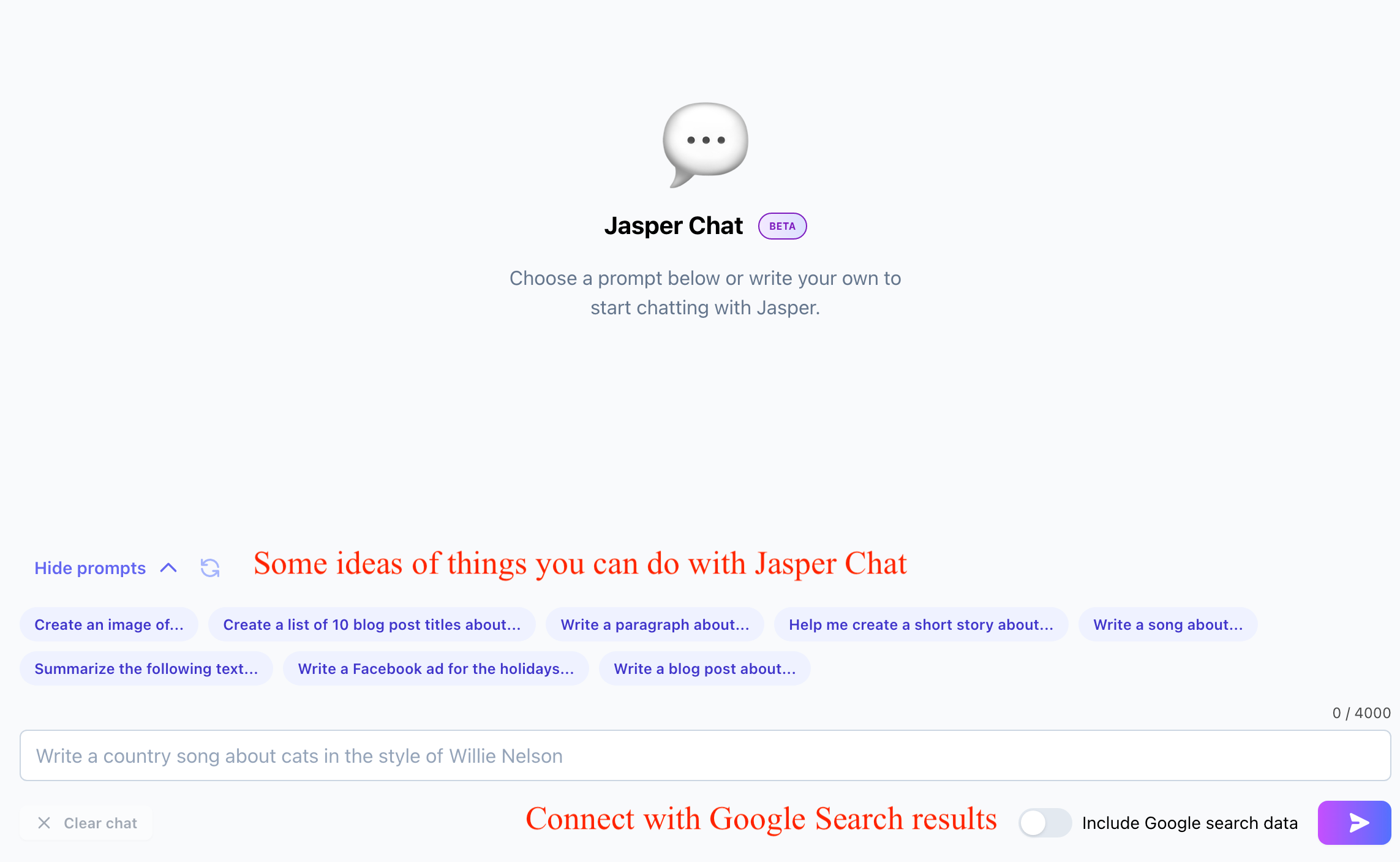 Jasper Chat brings the same functionality of ChatGPT (being able to ask questions and send commands and get responses in a chat format) but overcomes some of the limitations of ChatGPT by integrating with Google Search.
(ChatGPT doesn't have access to the most recent information on the web, so its answers are sometimes inaccurate or outdated.)
If you connect Jasper Chat to Google Search, you'll get responses that come from the latest search results, ensuring more accurate and up-to-date answers, and you get sources for the information in the form of links. That way, you can fact-check the results or continue researching on your own.
Here are some things you can do with Jasper Chat:
Here's what it said when I asked it for blog post ideas: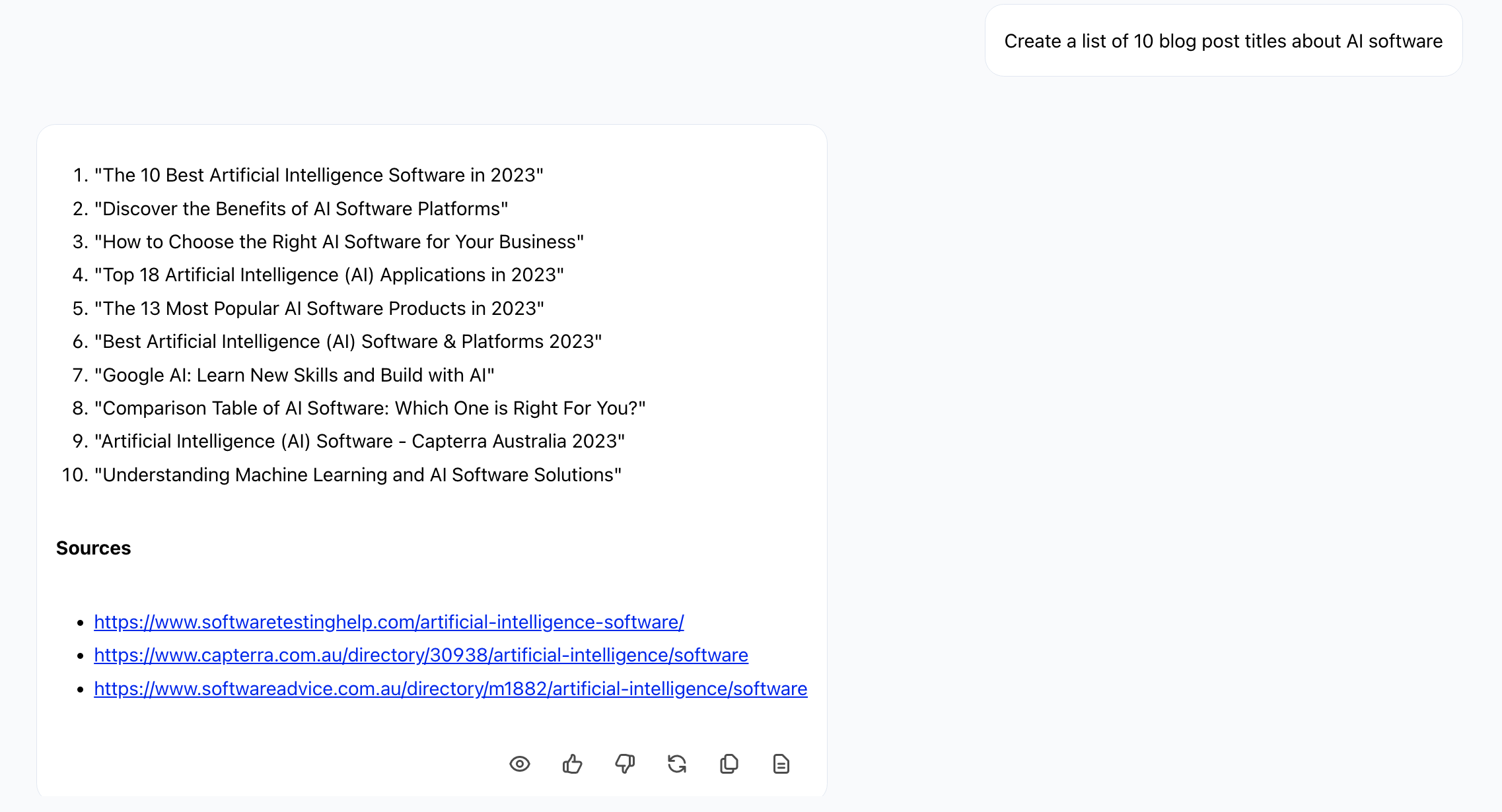 And when I asked it to write a rap about AI writers: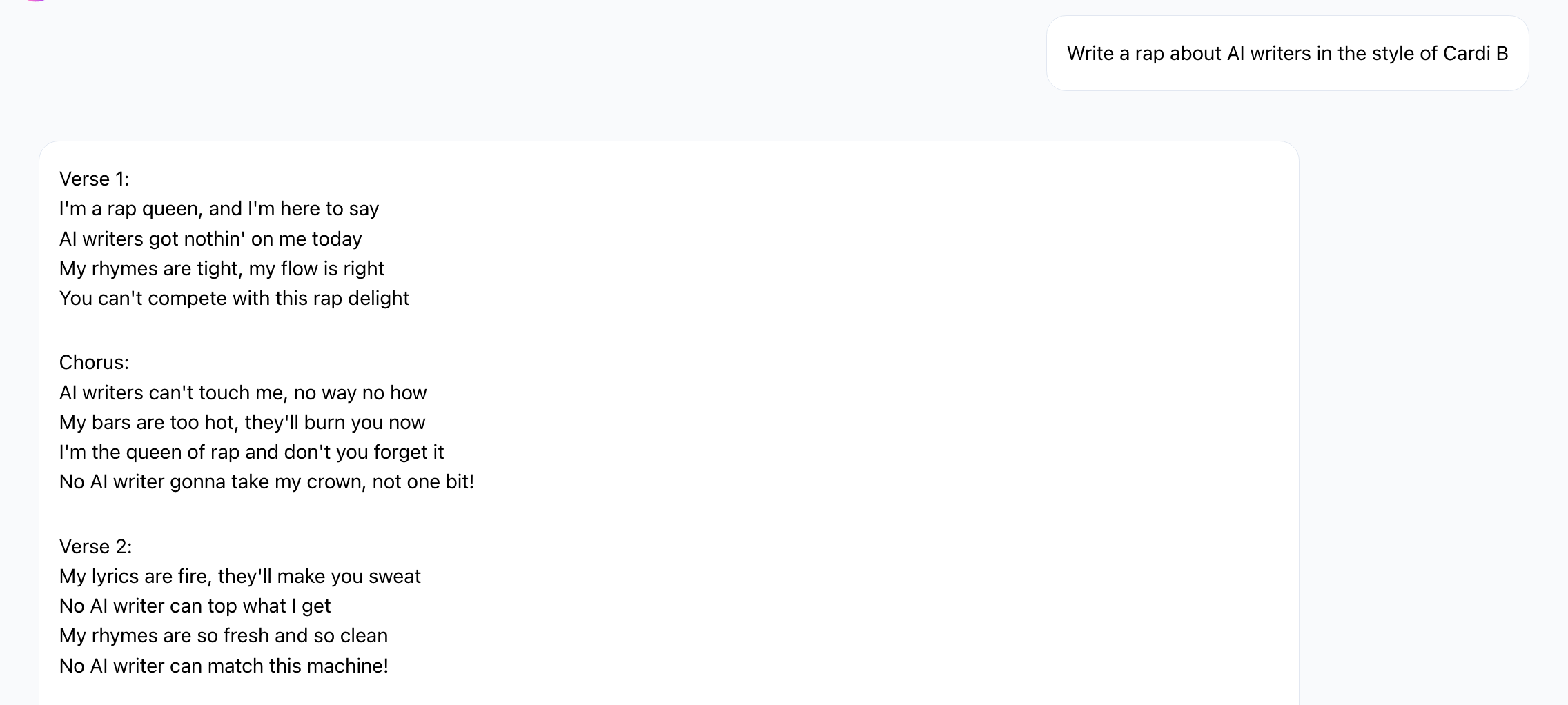 One nice thing about Jasper Chat is that it currently does not count against your credits in Jasper AI.
The team has written on its Jasper Chat page that right now, in order to encourage you to test the tool, anything you generate with the tool will not count against your credits. That's a nice bonus if you generate a lot of content.
That said, they do plan to start charging for credits someday, so take advantage of this while it lasts!
Jasper AI Art Generator
Jasper's art generator uses a deep learning algorithm to create completely original graphics that often pass for human-designed pieces of artwork.
All you do is type in the type of art you would like, and the program creates a few images that you can choose from, like this 👇
You can also use the new Art Templates feature to generate images that follow a certain theme.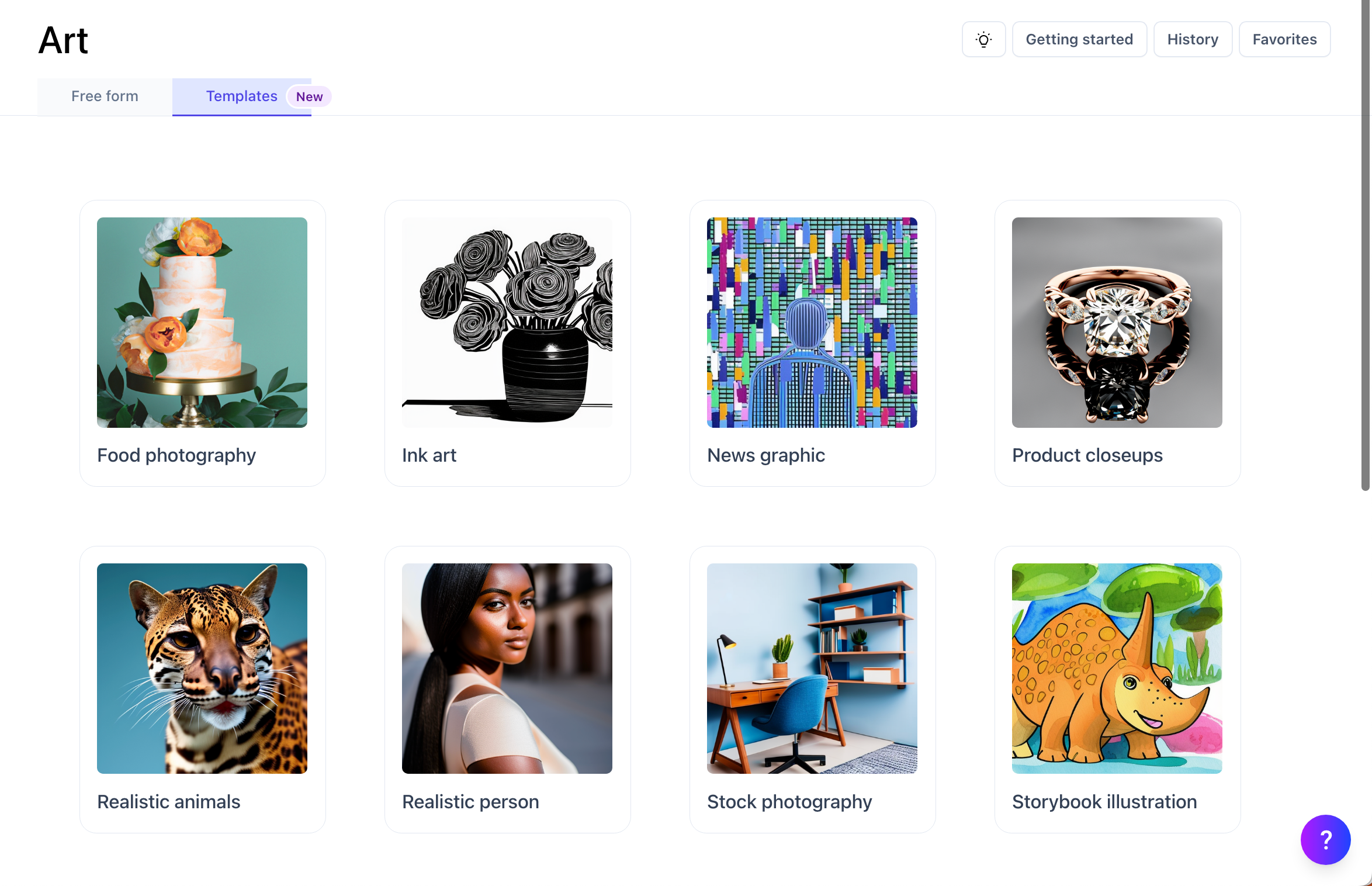 I used the Templates feature to generate travel photos of Paris (interesting that you could generate travel photography for a place you've never been!):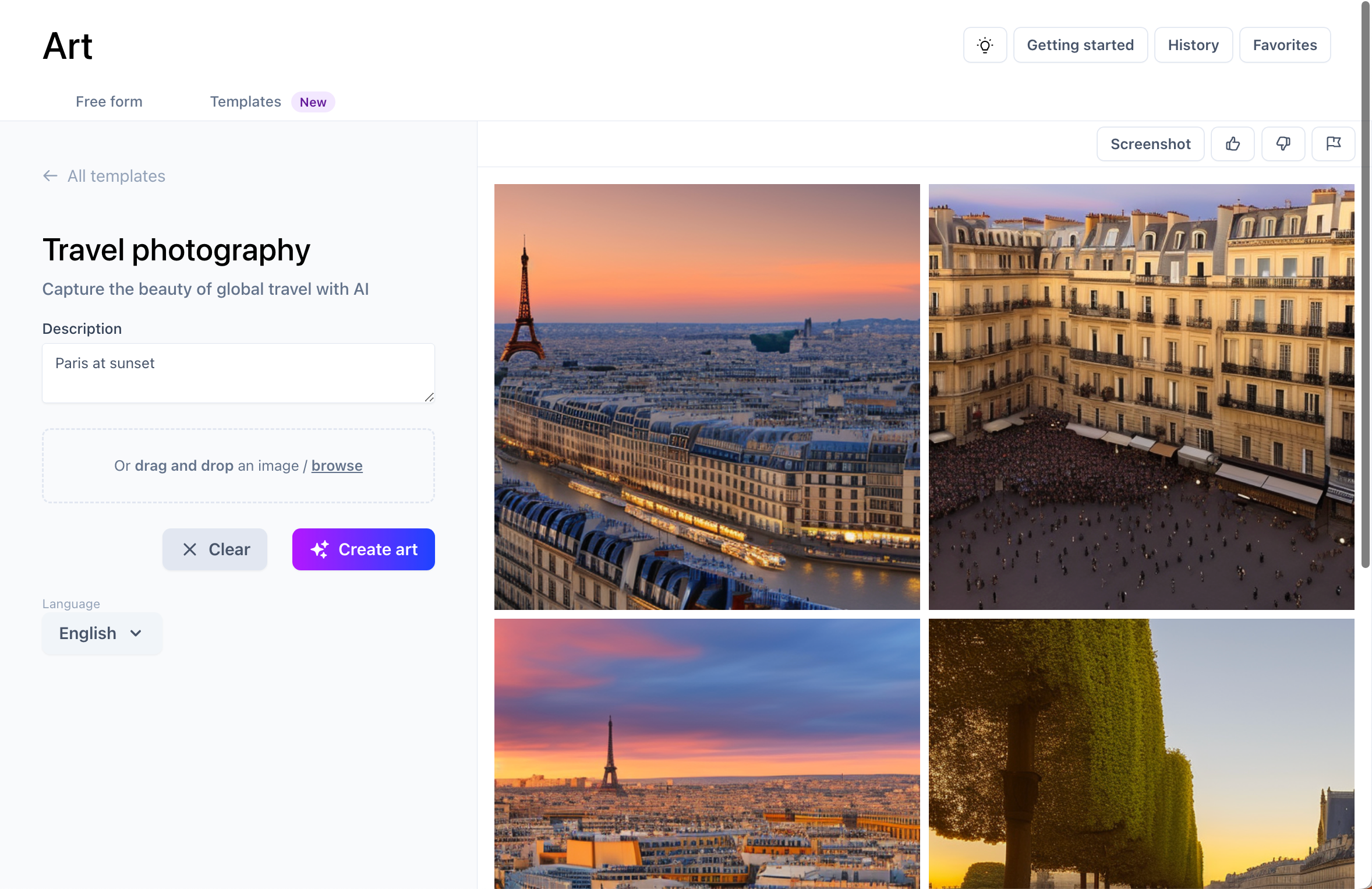 Art in Jasper AI is still pretty hit-and-miss, depending on the image you're looking for. You'll need to test your inputs and settings to get the image you want. You can see my full review of the Jasper AI art generator here, along with its competitors.
I will say, for only $20 bucks extra a month for the art generator, it's a great choice for bloggers and writers who want original images for their content.
Chrome Extension
Want to generate AI content on the fly, no matter what you're doing online? To help you do this, Jasper AI has created a Chrome Extension that brings the power of its writer to your browser.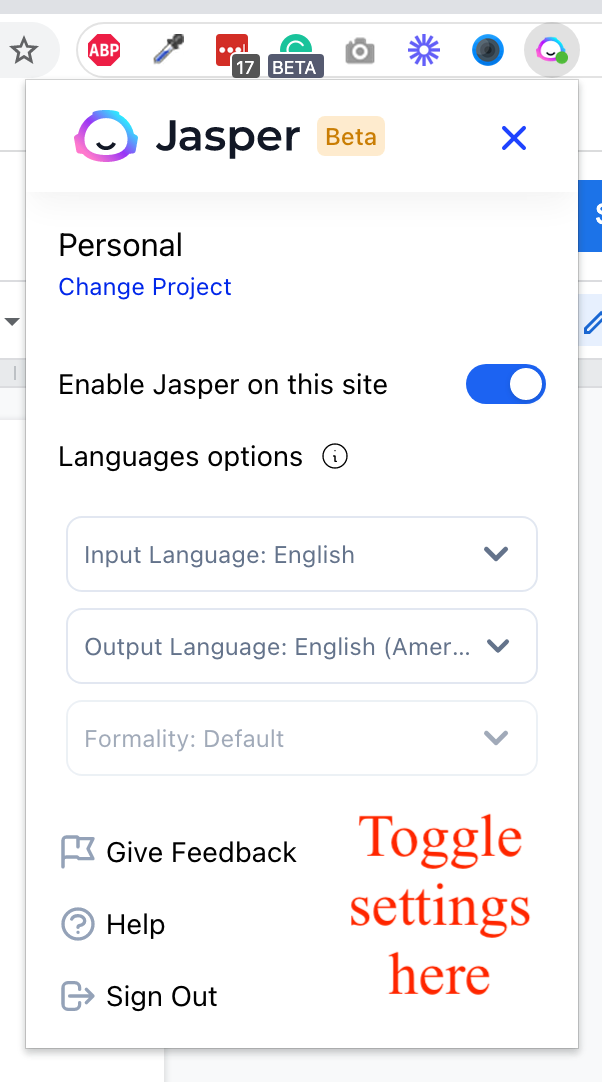 When you install and activate the extension, you'll get a little Jasper AI icon anywhere you can input text online, like your Twitter feed, your Facebook ad account, Google Docs, email clients, and anywhere else you might be writing online.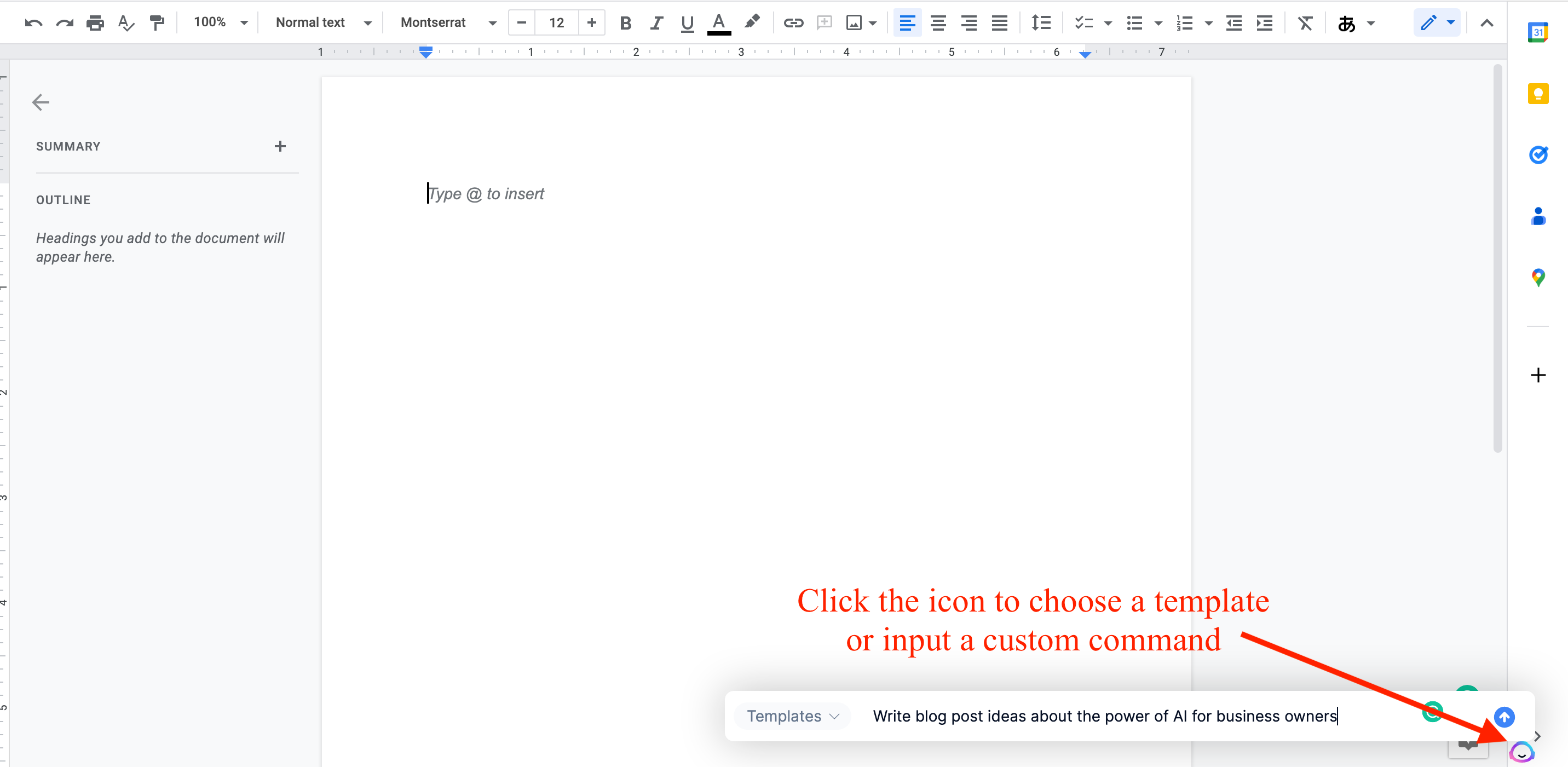 Instead of having to jump over to Jasper AI, generate your content, then copy and paste it back into a website, this handy little extension can save you a bunch of time and make it easier to communicate effectively where it matters most.

Jasper Team and Bootcamp
With all of its features and the ability to customize your tools to have full creative control over your content, Jasper AI can sometimes feel confusing for the beginner user.
That's where the Jasper team and Jasper AI Bootcamp really come in handy. They go over everything you need to know (and more) about their program. If you're a professional writer, it's likely worth the upfront investment now as you'll save a lot of time later.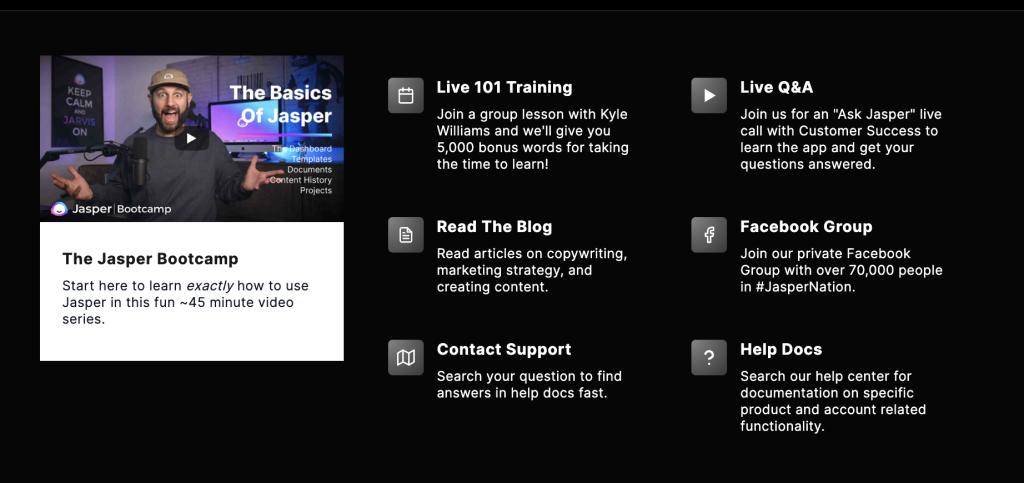 The Jasper AI Community (#JasperNation)
Jasper's thriving customer community is called #JasperNation, and its main home is in a Facebook Group called "Jasper – Official Community." At the time of writing, this community has over 74,000 members and is gaining more members every day.

Inside the active Facebook group, you can ask questions, get help, see how other people are using Jasper AI, or just network with other fans of the tool. As a complement to Jasper Bootcamp and the support options, this is a great place to learn more about the tool.
For what you get, Jasper AI is reasonably priced, but it's still on the expensive side compared to other AI writers.
The price will depend on how many words you generate, and you can either choose your word count for the month or let Jasper AI upgrade you automatically when you go over your word limit.
It takes a few months of use to get a feel for how much you'll end up using it, but here are some estimates of what you might pay monthly to use Jasper AI (on its Jasper Boss Mode plan). Plus, you can start with a free trial to test out the tool before you commit.
Note: Jasper used to have two personal plans, the Starter (for short-form content) and Boss Mode plan (for long-form content), but they've now switched to only offering Boss Mode and Business plans. If you want to use Jasper for your content, you'll need to sign up for Boss Mode.
Jasper AI Pros & Cons
There are many benefits to utilizing AI content. First of all, it can save you a lot of time. If you're a busy site owner or writer, you can use Jasper AI to generate content for you while you focus on other tasks.
Additionally, because Jasper is so accurate, you can be confident that the content it generates will be high-quality and error-free. Finally, using Jasper AI can help to increase traffic to your site or blog as it can generate a lot of content quickly.
Jasper Pros:
It wouldn't be a complete Jasper AI review without mentioning the downsides.
Here are some cons you should be aware of:
What Does Google Say About AI Content?
Google recently published a new blog post about its stance on AI-generated content.
The conclusion: Using AI to generate content is totally fine, as long as it's appropriate.
The key is to create content for humans that fits the description of what Google deems as "helpful" content, no matter what tools you use to create that content.
How do you know what's helpful? This is what Google looks for: expertise and experience in a subject area, authoritativeness, and trustworthiness. Whether you use AI to generate the content or not, hitting these points is key.
They clearly state, however, that if you're looking to use AI simply to game the search engine system with no care for the actual human readers of the content, then you will likely be penalized.
As long as you use AI writers in your quest to create helpful content for humans that brings an original take, new ideas, or more comprehensive coverage of a topic, you shouldn't be penalized for it.
My Take Home
After spending months and months on Jasper AI, I think it's the absolute best overall AI writer on the market today.
If you're a professional writer in any context (blogs, articles, ads, books) and need to produce a lot of content quickly, then without a doubt, this can help you streamline your content creation process and save you tons of money, time, and stress when writing content.
If you're still on the fence, I recommend trying out the 5-day free trial.
Frequently Asked Questions (FAQs)
For me, the answer is yes, if you have it to spend. If you're a new blogger with limited funds for your tech stack, you can definitely do without it (as the Boss Mode plan can be pricey). But if you have an income stream and want to speed up your efficiency, Jasper AI can help. If you're looking for a more budget-friendly option, you can check out my Rytr review.
Can you use Jasper AI for social media posts?
Short answer is yes, you definitely can—I tested the caption writing tool in my Jasper AI review above. You'll need to play with the inputs you use in order to get the right output. Jasper AI has templates for any kind of social media content you can think of, and you can also use custom commands to have it write anything that's not covered.
What is the best AI writer?
Like anything else, it depends on what you're using it for. Jasper AI does great overall for any kind of copy (as you can see in my testing above), but there are other tools out there that specialize in different niches, writing styles, and templates
Is it easy to write blog posts with Jasper AI?
Yes, writing blog posts with Jasper is easy! There are many ways to do it, from the one-click article template to creating long, customized templates according to your exact specifications. (I've reviewed the top 5 ways to write blog posts with Jasper in the article above.)