Rytr AI Writer Review: Is This Low-Cost AI Writer Worth It?
Last Updated on January 15, 2023
If you're looking for a go-to AI writer for professional use, you've probably heard of Rytr, one of the more well-known AI writers available today. I've gone through my full breakdown of AI writers here if you're looking for an overview of all the top platforms.
Rytr has one of the most low-cost subscriptions among AI writers (significantly), but is it worth buying?
I've personally tested Rytr (in a similar style to my Jasper review and Copy AI review) and used it to generate multiple types of content to see how it stacks up against other AI writing tools in the market.
In this article, I'll share my full Rytr review so you can see if it's the right choice for you.
But first, if you're new to AI writers, here's what you need to know:
Disclaimer: This post may contain affiliate links, which means I'll receive a commission if you purchase through my links, at no extra cost to you. Please read full disclosure for more information.
What is an AI Writer?
An AI writer is a tool that uses artificial intelligence to string together words and phrases into coherent sentences. Most AI tools can take simple prompts and turn them into fully-developed long-form content, social media captions, ads, and more.
While AI writers can help generate ideas or first drafts, they usually require extra editing by a human before publishing. No AI writer is perfect, but many of them do an excellent job of writing human-sounding, readable content at the click of a button. If you ever want to test if content was written by man or machine, you can use an AI content detector.
How do AI writers work?
The basic premise is that you give the AI software a prompt, and it generates text based on your requirements.
Now that you understand how AI writers work, I'll spend the rest of this article sharing my Rytr review: what happened in testing, the pros and cons, and all the features available to you in the app.
How Does Rytr Work?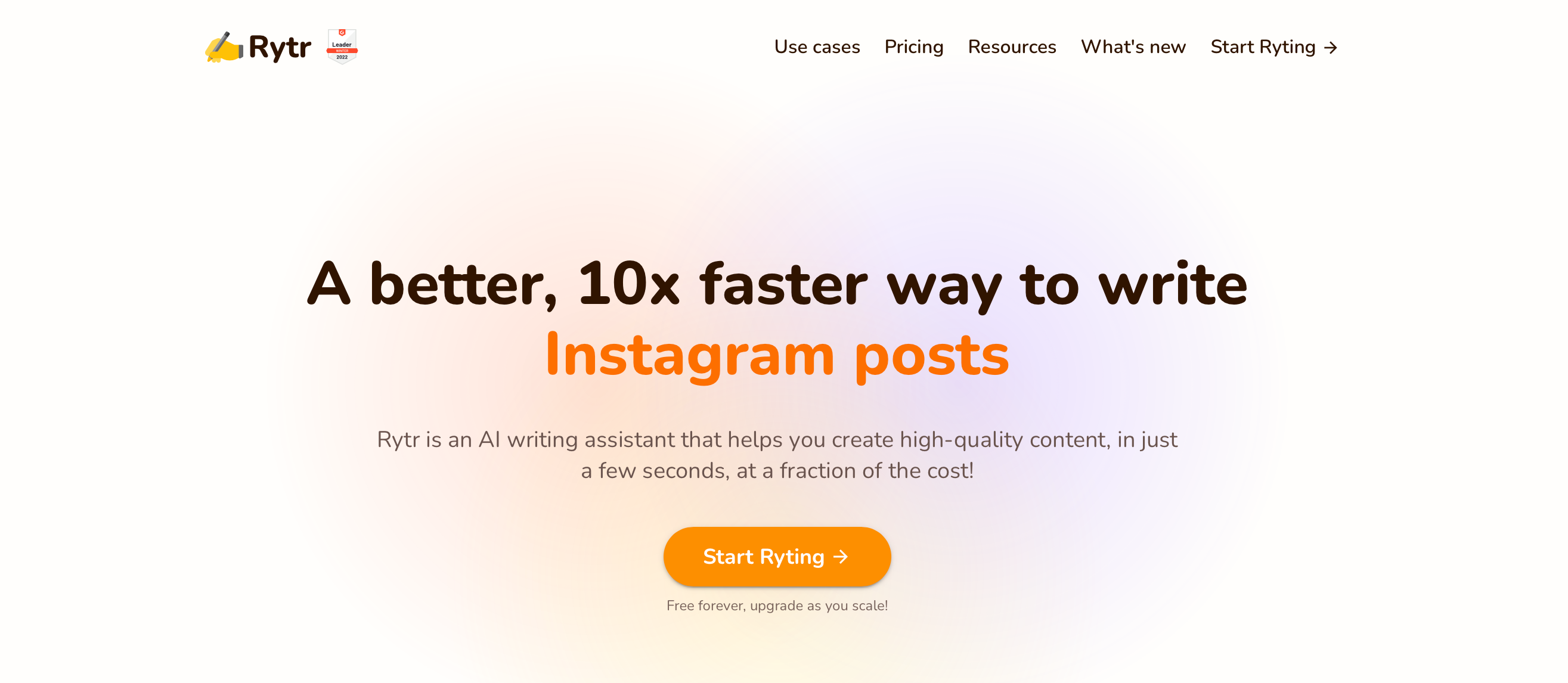 Rytr works like most AI writers. First, you choose a language (I chose English) and a writing tone. (See the full list of tones below.)
Then you choose a Use Case for your piece of writing from options like Post & Caption Ideas, Job Description, or Cover Letter. (See the full list of use cases below.)
After setting your parameters, the app will ask you for keywords, text, or other information it can use to write the content.
Here's what that looks like:

In this example, for the use case Blog Idea & Outline, you're asked to enter a primary keyword for the post.
Then, you can choose how many variants (or versions) you want the app to write and set a creativity level. I recommend the "Optimal" setting because it optimizes the creativity level to make it as creative as possible without becoming wildly inaccurate.
When you click the button that says "Ryte for me," Rytr generates text inside the editor. After it's done, you can modify and edit the text as you like.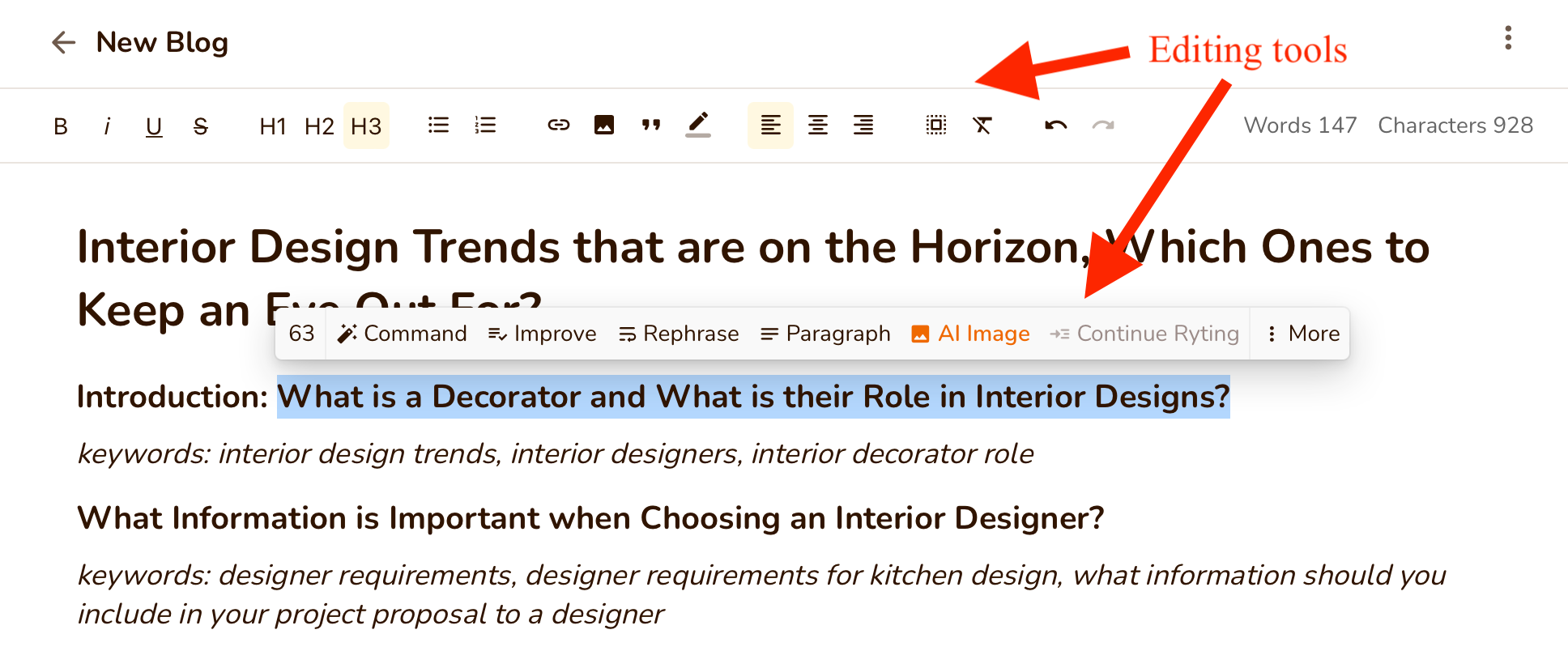 Under the hood, Rytr uses a language model called GPT-3, which has used deep learning to analyze so much human language that it can reliably produce accurate and human-sounding text based on a prompt. GPT-3 was developed by a research laboratory in San Francisco called OpenAI and is used by many language-based AI tools, including Jasper.
AI Writer: Full Rytr Review
In this section, I'm going to walk you through all the major features of the application, so you get a good sense on how it works overall.
1. Platform Overview
When you open up the app, you'll see a page divided into 3 sections: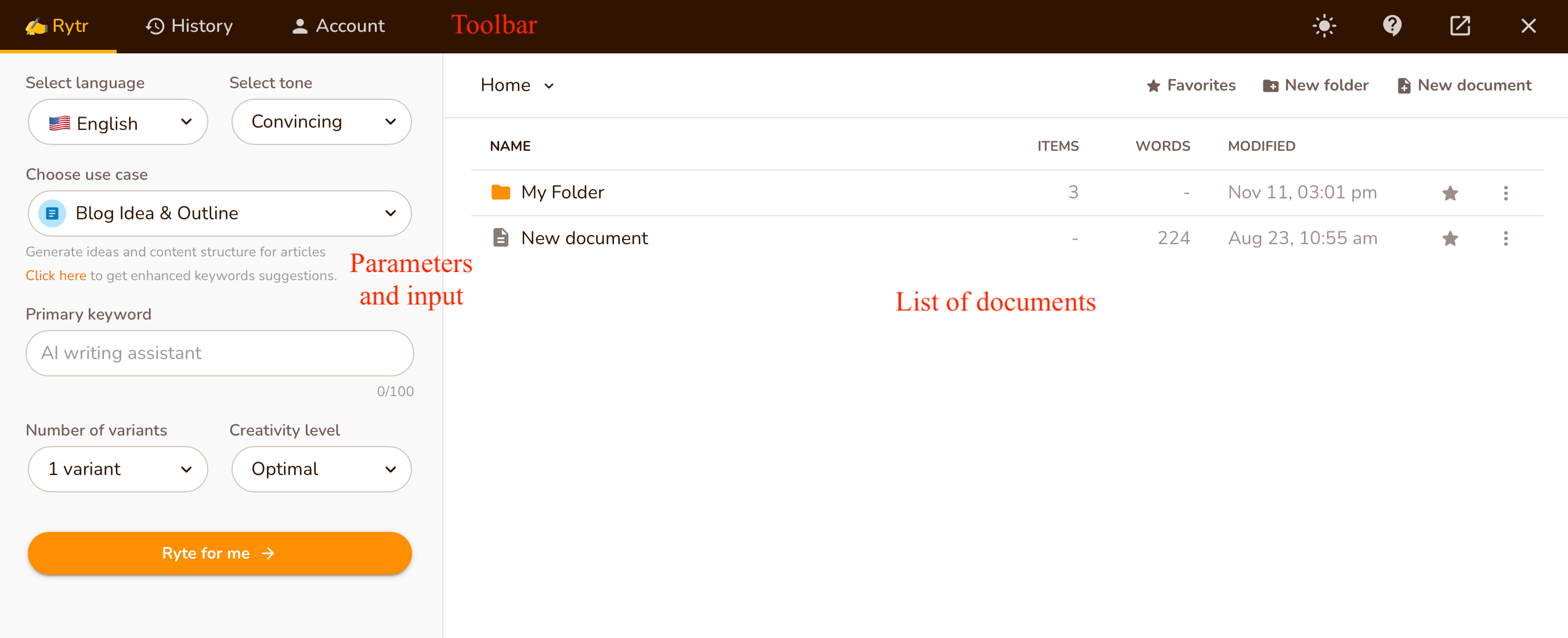 If you want Rytr to write inside a specific document, you can choose an existing document or create a new one from the menu. If you don't choose a document, Rytr automatically creates one with the generated text.
Next, let's take a look at the languages, tones, and use cases you can choose from.
2. All of the Tones and Use Cases Available
You can choose from 36 languages, 22 tones, and 34 use cases. I've tested a few use cases so you can see how the app performs. And I've listed all of the languages, tones, and use cases below.
A. Blog Idea & Outline Generator
This use case makes it easy to write long-form content inside of Rytr.
To test this feature, I inputted the keyword "Stock Market Investing" and selected the tone "Convincing." Here's the result: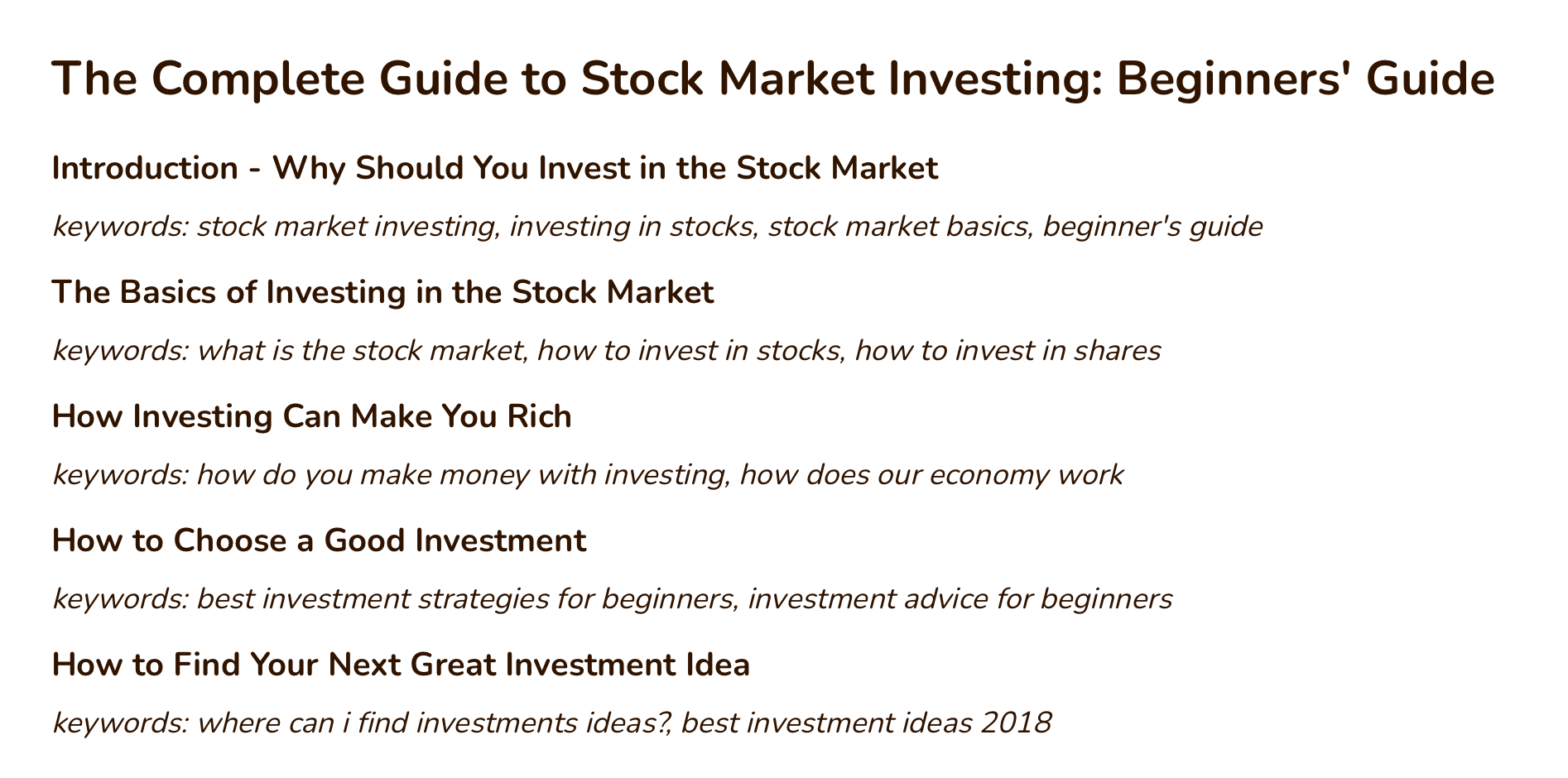 Not too bad—this could be a good starting point for an article.
It gave me helpful keywords for each paragraph and told me I could expand each set of keywords into fully-written paragraphs using the "Paragraph" command. You can use this command to create an entire blog post in just a few clicks.
Here's an example of a paragraph it generated for me in just a few seconds:

Okay. Let's try another prompt…
Next, I gave it a new topic: "lower back stretches for flexibility" with the "Informative" tone. Here's the results of that prompt:
I was impressed with the quality of this outline. This use case could be a big help for professionals who want to create high-quality content in a very short amount of time. If I was writing this manually, I would have spent at least 5-10 minutes developing this outline.
B. Copywriting Framework: AIDA Generator
This use case asks you for a product or brand description and uses it to generate a piece of sales copy using the AIDA copywriting technique. This was my input:
AI Writer's Conference is the best conference to attend for any writer to learn the latest technology and techniques to write faster and more effectively in 2022. Sign up today
And here's what I got:

It's messy and not something you could use right away. But that's the point of AI copywriting tools—they give you a starting point to edit and tweak into what you want to write. I was a bit impressed by the quality in a short amount of time.
C. Email Generator
Next, I tried the email generator with this prompt:
Thanks for signing up to my newsletter

I'll be sending out blog posts every week to inspire you

Let me know your #1 question about writing

Talk to you soon!
I chose the "Funny" tone, and this is what I got:

Okay, it's definitely not funny, but I was pleasantly surprised at the quality of the writing. This could be helpful for small business owners who want to write email newsletters more quickly.
D. Magic Command Feature
Finally, I tested the Magic Command feature, which allows you to write any prompt you want, asking the AI writer for a specific output.
I asked the bot to "write a social media post to promote my new ebook called How to Grow Your Mailing List Fast," and this is what I got:

Then I asked it to "write a blurb for my blog about AI technology that tells people why they should read my blog"—I was blown away by the result:

E. Other Writing Options
Here's the full list of use cases you can choose from with Rytr:
Blog Idea & Outline
Blog Section Writing
Brand Name
Business Idea Pitch
Business Ideas
Call to Action
Copywriting Framework: AIDA
Cover Letter
Email
Facebook, Twitter, LinkedIn Ads
Google Search Ads
Interview Questions
Job Description
Keywords Extractor
Keywords Generator
Landing Page & Website Copies
Magic Command
Post & Caption Ideas
Product Description
Product Description (bullet points)
Profile Bio
Question & Answer
Reply to Reviews & Messages
SEO Meta Description
SEO Meta Title
SMS & Notifications
Song Lyrics
Story Plot
Tagline & Headline
Testimonial & Review
Video Channel Description
Video Description
Video Idea
There's also a Create Your Own Use-Case feature, where you can set your own parameters for the AI to follow. It's like creating your own template for content creation that you can use again and again.
E. AI Image Tool
This seems to be a new tool in Rytr, and I found it to be pretty cool. You can highlight any line of text in the editor and click the "AI Image" button to generate an image based on your selection. Other AI writers have an AI art generator, but not one that I have seen embedded within the post this way, so it was a real nice surprise.
Here's what it looks like: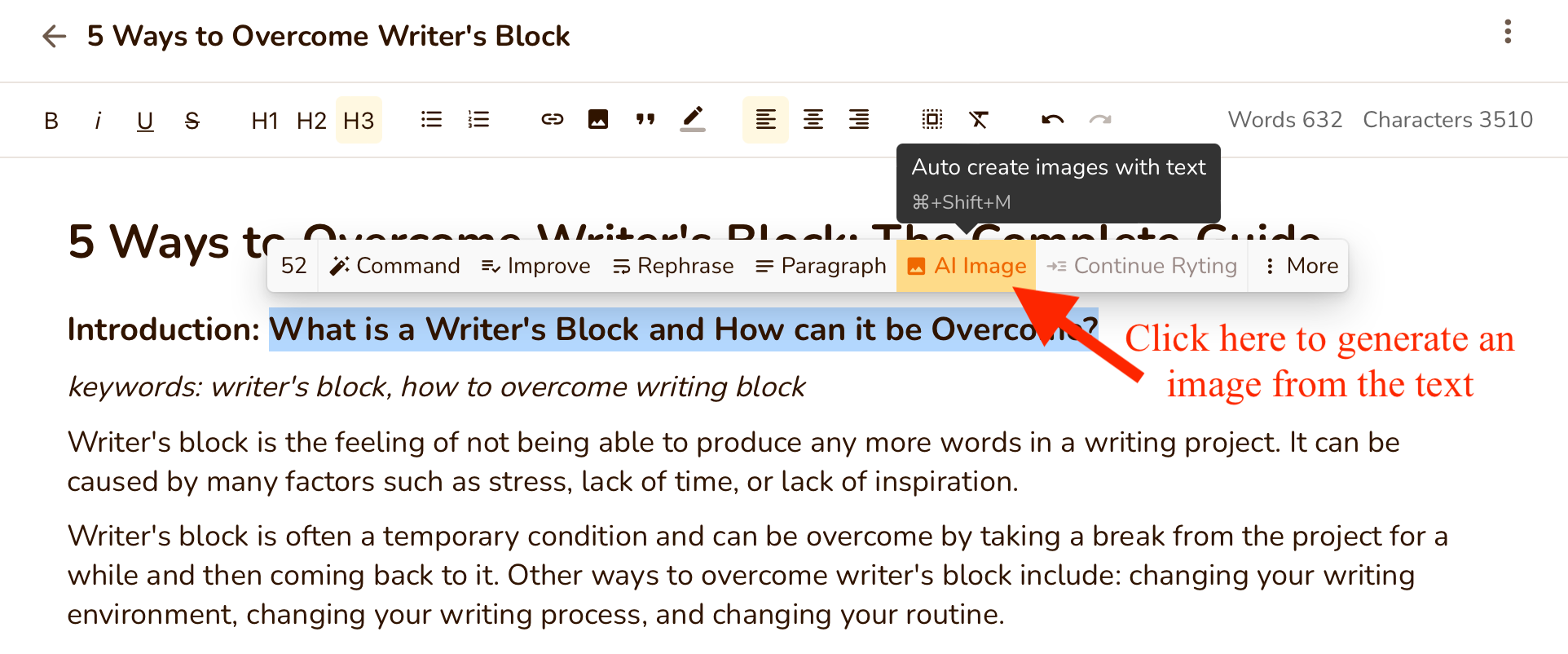 I tried it with some sentences from my content, and the results were interesting, though probably unusable.
Here's an image generated from the sentence, "It's easy to lose motivation when you're writing."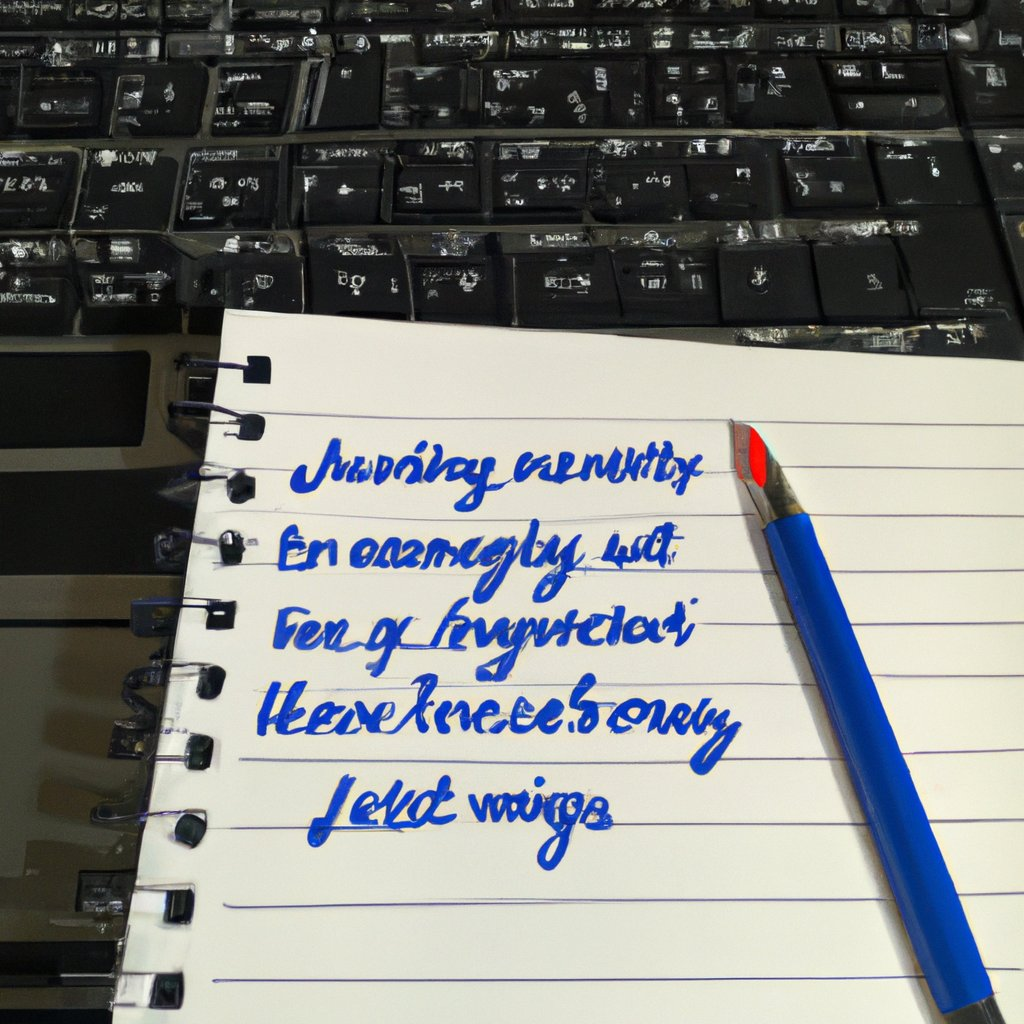 Then I decided to type in my own prompt for an AI-generated image, and I got much better results.
I asked for "keys on a desk in an office," and this is what I got: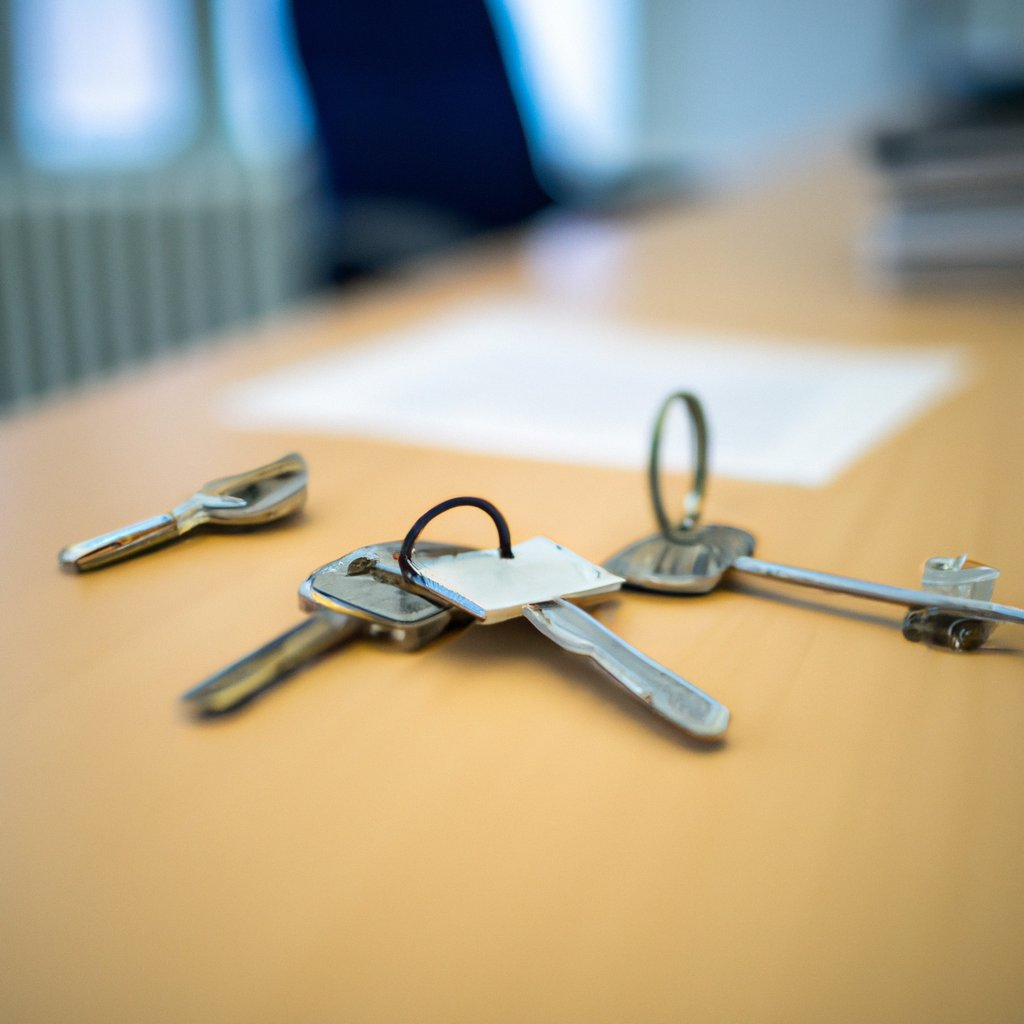 This last image was better than I expected. While AI-generated images are still pretty rough, I can see this feature being helpful for businesses that generate lots of content and need unique images.
F. Languages & Tones Available
You can currently choose from 36 languages inside of Rytr. I won't get into the full list, but you'll see the most popular languages spoken.
As for the tones, here is a snippet of the types you'll find available:
Appreciative
Assertive
Awestruck
Compassionate
Convincing
Critical
Earnest
Enthusiastic
Humorous
Informative
Passionate
Urgent
Worried
G. Other Helpful Features
As I didn't want to make this review too tedious, here are some other features I found helpful within the Rytr app that I wanted to mention briefly:
Rytr Costs
Rytr is one of the leading budget-friendly AI writers available, and with the quality of output it can deliver, I find it well worth the cost of a subscription.
It may not be as powerful as an industry-leading software like Jasper, but it's a great alternative for someone looking for a budget-friendly alternative for content creation.
At the time of writing, Rytr is available for just $9 a month (or $29 a month for unlimited characters). You get 2 months free if you pay yearly, and you can add additional team members for $19 a month each.
There's also a free plan that allows you to generate 10,000 characters a month.
Rytr Pros & AI Writer Benefits
Using an AI writer has tons of benefits for content creators and business owners (or really, anyone who needs to write on a regular basis).
But here's the caveat: AI writers aren't designed to completely automate writing or replace human writers. Instead, they help you get an initial draft onto the page, so a human can go through and edit the writing until it's ready to be published or shared.
Here are some other benefits of using an AI writer:
Pros of Rytr:
Rytr Cons & Warnings
Here are some things I think you should be mindful of with AI writes in general, as well as with Rytr.
My Take Home Thoughts
To wrap up this Rytr review, I find that it's a solid, budget-friendly alternative to some of the more expensive AI writers on the market.
If you're a professional who needs to create lots of high-quality content (blog posts, social media posts, emails, etc.) on a regular basis but doesn't want to shell out the money to pay for other, more expensive software, Rytr would be an excellent choice for you.
Frequently Asked Questions (FAQs)
Is Rytr a good AI writing tool?
Yes! After completing my Rytr review, I find it to be a great alternative to more expensive AI writers. It has great writing quality and plenty of options to help you write different types of content.
What are the best AI writing tools?
I'm a huge fan of Jasper, but if you don't want to spend lots of money on a subscription, Rytr is an excellent alternative.
Does Rytr generate social media posts?
Yes, Rytr can generate posts and content for social media, including post and caption ideas, video ideas, video descriptions, profile bios, website copy, and more.
Can Rytr write a blog post for me?
Yes, Rytr can generate a blog post for you. Choose the "Blog Idea & Outline" use case, enter your target keyword, and then use the Paragraph Generator to generate each paragraph of the article.
How much does Rytr cost?
A Rytr subscription costs $9 a month for the starter plan. You'll pay $29 a month to generate unlimited characters.
Does Rytr support multiple languages?
Yes! Right now, Rytr supports more than 30 languages. You can see the full list inside this Rytr review.
Does Rytr have a free plan?
Yes! You can generate up to 10,000 characters per month on Rytr with the free version.