So, you want to write the next big best-selling novel, but it seems so… daunting.
Maybe you have a great, captivating plot that you would love to bring to life, but when it comes to the execution, you need a bit of help. A case of writer's block, a book deadline, or you want to write in your non-native language; there are tons of reasons why you may be looking for a bit of help.
Fortunately, there are a bunch of new AI novel-writing tools that you can use to make the process a heck of a lot easier.
In this article, I'm reviewing the best AI novel writing software available today so you can find the right one for you.
But first, how can AI writing software help you write a novel?
The software I've reviewed below are specifically designed to help you generate ideas for a story, write your first draft, or edit a manuscript.
While no AI software can write a finished novel for you, it can give you something to start with—saving you time and helping you get that novel out into the world a lot faster.
Now let's take a look at my top picks for the best AI novel writing software available right now.
Disclaimer: This post may contain affiliate links, which means I'll receive a commission if you purchase through my links, at no extra cost to you. Please read full disclosure for more information.
1. Sudowrite
Best for Beginners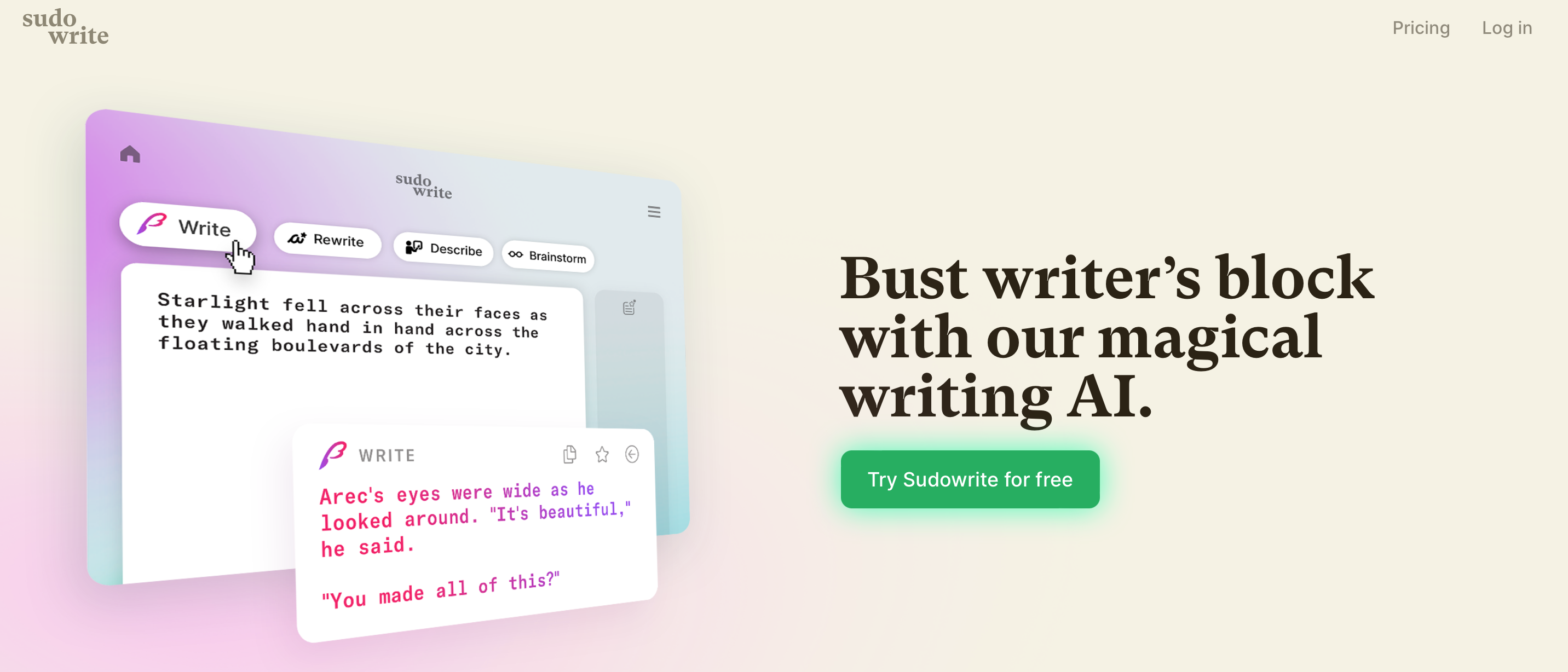 Sudowrite is a beginner-friendly AI novel writing software that not only writes a story for you but also helps you to improve your stories with advanced fiction-writing techniques.
Here's the quick and dirty on Sudowrite:
Pricing: $19 a month will get you 30,000 words, while the most popular mid-tier plan for $29 a month will get you 90,000 words. (Sudowrite recommends the $29/month plan for novelists and screenwriters.)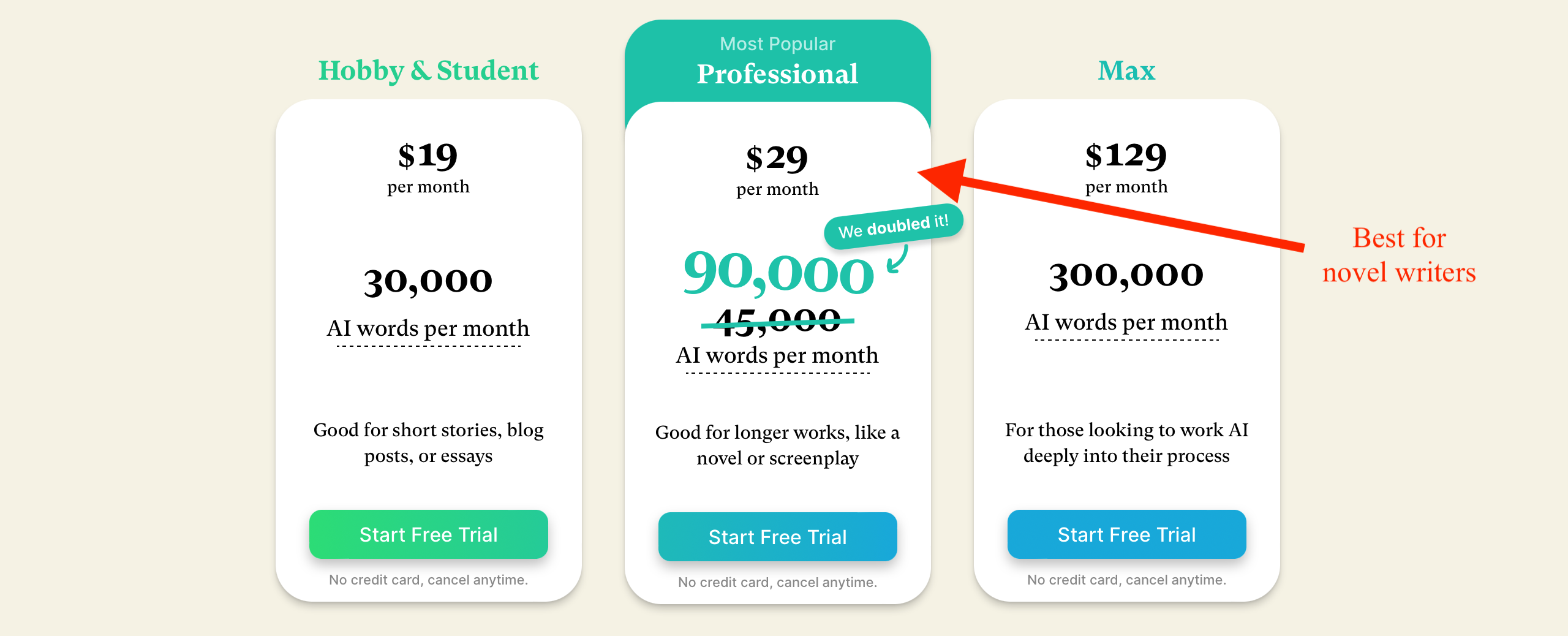 Final Verdict
I find Sudowrite to be the best AI writing software for serious novel writers who want an app that's specifically focus on novel writing and storytelling.
Sudowrite is helpful for everyone, from the beginning writer who wants to improve their writing skills to the expert writer who wants to generate a rough draft that they or can shape into their next best-selling novel.
2. Jasper
Best All-Around AI Writer

Jasper (also known as Jasper AI) is one of the most well-known AI writing software in the industry, and for a very good reason.
Its sophisticated algorithm allows you to generate text in dozens of different formats, including sales copy, social media posts, marketing ideas, and—you guessed it—creative stories.
The Creative Story option inside of Jasper AI allows you to generate a short or long-form story using creative writing. This is the best choice for you if you're writing a novel. I've written a full, in-depth review of Jasper if you want to read more, or there's also a Copy AI comparison here.
Here are my favorite features of Jasper AI as a novel writing software:
Pricing: Jasper has two modes: Starter and Boss Mode. Starter only generates short-form content and doesn't have an advanced editor, while Boss Mode gives you both an editor and the ability to create long-form content. You'll need to get Boss Mode in order to write a novel with Jasper AI.
Boss Mode starts at $49 a month for up to 50,000 words. (You'll be charged more if you generate more words per month.)

Final Verdict
Jasper AI is an all-around great AI writer. Because the it can generate both stories and other copy, it's a good choice for writers who want to produce both fiction and non-fiction pieces.
That said, newer novelists might want more advanced fiction-writing features to help them write better stories.
3. Sassbook
Best for Writers on a Budget

Sassbook is a collection of four AI writing tools, each with a specific purpose. There's the general AI writing software, the AI text summarizer, the AI headline generator, and the AI story writer.
To use Sassbook's story writer, you write a prompt for your story between 15 and 30 words, choose your parameters, and click "Complete" to start generating your story.
Each time you generate more text, the AI engine will read the last part of the story and continue from there.
Here are some key features of Sassbook's AI Story Writer.
Pricing: You can use the app for free for up to 20 generations per day (each generation includes 50 words). For $39 a month, you can generate unlimited words (with up to 70 words in each generation).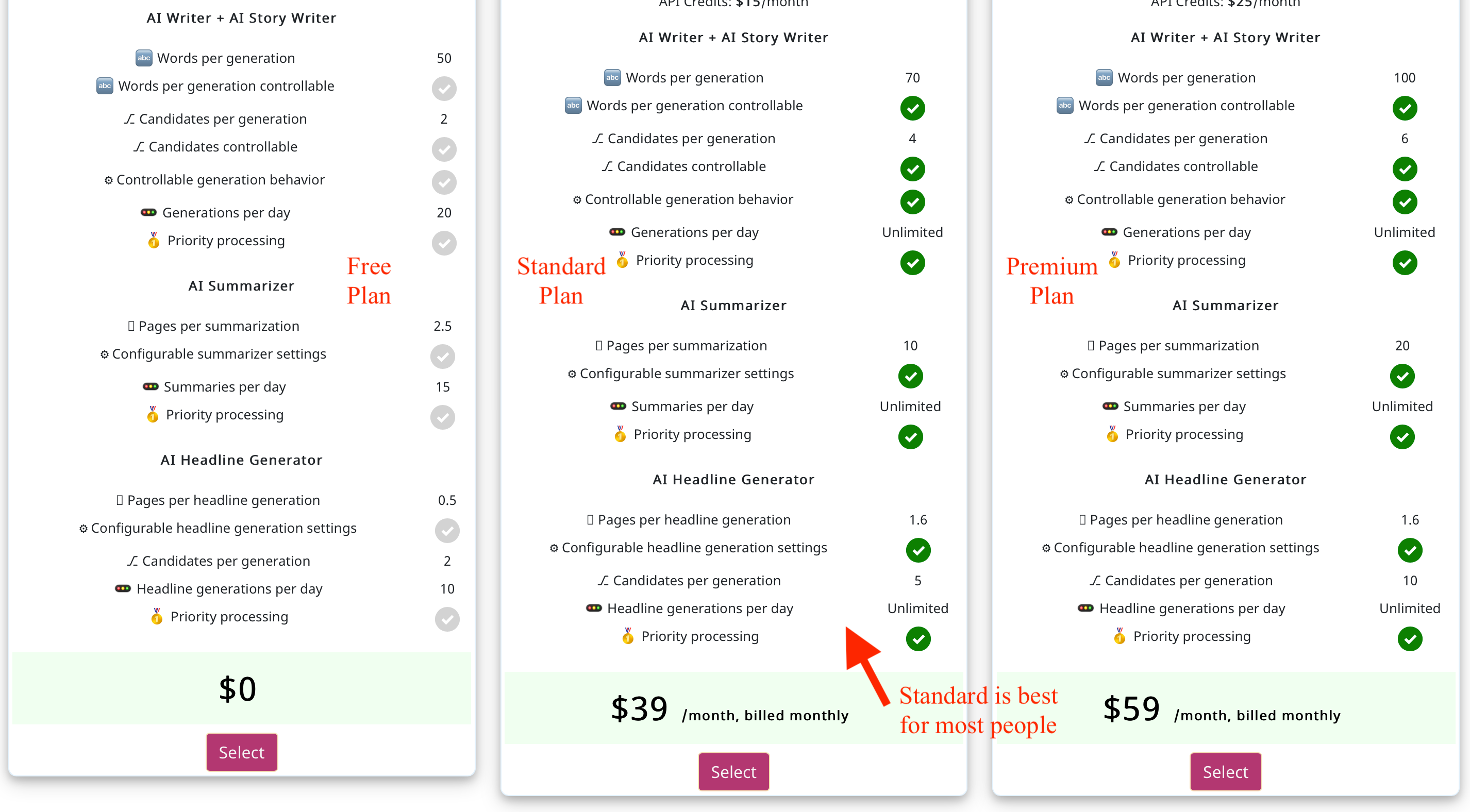 Final Verdict
If you're looking to generate stories, blog posts, and marketing copy but want to avoid paying top dollar for an app like Jasper, Sassbook could be a good alternative AI writing software.
I recommend using the free version to help you decide if it's a good fit for you or not.
4. AI Dungeon
Best for Ideas

AI Dungeon is a free AI writing software that helps you create stories in a "Choose Your Own Adventure" style. It's actually more of a game, but surprisingly a great way to create an epic novel.
To use AI Dungeon, you enter a prompt into the text field and click the send icon. The AI continues your story and then asks you a question like, "What happens next?" or "What do you see?" You create the next twist, and it continues the story again.
Here are some helpful features from AI Dungeon:
Pricing: AI Dungeon is free for unlimited words, but they do have premium packages that give you more features. Becoming a member (for $10 a month and up) gives you access to the AI image generator, more premium AI models, and other features.

Final Verdict
For generating story ideas and getting the creative juices flowing, you can't beat a free story-generating app. AI Dungeon is a great place to get started with your next novel idea. However, its lack of editing capabilities means that it won't help you to develop a working draft. It's more for fun.
5. Subtxt
Best for Outlining

Subtxt is an AI writing software that takes a different approach from other tools. Instead of generating a story paragraph by paragraph, it gives you a well-thought-out outline that you can use to write a story from.
The genius of Subtxt is that it uses proven story models to craft story ideas into 3-act structures that translate into compelling stories and screenplays.
Then it can generate a story intelligently based on the outline.
Pricing: The Basic plan is $25 a month, and Unlimited is $45 a month. It's not clear from the website what each plan includes.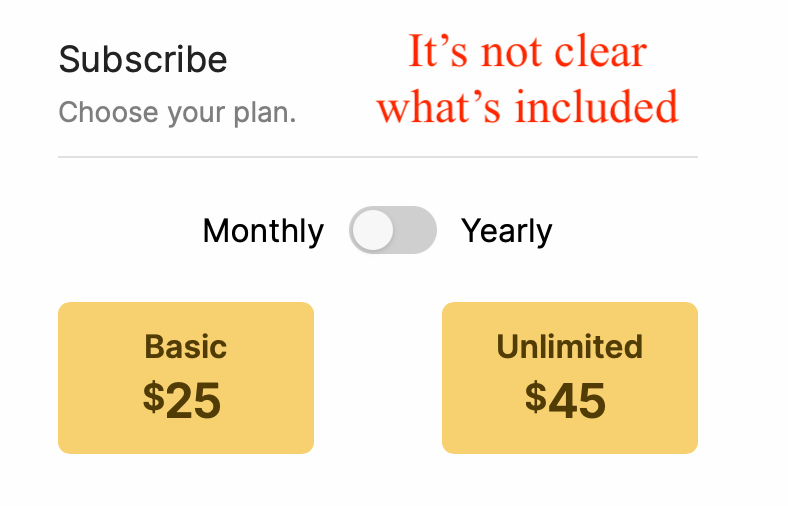 Final Verdict
Subtxt is a powerful story generator and AI writing tool for the serious novelist. If you want to plot out a story AND harness the power of an AI writer, Subtxt is an excellent choice.
6. ArtBreeder
Best for Character Design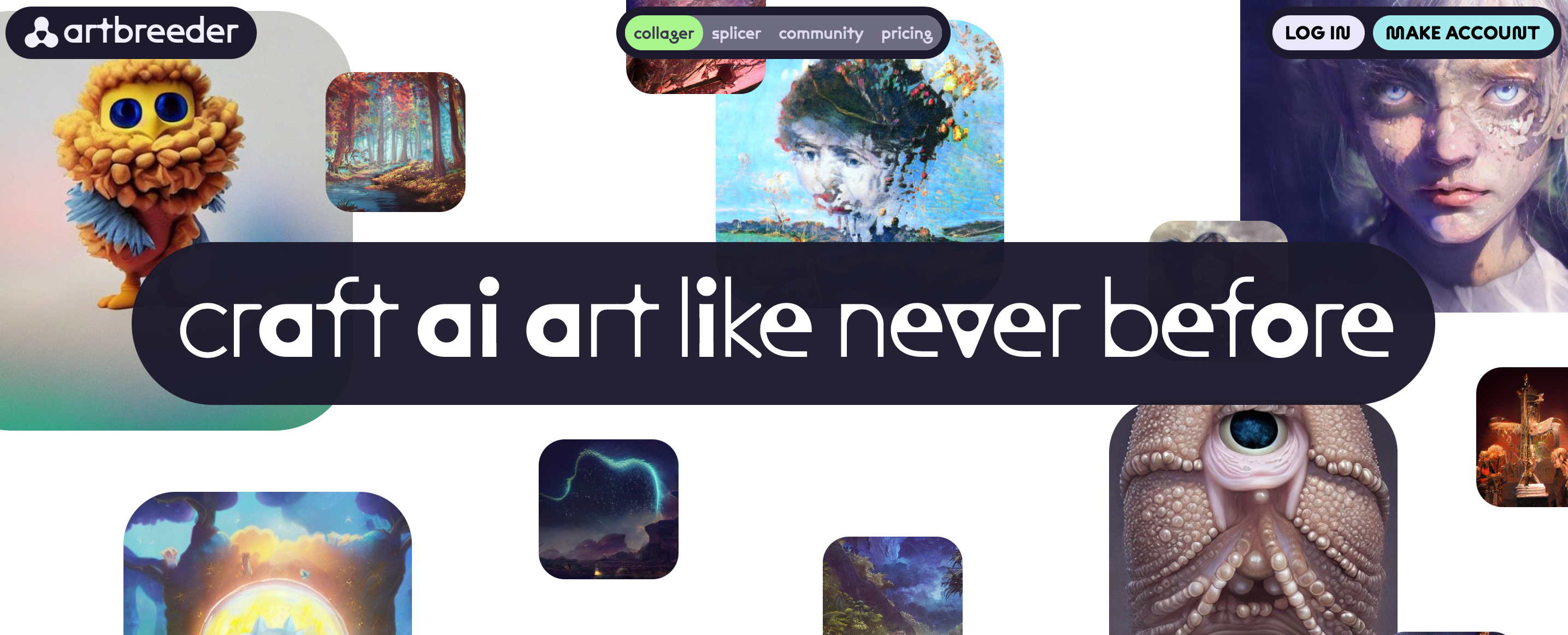 ArtBreeder is an experimental AI art generator that can help you design characters and scenes for your story. While there are tons of AI art generators on the market (I've trialed them all here!), this one is specific for those stories.
Here are some things I like about ArtBreeder:
Pricing: ArtBreeder is free to use, but accessing premium features like Private Mode and uploading your own images starts from $8 a month.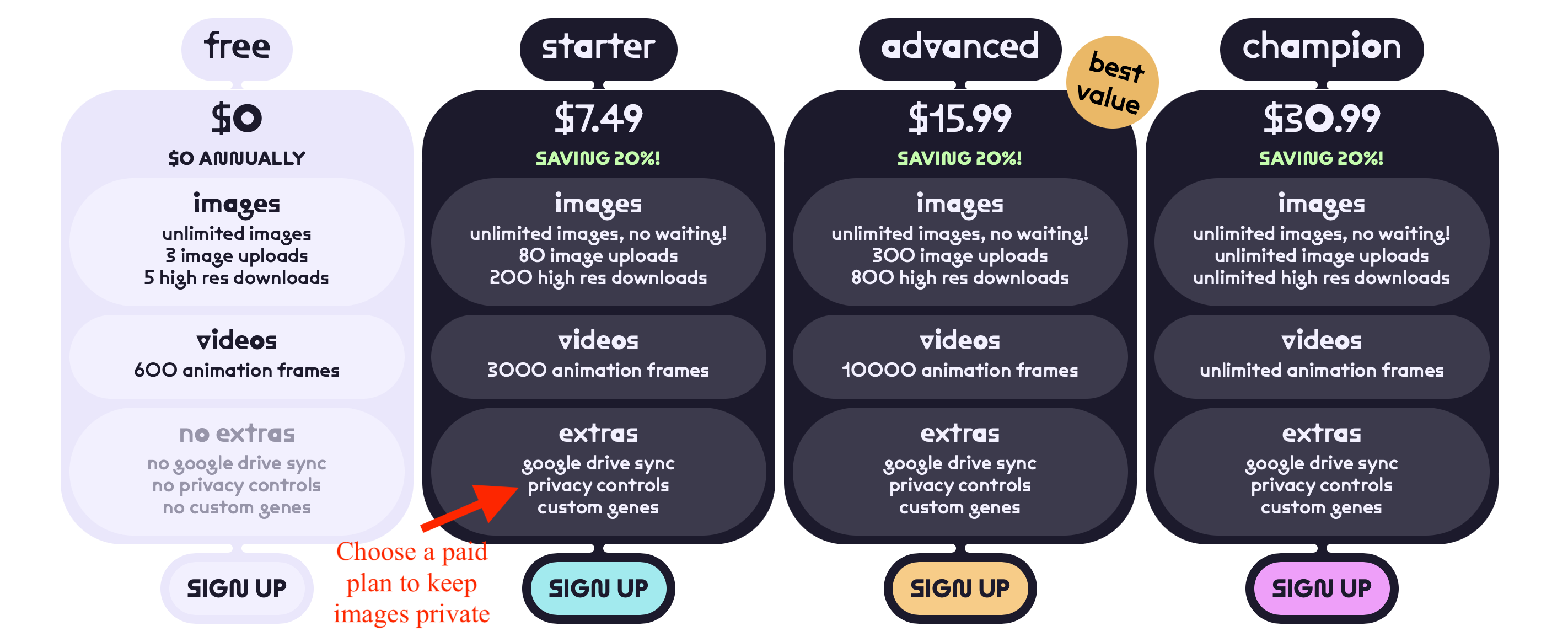 Final Verdict
If you're looking for a unique way to generate characters and scenes for your next novel, look no further than ArtBreeder's AI image generator.
7. Wordtune
Best for Rewriting Sentences

Sometimes you're working on a story, and a sentence doesn't sound quite right. Or a line of dialogue doesn't spark like the way you wanted it to. Enter Wordtune, a rewriting app that can take a single sentence and rephrase it in a click.
Here are some of the best features of Wordtune:
Pricing: You can generate text up to 10 times a day for free, or purchase the premium plan for $10 a month, unlimited words, and the ability to rewrite paragraphs.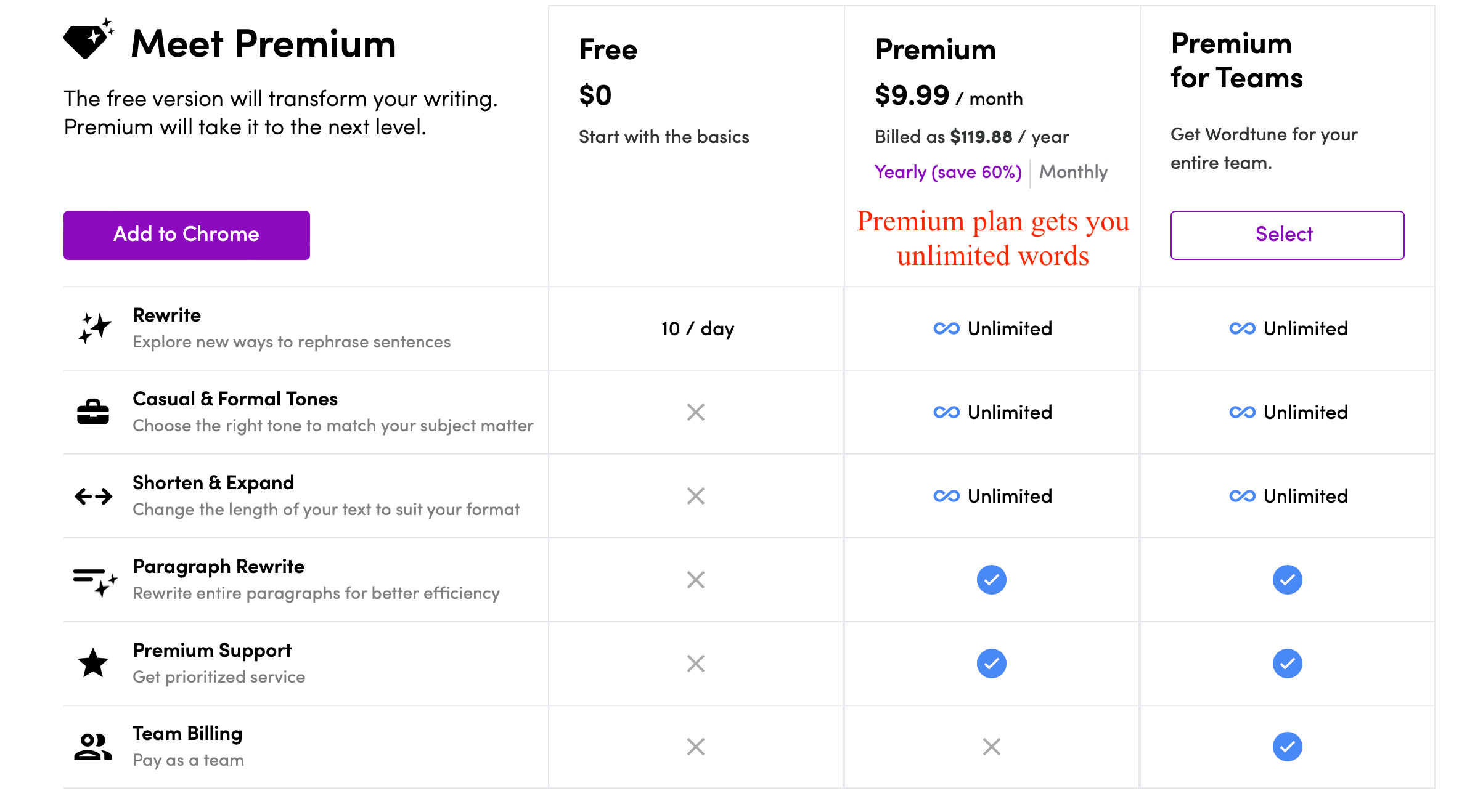 Final Verdict
If you're looking for an AI tool that can help you write more creatively, WordTune is a great choice. Use it to improve your writing style in just a few clicks.
9. ProWritingAid
Best for Copy Editing

ProWritingAid is an advanced AI writing tool and editor that helps you improve your writing with more than a dozen smart writing reports.
Yes, ProWritingAid helps you to correct spelling errors and grammar mistakes, but it goes way beyond that. Its detailed reports are designed to help you become a better writer.
It can show you style errors and how to fix them, make your text more readable, help you avoid clichés and passive sentences, and revise other common writing blunders.
Here are some key features of ProWritingAid:
Pricing: You can use ProWritingAid with limited functionality for free. A paid subscription starts at $20 a month for long-form documents and full access to writing reports. Premium Plus gives you access to the plagiarism checker for $24 a month.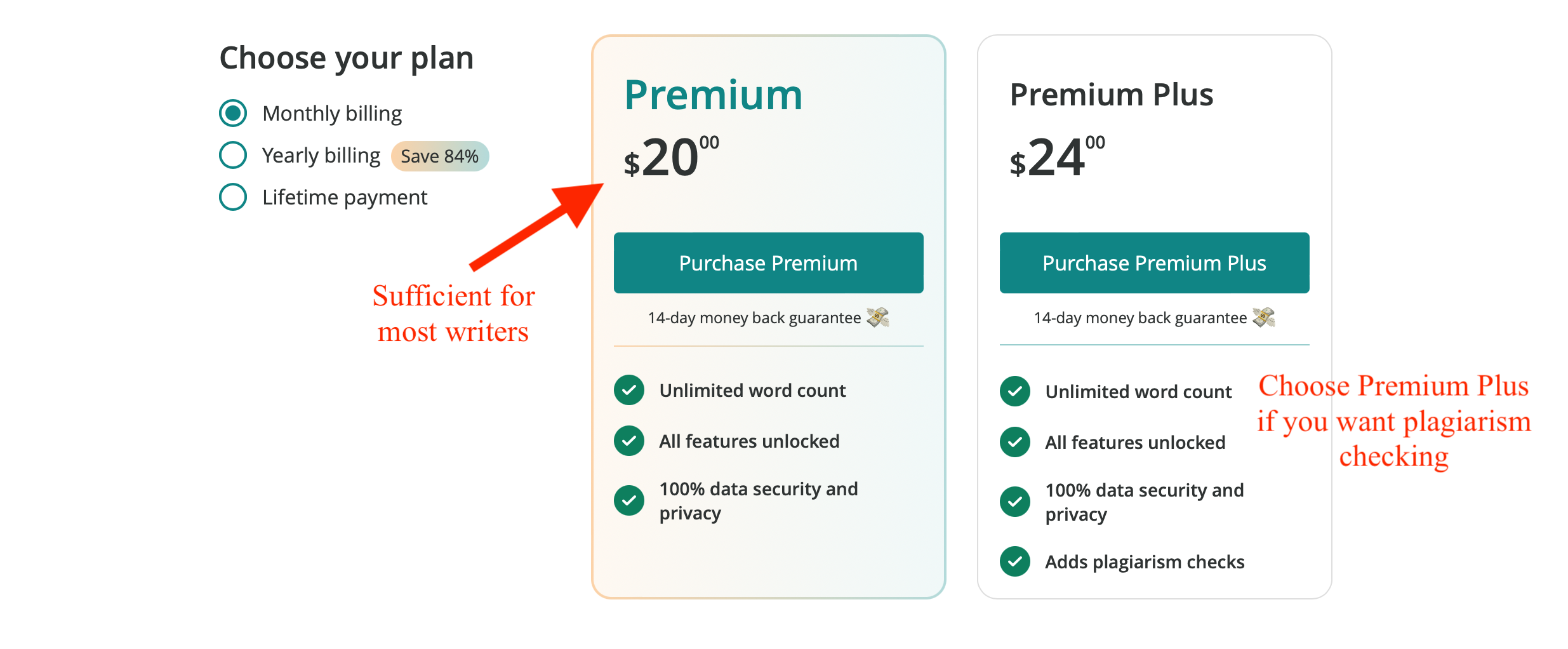 Final Verdict
If you're planning to edit your novel yourself (or want to polish it up before sending it off to others), ProWritingAid will give you all the reports you need to get your manuscript ready for the next step.
10. Grammarly
Best for Proofreading

Grammarly is another great AI-based editing software and grammar checker that can help you proofread and polish your novel. It's not as in-depth as ProWritingAid, but it does have a lot of helpful features.
Here's what I like about Grammarly:
Pricing: Grammarly is free with a limited feature set, or $30 a month to access its full editing capabilities, plus a plagiarism checker. The Business plan with extra features, is available for teams of 3 or more, for up to $15 per team member.

Final Verdict
If you want a quick yet thorough proofread of your novel, Grammarly can help you to do just that. And because it integrates with most websites and apps, it's one of the most versatile editors you can have in your writing toolkit.
What is an AI Novel Writing Software?
An AI novel writing software tool uses artificial intelligence, natural language processing, and machine learning to intelligently craft stories that not only make sense but are also compelling to read.
Other types of novel-writing software can help you generate story ideas or edit a finished draft.
How does an AI novel writer work?
To use an AI writer, you must give it a prompt and some parameters.
For example, you could set up a mystery story by saying, "Jane is preparing to graduate from Middle High when she gets a mysterious letter from her grandmother inviting her to visit for two weeks."
When you submit the prompt, the AI writer draws on its understanding of human language, story structure, the genre you're writing, and other pieces of information and crafts the next few lines of the story.
Then you can review the new section, edit it further, or ask the AI writer to rewrite the text.
An AI novel writing software differs from other AI writers because it focuses on creative writing instead of informative or persuasive writing.
Some apps allow you to generate custom images, edit the tone and grammar of the text, and give structural feedback on the entire novel.
Benefits of an AI Novel Writing Tool
Let's face it. Using an AI novel writing tool is a very new concept. Some would even suggest that it's cheating because a "computer" is writing for you. But it's important to realize they are just tools to supplement your ideas, and should be used as such.
Some of the benefits of AI novel writers are:
Frequently Asked Questions (FAQs)
Which novel AI writing tools are available for free?
Out of the novel-writing tools I've reviewed here, Sassbook can help you write stories for free, AI Dungeon will help you find story ideas for free, ArtBreeder allows you to design characters and settings for free, and WordTune, ProWritingAid, and Grammarly can help edit your writing for free.
Do I still have creative control over my story if I use an AI writer?
Yes! AI writers use your unique prompt when writing a story, and you have full creative control over the output. If you don't like a section, you can ask the software to write it again or edit the text to your liking.
It's important to remember that AI tools are only meant to give you the first draft—you'll still be able to edit and shape the draft into your own unique piece of writing.
Does AI writing software plagiarize other people's writing?
No, AI writing tools don't plagiarize. Everything an AI writer generates is brand-new text based on the software's understanding of human language and sentence structure. It "thinks" about what it should say based on the input and strings together words to create new sentences.
That said, there is a chance that the generated text matches something else that's already been written, so it's helpful to use a plagiarism checker on the final output.
What's the best novel AI writing software available?
In my opinion, Sudowrite is the most robust and easy-to-use AI novel writing software available today. Jasper is also a great tool overall.
Can AI writing software actually write a novel?
Yes, it can! AI writing tools can follow any number of models—from resumés and job descriptions to blog posts and ads to creative stories. AI writing tools designed for creative writing have the necessary models to weave together an interesting story based on a prompt.