AI technology has come a long way over the past few years. Now nearly every business has access to smart SEO tools, lightning-fast AI writers, and savvy AI editors.
So you may be wondering, what is an AI content platform? And how does it differ from all the other tools like AI writers or novel writers I've already gone over?
Simply put, it's software that goes beyond simple AI writing to offer content planning, SEO optimization, copywriting, graphics, and more. Think of it like an all-in-one content creation tool.
In this article, I'm sharing the best AI content platforms available right now, plus how to decide which one is right for your business.
Let's take a closer look.
Disclaimer: This post may contain affiliate links, which means I'll receive a commission if you purchase through my links, at no extra cost to you. Please read full disclosure for more information.
What is the Best AI Content Platform?
Here are my top picks based on my own testing and research.
1. Jasper
Best Overall AI Content Platform

I've written a lot about Jasper, and that's because it's my personal favorite AI content platform and the one I use for my own content creation.
Jasper has one of the best-performing AI writing assistants that can handle any use case you throw at it. Plus, it can help with SEO and creating original graphics. I've written a full review of Jasper breaking down all its functions, but here's a quick glance at some of its more popular features:
See my full, in-depth review of Jasper here and my Copy AI vs. Jasper AI review here.
Pricing: The Starter plan is available from $29 a month for 20,000 words (and increases for more words). The Boss Mode plan allows you to write long-form content and starts at $59 a month for 50,000 words.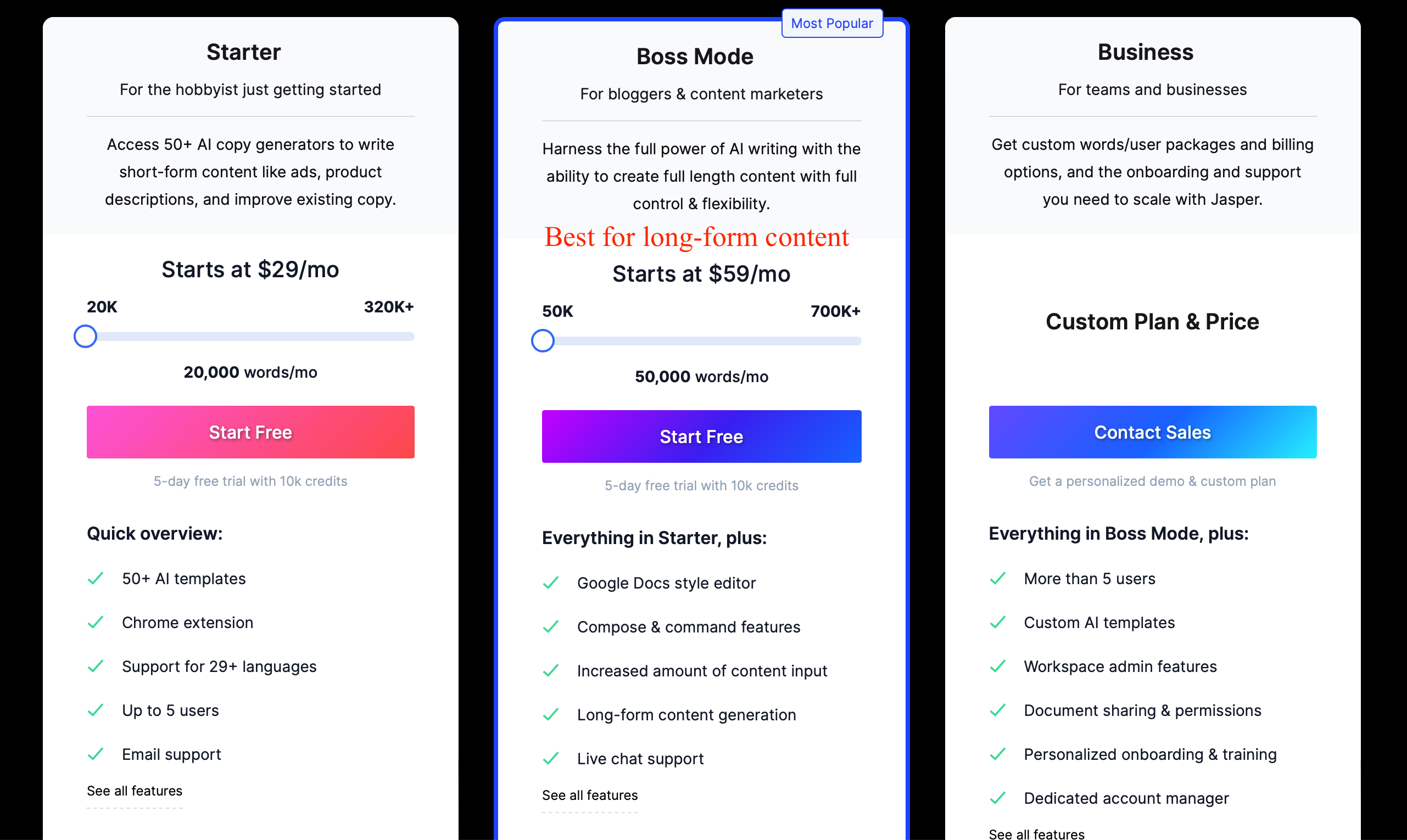 Verdict
If you're looking for the overall best AI content platform for any use case, look no further than Jasper. They were just evaluated as a 1.5 billion dollar valuation for a reason.
2. Rytr
Best for Content Creators on a Budget

Rytr brings the power of AI writing and editing into the hands of more content creators thanks to its affordable pricing plans.
But that doesn't mean it's low-quality—I tested the app and found its writing to still be impressively good.
Here are some of Rytr's best features:
Read my in-depth review of Rytr here.
Pricing: The Saver plan gives you 100,000 characters for $9 a month, while the Unlimited plan removes the character limit and offers other premium features for $29 a month. You can generate up to 10,000 characters a month on the free plan.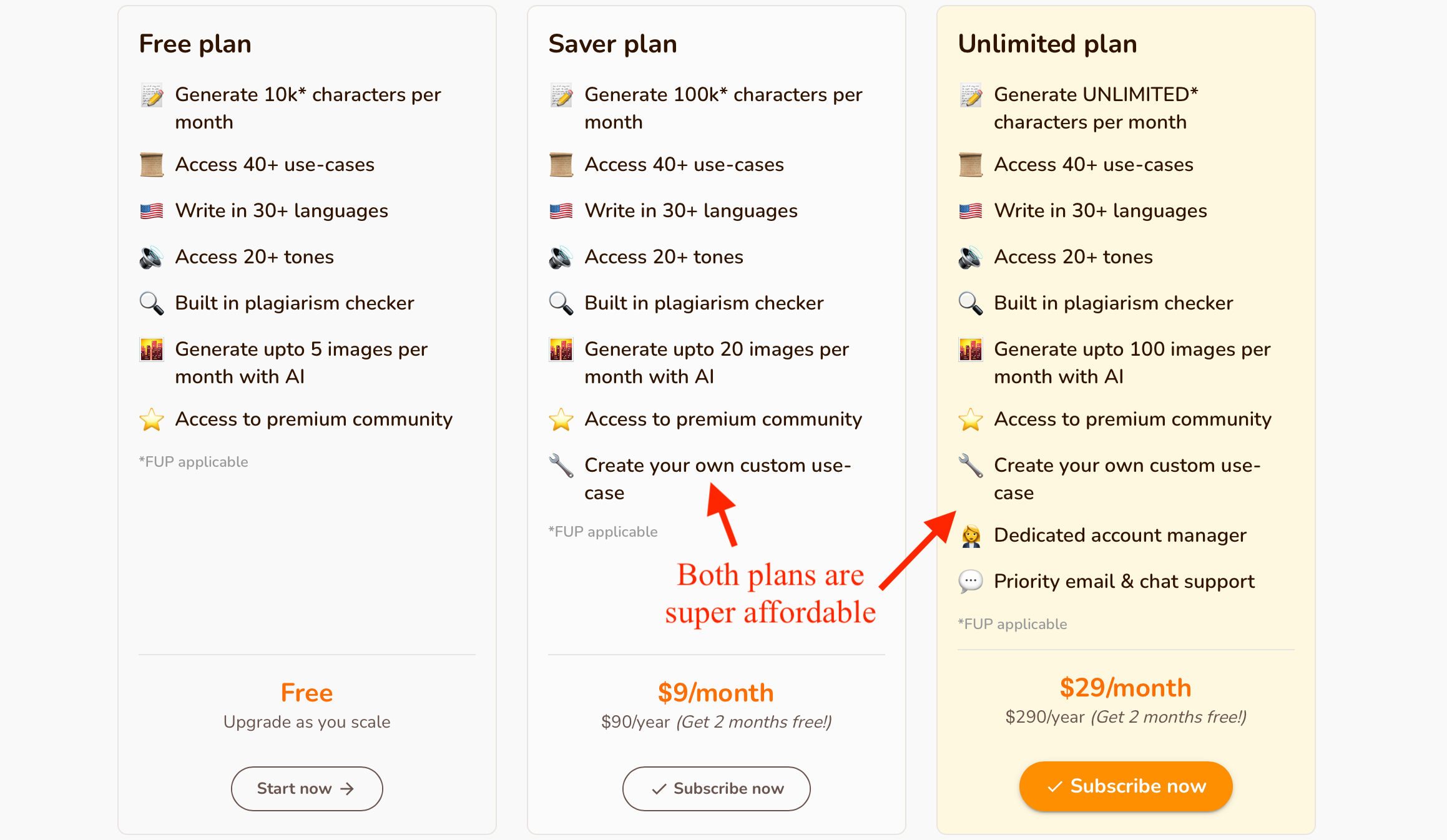 Verdict
If you want to use AI content creation tools but don't want to break the bank, Rytr could be a great choice to help with all your content needs.
3. CopyAI
Best for Beginners

CopyAI is a copywriting-focused AI writing platform that makes it easy for writers and non-writers alike to get started.
I found their user interface to be one of the easiest to use out of all the software I've tested. You can check out my full review of the entire platform where I go through all the pros and cons.
Here are some features I like about CopyAI:
Pricing: The Pro plan offers unlimited words and up to 5 user seats for $49 a month.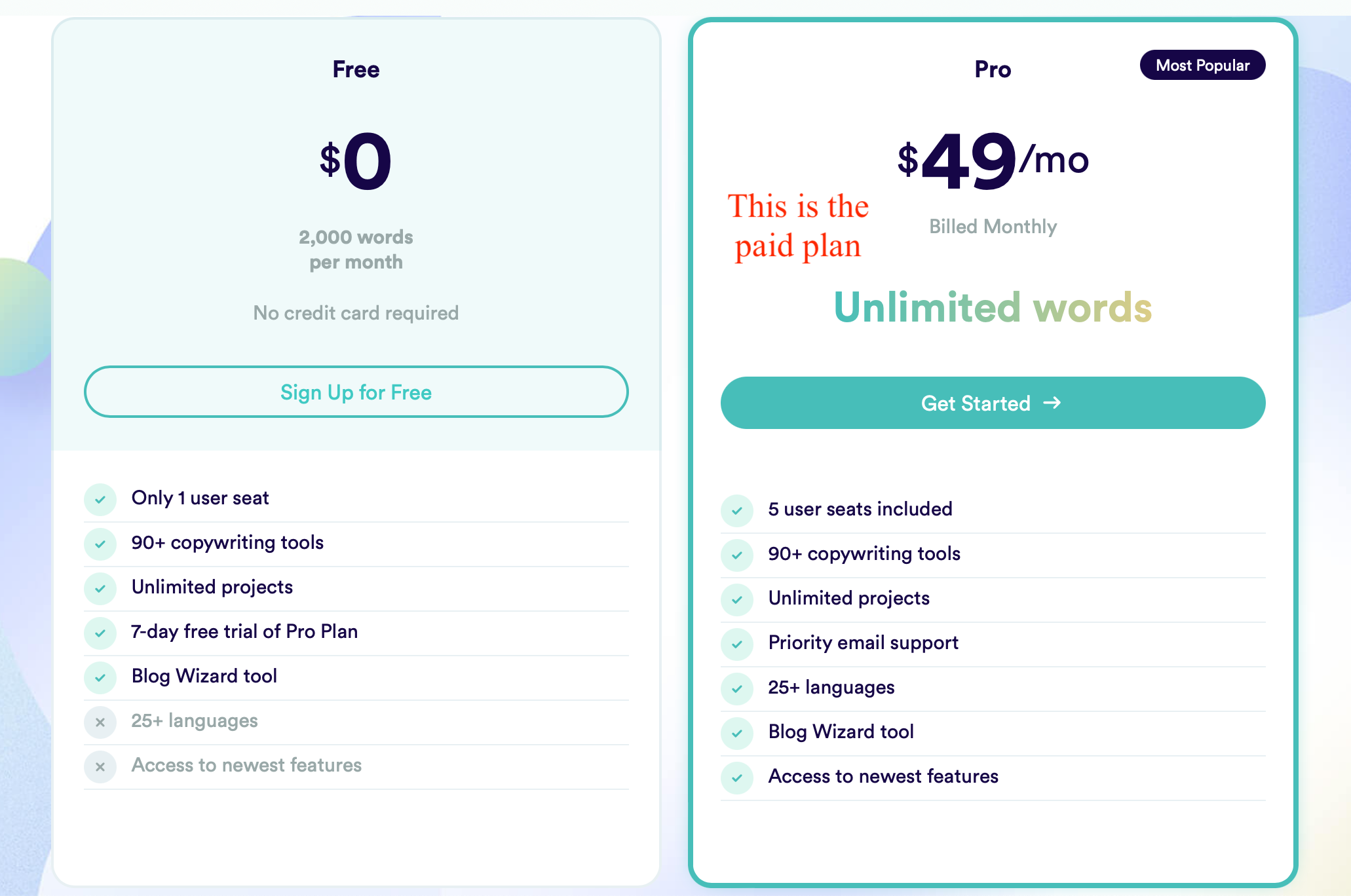 Verdict
If you want to generate high-quality blog posts, website copy, and other assets for your business but don't have copywriting expertise, CopyAI can help you generate professional-quality content with minimum effort.
4. Frase
Best for Bloggers

If you're a blogger or content creator for a major site, then you need more than just an AI writer. You need a platform that can help find content gaps within your niche to gain topical authority and be able to find rising star keywords that you should be writing about.
And that's where Frase comes in. Frase automates the entire content creation process, from planning out keywords to optimizing for search engines to analyzing the performance of your content. It truly is an all-in-one platform.
Here are some of Frase's best features:
Pricing: Solo users can create four articles a month for $15. The mid-tier plan bumps that up to 30 articles a month for $45. Teams can have up to 3 users and unlimited articles for $115 a month.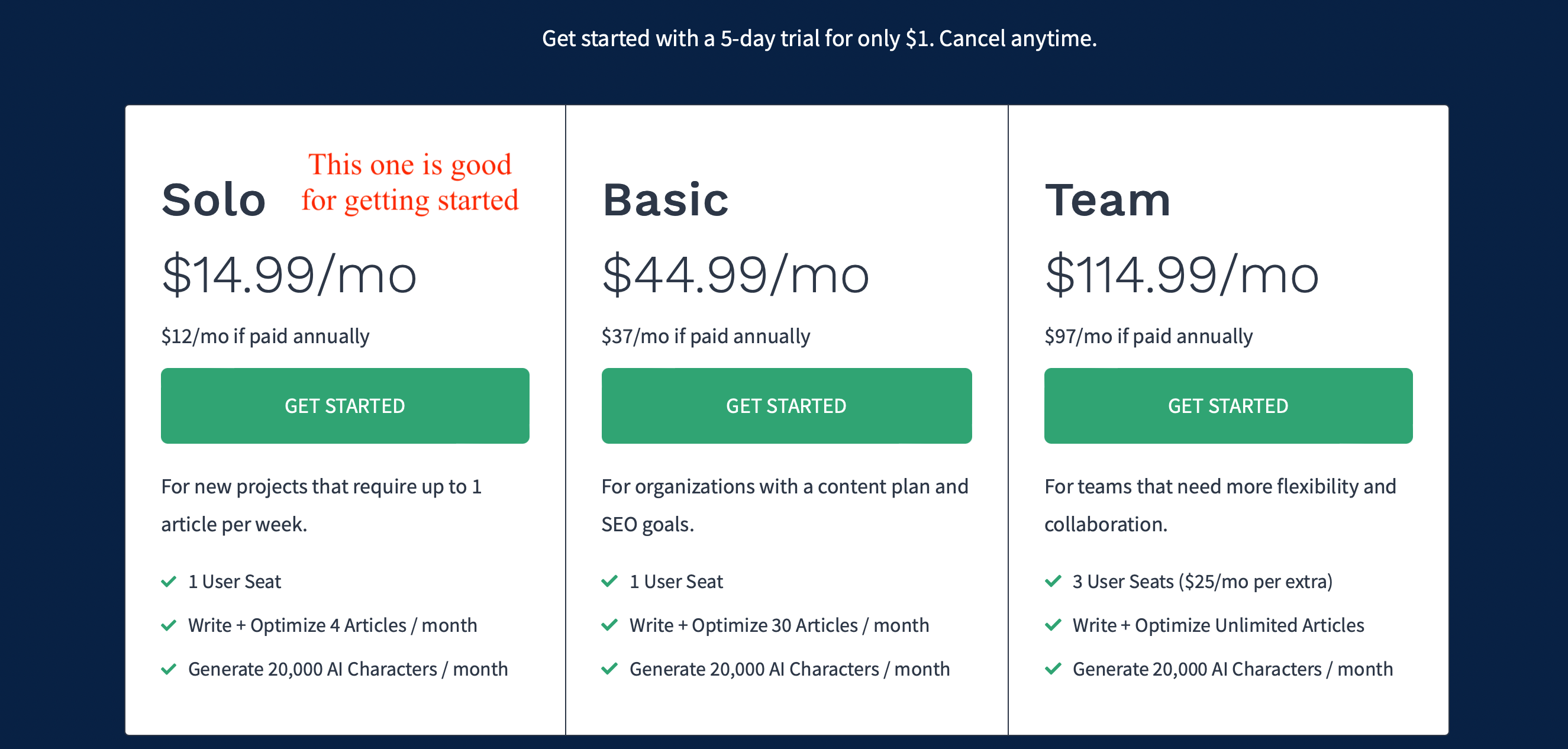 Verdict
If your business focuses on blog content, Frase gives you everything you need to write informative content and get ranked for strategic keywords in one tool.
5. Hypotenuse
Best for Visual Brands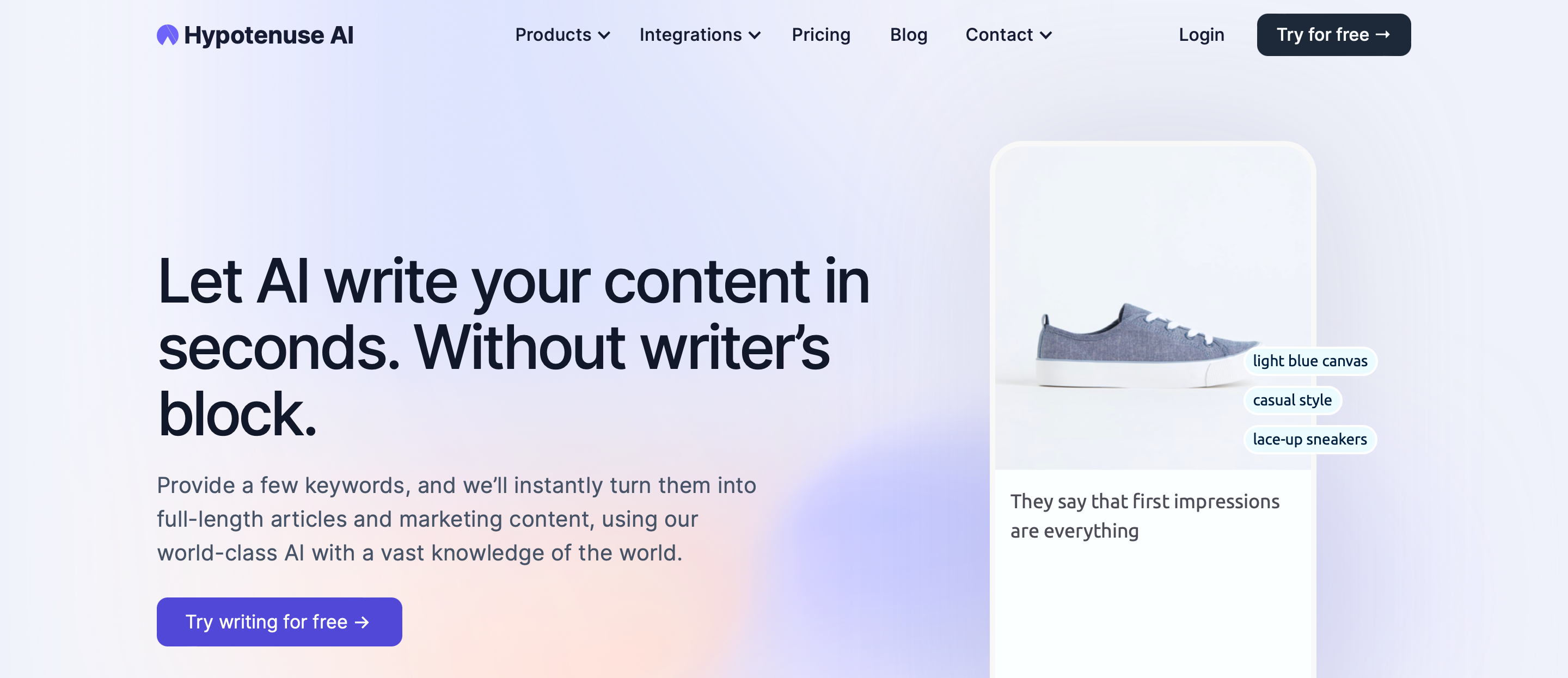 Hypotenuse is an AI-powered content platform that specializes in fashion, lifestyle brands, and products.
They make the list of content creation platforms as they allow you to create content across multiple channels including e-commerce, social media, blog posts, and art generation. This is great for those looking to create content surrounding a product.
Here are some of Hypotenuse's best features:
Pricing: The Starter plan gets you 25,000 words and 200 generated images for $29 a month. Upgrade to $59 a month for plagiarism checks, 87,000+ words, and unlimited images.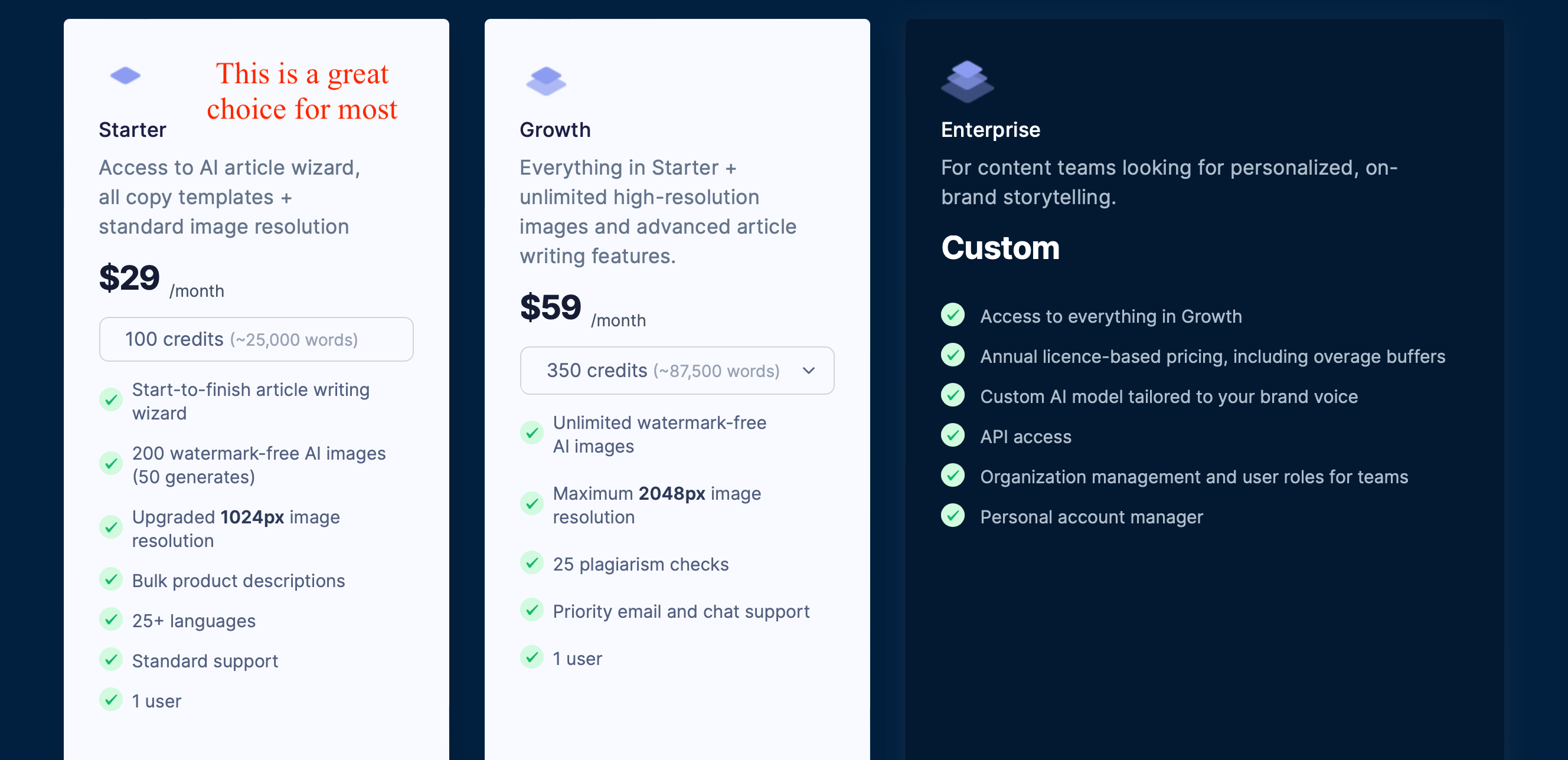 Verdict
If you're a visual-based fashion, lifestyle, or other product-based business without a huge team, Hypotenuse can help you make compelling content to sell your products—just make sure to bring your own SEO software.
6. Outranking
Best for SEO Content Agencies

True to its name, Outranking is designed to help you outrank your competitors. It covers everything from keyword research to SEO strategy to content creation and analysis.
It's a great help for bigger SEO content agencies with multiple team members to manage multiple keywords and pieces of content. It automates so much of the process that you can finally increase your content velocity amid a growing AI world.
Here are some of Outranking.io's best features:
Pricing: $79 a month gets you one domain and 10 articles a month. At $149 a month, the higher-tier plan features multiple domains, 20 articles, and 1 extra team member.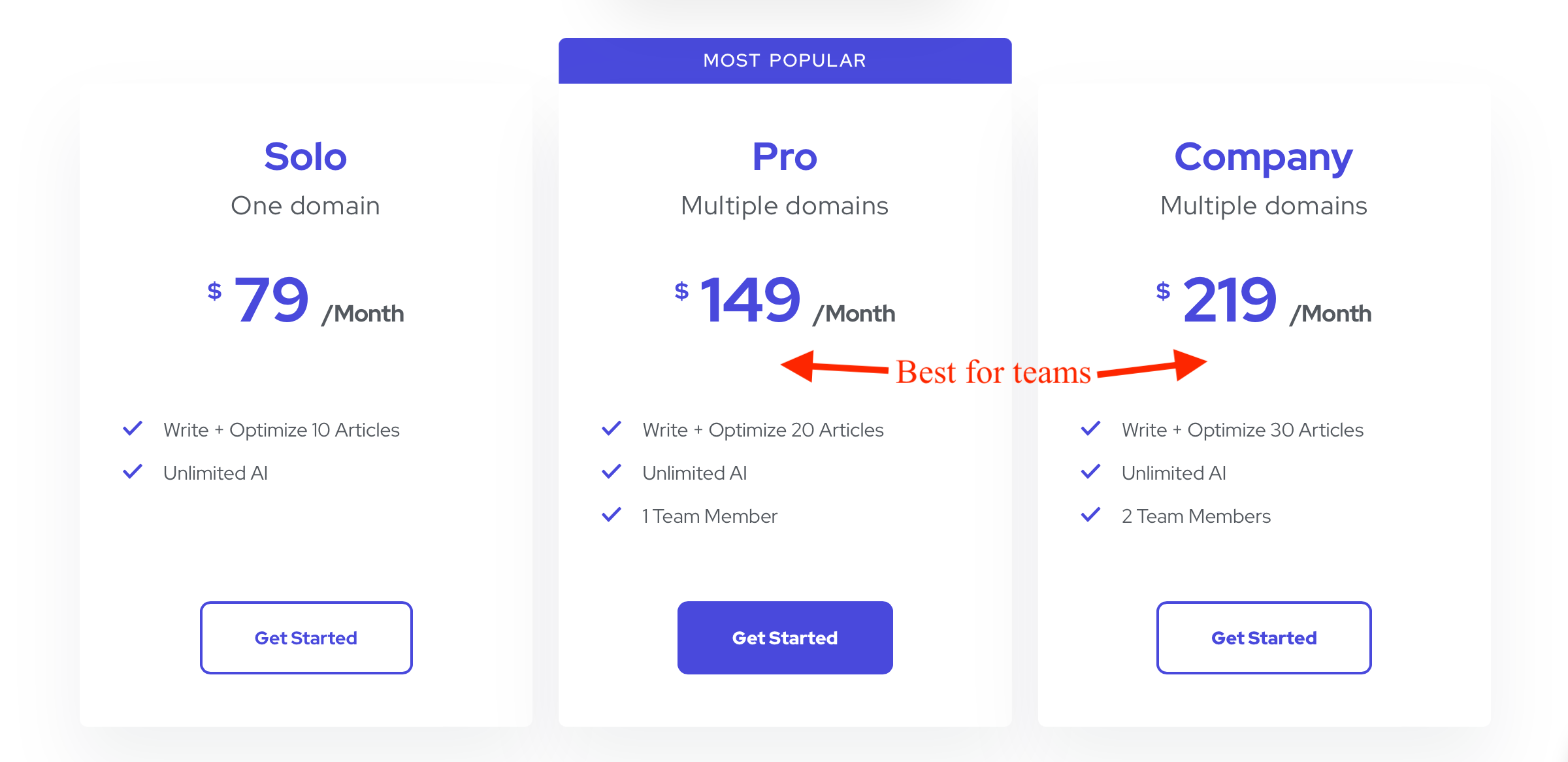 Verdict
Outranking's ultra-sharp focus on SEO content makes it an excellent choice for SEO marketing agencies that want to streamline their content strategy and creation processes.
7. Copysmith
Best for E-Commerce Businesses
Copysmith is tailored to larger e-commerce businesses that need to generate multiple types of copy as part of larger marketing campaigns.
This tool allows you to create product descriptions, blog posts, website copy, social media content, ads, and more to help you promote your products to a wider audience.
Here are some of Copysmith's best features:
Pricing: The starter plan is $19 per month and around 40,000 characters. If you need more characters, you can upgrade to the Pro plan for roughly 260,000 words at $59 a month.
Verdict
E-commerce businesses who want to run multi-faceted marketing campaigns will get great use out of Copysmith.
8. INK
Best for Marketing Teams
INK combines everything other tools can do into one content platform.
Not only does it write short-form and long-form content with 100+ templates, but it also handles SEO research and optimization, AI-generated art, and gives you unlimited characters for one flat price.
Here's what I like most about INK:
Pricing: Choose the Creator plan for $59 a month and access the AI writer, editor, and AI image generator. Or upgrade to the Professional plan for $118 a month to access the SEO content planner and optimization features.
Verdict
For marketing teams that need to write varying amounts and types of content from month to month and optimize blog content for SEO, INK offers everything you need for one flat monthly rate.
9. Writesonic
Best for Entrepreneurs
Writesonic helps you generate good copy fast and at a good price point. It has over 80 templates for writing articles, plus it can generate product descriptions and other marketing copy to help you scale your business fast.
Here are some of Writesonic's best features:
Pricing: Try out all features for free and up to 2,500 Premium-quality words for free. The Long-Form plan is $19 a month for 19,000 Premium-quality words (price increases for more words).
Verdict
Writesonic is perfect for an entrepreneur or business owner who needs to generate lots of copy in a short period of time and is more concerned with producing lots of good-quality content fast than with generating the highest-quality copy possible.
10. Marketmuse
Best for Enterprises
Marketmuse offers a set of data-driven content creation tools that allow businesses to find ranking opportunities, track and evaluate large libraries of content, and create optimized content with the AI writing tool.
It's best for bigger content teams with a large output of content to create and manage.
Here are some features I like about Marketmuse:
Pricing: The Standard plan is $7,200 per year for one user, unlimited projects, and 100 queries a month. (That comes out to $600 per month.) Extra users can be added for $99 a month. The Premium plan, with access to all features and team support, starts at $12,000 per year.
Verdict
Marketmuse is an excellent choice for larger enterprises that want to make data-driven decisions and get the most out of their content marketing strategy.
Scalenut
Best for Startups
Scalenut is so-called because it has a hyper-focus on helping you create content at scale. And this is a good thing as I expect the upcoming AI revolution to dramatically change the publishing landscape.
You can use this tool to create long-form content in just FIVE minutes, then optimize it for SEO. It's pretty crazy to think about it.
Here are some of Scalenut's best features:
Pricing: Individual users can get started for $29 a month, 100,000 words, and 5 SEO reports. For $79 a month, you get unlimited words, Cruise Mode, and 30 SEO reports.
Verdict
Startups who need to create content at scale quickly should definitely consider using Scalenut as their dedicated AI content platform.
What is an AI Content Platform?
An AI content platform is a tool that uses artificial intelligence, including natural language processing, natural language generation, and machine learning to assist with the content generation process.
AI content platforms go beyond simply writing long-form content like blogs or articles—they also provide some or all of the following extra features:
The best AI content platforms support your content creation process from start to finish. You can find the right fit for your business or use case with our full reviews and comparisons of the best AI content platforms available (found above).
How Does an AI Content Platform Work?
AI-based software is able to make recommendations based on large amounts of data, parse and understand language, create human-like sentences based on a prompt, and more.
AI content platforms apply this technology to content creation, which means the software is able to:
Benefits of Using an AI Content Platform
Do you make any sort of content for your business? Using an AI content platform can help you in the following ways:
Frequently Asked Questions (FAQs)
Will Using an AI Content Creator Affect My Search Rankings?
Writing articles with an AI writer shouldn't affect your search rankings in a negative way. However, in order to rank well and over the long term, articles must be written well and with accurate information. For that reason, you'll want to edit any articles generated by an AI content tool to make sure they're accurate, readable, and engaging.
On the other hand, since most AI content creation tools allow you to better optimize your articles for SEO, using them will make it easier to rank, not harder.
Do AI Content Creation Tools Support Multiple Languages?
Yes, many of the top AI content platforms support multiple languages. You can visit each tool's feature page to see which languages they support.
Which AI Content Platforms Have SEO Tools?
Out of the above tools I reviewed, Frase, Outranking, INK, and Marketmuse have built-in SEO tools. Jasper, Copysmith, and Writesonic integrate with third-party SEO software, and Scalenut provides SEO reports.
Are AI Content Creation Tools Free?
Many AI content creation tools have a free tier, but you'll need to upgrade to a paid plan for frequent use.
Which AI writing tool is best for blog writing?
Among the best AI content platforms I've reviewed in this article, Frase, Outranking, and Marketmuse are the most sophisticated tools for AI-generated blog content.