What if I told you you could create a website in a few clicks?
A few years ago, you would've needed a copywriting team, web designer, and SEO specialist for all of this—costing your business hundreds if not thousands of dollars.
But today, you can fire up an AI website builder and get all this done for you for a fraction of the price.
Here's the thing—AI website builders aren't one-size-fits-all. That's why I've tested out more than a dozen of them to give you the top 8 best AI website builders for your blog, product, or business.
I'll walk you through each one, how to use it, and what kind of website it can create for you (complete with screenshots from my own testing).
Ready to get started?
What is the Best AI Website Builder?
Best AI Website Builders:
1. 10Web
WordPress Site Generator

10Web is an AI website generator that creates a fully-functional WordPress website for your business or product.
When it's finished, you get a standalone website built on the WordPress CRM that you can continue to customize and build out as you please.
10Web Features
How to Generate a Website with 10Web
For non-tech-savvy individuals, here's the skinny on building the site:
Choose your business type so the AI builder knows what type you need.
Choose from six styles with pre-chosen colors and fonts (you can change this later).
Pick from one of three template options.
Generate content by writing a summary of your business, three services, and contact info with your tone of voice (formal or informal).
Finally, watch the magic happen with 10web.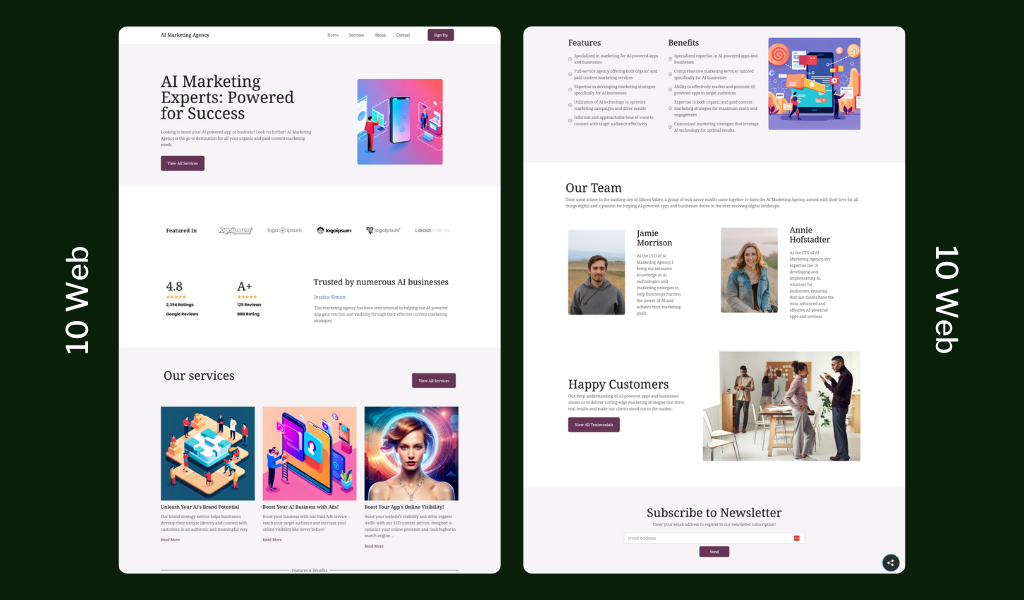 My impressions: I was pretty happy with the website. They generated a Services, Contact, and About page, which made sense for the business type. I couldn't find a way to add a blog, but since it's WordPress, there must be a way to do that.
10Web Pricing
Paid plans start at $20 a month for one website. You can get started with a 7-day free trial.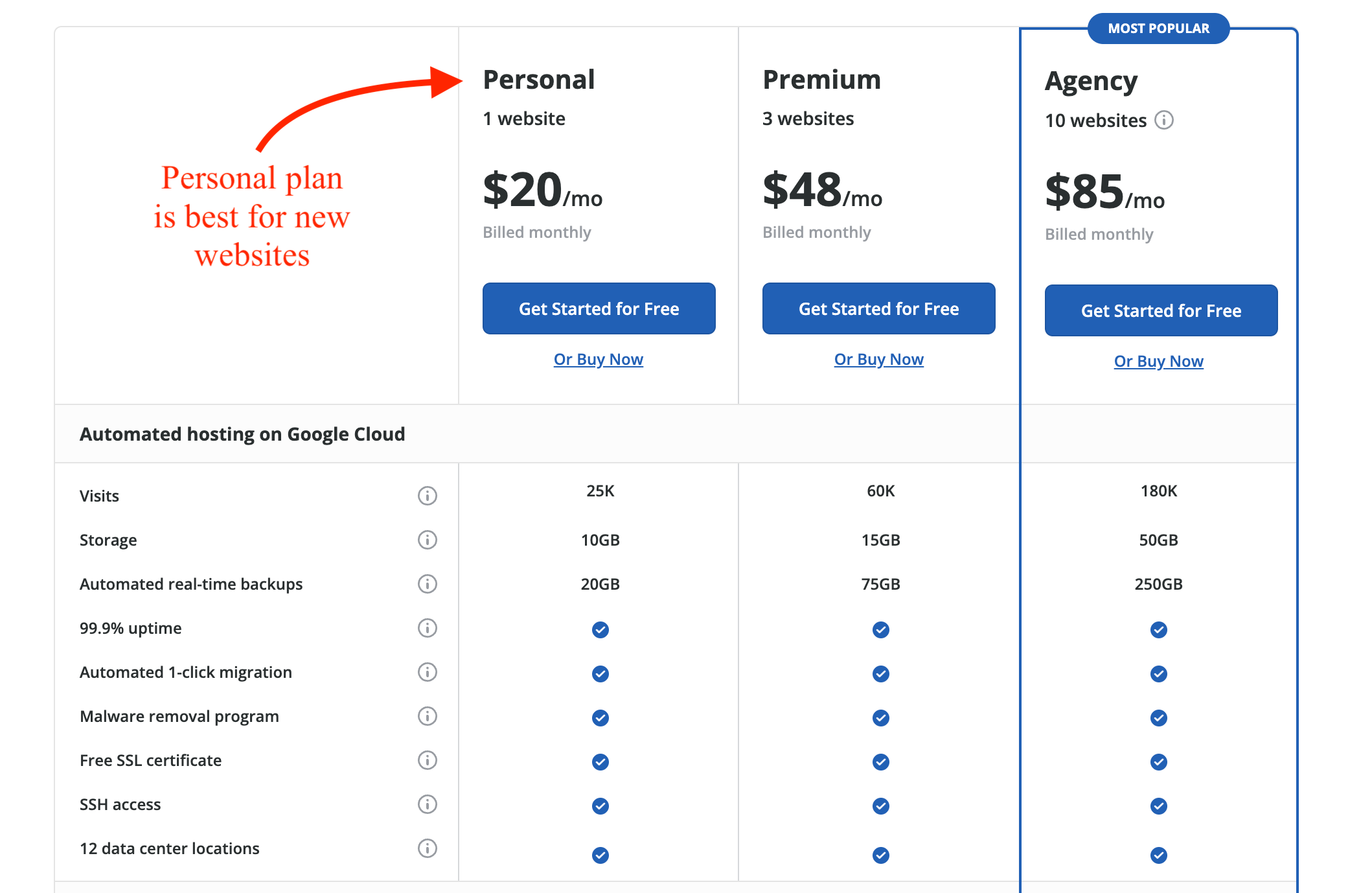 10Web Verdict
If you'd like to generate a WordPress website fast, 10Web is the best AI website builder for you. It gives you all the basics in under ten minutes, which really helps with the learning curve. From someone who uses WordPress regularly, this is super helpful.
2. Unbounce
Strategic Landing Pages

Unbounce is an AI-powered landing page builder.
Its focus is helping you create simple, conversion-focused landing pages that bring new sign-ups, sales, and downloads to your business. This is great for those of you who are working on increasing your conversions from your sales funnels or an ECommerce business.
Unbounce Pros and Cons
How to Generate a Website with Unbounce
When creating a new landing page, you get two options: DIY your site or use the Smart Builder (AI builder). Here's what the process looks like:
Choose your industry, the purpose of the landing page, and whether or not you want to include a form (There are multiple purposes to choose from—I chose Sales/Callbacks for my test).
After you figure out the page strategy, you can choose your design. Pick a color scheme and template that fits your business best. (Or choose custom colors.)
Enter a company description, then choose "Enhanced Copy." This allows you to specify your brand description, target audience, and the features and benefits of your business or product.
Then, you can generate your site.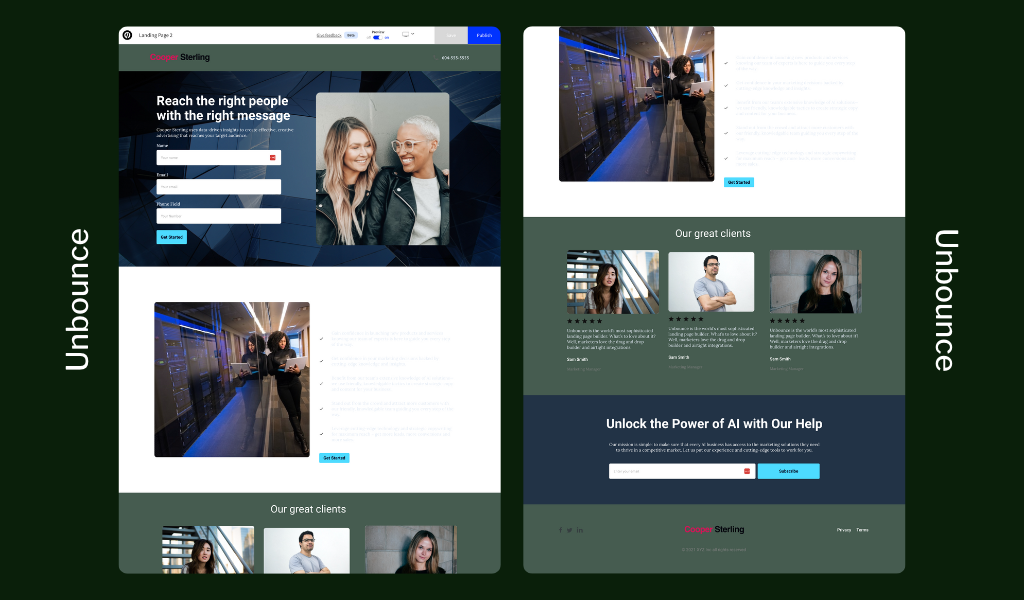 My impressions: The website and copy were generally good, and I can see how it could help boost traffic and clicks to a product you want to promote. One section had white text on a white background, but fixing that in the Editor would be quick.
Unbounce Pricing
Plans start at $99 per month for unlimited landing pages, 1 domain, 20,000 visitors, and 500 conversions. (Upgrade your plan once you start getting more traffic and clicks.)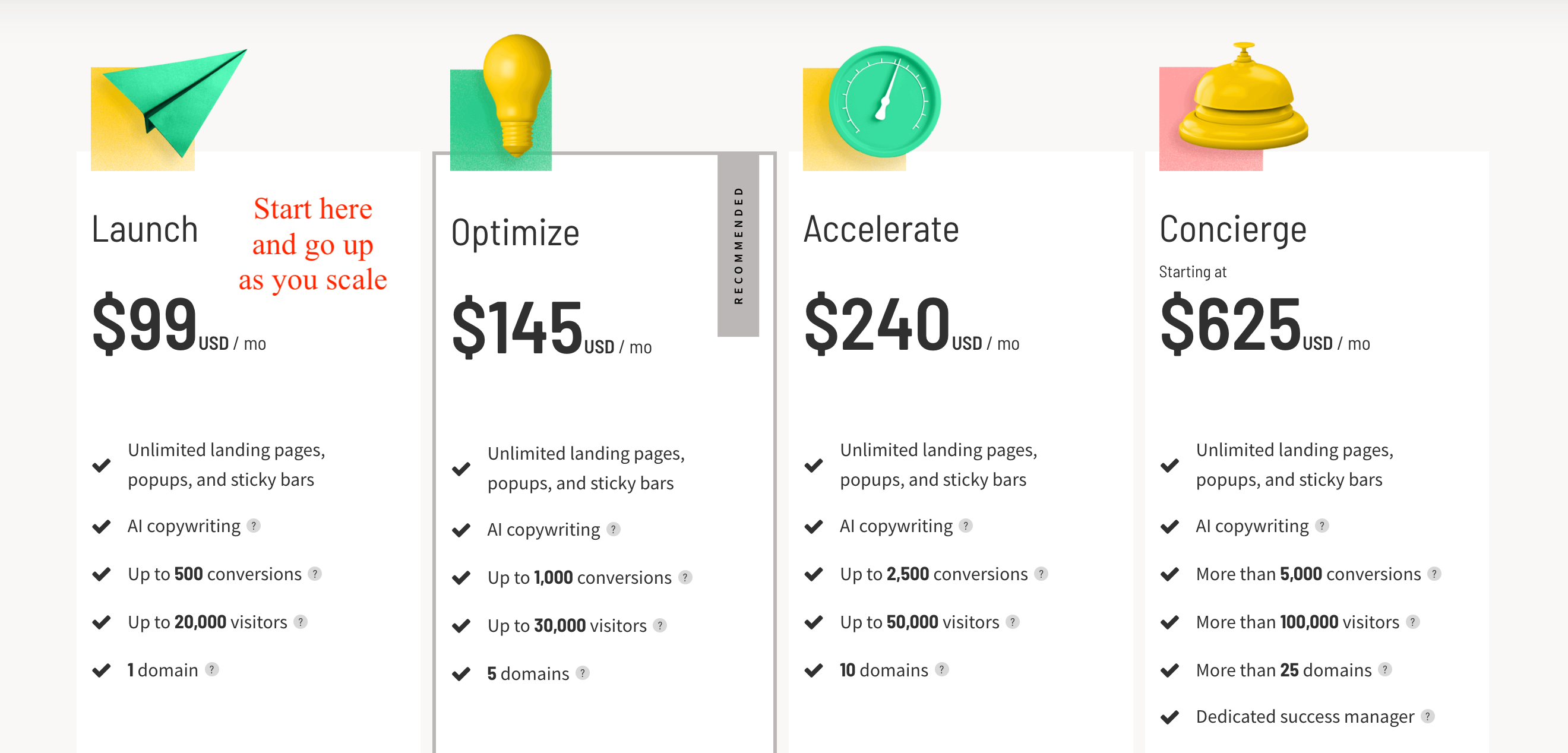 Unbounce Verdict
Unbounce is great for businesses that are laser-focused on getting conversions and want to make multiple landing pages fast.
3. MakeLanding
Easy Landing Pages

I enjoyed using MakeLanding because it makes website building so simple!
It's like ChatGPT for landing pages. Just write one line to tell the AI generator what you want, and it generates the site instantly.
Of course, you can change up your theme, copy, and images after you generate the website, but I love how it's all done in one step.
MakeLanding Key Features
How to Generate a Website with MakeLanding
It's as easy as I described. Just write one line into the box and watch a professional website magically appear! 🪄
I asked for "A home page for a marketing agency that works with AI businesses."
It even has an AI logo maker feature, but I wasn't impressed with mine.
Choose the styles and colors you want, customize the copy, add stock photos, or generate new images.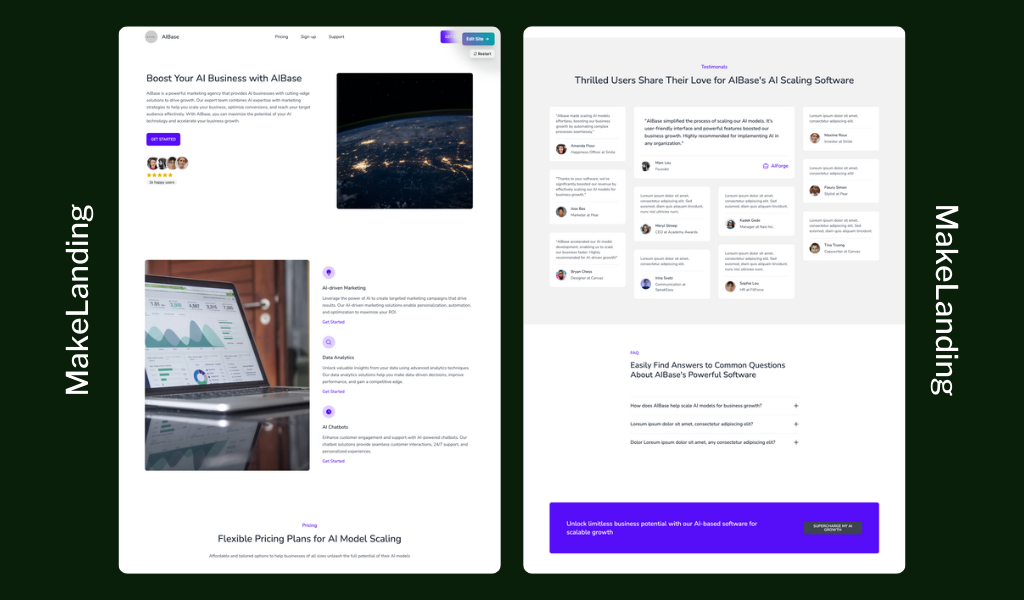 My impressions: I had some issues with generating my site, but the team responded quickly and fixed the problem for me right away. The landing page looked nice, though it seemed best fit for SaaS businesses.
MakeLanding Pricing
You'll pay a one-time fee of $19 to make one website. If you'd like to use the site editor and generate your site as many times as you'd like, you'll pay a one-time fee of $39 for each website.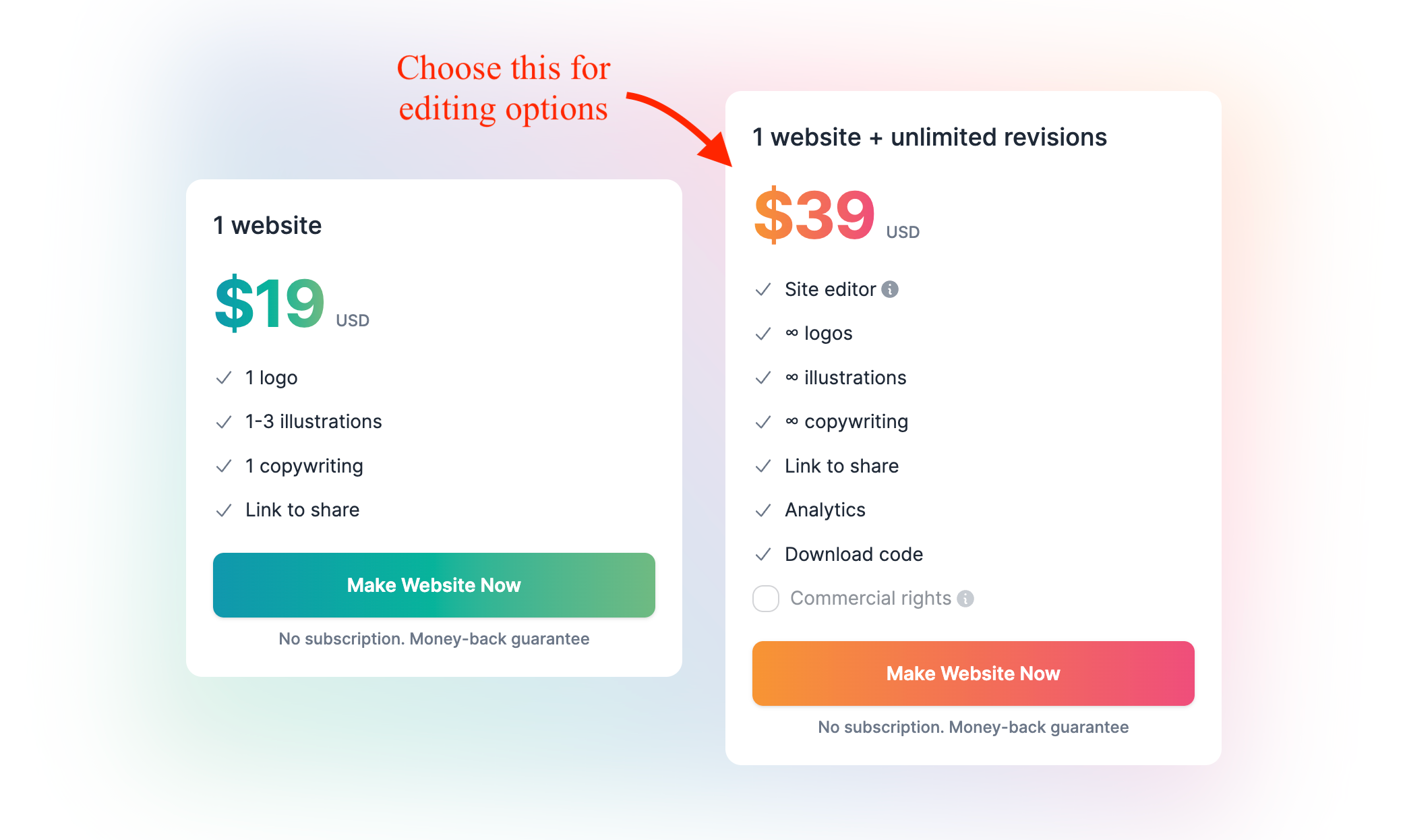 MakeLanding Verdict
This website generator is fun to use. But without domain support, it's better for hobby projects or testing. However, it'd be great for product-focused or SaaS businesses once they include that feature.
4. MarketingBlocks
Most Versatile

MarketingBlocks makes website generation as easy as dragging and dropping with their intuitive Editor.
Instead of starting from a pre-made template, you get a blank page and a menu of page sections that you could include in your site.
Things like a website header, an about us blurb, a services section, pricing, testimonials, a contact form, and more.
You can drag any section into your blank page, and the AI will generate the copy and design for that part.
It's a unique experience you can't get with any other AI builder.
MarketingBlocks Pros and Cons
How to Generate a Website with MarketingBlocks
Start by describing your product (or business), choosing a theme color, and setting a language for the site.
Choose your page type. I chose a landing page and called it "Home."
Drag and drop the sections you want into the blank page and watch as the AI assistant generates them for your product or business.
Finally, you can customize in the Editor and add a favicon, a popup, or extra scripts.
You can export the files as HTML or publish them to the web when you're done.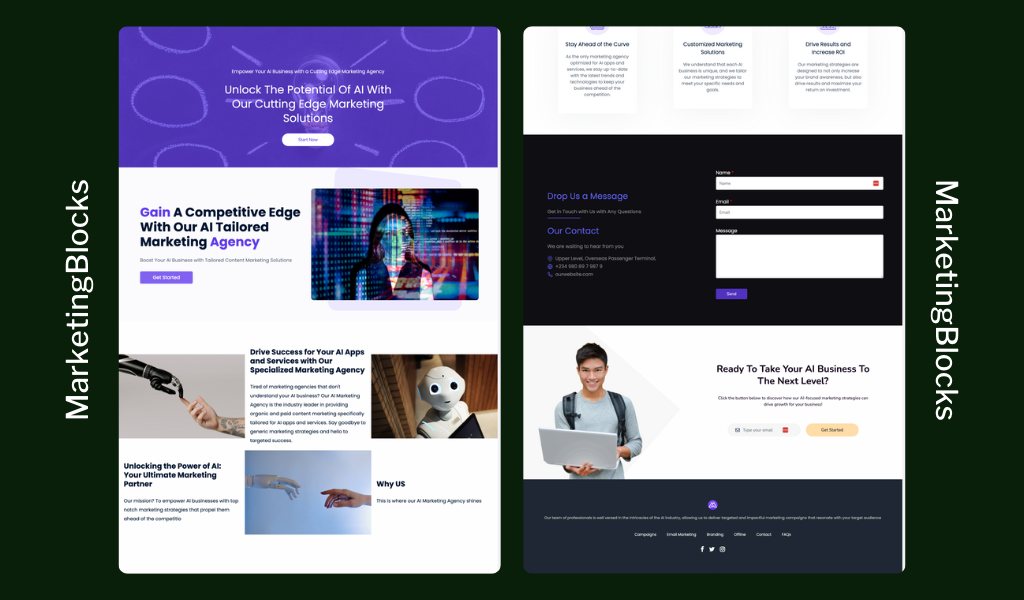 My impressions: I enjoyed the experience, and the website looks really professional. Of course, some parts of the copy didn't make sense, so you would need to polish it before publishing.
MarketingBlocks Pricing
Start with the Pro plan at $47 a month for 50,000 generated words and 20 projects.
MarketingBlocks Verdict
For businesses that want a professional-looking, customized website but don't need it to be on WordPress, I find MarketingBlocks to be the best AI website builder in terms of usability.
5. Pineapple Builder
Best-Looking Templates

Maybe it's because of the name, but I could feel that something was different about Pineapple Builder (in a good way!).
While other AI website builders give you bland color options that look a bit outdated, Pineapple Builder's design choices are fresh and on-trend.
Instead of choosing basic color schemes like "Green" or "Blue," you choose a color scheme plus a style—"White," "Pale," "Vivid," or "Dark," all of which reflect the current trends of website design.
Pineapple Builders Features
How to Generate a Website with Pineapple Builder
Choose one of the 5 template choices, then customize the design with color and style options. (You can also choose your own colors.)
Choose your fonts or upload your own. And choose a button design (rounded, rounded edges, or rectangular.)
Finally, give the AI assistant some details about your business.
And voila!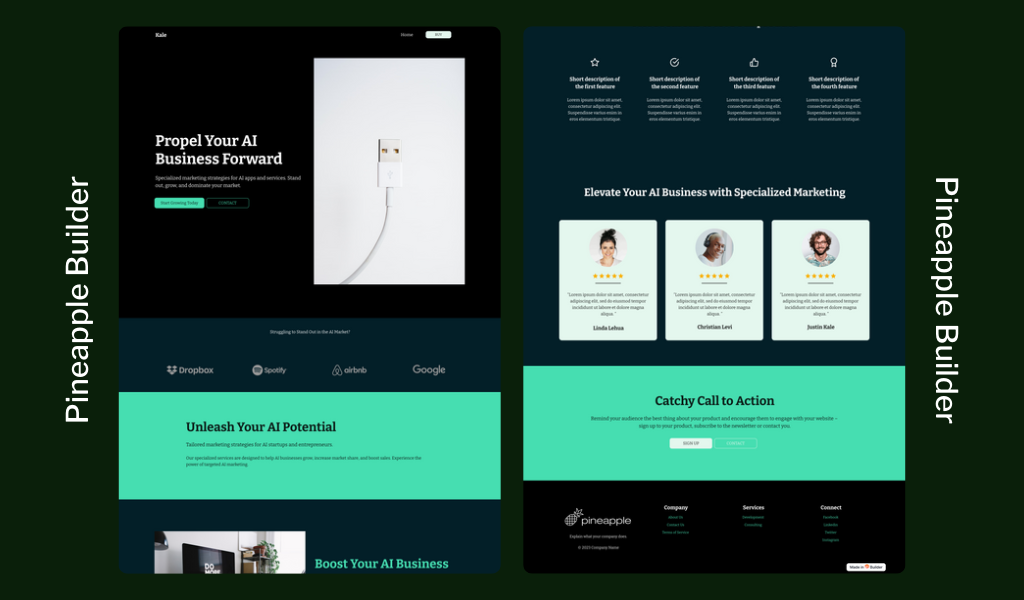 My impressions: To be honest, the copy wasn't amazing. But if you can improve the copy or get someone to do it for you, it could be worth it. As you can probably tell, I was really impressed with the design.
Pineapple Builder Pricing
Pay $15 a month for unlimited pages, a custom domain, and basic features. If you want a blog and AI-written blog posts, you'll need to get on the Grow plan for $29 a month.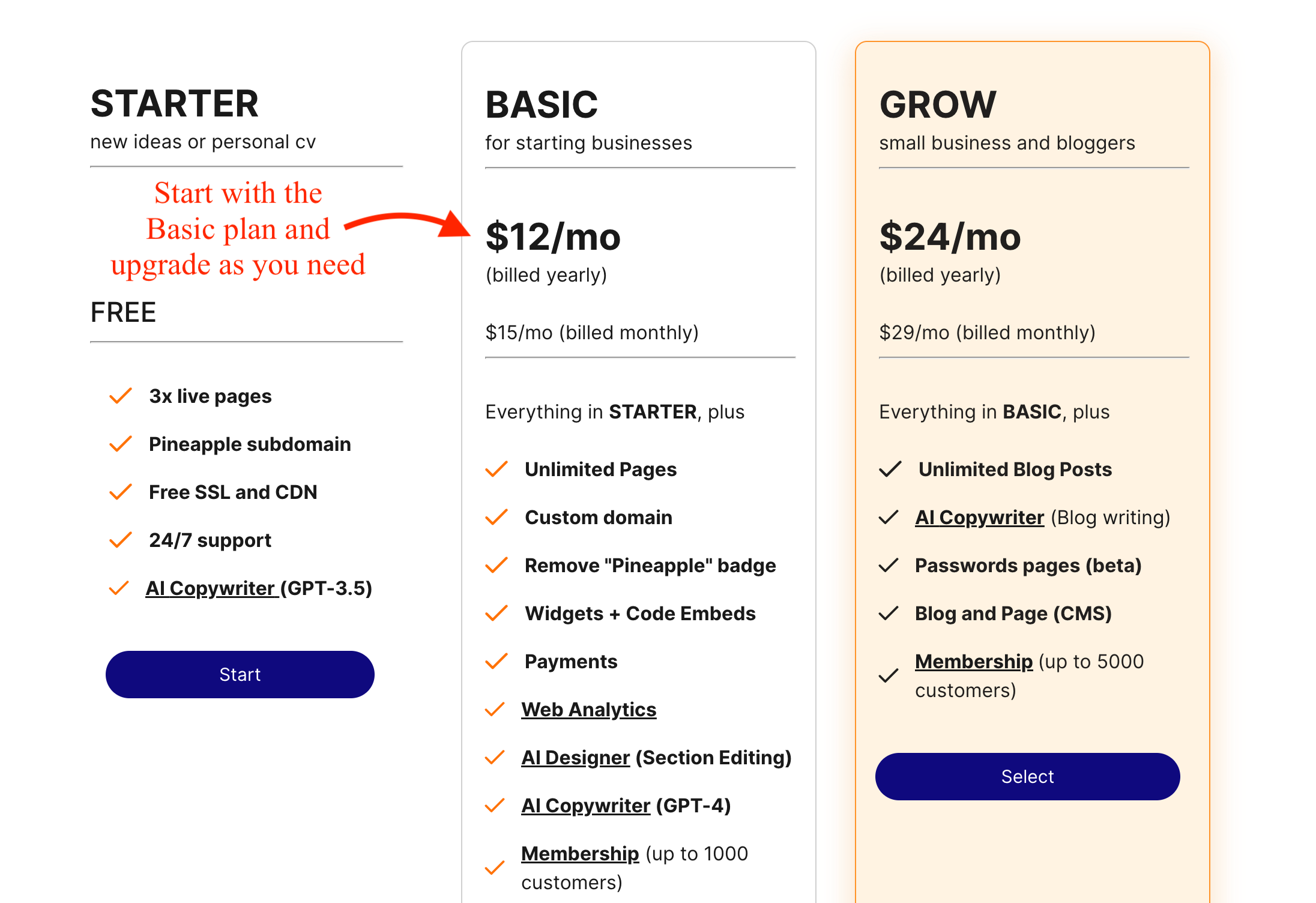 Pineapple Builder Verdict
Want a good-looking website for your product, SaaS business, or blog, plus some easy blogging features to get traffic more quickly? You should definitely check out the AI website builder.
6. Durable
For Service-Based Businesses

Durable is more than an AI website builder. It's a suite of small business software, including a CRM, invoicing software, and blog builder.
Durable Features
How to Generate a Website with Durable
You start by choosing your location. (The website automatically detects this if you let it.)
Enter your business name, and let it generate a site for you.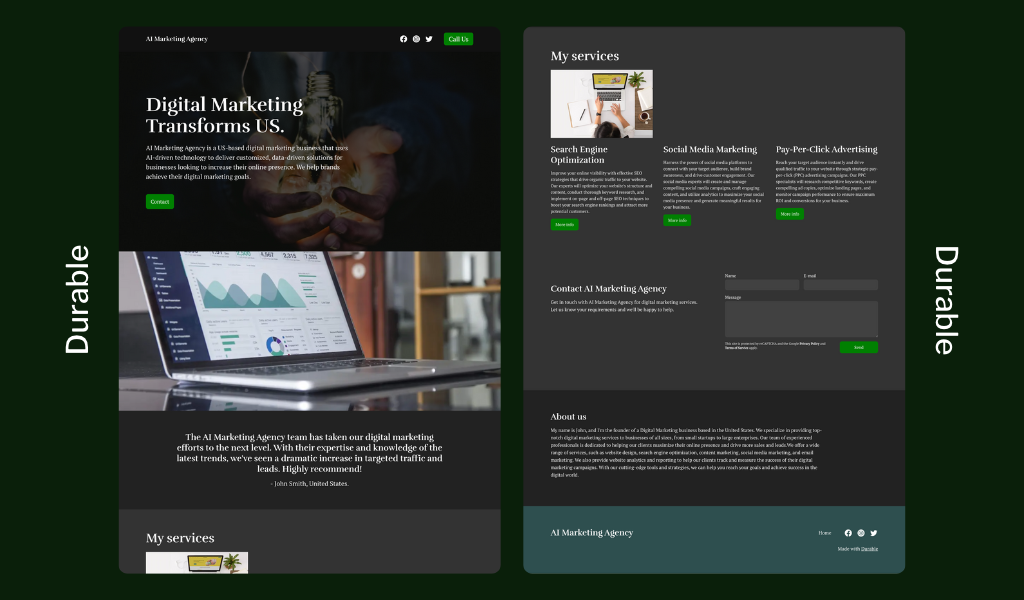 Add new pages in a click, and have the AI website builder write blog posts, too.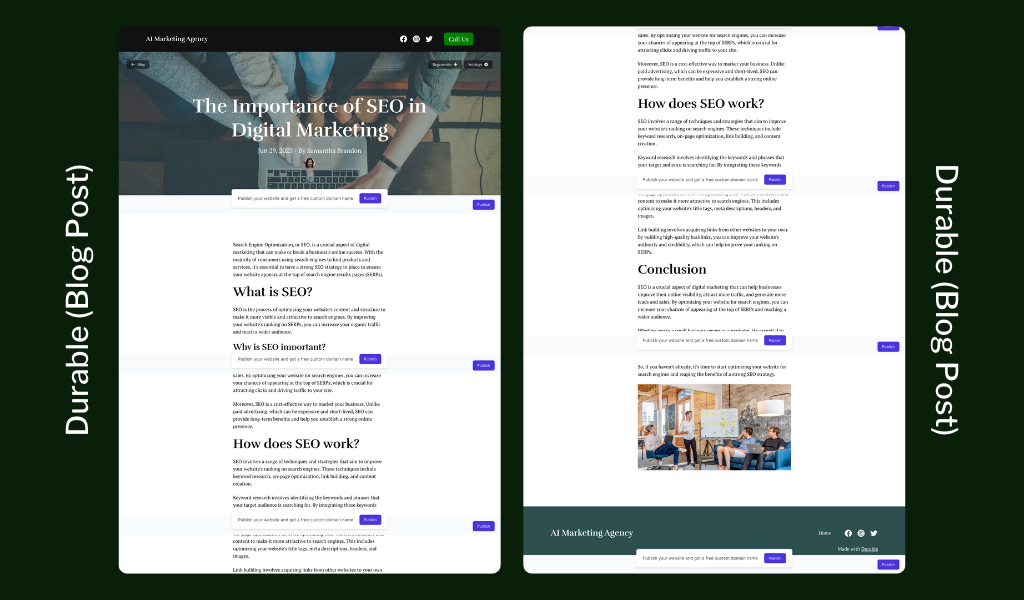 My impressions: This was an effortless experience, and I was blown away by how fast it was to set up a blog. I was pretty impressed with the design and overall look of the site.
Durable Pricing
Start for $15 a month for a custom domain, unlimited storage, web hosting, analytics, 50 contacts, and 50 AI-generated promotions.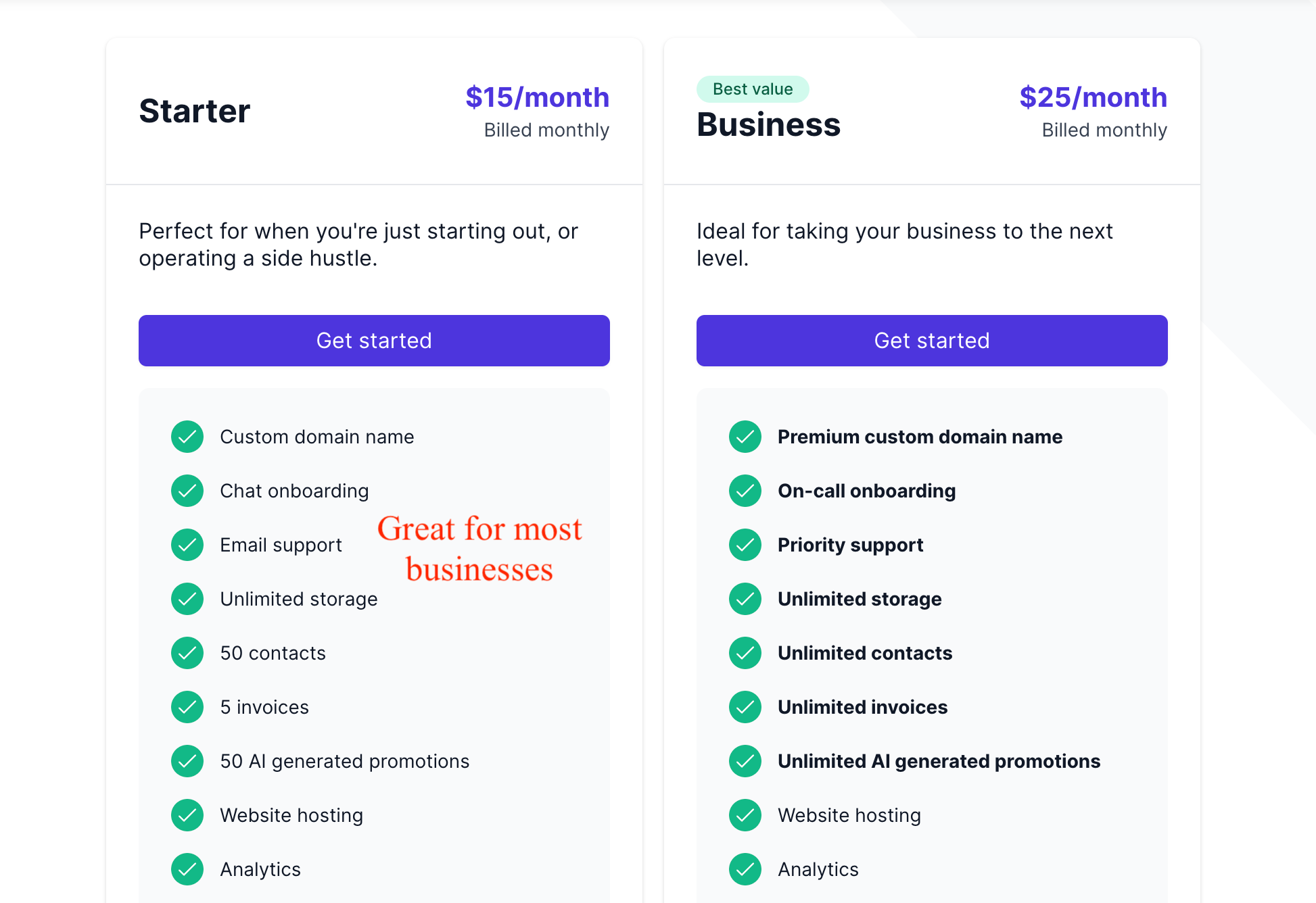 Durable Verdict
Durable is an excellent AI website builder for service providers who aren't tech-savvy and want to get their website up fast so they can start taking on more customers.
7. B12
B2B Website Generator

B12 is an AI website builder for B2B service providers. First, you'll generate your website with the AI builder. Then they give you two options for creating a website.
You can stop there and start using your new site.
Or you can hire B12's professional team of designers and marketers to finish your site and help launch it to success.
B12 Features
How to Generate a Website with B12:
Enter your business details, including name, optional URL, address, size, and category.
Set some goals for your website.
Next, the AI builder will generate a draft. Finally, you can choose a theme, preview it, and edit the colors, fonts, and images.
You can change basic details and add more pages, and of course, you can choose to collaborate with B12's team to customize it even further.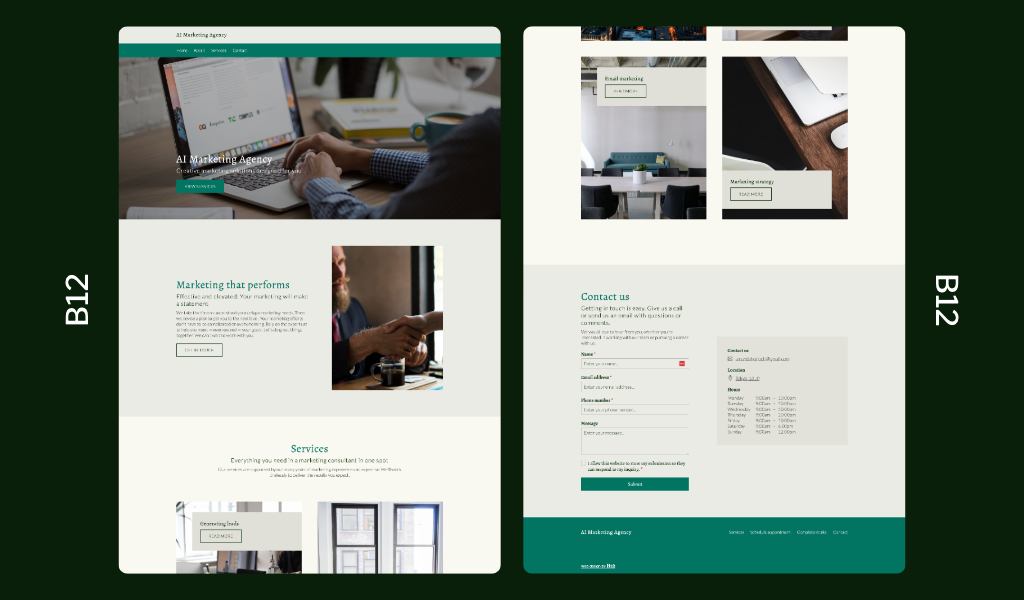 My impressions: It gave a really basic website with an appointment scheduler. I had the option to add more pages easily. It wasn't as easy to use as other website builders, but if you want to save money and still get professional design help, this could be a good option for you.
B12 Pricing
Plans start at $49 a month for basic website. Getting your website set up by B12's expert team costs a one-time payment of $1,999.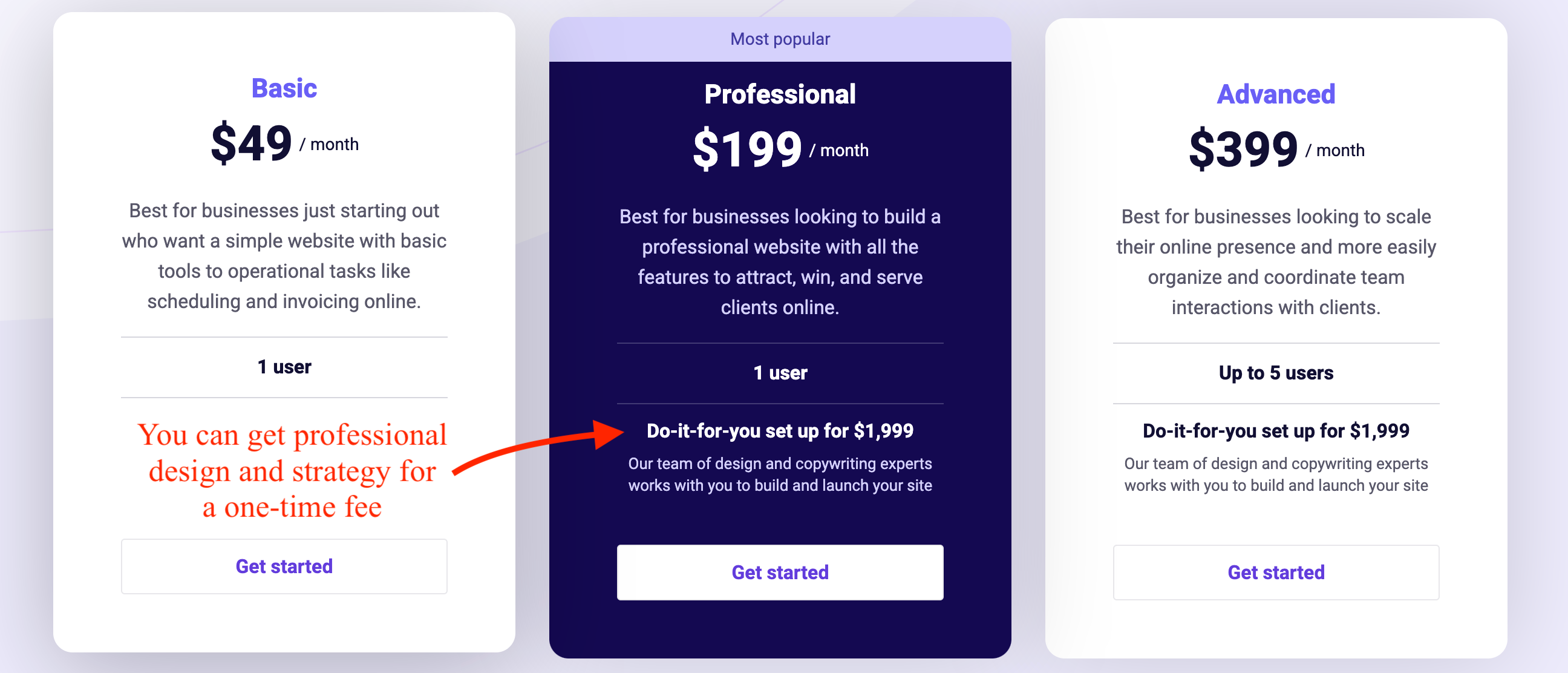 B12 Verdict
B2B businesses that want an all-in-one website with appointment scheduling, payment, and contracts (but want to save money on professional development) will get great value out of AI website builder B12.
8. Framer AI
Best for Designers

If you come from a creative or design background, drag-and-drop website builders might feel foreign to you.
Framer AI is here to help with an interface that looks more like a desktop design software than a website builder.
Framer AI Features
How to Generate a Website with Framer AI:
Describe your website in one line and it'll generate the website right away.
Re-generate until you get something you want.
Edit the desktop, tablet, and mobile versions side-by-side using the Adobe-esque editor.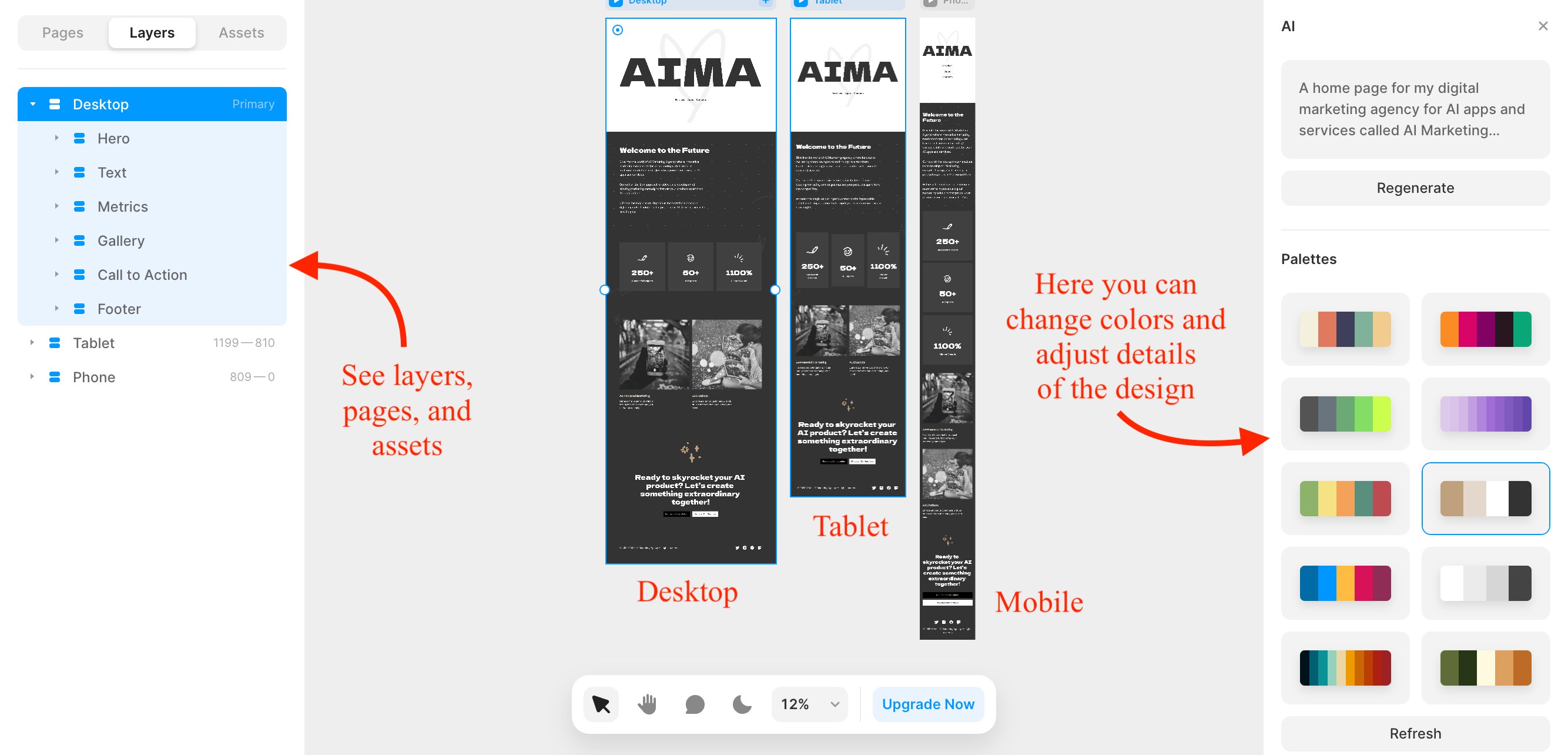 Here's what Framer AI generated for me: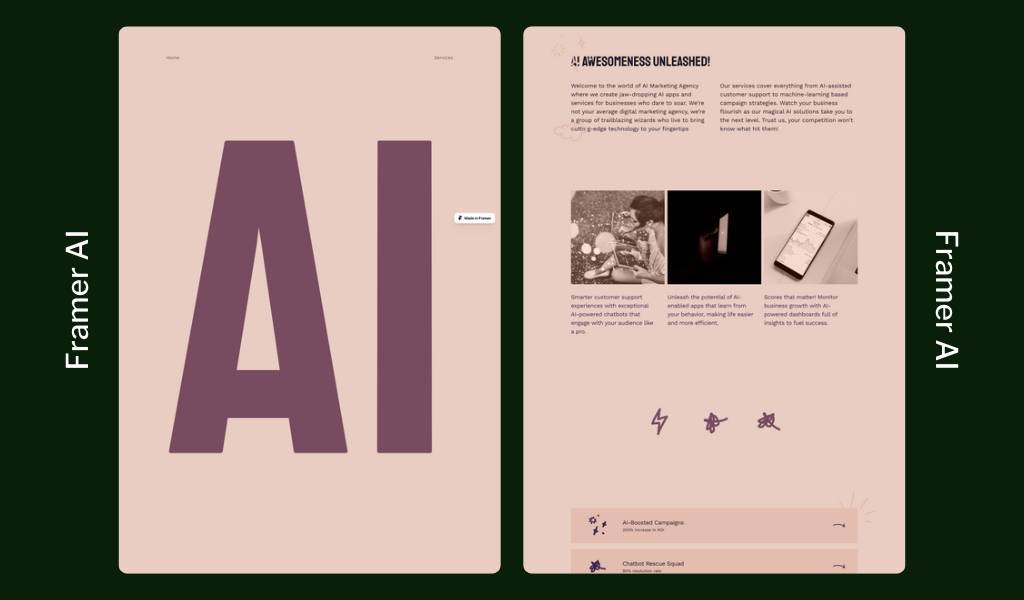 My impressions: This was the first time I generated something with an AI website builder that looked original. I'm sure there are some templates being used in the background, but this actually made a creative-looking design. (Now, is having a giant "AI" at the top going to help this website convert? Probably not, but that can be fixed in editing.)
The copy was really good, too! Overall, I was impressed with this website.
Framer AI Pricing
You'll pay $10 a month for a landing page, custom domain, and up to 1,000 visitors. (Upgrade for more.)
You can also publish for free if you don't need a custom domain name.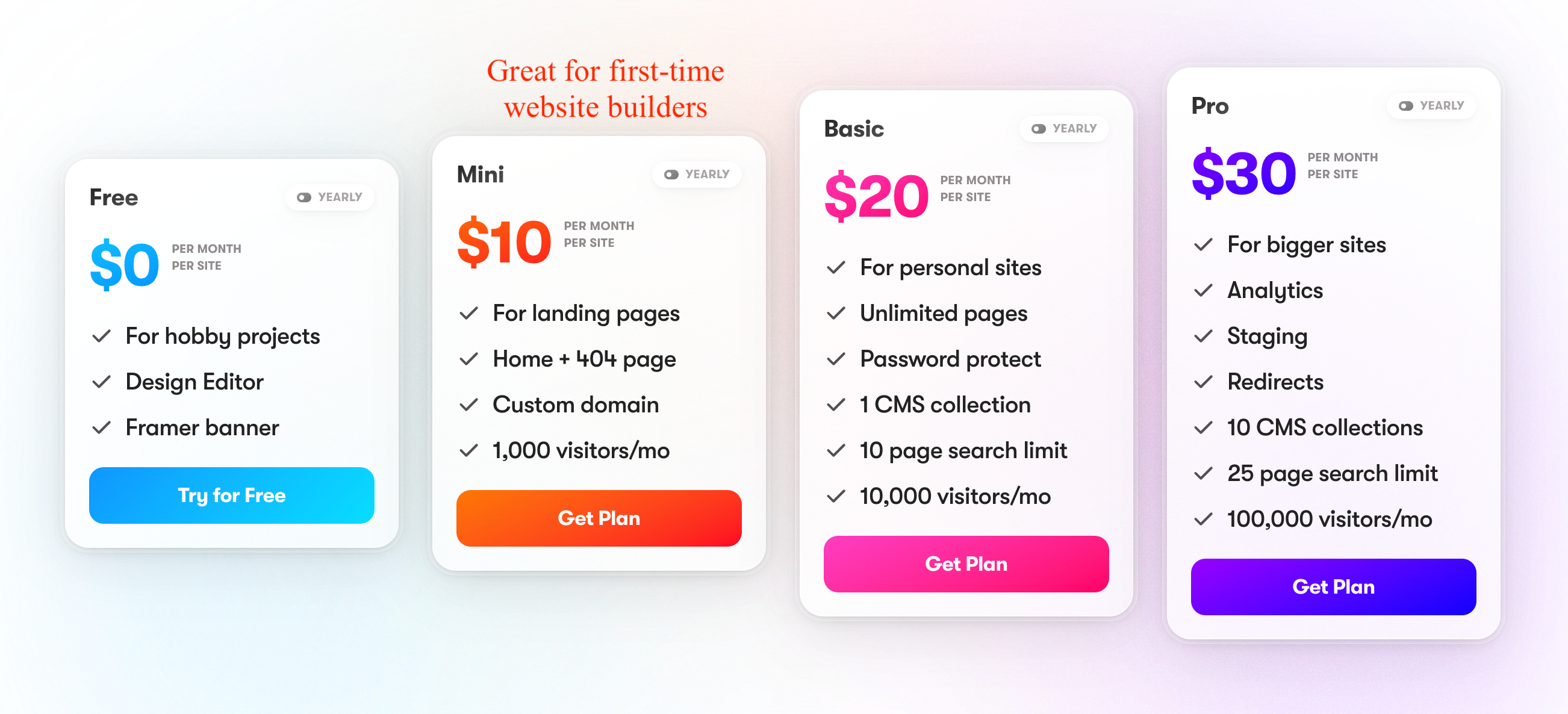 Framer AI Verdict
Creative people of the world, rejoice! You're not confined to generating cookie-cutter websites anymore. Framer AI is the best AI website builder for creative website designs and lots of customization options.
What is an AI Website Builder?
AI website builders use generative AI technology to put together a website for your product, business, or personal use. It's one of those AI tools that really makes life a lot easier when you're starting a business.
The technology learns from other successful websites and generates new ones based on best practices and patterns it's picked up from its research.
You'll give the app some information about your website and what you want to use it for.
Then it will generate the website—usually including the structure, design, and copy.
Finally, you can edit the website, add integrations with other apps, and publish the site when it's ready.
What can you use an AI-powered website builder for?
You can create a website for any purpose, but some AI website builders are designed for specific types of websites.
For example, you could create:
Benefits of AI Website Builders
How will using an AI website builder make your life better? In so many ways…
Honorable Mentions: Other AI Website Builders to Try
These AI website builders aren't the best, but they're super convenient if you're already using one of these platforms. If you're more of a developer, you can check out my list of low-code software and no-code software for the more techy softwares.
For Wix Users: When creating a new Wix website, you can use the Wix Website Generator (formerly known as Wix ADI) to generate your website quickly. Just choose "Let Wix create a site for you," enter your info, pick a theme, and generate the site. You'll need to pay for Wix hosting to publish your site (starting at $23 a month).
For GetResponse Users: You can generate landing pages with AI to build a mailing list with GetResponse's Website Builder. Whether you're already using the platform or not, you can get started for free. Choose your business type, select features for your website, and choose a theme to get started.
For Hostinger Users: Hostinger also provides an AI website builder for customers called the Hostinger Website Builder. You can generate a website from business information or add a URL to copy your site over from another platform (or imitate another website you like). You'll need to pay for Hostinger hosting to publish your site (starting at around $12 per month).
Don't forget, you can also test out your final product with an AI test automation tool.
Frequently Asked Questions (FAQs)
Which AI is best for making a website?
If you want a WordPress website, 10Web's website builder is the best. For professional-looking pages, try a website builder like Pineapple Builder. For creative websites, I recommend Framer AI.
What is the best AI tool to make a website for free?
Pineapple Builder, Framer AI, and GetResponse provide a free AI website builder. (But you won't get a custom domain or extra features.)
Can AI code a website?
Yes, it can! Check out some AI website generators in the article above (with full reviews and screenshots), or check out this other post on AI code generators.
Can ChatGPT generate a website for me?
ChatGPT isn't a website generator. It's a chatbot that can help you get information and get writing done for projects. It can also write code, but it can't use that code to create a website.