21+ Best AI Lead Generation Software to Win More Leads
Last Updated on June 21, 2023
You know that AI technology has transformed the sales and marketing landscape DRAMATICALLY in the last year.
And there are so many companies claiming to be the "best AI lead generation software," so which one will actually push the needle and increase leads for your business?
Because let's be honest, lead gen is probably one of the biggest pain points for small and large businesses alike.
As we look at this comprehensive list of the best AI lead generation tools, I've broken it down for you into 5 major buckets:
Now, without further ado, here is the full list of my 21+ picks:
Seamless AI
Conversica
Albert AI
What is the Best AI Lead Generation Software?
Here's the full breakdown of recruitment tools, broken down into different categories.
Best AI Lead Generation Software
All-In-One Lead Generation Platforms
Prospect Databases
Conversational AI Platforms
AI Copywriters
AI Marketing Assistants
1. Growbots
Outbound Sales Support
Growbots' AI sales software supports your business' lead generation efforts from all sides, including finding you leads within your niche and sending out an email campaign to generate leads. It gives you all the bells and whistles of a outbound sales platforms- with a dash of AI.
All of their prospects are verified with artificial intelligence to improve your email conversion rates. So leads are actually leads.
Here's what I like about Growbots:
Growbots Pricing
Plans start at $49 per month with limited features. You'll need to pay at least $199 per month to access the prospect database.
Premium Support starts at $807 per quarter.
Growbots Verdict
Growbots would be great for marketing teams that want to search for prospects and send multi-channel messages at scale.
2. LeadIQ
SaaS Prospecting Platform
LeadIQ is a specialized prospecting platform designed specifically for SaaS businesses.
And it packs a one-two punch of AI-backed prospect search features and outreach support.
Some top features of LeadIQ include:
LeadIQ Pricing
Plans start at $75 per month for 250 email look-ups and 100 emails. See all pricing plans in the screenshot below.
LeadIQ Verdict
What better way to reach out to SaaS prospects than by using a SaaS-specific prospecting tool? You can try LeadIQ for free to test it before you buy.
3. xIQ
Personality-Driven Lead Generation
What is personality-driven lead gen, you say?
In xIQ's words, it "combines neuroscience, psychology, and AI to understand the buyer's mindset."
So here's what xIQ brings to the table:
xIQ Pricing
I couldn't find pricing info on the website. But you can book a demo for more details.
xIQ Verdict
xIQ is all about personalizing the sales outreach experience. If you're looking to test out personalized conversions, give them a try.
4. Overloop
LinkedIn Lead Generation
Overloop calls itself a "multi-channel outbound platform." Specifically, it can help you with email and LinkedIn outreach at scale.
These are some key features of Overloop:
Overloop Pricing
You can use Overloop for a flat fee of $99 per user per month and 250 Email Finder credits per user. (Additional credits are available for purchase.)
Get started with a 14-day free trial.
Overloop Verdict
Navigate the delicate balance of LinkedIn outreach and cold email outreach with the powerful automation tools inside Overloop.
5. ZoomInfo SalesOS
Enterprise-Level Lead Generation
ZoomInfo SalesOS is an enterprise-level sales prospecting software that boasts a full stack of lead generation features for your B2B organization.
Here's what you get with ZoomInfo SalesOS:
ZoomInfo SalesOS Pricing
Pricing is available upon request.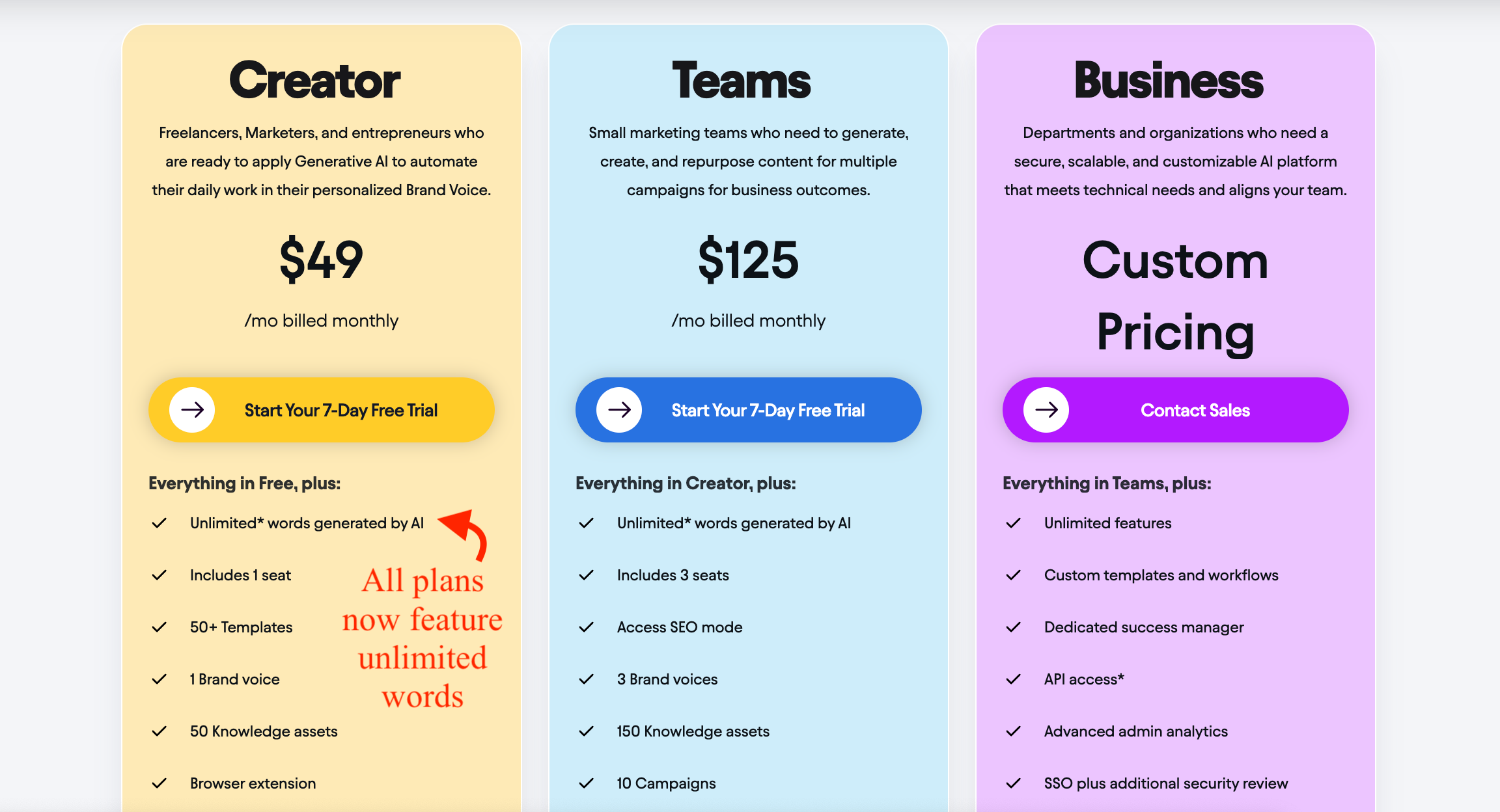 ZoomInfo Verdict
ZoomInfo SalesOS is one of the top impressive enterprise-level lead generation tools I've seen.
6. Hunter
Smart Email Finder
Hunter helps you find hidden email addresses for the people and firms you want to connect with online. It also helps you send cold emails and monitor performance. I've used Hunter for years, and they never disappoint, even if you're just using their free options.
Here are some top features of Hunter:
Hunter Pricing
Plans start at $49 per month. The lowest-tier plan includes 500 searches and access to all features.
You can also start for free with 25 searches every month.
Hunter Verdict
Hunter is an all-around solid platform for organizing and conducting cold email campaigns.
7. Seamless AI
Smart Pitch Writer
Seamless AI is a hybrid outreach assistant that combines a robust prospect database with a fully-functioning AI email writer.
And with several extra features, this is a strong contender for the best cold outreach platform on the list.
Here's what you get with Seamless AI:
Seamless Pricing
Pricing isn't available, but some sources say the Pro plan starts at $99 per user per month.
Contact Seamless AI for a quote.
Seamless AI Verdict
If you want to have a verified prospect database and AI writer in one tool, Seamless AI is a great choice.
8. Lusha
Smart Prospects Database
Lusha calls itself the database with the "most accurate B2B company and contact data."
And it has several user-friendly features that make it a favorite of many B2B marketers.
Here are some highlights:
Lusha Pricing
Plans start at $39 per user per month for 40 credits and basic features.
Intent signals are only available in the highest-tier Scale plan.
Lusha Verdict
Lusha's super-clean data sets and smart analytics help you improve your lead generation performance.
9. LeadFuze
Hyper-Detailed Lead Search
LeadFuze aims to automate the process of building prospect lists.
The AI assistant, Fuzebot, can follow custom guidelines to create outreach lists automatically.
Here's what I like most about LeadFuze:
LeadFuze Pricing
Plans start at $147 per month for 500 leads.
LeadFuze Verdict
Choose LeadFuze to generate prospect lists on autopilot, so you can spend more time connecting with potential leads.
10. Swordfish
Find Phone Numbers
Swordfish can do many things, but what stood out to me was its verified cell phone number data.
You can discover which phone numbers will likely connect you to quality leads.
Here's what Swordfish does best:
SwordFish Pricing
Pricing is available on request.
According to other reviews, plans may cost anywhere from $39 to $79 per month.
SwordFish Verdict
Businesses that prefer cold calling over cold emailing will get great use out of Swordfish.
11. OpenLead
AI-Generated Prospect Lists
OpenLead is like ChatGPT for prospect list generation. Just tell them your ideal lead or customer and they'll generate a list specific to your requirement.
Here's what OpenLead does well:
OpenLead Pricing
You can access the database for $249 per month, but you'll need to fork over $1,799 per month for AI-enhanced features.
OpenLead Verdict
Try OpenLead for its automated list-building, but make sure to test out other options before committing.
12. Drift
Comprehensive AI Sales Chatbot

These days, it seems like everybody's website has a chatbot ready to greet you.
Drift is one of the best AI-powered lead-generation chatbots, designed to generate leads and sales for your business.
Some key features:
Drift Pricing
Plans start at $2,500 per month for small businesses. Bigger organizations can contact Drift for pricing details.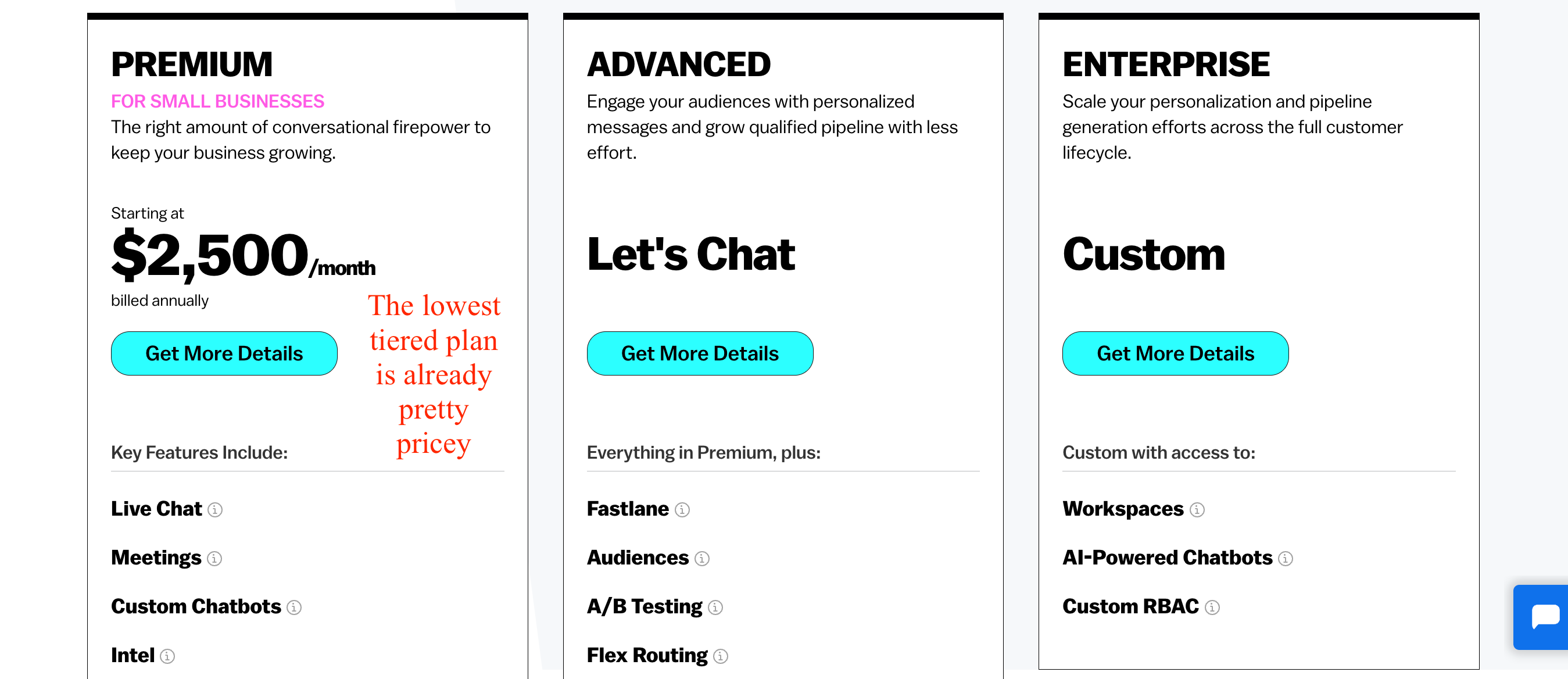 Drift Verdict
Drift is one of the leading AI chatbot and video chat platforms. If you can afford it, I recommend checking this one out first.
13. Conversica
Multi-Channel Conversational AI

Conversica is another great AI chatbot software with some pretty impressive features.
Here's what stands out the most:
Conversica Pricing
Request a demo to get pricing.
Conversica Verdict
Conversica excels in natural-sounding, omnichannel conversations. If that's your focus, I recommend you check it out.
14. Exceed AI
Affordable Conversational AI

Exceed AI offers an affordable alternative to pricier AI chatbots. (At least, that's what I gather from internet research.)
But it still features the same functionality.
Exceed AI's key features include:
Exceed AI Pricing
Pricing isn't available on the website, but other review sites say plans start at $500 a month.
Exceed AI Verdict
If you're looking for a pared-down and potentially more affordable chatbot for your business, I recommend checking out Exceed AI.
15. Reply
B2B Outreach & Booking Assistant

Reply calls itself an "AI-powered sales engagement platform."
While its main feature is its conversational AI that engages sales prospects, it also features a contact database and meeting scheduler.
Some cool things you can do with Reply:
Reply Pricing
Paid plans start at $60 per month.
Or try it for free with 1,000 credits a month and basic AI tools.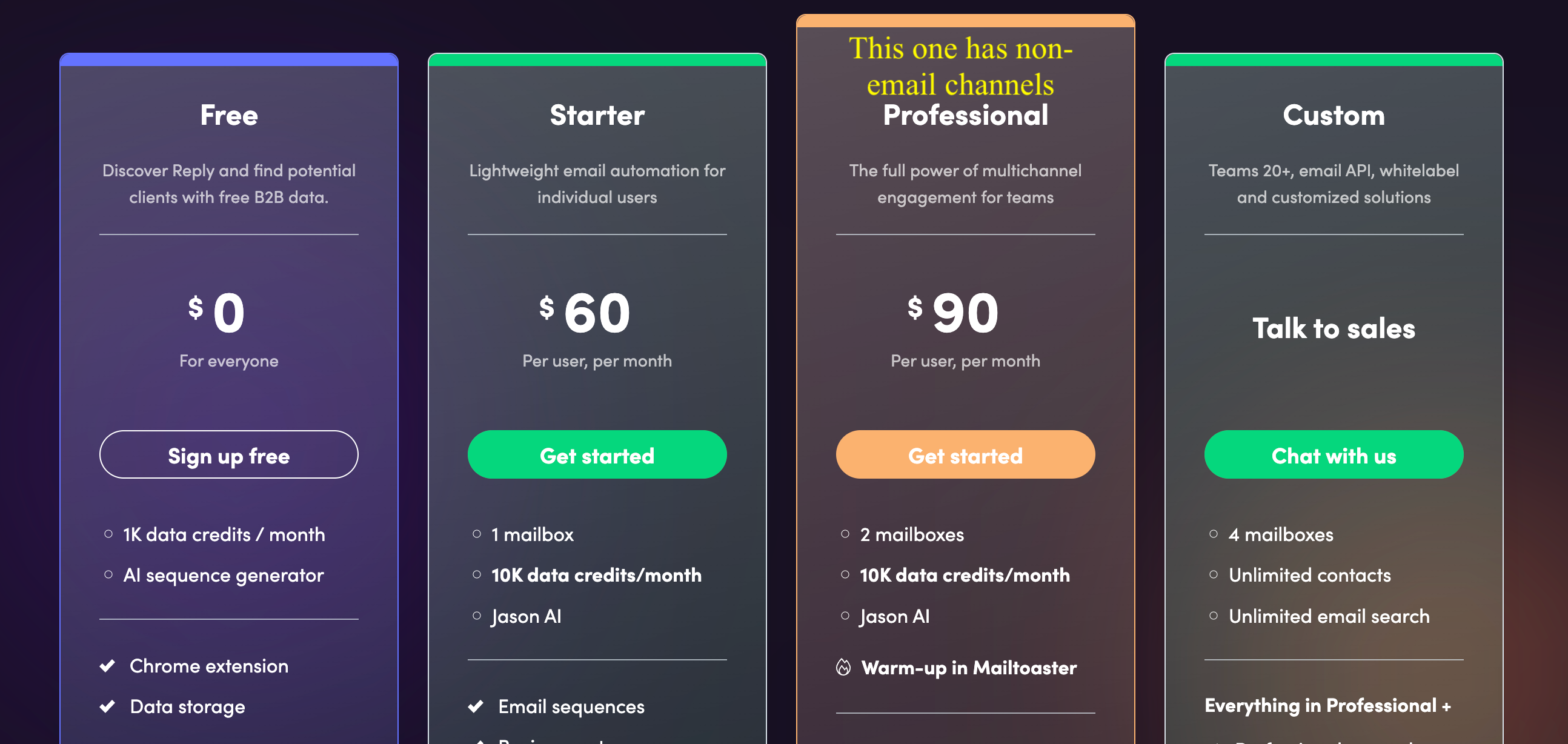 Reply Verdict
Reply seems to give you the most multi-channel options for conversing with prospects, which is a huge plus.
16. Landbot
No-Code Chatbot Builder

Landbot is a no-code AI chatbot that allows you to design your own conversation rules.
It's a way to save money on pricier solutions and also have some control over the look and functionality of your chatbot.
Here's where Landbot shines:
Landbot Pricing
Paid plans start at 30 euros a month (roughly $30), but to support WhatsApp, you'll need the Business plan at 300 euros a month ($300+).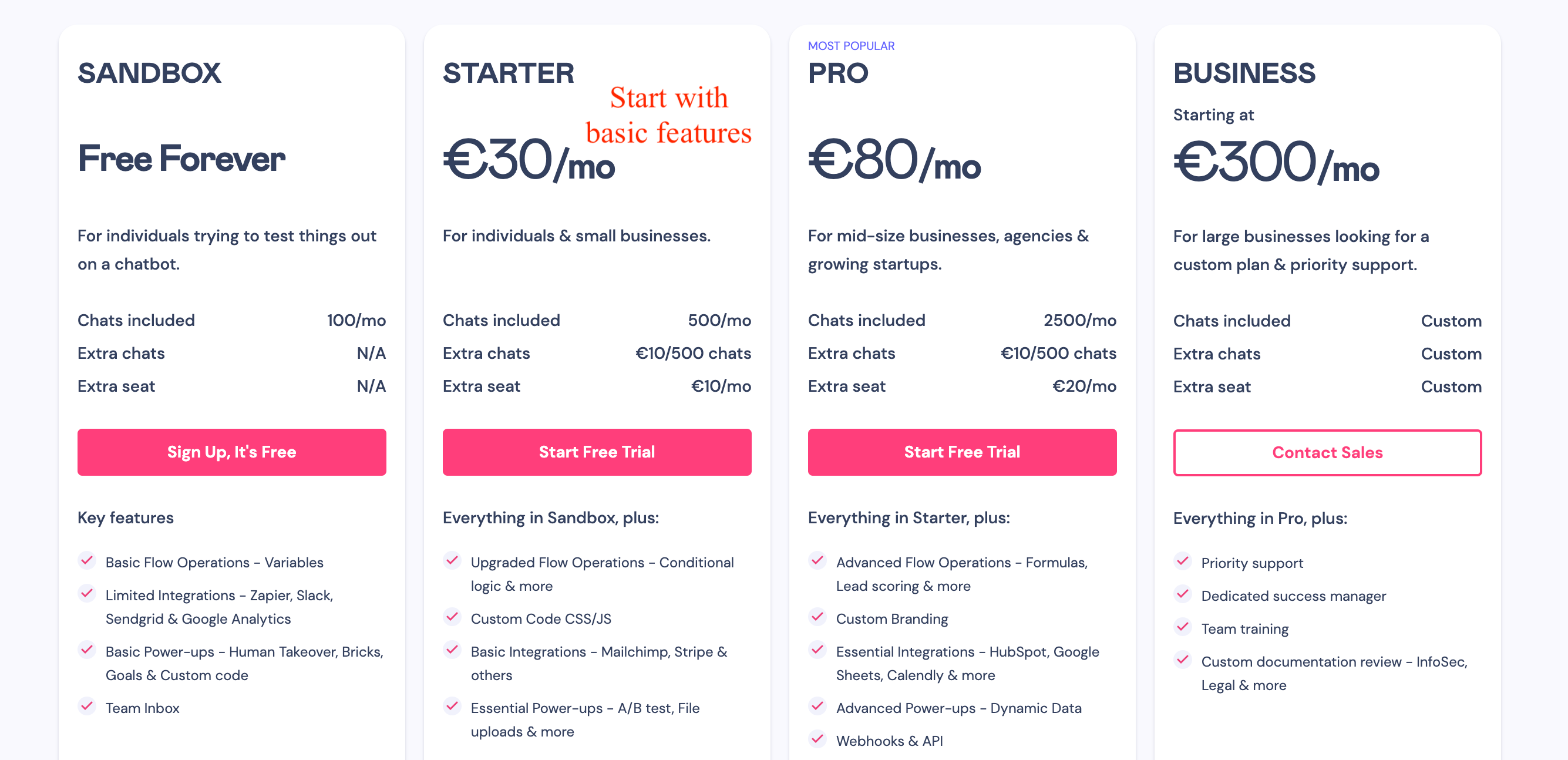 Landbot Verdict
Landbot's no-code chatbot builder is a great way to save money on your AI chatbot, but it's only for companies willing to build one themselves.
17. Trellus
AI Cold Call Coach

Trellus is a personal sales coach when your sales team is on calls. Remember when you used to have a peer or coworker sit with you and whisper next discussion points in your ear? That's all gone. Now, the chat will give you tips throughout the call to make each and every encounter as successful as it can be.
Here's what I like about Trellus:
Trellus Pricing
Paid plans start at $60 per month for team features, but you can use the software as a single user for free.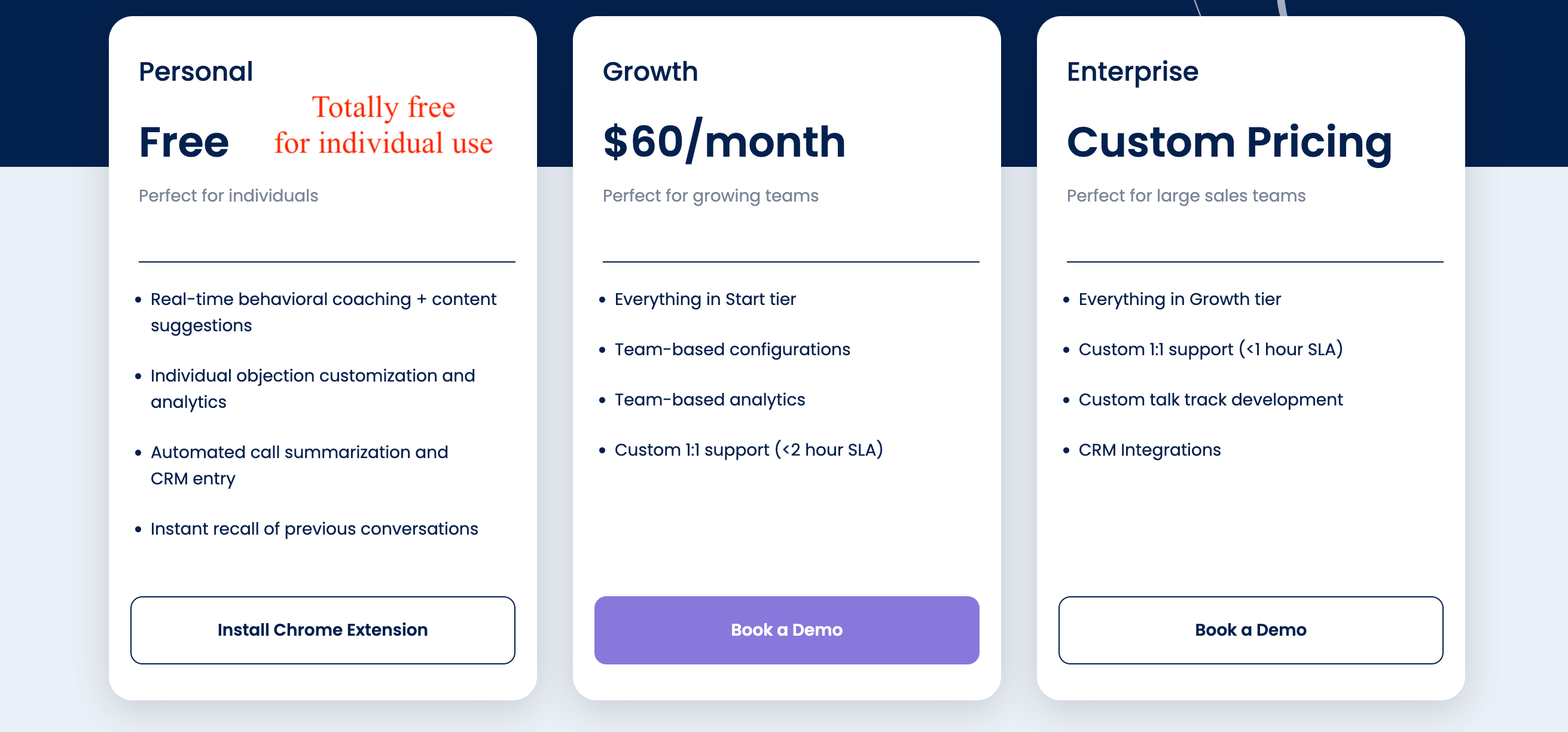 Trellus Verdict
If you're looking to get some insights and help on your sales calls, check out Trellus. You spent a long time getting those leads, let's make sure we convert them.
18. Albert AI
AI-Driven Ad Manager

Albert AI is a smart ad manager that uses AI and machine learning to optimize your ads.
The website features tons of case studies where Albert has increased ROI significantly thanks to its smart optimization.
Here's what Albert AI excels at:
Albert AI Pricing
You can contact the team behind Albert AI for pricing information.
Albert AI Verdict
Albert can run and optimize your ad campaigns better than a human marketer. It's certainly worth a try for forward-thinking companies.
19. Reachout AI
Video Prospecting Tool

Finally, we have Reachout AI.
This helpful AI platform takes a single video you film and personalizes it for 1000s of prospects in minutes. What's cool, is you can actually create an AI avatar of yourself and your voice using Resemble, then give yourself different scripts to speak about.
Here's what you get:
Reachout AI Pricing
Plans start at $79 a month for basic features.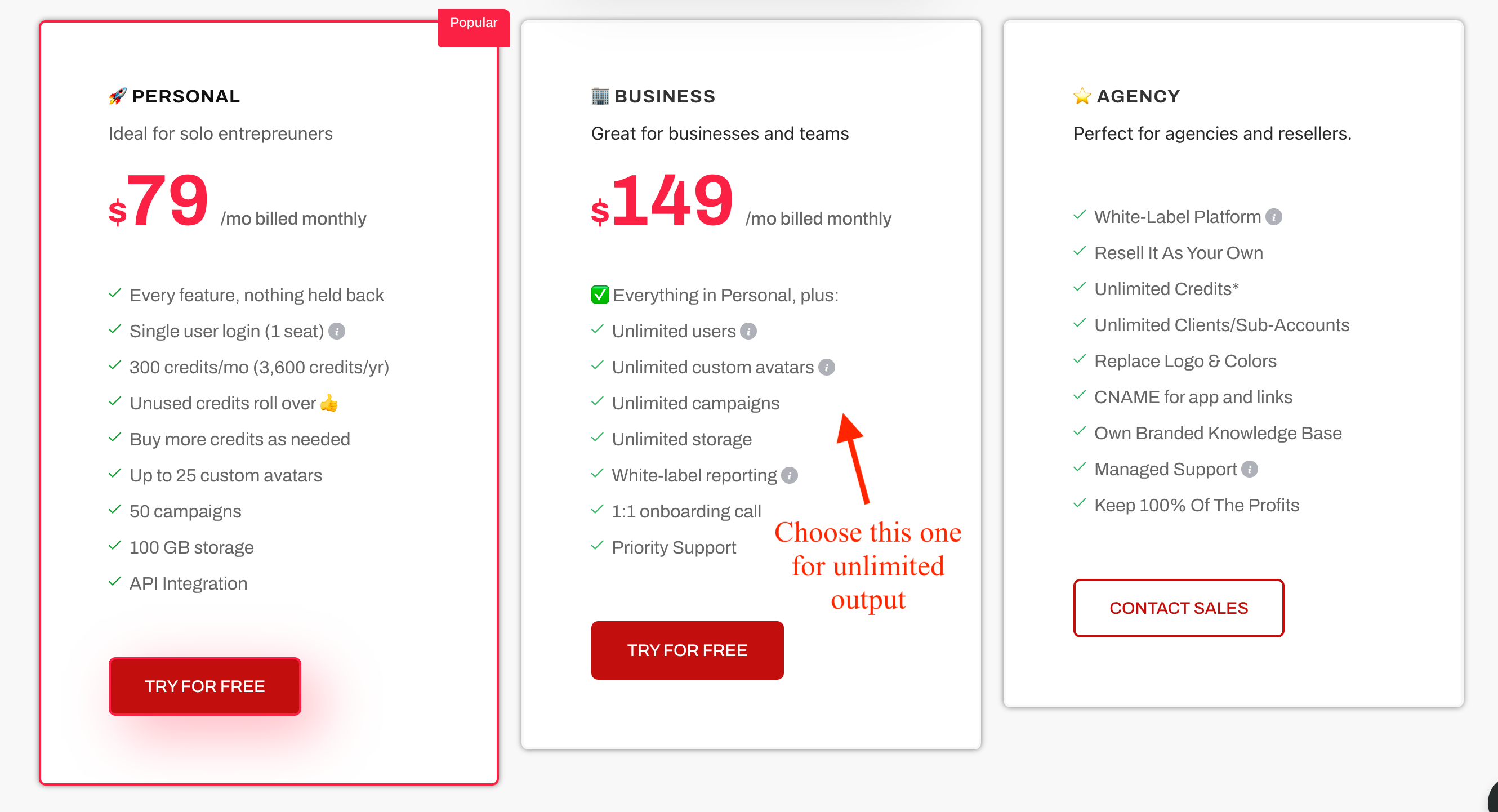 Reachout AI Verdict
If video is a big part of your prospecting strategy, you'll save tons of time by automating your video creation with Reachout AI.
AI Sales Copywriter
Jasper AI is the OG AI copywriter and still one of the best. (Check out my full Jasper AI review to learn more.)
It writes any marketing copy you might need, with the skill of a seasoned copywriter.
Here's what you get with Jasper AI:
Plans start at $49 a month for unlimited words.
Jasper Verdict
Jasper AI will write the persuasive copy you need to generate more qualified leads online.
21. Warmer AI
Cold Email Writer
Warmer AI is an AI copywriter specifically designed to write personalized cold emails.
Here's what I like most about Warmer AI:
Warmer AI Pricing
Plans start at $59 per month for 150 credits (equal to 150 emails). You can try it out with 10 free credits on sign-up.
Warmer AI Verdict
If your lead generation strategy focuses on cold emails, I suggest checking out Warmer AI.
What is AI Lead Generation Software?
AI lead generation software uses artificial intelligence to automate parts of the lead generation process.
Here are some things AI-powered tools can do:
The benefits are huge. Check out my shortlist of 21 lead generation AI software (above) that you can try today.
Frequently Asked Questions (FAQs)
Can you use AI tools to generate leads?
Yes! Check out my top 21+ picks in the list above.
How can AI help my lead generation efforts?
AI can help you in many ways. You can find contacts, reach out to them, generate inbound leads, book calls with your sales team and more.
What's the typical lead generation process?
Lead generation typically starts with defining your strategy. 
Inbound lead generation involves creating content that attracts leads, while outbound lead generation focuses on reaching out to prospects through messages and phone calls. 
Once you have a lead in your pipeline, you nurture them until they're ready to buy (or not). 
This often includes setting up a sales call with them to talk about your product or service.