5 Best Video Prospecting Tools to Supercharge Your Sales
Last Updated on May 30, 2023
The answer is quite simple: Emails are mundane with low return rates, and people more than ever want video content.
So why not merge the two together and start video prospecting?
Video prospecting is a type of marketing strategy that uses video to communicate with prospects instead of plain-text sales emails.
Here are some stats to convince you of the power of video for sales and marketing ((Source: Wyzowl's State of Video Marketing 2023.)
And now thanks to the best 5 video prospecting tool, you can send personalized videos in minutes to rev up your marketing and sales efforts.
Reachout AI
chatbot ai videos (enterprises)
Drift Video
What is the Best Video Prospecting Tool?
Ready to get started? Here's the list of platforms I've reviewed.
Best Video Prospecting Tools
Custom Video Templates

Hippo Video is a platform that allows you to create personalized videos at scale. The amazing thing about this software is that you don't have to re-record personalized videos for every prospect.
Instead, you take one video, and then use Hippo's AI video tools to automatically personalize videos for each person on your list.
Here are Hippo Video's top features: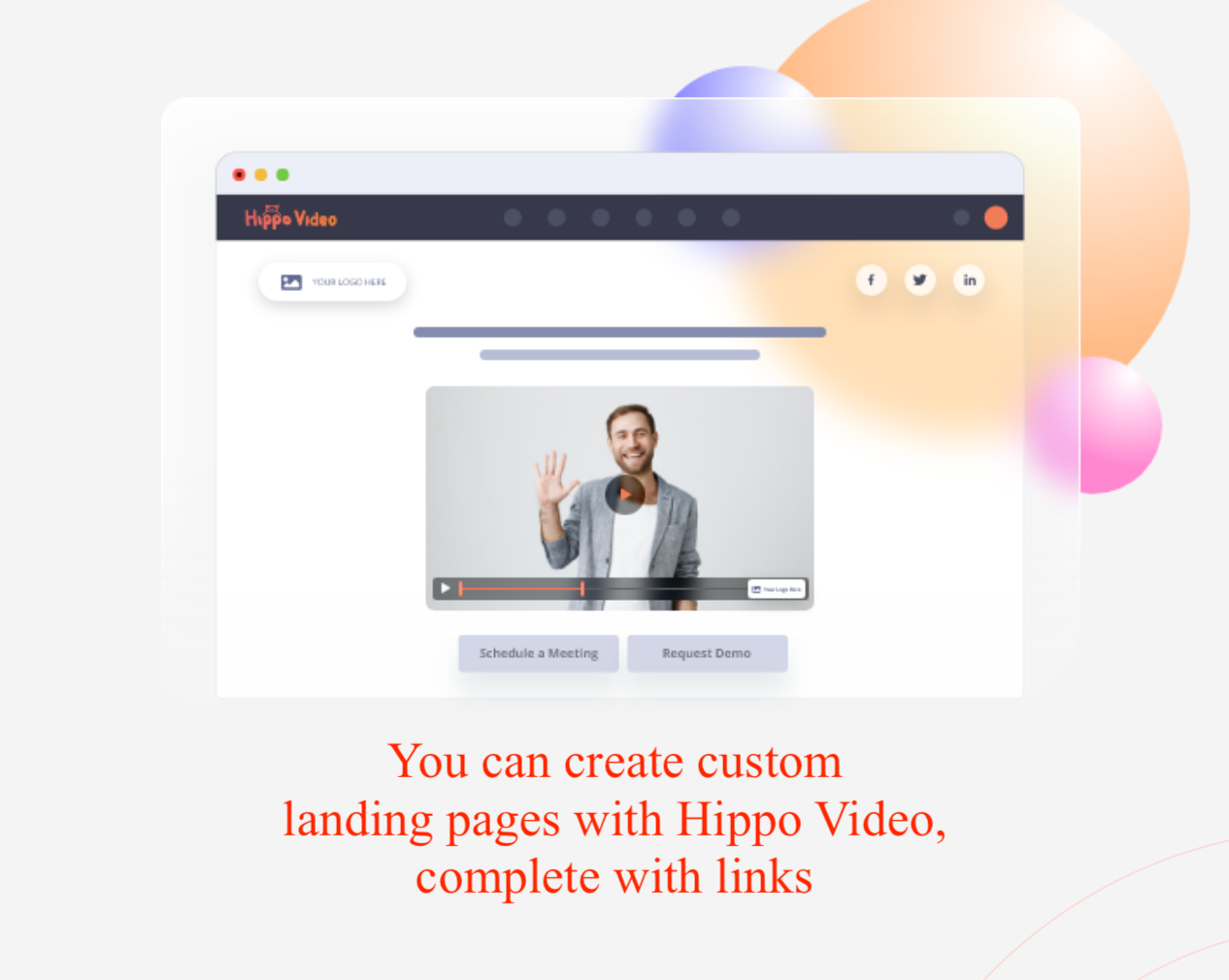 You can try out Hippo Video with the free plan, or upgrade to the Pro plan for $30 a month for more credits. The Team plan provides space for extra users at $75 per user per month.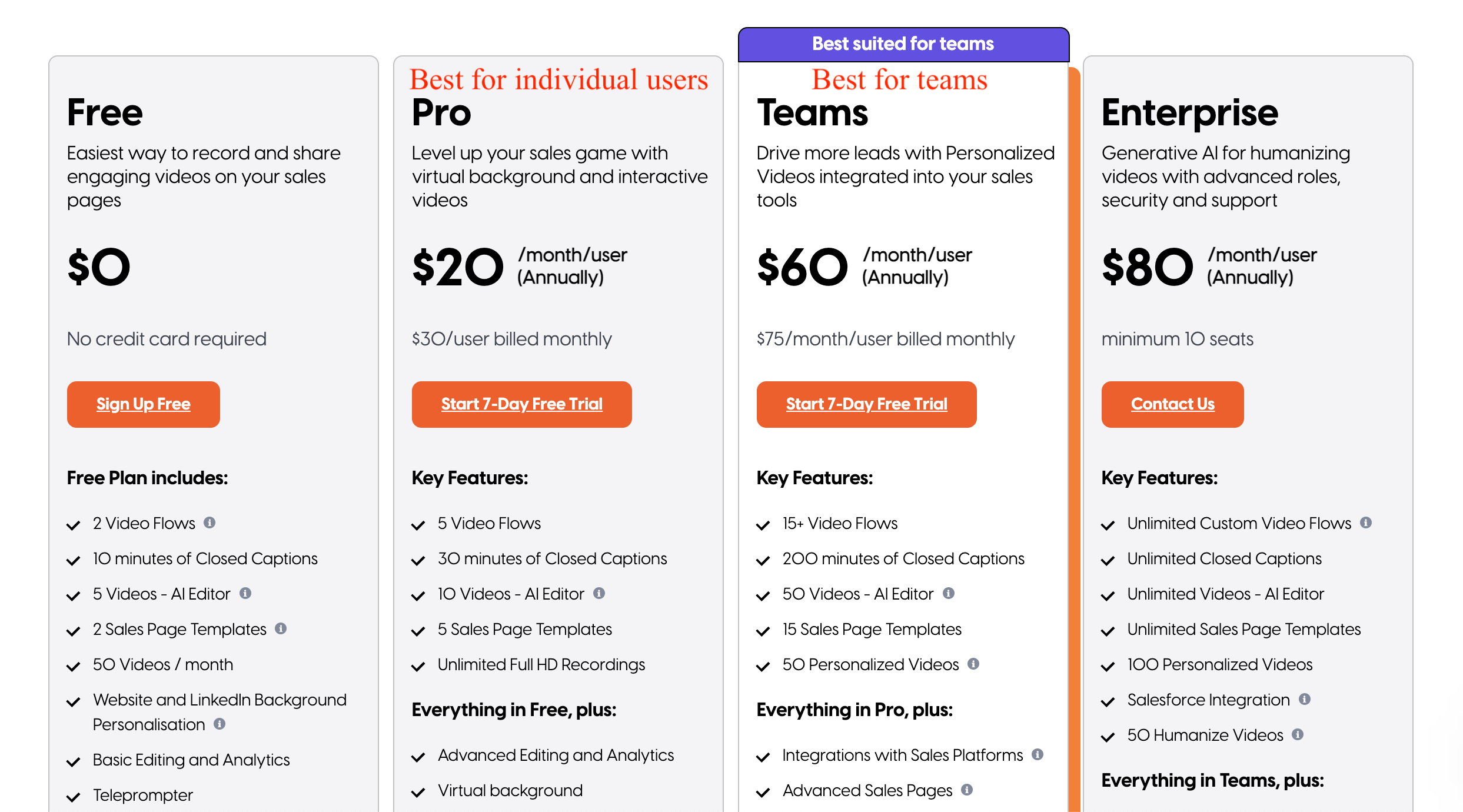 Hippo Verdict
If you want to make customized video templates and create personalized videos at scale in just a few clicks, you should definitely give Hippo Video a try.
2. Dubb
Great for Social Media Outreach

Dubb is a video messaging platform that goes beyond creating videos for email. It's also great for creating videos to share with prospects on LinkedIn, Facebook, and other platforms (even SMS).
Here are some key features from Dubb: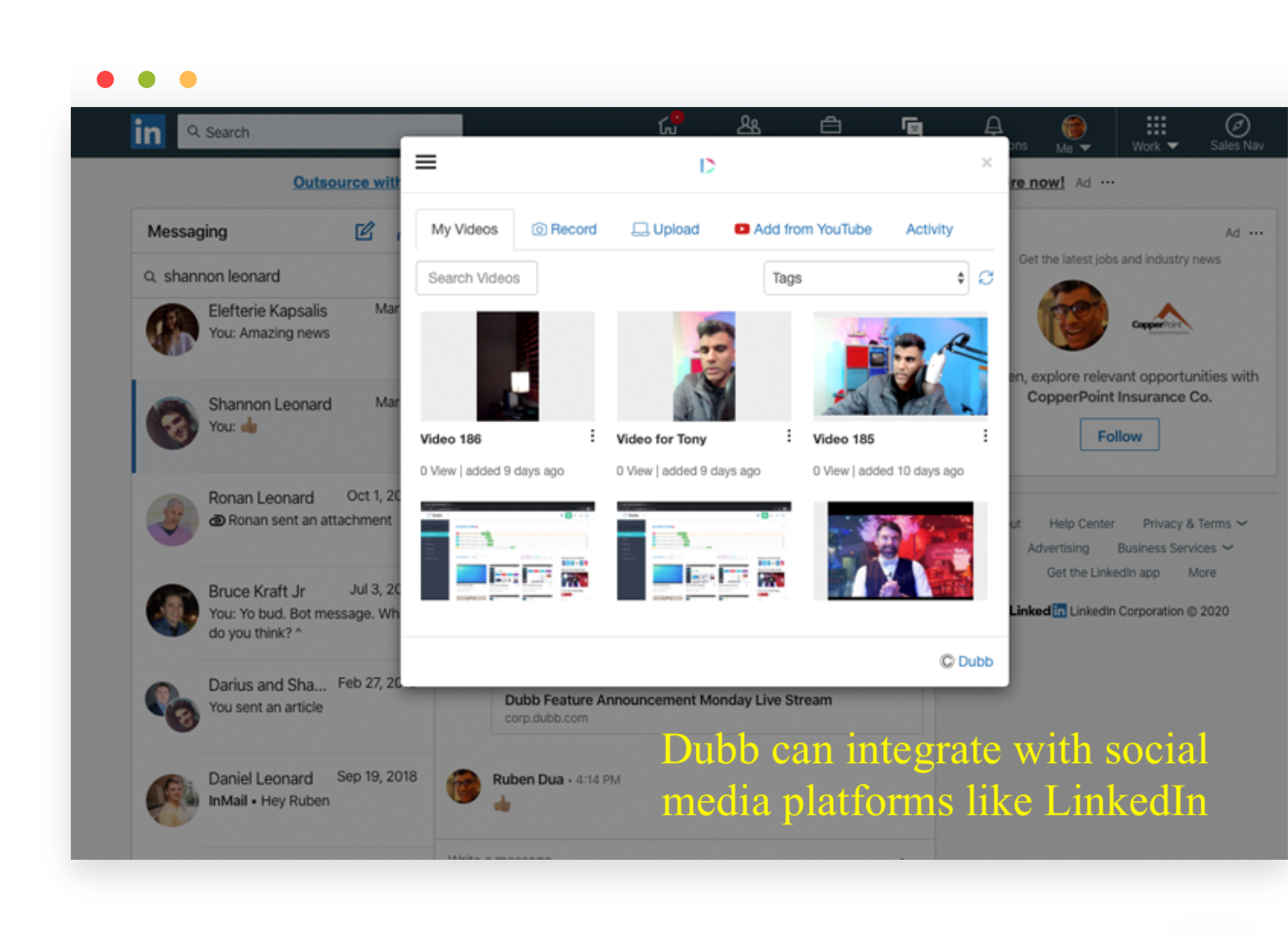 Dubb Pricing
The Starter plan is free and gives you limited videos and storage space. Upgrade to the Pro plan for $59 a month for more videos, more storage, 1:1 support, custom branding, and more video tools.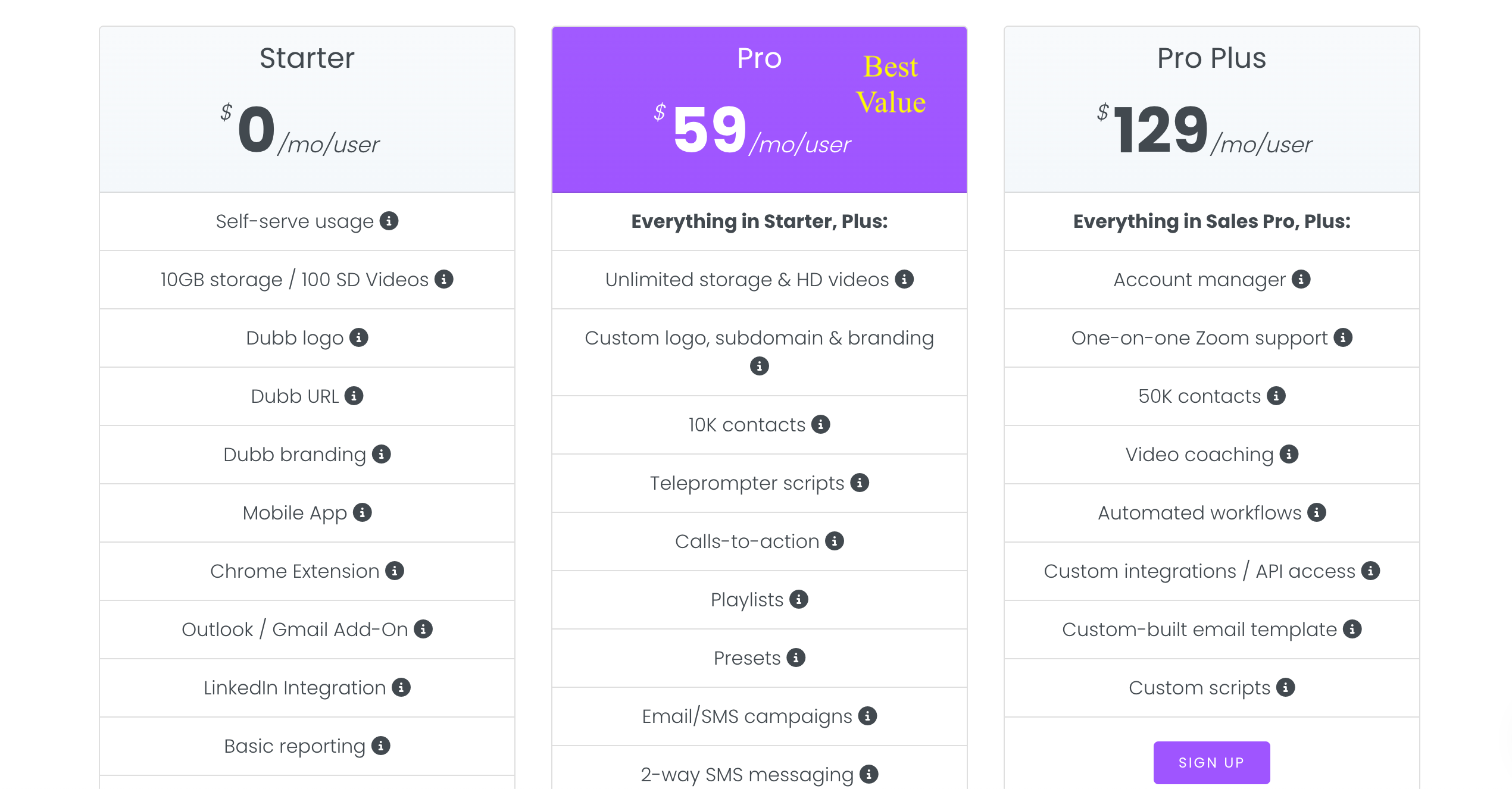 Dubb Verdict
If sending personalized videos on social media platforms are part of your video prospecting strategy, Dubb makes it easy to create, edit, optimize, and share videos at scale.
3. Drift Video
Pairs with Your Chatbot

Popular AI chatbot software Drift has a video messaging tool called Drift Video, which integrates video into your chatbot strategy. You can send personalized videos to prospects via the chatbot, then get a notification when your lead is watching the video in real-time.
(By the way, if you're interested in AI chatbot providers, check out my other list of best conversational AI platforms.)
Here's what I like about Drift Video: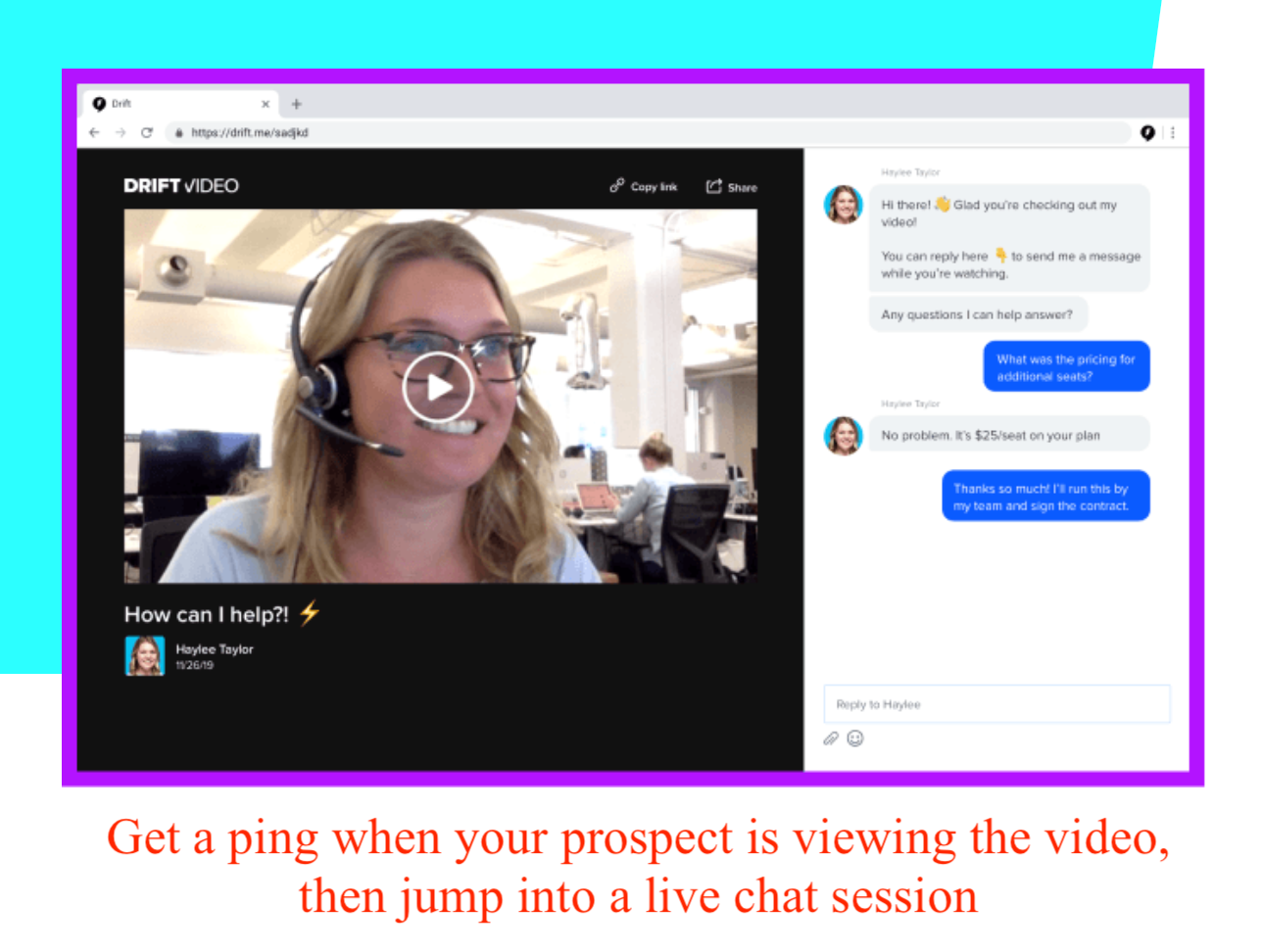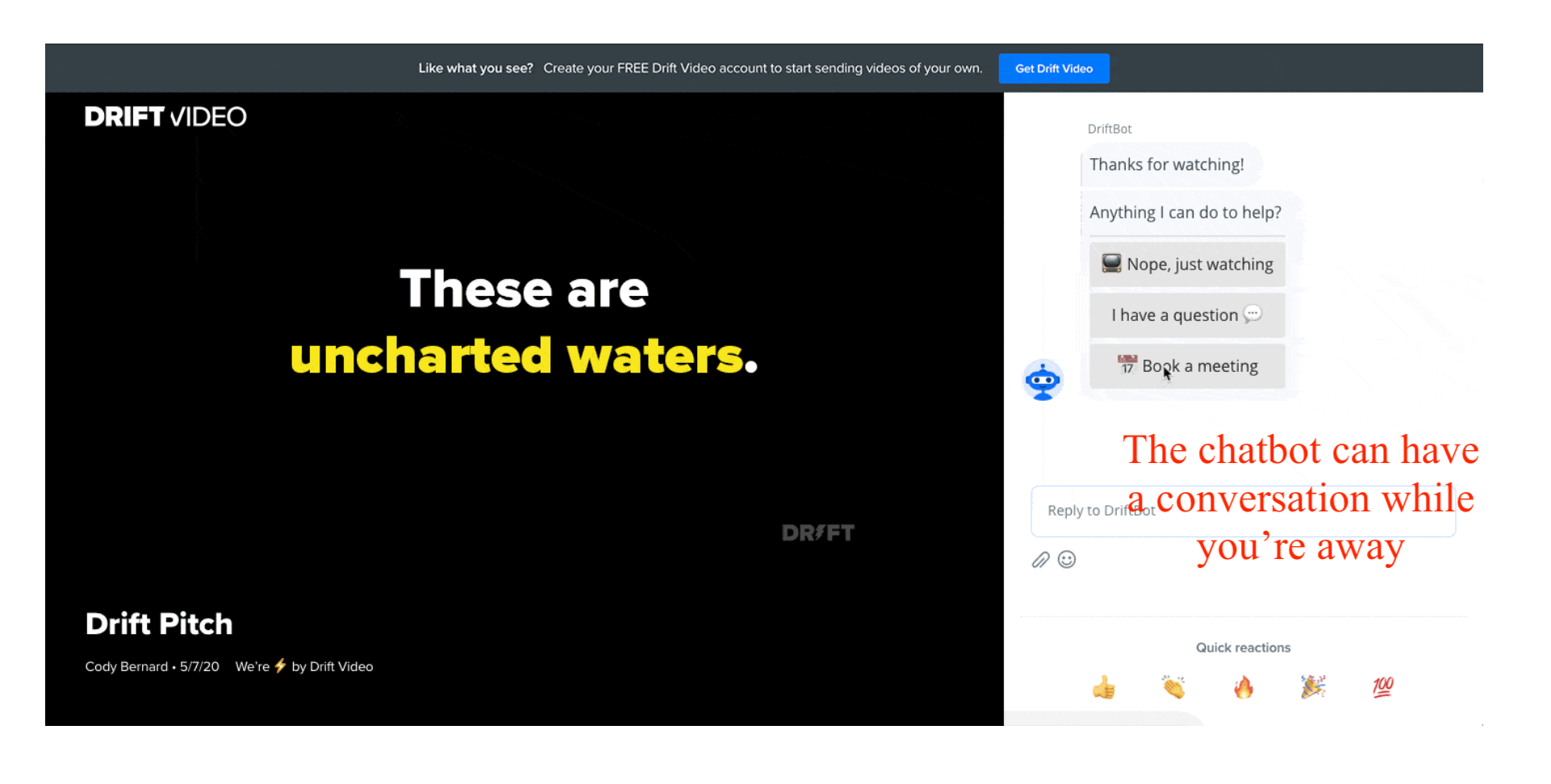 Drift Pricing
Drift starts at $2,500 per month, billed annually. If you're looking for a more affordable option, I would recommend other choices on this list.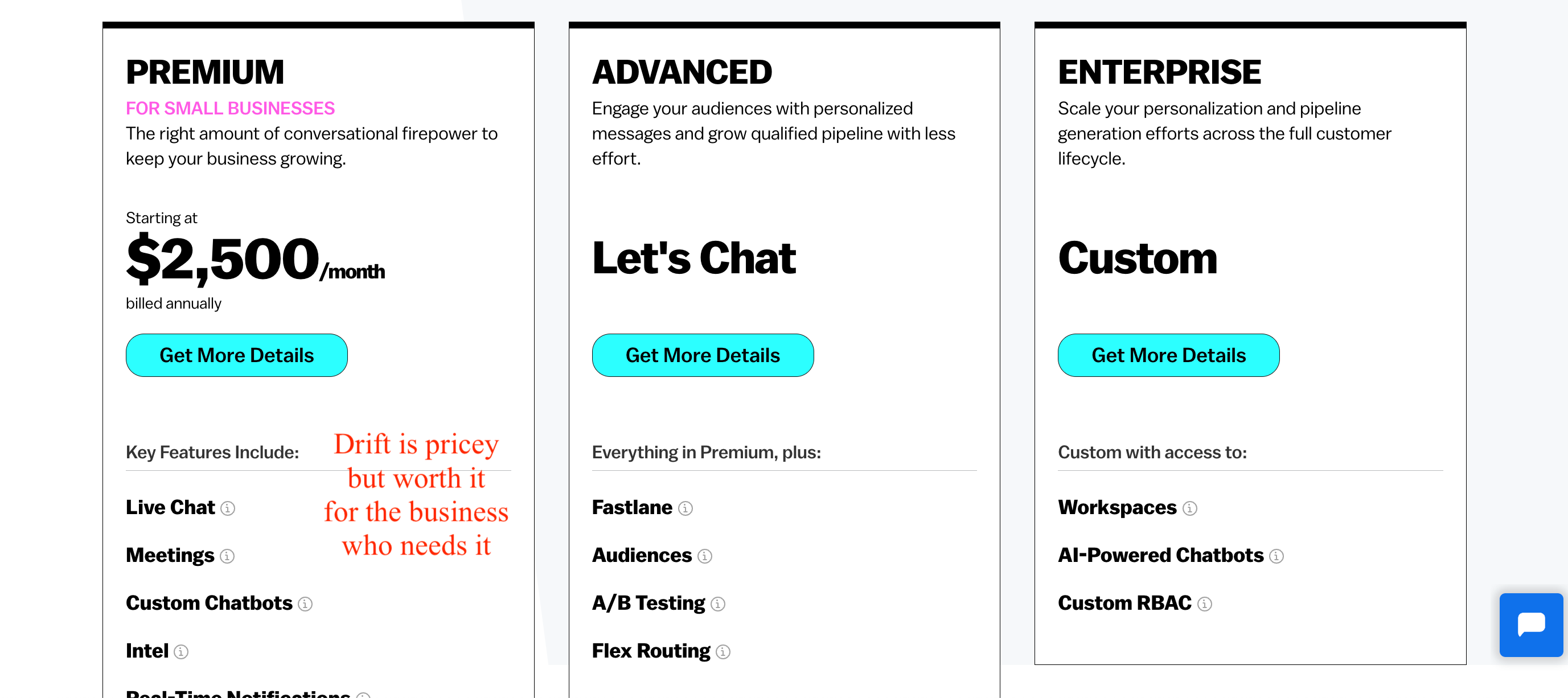 Drift Verdict
Drift is a super-powerful conversion-boosting chat app on its own. Now, Drift Video makes it even better by bringing video prospecting software to the platform. If you're ready to really invest in your prospecting and marketing strategy, look no further than the Drift platform.
4. Bonjoro
All-In-One Sales and Marketing Tool

Bonjoro is a video engagement platform that helps sales teams get more responses from emails by using personalized videos. Not only that, it also helps you to get video testimonials from customers for more powerful marketing content.
Here are some of Bonjoro's top features: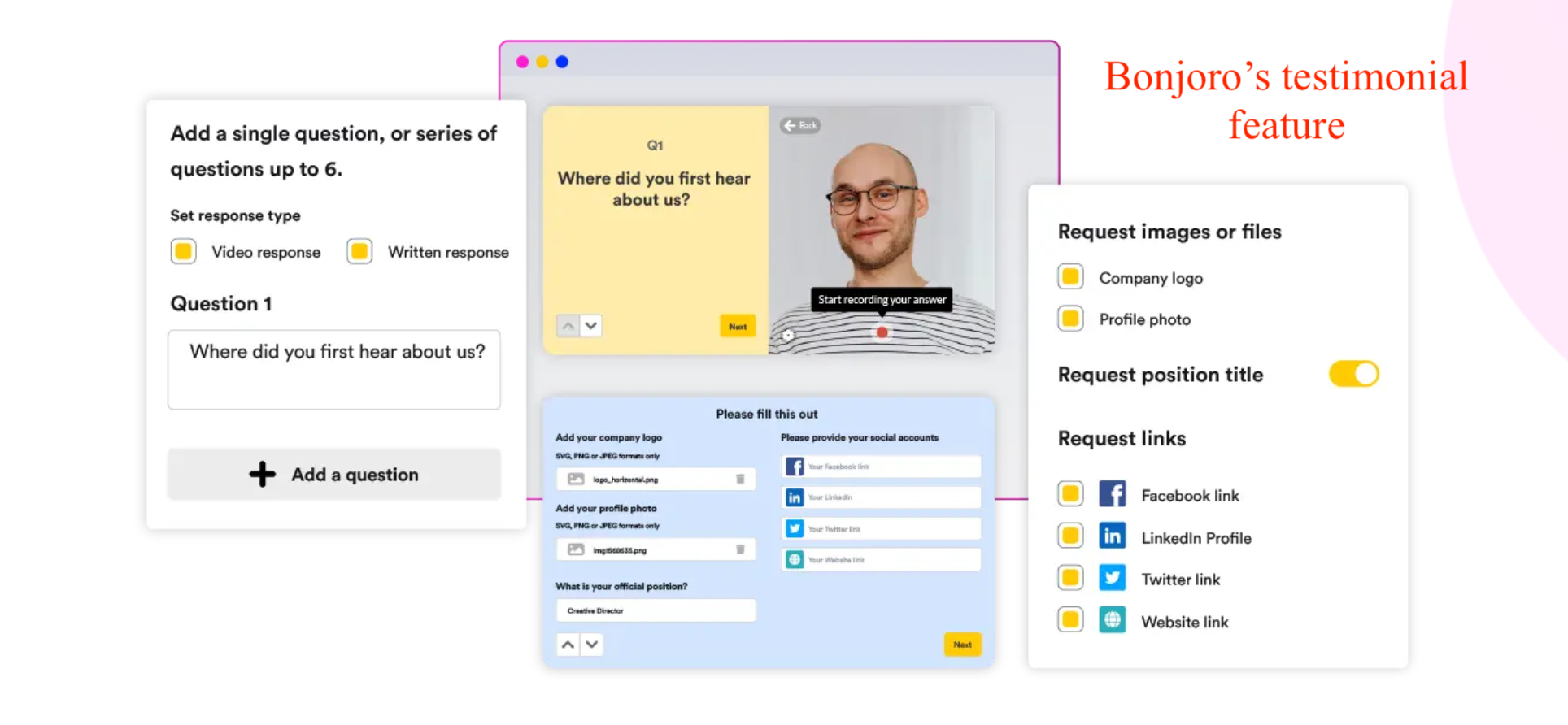 Bonjoro Pricing
Bonjoro has solo and team pricing. The Personal plan is free for up to 3 users, 50 video messages, and 3 testimonials. The Pro plan, starting from $39 per month for solo users, removes the video limit and adds features like custom branding, video scheduling, and more.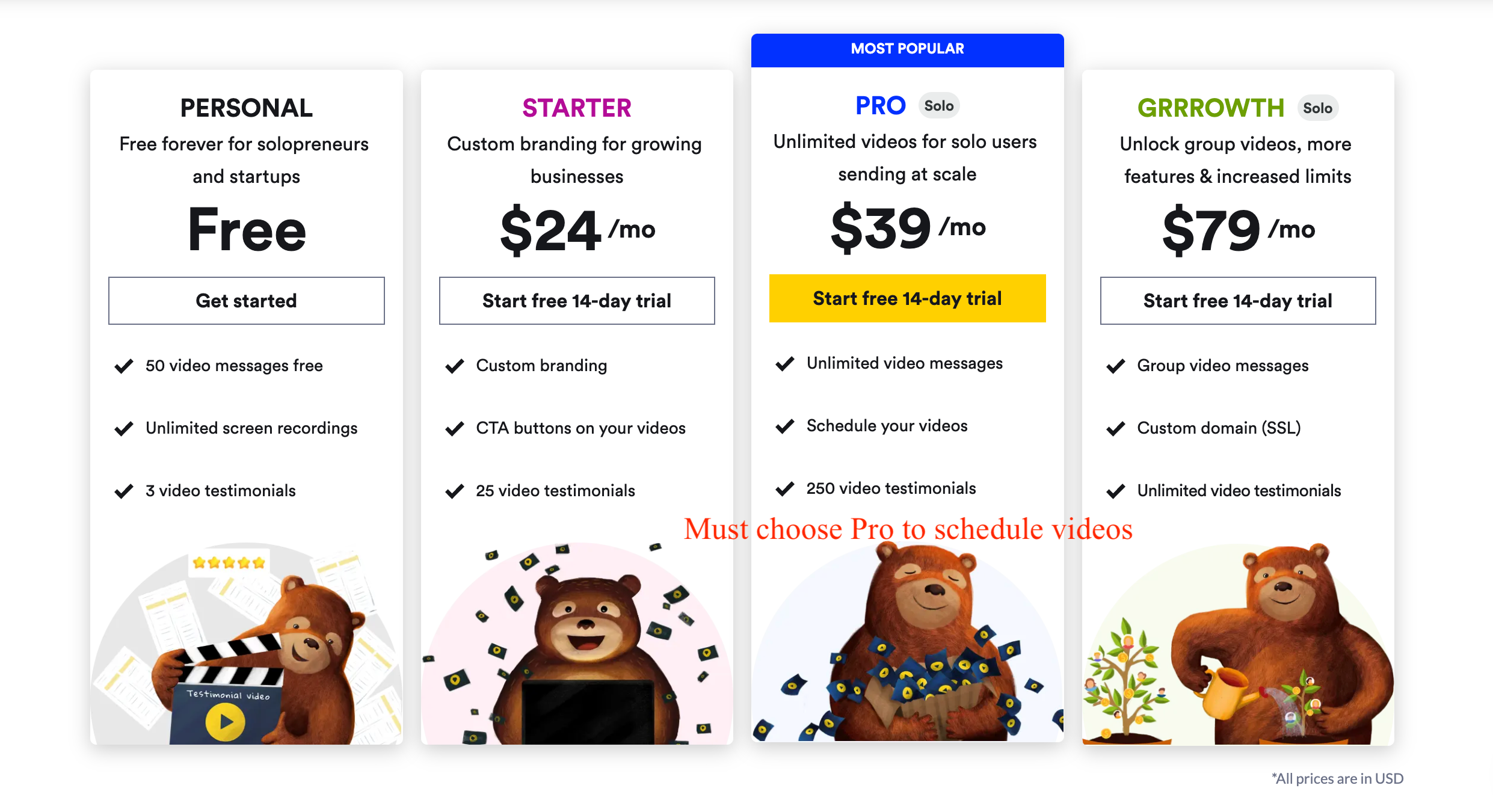 Bonjoro Verdict
Bonjoro is a great fit for sales teams who want to go beyond simple sales videos. Bonjoro will help you rock your sales outreach, troubleshooting and customer support, onboarding, and marketing with personalized videos that are easy to make and easy to share.
5. Reachout AI
Best AI Videos

Reachout AI is the most impressive AI video tool I've seen.
Its AI-generated videos are way more convincing than other similar AI tools I've seen.
It can create videos using an AI avatar with your script, or create a personalized avatar for you, who can read scripts with your likeness and voice.
(By the way, I've also got more recommendations if you're looking for AI sales software.)
Here's what I like about Reachout AI: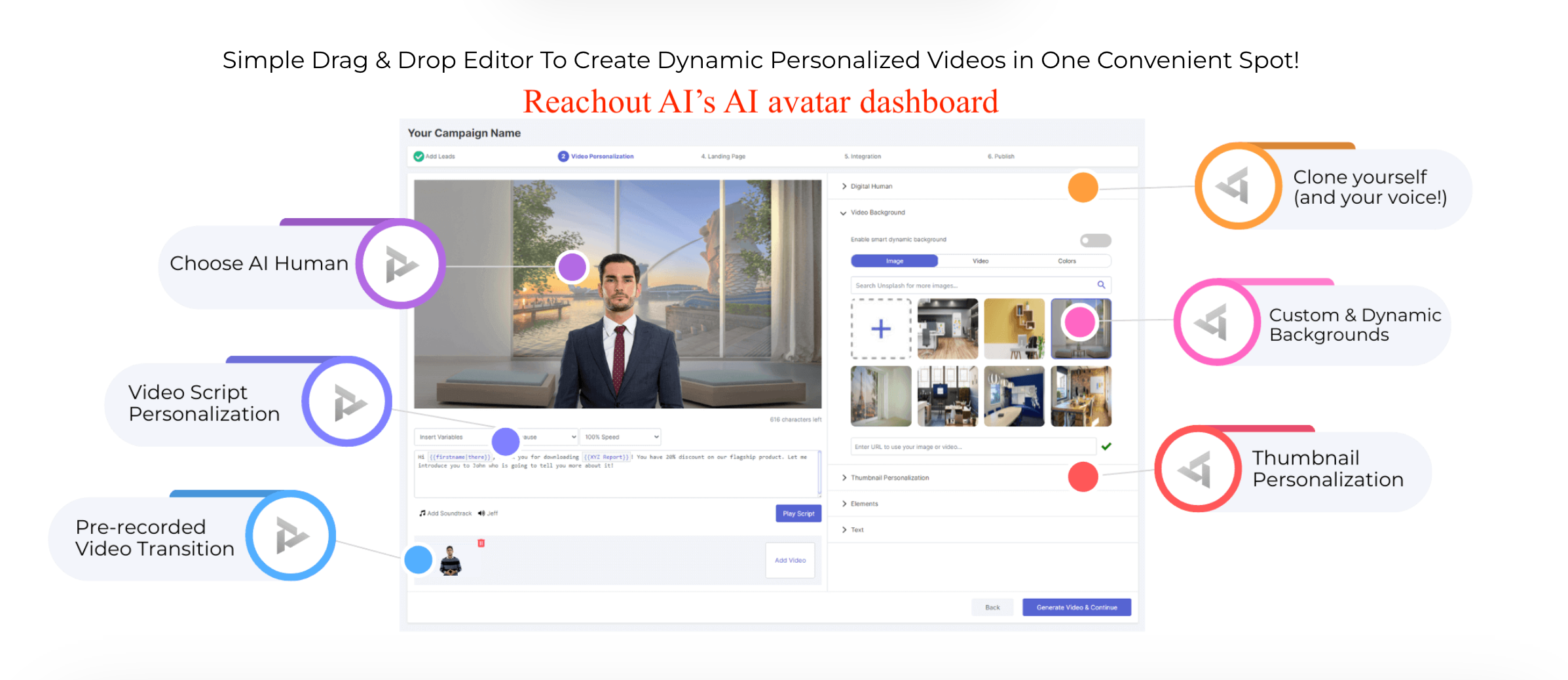 Reachout Pricing
At the moment, Reachout AI is only offering lifetime pricing, starting at $249 for lifetime access to the Starter plan (a one-time payment). The Starter plan has enough credits for small businesses and startups. You can upgrade to the higher-level Scaling plan for more credits.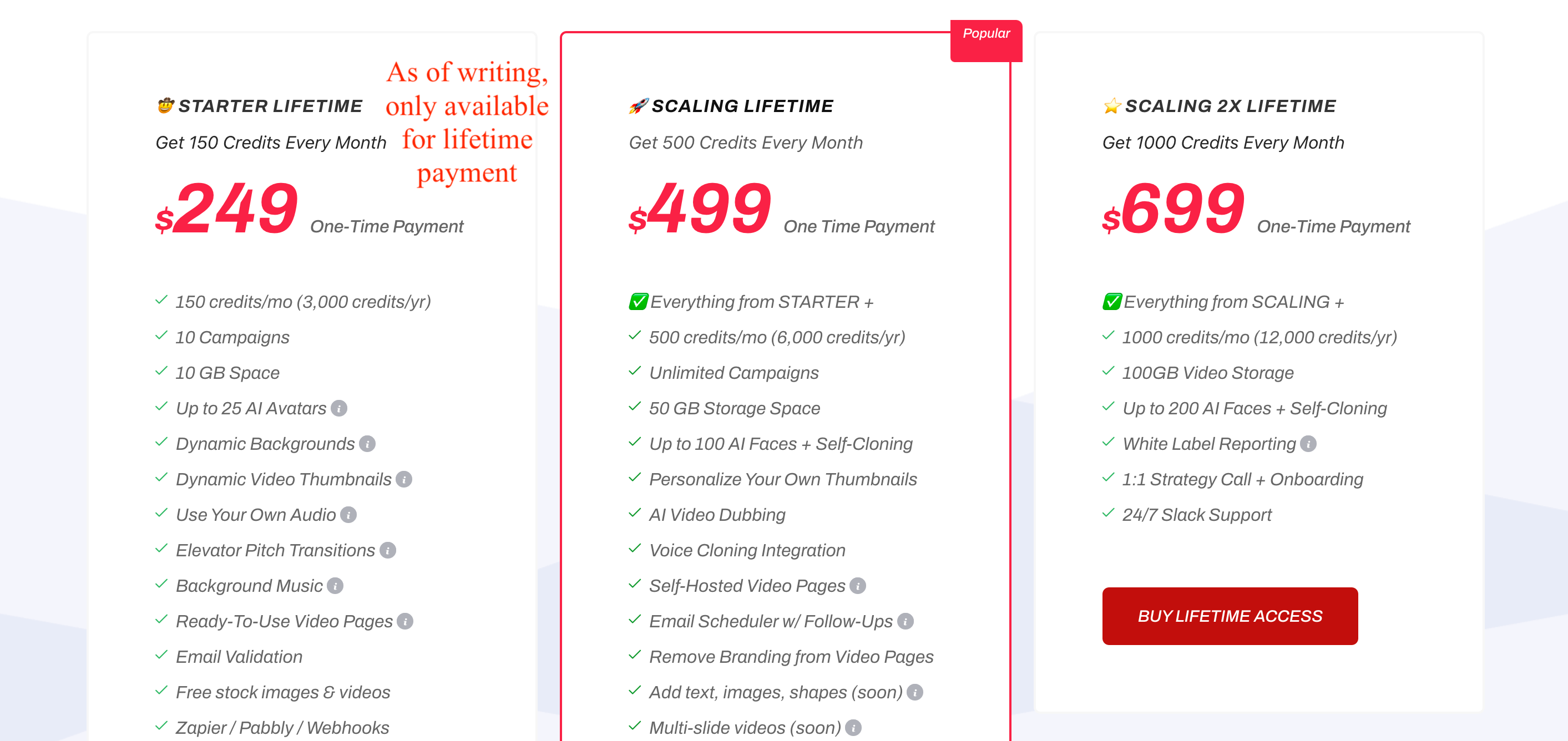 Reachout Verdict
Reachout AI is the most impressive AI video generator I've seen. If you want to save time making videos to communicate with prospects, leads, and your target audience, I highly recommend checking out Reachout AI. (However, I hope they switch back to regular pricing very soon.)
What are Video Prospecting Tools?
A video prospecting tool is a tool that makes it easier to send videos to sales prospects to build a connection and lead them toward a sale.
What is Video Prospecting?
Video prospecting is the act of sending videos to sales prospects.
The goal is to win their attention, have them listen to marketing and sales messages, and encourage them to take the next step with your business. (Hopefully ending in a sale for your business.)
Video-based sales prospecting is more effective than sending emails, because it feels like you're talking to someone face-to-face.
Video prospecting tools can help you get better open rates, better watch time, and higher conversion rates.
Benefits of Video Prospecting Software
Here are the key benefits:
Frequently Asked Questions (FAQs)
How do you prospect with a video?
It's easy! You can send a video message to your prospects by linking to the video from your email. You can say something like, "I recorded this video to explain it to you. Click here:" and then paste the link. Sales video prospecting software like Hippo Video or Bonjoro give you dedicated landing pages for your video that you can customize for your business. You can even add links to book a call when they finish watching the video.
How do AI tools create personalized videos?
AI tools have the ability to glean data from text, pictures, and video, then learn to recreate it successfully. With apps like Reachout AI and Hippo Video, you can upload videos of yourself speaking to create an AI avatar with your voice and likeness. Then, you can write a script and have your AI avatar read it out. Or you can record a single video and then use AI to "edit" your face and voice so you're speaking your prospect's name at the start of each video.
What is video marketing?
Besides using video for sales, you can also use it for marketing purposes. This is when you use video in your marketing materials to help generate leads, promote your products, or answer questions.
Which major video prospecting tools have a free plan?
Hippo Video, Dubb and Bonjoro, have a free plan that I definitely recommend checking out.