If you were to list your top 10 favorite experiences, calling customer service probably wouldn't make the list. You've probably waited through a long menu asking you to "press one" or "press two."
And if you're anything like me, you're frantically pressing the zero button a million times screaming through the phone "I NEED A REPRESENTATIVE!!". If you're a large company or enterprise, this is the last type of emotion you want your customers to be feeling before they linked up to a live agent.
Finally, an emerging technology called Conversational AI is about to make automated menus a thing of the past. With Conversational AI, you can talk with an AI-powered virtual agent just like a real human—giving you a much better customer service experience. It's one of the many great ways to implement AI into your business.
In this article, I'm bringing you the six best conversational AI platforms on the market today. I've personally researched dozens of platforms, and these are the ones that stand out.
But first, what is Conversational AI?
You might be familiar with chatbots—those little chat bubbles on websites that promise to answer your question. It does answer a handful of questions, as long as you stick to its script. But Conversational AI takes this a step further (think of it as a SMART chatbot!).
Conversational AI technology can:
Disclaimer: This post may contain affiliate links, which means I'll receive a commission if you purchase through my links, at no extra cost to you. Please read full disclosure for more information.
What is the Best Conversational AI Platform?
After researching dozens of titles, here are my top recommendations.
1. Kore.ai
Best All-In-One Conversational AI Platform

Kore.ai is a versatile conversational AI platform that covers almost any industry or use case. They go beyond customer service—you can use Kore.ai to help your sales team get more leads or assist your HR team with hiring. That's why I find Kore.ai a leader in the conversational AI space.
Here are some features I like about Kore.ai:
Pricing: You pay $0.01 per user request per month. When you sign up, you get a free credit for the first $500 in user requests.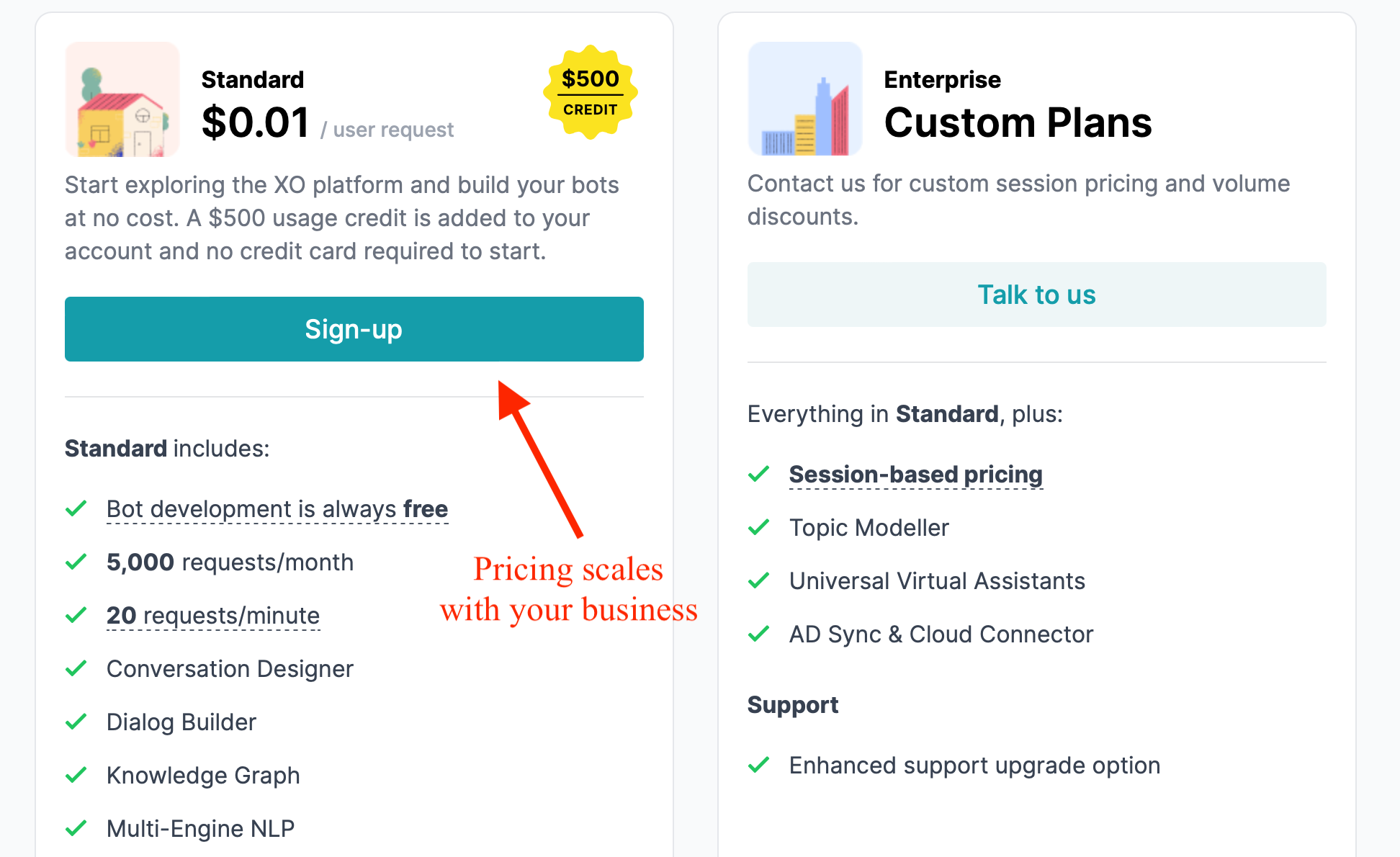 Verdict
Kore.ai has a specialized solution for almost any use case, which is why I see it as the leading conversational AI platform right now.
2. Boost.ai
Best for Beginners

Boost.ai makes it easy to create your first conversational AI assistant. Not only does the Boost.ai team build the first iteration for you, but they also let you test drive it before you commit. I think that's great when it comes to the high investment you'll likely take with a conversational AI tool.
Here are some things I like about Boost.ai:
Pricing: Pricing isn't currently published on the website. You'll need to book a demo with Boost.ai to get more information.

Verdict
If you want to jumpstart your conversational AI platform without having to do the work yourself, Boost.ai is an excellent choice.
3. Cognigy
Best for E-Commerce

While many other platforms focus on service-based businesses, Cognigy specifically focuses on e-commerce (along with airlines and insurance companies). So if you're in the market for this type of company, then they may be one of your best bets.
Here are some features I like from Cognigy:
Pricing: Pricing wasn't available at the time of writing. You can start a 30-day free trial or book a demo for more information.

Verdict
If you're an e-commerce business, airline, or insurance company and support multiple languages, Cognigy is a solid choice for your business.
4. Hyro
Best for Healthcare

Hyro is a unique conversational AI platform that supports 3 specific industries: healthcare, real estate, and government. This platform is notable because it learns directly from your data without setting up complicated conversation flowcharts.
Here are some things to note about Hyro:
Pricing: Pricing is currently not available on the website. You can schedule a demo to get more information.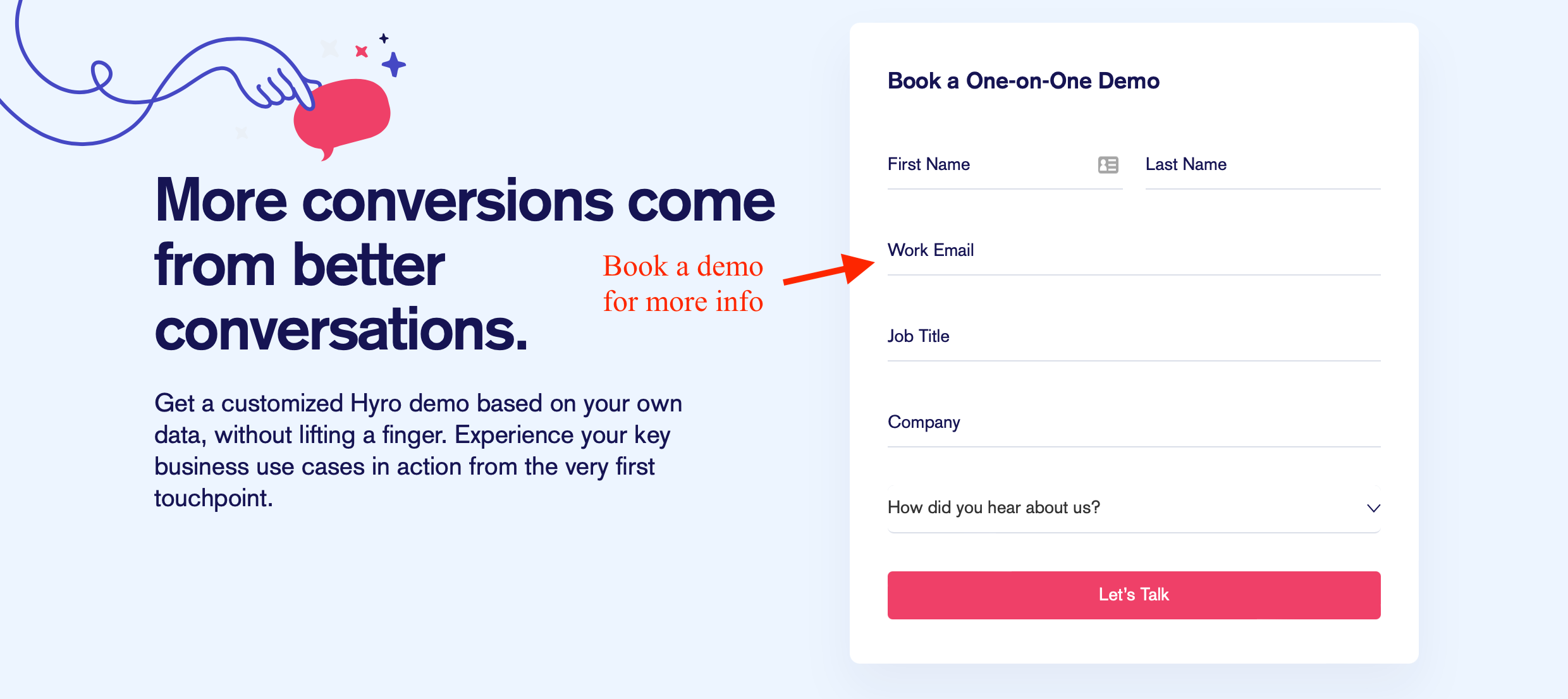 Verdict
If your organization is in healthcare, real estate, or government, you'll benefit from a quick-adapting conversational AI platform like Hyro.
5. Replicant
Best for Call Centers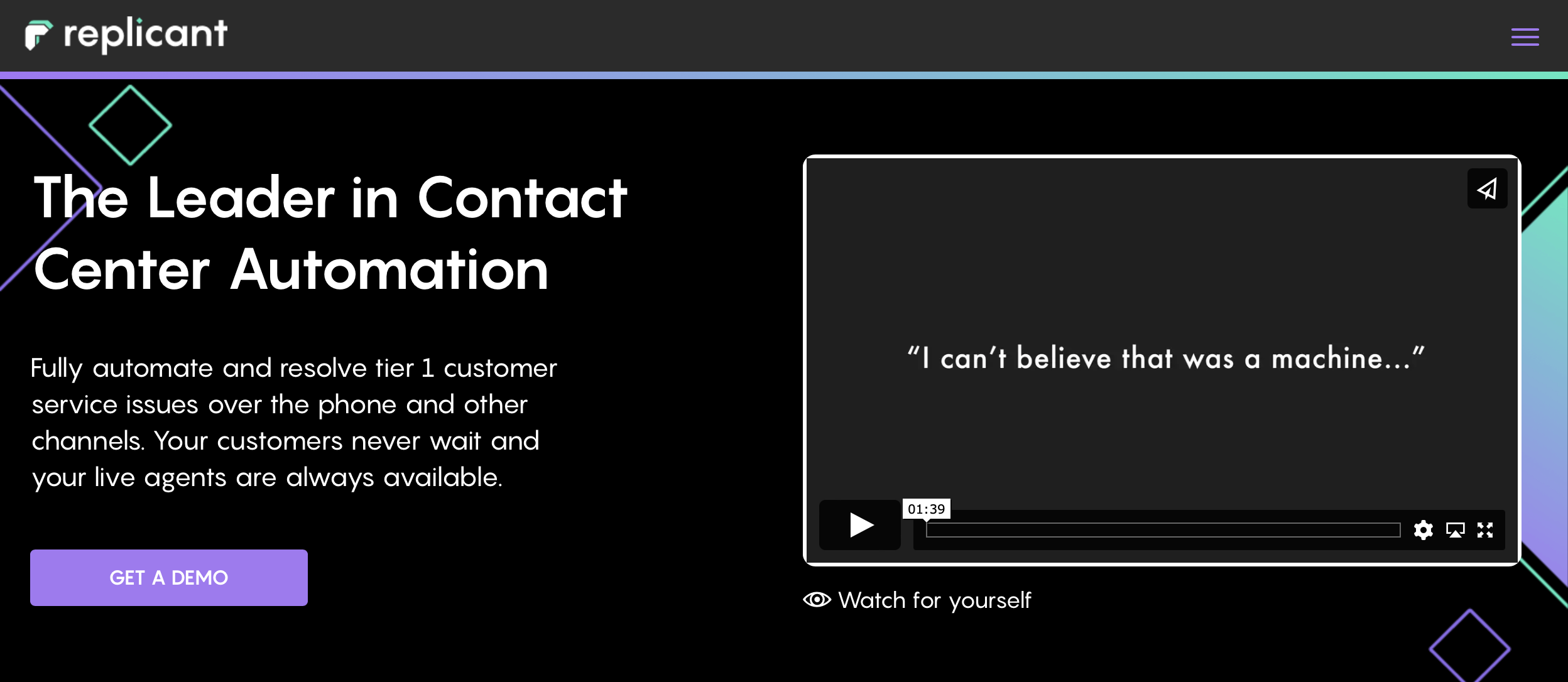 Replicant is different from other conversational platforms because of its hyper-focus on voice conversations. Replicant's AI assistants use their understanding of language to have human-like phone conversations with customers.
Here are some key features of Replicant:
Pricing: At the time of writing, pricing wasn't available on the website. You'll need to contact Replicant for a personalized quote.

Verdict
If you do most or all of your customer service over the phone, Replicant can help you save time and free up your call center staff to focus on more difficult conversations.
6. IBM Watson Assistant
Best for Large Enterprises
IBM Watson Assistant is a conversational AI platform created by IBM and part of the IBM Watson AI technology suite. Because it's developed and backed by IBM, it has a reputation for high security and reliability.
Here are some of the things I like about IBM Watson Assistant:
Pricing: The Plus plan is $140 a month for up to 1000 monthly active users (MAUs). Each 100 additional MAUs cost $14 a month.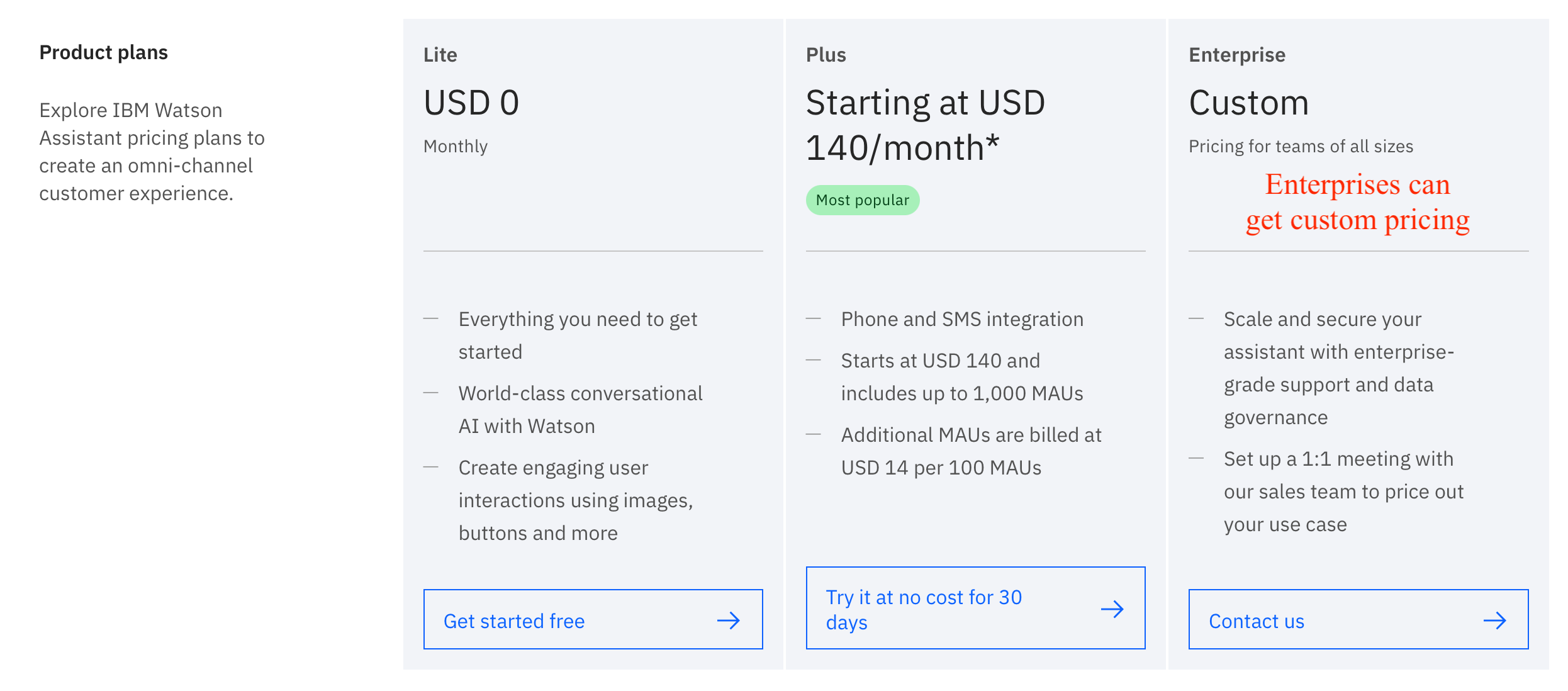 Verdict
If you're a bigger organization or large enterprise that needs a partner you can trust, IBM Watson Assistant might be the right choice for you.
What is a Conversational AI Platform?
A conversational AI platform uses artificial intelligence to conduct natural conversations with users, removing the need for a human agent.
Conversational platforms are most commonly used for customer support, but it's also useful in marketing and sales, employee support, hiring, and more.
An AI virtual agent can process text and speech inputs to understand the user's intent for the conversation. Then it uses its understanding of language to put together a natural and appropriate response. The user can have a full conversation with the AI agent and get the answers or help they were looking for.
For example, a user might call their airline to ask about a flight reservation. If the airline has a conversational AI platform installed, the conversation could go something like this:
And so on.
The user gets to speak with an (almost) human operator, and the whole process feels smooth. She can make changes to her reservation directly from the conversation without having to transfer to another operator.
Benefits of Using Conversational AI
Here are the top benefits of conversational platforms:
Frequently Asked Questions (FAQs)
What is Natural Language Processing?
Natural language processing, or NLP, breaks down human language into something computers can understand. This helps AI programs understand the meaning of what is being said.
Combine that with a language model that helps AI programs form words and sentences, and you've got Conversational AI—a technology that can understand language input and then craft an appropriate response.
Which Conversational AI Platforms Support Facebook Messenger?
Out of the six best conversational AI platforms I've reviewed, Boost.ai, Cognigy, Kore.ai, and IBM Watson Assistant have an integration with Facebook Messenger, along with other messaging channels.
How is Conversational AI Different From A Chatbot?
Chatbots are a way for a human to interact with a computer program to get answers and information in a chat conversation. Some chatbots use Conversational AI, but many do not.
Conversational AI makes a chatbot intelligent enough to understand virtually any text or voice input and craft an intelligent response on the fly. It doesn't rely on pre-written scripts or prompts but can adapt to what the user is asking for.
Conversational AI can also be used for voice-based conversations.
What is the Best Chatbot Platform?
I recommend choosing a chatbot platform that uses conversational AI. The best overall conversational AI chatbots are Kore.ai and Boost.ai.
Are AI Conversational Platforms Used For Customer Support?
Yes, conversational platforms are mainly used for customer support because the ability to talk with a human-like virtual assistant leads to greater customer satisfaction.
However, the technology is not limited to customer service. Conversational AI can also be used for sales and marketing, employee engagement, hiring, tech support, and more.