Cutting-Edge AI Travel Agents That Make Planning Trips Easy
Last Updated on April 10, 2023
Dreaming of your next trip to a beachside oasis, urban city center, or off-the-path adventure in a new country? You're probably thinking about booking flights, choosing accommodations, and figuring out the best places to dine and explore while you're at your destination.
Picture this: What if you could talk to an expert who knows all the upcoming flights, the best hotels, and how much they cost? And what if that expert knew the best places to visit based on your preferences?
This expert exists. In fact, you can talk to them day or night because they never sleep. I'm talking, of course, about the AI travel agent.
What's an AI Travel Agent?
AI travel agents perform the function of a traditional travel agent using the power of computers and artificial intelligence. These programs can look at large amounts of data and make calculations or use natural language processing to give you travel recommendations in the course of a conversation.
These AI-powered travel agents can take many forms, including:
Why Use an AI-Powered Travel Assistant?
There are so many reasons why you should consider looking at an AI tool for your next trip, including:
What Is the Best AI Travel Agent?
Here's the AI travel agents available so far:
1. ChatGPT
Best Overall Assistant

You've probably heard of ChatGPT already. When it hit the internet on November 30, 2022, it was covered by nearly every news organization, blogger, and social media influencer and grew to 1 million users in less than a week—that's how much this software has revolutionized the internet.
ChatGPT can handle almost anything you ask, which means it can also help you plan out your next trip.
Here's how it handled a few of my requests: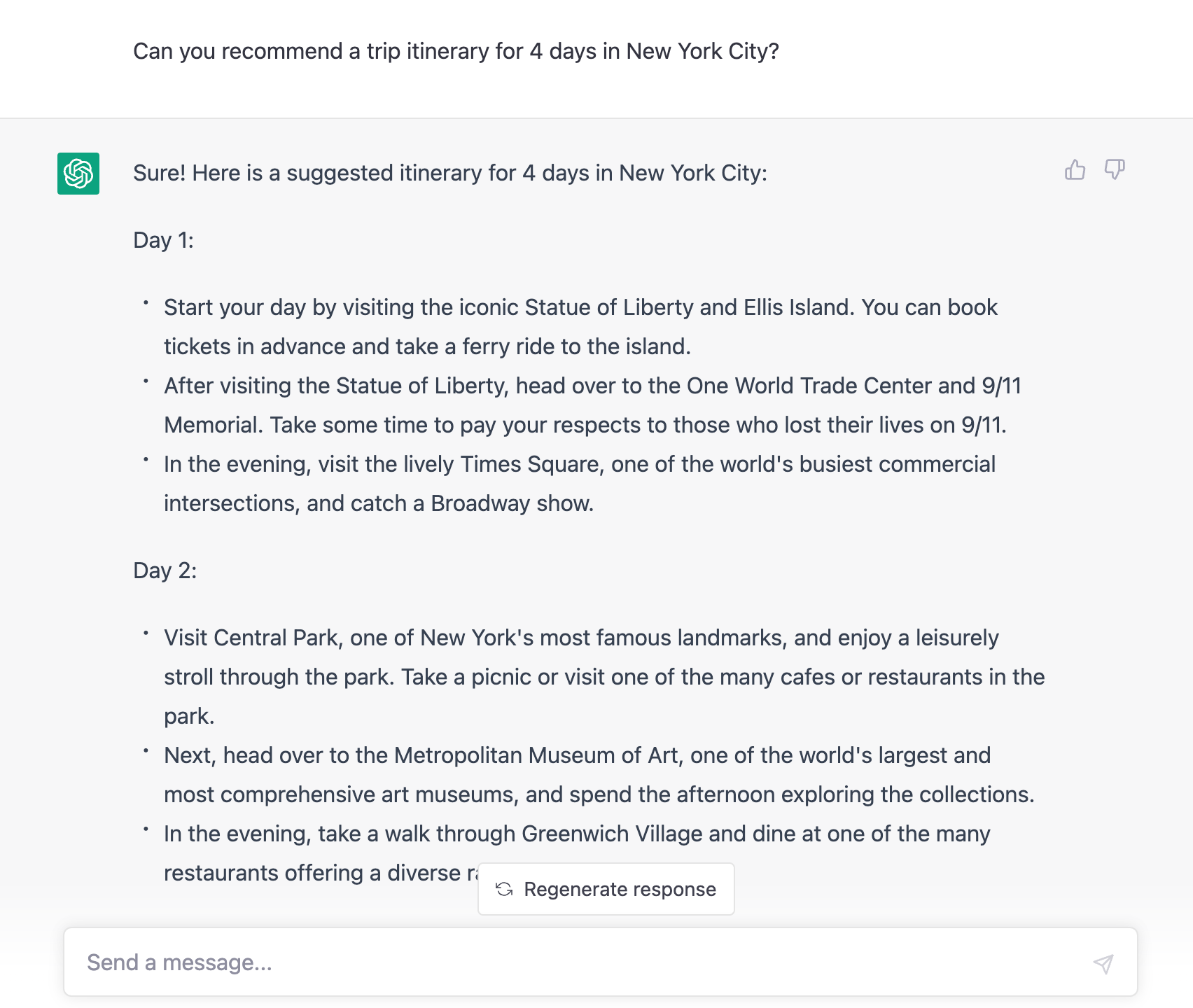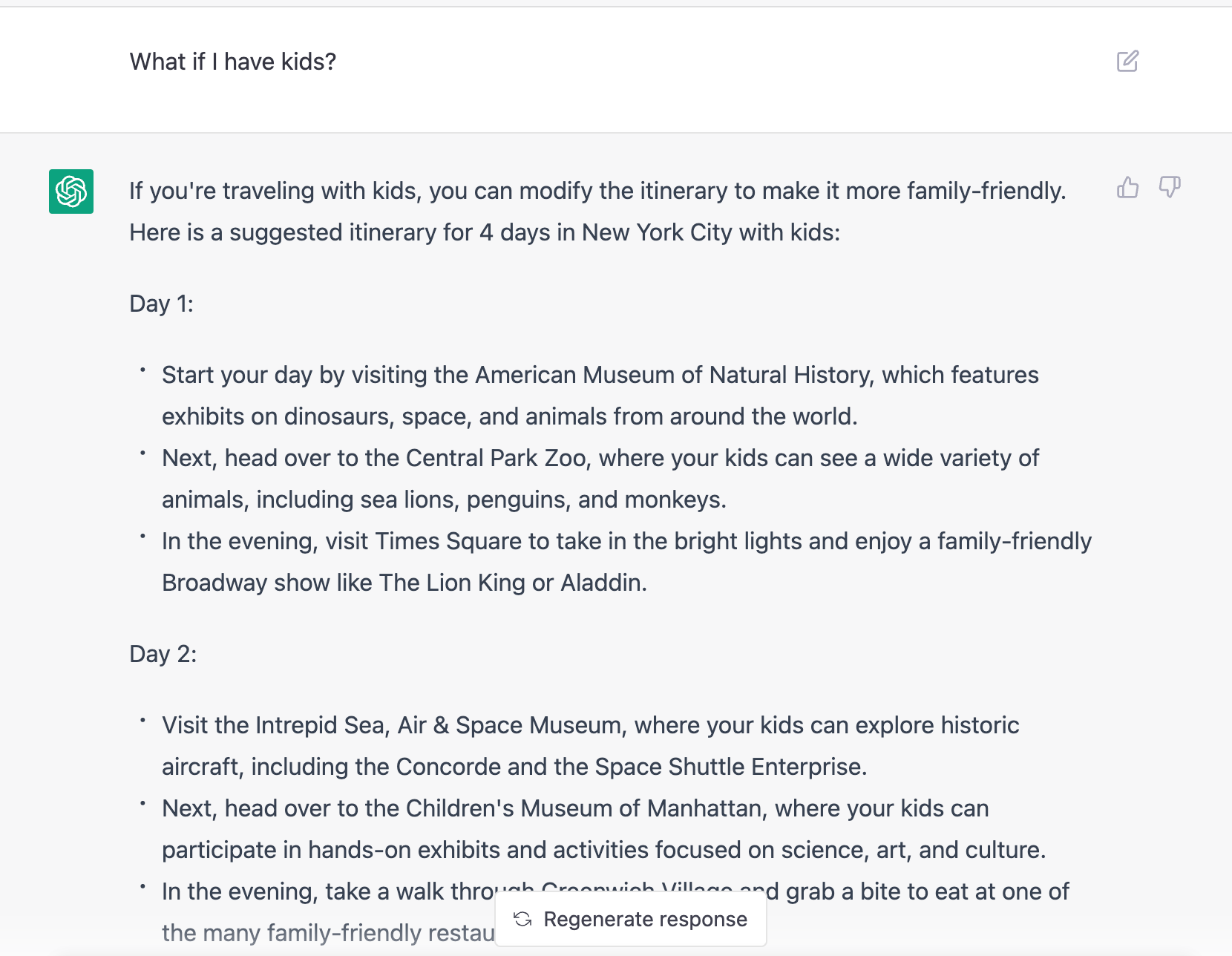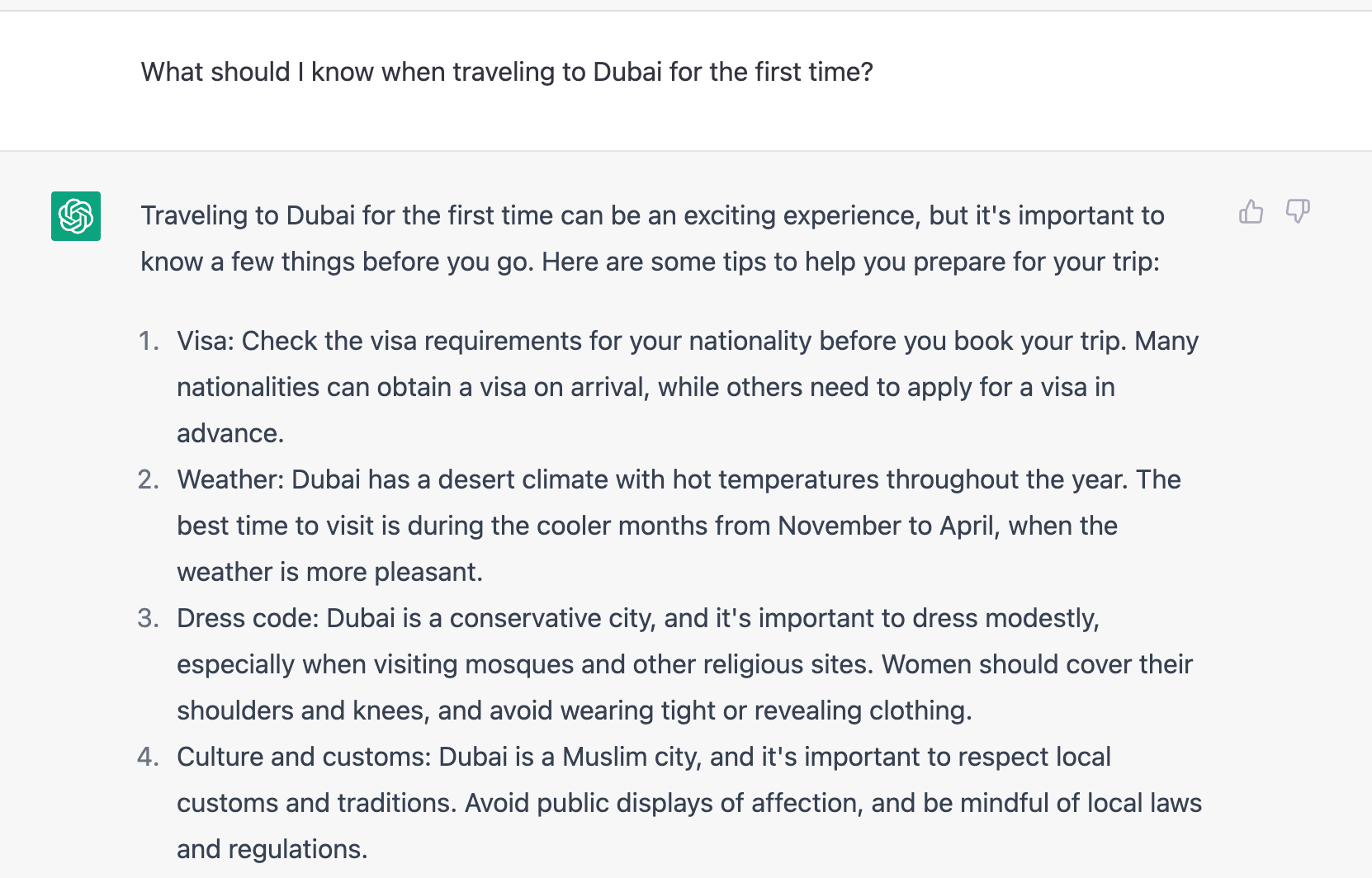 The downside is that ChatGPT has a closed dataset from 2020 or 2021 and can't pull in any new data. It won't help you find flight information, but it can draw on its knowledge of the internet to give you recommendations for travel.
ChatGPT Pricing
ChatGPT is free to use, but the server sometimes goes down because of too much activity. You can get priority access and connect ChatGPT to the latest language model, GPT-4, on the Pro plan for $20 a month.
ChatGPT Verdict
If it's your first time trying out AI-powered travel software, give ChatGPT a try. It might be all you need for your upcoming trip and inspire some great ideas.
2. GuideGeek
Most Conversational

GuideGeek is a WhatsApp-based travel chatbot that can give you travel recommendations, flight recommendations, information about the language or culture where you're visiting, and generally answer any travel-related questions you have.
I tested it out and found it to be really helpful.
Here are some snapshots of my conversation with the bot: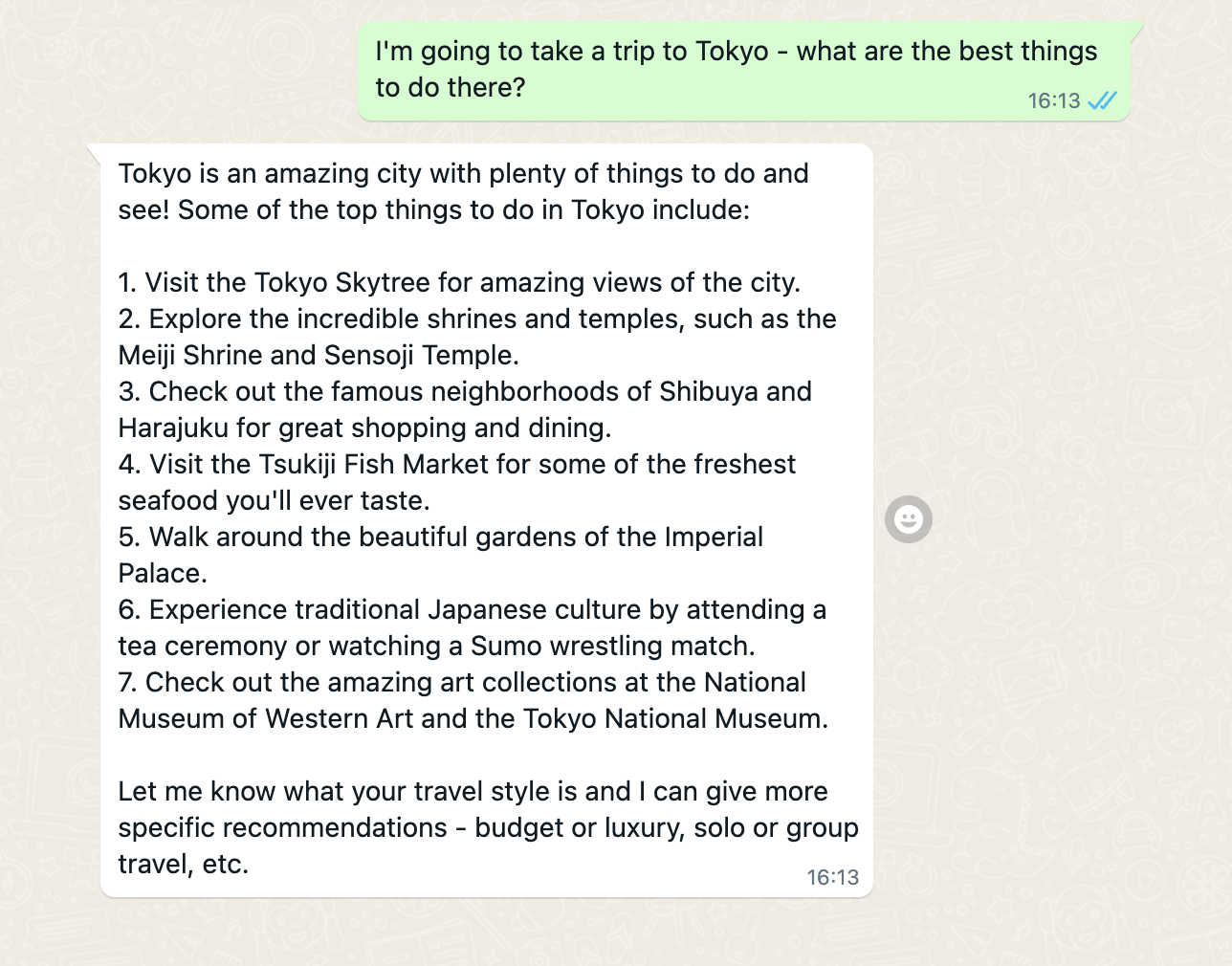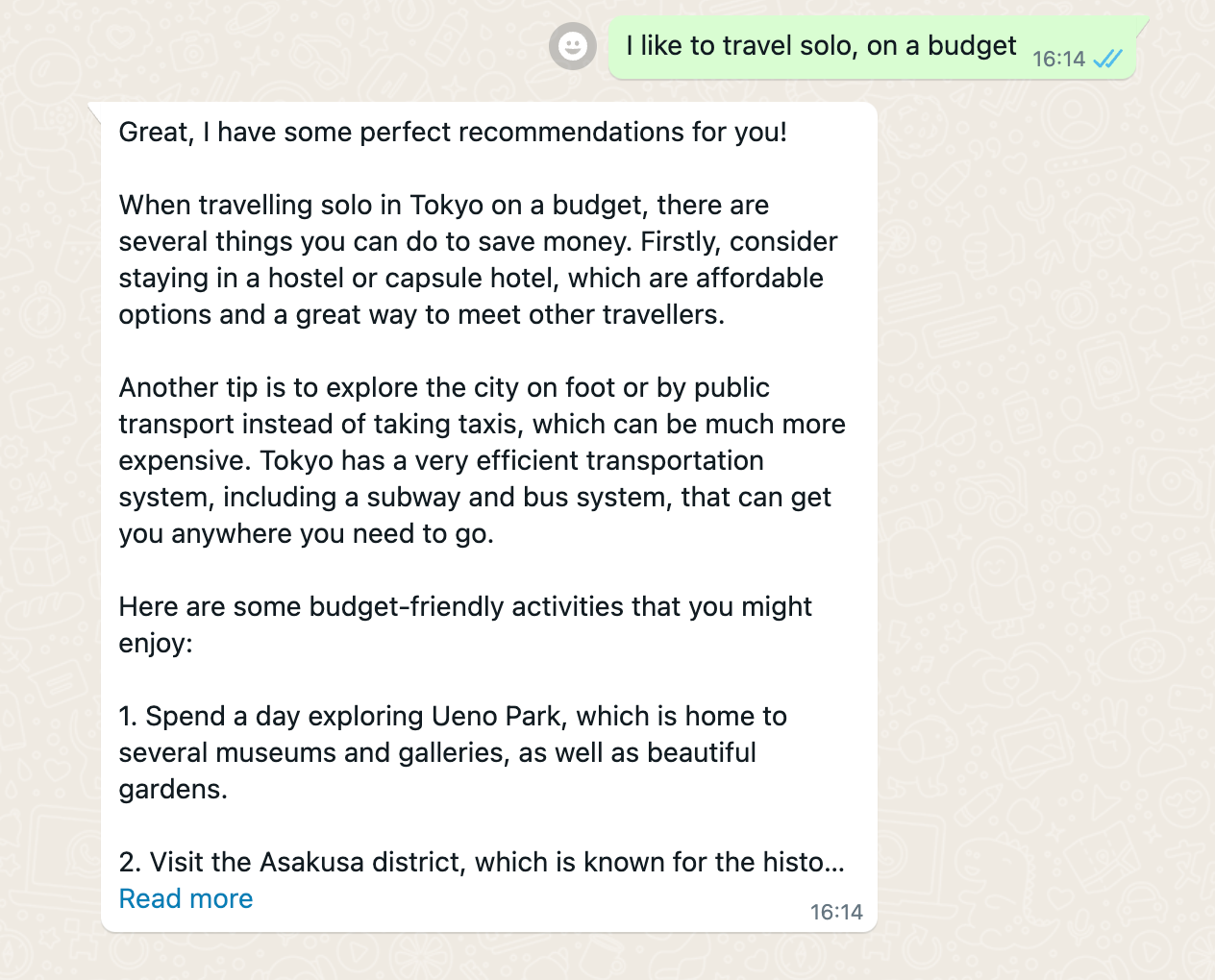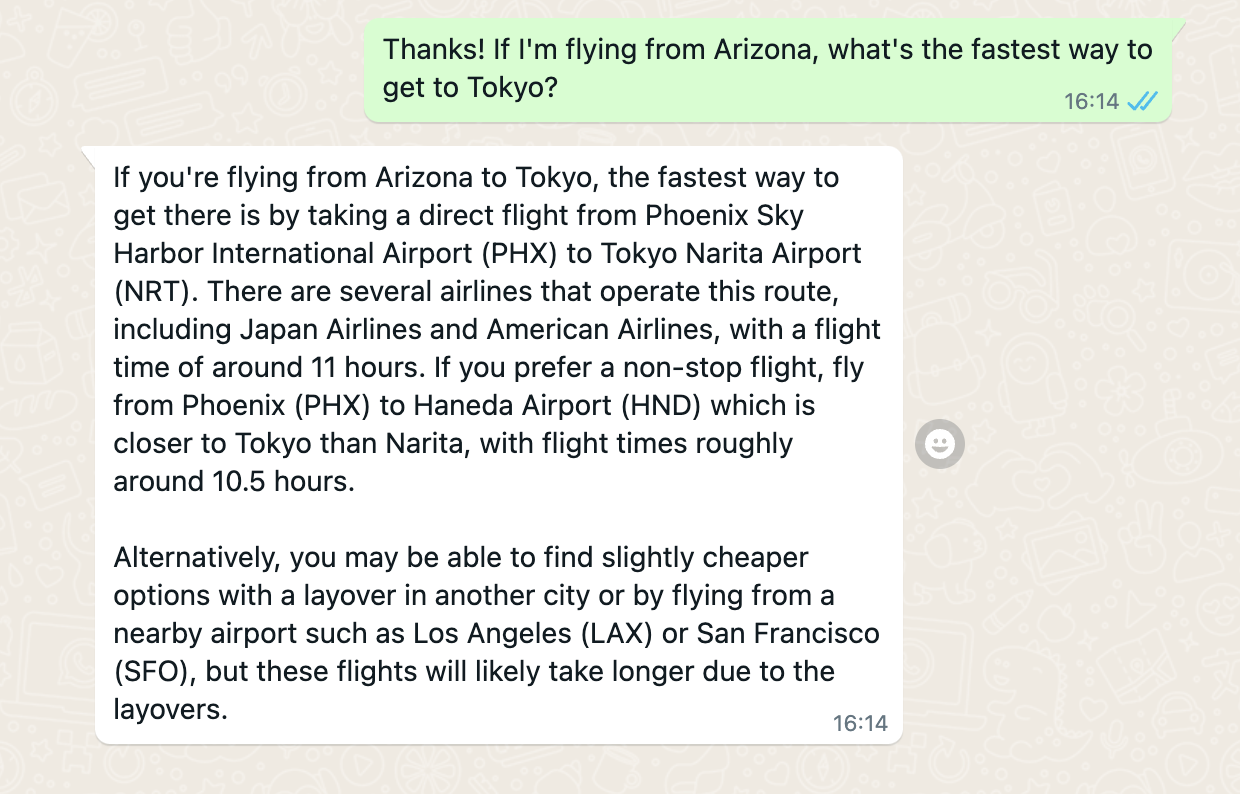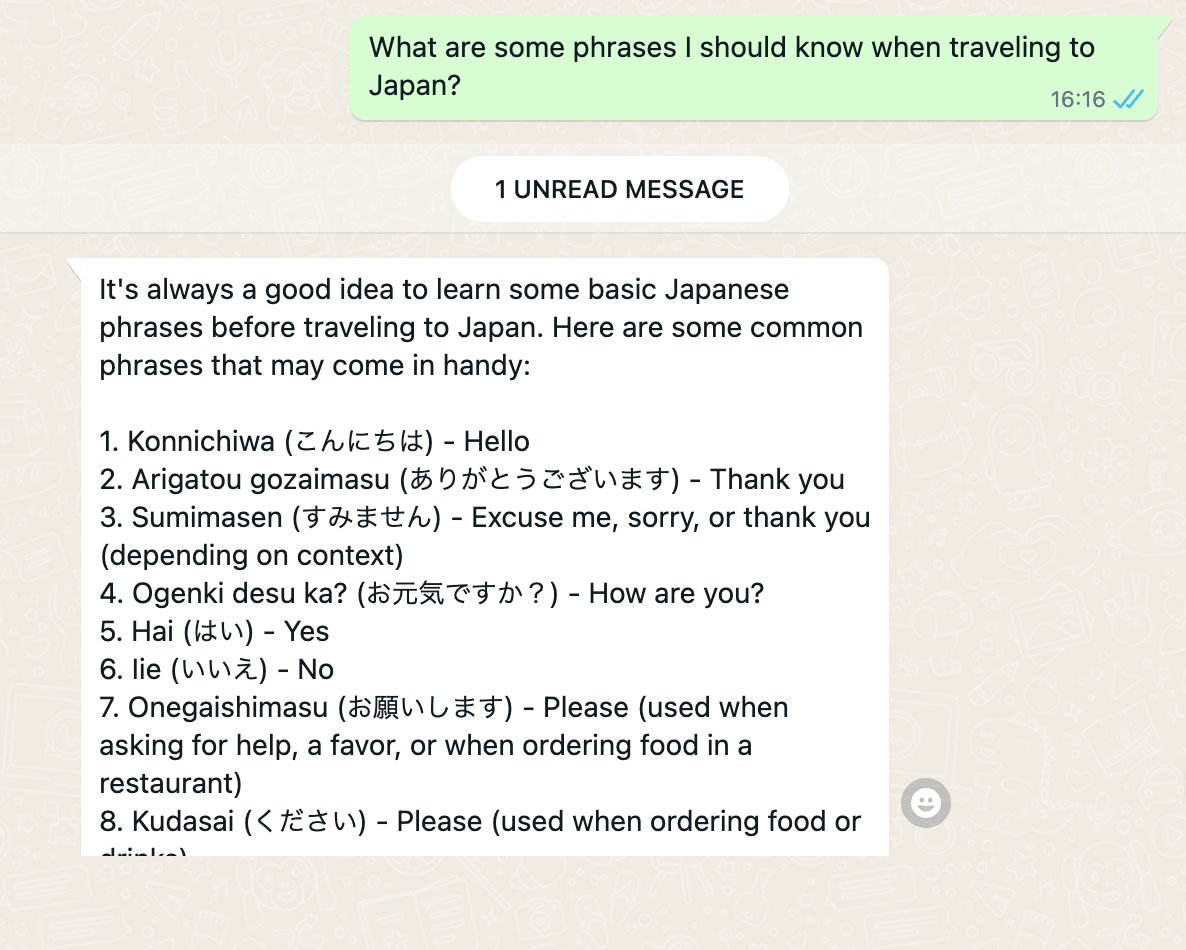 The con with this is that it can't provide specific flight recommendations or do price forecasting. It only gave some vague recommendations of flights based on the dates and places I said I would travel, but I would need to go to the travel companies directly to book the flights.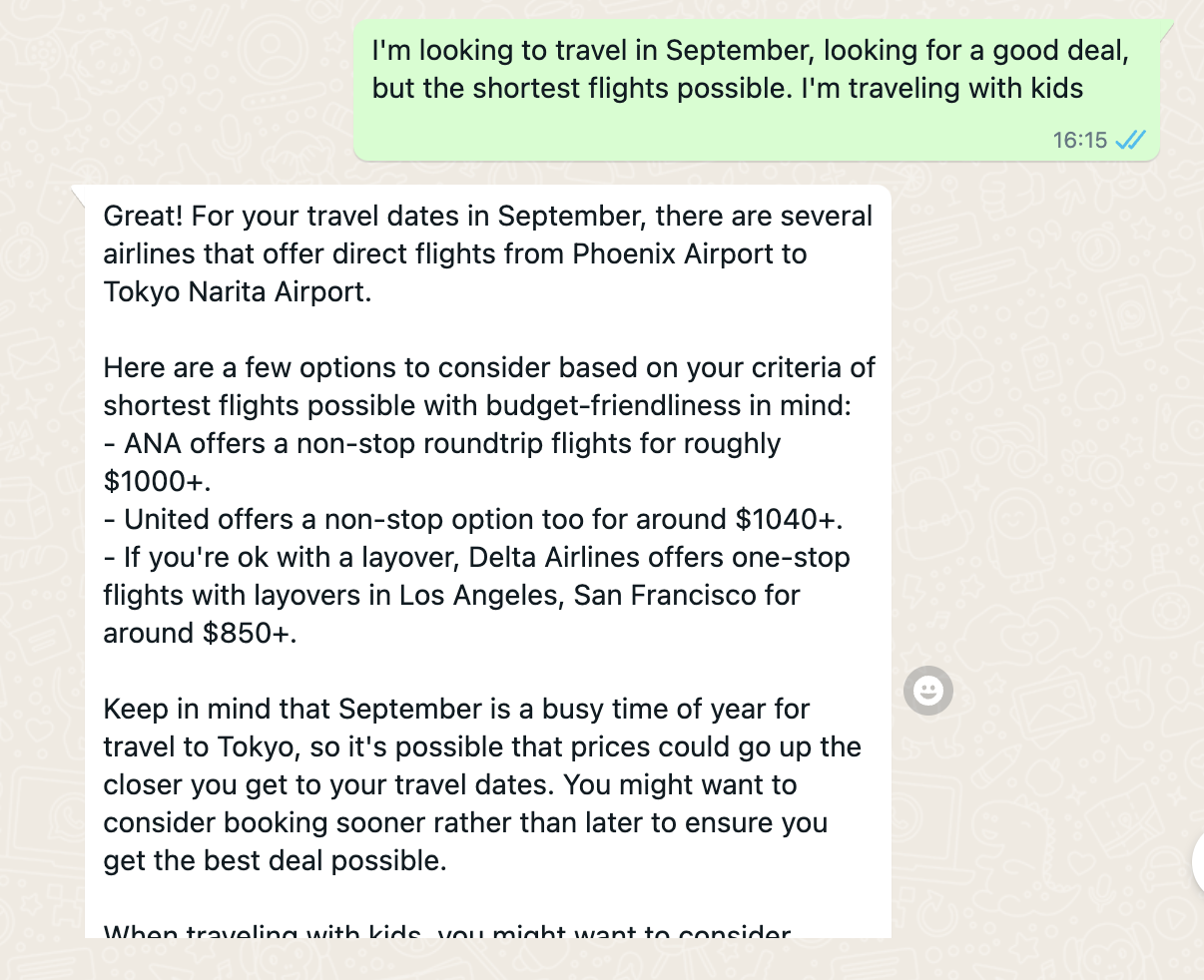 You can, however, find hotels and Airbnb listings, and the bot asks you for your preferences to help you find the best option for your search.
One question I have is the security of the answers. There's no security policy on the website, so it's best to refrain from providing personal information in your conversations with the bot.
Guide Geek Pricing
GuideGeek is free to use.
Guide Geek Final Verdict
GuideGeek gives you a fun and interactive way to plan your trip. It really does feel like you're chatting with a knowledgeable and friendly travel agent and getting answers to all your burning questions.
3. EddyTravels
Quick Deals

EddyTravels is an AI-based flight and hotel booking app with an interactive AI assistant called Eddy AI. In a few clicks, you can get custom-tailored flight, hotel, and tour recommendations based on your needs.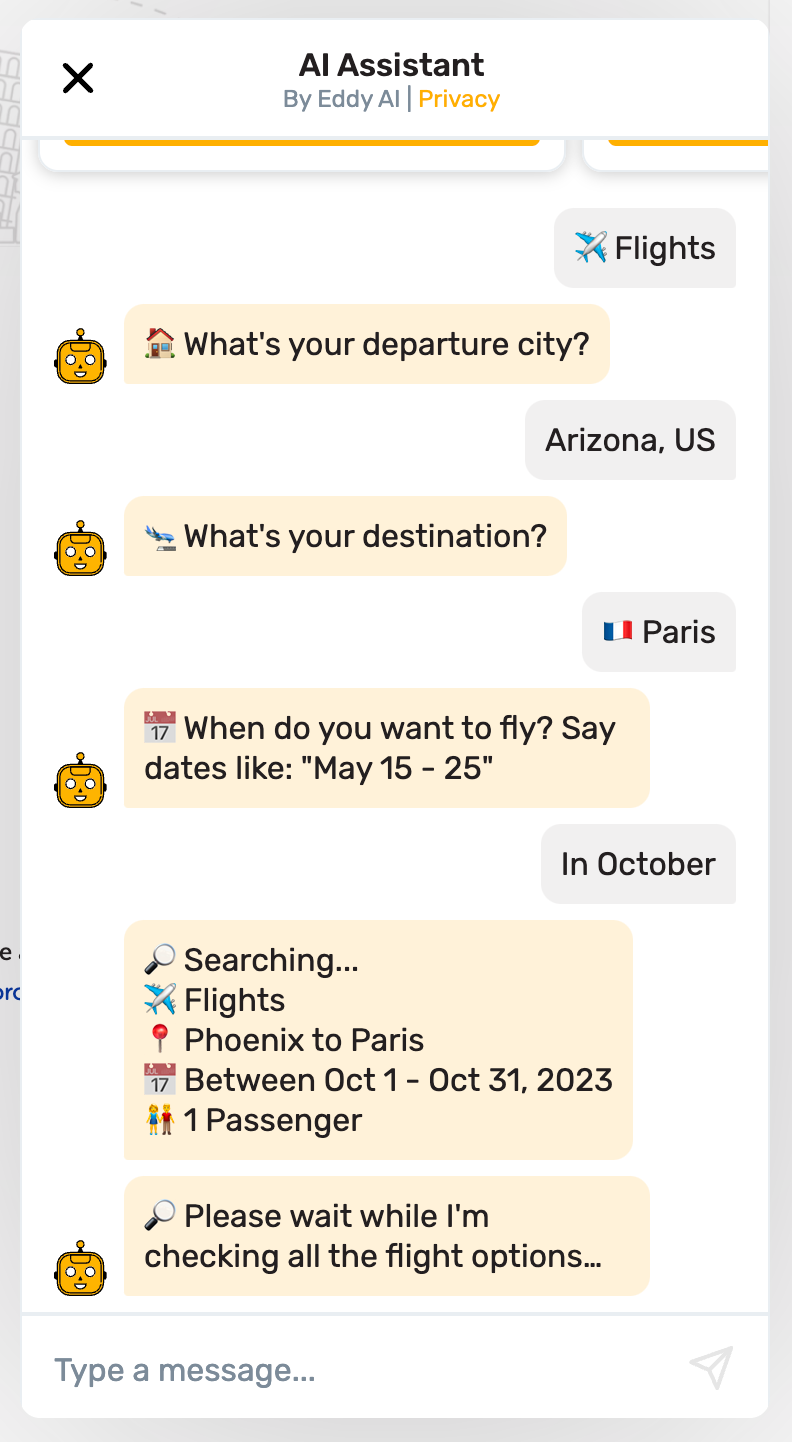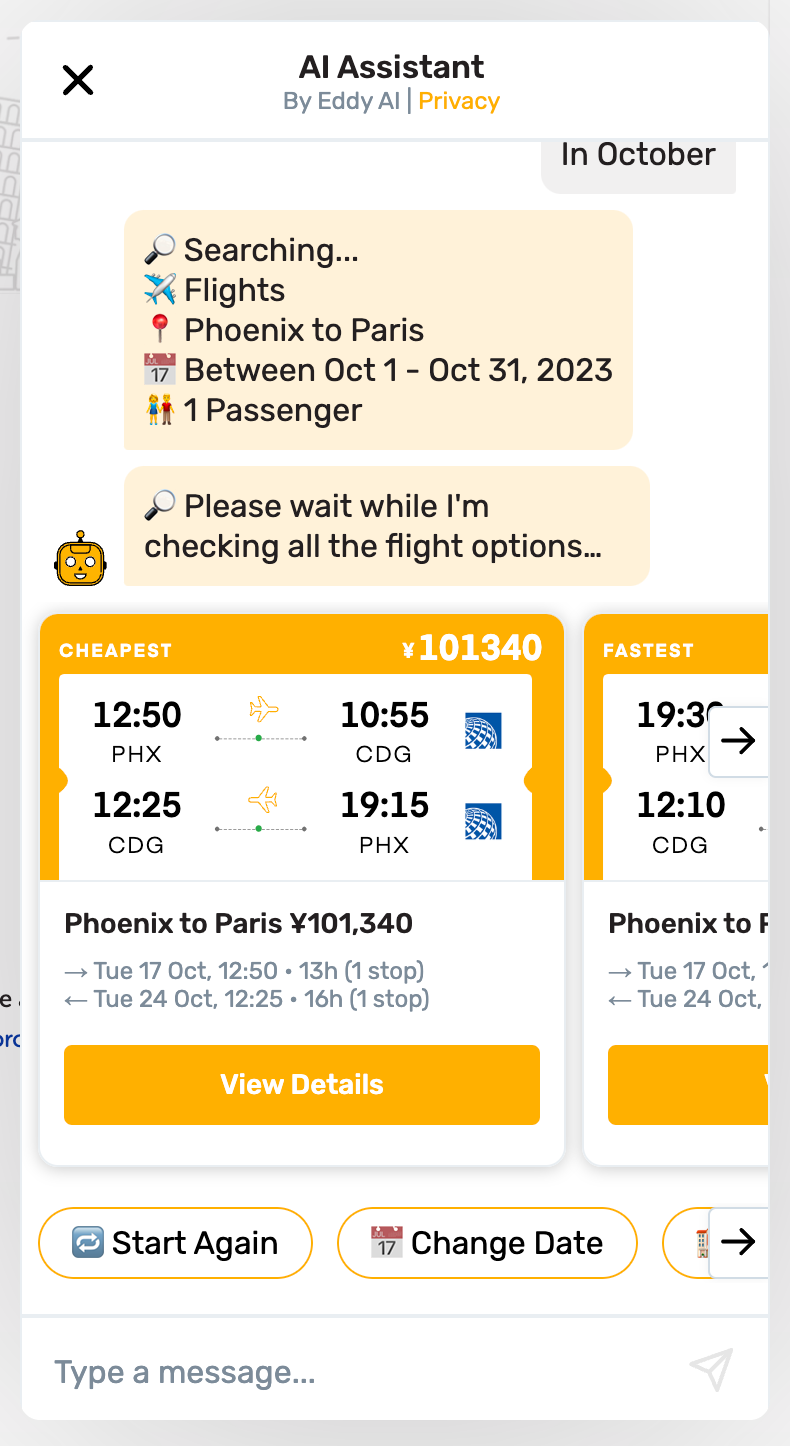 After getting some initial recommendations, you can change your dates or ask for more info. Click directly on the deal you like to move to a purchase page. Plus, the chatbot supports multiple languages.
The downside of this chatbot is that you can only search for packages to buy, and there isn't much conversation to be had (unlike GuideGeek). Also, the bot couldn't understand every query; for example, I told it I wanted flights with fewer stops, and it didn't understand what I was asking.
Eddy Pricing
Eddy AI is free to use.
Eddy Final Verdict
If you're looking for flights, hotels, and tours and want to get recommendations fast with the help of AI, EddyTravel is for you.
4. Hopper
Predict Price Changes

Hopper is an AI-powered price forecasting and travel booking app that can predict price changes with up to 95% accuracy. This means that you can wait until your flights or hotel rooms are at the lowest possible price before booking. It also has a Price Freeze feature that lets you save a low price if you need a little more time to decide.
The con of using Hopper is that it's only available as a mobile app.
Hopper Pricing
You can download and use Hopper for free on iOS and Android.
Hopper Final Verdict
If you're ready to book a flight or hotel and want to get the absolute best price, you should definitely try Hopper.
How Will AI Change The Travel Industry?
AI is set to change the travel industry as we know it. Here are a few ways I predict it will change things:
Frequently Asked Questions (FAQs)
What is artificial intelligence?
A computer program has artificial intelligence when it can learn and use information much like a human would, using technology like machine learning and natural language processing.
How do AI travel agents treat customer data?
This is one of the sticky subjects of AI chatbots. Your best bet is to look through the fine print and privacy policies of each AI service you use. It will vary.
Why do travel companies use AI-powered travel agents?
AI-powered travel agents save travel companies a lot of money, as they can hire fewer personnel and direct more traffic toward an AI chatbot. AI can also help predict demand and help the company make better data-driven decisions to increase bookings and revenue.