13 Best AI Sales Software Tools for High-Performance Teams
Last Updated on May 3, 2023
For a sales professional, time equals money. The more time you can save, the more deals you can close. And it's even better if you have extremely accurate data and a skilled analyst to tell you what it means.
In the past, this would require the work of an assistant, a data scientist, a skilled analyst, and decades of sales experience.
But today, all you need is a couple of really good AI sales tools. These apps can automate tedious processes and save you time, collect loads of data for you, and tell you exactly what that means for your sales strategy.
In this article, I'll share 13 of the best AI sales software tools that can streamline your workflow, bring you up-to-the-minute smart insights on your accounts, and help you close the most deals in the shortest amount of time.
As sales involves many different sectors, we'll be focusing on:
These tools are bound to take your sales game up several notches. Let's take a look.
Drift
Reachout
What is the Best AI Sales Software?
Here's a quick list if you're in a rush.
1. Drift
AI Sales Rep

Drift is a smart Conversational AI sales software that can have conversations with leads, customers, and all other visitors to your website and help them move closer to purchasing.
Here's what they help with (in a nutshell):
Drift Pricing
Drift is pricey, starting at a whopping $2,500 per month for the Premium plan, which includes all the main features. If that sounds too steep, you can apply for Startup pricing via their website.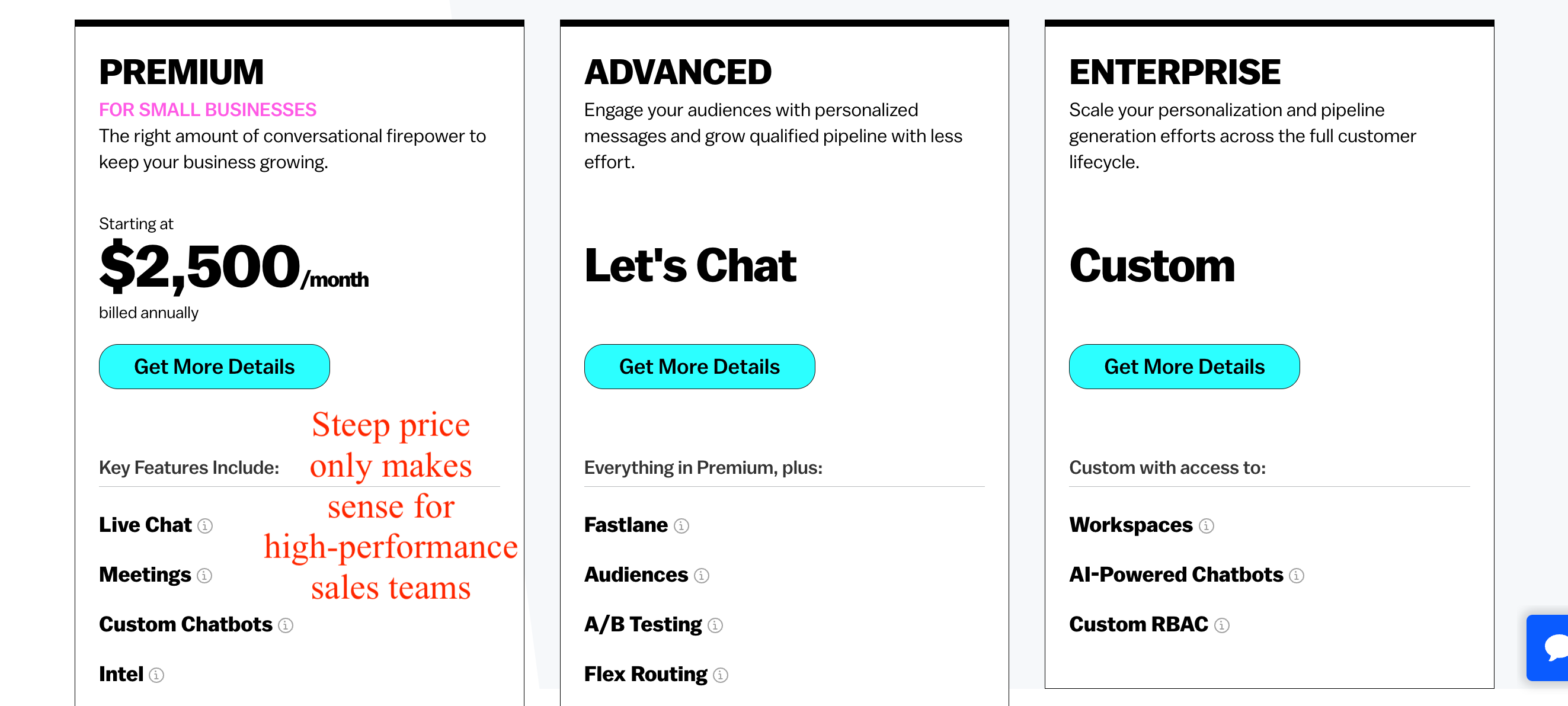 Drift Verdict
Drift comes with a huge price tag, but the amount of time you can save and the money you could potentially earn from increased sales makes it a worthy investment for serious sales teams.
2. Clari
AI-Powered Sales Forecasting

I'm calling Clari a sales forecasting tool, but it does so much more than that. It's a full-on AI sales assistant software that can help you manage your pipeline, track and summarize each sales call, extract important insights about your accounts, AND predict your revenue using smart algorithms.
Here's the good and the bad:
Clari Pricing
Pricing wasn't available at the time of writing, but you can request a quote from the website.

Clari Verdict
If you're looking for a better place to manage your pipeline and sales performance, you should definitely check out Clari.
3. Gyaan
Sales Team Communication Platform

A huge hurdle for many sales teams is keeping everyone on the same page. That's where Gyaan comes in—this AI sales workspace makes it easy for everyone to come together to close deals—from sales to execs to product developers (and more).
Here's what makes Gyaan one of the best AI sales software out there:
Gyaan Pricing
Pricing wasn't available at the time of writing. You can apply for a quote from the website.
Gyaan Verdict
If your issue is keeping your entire organization on the same page during the sales process, Gyaan could be the key to keeping your workflow organized and increasing your team's performance.
4. Exceed AI
Lead Gen AI

If you're tired of sifting through tons of data in your CRM trying to find potential customers, you'll love Exceed AI's sales software tool. Similar to Drift, Exceed AI can capture and qualify leads for you over email, chat, and SMS.
Here's what I like about Exceed AI:
Exceed AI Pricing
Pricing wasn't available at the time of writing. Fill out a form on the website to get in touch and get a quote.
Exceed AI Verdict
Try Exceed AI to qualify your leads so you can maximize the space on your calendar and increase your closing rate overall.
5. Reachout AI
AI Video Prospecting

AI video prospecting is one of the most exciting new trends in AI sales. Instead of filming yourself or a team member sharing personalized messages with each lead, you choose an AI avatar to read out your scripts in video format, personalizing the message for each prospect.
Here are the key features of Reachout AI:
Reachout Pricing
When I checked out the site, Reachout AI was offering Lifetime licenses at a lower price: $249 for the Starter plan, $499 for the Scaling plan, and $699 for the 2x Scaling Plan. Soon they will likely move back to a monthly or yearly model.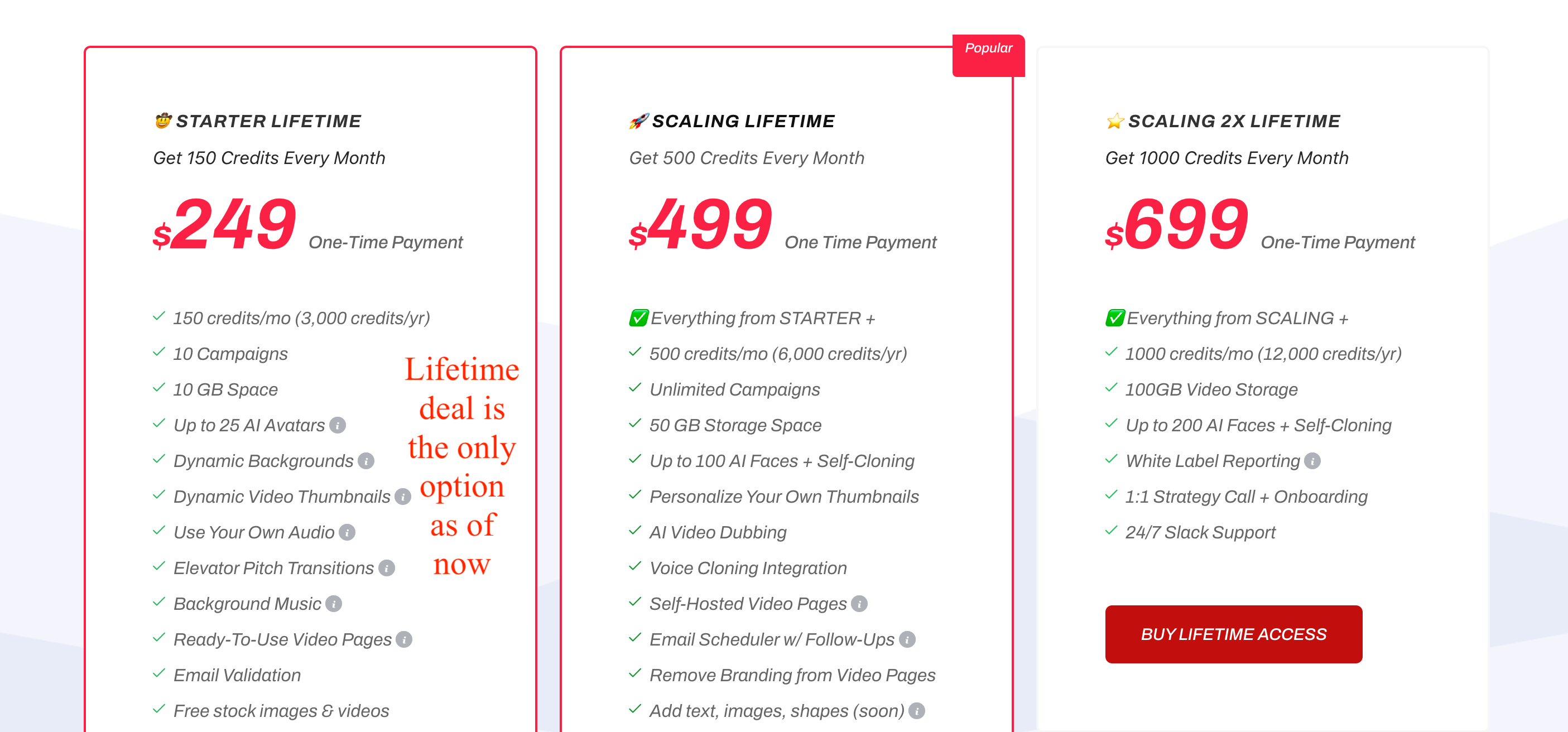 Reachout Verdict
If you're interested in video prospecting but want to automate and streamline the process, look no further than Reachout AI.
6. 6Sense
Lead Gen for B2B Businesses

AI sales software 6sense helps you wade through lots of marketing data to find the accounts that are closest to buying from you. This saves you time and helps you avoid missed sales opportunities.
Here's the pros and cons of 6Sense:
6Sense Pricing
Pricing wasn't available at the time of writing. You can book a demo from the website to learn more.
6Sense Verdict
B2B businesses will benefit from 6sense's smart data analysis, powerful workflows, and lead detection capabilities.
7. People AI
Pipeline Management

People AI makes it easier to manage your pipeline by giving you helpful statistics and suggestions to fill it up faster and help more people move toward purchasing in less time.
Here's where People AI shines:
People AI Pricing
Pricing wasn't available on the website when I checked, but you can book a demo from the website to get more information.
People AI Verdict
For sales teams that want to improve pipeline management and would benefit from scorecards and relationship maps for each account, People AI is one of the best AI sales software for managing your team.
8. SetSail
AI Coach for Sales Reps

As a sales professional, you know the importance of having a coach to help you improve your performance. But what if you could have an AI sales coach that never missed a beat and was available all the time?
SetSail gives you and your team guidance and actionable insights to take the guesswork out of the sales process.
Here's what I like about SetSail:
SetSail Pricing
Pricing wasn't available on the website, but you can schedule a demo to get more info.
SetSail Verdict
SetSail allows sales managers to optimize their team performance with the help of an always-available, super-smart AI sales assistant.
9. Warmer AI
Cold Email Writer

Cold emailing is essential for expanding your network and starting meaningful conversations with potential clients and investors. But writing hundreds of personalized emails by hand can take tons of time. Luckily, AI cold email writer Warmer AI can handle all of the writing and personalization for you.
I've trialed all of the AI email assistants; if you're interested, you can check out more here.
Here's what I like about Warmer AI:
Warmer AI Pricing
I couldn't find pricing on the website, but other sources mentioned $97 a month for 325 credits (I assume that one email costs one credit).
Warmer AI Verdict
For startups and fast-growing sales teams that need to communicate with many people quickly, Warmer AI is a simple way to quickly write more personalized cold emails.
10. Growbots
Outbound Sales Automation

Growbots helps you identify and contact qualified prospects for direct outreach using its vast 160+ million-member prospect database.
Here's what you get with AI sales software Growbots:
Growbots Pricing
The Outreach plan is affordable at $49 per month but doesn't give you access to the database (you must import your contacts). The All-In-One plan gets you all features and access to the full database for $199 a month.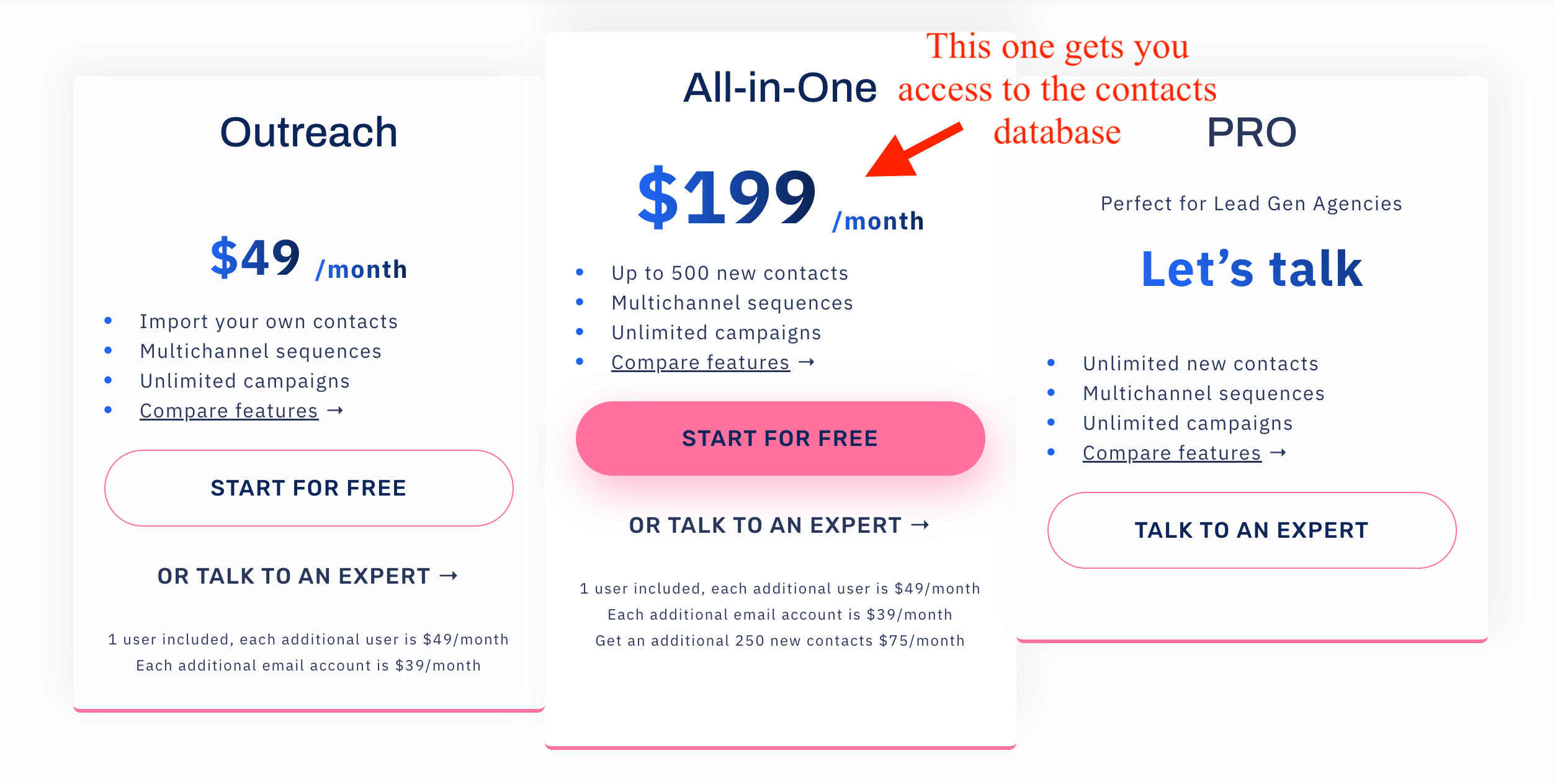 Growbots Verdict
If outbound marketing is your style, and you want to make it easier to reach qualified leads with the power of AI, you've got to check out Growbots.
Sales Copywriter

Ah, Jasper. This AI writing app is one of my favorite AI tools and one I use regularly for writing and managing my own content. I've written extensively about this tool, and you can check out my full Jasper AI review here.
But to sum up my thoughts, here's how Jasper AI improves your sales productivity:
Jasper AI now offers unlimited words for all plans. The Creator plan includes one user seat, and the Team plan has up to 3 seats and can accommodate additional users for $59 a month (up to 10 total users). The Business plan is available for teams of more than 10.
Jasper Verdict
Need to generate sales copy that converts? Use Jasper to generate ideas, write powerful first drafts, and update your existing copy for better conversions.
12. ZoomInfo SalesOS
B2B Sales Automation

ZoomInfo SalesOS is an AI-powered suite that aims to automate and assist the B2B sales process. From helping you find key decision-makers to reach out to, analyzing and assisting with customer conversations, and automating sales processes, SalesOS can help you with every stage of the sales process—at scale.
Here's what I like about ZoomInfo:
ZoomInfo Pricing
Pricing was unavailable at the time of writing, but you can apply for pricing details with a valid business email.
ZoomInfo Verdict
If you want to automate your entire B2B sales process from finding contact info to identifying hot leads to automating tedious sales processes, ZoomInfo SalesOS is one of the best AI sales assistant tools to consider.
13. Gong
AI Note Taker for Sales Teams

AI note-taker apps are a lifesaver for any sales team with many meetings and calls in the books. These apps listen to your meetings, generate transcripts, take notes, and then generate summaries and action steps based on the conversation.
Gong is an AI note taker specifically designed for sales professionals, winning it a place on this list.
Here's what you get with Gong:
Gong Pricing
You'll need to contact Gong for pricing, which varies based on your team size and the type of license you choose.
Gong Verdict
Gong excels at tracking, transcribing, and analyzing crucial customer meetings and conversations. If you want to get more out of each meeting and conversation, you should definitely check out Gong.
What is an AI Sales Software Tool?
The best sales reps can look at multiple factors, assess the state of the current deal, make quick decisions about strategy and timing, and then skillfully interact with the potential customer to close a deal.
Sure, if you have decades of sales experience, you might be able to do this simply by following your gut instinct. But even the most experienced salesperson wouldn't be able to pick up on all the tiny pieces of data floating around at all times or detect invisible leads visiting their website and content at all hours of the day and night.
That's where AI sales software comes in.
AI sales software solutions use technology like artificial intelligence, natural language processing, and deep learning to analyze data and automate parts of the sales process, including:
Why Use AI Sales Software Solutions?
There are so many benefits to using AI sales software in your workflow. For example:
In a nutshell, switching to automated AI sales software can save you money and time, increase the accuracy of your data analysis, and free up your sales team to focus more fully on the tasks that require a human touch. AI tools are the future.
Frequently Asked Questions (FAQs)
What AI sales software can be used to train sales reps?
SetSail is an AI-powered sales coach that can help your team improve their performance with insights from the AI sales assistant.
What's the best AI sales software for writing sales copy?
Jasper AI is one of my favorite AI writing software. It's designed to write sales copy that converts, including ads, landing pages, product descriptions, and more. If you want to write only cold emails, try Warmer AI.
What is AI video prospecting?
AI video prospecting is a form of outbound sales in which you use AI sales tools to generate personalized video messages for leads and then send them in outreach messages. Reachout AI is one example of a sales software that can help you with this.