9 Best Copywriting Tools Personally Tried & Tested 2023
Last Updated on February 17, 2023
You already know that AI copywriting software can save you hours in your content creation process and help you write better copy. But with new AI writing apps coming out all the time, how can you find the right AI copywriting software for your business?
In this article, I'm giving you a rundown of the 9 best AI copywriting software tools you can buy right now, including best features, pros and cons, and pricing information so you can make a decision FAST and start automating your copywriting right away.
most customized copy templates
conversion focused writer
Anyword AI
Before we dive in, here are my criteria for choosing the best AI copywriting tools on this list:
What is the Best AI Copywriting Software Right Now?
Ready to get started? Here's my list:
1. Jasper AI
Most Powerful Writer
Jasper AI (previously known as Jarvis AI and Conversion AI) tops the list because it's simply the most powerful AI copywriting software out there. I've written an in-depth Jasper review if you want to learn more.
Whatever you throw at Jasper, it can handle. The writing is beautiful and flows. It's specifically designed for copywriting, but with over 50 built-in tools and the ability to create custom templates, it's well-suited for any content you might need.
Jasper Dashboard Experience
Check out the dashboard experience below:
Jasper Pros and Cons:
Pricing
Jasper starts at $59 a month for 50,000 words or $99 for 100,000 words (there are higher tiers for more words). Businesses can apply to learn more about the Business plan, which gets you more advanced features and team support.
Verdict
Jasper AI is the best AI copywriting software out there. If you want the biggest and most powerful toolset and are willing to invest the money for it, Jasper will be a powerful asset in your copywriting workflow.
2. Copy AI
Most Templates
Copy AI is one of the easiest copywriting software tools to use. It's got more than 90 templates (think social media, Google ads, even brand voice) that can quickly generate the copy you need with no extra hassle.
I've written a comparison of Jasper AI and Copy AI if you're trying to decide between the two.
Copy AI Dashboard Experience
Copy AI has one of the nicest writing experiences. Depending on the workflow (pictured below), you can create a title, keyword, and tone. It will generate an outline that you can edit and voila! You've got content.
Pricing
Start with up to 2,000 words per month for free, or upgrade to the paid plan at $49 a month for unlimited words and access to Copy AI Chat.
Verdict
If you want to get in and out of your AI writing software with minimum hassle and don't mind editing the output, I recommend Copy AI. Its intuitive templates and ease of use make it a top contender for the best AI copywriting software right now.
3. Anyword
Most Conversion-Focused
Anyword helps you increase conversions by employing data to aid the copywriting process. Not only will the AI writer create copy for you, but it also uses something called "predictive analytics" to predict how well your copy will convert with your audience.
Anyword Pros and Cons
Pricing
The Starter plan gives you access to all tools and 20,000 words for $29 a month, while the Data-Driven plan gives you 30,000 words plus all the analytics for $99 a month.
Verdict
Anyword can help you get better results from your copy by attaching a performance score to every piece of copy you generate.
4. WriteSonic
Most Budget-Friendly Writer
WriteSonic has most of the tools and features you'll find in big names like Jasper and Copy AI, but for a fraction of the price. That's why I've chosen it as the most budget-friendly tool on this list.
WriteSonic is backed by Y Combinator and lists Spotify, NYU, and other trustworthy names as users.
Writesonic Pros and Cons:
Pricing
Start by generating up to 2,500 words for free, or upgrade to the Long-Form plan starting at $19 a month for 19,000 Premium-quality words. The next tier is $49 a month for 75,000 words. This is much more affordable than Jasper, which costs $59 a month for 50,000 words.
Verdict
If you want an AI copywriting tool similar to Jasper without the high price point, or if you need to generate content in bulk, I highly recommend checking out WriteSonic.
5. AdCreative.ai
Great for Ad Creation

AdCreative AI caught my eye because it brings something new to the table. This app combines copywriting and art generation to produce ad creatives for marketing campaigns and the copy to accompany them. You can create multiple designs and test them to see which performs best.
AdCreative User Experience
You upload your logo, choose three brand colors, and input a brand description. Next, you choose your audience and the ad dimensions. Finally, you generate headlines with the AI copywriting tool (or write your own), then choose a stock image for the ad creative. Using your specifications, the AI tool will generate over 100 creatives to choose from.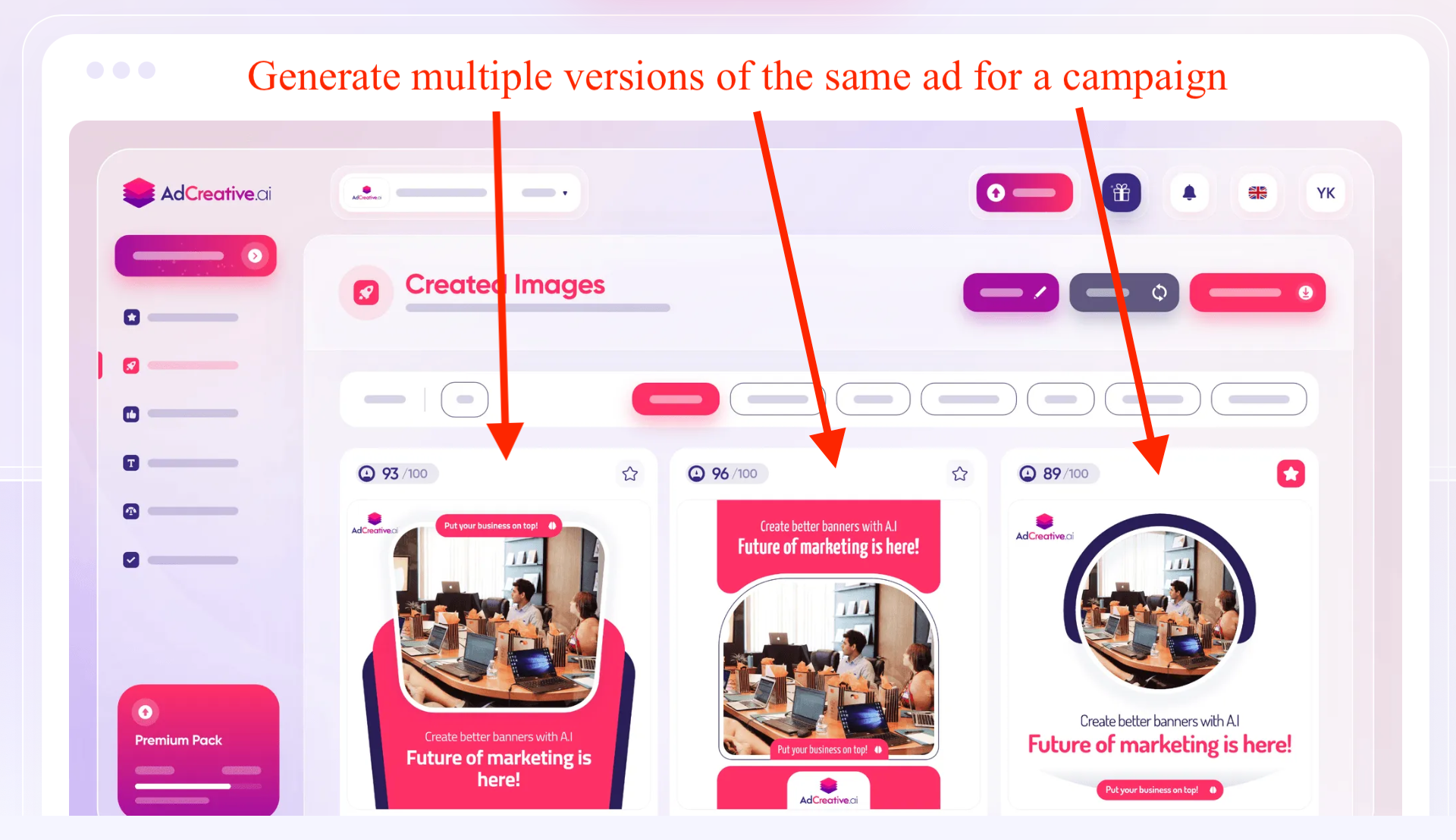 Here are the Key Features of AdCreative AI:
Pricing
AdCreative AI has four pricing plans, varying from $29 per month for 10 ad downloads to $149 for 100 downloads. All plans provide unlimited generations, but you're limited in the amount you can download and use. You can try out the tool with a 7-day free trial before you commit.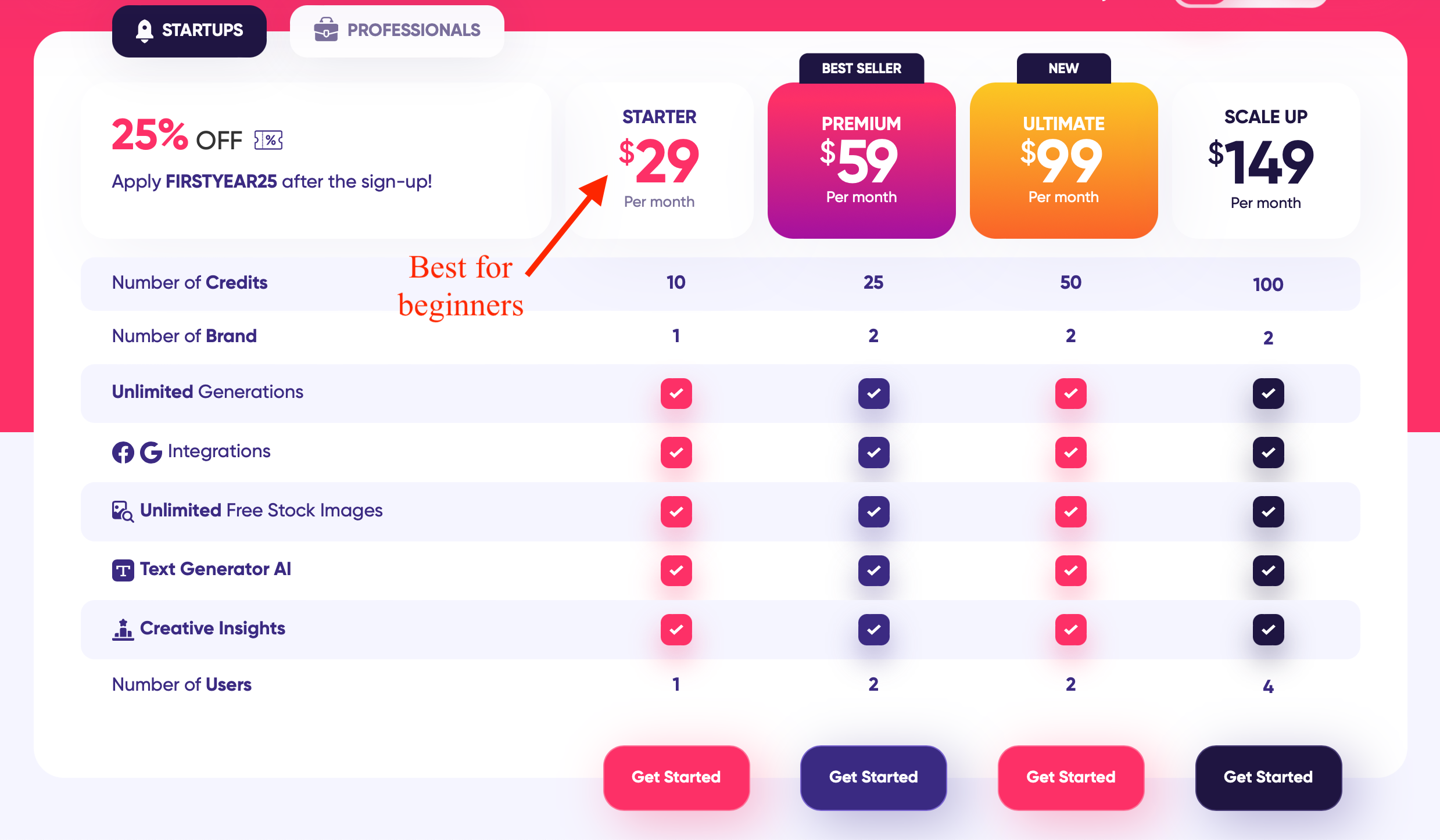 Verdict
For businesses that need to generate lots of ads on a regular basis, AdCreative AI can save you time by automating much of the process. While the tool still has room for improvement, it's definitely worth checking out.
6. Writecream
Most Anticipated
Writecream is an AI content creation suite that covers not only copy and content writing but also AI-generated audio clips. It's still in its beginning stages, but its unique features give it a chance to become a solid competitor among AI copywriting tools.
Here's What Writecream Brings to the Table:
Pricing
You can generate up to 40,000 characters and access all AI copywriting tools for free. If you're ready to subscribe, you can choose the Unlimited plan at $29 a month for unlimited words and generations (available for a limited time at the time of writing).
Verdict
If Writecream's unique features appeal to you, and you don't mind dealing with a few bugs as the team irons out the software, this could be the best AI copywriting tool for you.
7. Copysmith
Great for E-Commerce Businesses
Copysmith is a powerful AI copywriting suite for e-commerce businesses. It does well with product descriptions and has many features uniquely suited for businesses that sell and market products online.
Copysmith Features:
Pricing
Choose between the $19-monthly Starter plan, offering 20,000 words and 20 plagiarism checks, and the $59-monthly Professional plan, which provides 80,000 words and 100 plagiarism checks. If you're not sure yet, you can test out the software with a 7-day free trial.
Verdict
Copysmith provides an all-inclusive copywriting and art generation suite for e-commerce businesses and teams.
8. ContentBot
Most Intuitive Blog Generator
Now, I must admit, the name of this software doesn't sound like a copywriting app. And to be fair, ContentBot's main feature is generating blog posts. But it also has AI copywriting tools, and since most businesses need to create blog posts on a regular basis, this could be a powerful combo for your copywriting workflow.
Here's Where ContentBot Shines:
Pricing
You can choose between the pre-paid option or a monthly subscription. With pre-paid, you pay $1 for every 1000 words you want to generate. Paid subscriptions start at $29, which gets you 40,000 words a month and access to copy templates. You must upgrade to at least the Premium plan (at $59 a month for 100,000 words) to use the long-form assistant, SEO tools, and plagiarism checker.
Verdict
Some of the best AI copywriting software can write blog posts in one click, but ContentBot goes a step further by sending you fully-written articles on a regular basis without any effort on your side. This, plus a library of copywriting templates, makes ContentBot a great choice for businesses that want to automate their content creation process to the max.
Hypotenuse AI
Best for Lifestyle Brands

Hypotenuse AI is an AI copywriting software that works especially well for businesses in fashion, furniture, and lifestyle niches. Its writing style looks like it could be ripped straight out of the pages of Vogue, and it makes any product feel more luxurious and high-end.
Key Features of Hypotenuse AI
Pricing
The Starter plan, available for $29 a month, gives you 25,000 words and 200 images, writes blog posts, and includes all templates. The Growth plan, starting at $59 a month, gives you 87,500 words, unlimited AI images, and advanced article tools.
Verdict
If you're writing about fashion, furniture, lifestyle topics, or other Instagram-worthy products and want to create content with a more feminine, magazine-like tone, Hypotenuse AI is the tool to try.
What is an AI Copywriting Tool?
AI copywriting tools use artificial intelligence and natural language processing to generate human-like text based on a prompt.
Most AI copywriters (like Jasper AI, Copy AI, and WriteSonic) are trained in copywriting best practices and frameworks to produce high-quality content and copy that's designed to convert.
How do AI copywriting tools work?
There are two ways to answer this question:
I'll answer both of these questions.
First, how to use it: To generate copy with AI copywriting tools, you'll first need to choose the type of copy you want.
You'll either choose a pre-made template for that type of copy or send a custom command to the AI writing assistant detailing what you want it to create.
Once you fill out the prompts or give the AI software the information it needs, you'll wait for a few seconds while the program generates your text.
Some tools give you multiple options, while others give just one output. You can usually re-generate the text or move it into an editor to tweak and improve it before publishing.
Now for the second question: What's under the hood of these AI copywriting software and tools?
Most AI copywriting software and tools are based on GPT-3, which is a language model created by OpenAI (the team behind Chat GPT).
Basically, it's a computer program that's spent time reading tons of web pages, books, and other sources and has learned how to read and write English text with a technology called natural language processing.
When you ask the program for something, it can understand your request and form a (usually) logical response.
On top of GPT-3, most companies have added their own proprietary software onto the tool so their copywriting app can write in a certain style or follow popular copywriting frameworks.
That's why each AI writing software writes differently, even though they're built on the same underlying language model.
Why use an AI copywriting tool?
Here are some ways that AI copywriting tools can make your life better:
What's the difference between copy and content writing?
It's important to understand the difference between copywriting and content writing before you purchase one of these tools.
Content is the name for any kind of information you might consume from a business or brand, whether its purpose is to inform, persuade, or even simply entertain you.
On the other hand, copywriting is a specific kind of content that's designed to get a response from your reader or prompt them to take action on what they've just read.
A blog post explaining the best AI writers in 2023 is an example of content, but a landing page promoting a specific AI copywriting tool and encouraging you to buy it is an example of copywriting.
Content simply informs while copy aims to convince you and drive you to action.
When done well, copywriting gets you more clicks, subscribers, and engagement and helps you generate more sales online.
Limitations of AI copywriting software
AI copywriting software tools are extremely powerful. But it's not a one-and-done solution. Here are some limitations you should be aware of:
To sum up: AI copywriting tools are powerful, but they don't replace the need for good research, editing, and fact-checking.
Frequently Asked Questions (FAQs)
What's the best AI copywriting tool?
Overall, I recommend Jasper AI as the best AI copywriting tool available right now. Besides Jasper, I've reviewed eight more titles, which I also consider to be among the best AI copywriting tools available right now.
What is the best free AI copywriting software tools?
While AI copywriters aren't totally free, many do offer a no-cost plan. Out of the best AI copywriting tools that I recommend, Copy AI, WriteSonic, and Writecream all offer a free plan.