13+ Best AI Animation Software For Creative and Business Use
Last Updated on June 14, 2023
There's something magic about animation.
Animated stories have captured our hearts since we were little kids, sitting in a dark movie theater with an overflowing box of buttery yellow popcorn, mesmerized as we watched the knight defeat the dragon or the team of brave bugs save the day.
Animation makes even the most imaginative stories come alive. And now with new advances in artificial intelligence, the world of animation has taken a mind-blowing leap forward.
In this article, we're diving headfirst into the realm of best AI animation software, exploring the top contenders that are revolutionizing the way we animate.
From cutting-edge motion capture to stunning visual effects, we'll uncover the best AI animation tools that make animation easier and more fun.
What kind of tools did I choose for this list? We're looking at tools for both creative and business use. Some are great for creating stunning animations for cartoons, creative stories, and even full-length feature films. Others will help you make an engaging social media video or work presentation.
Adobe Character
SteveAI
RADiCAL
What is the Best AI Animation Software?
Here's the full list of software programs I looked into.
Best AI Animation Software
1. Adobe Character Animator
Best for Beginners

Adobe Character Animator is an easy-to-use motion capture animation tool from Adobe. All you need to do is move your face and body to bring your characters to life. It's easy to customize your characters and create stunning animations featuring your own original stories.
Here's what you can do with Adobe Character Animator:
Adobe Animator Video Examples
YouTubers and content creators are using this software to create fun and engaging videos. Check out this example from YouTuber Okay Samurai.
Adobe Pricing
Start for free with pre-designed puppets and limited features. Then upgrade to a full Adobe Creative Cloud All Apps subscription for $55 a month to get the full software and the entire Adobe suite.

Adobe's Verdict
If you want to create your own original animated content, but don't have the technical background or don't want to spend hours animating by hand, Adobe Character Animator is a great tool to try, backed by a very well known name in the industry.
2. Deepmotion
AI-Powered Body Tracking

Deepmotion is an AI-powered motion capture and 3D animation software that helps you create realistic character animations from video clips.
Instead of wearing motion capture technology or animating by hand, you film an actor moving around as you'd like your character to move. The software uses AI to quickly turn your videos into animations, which you can tweak until you get the look you want.
Here's what I like about Deepmotion:
Deepmotion Video Examples
Deepmotion has gained attention from many big names. Both Epic Games and Bandai Namco have invested in the tech startup.
You can see a demo of the kind of animation you can make with this tool in this video from Deepmotion.
Deepmotion Pricing
You can try out the software with 60 free credits a month. Or choose a paid plan, from Starter at $15 a month and 180 credits to the Studio plan at $300 a month for unlimited credits.
Check out the graphic below for an idea of each pricing plan.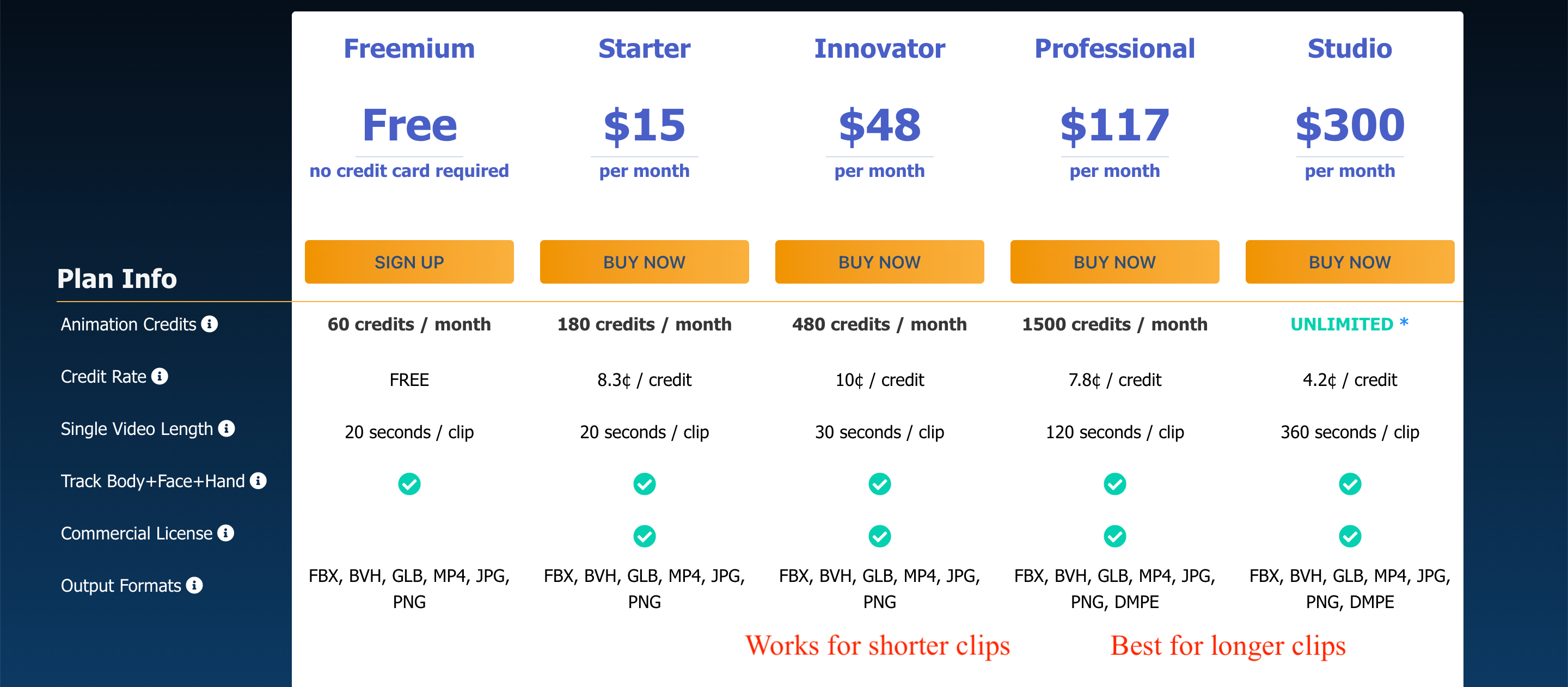 Deepmotion Verdict
Want to create AI animation for professional projects, but still have editing control? Deepmotion gives you more fine-tuned control over the output for a more polished and realistic animated video.
3. Moovly
Automated Marketing Videos

Moovly is a super efficient marketing video maker that features a number of AI-powered tools.
Not only can you use ChatGPT to generate scripts and convert them to videos, but you also get access to over 120 million royalty-free assets including video, graphics, and audio.
Here are the key features:
Moovly Video Examples
Moovly counts Amazon, Bayer, and Shopify among their clients. You can see some examples of Moovly videos in the Moovly Gallery.
Moovly Pricing
The Pro plan gets you all the main features, 25 downloads and 1080p quality for $99 a month. The Max plan gets you 50 downloads, subtitles, and other pro features for $199.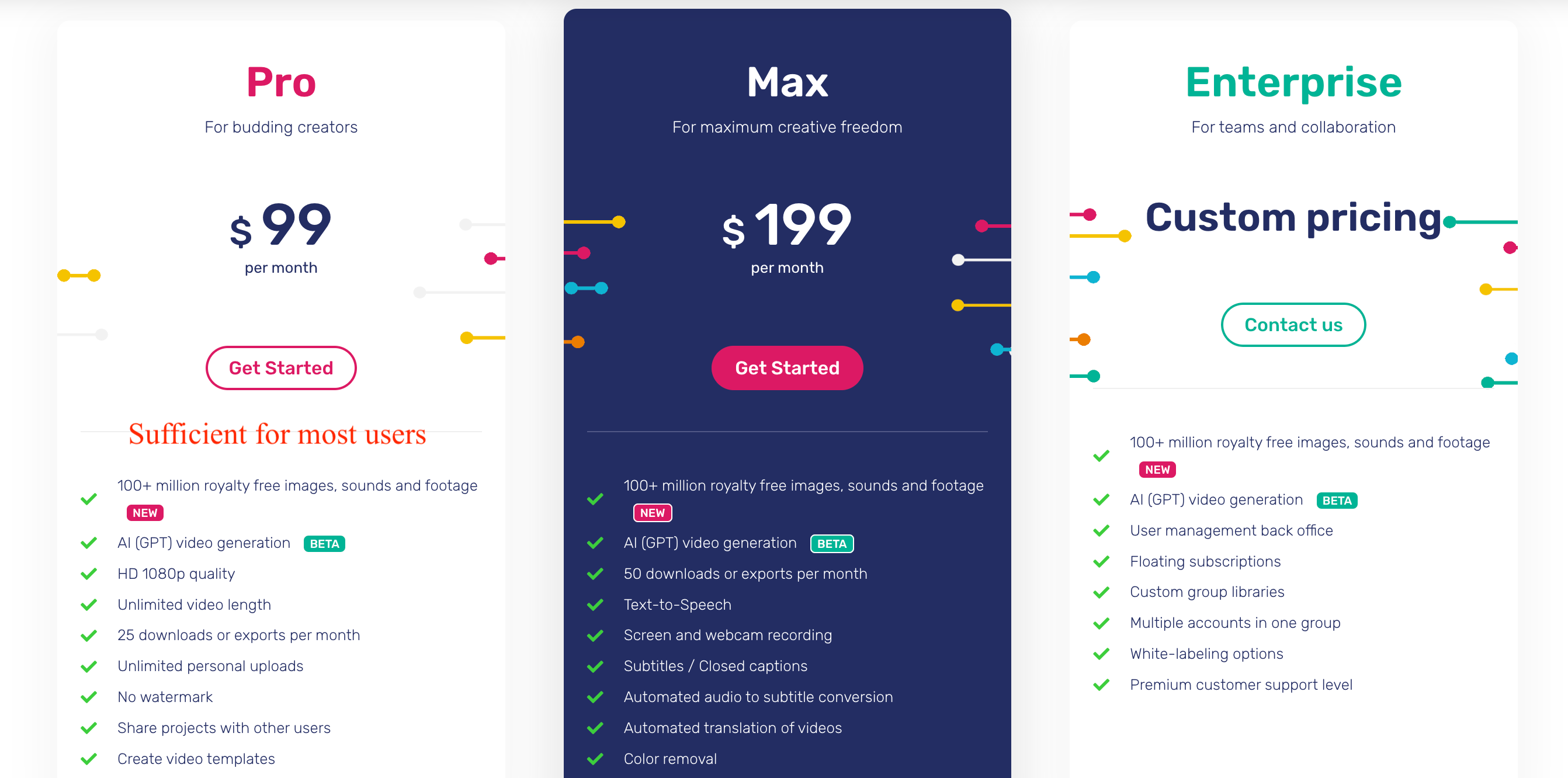 Moovly Verdict
Moovly is helpful for businesses that want to automate their sales outreach and marketing processes with AI-generated video content.
4. Moho Animation Software
Realistic Character Animation

Moho is a professional 2D animation suite that makes it easy to create animations from custom artwork.
Instead of having to draw everything by hand, it gives you intuitive tools for moving and animating your characters using AI technology.
Here's what I like most about Moho:
Moho Video Experience
You can see examples of Moho in action on the app's Official YouTube channel, like this example from Bobo English.
Moho Pricing
Moho's software is available via a one-time purchase. The Pro version, with the full set of features, is priced at $400. Moho Debut, suited for beginners, is available for $60.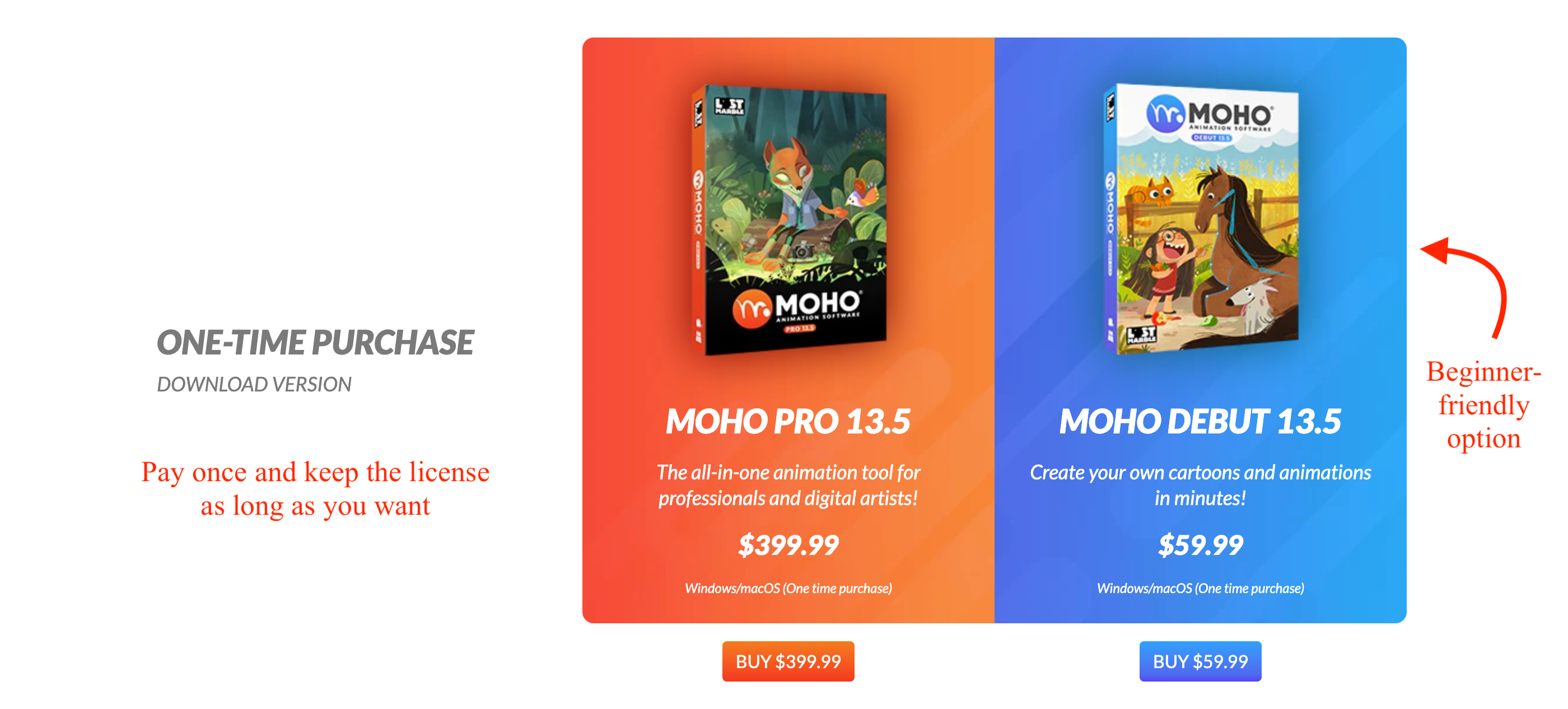 Moho's Verdict
If you're creating a professional 2D animation and want to save time and make sure your characters move as realistically as possible, consider making Moho Animation Suite a part of your workflow.
5. Raw Shorts
Great for Explainer Videos

Raw Shorts generates explainer videos from text input.
Upload a script for your video, and the tool will scan the words and understand the main concepts. Next, it'll pull together an animated video following the theme and topic of your script, with an AI-generated voiceover on top.
Finally, you can customize your video before publishing.
Here's what you can do with Raw Shorts:
Raw Shorts Video Experience
Raw Shorts lists big names CocaCola, IBM, Sony, and Pfizer as clients.
You can see some of its example videos on the app's official YouTube channel.
Raw Shorts Pricing
The Essential plan gets you 25 exports a month and 10 licensed video clips for $25. The Business plan gets you 50 exports and 20 licensed clips for $45. You can start for free and try out the app with low-resolution videos and watermarks.

Raw Shorts Verdict
Raw Shorts makes it a cinch to create engaging explainer and marketing videos, perfect for startups or marketing agencies that work with them.
6. Stability for Blender
Generative AI for Blender

Blender is a free and open-source 3D animation tool used by animators, graphic designers, game designers, and more.
Stability for Blender is an AI addon for the Blender software that connects it with the AI image generator Stable Diffusion.
With this addon, you can use Stable Diffusion to generate an image, then animate it or add it to your 3D animation as a texture.
(Stable Diffusion also just released its own tool, the Stability Animation SDK, though it's designed for programmers and a bit difficult to use.)
So what do you get with Stability for Blender?
Stability Video Examples
I wasn't able to find any user-created videos with this tool, but the official introduction video gives you an idea of what's possible.
Stability Video Pricing
The addon is free to use, but you might need to pay for Stable Diffusion credits to keep generating images.
Stability Verdict
If you're a dedicated Blender user and want to upgrade your existing workflow with AI technology, look no further than Stability for Blender.
7. Powtoon
Instant Video Presentations

Powtoon, the AI-assisted video creator and editor, does a lot of things, but one thing it does well is turn Powerpoint presentations into animated videos.
For businesses that rely heavily on Microsoft Office, this tool will make it easy to upgrade boring slide presentations and turn them into something way more interesting.
Here's what I like about Powtoon:
Powtoon Video Examples
Powtoon has an impressive client lineup, including Microsoft, Verizon, Adobe, and Google. You can see examples of client videos inside on its Customer Examples page.
Powtoon Pricing
For $50 a month, you can export 5 videos of up to 10 minutes each and use free assets and templates. Upgrade to the Professional plan for $190 and get unlimited exports, 20-minute videos, and the entire asset library.
Powtoon Verdict
Powtoon is perfect for business professionals who want to breathe new life into Powerpoint presentations (plus, have a convenient place to make other videos, too).
8. Steve AI
Convert Blog Posts Into Videos

Steve AI is an AI video generator that creates animated videos from simple text prompts. One of the unique things Steve AI can do is turn your existing blog posts into short-form videos.
These are my favorite features of Steve AI:
Steve AI Video Examples
Steve AI is run by the animated video creator app Animaker, which serves clients like Target, McDonald's, Visa, and more. Check out some examples of its videos in action on the official Steve AI YouTube channel.
I also posted an example in my list of recommended YouTube video makers.
Steve AI Pricing
Get started with the Basic plan for $20 a month and 5 video downloads in 720p. Upgrade to higher plans for more videos, more credits, and higher video resolution, up to $80 or more per month.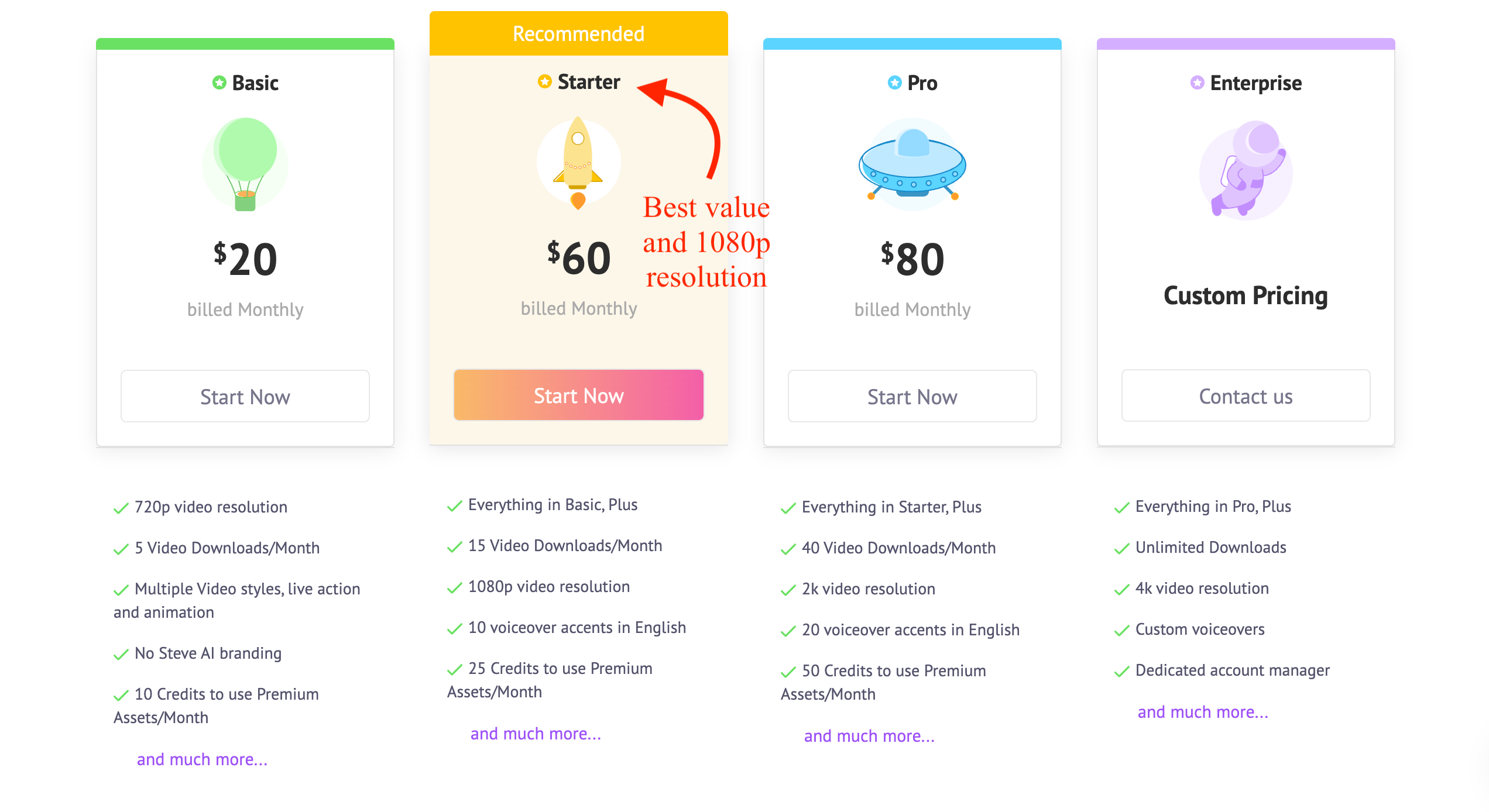 Steve AI Verdict
If you want to repurpose existing content into simple but engaging animated videos, you've got to check out Steve AI.
9. GliaStar
Create Animated Mascots

Looking for a cute anime-style mascot for your marketing materials or personal content? Look no further than GliaStar, an AI tool that can create your very own animated brand mascot.
Here's what you can do with Gliastar:
GliaStar Video Experience
You can find some examples on the GliaStar home page or the GliaStudio YouTube channel, though most of them are not in English.
GliaStar Pricing
I couldn't find pricing details on the website at the time of writing. You can contact GliaStar for a personalized quote.
GliaStar Verdict
If you're looking for an anime-inspired animated mascot for your marketing videos or creative content, GliaStar can help you make one fast. There are some limitations to the software, but you'll be able to make something totally original (and super cute) to represent your brand.
10. Colossyan
Realistic AI Avatars

I've already reviewed some other AI avatar generators on this site (check out my AI video generator and video prospecting tool round-ups), but when I found Colossyan, I was floored. This software generates the most realistic AI avatars I've seen so far.
Choose an avatar, give them a script, and then have them read it for you in a video.
It's like having a paid actor present your content, but 100% generated by AI. You can even create one with your own voice and likeness.
This is what I like about Colossyan:
Video Examples
Colossyan names some high-profile clients like BMW and the CDC on their website. You can see the software in action on their official YouTube channel.
I also posted an example video I generated on my YouTube video maker round-up.
Colossyan Pricing
The Free plan lets you try out 2 avatars and create videos with up to 3 scenes (but you can't remove the watermark).
Choose the Basic plan at $30 a month to get access to 12 avatars and 6 scenes per video. (Prices vary depending on the video length of videos, but the image below will give you a sense of pricing.)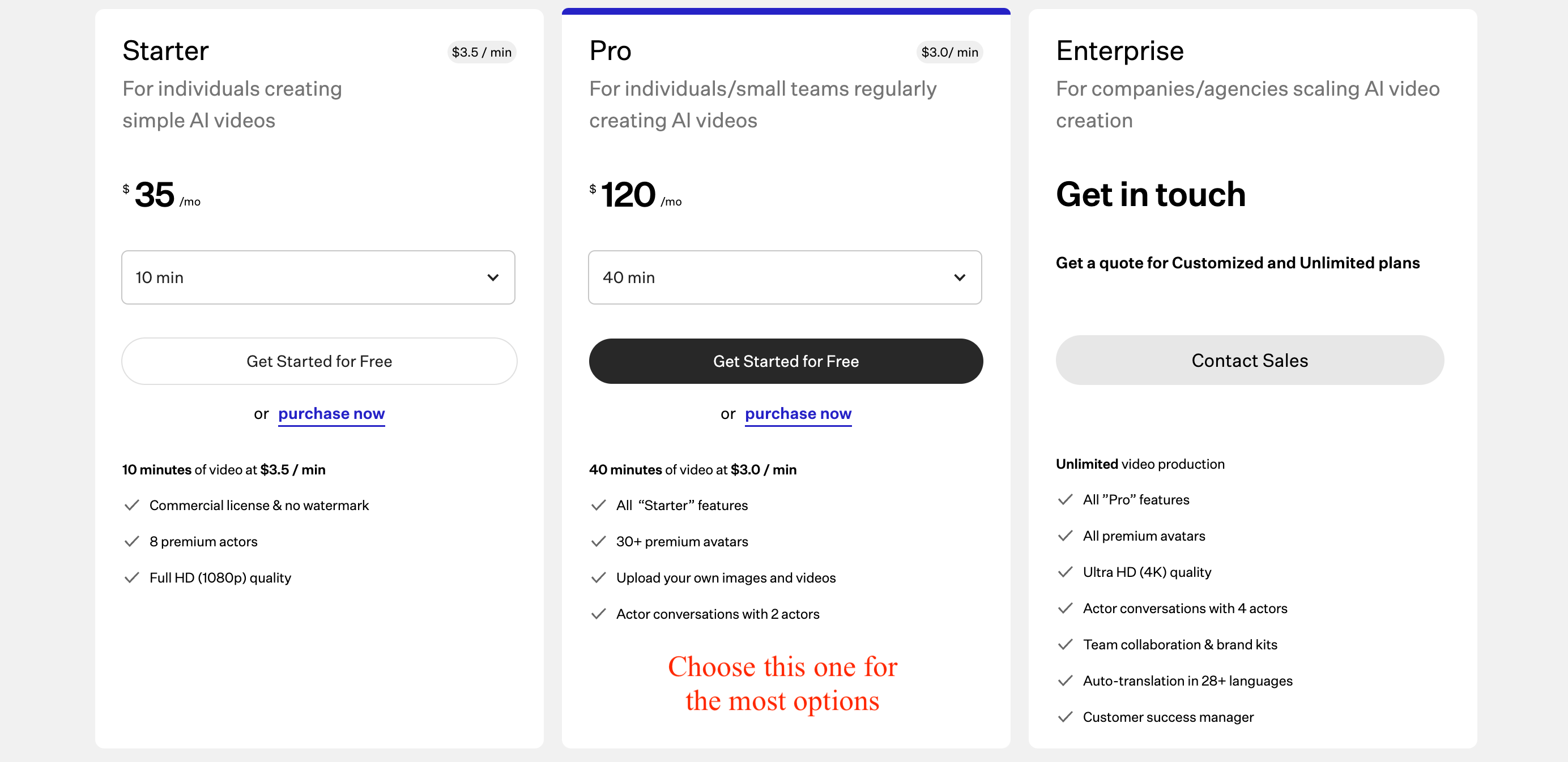 Colossyan Verdict
Businesses that create a lot of "talking-head" videos, like training, product walk-throughs, explainers, or other marketing videos will benefit from Colossyan's super-realistic AI avatars.
11. OpenToonz
AI Anime Effects

OpenToonz is a smart animation software available for free on an open-source license.
Its claim to fame is that it's used by the famous anime company Studio Ghibli to help paint and finalize scenes for their films.
Use the Japanese-made plugin to add realistic light effects and scan hand-drawn designs to animate them more easily. For someone interested in creating anime, this tool is a must-try.
So, what can you do with OpenToonz?
OpenToonz Video Examples
According to the OpenToonz website, the tool has been used in all Studio Ghibli films since Princess Mononoke, where it was first used for a few scenes.
You can see the tool in action on Shun Iwasawa's YouTube channel—he was one of the developers who worked on the tool and also worked for Ghibli as a programmer for many years.
OpenToonz Pricing
OpenToonz is available for free via an open source license.
OpenToonz Verdict
While the usefulness of this tool is probably limited to anime lovers and professional creators, anyone serious about the genre would be crazy to not try out this Ghibli-approved anime creation software.
12. RADiCAL
Animation for the Metaverse

RADiCAL is a forward-thinking AI animation software that turns video input into realistic 3D animations. Like other tools on this list, RADiCAL creates motion capture animation from any device without any special equipment.
On top of this, RADiCAL integrates with cutting-edge 3D environments, like Unreal Engine, an immersive 3D game platform, and NVIDIA Omniverse, a metaverse platform.
Here are the key features of RADiCAL:
Video Examples
You can see how the app performs in a couple of places: the RADiCAL YouTube channel, and user reviews like this one from 3D animator and YouTuber 0Calvin.
Pricing
Start for free and create up to 24 hours of content per year, but you won't be able to export your videos to other platforms. Pay $8 a month or $96 per year to get 36 hours of content plus the ability to integrate with other platforms.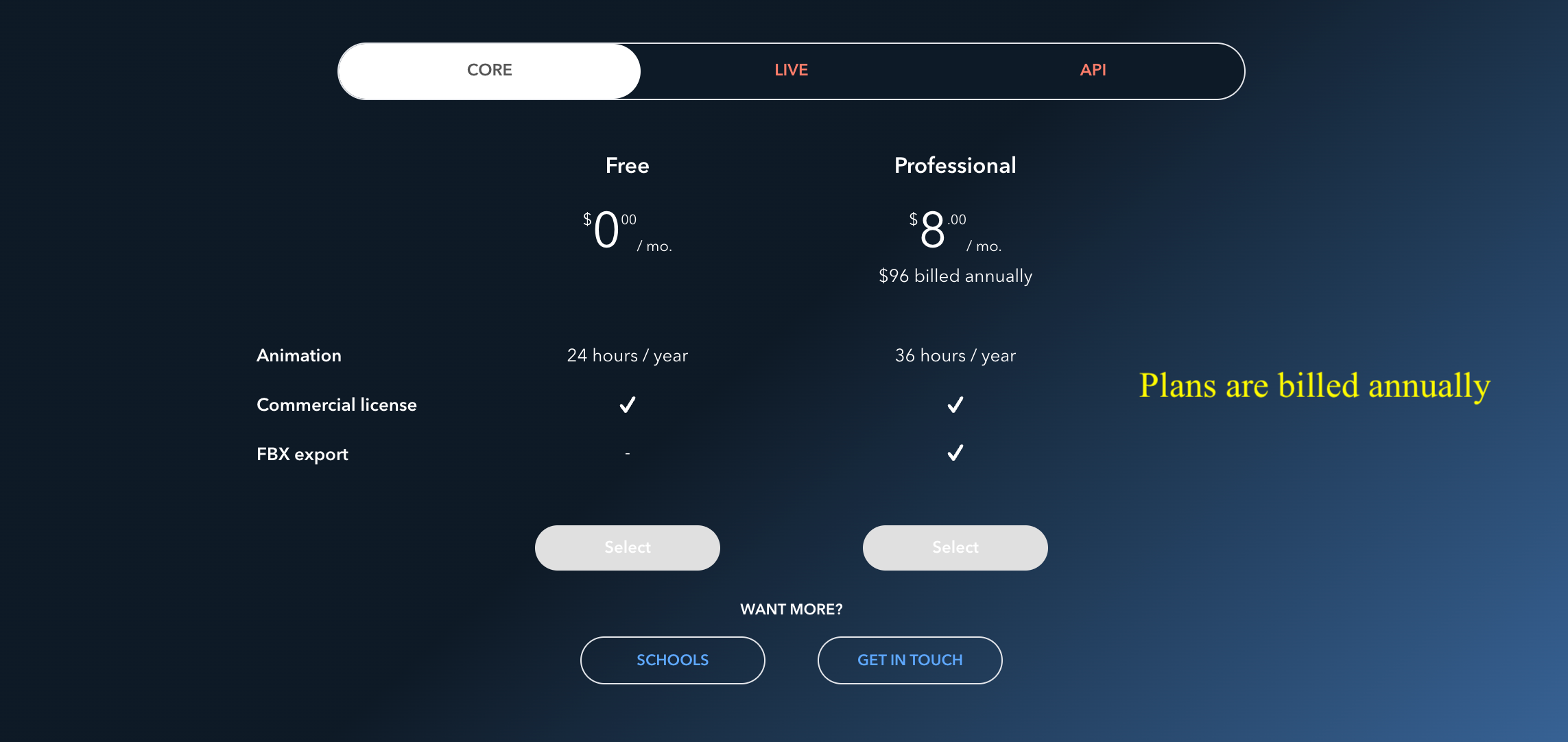 RADiCAL Verdict
Animators who want to create games or new metaverse apps will get tons of value from RADiCAL.
13. Vyond Go
Most Anticipated

Vyond is a business-friendly video creator, which up until now didn't have any special AI features.
However, all that is set to change later this year with the introduction of Vyond Go. Vyond Go promises to be a new, easy method to create high-quality videos for your business.
Simply enter a prompt (like you would do with an AI writer), and the AI animation software will create a script, storyboard, and final video according to your input.
What will you get with Vyond Go?
Video Examples
There aren't any examples yet, but I can add more examples once they become available. You can check out this blog post from Vyond to see how the app will work.
Vyond Go Pricing
Pricing details haven't been published. Sign up for the waiting list to be the first to get notified when the software is released.
Vyond Go Verdict
While the software hasn't been fully released yet, it provides a new value prop to marketers: create an entire video from a single text prompt. If this sounds like something you'd like to try, make sure to sign up for the waiting list so you can get your hands on it right away.
What is AI Animation Software?
AI animation software uses artificial intelligence to automate parts of the animation process. This can include: character design, script writing, creating scenes, adding effects, animating characters in realistic ways, adding voiceovers, and more.
Types of AI Animation Software Available
AI animation tools fall into two types: those for business and marketing use, and those for creative animations.
Here's how our top picks break down into each category:
Business and Marketing-Focused Animation Software
Creative Story-Focused Animation Tools
Great for Both Uses
Benefits of Using an AI Animation Generator
Here's how an AI animation tools can make your life easier:
Benefits for Creative Animators
Benefits for Businesses and Marketers
Who Benefits from AI Animation Software?
Almost anyone can benefit from these tools. For example:
Animators – From beginners and hobbyists to professional animators, AI-powered tools make the process faster, easier, and higher-quality
Content Creators – Content creators can add original animated content to their feeds with easy tools, such as Adobe Character Animator, for new and different content to engage their audience
Marketing Professionals – Marketing professionals can create video presentations, personalized outreach videos, and social media content fast
Sales Reps – Turning a sales presentation or explainer video into an animation can help increase engagement and boost sales. These tools make it easy to do that
Business Professionals – From CEOs to entry-level employees, these tools can make it easy to communicate ideas, get buy-in, and forge new partnerships or bring changes within an organization
Educators – Educators can engage their students with easy-to-make animated video to explain the concepts they want to teach
Students – Students can make better presentations with animation tools like these
How AI Animation Software Works
A function of AI software called natural language processing allows the software to read a text prompt and create a video based on it, or summarize a long-form piece of content into a short summary video.
Another technology called machine learning allows the software to learn from each text input it receives and video it analyzes to learn how to make natural animations, videos, and scripts.
Finally, the software can create models and algorithms that help it define how to put together a video or make an animation look realistic. (These can also be programmed in by human developers to make the process quicker.) As it gets more input, it can refine its models and algorithms to get better over time.
Frequently Asked Questions (FAQ)
What are the best AI animation tools for beginners?
I recommend Adobe Character Animator for beginners because it's easy to use and doesn't require animation experience. Moho Animation Software is a little bit more complicated, but it can help you learn how to animate while making the process easier.
Are AI animation tools difficult to learn?
Not all of them! Some AI animation tools are hard to learn for beginners, because they require you to have a background in animation. If you know what you're doing, all AI animation tools will make animating easier. If you're a beginner, Adobe Character Animator is easy to learn and use.
Can I create professional animations with AI animators?
Yes! AI animators are designed to make it faster and easier to generate characters and create realistic movements for your animations. They can be used to create small hobby projects or big feature films, and everything in between!
Will AI ever replace human animators?
I don't think so. AI is great at doing what you ask for, but it can't make creative judgements, find new inspiration that comes from human experience, or evaluate whether a story will resonate with humans or not. (After all, it's not human!) Human animators will always use AI as a tool, but human input will always be needed for a truly great story.
What are the best AI animation tools for creating animated cartoons?
Adobe Character Animator is great for beginners, while Moho Animation Software is good for animators with a little bit more background. Both will help you create engaging and creative animated cartoons.
Which AI animation software will help me create life-like human animations?
Deepmotion is an AI-powered motion-capture animator that allows you to create realistic animation from video input. If you film yourself doing the movements, it'll automatically turn it into a lifelike human character doing the same movements. You could use this to make lifelike animations or more "animated" 3D animations. (RADiCAL is also great for this.)