5 Best AI YouTube Video Maker Software (Honest Reviews)
Last Updated on June 5, 2023
Let's face it—creating high-quality YouTube videos (the kind that can increase your reach and build a following around your brand) is a pain in the you-know-what.
You've got to write the script, film, edit scenes together, add music and effects, then export each video size you need.
But what if I told you there was a better way?
We're talking the best AI YouTube video makers. These bad boys can write scripts for you, generate automatic videos from your script, turn blog posts into videos, or make it easy to edit your filmed videos with smart editing tools.
I've personally tried and tested some of the best AI video generators on the market right now, and I've chosen my top five picks that work particularly for YouTube videos.
Let's get started.
Steve AI
What is the Best AI YouTube Video Generator?
Here's the quick list if you want to scroll down to a specific platform. While this article is specific to YouTube videos, these two articles may help as well:
Best AI YouTube Video Generator
1. Steve AI
Generate Videos from Content

Steve AI helps you make professional videos from scratch in just a few minutes. They offer a ton of templates and make it easy to repurpose your written content into video in just a few clicks.
Steve AI counts Target, McDonald's, Visa and other big-name companies as clients, which adds a ton of credibility to their name.
Here's what you can do with Steve AI:
I tested out the blog post-to-video tool, and while it wasn't perfect, it did a good job of summarizing the post. (You can always customize the AI-generated script if you're not completely happy with it.)
However, it does just pump out a slide-by-slide generic video.
Steve AI Pricing
The starter plan costs $60 a month for 15 video downloads and up to 1080p quality. If you want 4K videos, you'll need to pay for the Enterprise plan (and apply for pricing). For starters, you can try out the app for free (no credit card required).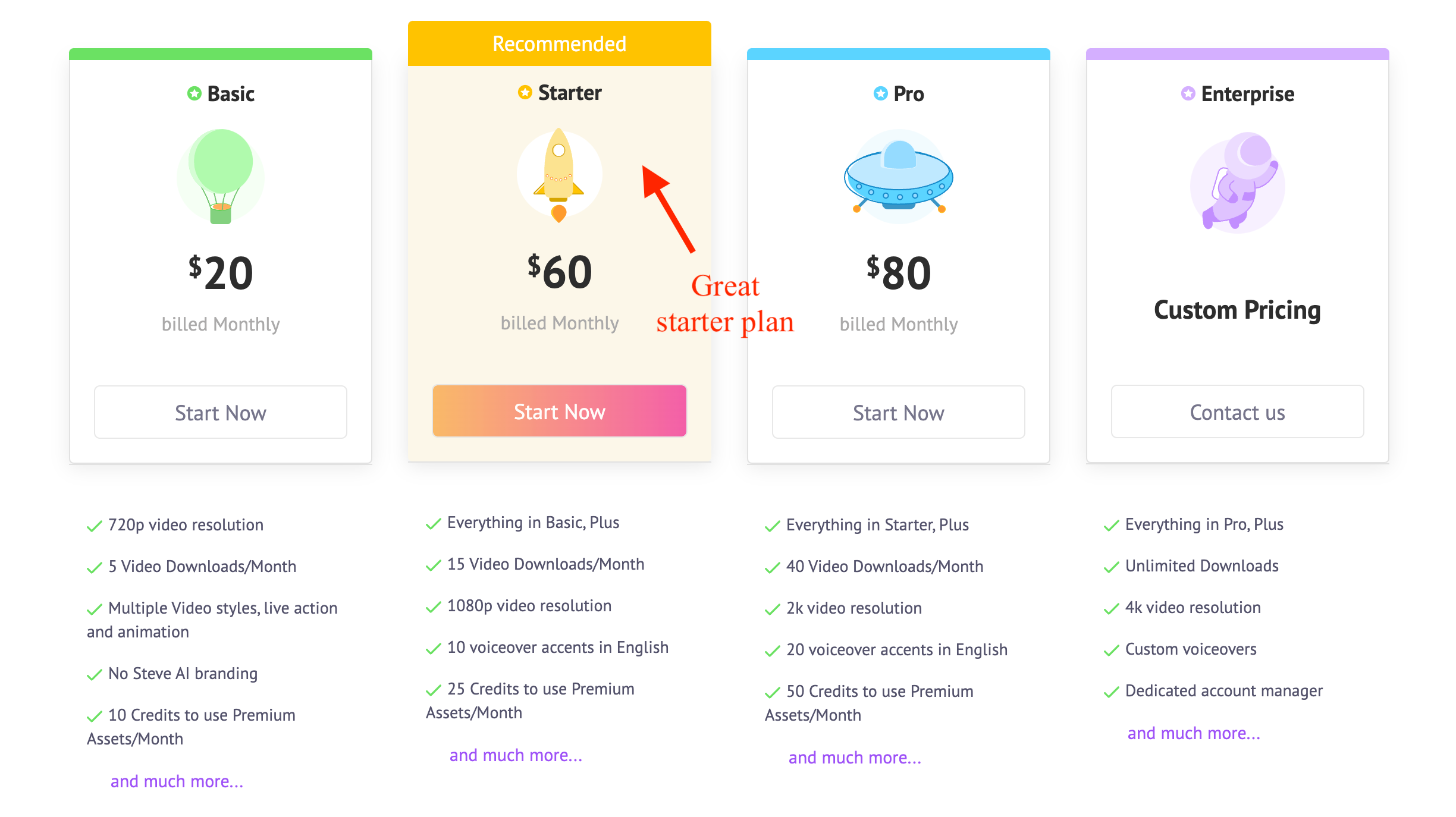 Steve AI Verdict
Steve AI is the best solution I've found for turning your blog posts into video, despite its setbacks. If you're a blogger that wants to expand the reach of your content, you owe it to yourself to check out this powerful AI video generator.
AI Avatar Videos
These days, you can find a ton of apps that use AI to generate realistic avatars for video content.
But when I saw Colossyan's sample videos, I was floored. This app makes the most realistic AI avatars I've seen so far (but feel free to check out some of the other competitors here). If you don't like being behind the camera for your YouTube videos, then this may be the perfect option for you.

Here's what I liked about Colossyan:
Colossyan Pricing
You can start with the free plan and use 2 avatars and up to 3 scenes, plus a watermark on your videos. If you're ready to use it professionally, the Basic plan at $30 per month will get you started with 12 avatars, 6 scenes per video, and up to 10 minute videos. (Prices vary according to how long your videos are.)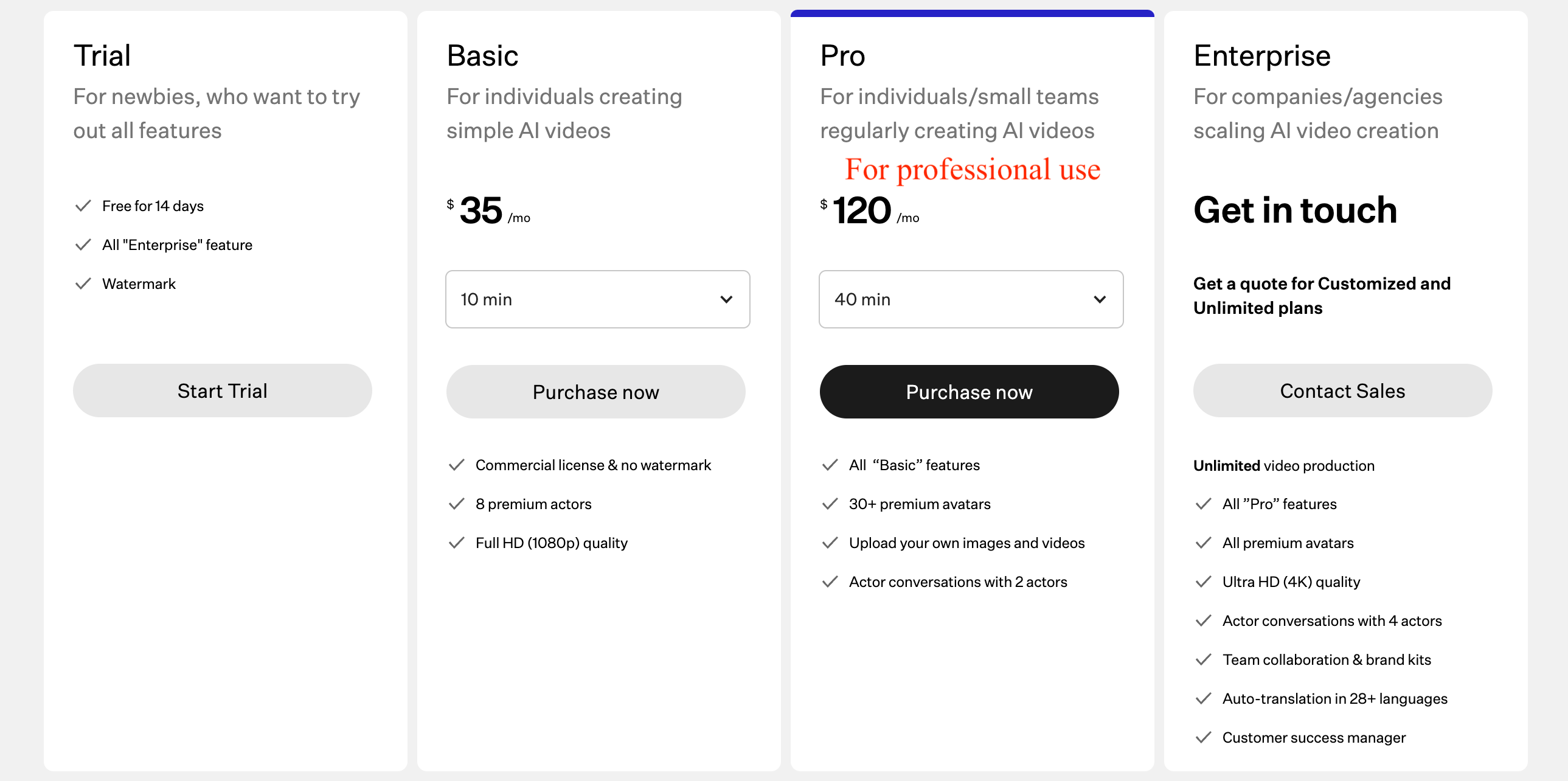 Colossyan Verdict
If you're wanting to create tutorial videos, training videos, or other talking-head-style presentation videos for your business, Colossyan will give you the best-looking, most realistic AI avatars for your project.
Best Script & Video Generator

InVideo is a fully-featured video creation suite that allows you to generate, edit, and publish high-quality videos quickly and easily.
What InVideo excels in is its AI scriptwriting feature. It can generate an entire script for your video from a prompt, and it's really good at it, too.
Once you have a script, you can generate a full video with automatic scene changes and effects. (You can also generate videos from scripts you write yourself.)
InVideo Features:
InVideo pricing is simple and straightforward. If you're okay with having a watermark on your videos, you can use all the features for free. Upgrade to the Business plan for $30 a month to remove the watermark, download up to 60 HD videos per month, and get access to premium stock media.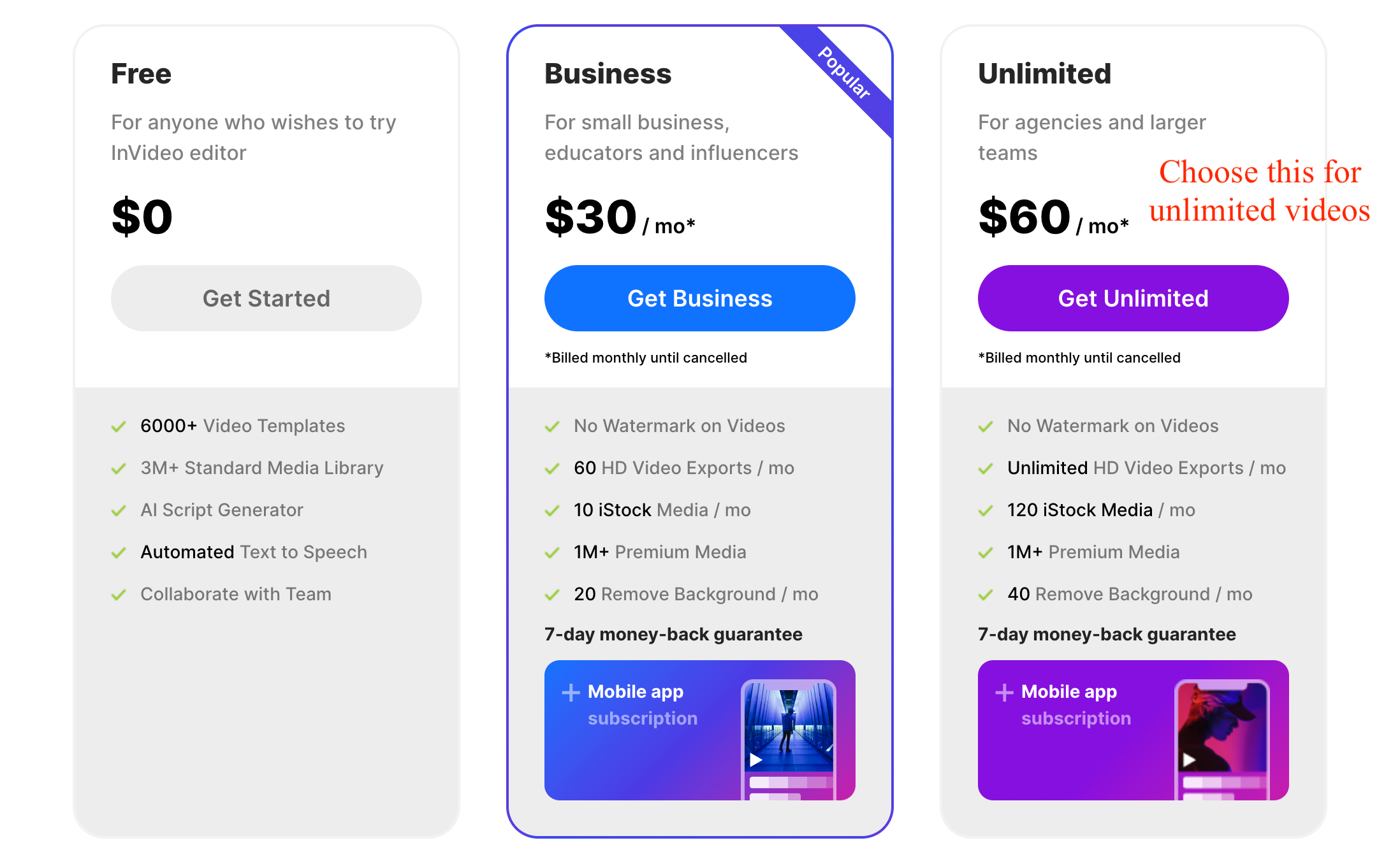 InVideo Verdict
InVideo is great for people who want to combine the power of an AI scriptwriter with an AI video generator. This app does it all and makes it super easy to create stunning videos from a single text script.
5. Descript
Fastest Video Editor

Descript makes audio and video editing as simple as editing a Google Doc.
How to use it? Upload your video clips and Descript will automatically transcribe your audio into an editable document. Deleting a word from the document will delete it from your video. It's as easy as that!
Descript Features:
Descript Pricing
You can export one video per month for free, or upgrade to the Creator plan at $15 per user per month for up to 10 hours of transcription and unlimited video downloads in 4K.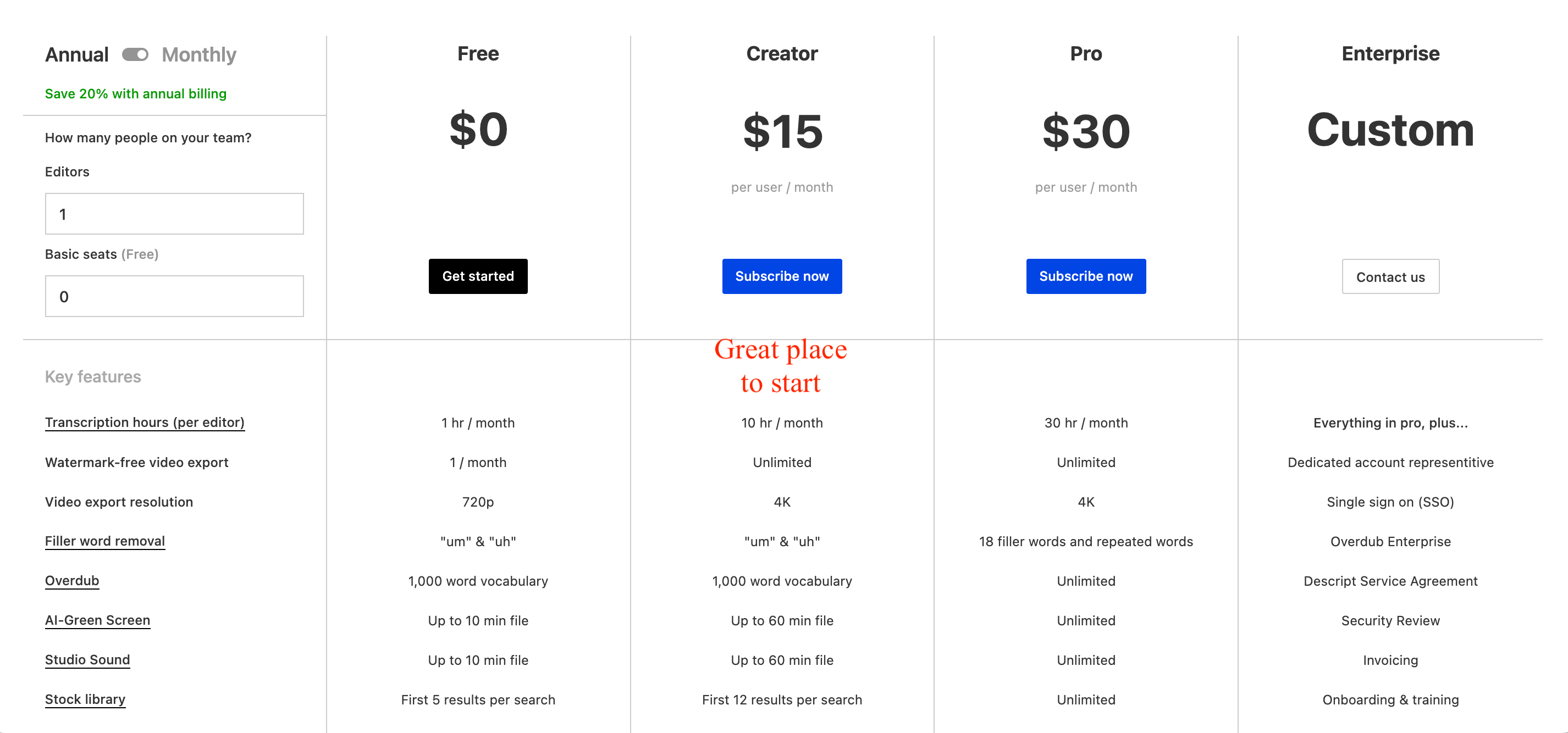 Descript Verdict
For long-form video and podcast editing, Descript is certainly the most innovative and possibly the best video editing experience for long-form video. This would work best for videos that feature a lot of talking or long interviews that need to be edited and polished for publishing.
What is an AI YouTube Video Maker?
These AI video makers create video content for YouTube using a combination of video editing algorithms and artificial intelligence.
Some can read a script and generate a full video from it, while others can add subtitles, effects, or other elements intelligently based on the content.
These apps make it super easy to create YouTube videos and social media content.
How AI Video Generators Make Video Editing Easier
Frequently Asked Questions (FAQs)
What apps are best for AI video editing?
I recommend Wondershare Filmora and Descript for AI video editing. Wondershare Filmora works best for content creators who want to make creative videos or businesses who want to add a lot of visual effects to videos, while Descript is better for editing and trimming down long-form videos with a lot of speaking.
Are there AI apps that can make YouTube videos?
Yes, there are a ton! I recommend these top 5 apps for creating YouTube videos: Steve AI, Colossyan, InVideo, Wondershare Filmora, and Descript.
Which AI video generators can make YouTube shorts?
Most AI video generators can create videos in multiple sizes. The top 3 sizes are: 16:9 for traditional YouTube videos, 9:16 for YouTube shorts and Instagram Reels, and 1:1 (square) for social media videos.
Is there a free AI video generator?
Yes! Many AI video generators offer a free plan, including Colossyan, InVideo, and Descript.