9 Best AI Story Generator Tools For Writing Better Stories
Last Updated on May 31, 2023
Everyone loves a good story.
Maybe you have amazing plot ideas but are having a hard time piecing them together or are just crunched for time. Well, then, an AI story generator may be your answer.
These apps allow you to generate ideas, outline a story from beginning to end, and then write the story line-by-line using the power of AI.
I've tested all the top writing tools extensively so that I can give you the best hands-on honest review to help you make your decision. If you're looking to create a story or script, then these will be the options best suited for your needs!
Disclaimer: This post may contain affiliate links, which means I'll receive a commission if you purchase through my links, at no extra cost to you. Please read full disclosure for more information.
What is the Best AI Story Generator?
If you're looking to tell a story or create a script, these are your best options. But I've also ranked the best for writing a novel and great. copy you can also check out.
1. Novel AI
Best for Novelists

Novel AI is an AI novel writing software specifically designed for story writers. It has some fun extra features that writers will enjoy, plus it's quite affordable compared to other AI writers on the market.
Novel AI Features:
Novel AI Pricing
All paid plans provide unlimited text generation, but each tier increases the AI's memory capacity and storytelling ability. The lowest tier is $10 a month with a memory of about 4000 characters, and the highest is $25 for an 8000-character memory.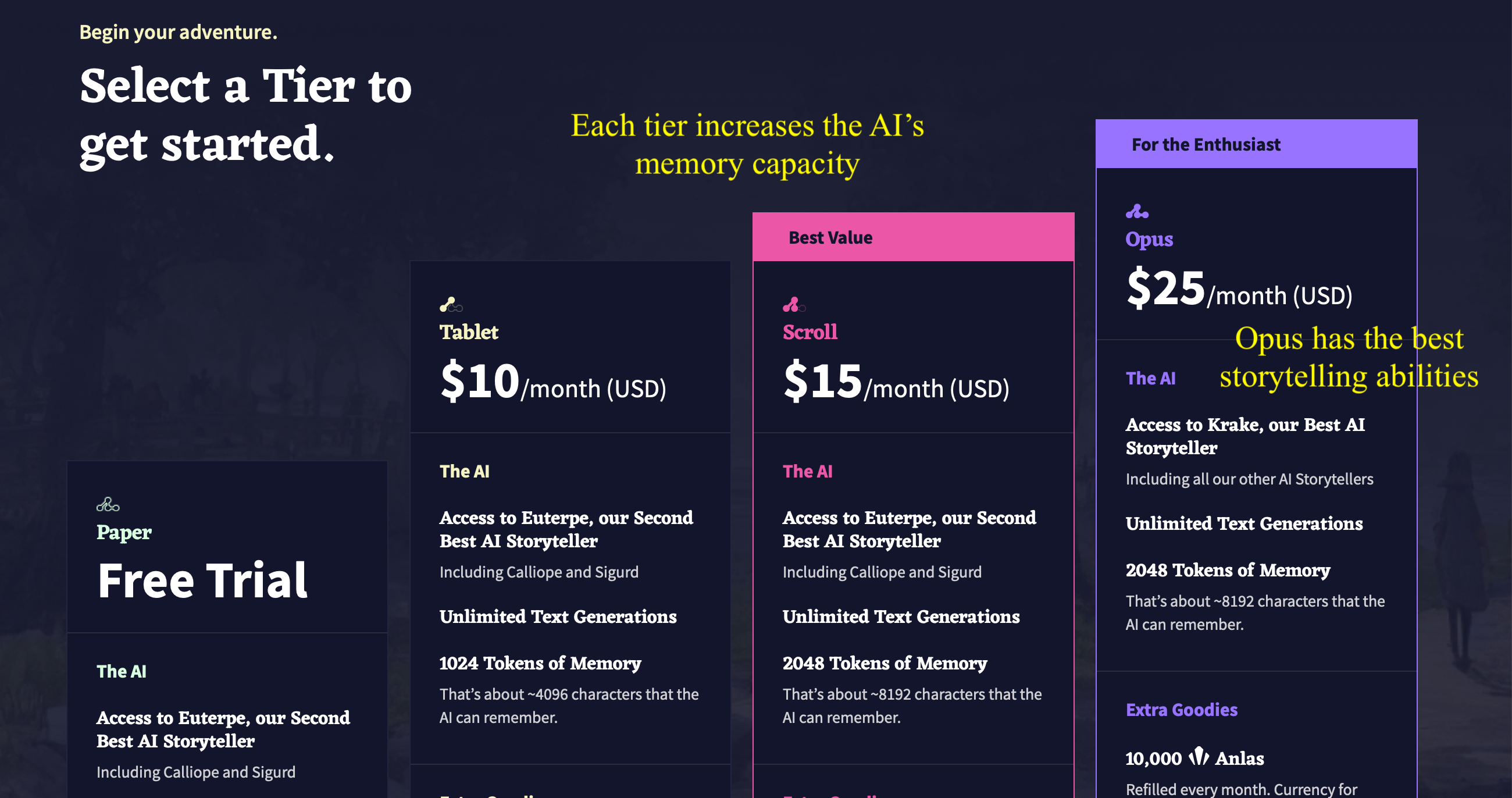 Verdict
Novel AI might be the best AI story generator for novelists. It's affordable, has a ton of helpful features, and it's fun to use. If you just want to write stories and nothing else, Novel AI is an excellent choice.
2. Jasper
Best Overall AI Writer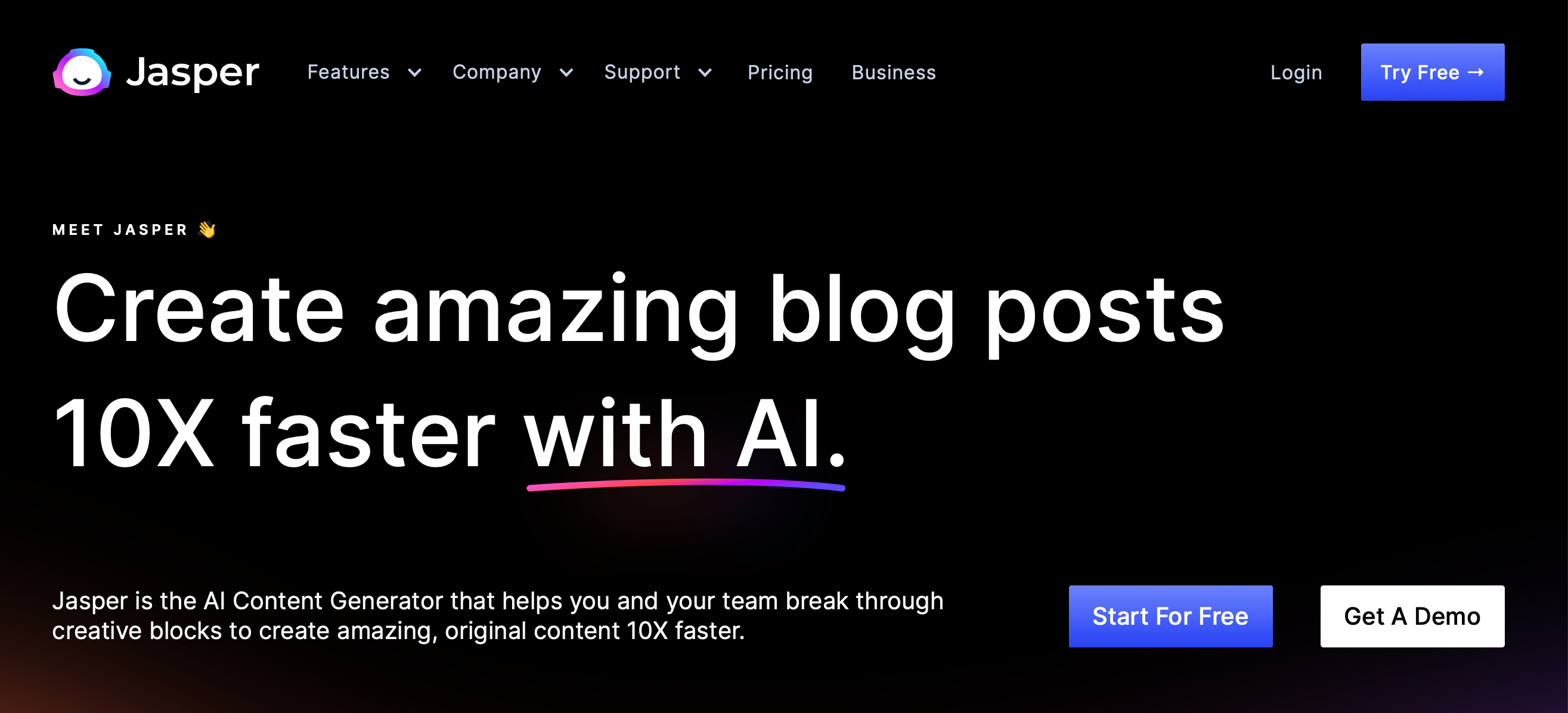 Jasper is the best overall AI writer on the market today. It has tons of templates and use cases that can help you write anything you need, from stories to web page copy to social media posts and more.
The Creative Story template inside Jasper is the best choice for generating stories. I've also written a full review of Jasper if you want to learn more about it.
Here are some ways Jasper AI shines as a story generator tool:
Jasper Pricing
Jasper follows a pay-as-you-go model, but plans start at $59 a month for 50,000 words generated.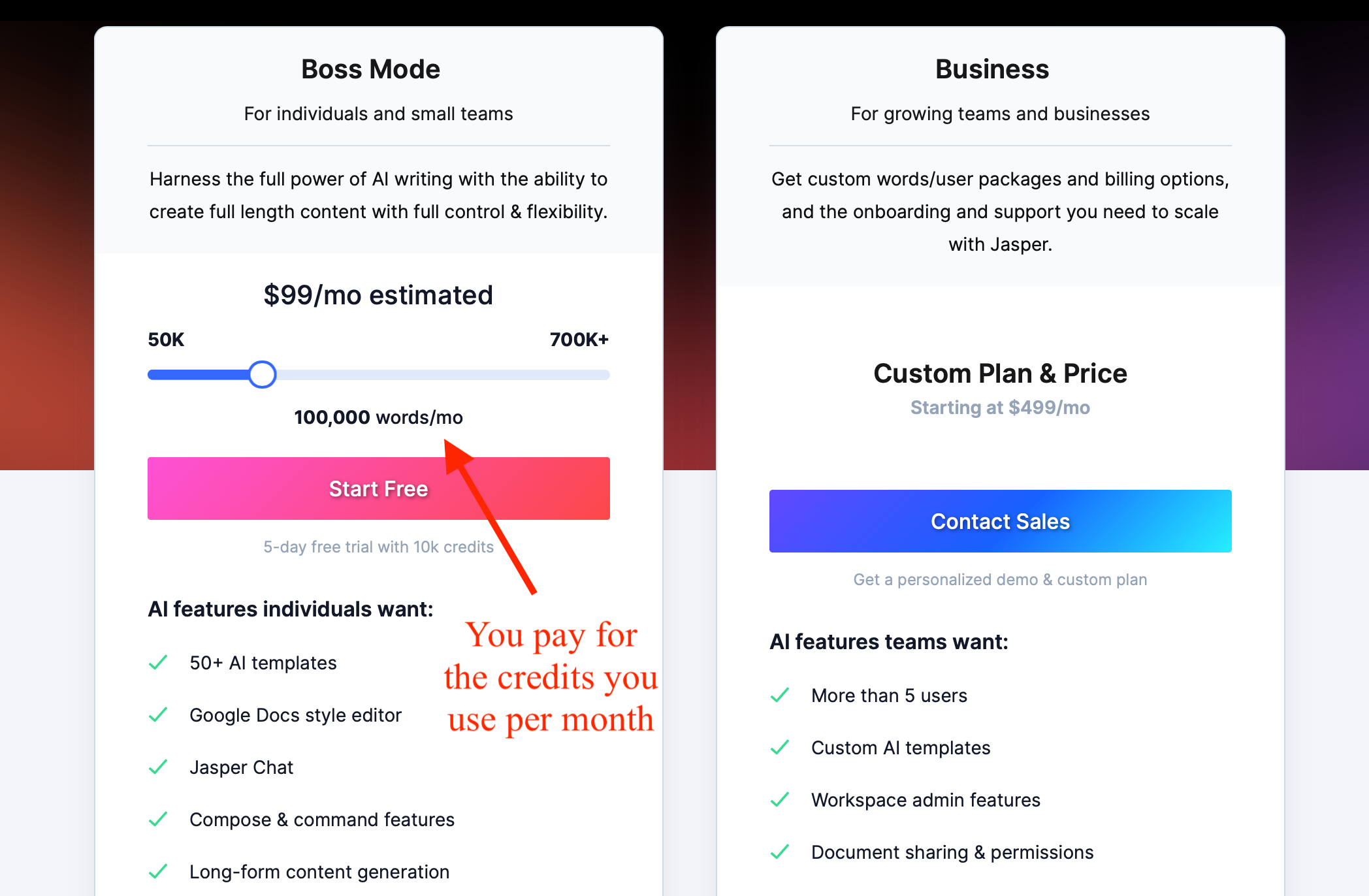 Verdict
Jasper is the king of AI content generation, so if you're looking to write stories alongside other kinds of high-quality writing, this is the choice for you.
3. Copy AI
Best for Copywriters

Copy AI is an AI writer that's really dialed it in, in terms of copywriting. With more than 90 copy- and marketing-focused tools and templates (more than Jasper), you'll have everything you need to create high-impact marketing copy for your business or organization. I've also written a full, in-depth review of Copy AI if you want to see how it stood up to testing, or see it compared against Jasper here.
While Copy AI is not specifically designed to be a story writer, it can help you craft stories for marketing content with its Hero Story tools.
Here's what I like about Copy AI:
Pricing
Copy AI has super-simplified pricing: the sole Pro plan gives you unlimited characters and access to all tools and templates for $49 a month.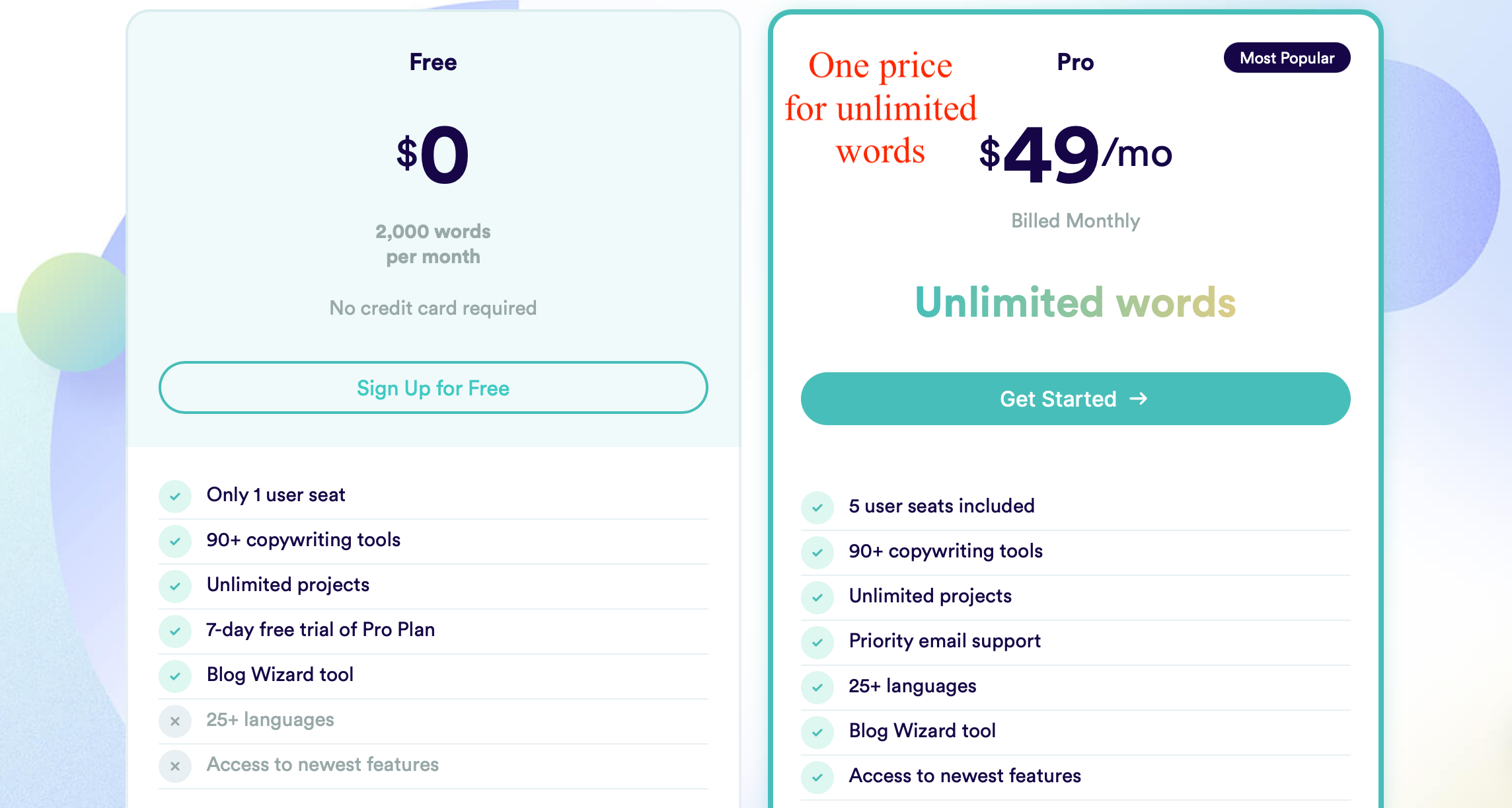 Verdict
Copy AI is the best AI writer for marketing copy. While it doesn't have specific creative story templates, it can help you develop a compelling hero story, and excellent sales copy to match.
4. Sudowrite
Best for Beginners

Sudowrite is a powerful AI story generator that makes it easy for newbie authors to write engaging stories. Not only does it write the story with you, but it also helps you to become a better writer with advanced story-writing features.
Here's what I found helpful from Sudowrite:
Sudowrite Pricing
Long-form story writers would benefit most from the Professional plan, which gives you 90,000 words for $29 a month.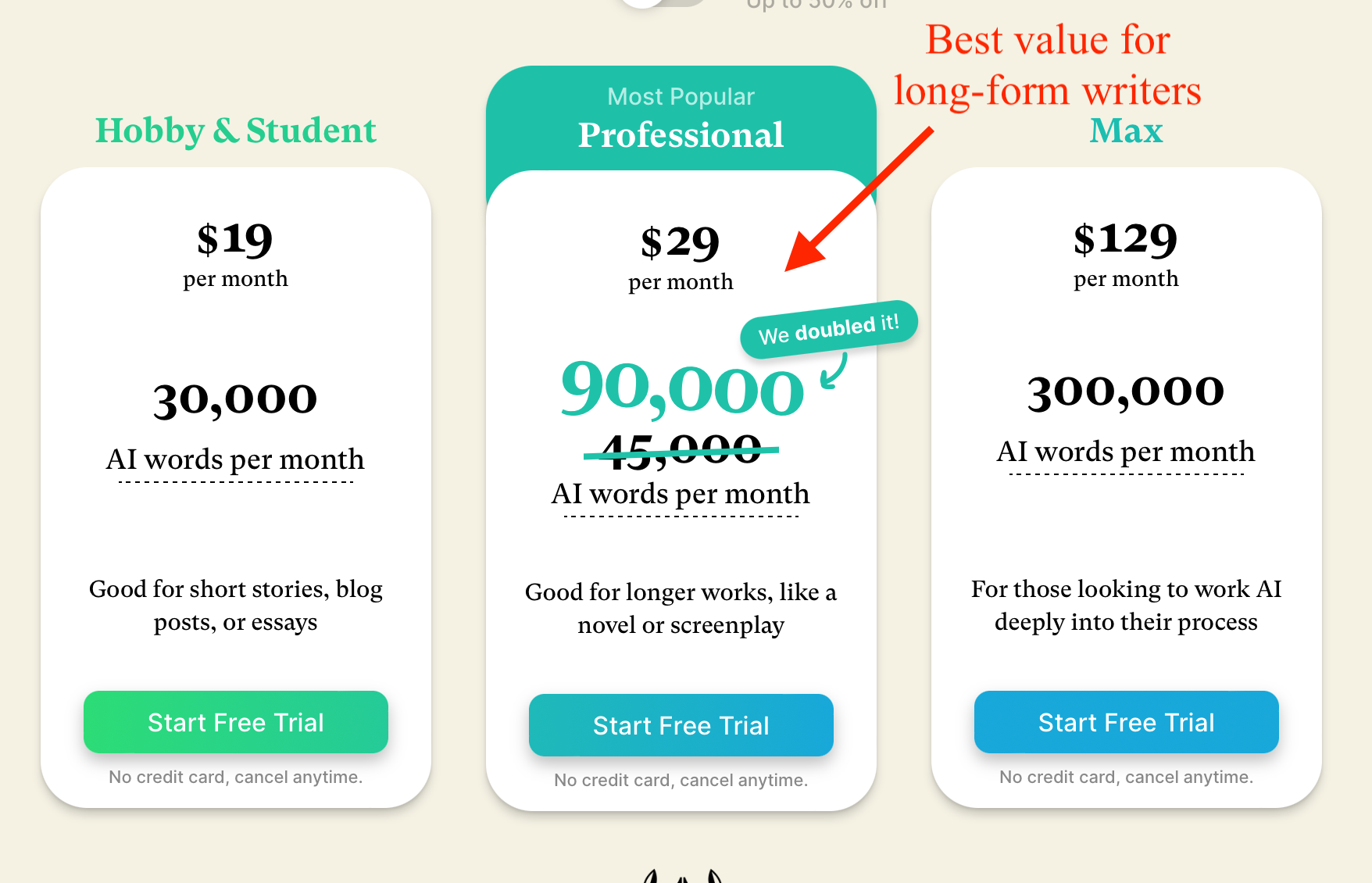 Verdict
If you're a beginner at writing stories and want a story generator that can walk you through the process and help you write better, Sudowrite is the best AI story generator for you.
5. Sassbook
Best for Self-Published Authors

The Sassbook suite of apps encompasses four different writing tools:
One subscription gets you access to all four tools at a relatively affordable price.
Here's the quick and dirty on Sassbook's AI story generator:
Sassbook Pricing
You can generate text 20 times every day for free (with 50 words per generation). Upgrade to the paid plan at $39 a month for unlimited words.
Verdict
For self-published authors who want an AI boost in their writing and marketing workflows, Sassbook provides a great collection of tools to help you do just that.
6. Subtxt
Best for Outlining

Subtxt operates differently from other AI story generator tools—instead of writing a story from scratch, it helps you generate strong story outlines based on proven models, so you can write from a proven framework.
Here are some of Subtxt's key features:
Subtxt Pricing
The Basic plan, for $25 a month, provides you with 550+ story structures and 100 AI tokens per month. The Unlimited plan bumps it up to 32,000(!) story structures and unlimited AI tokens, plus a once-a-year story consultation with the Subtxt team.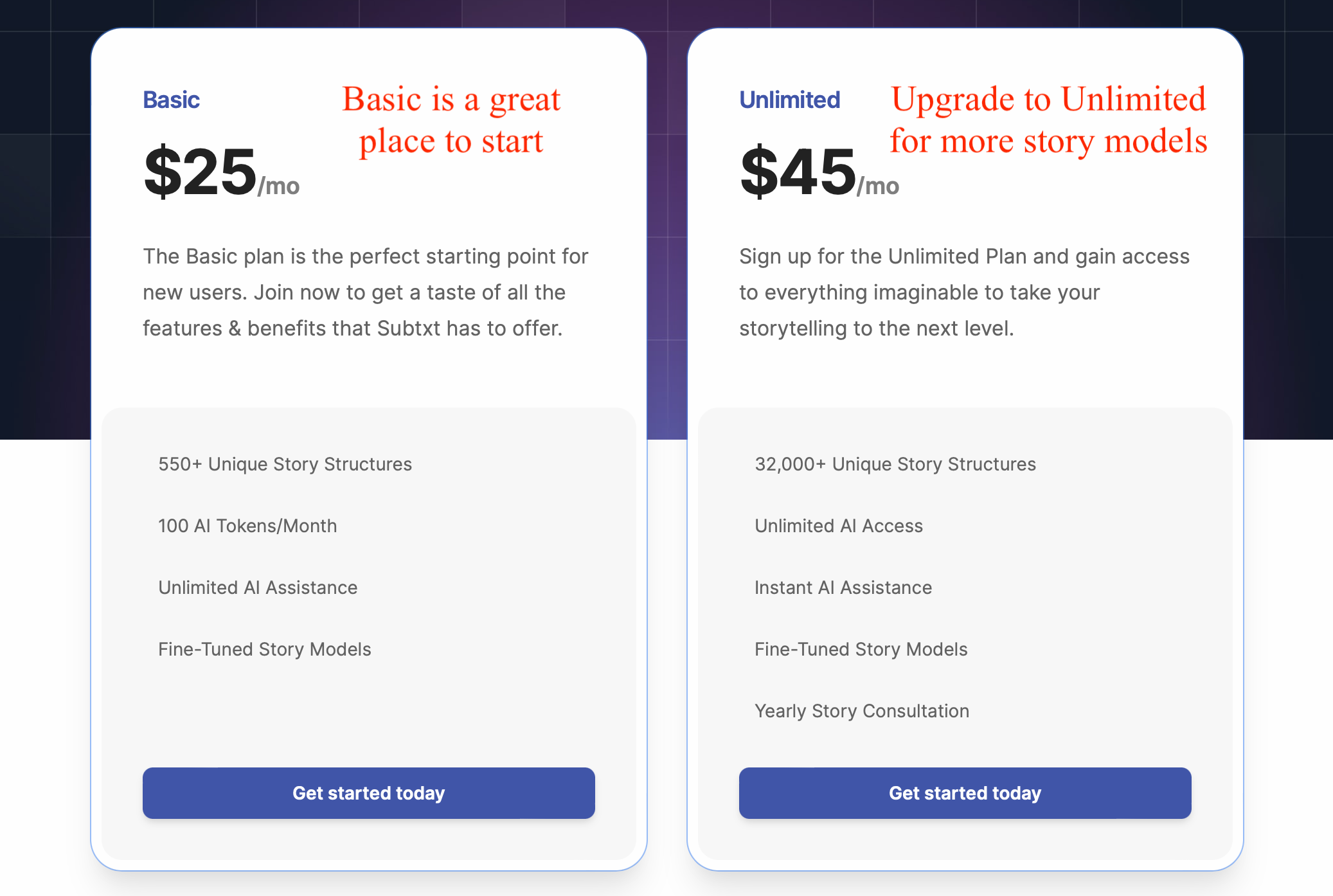 Verdict
If you're a serious storyteller or scriptwriter who wants to integrate AI tools into a professional workflow, Subtxt is one of the best AI story generator tools money can buy.
7. AI Dungeon
Best for Story Inspiration

AI Dungeon used to be an AI storytelling app, but it's recently transformed into a game-focused company. Inside the app, you can create and access 80s-style text-based adventure games designed by members of the community.
Though the app is mostly focused on gameplay now, you can still use it to generate story ideas.
Here's what you can do in AI Dungeon:
AI Dungeon Pricing
You can use AI Dungeon for free or upgrade to a paid plan for more features, starting at $10 a month for higher speed and more monthly credits.

Verdict
AI Dungeon might be helpful for some writers who want to find more ideas and enjoy text-based adventure gameplay. Since it's available for free, it's worth checking out to see if you like it.
8. Rytr
Best Budget AI Writer

Rytr (pronounced "writer") is a general-purpose AI writer, similar to Jasper, but its defining characteristic is its affordable price.
With Rytr, you still get high-quality writing similar to other tools, plus a collection of templates, but at a much lower price. I've written a whole review about Rytr if you want more details.
Writers will get the most use out of the Story Plot use case provided in the app.
Here's what I like about Rytr:
Rytr Pricing
The Saver plan gives you the best value with up to 100K characters per month for just $9. Each paid plan gives you access to all use cases, languages, and tones, plus the create your own use case feature.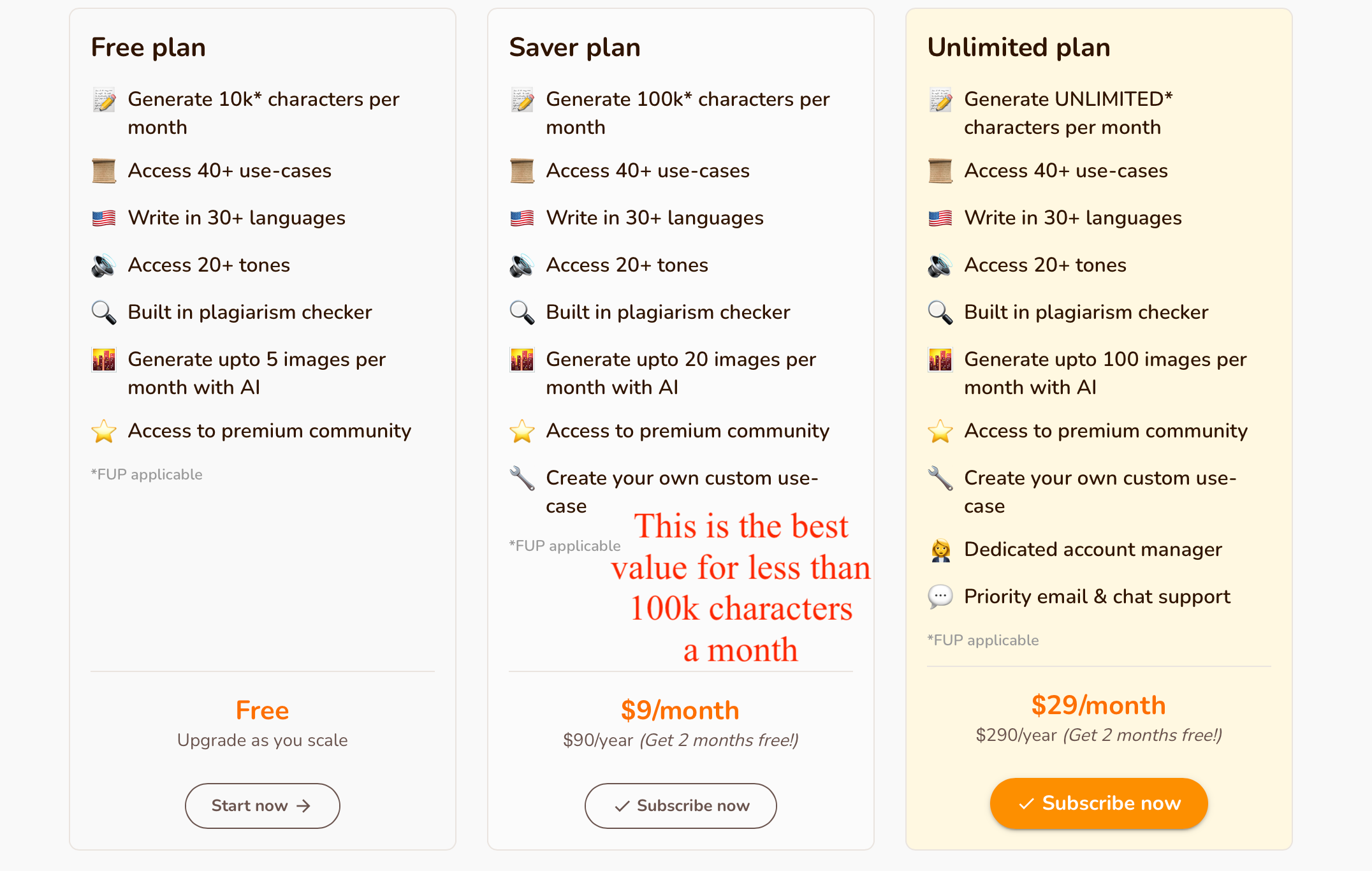 Verdict
Hands down, the robust-yet-affordable Rytr app is the best AI story generator for writers on a budget.
9. Narrative Device
Best Idea Generator

Narrative Device is a simple, one-page story idea generator developed by a Ph.D. student at the University of New South Wales in Sydney, Australia, as part of his research.
To use the AI story generator, simply enter two keywords you want the AI engine to combine into a unique story idea.
Here's the summary of what you get:
Narrative Device Pricing
A free signup gets you five complimentary generations. To keep using the app, you can purchase 100 generations at a time for $5.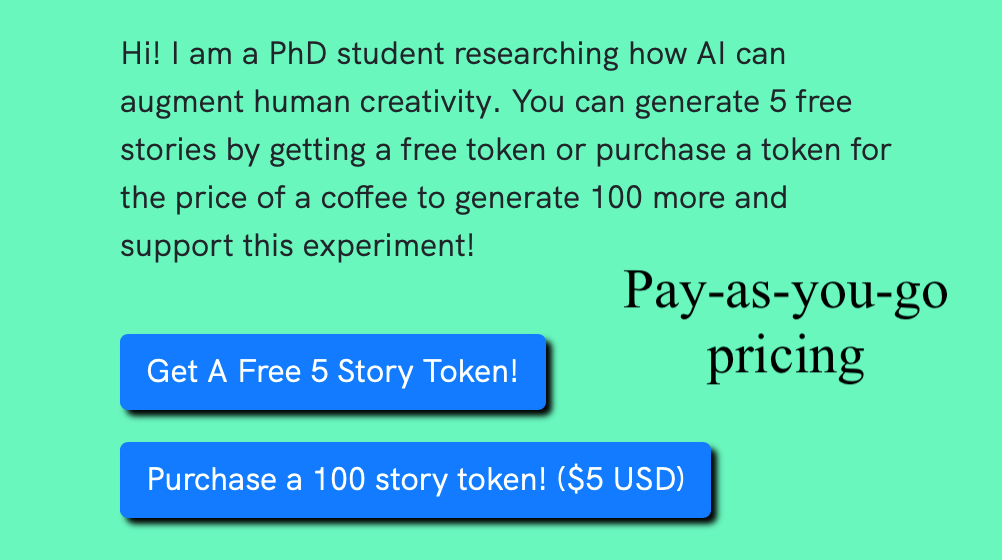 Verdict
When you're stuck on a story idea and want to see what AI software can come up with, Narrative Device might be just the right tool for the job.
What is an AI Story Generator Tool?
An AI story generator tool uses the power of AI to write creative stories, which you can use for novels, short stories, plays, movie scripts, marketing materials, and more.
Depending on the app you use, AI story generators can:
You can see more features in my review of the best AI story generators (found above).
When you start using a story generator in your workflow, here are the benefits you can expect to see:
Benefits of AI Story Generator Tools
Who Are AI Story Generators Best For?
How Do AI Story Generators Work?
Here's how to use an AI story generator:
When you use an AI story generator, you'll be asked for a prompt. The prompt may vary depending on the software you use.
You might give the AI writer a command like, "Write me a story about a girl who meets a boy in a small town during Christmas." Or you might be asked to write a summary of the story you want to write.
If you want to generate ideas, you might be asked to give a few keywords.
Once you've submitted your prompt, the AI writer will begin to write a story, list of ideas, or other output based on your parameters.
After it's done, you can usually edit the story or ask the AI writing assistant to rewrite parts of the text.
Now here's how the technology works:
AI story generators are trained to write stories by learning from thousands (if not millions) of stories that have already been written. This is made possible by machine learning, which allows a computer to learn from the information it processes and become smarter over time.
These AI writing tools understand language with the power of natural language processing. AI programs are trained on large language models, which help them to understand how languages work. Then they can use their understanding of language to read text, parse meaning, learn new words and phrases, and craft human-like text based on a prompt.
Frequently Asked Questions (FAQs)
How Do I Create an AI Story?
The best way to write a story with an AI tool is by using an AI story writer. These apps can help generate ideas, write scenes and dialogue, and suggest ways to improve an already-written story. You can learn more in this article, where I share the best AI story generators available on the market today.
What is the Best Free Story Generator?
Novel AI is one of the best AI story-writing tools available, and you can try it out for free for up to 100 generations. The AI writing software Rytr also has a generous free plan, allowing you to generate up to 10,000 characters per month.
How Do You Make an AI Writer Generate a Story?
If you're using a general-use AI writer, you'll need to choose a story template or give it a command like, "Write me a story about XYZ." If you're using a specialized AI story generator like Novel AI or Sudowrite, you'll simply fill out a prompt, and the app will start writing a story for you.
Which AI Story Generator is Best for Screenwriters?
The AI story writing app Subtxt is designed with screenwriters in mind. It starts by creating a solid plot outline based on other high-performing movies and novels, then splits it into individual scenes, so you know exactly what to write.