7 Best AI Trading Softwares To Automate Your Portfolio
Last Updated on January 19, 2023
I'm not sure about you, but when I think of day-trading and stockbrokers I instantly think of the movie Wolf of Wallstreet.
Picture it now. The cinematic perfection of a room full of hundreds of stockbrokers screaming across the phone in what seems like pure chaos. The market closing bell sounds, and the one-and-only Leonardo DiCaprio himself stands and breathes in the power of his money-making empire (later throwing dollar bills off the side of his yacht because he can).
And what's amazing is that this scene was playing out just less than thirty years ago.
Since then, stock trading joined the computational evolution and traded in their forms and phones for online platforms, with automation accounting for more than 80% of the market. Transparency and efficiency took over, yet Wall Street remains as unpredictable and volatile as ever.
And now were set to face the next technological evolution- artificial intelligence. This begs the question, what will trading look like in 2030 or 2040? With AI harnessing its analytic and predictive intelligence, I think we'll see that the finance sector is set to embrace another massive shift.
If you're a day trader, stock broker, or simply looking to invest your own money, then AI trading software may just be the answer to automate and increase your rate of returns on investments.
Let's dive into the top AI Trading software on the market today.
Disclaimer: Nothing on this page or site constitutes as professional financial advice. Be sure to consult a professional financial advisor or invest at your own risk. This post may contain affiliate links, which means I'll receive a commission if you purchase through my links, at no extra cost to you. Please read full disclosure for more information.
What Are The Best AI Trading Softwares?
1. Trade Ideas
Best for Advanced Traders

Trade Ideas is an AI platform that automatically helps active traders find stock market trade ideas. You can choose from tons of preset scanners to find stocks based on proven strategies, or use the controls to create your own custom trading strategies. 
On the Premium plan, you get access to Holly, an AI Investment Discovery Engine that uses machine learning and 60 algorithms to give you buy and sell signals in real-time.
This platform supports stock trading, options trading, and crypto trading.
Here are some other features I like about Trade Ideas:
Pricing: There are two payment plans depending on your needs. The Standard Plan is $118 a month, but you'll need the $228 Premium subscription to use the AI Assistant Holly. At the time of writing, Trade Ideas offers a 2-week trial for $11.11.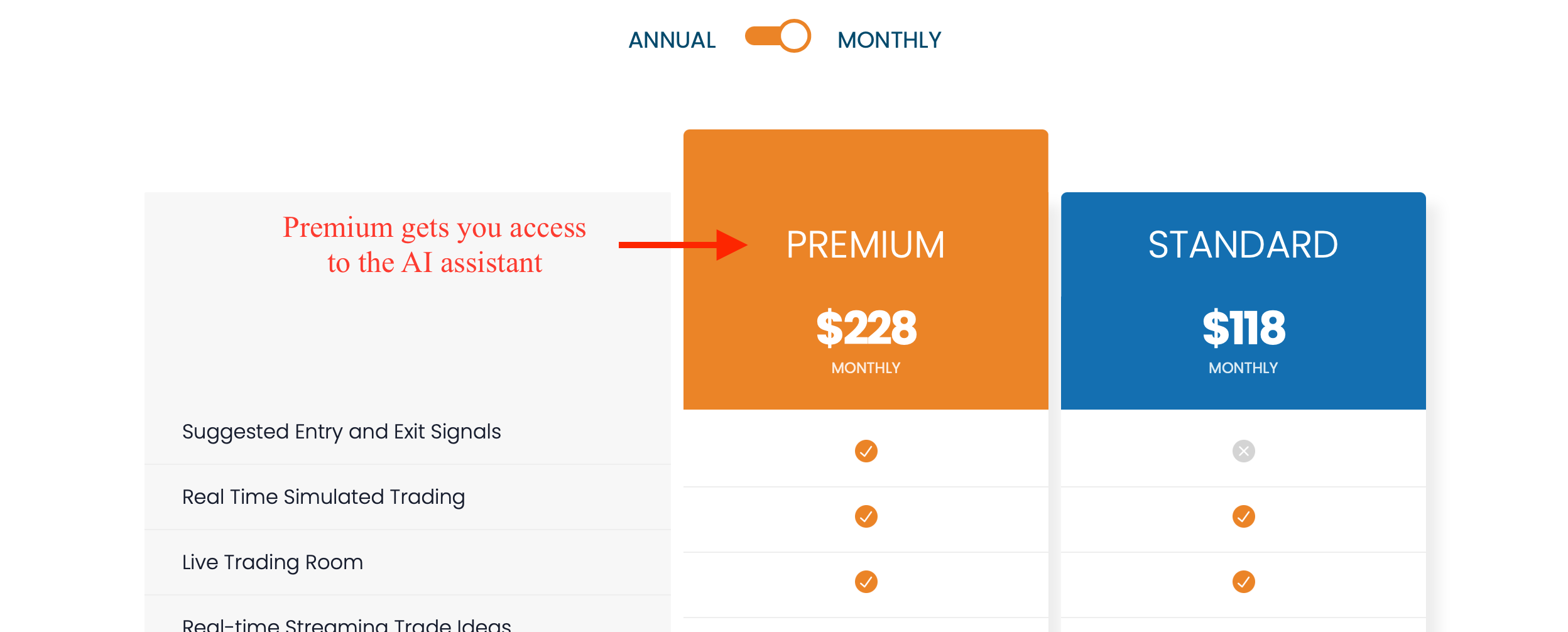 Final Verdict
Trade Ideas is an excellent AI software for an active trader who wants the best stock scanners and other cutting-edge AI tools (and doesn't mind using Windows software). Many people regard this as the best AI trading software on the market.
2. TrendSpider
Best for Charting

TrendSpider is an AI trading tool that allows you to create detailed charts to better predict where the market is going. The app draws automatic trend lines and other indicators based on criteria you set, and you can set alerts to ping your phone or computer whenever the price hits certain levels.
TrendSpider supports stock trading, crypto trading, and forex trading.
Here are some other features I like about TrendSpider:
Pricing: TrendSpider offers a 7-day trial, after which you can choose one of 3 plans. The entry-level Premium Plan is affordable at just $39 a month.
Final Verdict
TrendSpider is perfect for the active trader who loves charts and wants the best charting tool plus all the standard features of other trading apps. It's also great for those who want a modern interface and a mobile app.
3. Tradytics
Best All-in-One Tool for the Money

Tradytics (pronounced "tray-DEE-tics") is an AI-powered trading toolkit that gives you beautiful visualizations of tons of metrics and features a suite of impressively accurate AI trend-predicting bots. In addition, it's more affordable than other similar apps, which makes it an excellent choice for a trader on a budget.
Tradytics supports stock trading, options trading, and crypto trading.
Here are some more features I like about Tradytics:
Pricing: Tradytics offers a 7-day trial for $7. After that, you get full access to the tools for $49 a month. For the number of tools you get, this is a bargain.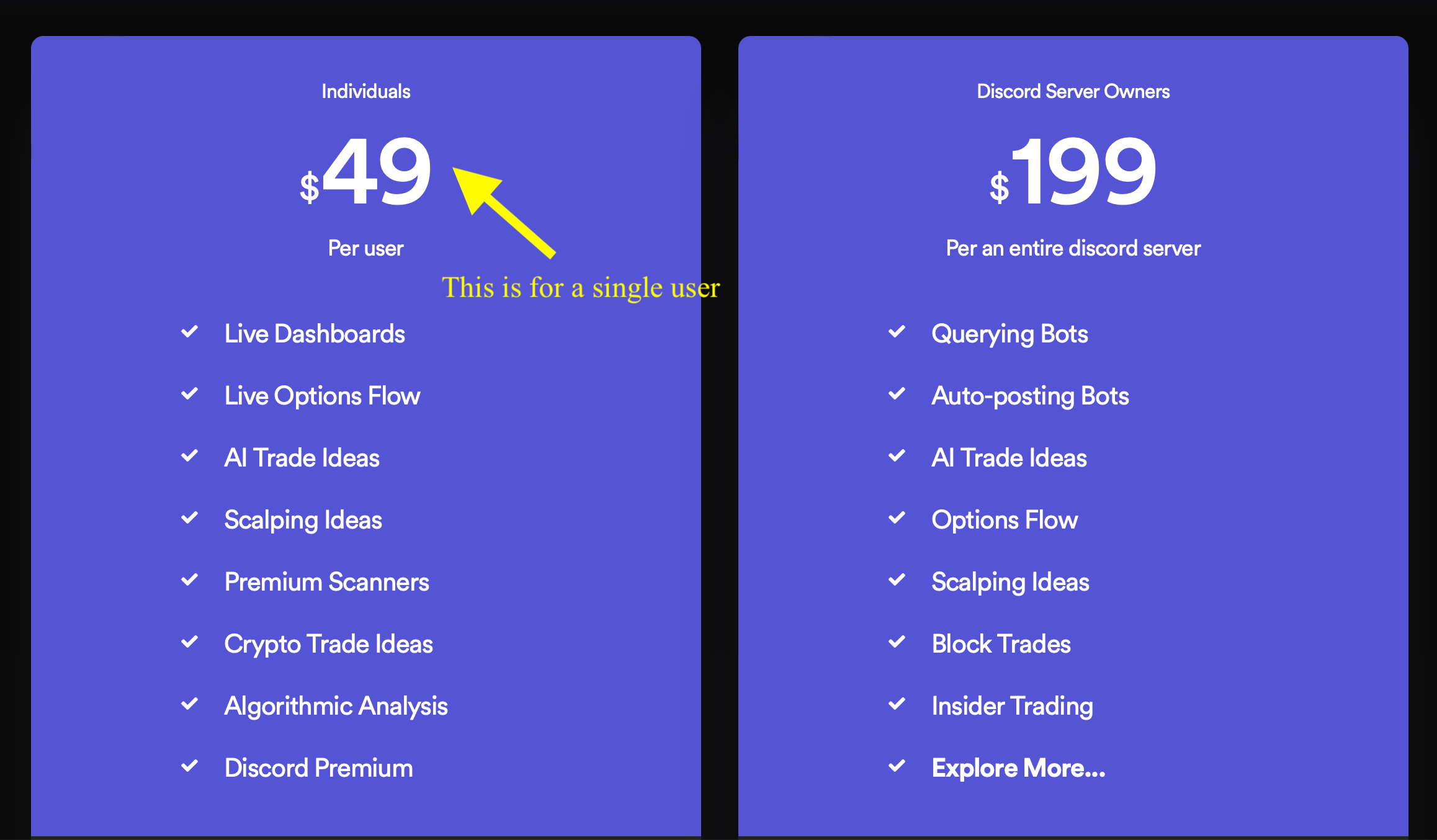 Final Verdict
Tradytics is the best AI trading software for a trader who wants to explore data visually, have a full suite of tools, and use AI to automate their portfolio, but doesn't want to break the bank.
4. Black Box Stocks
Best for Beginners

Black Box Stocks is an AI-powered stocks and options scanner that features a friendly community of traders that will support you to develop your own trading strategy. They are known for having a positive and active community with great moderators, plus live classes every weekday to teach you about trading and using the software.
Black Box Stocks supports stock trading and options trading.
Here are some other features I like about Black Box Stocks:
Pricing: $100 a month gives you unlimited access to the community, classes, and tools—everything the app offers. There is no free trial.

Final Verdict
If you're a beginning trader or you're looking for a wider community that can help you develop your own trading style, Black Box Stocks is likely the best AI trading software for you.
5. MetaStock
Best for Industry Professionals

If you're looking for a professional-grade AI software, MetaStock is a great option. MetaStock is an alternative to the highest level of professional investing tools such as the Bloomberg Terminal or Reuters Eikon, loved by institutional investors since the early '80s.
Though this software is at a steep price point, it's still thousands of dollars cheaper than professional software. This allows retail investors to access the same data as professional investing firms.
MetaStock supports stock trading, options trading, futures trading, commodities trading, and more.
Here are some other features I like about MetaStock:
Pricing: This is far and above the most expensive software on the list. The MetaStock Daily Charts software is a one-time purchase of $499, and subscriptions to their data sets start at $59 per month.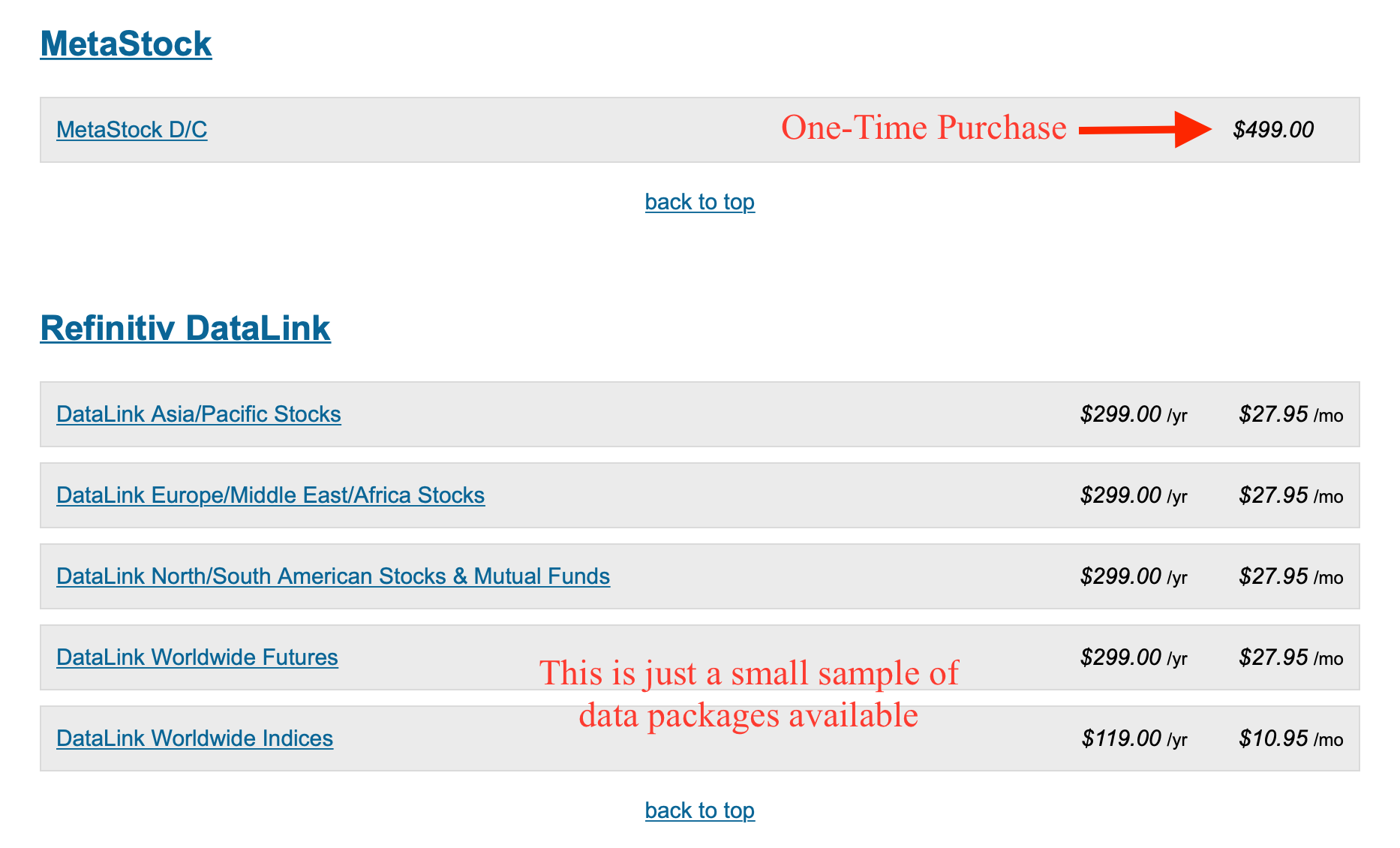 Final Verdict
If you're an active trader, you have money to spend, and you're looking for an industrial-level tool, MetaStock might be the right choice for you—provided you don't mind using Windows-based software.
Tickeron
Best for Simple Trading Advice

Tickeron is an AI trading software that allows you to purchase trading bots, then follow their signals to know when to trade stocks. In addition, you can customize each bot and backtest them against past data before using them.
This software supports stock trading, crypto trading, and forex trading.
Here are some other features I like about Tickeron:
Pricing: You can choose from 2 packages, starting at $90 a month. Much of the information is free for beginners, though you must pay to purchase a bot.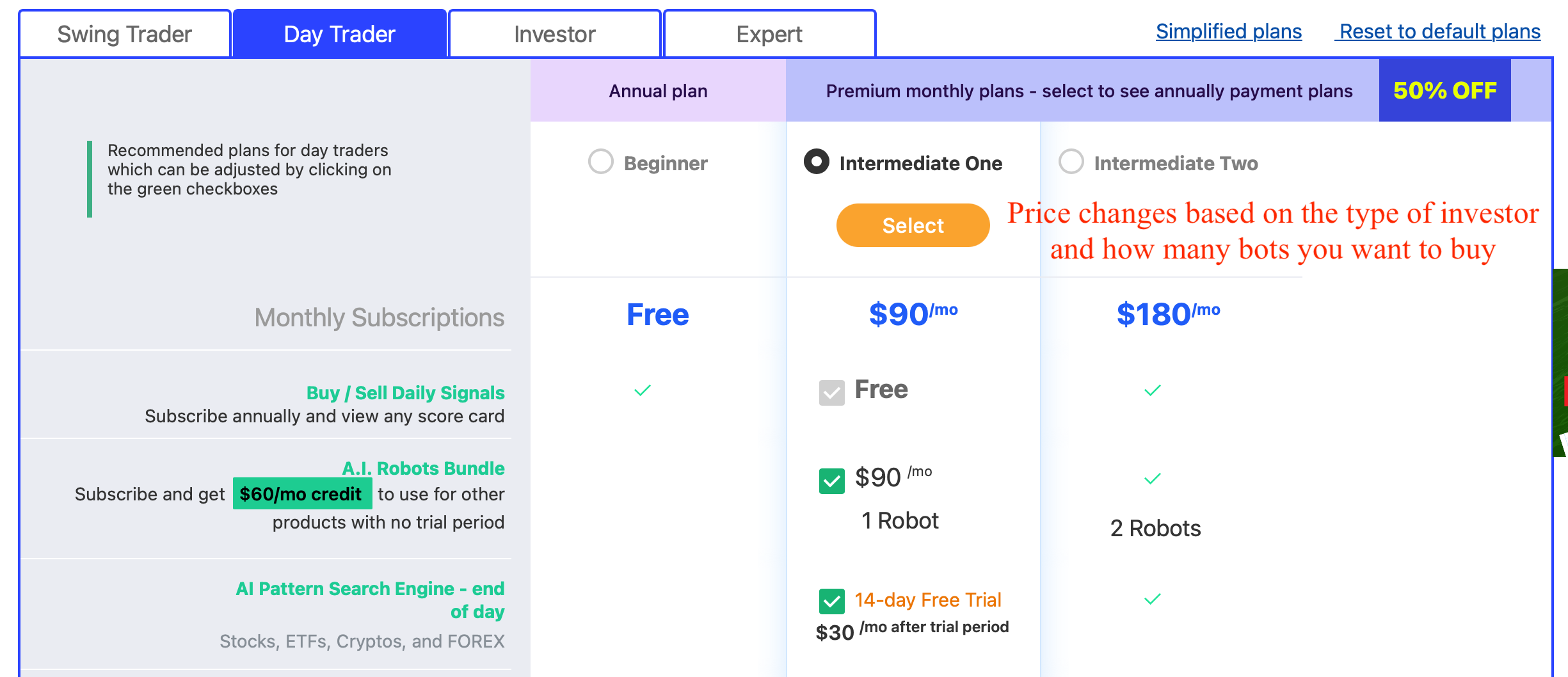 Final Verdict
If you're looking to get trading ideas without having to do complicated technical analysis, Tickeron could be a simple solution for you. Still, I would caution you to make sure the service is still being actively developed before investing in a subscription.
3Commas
Best for Cryptocurrency

3Commas is an AI trading software that focuses on cryptocurrency trading. Since the crypto world runs 24-7, it's impossible for a mere human to stay up and monitor the markets around the clock.
With 3Commas, you can create trading bots that will trade crypto for you according to the strategy you set. This allows you to maximize your crypto earnings and still find time to do other important things like eating and sleeping.
Here are some features I like about 3Commas:
Pricing: You can get started for $29 a month. There's no free trial, but you can try out the free features for as long as you want.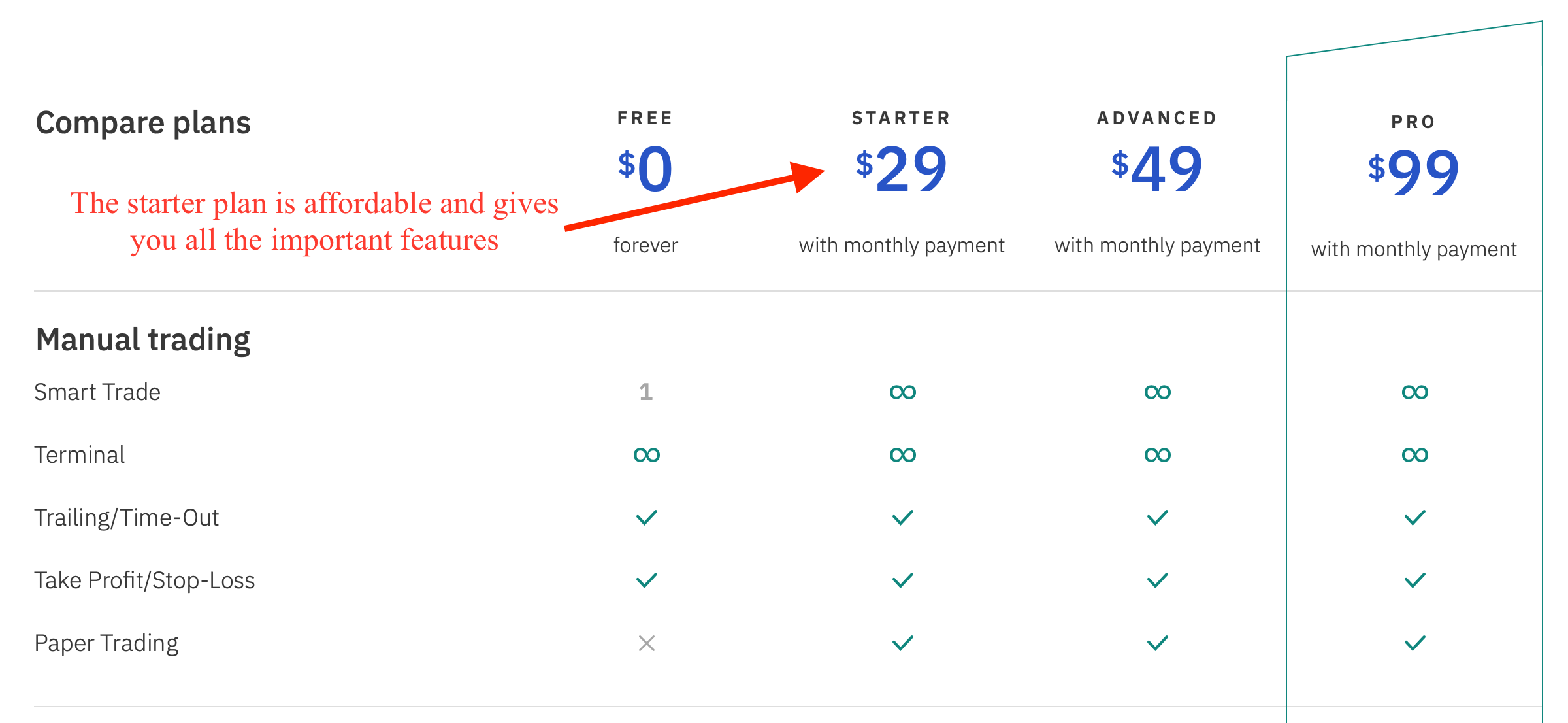 Final Verdict
3Commas is one of the best AI trading software for the crypto market that can help maximize your returns if you know how to use it. This would be an excellent choice for an established crypto trader who wants to optimize their strategies and free up more time.
So there you have it, my list of of AI trading softwares. AI is continually improving, and my guess is that those that implement it's technology quicker are the ones who will make out better in the end.
What is an AI Trading Software?
An AI trading software is a piece of software that uses artificial intelligence to assist traders in making decisions.
AI can do many different things, such as:
Why should I use an AI Trading Software?
Traders who don't use AI technology are at a disadvantage compared to those who use it. Without software, the trader runs into many problems:
Using AI trading software makes it possible to quickly get insights from all the data available, get entry and exit signals for a specific stock, and even fully automate your investments.
Plus, AI takes the emotion out of trading and helps you make more accurate decisions based on the data.
How does AI Trading Software work?
AI trading software uses algorithms to sort through data, create insights, and perform transactions based on specific criteria. AI tools that use machine learning can continually improve their performance as they learn from new data every single day.
Some AI software is focused on helping you to technical analysis, which means you are personally monitoring the data from charts and alerts and making trade decisions based on them. Other types of software do the decision-making before you and focus more on giving you simple notifications to buy and sell a specific stock.
What kind of investor would benefit from AI trading software?
Any type of investor can use AI tools, but day traders, swing traders, and end-of-day traders will get the most bang for their buck from using them. Since day traders need to make quicker decisions and find opportunities before they happen, they will benefit from having AI-powered data and predictions.
But that doesn't mean that longer-term investors won't benefit from AI trading software. It can help you sift through lots of data to find the most promising stocks, and you can also automate your portfolio and let the software manage your investments for you.
Frequently Asked Questions (FAQs)
Is AI trading profitable?
Like any other trading tool, an AI-based stock trading software is just that—a tool. It can help you find trade ideas more quickly, but you still need to know what you're doing to make profitable trades. And keep in mind, the market is always unpredicitable.
What is the best AI trading software that works?
It depends on what you're looking for. I recommend Trade Ideas for advanced day traders, Black Box Stocks for beginner traders, and Tradytics for traders on a budget.
Will an AI stock trading software give you trade ideas?
Yes, that's one of the great features of AI trading software. You can search for trade ideas for stocks you're interested in, get insights about the stock market as a whole, or plug in a custom trading strategy and have the AI engine send you alerts when opportunities arise.
What financial markets can I trade in using AI trading software?
Most AI trading software support trading in the stock market, options market, forex market, and/or cryptocurrency market.
Which AI trading software will help me find opportunities in the forex market?
Among our list of top picks, TrendSpider, Tickeron, and MetaStock can give you trade ideas for the foreign exchange market.
How do I create an automated trading strategy?
Some automated trading systems allow you to follow an AI bot that tells you when and what to buy and sell. Others require you to create your own strategy based on your knowledge of trading.
If you're a beginner, you might want to choose a tool like Tradytics with AI stock trading bots that automatically give you trade ideas, or look for a platform like Black Box Stocks with a supportive community that can teach you the basics.
Does AI work for stock trading?
Yes! AI trading software works well for stock market trading. You can use stock charts and scanners to help you find opportunities and buy or sell when the stock price is right. You can also set up alerts to ping you when a stock meets criteria you've set as part of your trading strategies.
Does AI trading software work for swing trading?
Yes, AI trading software is useful for the swing trader. You can use scanners, charts, alerts, AI stock trading bots, and other helpful tools to find trade ideas. You can also set up AI bots to buy and sell for you.
Is AI trading legal?
Yes, AI trading is completely legal. AI trading uses the power of computers and algorithms to help you find opportunities in the market, develop successful trading strategies, and even trade stocks and other financial assets for you. There is nothing illegal about using AI to help you make decisions based on legally-obtained data.
Can you trust AI stock trading bots?
Trading bots operate from a pre-defined algorithm. Whether you create the algorithm yourself or buy it from someone else, it's crucial to ensure that the bot's underlying strategy is solid before you invest money into it.
Many apps allow you to view the performance of their AI software so you can see if they're reliable before you invest. Most of them also have backtesting features, so you can test the algorithm and see what kind of returns you would have gotten with it.
Is AI trading software good for professional traders?
I can't imagine any professional trader that wouldn't use an AI trading tool. So-called "smart money"—investment firms, large organizations, and other market movers—use these tools every day to find trading opportunities before the rest of the market.
That's why it's great that there are now more affordable tools that give non-professional traders access to this technology, too.
How do I trade crypto automatically?
You can use an AI-powered crypto trading software like 3Commas to help you do this.
First, choose a strategy you'd like your bot to follow. You can backtest the strategy to make sure it'll be profitable before you invest. Then create a trading bot and connect it to your exchange of choice, and it will begin trading crypto for you automatically.
Can I use AI trading software if I'm not a techy person?
Each software has its own unique characteristics, so you can pick one that fits your preferences.
If you like to see your data laid out in charts and graphs, you might like Tradytics, which helps you to visualize data more easily.
If you just want someone to tell you what to do and when, you might want to buy a trading bot on a platform like Tickeron.
And if you're interested in learning how to do technical analysis and make your own decisions, you might want to join Black Box Stocks, whose helpful community can teach you the ropes.