With so many AI writers flying into the market, it can be a hard decision to choose which one is right for your use case. Over the last year, I've been on a mission to test out all of the most popular AI writers and give you honest, detailed reviews.
But before we get into all the nitty and gritty of Copy AI, here are a few more resources you can check into to help you out:
Alright, time to spill the tea on the Copy AI.
Disclaimer: This post may contain affiliate links, which means I'll receive a commission if you purchase through my links, at no extra cost to you. Please read full disclosure for more information.
What is An AI Writer?
AI writing tools use cutting-edge technologies like artificial intelligence and natural language processing to write content for you. It's important to realize that this is not plagiarism but actually a machine that creates original content based on what it's learned on the web.
Programs are becoming increasingly sophisticated; most can write natural-sounding, human-like text in seconds.
And they're not just limited to writing. Some tools can research keywords, write and edit content, optimize for SEO, and more.
Each AI writing software has strengths and weaknesses—no one-size-fits-all app exists. So to help you decide if Copy AI is right for you, I'm going to dive into all the features and show you what the software is capable of.
First, What is Copy AI?

Copy AI is a copywriting-focused AI writing tool with tons of templates and tools to make writing easy (it even has more templates than Jasper at the time of writing). It's meant for those working in marketing, businesses writing promotional material, and more.
How Does Copy AI work at a glance?
To create a piece of content with Copy AI, you'll first need to choose the tool or template you want to use. For example, you can choose the "Instagram Captions tool" to generate social media posts or the "Blog Post Wizard" template to write long-form content.
After you've chosen your tool, Copy AI will give you a prompt. You'll enter the information it needs to create the content you've chosen.
Submit the prompt, and the AI software will give you multiple pieces of content to choose from. You can copy any or all of the variations, then paste them into the Google Docs-like editor for more polishing.
You can paste content from multiple tools into the same project file or separate them into multiple projects. In addition, all your projects are saved in your account, so you can go back and edit them anytime.
Okay, let's actually take a look at what this looks like.
What Does the Copy AI Platform Look Like?
Now let's take a closer look at the main features, tools, and templates available inside Copy AI.
Platform Overview
When you first open the app, you'll see a screen like this: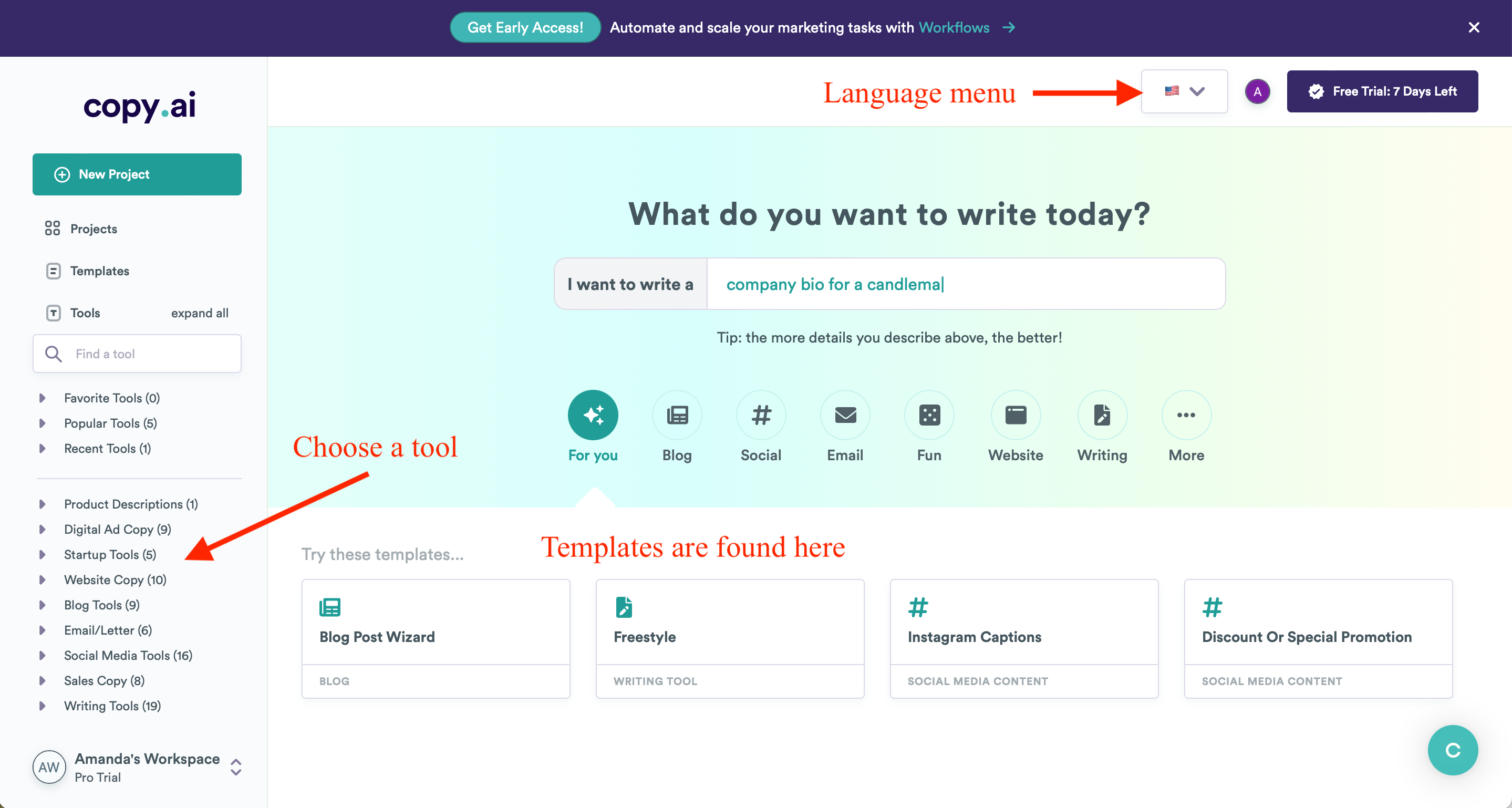 Left Sidebar Menu
On the top, you'll see the New Project button highlighted in green so that you can start writing quickly.
Below that, you'll find the templates and tools menu filled with tons of different options like product descriptions, digital ad copy, etc. You can also "star" tools and templates to pin them to the top of the list, which is great because you'll find you'll likely be using two or three a lot more than the others depending on your needs.
Top Menu
At the top is where you can change your language settings and access your account settings.
You can change both the input and output language with Copy AI. So if you're a native Spanish speaker, you can fill out prompts in Spanish and generate text in English (or any combination of the other 25+ languages offered).
Generating Content
When you click on a tool or template, you'll be taken to a screen with a prompt to fill out. Each prompt and the information needed from you will differ based on the template that you originally chose.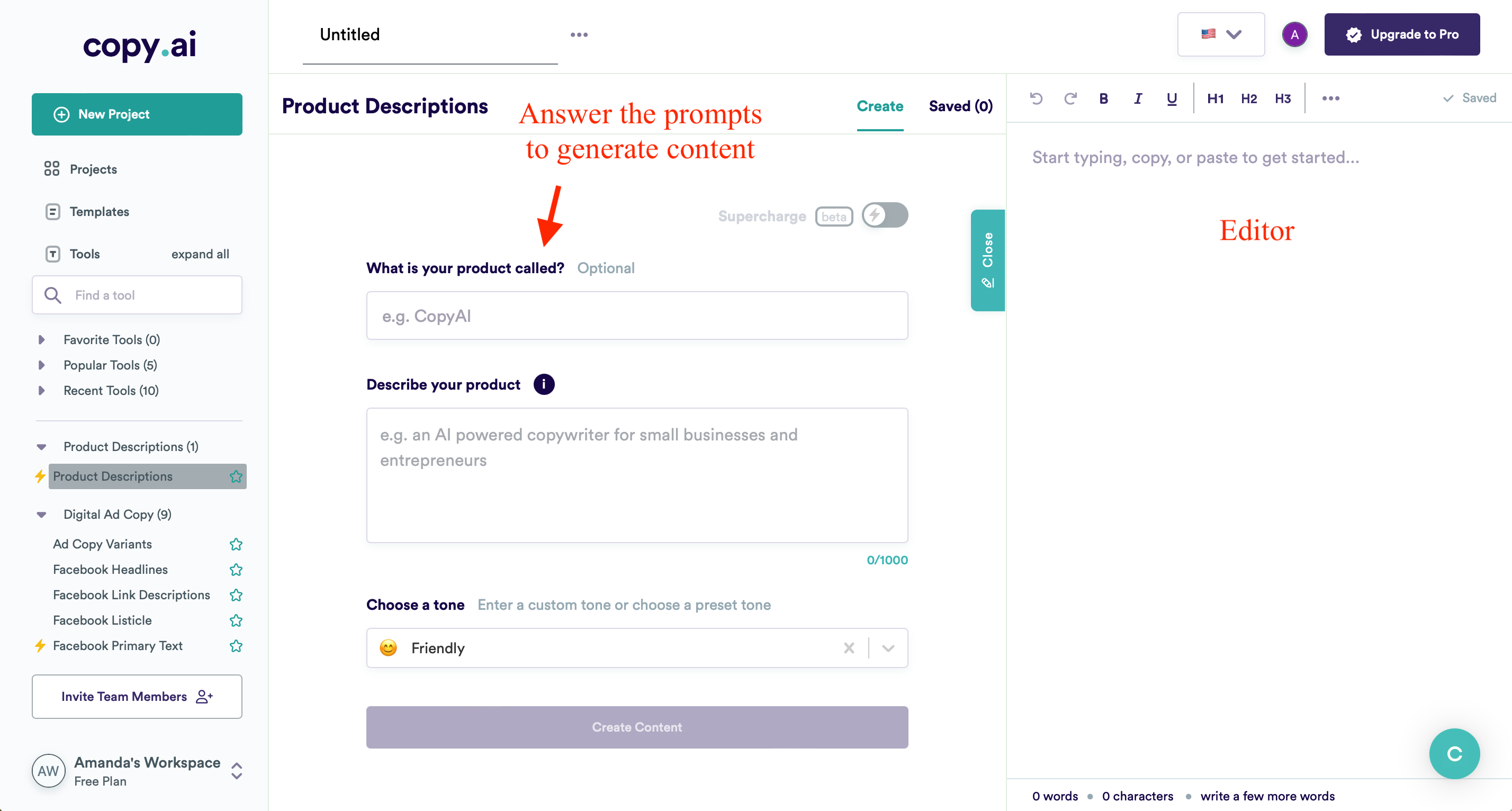 AI Content Generator
The middle section of the screen is where you fill out prompts and review the variations of content that the tool generates.
Most of the time, you can choose a Tone for the content. You can choose from a list of pre-written options or input any word you like friendly, funny, sarcastic, professional, etc.
Editor Panel
On the right side is the editor, where you can edit and format your text. Think of this like your Word or Google Doc area. It will generate some content, but then you can rewrite it, make small tweaks here and there, or add in your own knowledge. You can easily view the total word count in the bottom toolbar.
I think my favorite part is the "Rewrite" command– You can also highlight the text inside the editor and click the "Rewrite" command to get new variations of each line of text. This is great if you're not quite happy with what you have but experiencing a bit of writer's block.
Languages Supported
At the time of writing, Copy AI supports tons of languages such as US/UK English, German, French, Italian, Japanese, Spanish, Chinese, and about ten others.
What Types of Templates Does Copy AI Offer?
I tested some of the most popular Copy AI tools and templates, and I'll share the results below. (Find the full list of tools and templates available at the end of this section.)
1. Blog Post Wizard
The Blog Post Wizard template writes a well-structured blog post on your chosen keyword in just a few clicks.
Unlike Jasper, which makes you use multiple tools to finish a single blog post, Copy AI takes you through the entire blog-writing process from beginning to end.
Here's what happened when I tested the tool.
First, I chose the blog title "Why You Should Consider Using An AI Writer." Then I entered keywords and chose a Friendly tone.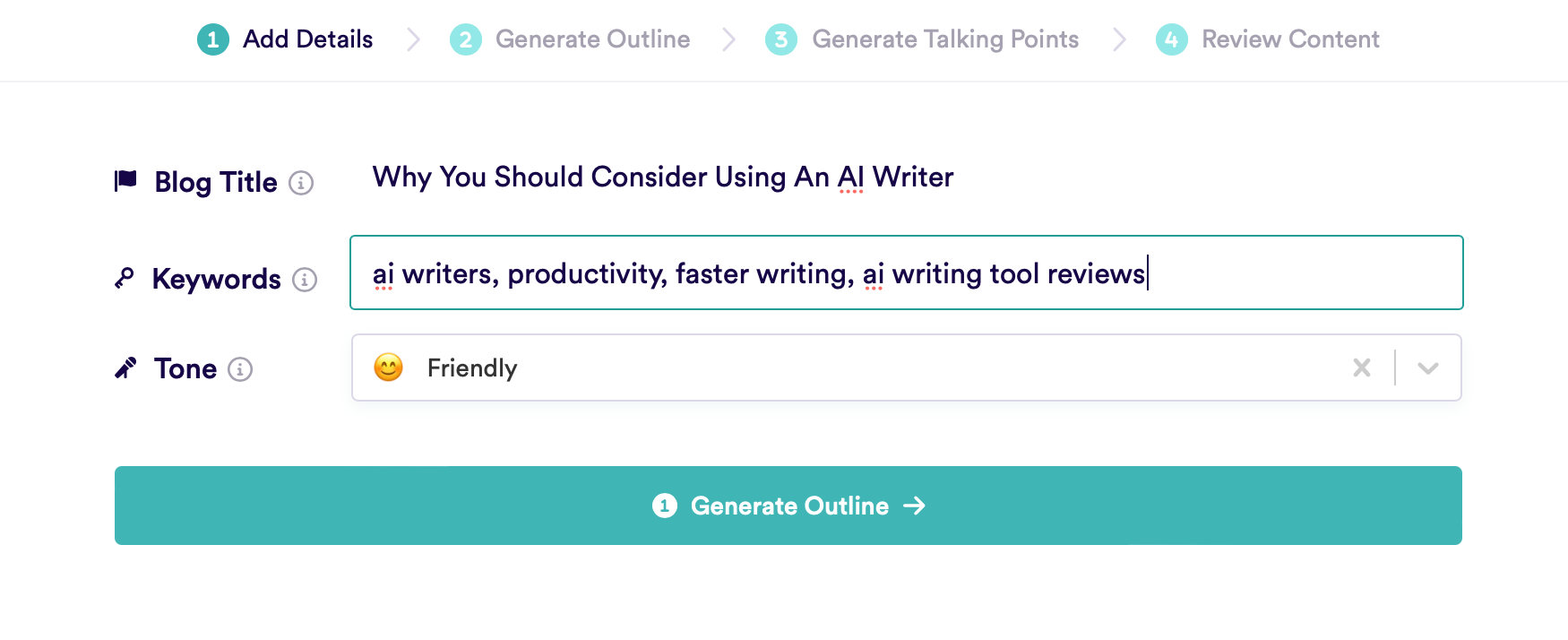 Next, the tool generated an outline for the post. The outline is fully editable so that you can control the post's content. I liked this a lot as you can direct the tool to write the article you had in mind from the beginning, rather than removing and editing later.
Here's what I got: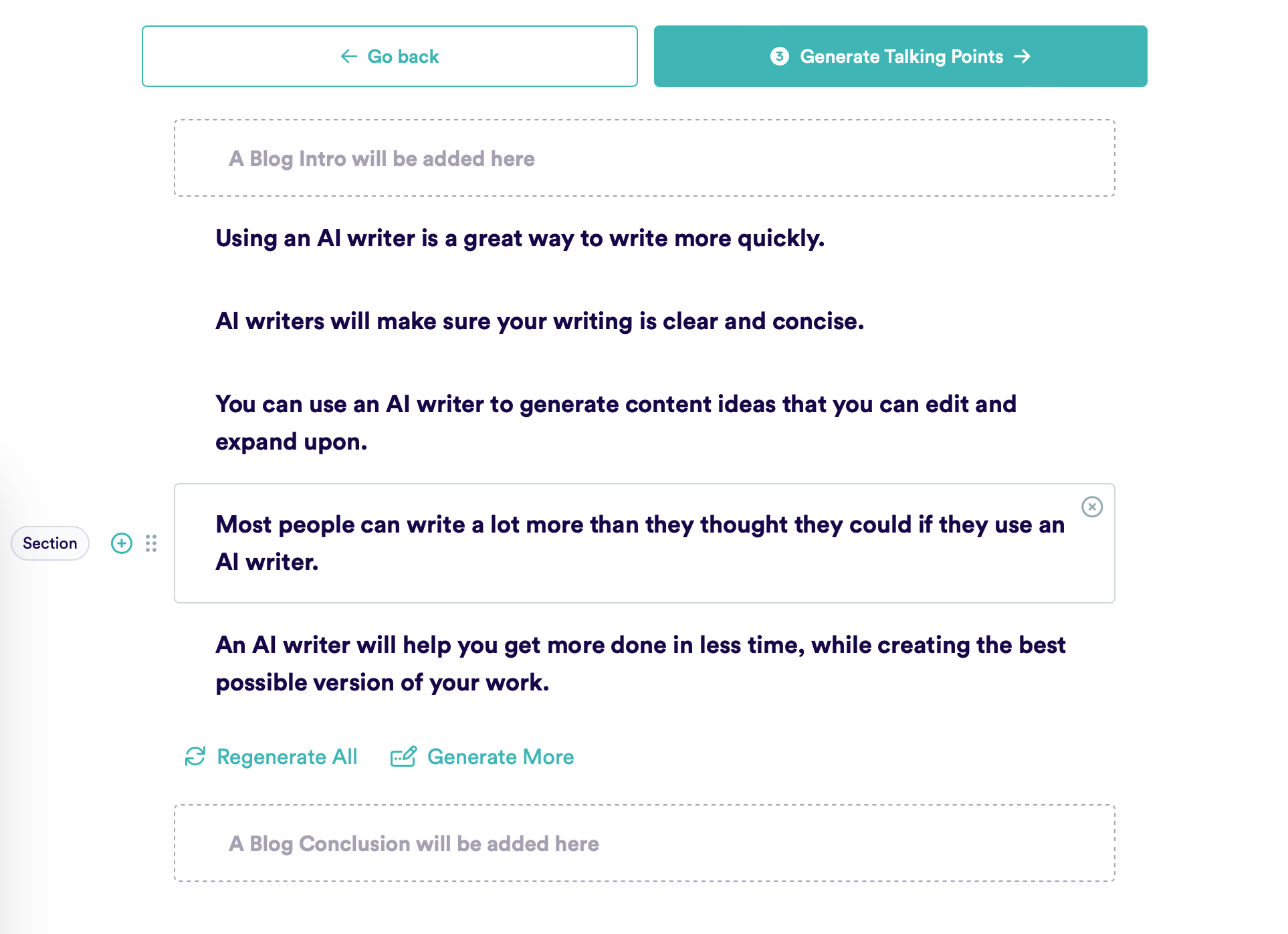 Next, it generated bullet points for each section of the article called "Talking Points." You can also edit these before generating the article. Here's a sample of Talking Points I got for my article:

I was happy with the outline, so I went on to the last step: generating the article.
And this is what it looked like:
Overall, I was pleased with the writing quality. I liked being able to fine-tune the content as I went, and it was very satisfying to go from idea to outline to full article in just a few clicks.
2. Blog Ideas Tool
Next, I tried the Blog Ideas tool and threw a random topic at it: "high-tech smart snowshoes."
Here's what I asked for: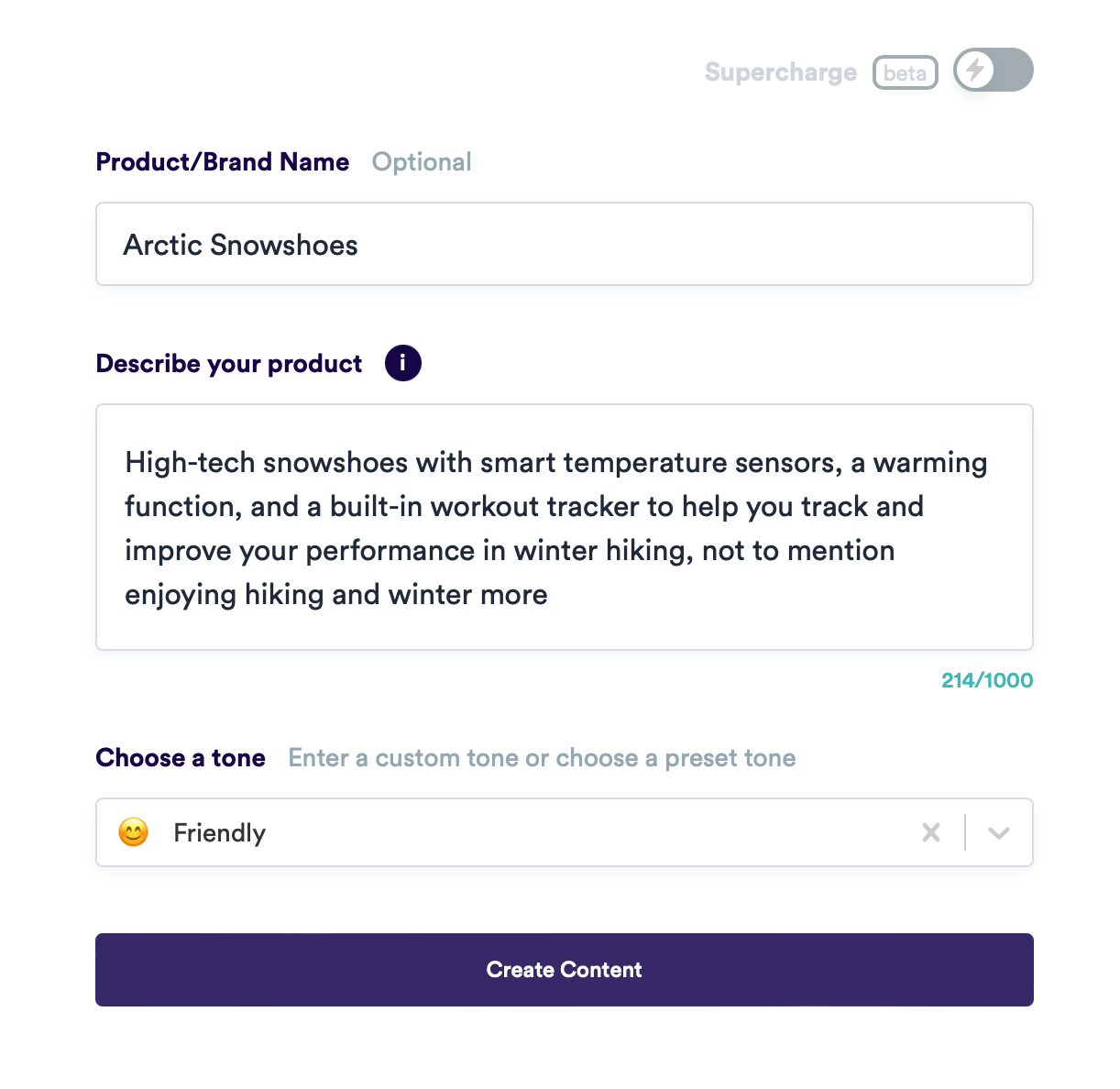 After I hit "Create Content," here are some of the blog ideas it generated for me:


These ideas sound great (even though I don't know anything about snowshoes).
But if you're a marketing manager, site owner, blogger, or writer, I thought this was a great way to get article ideas to help better position yourself as a topical expert. We're seeing that sites are needing to pump out a lot more supporting, informational content to achieve topic authority, and this can help you there.
I think this was helpful, but if you're truly an SEO expert, it may not be nearly as smart as an AI SEO tool.
3. Instagram Captions
Next, I tried the Instagram Captions tool. I was pretty excited to test this one out, as nearly every company out there needs to have good socials. But for anyone that's ever driven a digital marketing campaign, generating Instagram captions can be quite the hassle.
So I pulled up the tool, and it asked about my post. Here's what I wrote: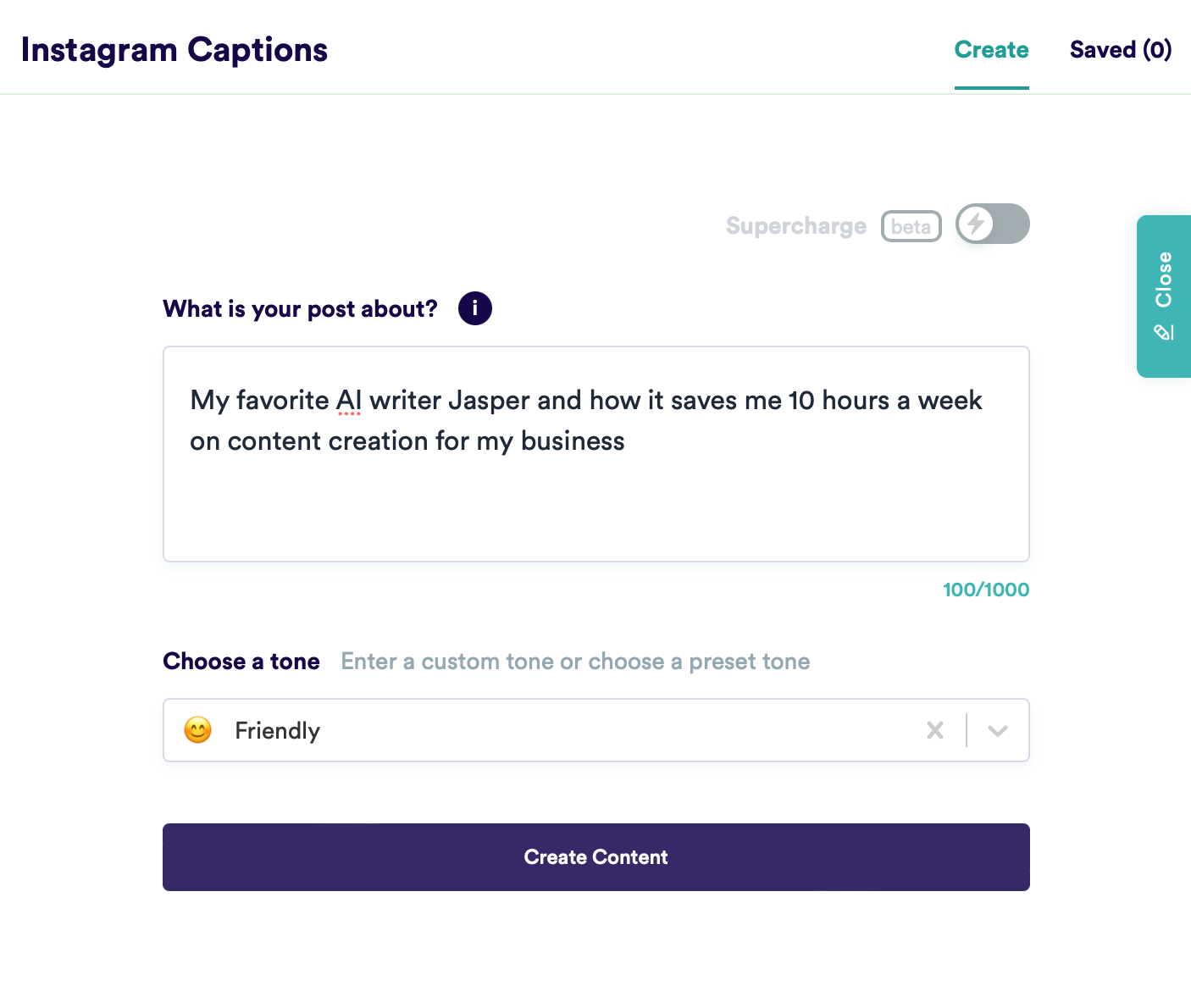 And here's what I got: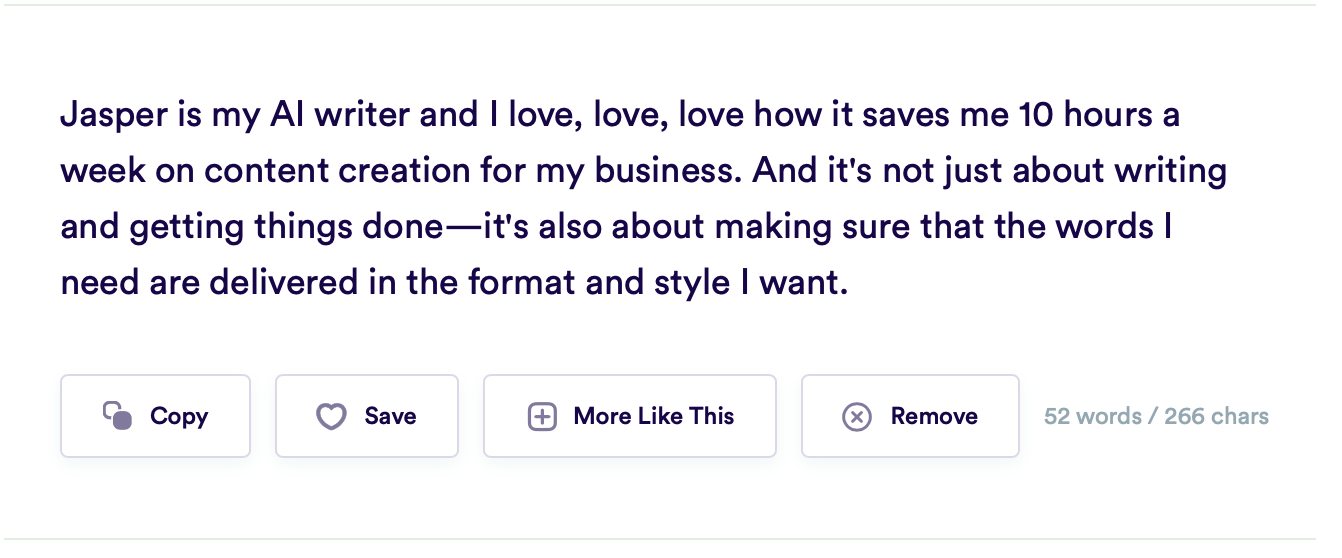 Not too bad—these would need some editing before you post them to your social media account, but the tool gives you a pretty good start to work with. I like that it added some emojis, but I don't like that it didn't add any hashtags.
4. Product Descriptions
Another popular tool from Copy AI is the Product Description generator. Often times, companies need to come up with compelling copy that can describe your company's product in less than three seconds to grab a user's attention.
To see if it could write engaging content, I decided to just test Google itself: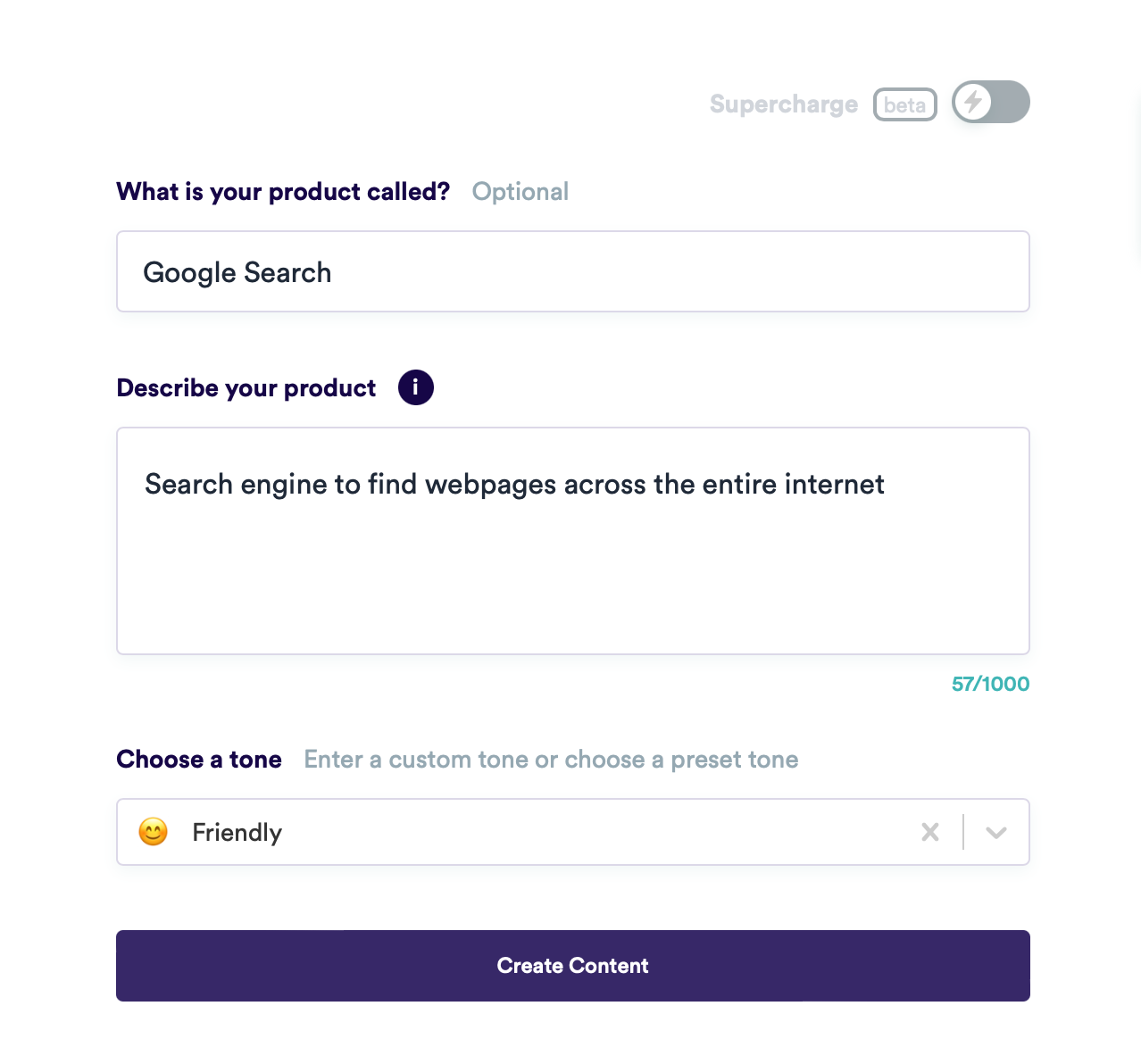 And here's what it gave me: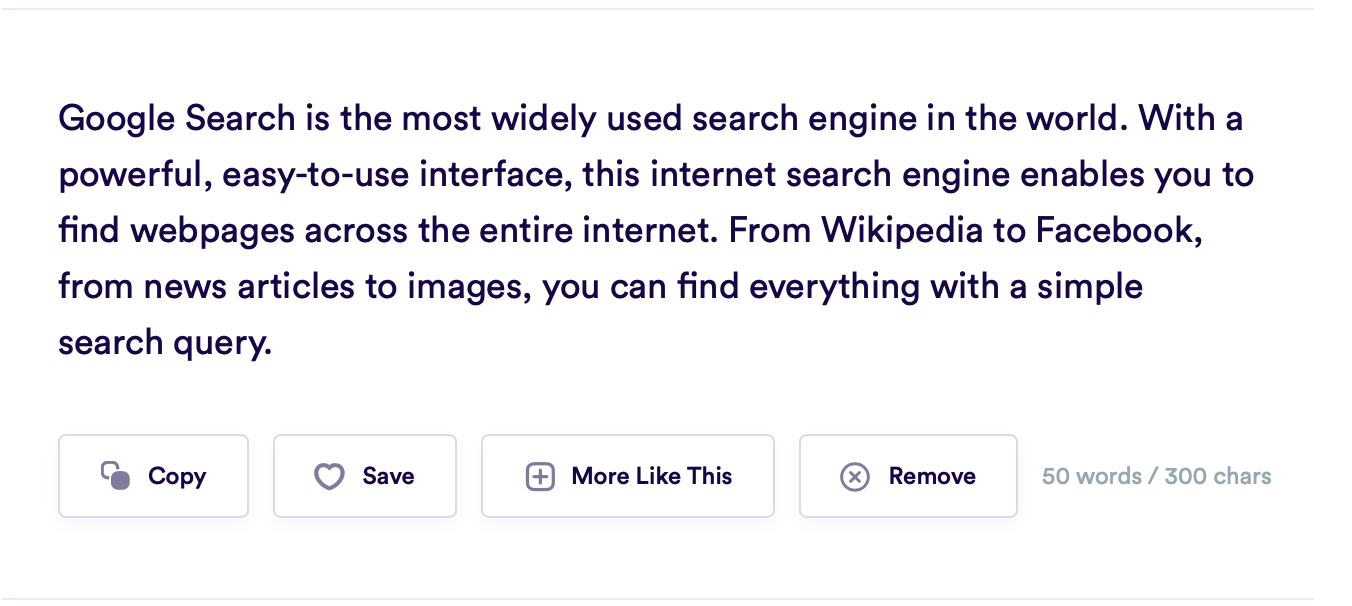 The second variation I thought, was pretty spot on. I don't think you could get a much more accurately engaging description than that.
5. Supercharge Mode
Some of the tools inside of Copy AI have an extra feature called Supercharge Mode—this allows you to input a website as the prompt for a piece of content. For instance, say you want to describe a product. Just place that product's website so it can do the work for you.
I tried it with the Product Descriptions tool. Here's what I entered: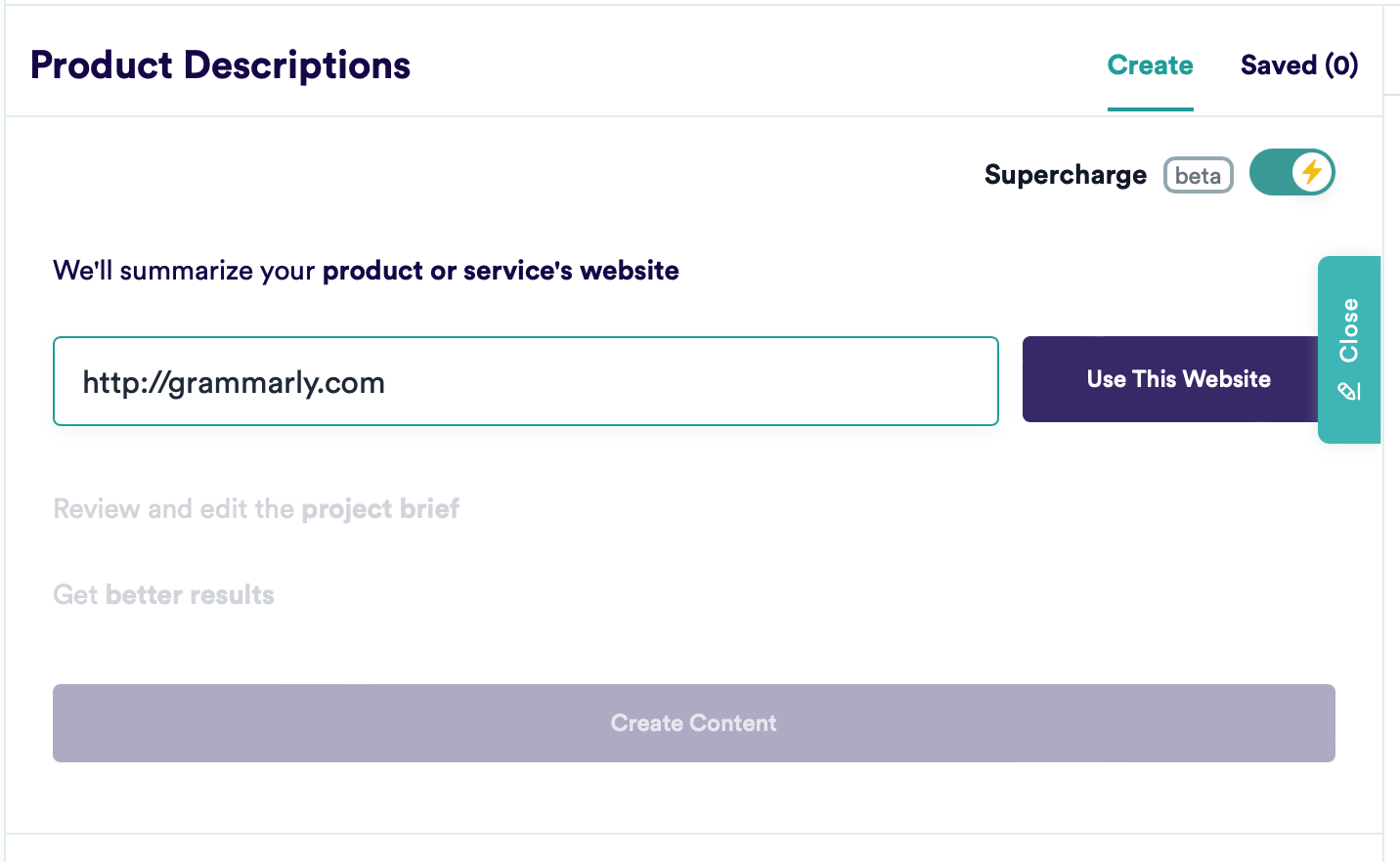 And this is what the tool came up with: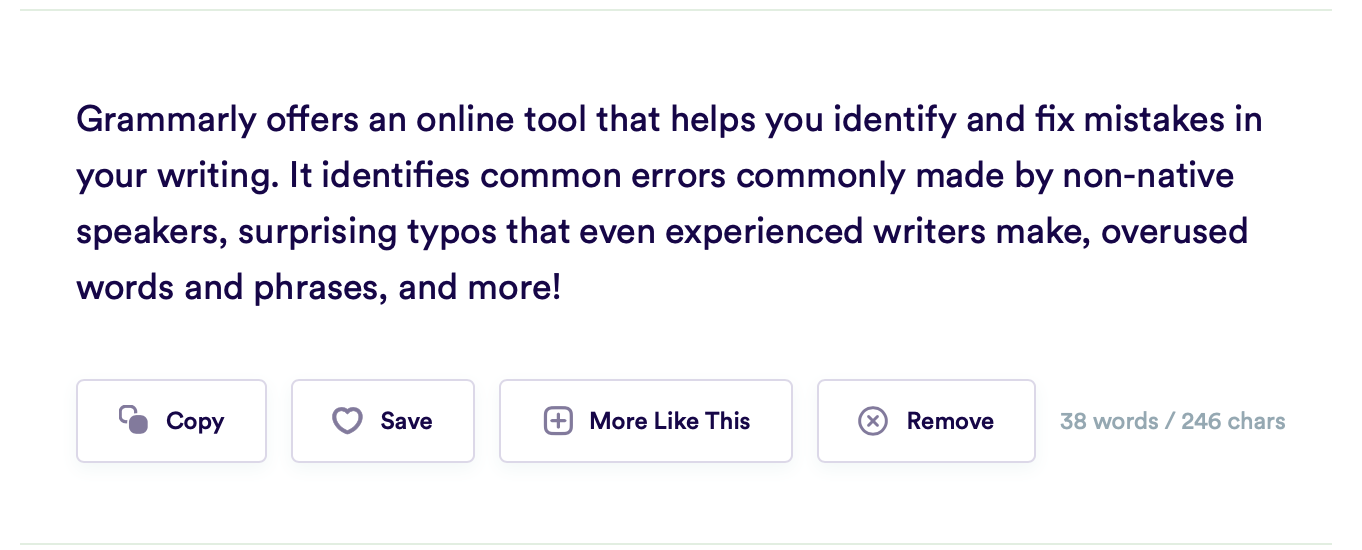 Supercharge Mode is a huge time-saver. Instead of typing up product or business info each time you want to generate content, all you need to do is paste in the URL.
In the future, I'd like to test Supercharge Mode with more tools to see how it performs with each one. I think this one could be a huge time saver.
6. Copywriting Frameworks
One of the biggest strengths of Copy AI is its vast collection of copywriting templates based on popular copywriting frameworks like AIDA.
I tried a couple of lesser-known frameworks to see how they performed:
A. Problem-Promise-Proof-Proposal
Also known as the "Pros System or 4P's", this helps you develop solutions or strategies for your marketing dilemma. Simply put, you can put in your business product in the prompt, and it will tell you why this product or service is the solution to your problem.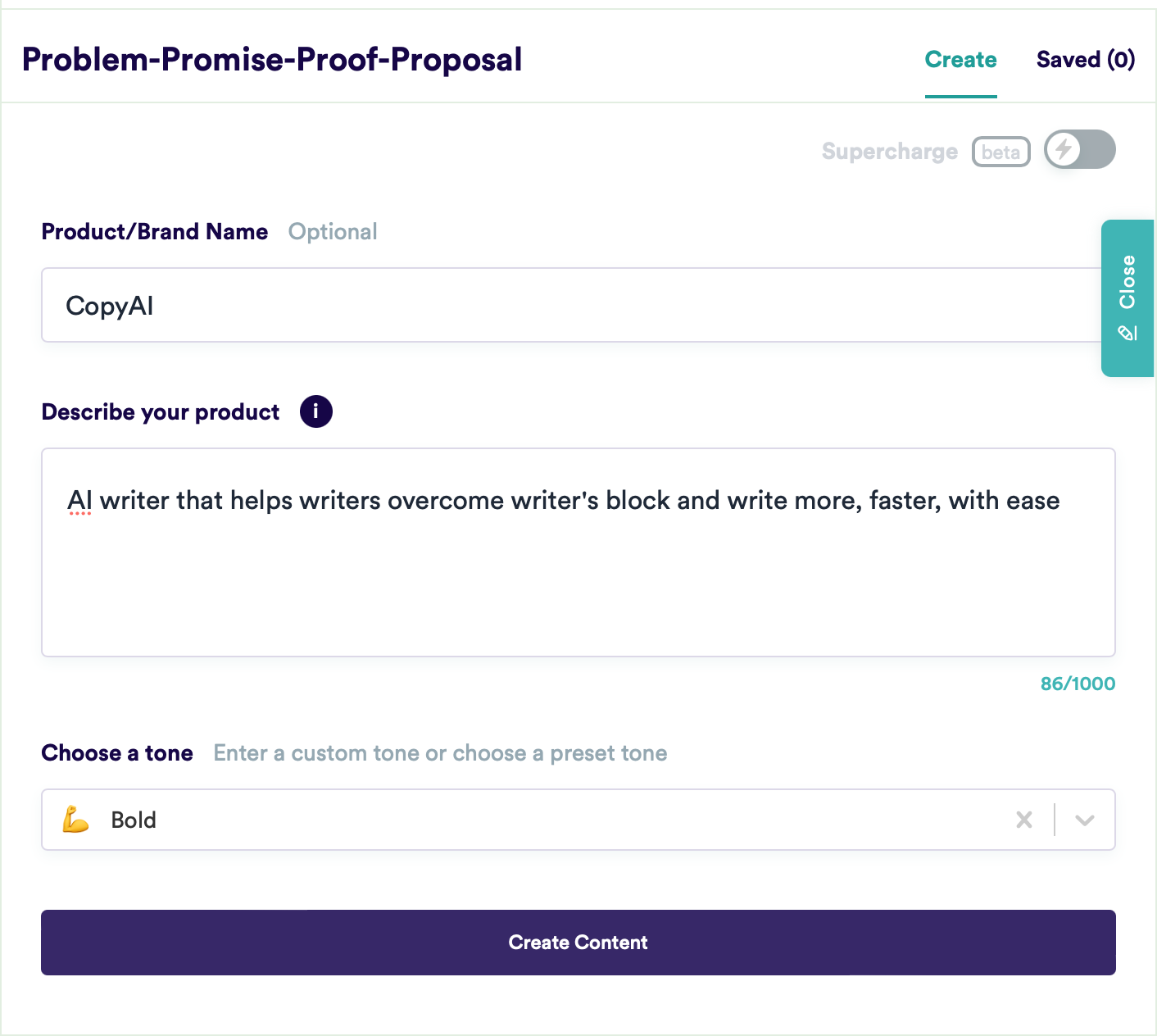 Here's my results: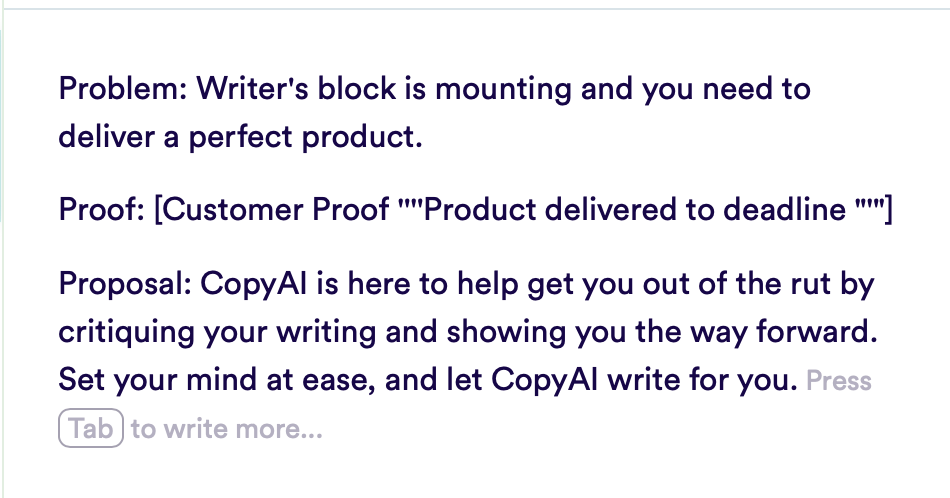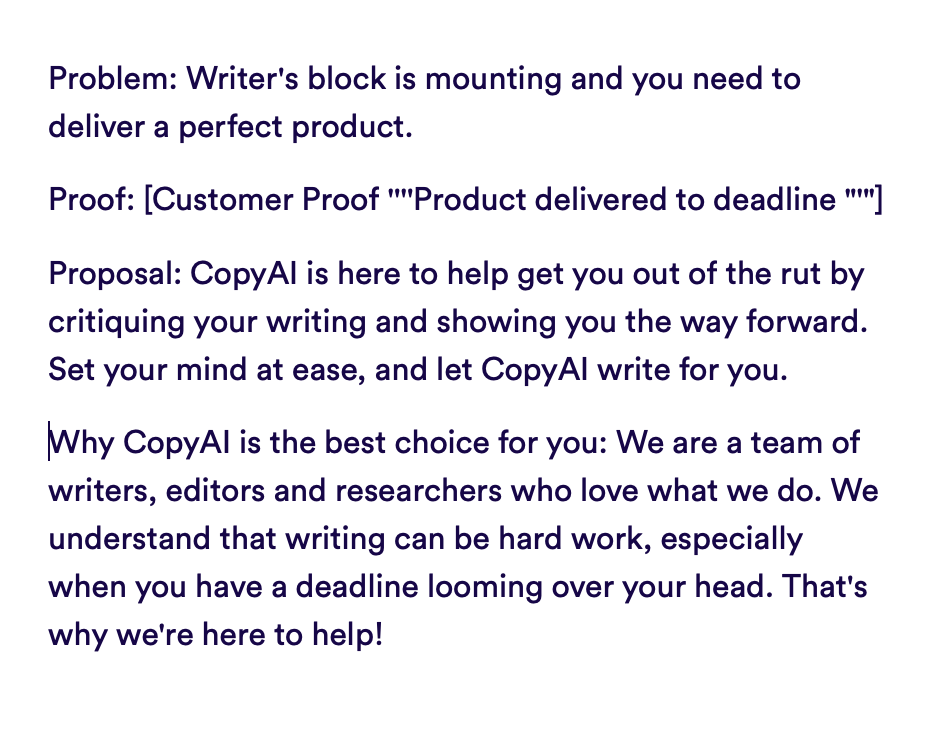 It's a good start but not a finished copy. It's in the form of an outline, and it doesn't feel like all of the text connects seamlessly. You'd need to edit this before publishing.
B. QUEST Copywriting Framework
QUEST is just an acronym that stands for "Qualify, Understand, Educate, Stimulate, Transition." It's a great framework that takes it a bit further than the previous 4P's model. See how the information was a little better:
What I wrote: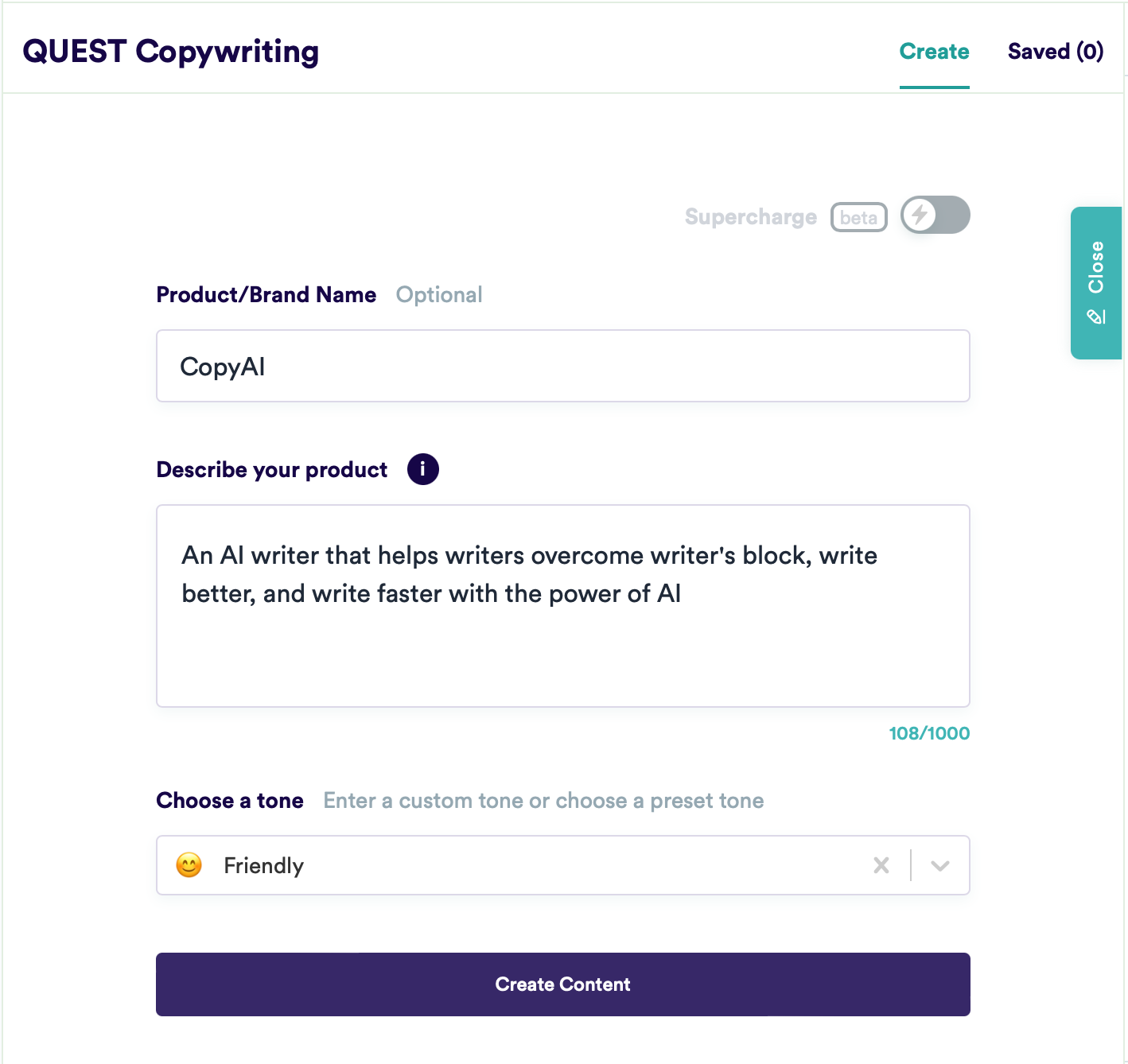 What I got: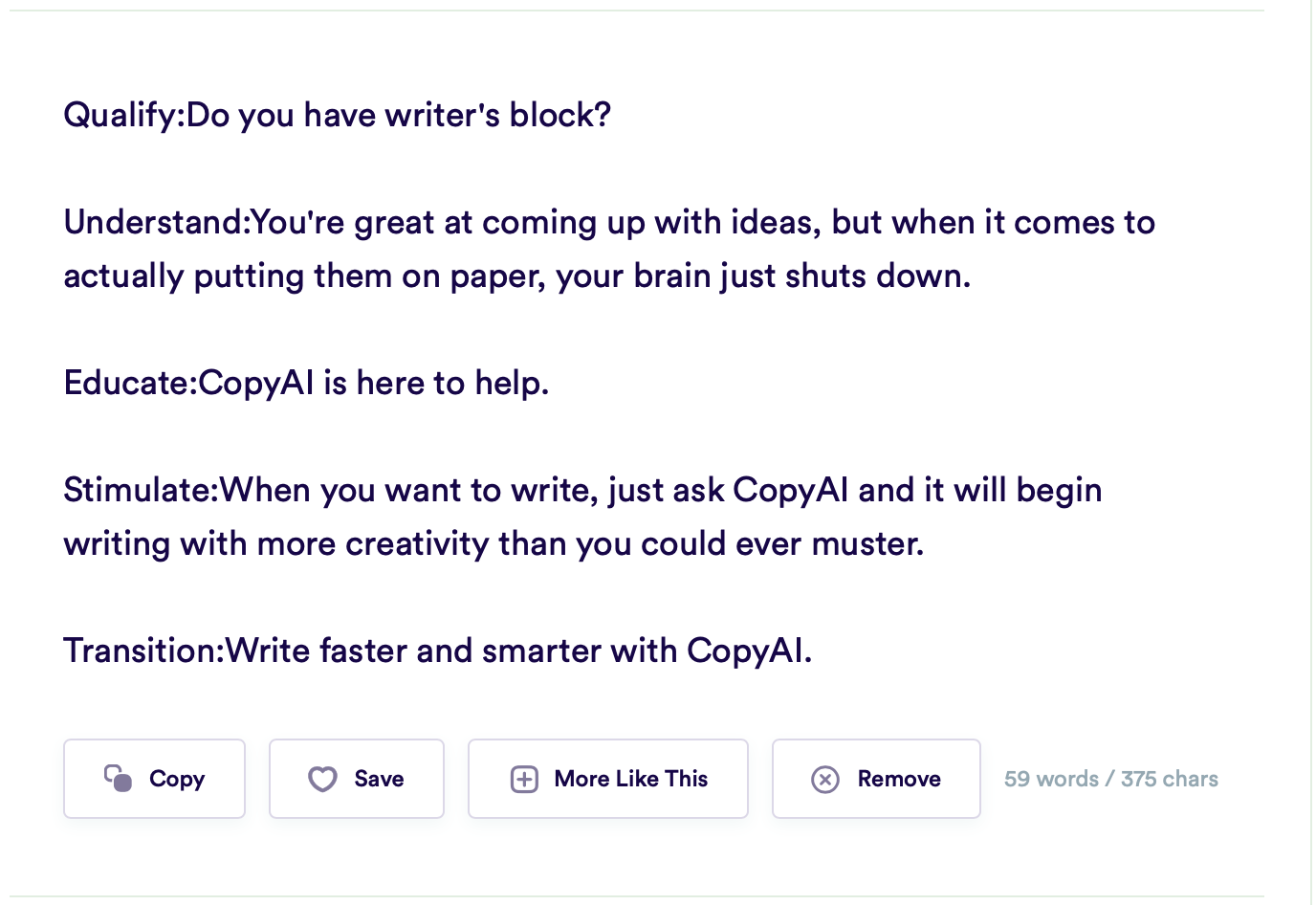 I found this copy more polished than the PPPP framework above. This could be used in a sales page or ad with little editing. Overall, I'm impressed with the copywriting frameworks, and I'm happy to see more than just the stock AIDA framework that every AI writing tool has.
7. Freestyle
Next, I tried the Freestyle tool, where you can ask the AI to write any kind of content (this is similar to Jasper's BossMode commands if you're familiar with their platform).
Here's what I asked: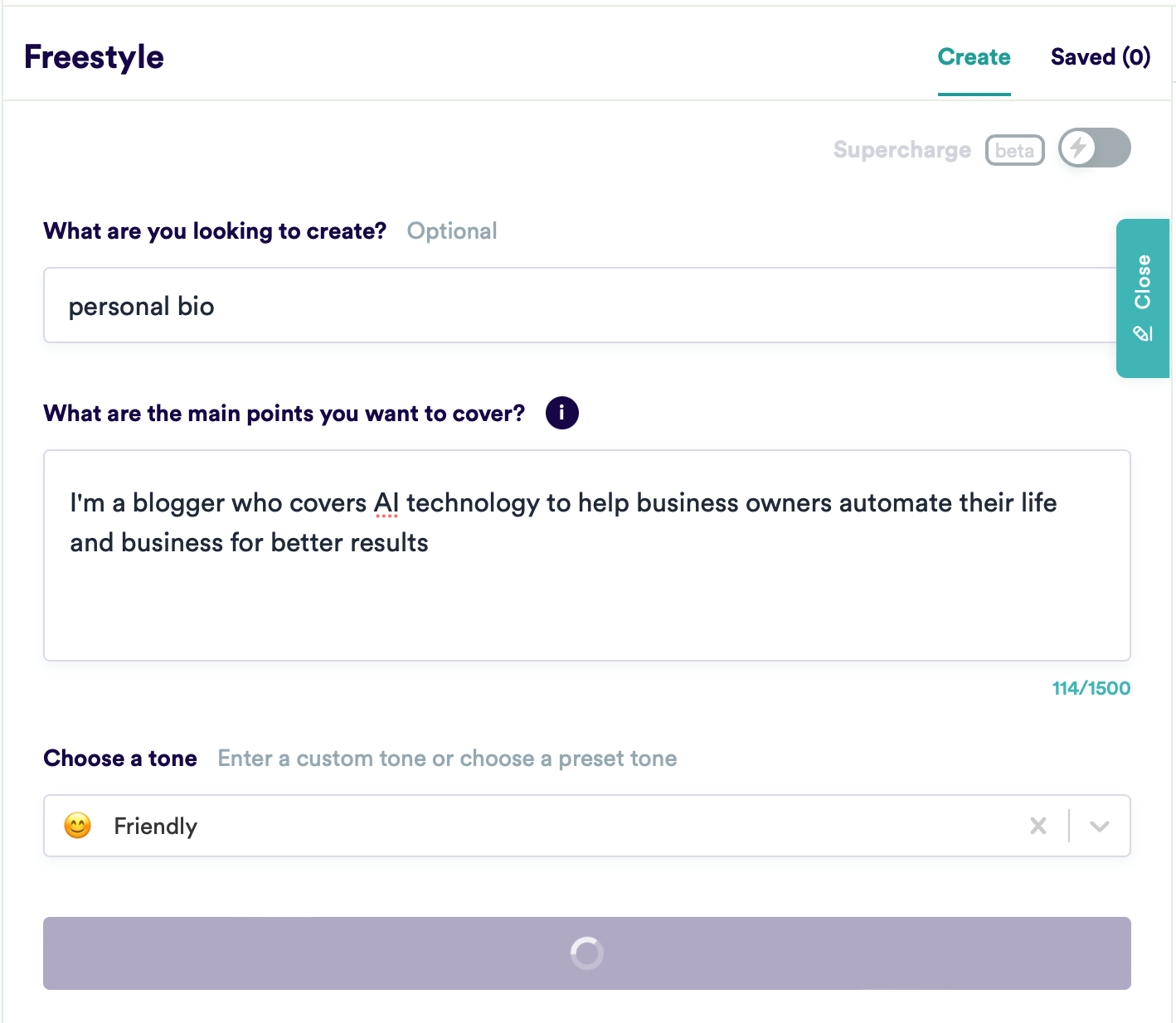 And here's what I got: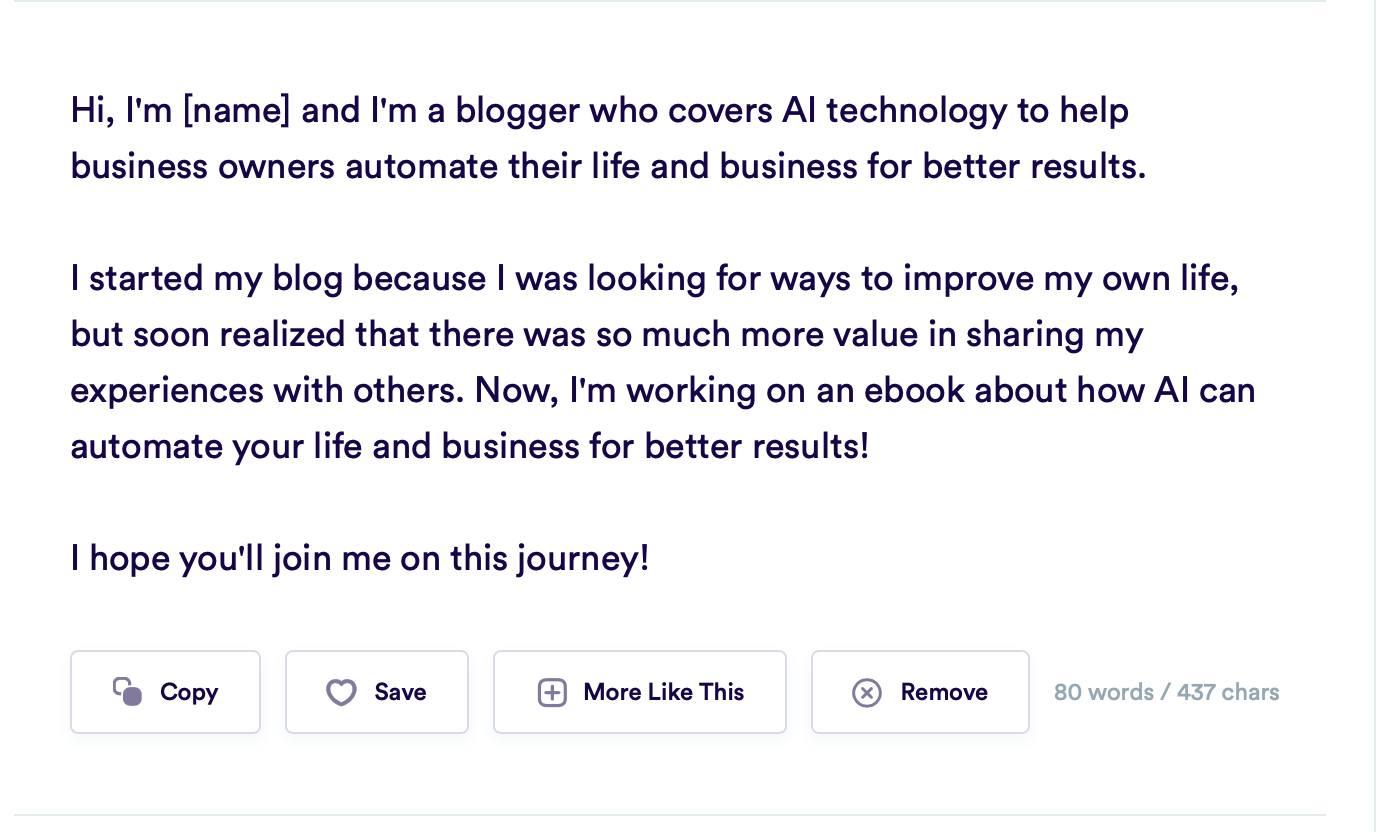 Next, I changed the tone to Bold to see how it would change the output: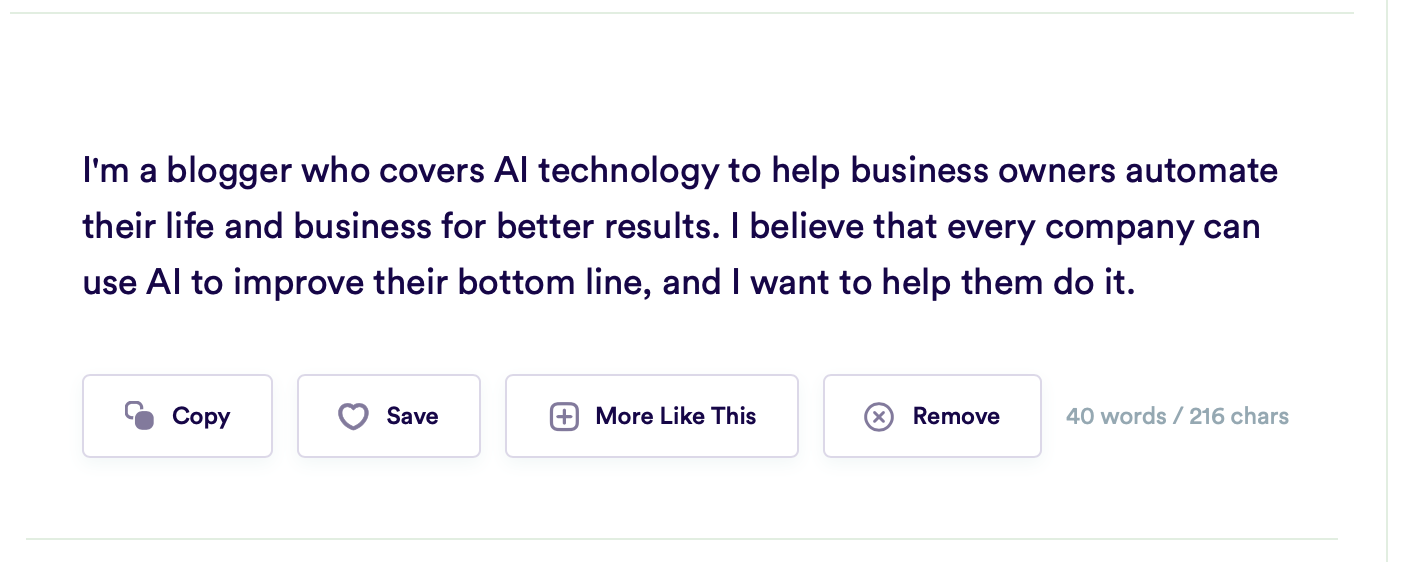 These bios are only partially accurate (I'm not currently writing an ebook, for example), but with a little bit of editing, I could definitely use them for my business.
8. Carousel Post
Next, I tried the Carousel Post tool. This tool gives you an outline for a carousel post to use on Instagram. It has three main parts: the initial title slide, designed to grab attention; the main content (usually over multiple slides); and a final slide with a call-to-action.
Here's what I gave the AI: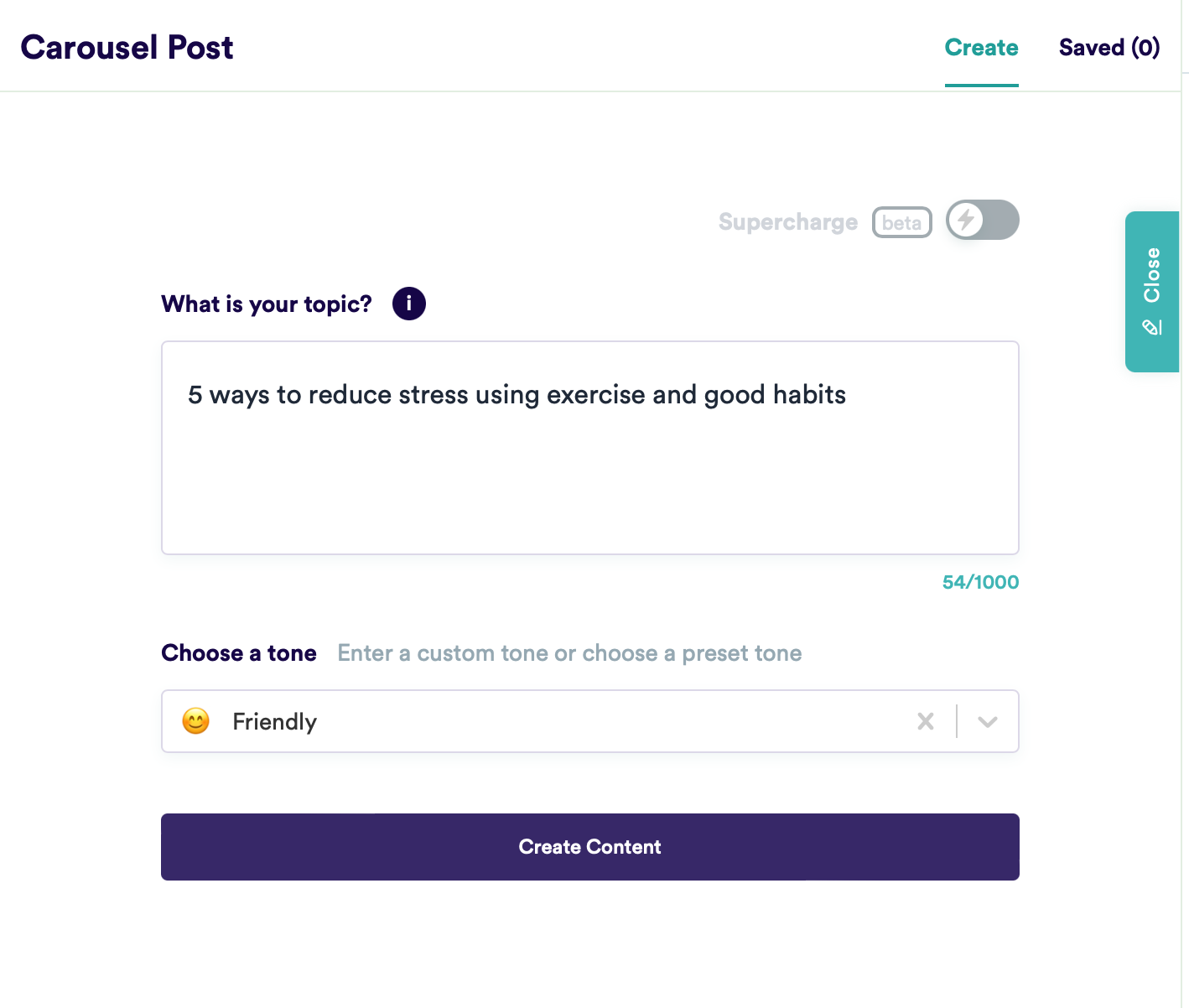 And here are some outlines it gave me: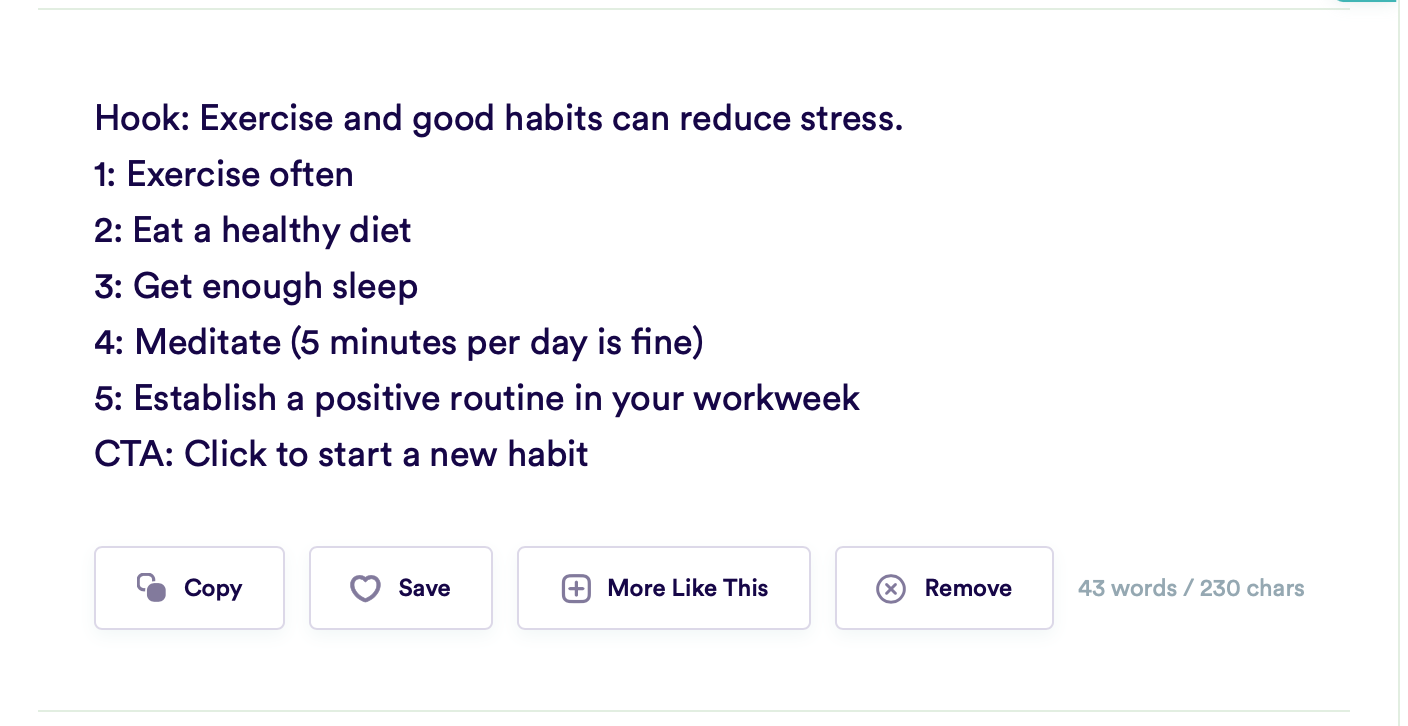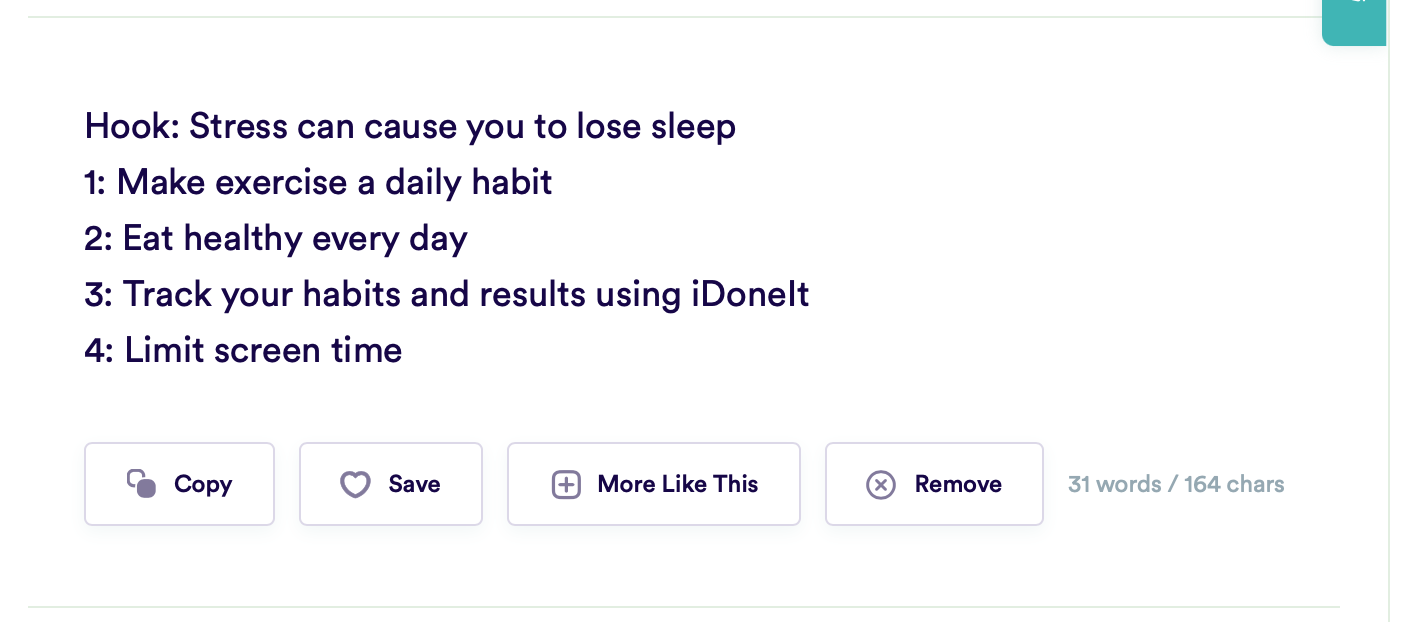 The output is okay—it would be more helpful for coming up with ideas than writing a whole post. But for someone who doesn't have experience writing for social media, this is a great help. And this could be paired with the Instagram Captions tool to put together full posts.
9. Brand Voice Generator in Copy AI
Next, I decided to try some other marketing-related tools. These don't write marketing content; instead, they help you refine your marketing strategy.
For example, the Brand Voice Generator takes your brand name and a short description and gives you three to four adjectives to describe your brand voice.
Here's what I wrote: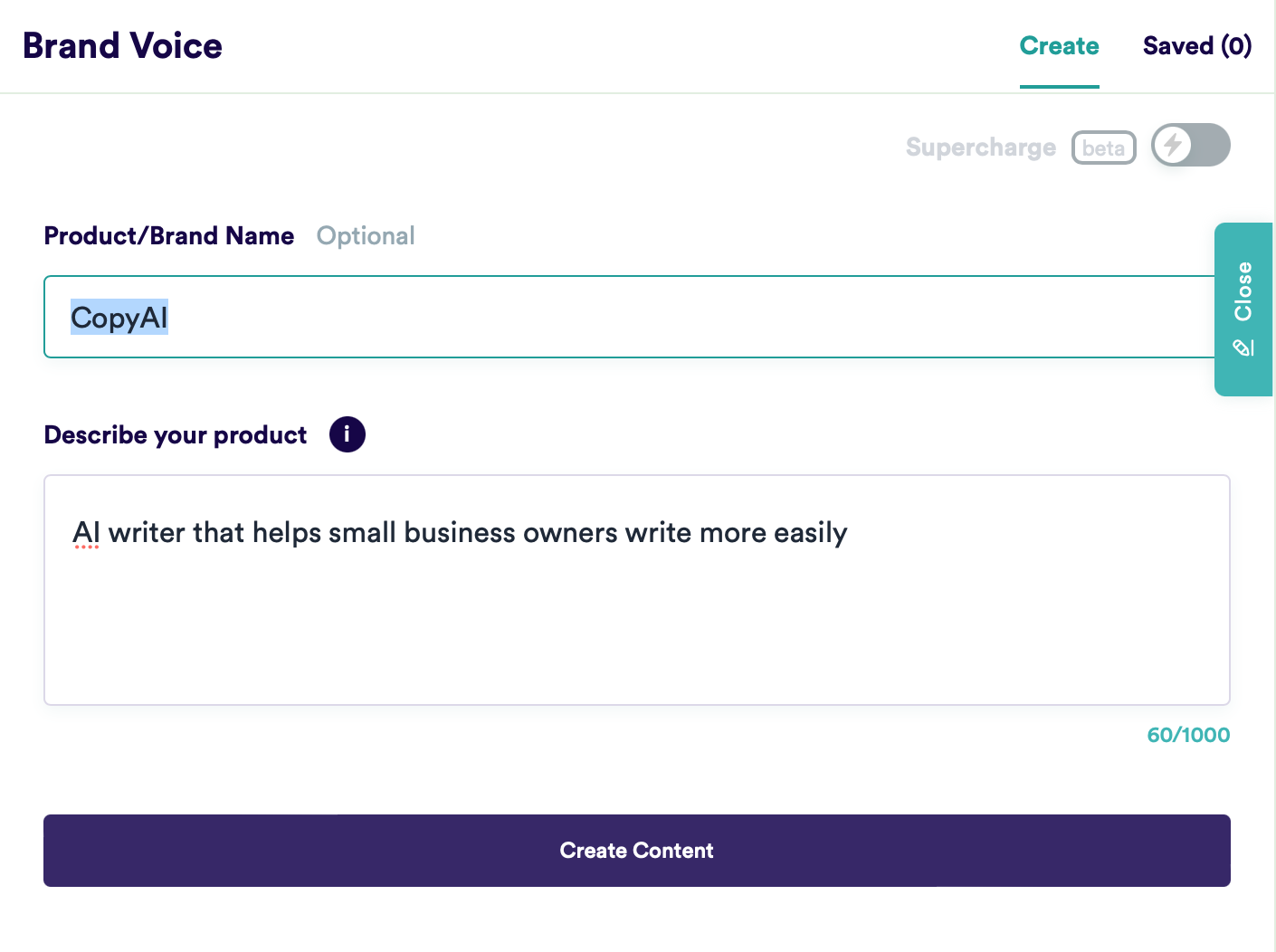 And here's what I got: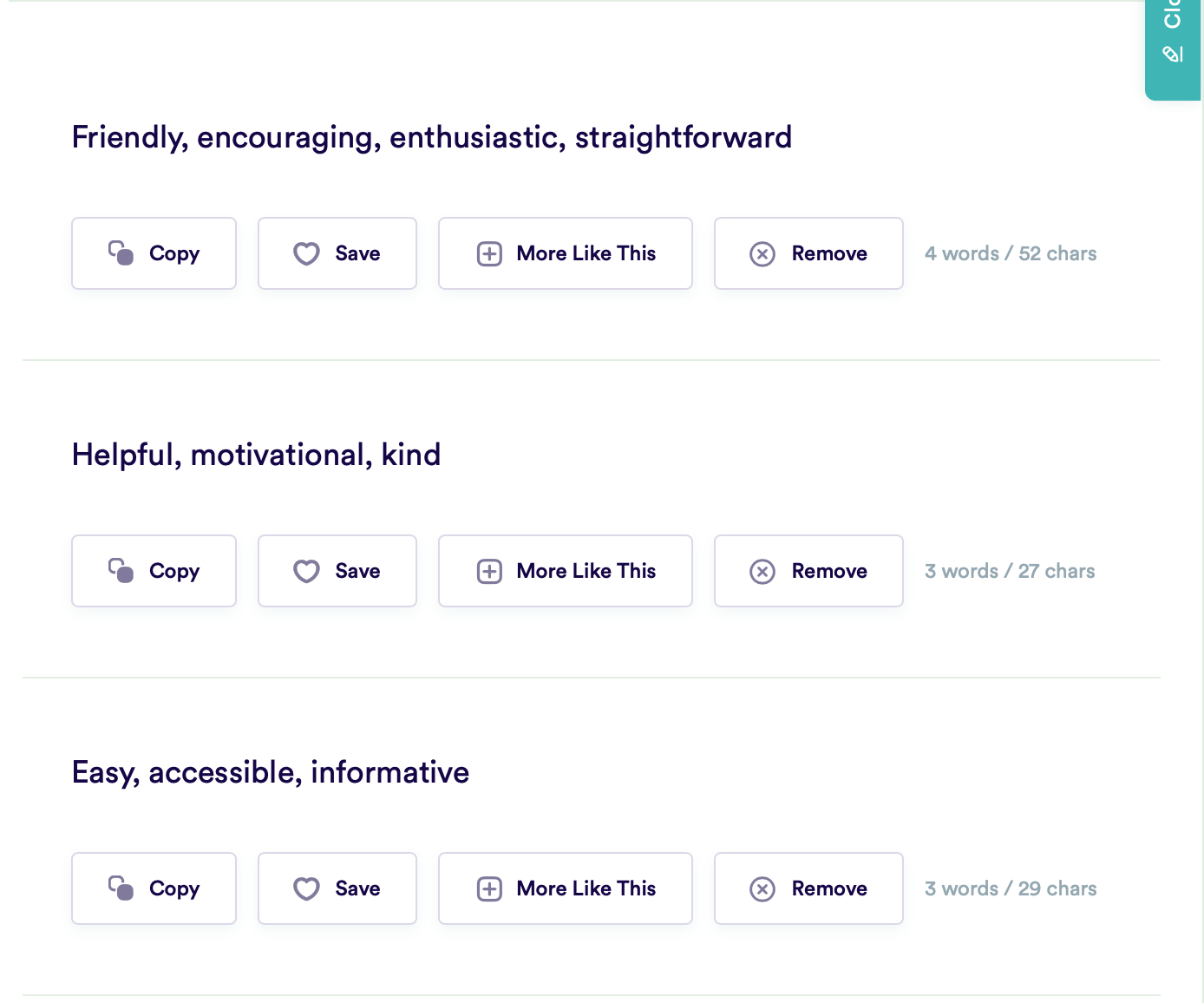 It's a little bit gimmicky, but it could give you some ideas to work with to have your content team make sure the voice stays consistent.
10. Audience Refiner
Next, I tried the Audience Refiner tool, which takes a generic description of an audience and makes it more specific.
Here's what I wrote: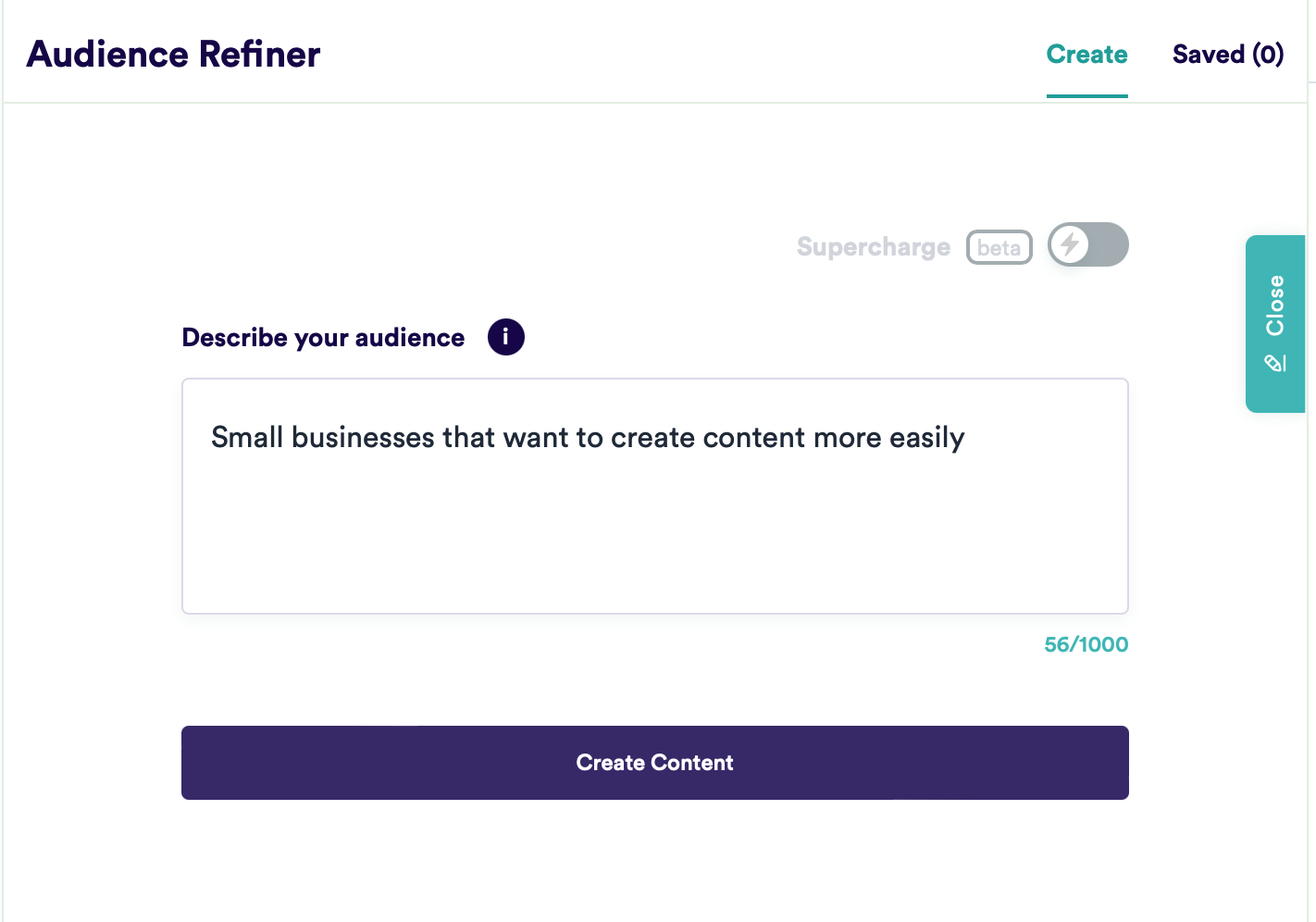 And here's what I got: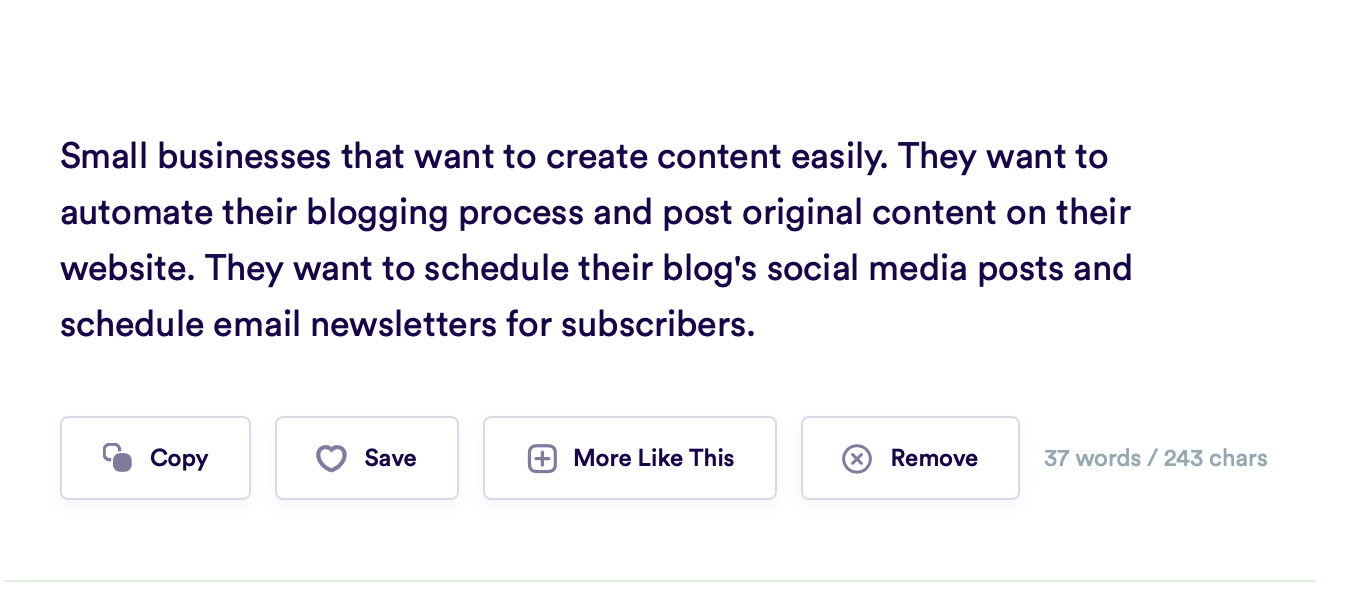 To be honest, I don't see much value in this tool because it's very difficult to find a niche audience for your business. I'm not sure you want to leave this decision in the hands of an AI writing tool. Still, it could help you develop ideas as a starting point.
11. Motto Generator
To be honest, this tool was pretty useless to me.
I tried to generate some mottos for Copy AI itself, but they all sounded generic and weird.
What I wrote: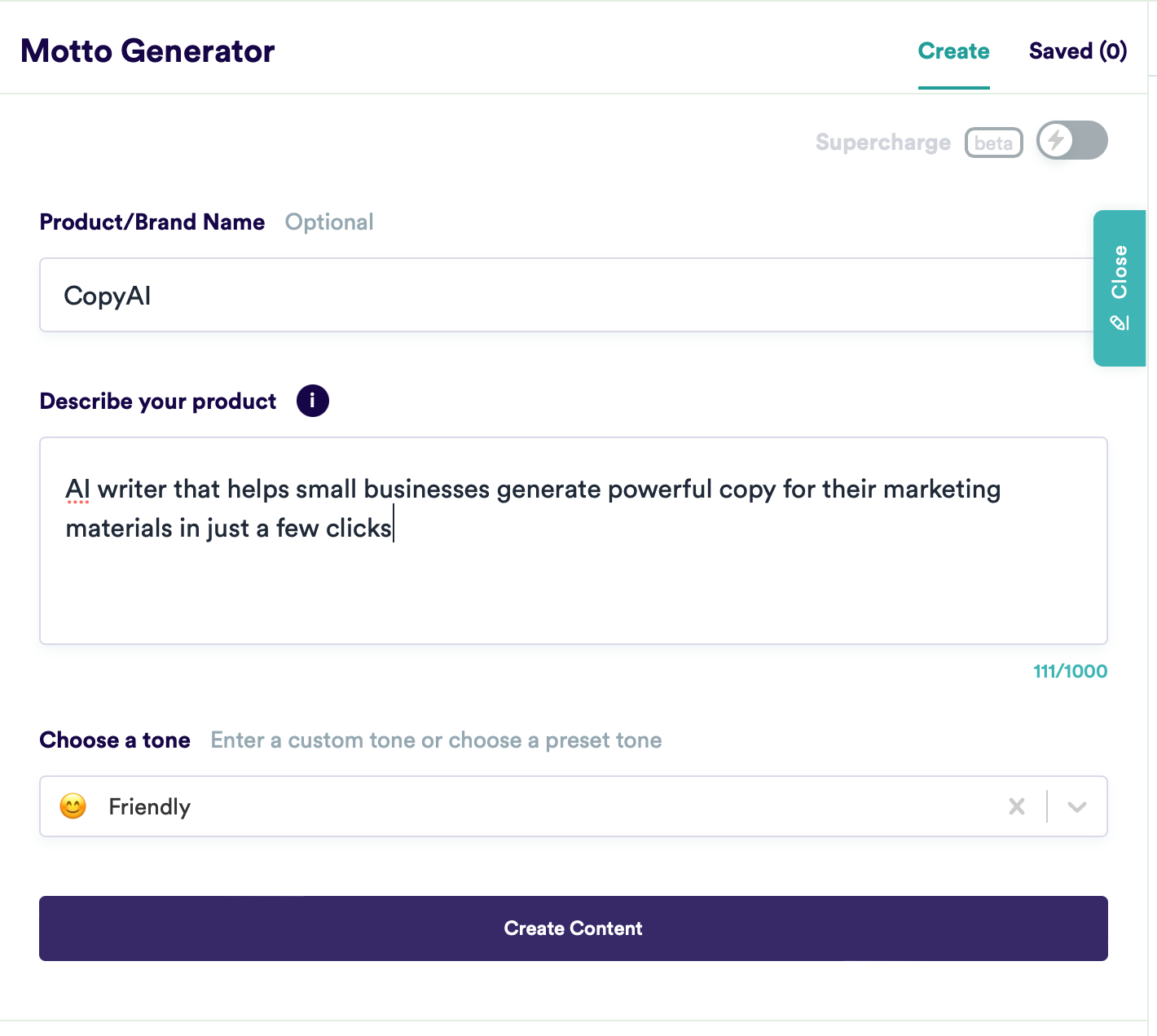 What I got: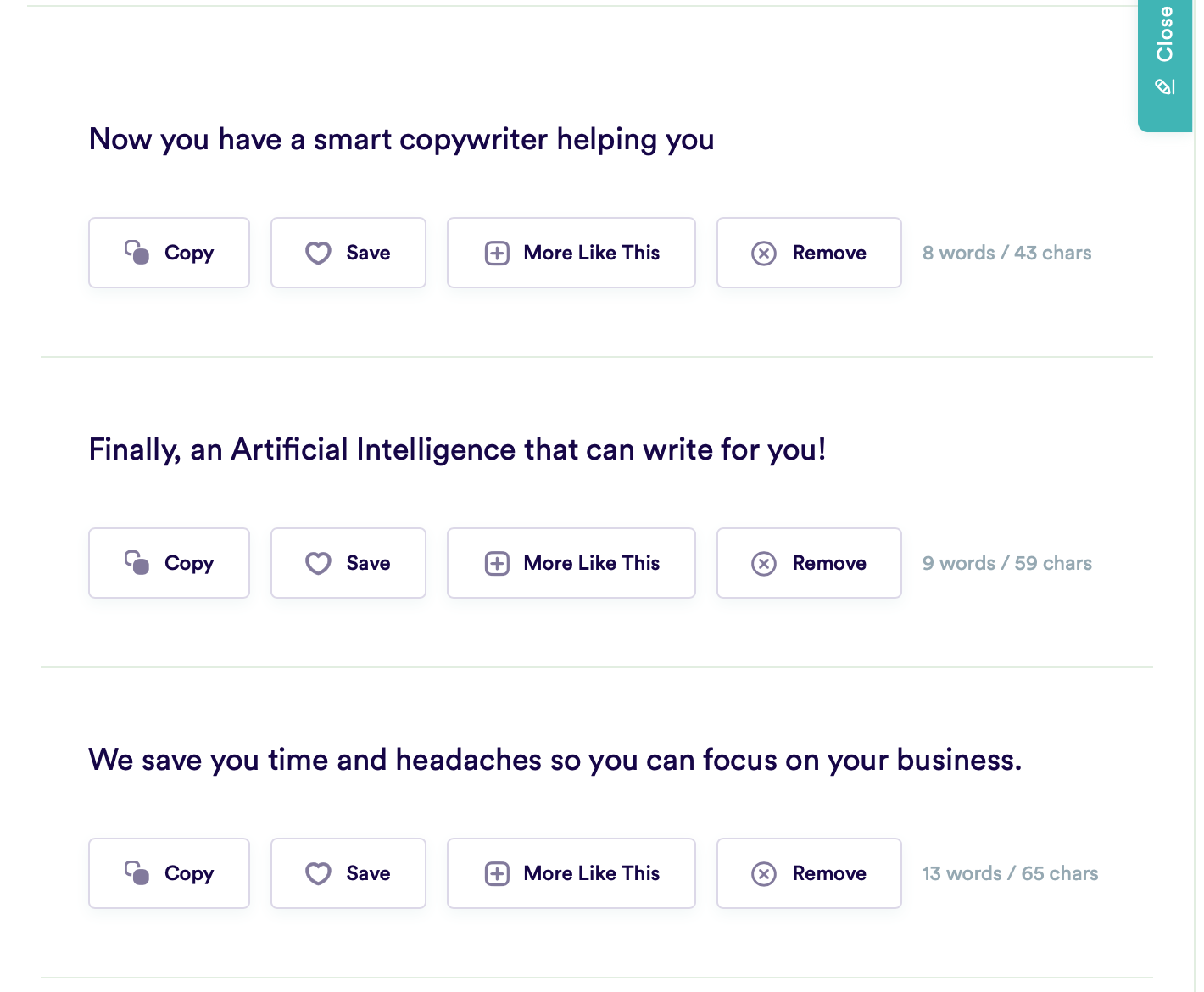 It seems like some of the marketing-based tools and the motto generator are less useful. Still, overall, I found the content and copy to be super high-quality and something I could see myself using for my own business.
All Tools & Templates Available
Although I went through the top ten tools of Copy AI, there are still a ton of tools that I didn't even get to that may be more fitting for your purpose. Here are all the tools available inside Copy AI at the time of writing: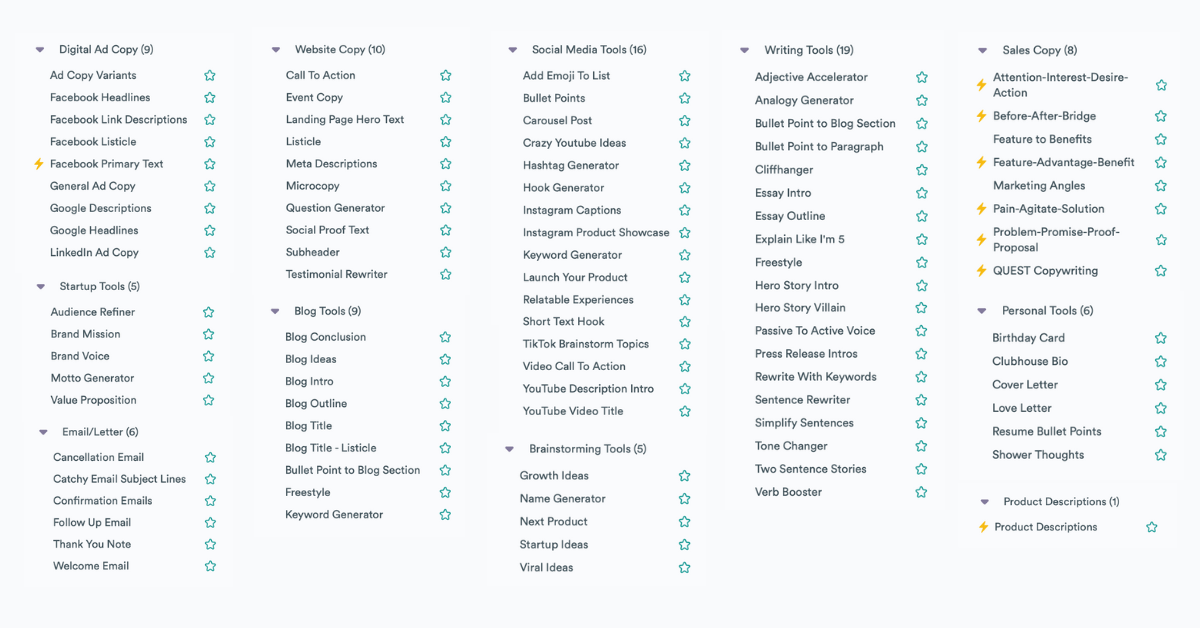 And here are all the templates you can choose from:
Now you might be thinking, what's the difference between a tool and a template?
I couldn't find an official answer to this, and I'm not sure I understand it myself. Some of the templates use the Freestyle tool with a written template inside that you can edit, but others seem similar to tools, like the Blog Post Wizard or Blog Outline Generator. The jury's still out on this one 🙂
Custom Templates
If Copy AI's 90+ tools and templates aren't enough for your business, you can also create custom templates with your own parameters to make it easier to produce custom marketing copy on a regular basis.
This may be a great resource if you have a in-house writing team, but you want the content to maintain consistency.
Does Copy AI Have a Browser Extension?
Yes! Like most AI writing software, Copy AI doesn't have a mobile app. But it does have a Chrome Browser Extension.
The Copy AI browser extension doesn't allow you to generate text inside web pages. Instead, it opens up a new window on the side of your screen with the Copy AI web app loaded inside. You can generate content inside the Copy AI window and then copy and paste it into whatever you're doing online.
What is Copy AI Workflows?
Copy AI recently announced a new product called "Workflows," which allows you to create custom automations for your marketing and sales tasks.
I couldn't find many details on the website, but you can sign up for the waiting list to get early access. I'm pretty excited to see what this is going to entail, as automating tasks could really help the writing process become a bit more efficient.
How Much Does Copy AI Cost?
The Free plan gives you unlimited projects and up to 2,000 characters generated per month. You get access to all tools and templates, including the Blog Post Wizard.
Upgrading to the Pro plan gives you unlimited characters, access to 25+ languages, and up to 5 user seats. Pro costs $49 a month or $432 per year (which comes out to $36 a month).
This is a bargain compared to some of the other options on the market.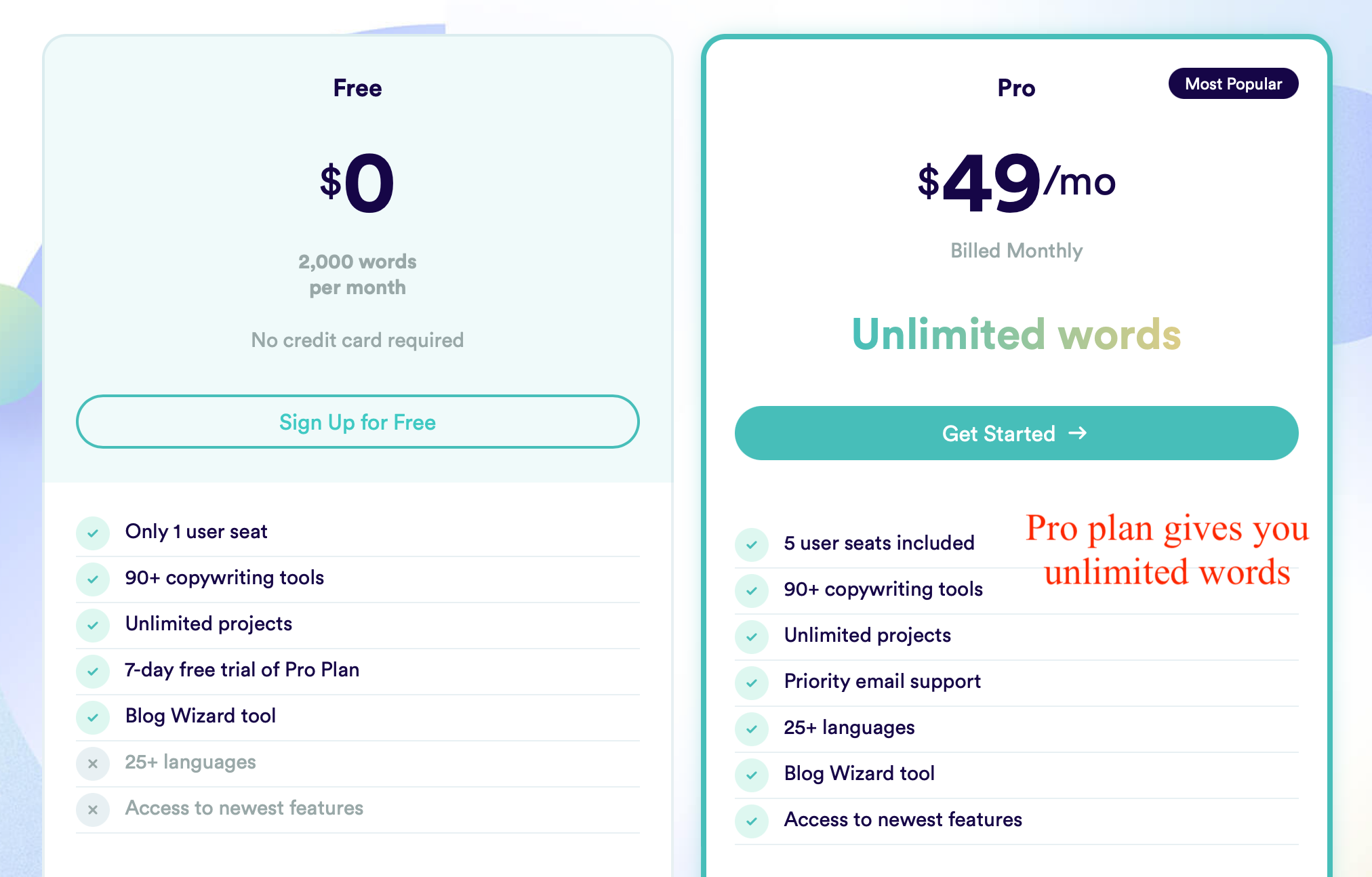 What are the Copy AI Pros & AI Writer Benefits?
If you've made it this far in the article, I think the benefits of Copy AI speak for themself. Here are the main pros of using Copy AI (and AI writers in general):
What are some Copy AI Cons & Warnings?
While I think Copy AI is a fantastic tool, there are a few things I would like to see improved. Also, because we're in the beginning stages of AI writing, only time will tell how businesses will adapt to it.
My Take Home
Copy AI is a solid AI writer and would be a great help to any business, writer, or content creator. Not only does it have more tools than Jasper, but it also makes writing a blog post super easy. And the low monthly price for unlimited characters makes it more affordable than most other writers.
Frequently Asked Questions (FAQs)
Is Copy AI the best AI writing tool?
Copy AI is one of the best writing tools available. You'll want to compare and contrast AI writers to find which one is best for you. If you want to learn more, read my full Copy.ai review above.
Does Copy AI support multiple languages?
Yes! Currently, Copy AI supports 25+ input and output languages. You can see the full list above.
What kind of copy can I generate with Copy AI?
You can generate virtually any kind of content or marketing copy you can think of with more than 90 templates and tools inside of Copy AI. This includes social media posts, digital ad copy, various sales copy frameworks, long-form content, email subject lines, and more.
Do AI writing tools plagiarize content?
No, AI writing tools don't copy and paste content from other sources. Instead, they read content from the internet and use that knowledge to craft new sentences. But sometimes, a sentence generated by AI can be similar or the same as other content already written online, so it's important to do a plagiarism check before publishing.