Teal HQ is another popular AI resume builder that has entered the market with lots of growing interest.
I've been on a mission to personally test out all the competition, and I'm here to give you the good, the bad, and the ugly in this Teal HQ review.
What I think sets Teal HQ apart from their competitors, is that it builds resumes and cover letters through the power of AI, and then goes a step beyond that by becoming you're personal job-hunting assistant.
Teal HQ utilizes keyword matching magic to help you create a winning resume that will hopefully help you pass applicant softwares with flying colors and impress a job recruiter to land that interview.
If you're interested in learning about other AI resume builders, here are the other reviews I've done:
Teal HQ Features
At a glance, here's what Teal HQ offers:
Teal HQ Dashboard Experience
As I'm a pharmacist by education, I've decided to take you along as I navigate their platform to find a new pharmacist position.
Step 1: Choose Your Template & Job Title
First, tell Teal HQ a little bit about the job that you're looking for. This is similar to other tools on the market, but I really love how they also include the starting date and desired pay scale.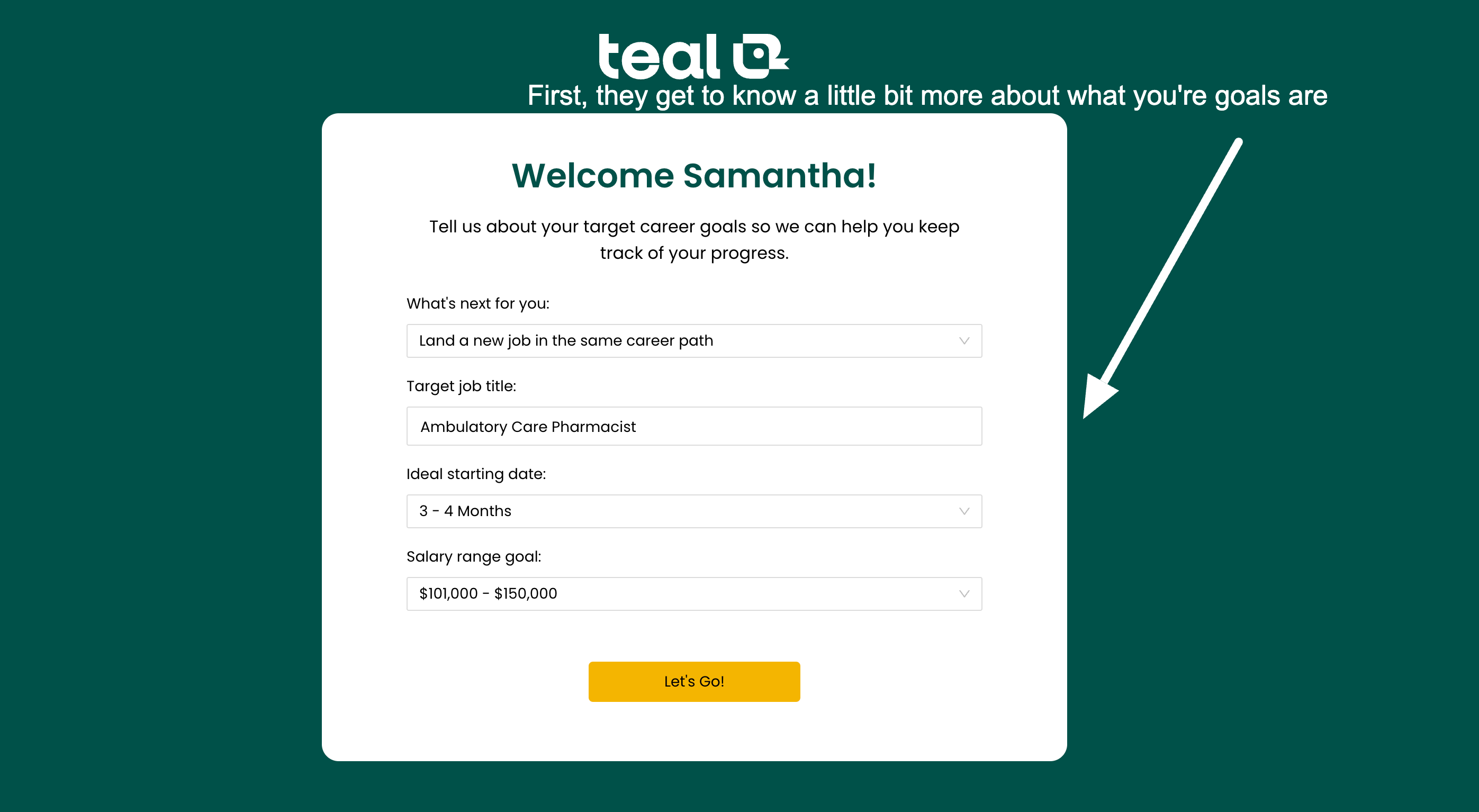 Step 2: Work Through "Getting Started" Tasks
You'll have a "dashboard" or application of sorts you need to complete. This will help the system understand the exact jobs that you are applying for and what type of qualifications those companies may be looking for.
It took me about twenty minutes to work through these steps.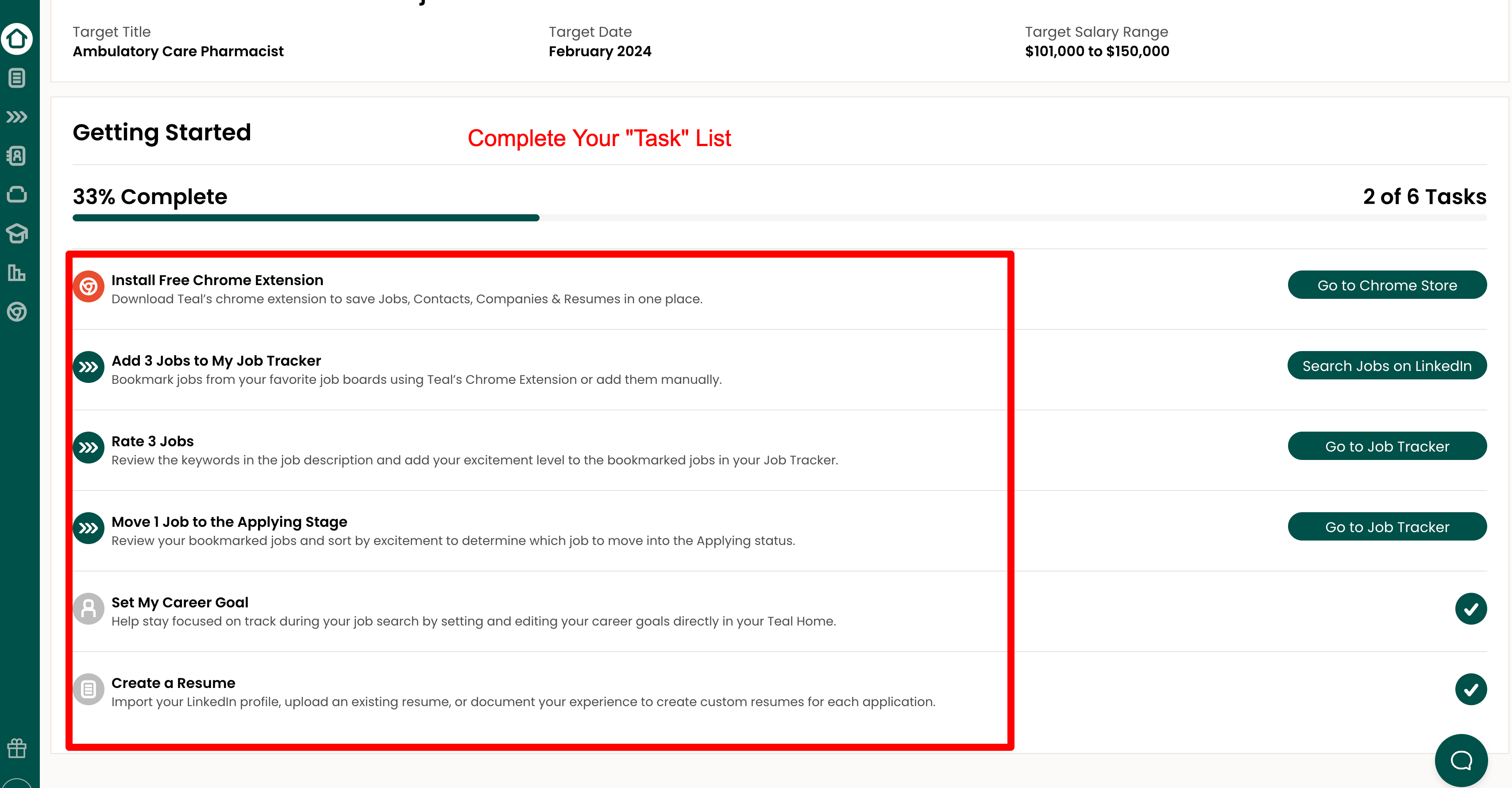 Step 3: Download the Google Chrome Extension & Upload Dream Careers
The Google Chrome extension is a really neat feature of Teal HQ that I haven't seen on any other platform. It allows you to add careers to your profile while you're searching, by automatically connecting to LinkedIn.
Check out my screen when browsing through LinkedIn: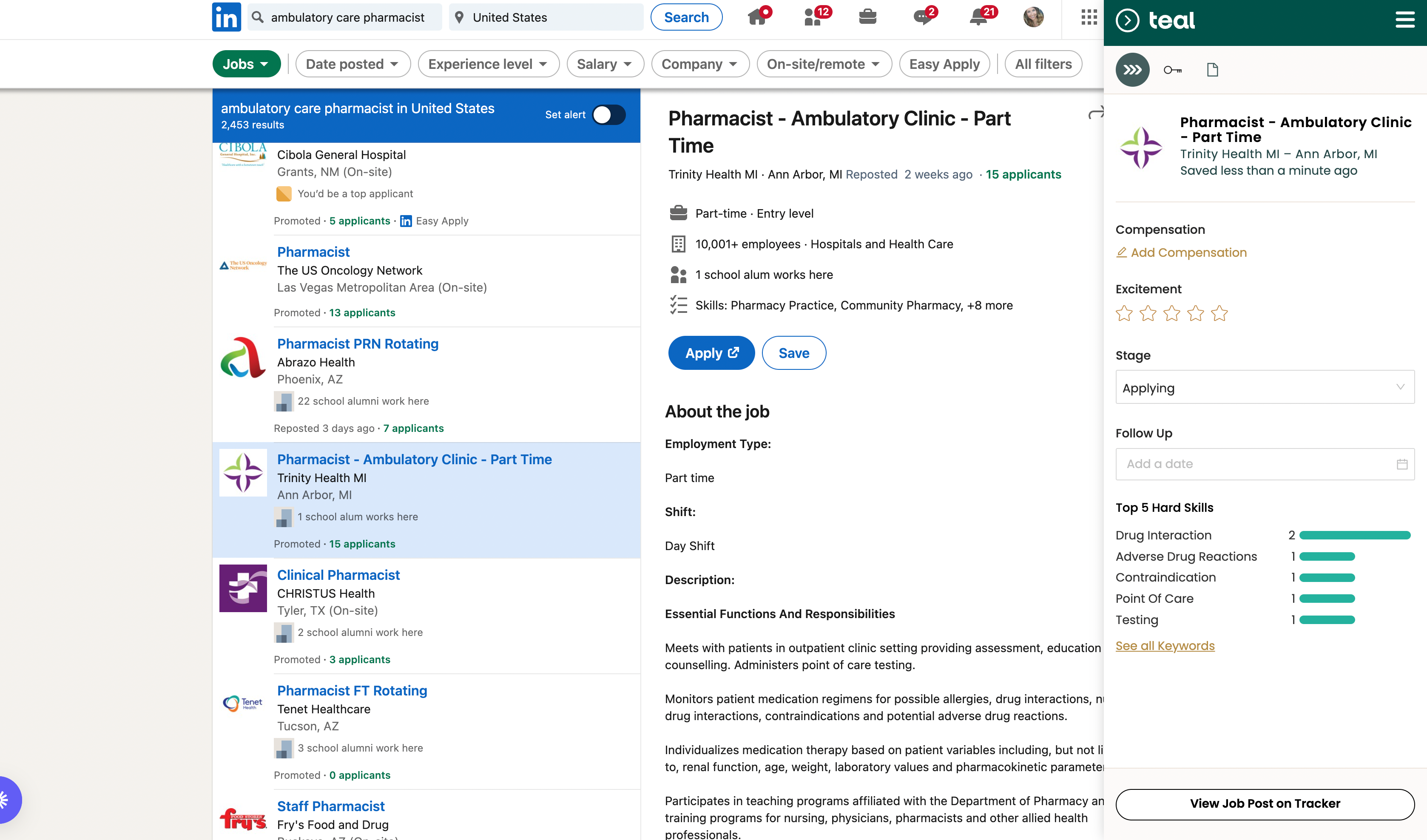 From this extension, you can save the job and add it to your job tracking dashboard. It also helps you understand the target keywords a specific job is targeting.
Step 4: Build Your AI Resume
This is where the real work comes in. You can either start by building it from scratch, OR you can upload a current resume (a real nice feature in my books!).
In your main dashboard, you'll be in "Preview" mode, which I really love: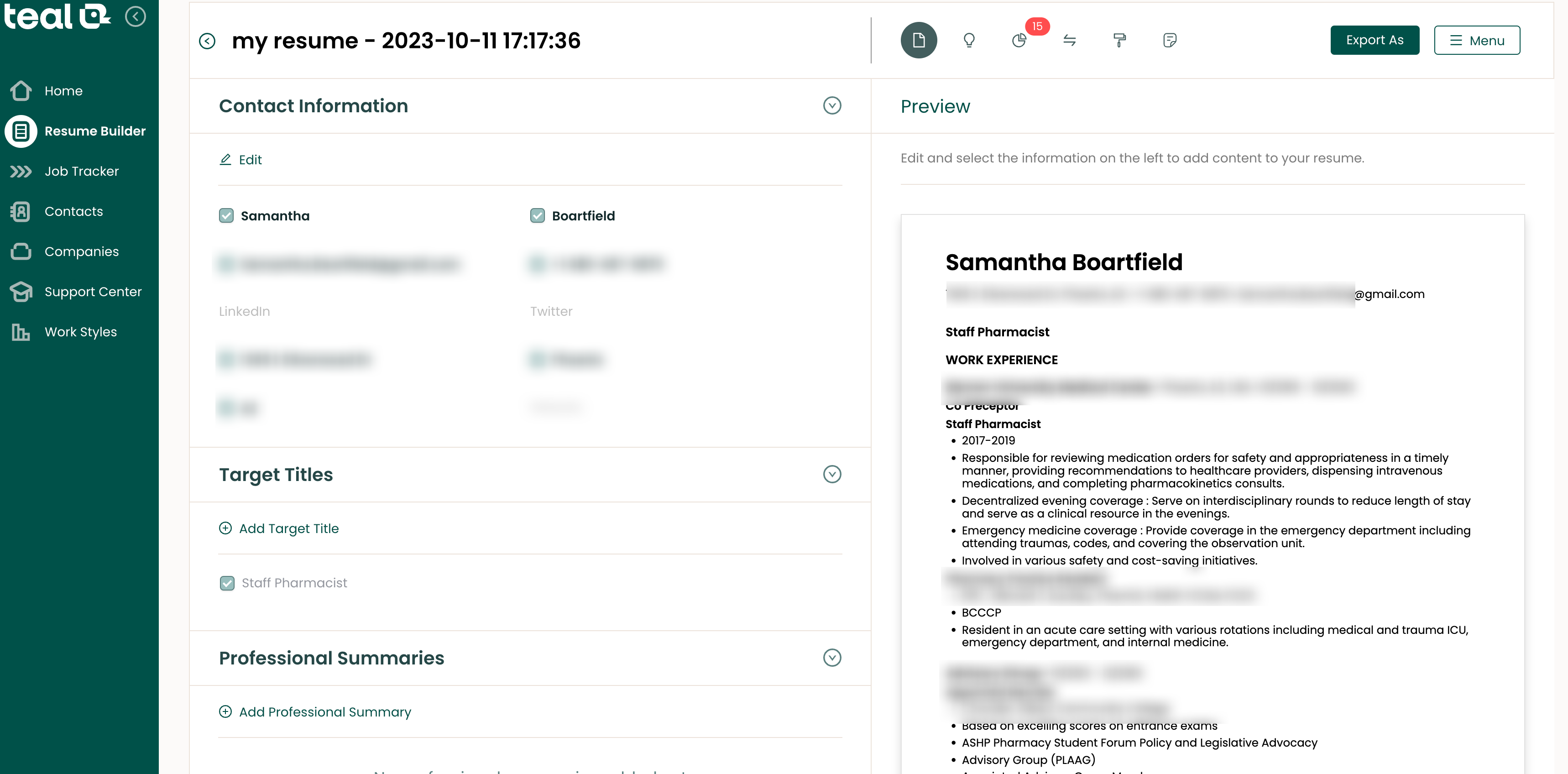 You can work through the left-hand side and fine-tune or manually enter all the information as needed, such as:
You can also add and edit categories (for instance, I needed to enter "publications," but it wasn't an option). I then manually added the category, but for some reason, I couldn't find it very easily on my Preview section despite adding it.
Step 5: Analyze Your Completed Resume
After you've completed the most tedious part of filling out all the information to go into your resume, it's time to analyze your work thus far.
Teal HQ will look at the following: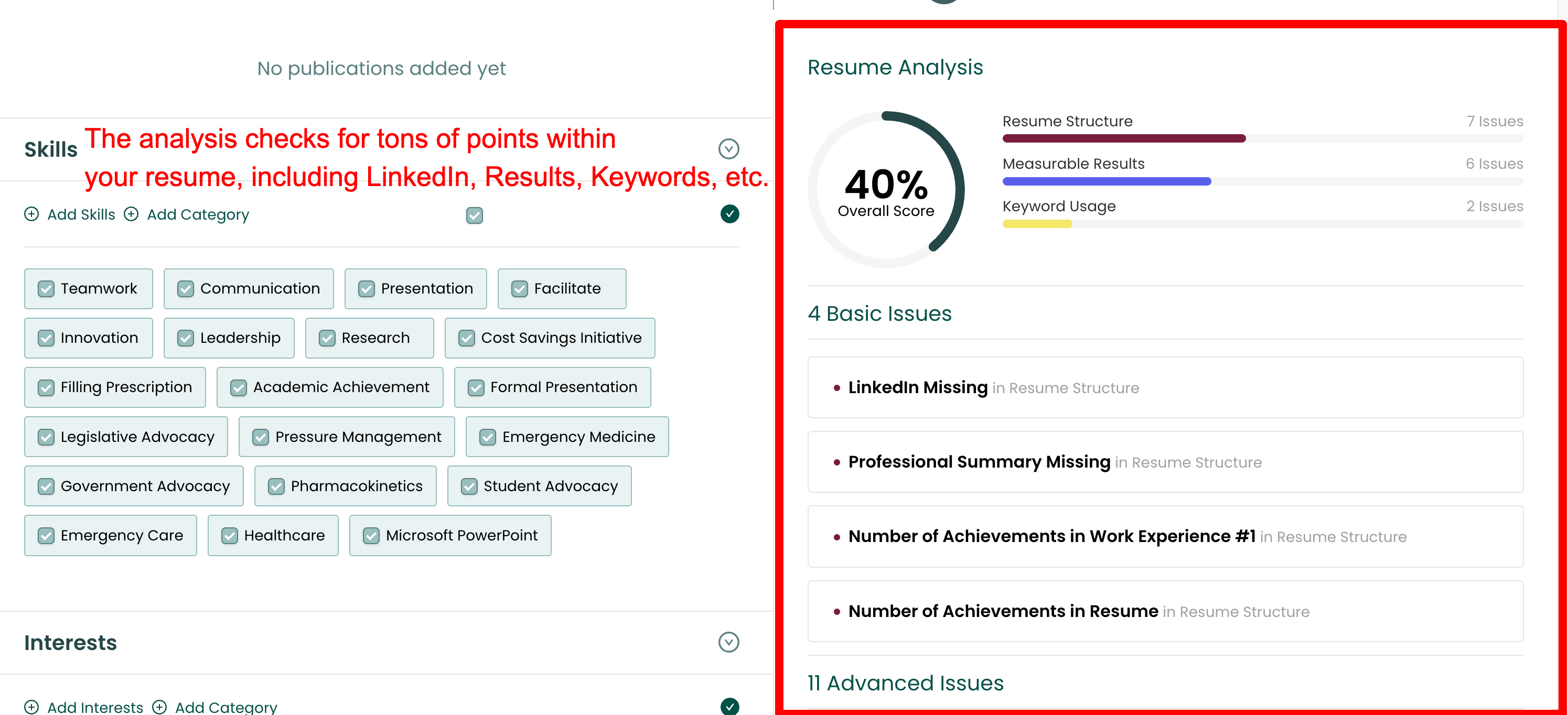 Comparing it to all the other platforms on the market, their resume analyzer was the most robust. I liked that it looked for more than just "grammar".
It actually made sure that the keywords were matching the job positions that you attached to it, and that no key parts were missing from your resume.
Step 6: Keyword Match Your Resume
Next, choose from the job descriptions you've already saved and decide which job this resume is for.
When you do this, you will get a screen that tells you what high-priority keywords you may be missing.

Step 7: Design and Format the Completed Resume
Once you've followed all the above suggestions, it's time to make sure your resume is visually appealing. After all, first impression is everything.
You can change the font, margins, and alignment, and it even includes and drag-and-drop editor to move around the sections if you want.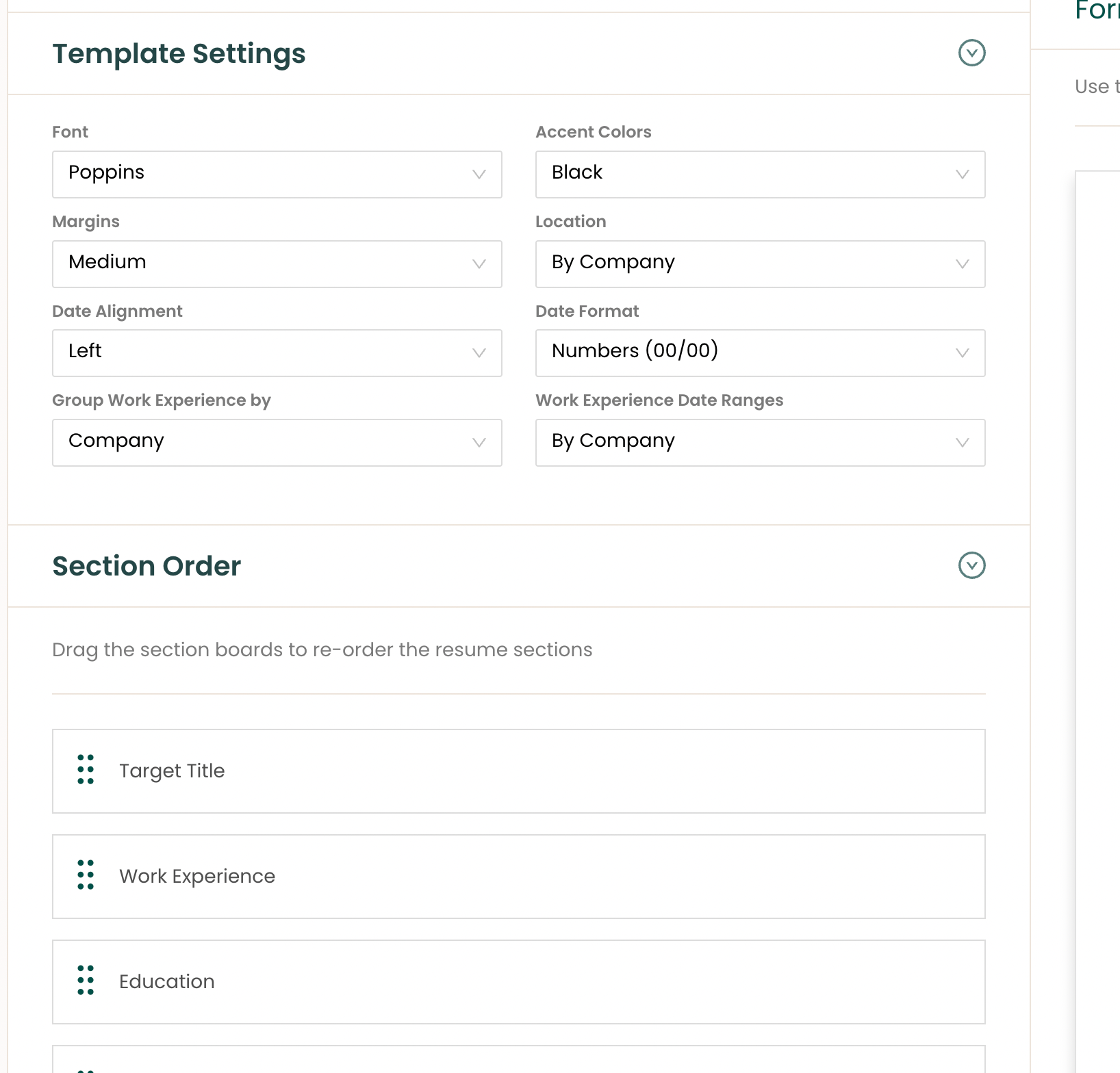 Teal HQ Cover Letter
The AI Cover Letter Builder was a wonderful feature. You actually clicked the job listing you were working on, and it generated a cover letter specific to the job in a few minutes.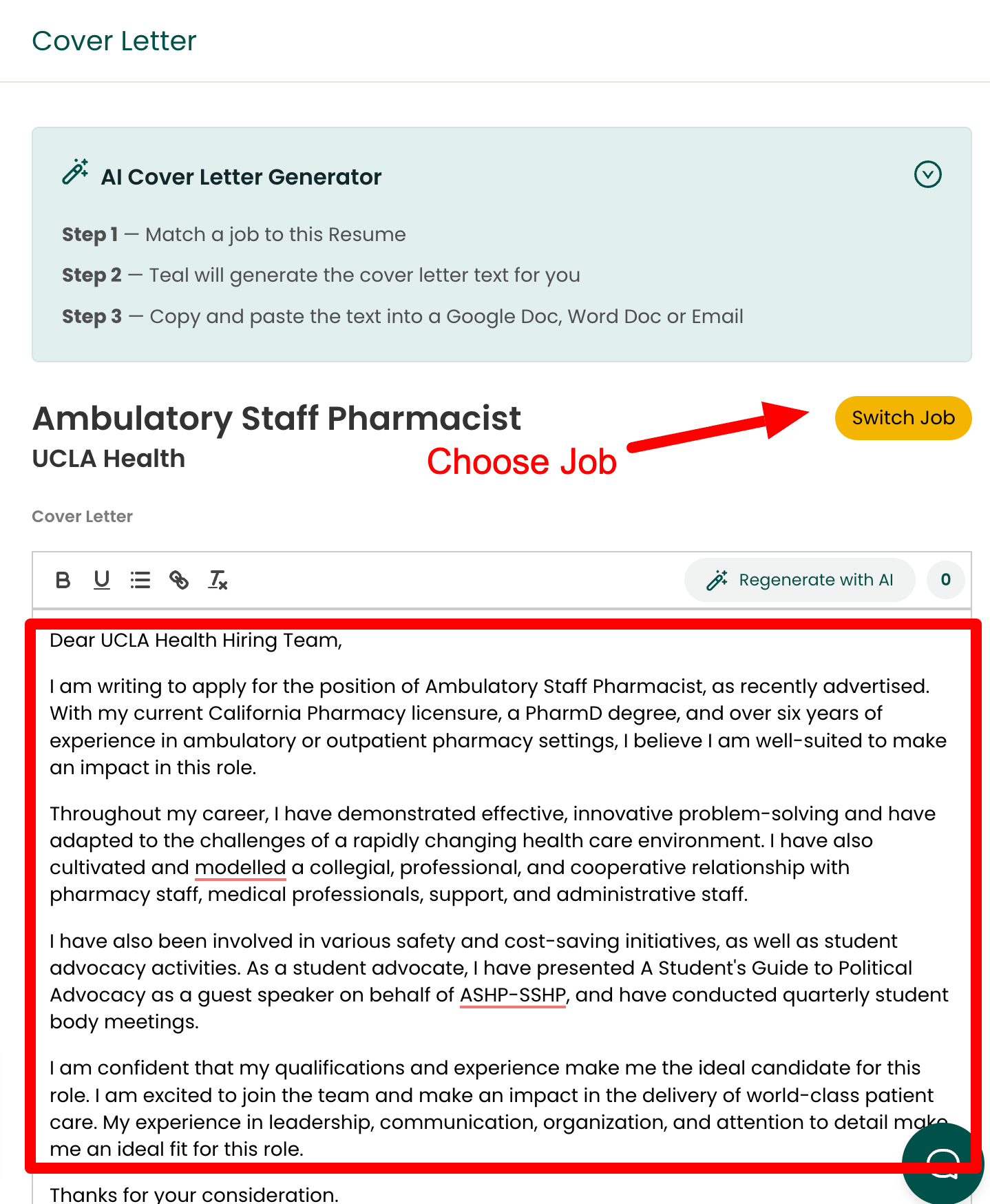 It produced a nice cover letter typical of any AI writer, and even pulled information from your resume into the letter.
You are then free to go in and add/tweak anything else you find appropriate.
Teal HQ Job Tracker and Job Search Functions
Today, people are now applying to dozens of jobs just to get a few interviews. How do you keep track of them all? That's where a job tracker is such a nice feature to have.
Here's what Teal HQ's looks like. It basically gives you your progress and details about each one.

Teal HQ Pros and Cons For Job Seekers
Here's what I loved about Teal HQ:
Here's what needs some improvement:
Teal HQ Pricing
They are the ONLY company so far that offers non-recurring pricing (aka no monthly subscription).
I really liked this, because why would I need a resume builder in a year from now? You likely only need it for a few months until you land the job and end your job search.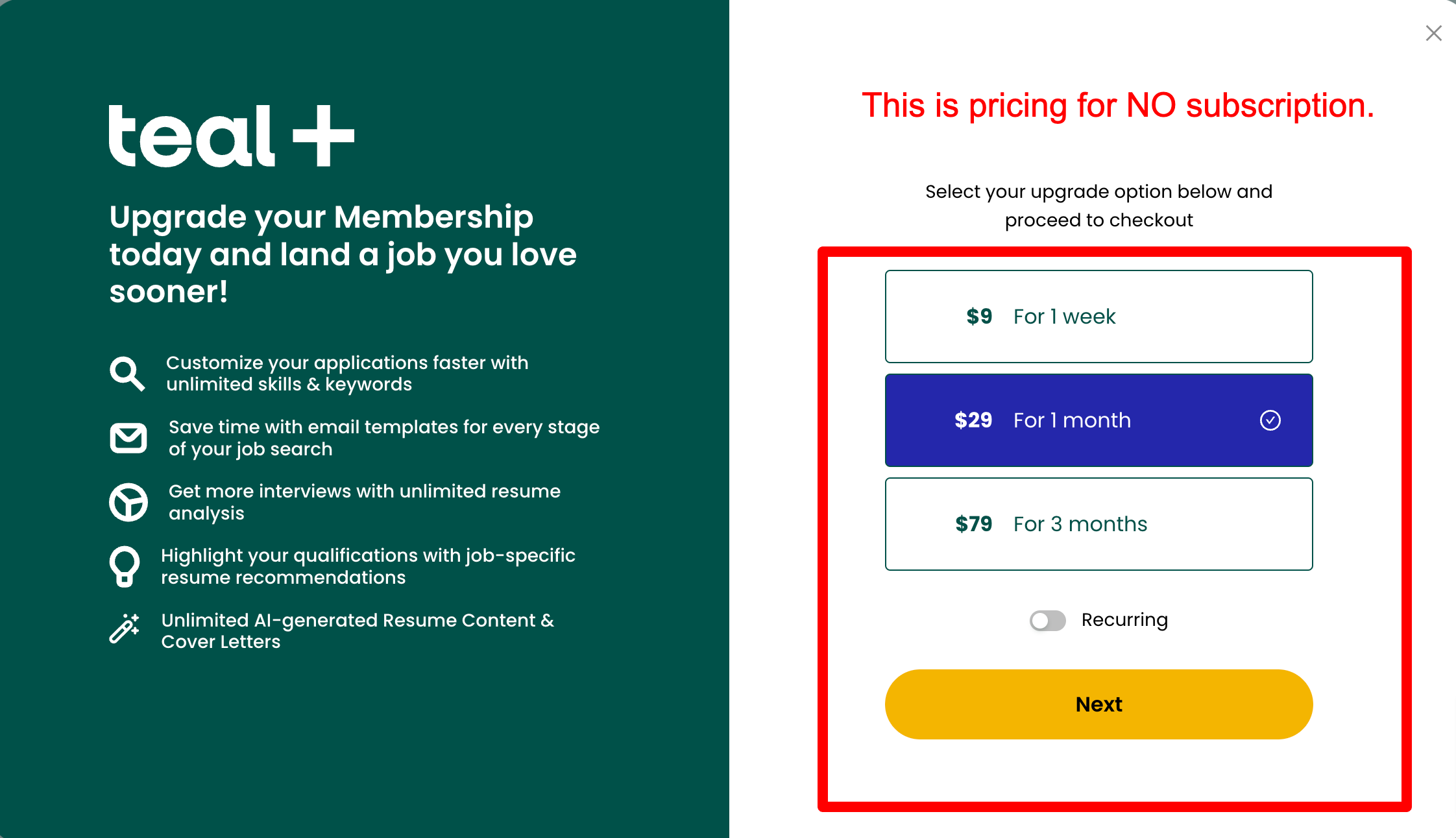 Teal HQ Verdict
Overall, I loved this program when it came to its job application and keyword-matching options. However, when it comes to the AI resume builder itself, there are definitely some improvements that can be made, but it hits everything you need.
If you're applying for a ton of jobs and not getting any hits, then I highly recommend trying this program out to pass the tracking and keyword settings and application systems they're using.