As a pharmacist who has created many professional resumes to land that next stellar job, I'm no novice when it comes to the resume-building process.
With thousands of applicants for each job, you need a resume that will place you high up on their software applicant tracking systems, as well as impress a human recruiter. That's where an AI resume builder comes in.
After analyzing tons of resumes and industries, they can help you create a winning resume that helps you land an interview.
I've used my own credentials to test each of the following AI-powered resume builders. Let's see how they did.
KickResume
Resume.io
What Is The Best AI Resume Builder?
Here's a list of the resume builders I personally tested:
1. KickResume Builder
Best Overall AI Resume Building Experience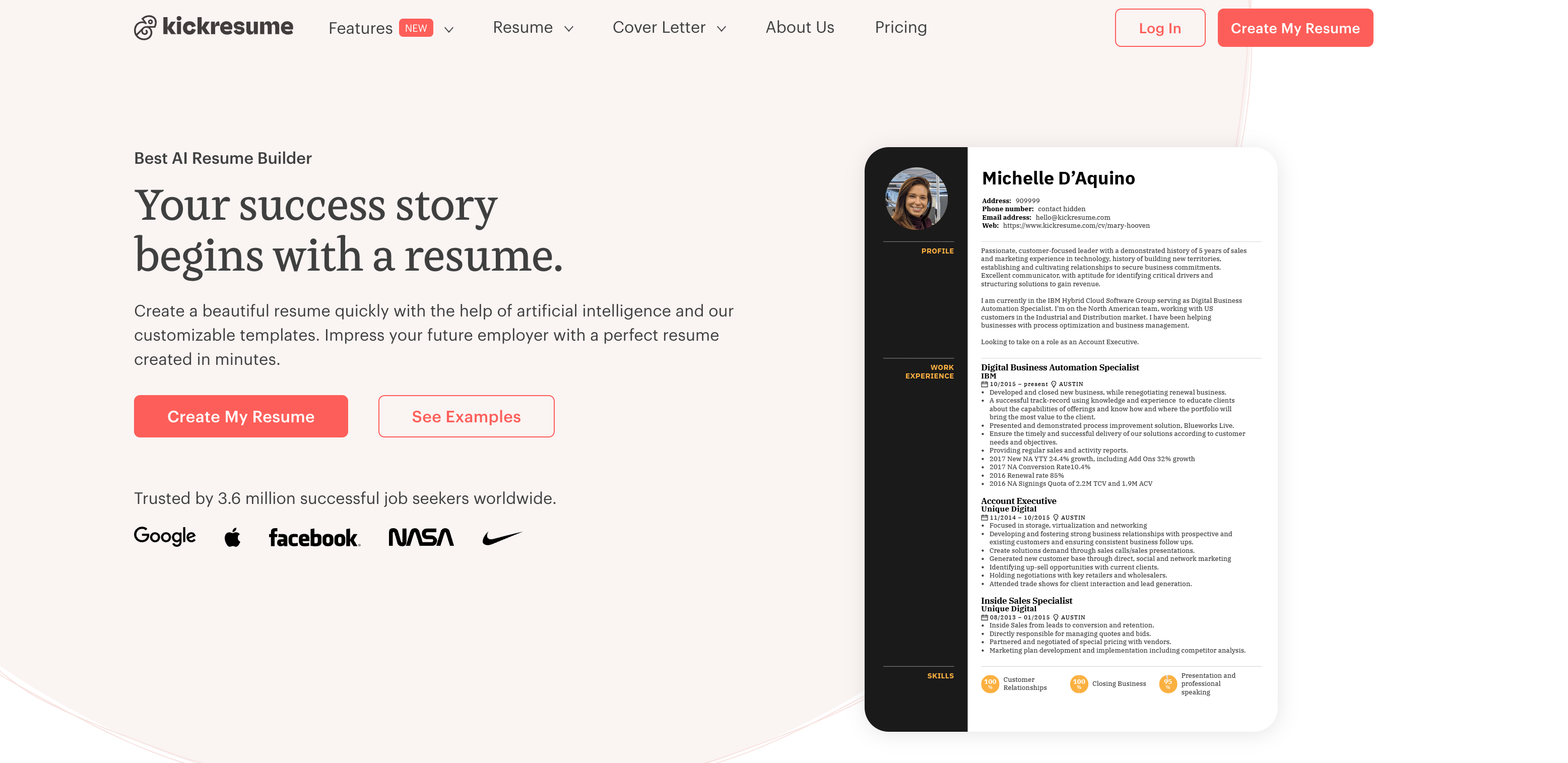 KickResume is a fantastic AI-powered resume builder that will help you create a winning resume in no time.
Not only does their program analyze job descriptions and automatically write out sections of your resume to help you describe your previous work experience, but their AI cover letter and website builder will help you create a full-rounded application to help you stand apart from the other job seekers.
I've given a full breakdown of their platform you can read here, but here's a quick snapshot of everything it does for you.
KickResume Features & Experience
This is an example of a resume I built for an industrial maintenance manager position in under five minutes.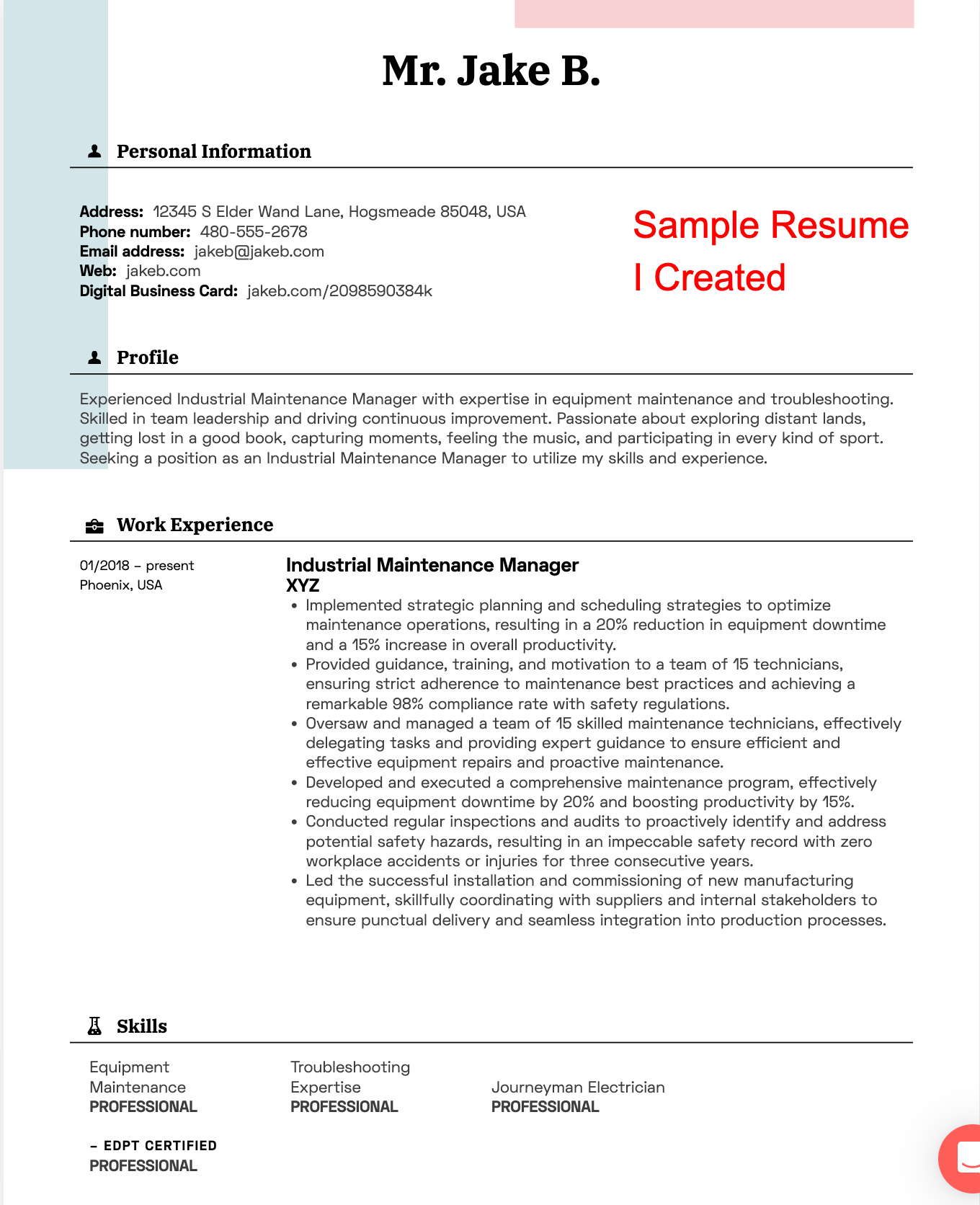 KickResume gives you everything you can expect with an AI resume builder, with some extra features that set them apart from the rest, including:
KickResume Pros and Cons
They honestly have one of the best user experiences I've seen in any resume-building software.
Here's a quick look at my dashboard when I was creating a resume.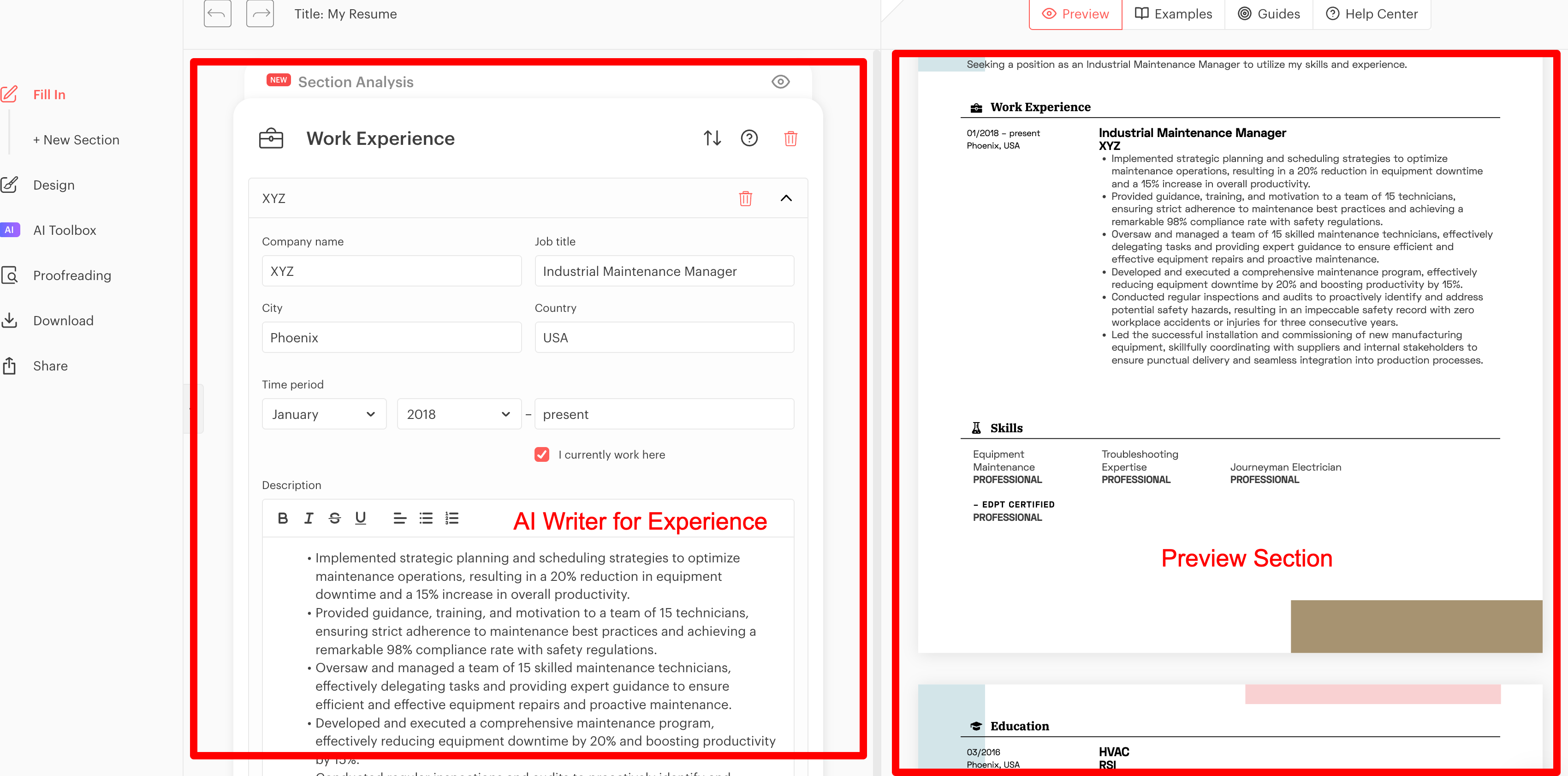 Here's what I absolutely loved when I tested KickResume:
KickResume Pricing
You can build an effective resume for free, but to get access to all the bells and whistles, I recommend upgrading to the Premiere Pro.
This way, you can have access to all of the resume and cover letter templates they have available.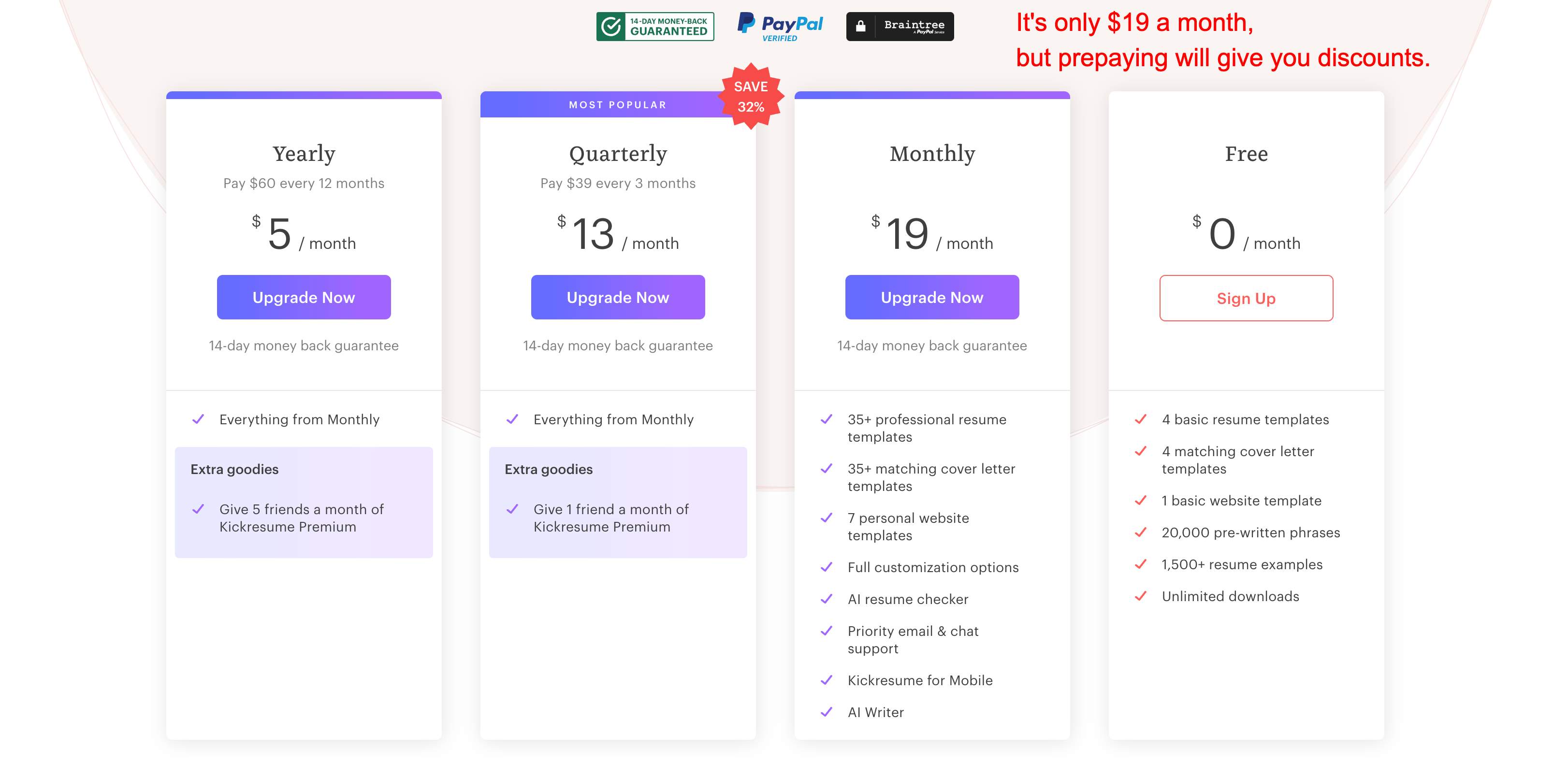 KickResume Verdict
After testing multiple programs, the experience of building an impressive resume with Kickresume was top-notch. The artificial intelligence paired with their building platform made the resume process both fun and quick, leaving you with a resume to help you land that dream job.

After doing some research, Rezi undoubtedly seemed to be the most popular AI resume builder on the market.
Rezi's platform has analyzed thousands of resumes to help you create an industry-specific winning resume with its easy step-by-step dashboard.
You can read my full Rezi AI review here, but here's the quick and dirty.
Rezi AI Features & Experience
Here's a picture of a quick resume I built: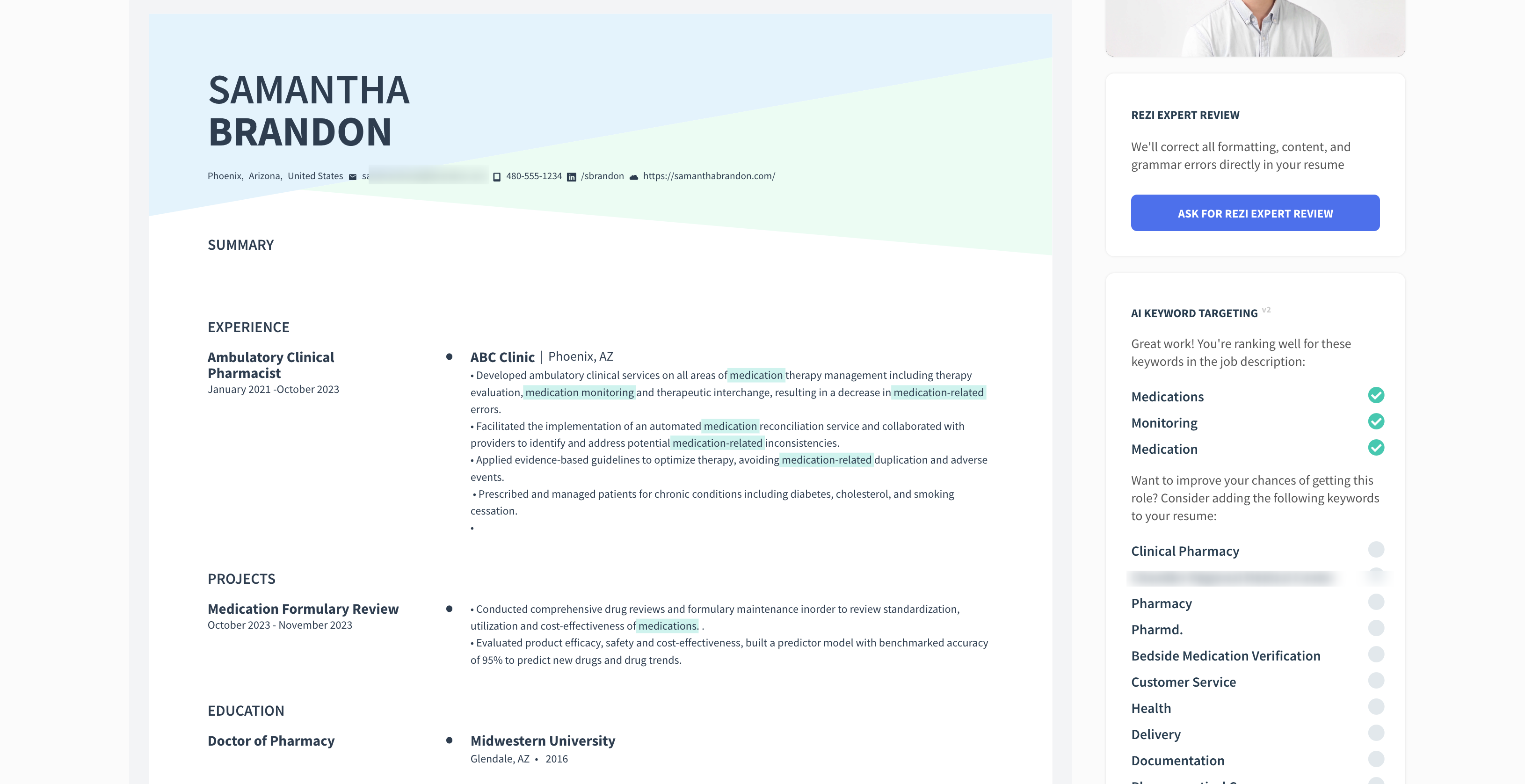 You can build a resume for free, but will have limited features and options.
For the advanced function and unlimited resumes/AI credits, I highly recommend the Pro version.

Rezi Verdict
Honestly, I personally loved the professional resume that I was able to build with Rezi under thirty minutes. It wrote job features for my past roles better than I ever could have. Definitely recommend giving them a try, and for $29, that's such a steal.
3. Resume.io
Great for Job Tracking

If you're looking for a "job-winning resume", then Resume.io is going to be one of your top AI resume builders to help you beat the odds of applicant tracking systems and help you land the job.
Like its competitors, they have added AI writers to help you pre-write past job descriptions and optimize your resume to get you to the "top of the pile" (so to speak).
Resume.io Features
Let's take a look at some of the features.
Resume.io Pricing
You can create a free resume, but you'll have to choose from limited templates and you can't easily download it to Google docs or Word (only TXT format). For full access, here's the pricing.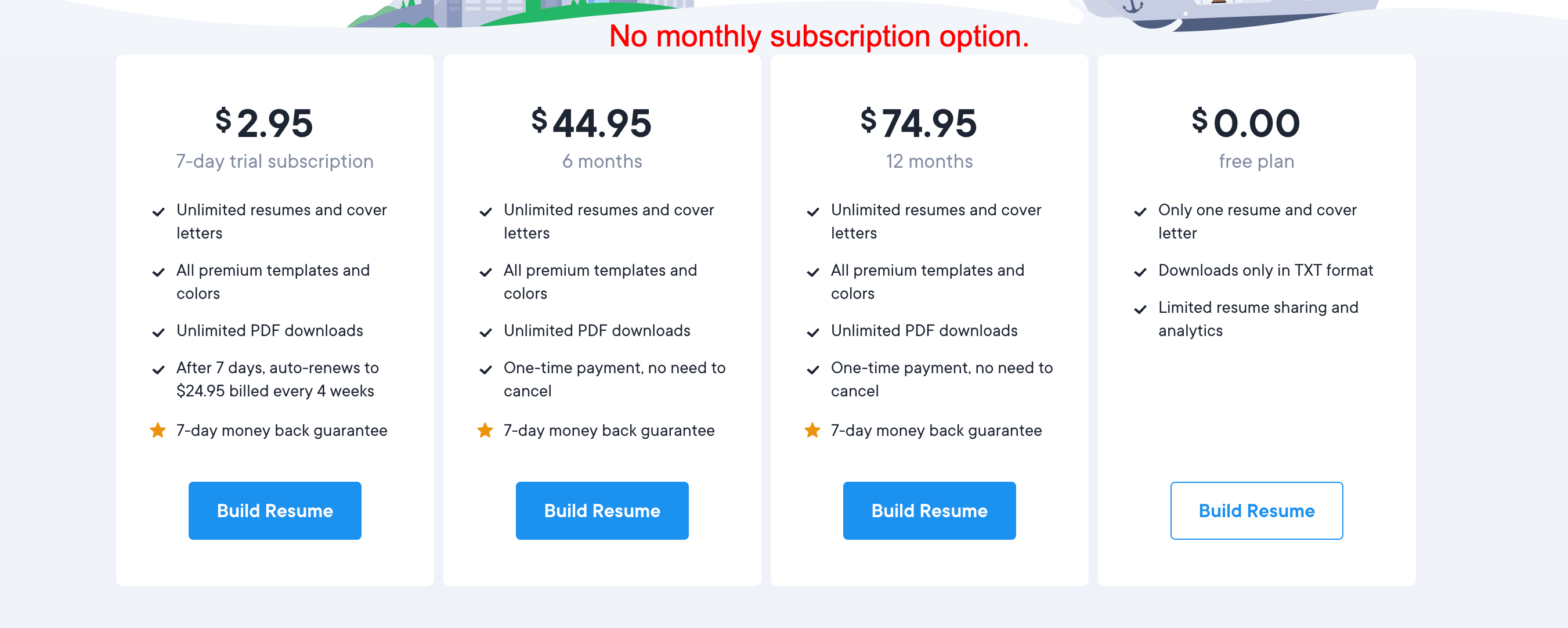 Resume.io Verdict
If you're applying to dozens of jobs in order to increase your chances of getting your desired job role, then Resume.io is super nice to help you keep track of your resume and application process. They have tons of resume templates, making them a great option for job seekers.
4. ResuMaker AI
Free Resume Maker

As you can tell, there are so many great softwares available to help create a unique and professional document for job hunters.
So, what sets Resumaker apart from the rest?
ResuMaker AI Features
ResuMaker Pricing
Totally free.
ResuMaker Verdict
If you're looking for a free AI resume builder that can give you a nice template and formatting design to build your resume, this works fine. But it's honestly not much different than using Microsoft Word templates.
5. TealHQ
AI Builder with Google Chrome Extension
TealHQ is hoping to be your one-stop shop for all things related to your job search.
Not only does it help you custom tailor resumes to each specific job, but it helps you track your job application project from job search to signing your job acceptance letter. You can read all about my in-depth TealHQ review here.
TealHQ Features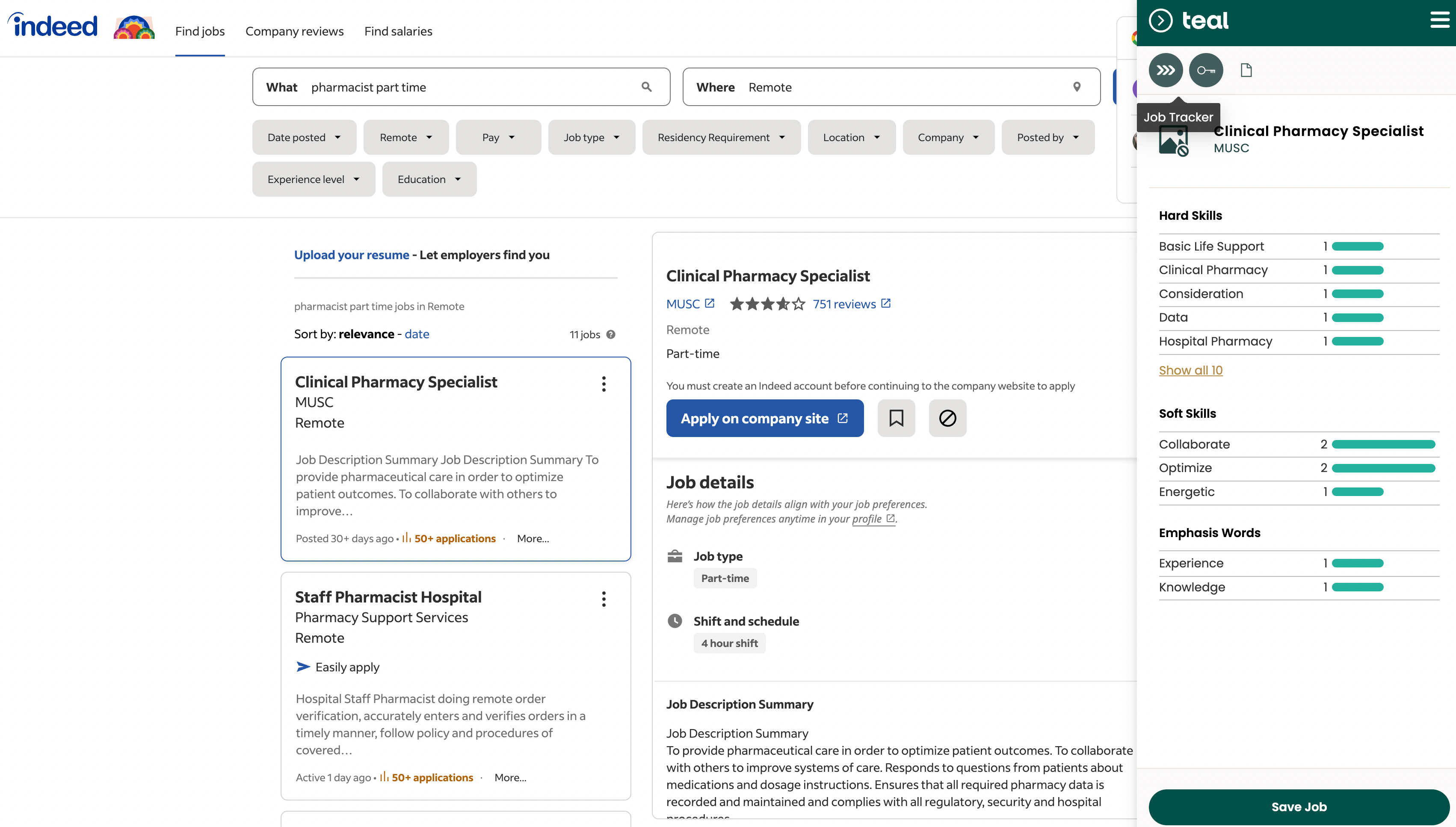 TealHQ Pros and Cons
Here's what I loved about TealHQ:
Things I didn't love:
TealHQ Pricing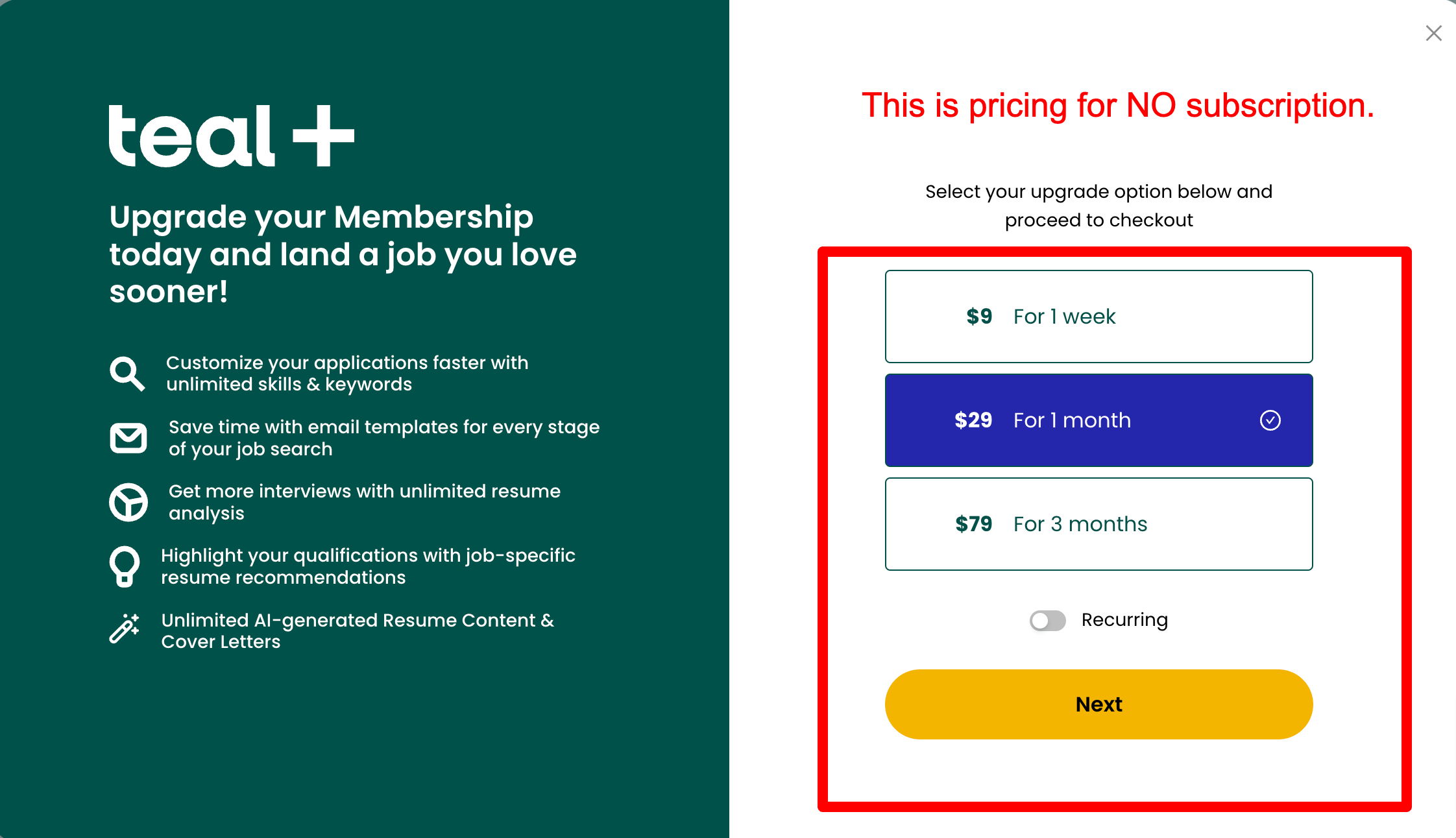 TealHQ Verdict
I loved Teal HQ for its keyword-matching capabilities, Chrome extension, and job matching. This was better than any other program. However, when it came to the actual AI resume builder, it was lacking a bit and harder to use (but in the end did include everything you needed).
6. ResumAI
Free Version of Rezi AI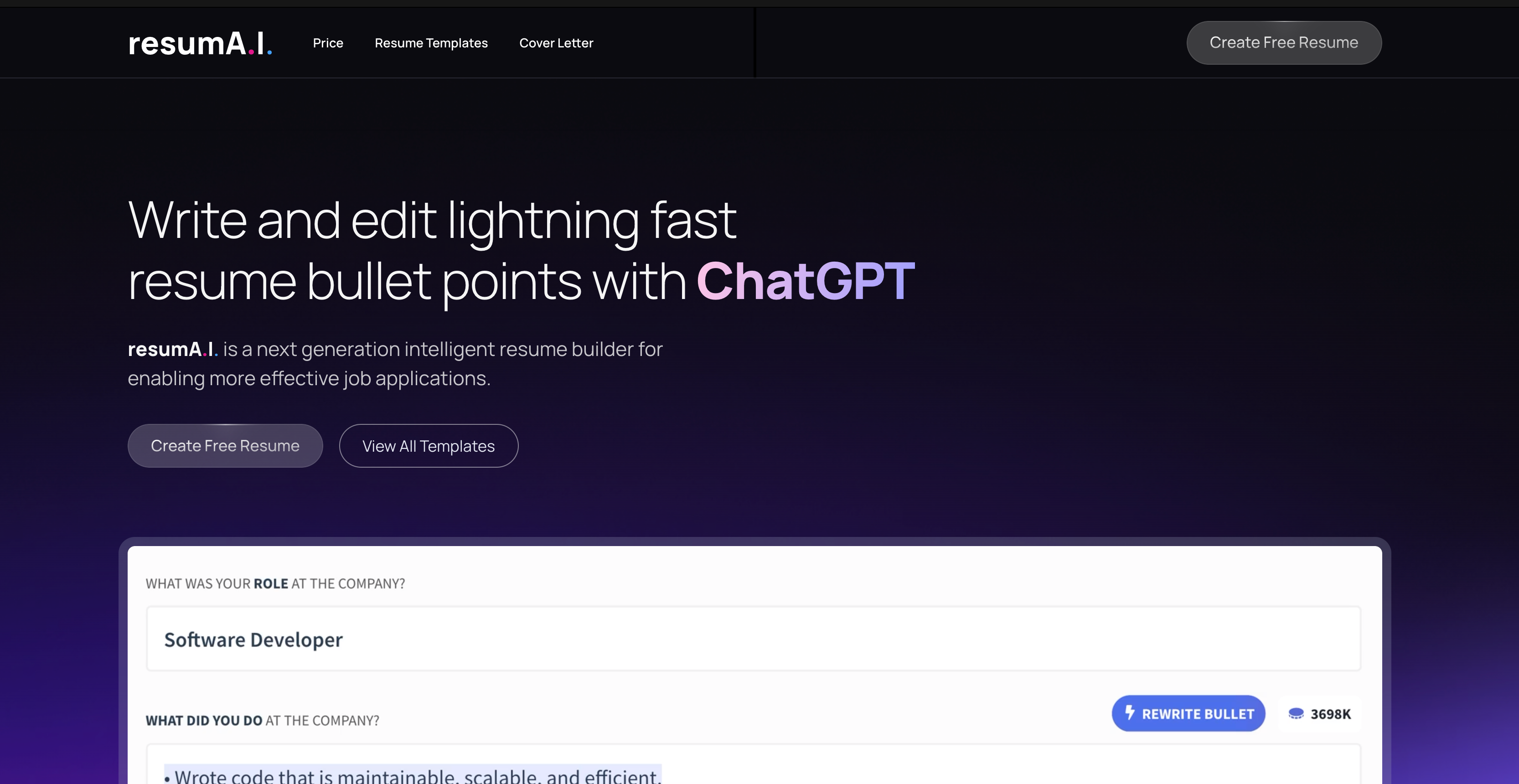 ResumeAI aims to be a "Resume Writing Assistant". From what I gather, the goal is to help you create those specific job descriptions bullet points when you're describing your previous roles throughout your work experience.
Where I was confused, was that I tried to create an account and found out "I already had one". When I logged into my dashboard, I discovered the same well-structured resume that I had already built with Rezi.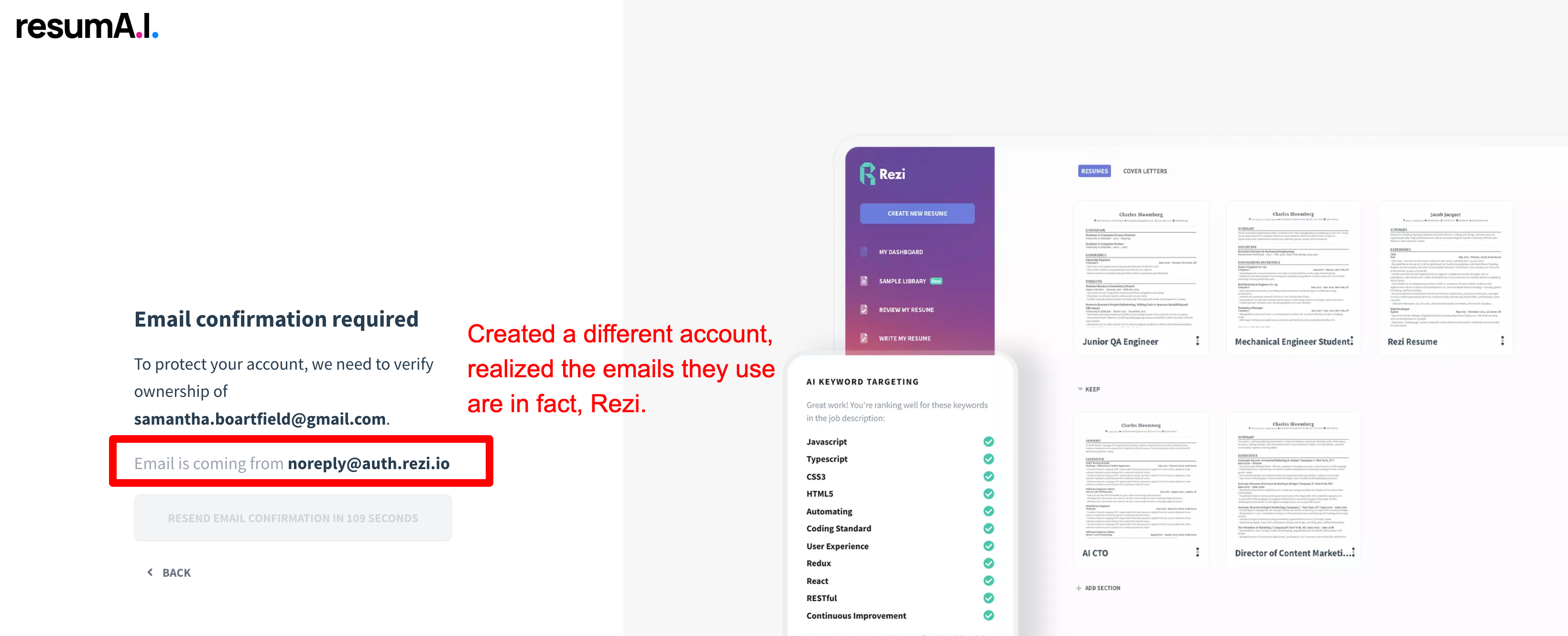 So basically, ResumAI is the "Free Version" of Rezi that helps you write different job descriptions. But if you want the full experience, you need to purchase Rezi.
ResumAI Features & Experience
ResumAI Pricing
You can create a standard resume for free, but to gain access to the artificial intelligence capabilities, you need to upgrade for $29/month.

ResumAI Verdict
I honestly don't see the point. It does the exact same thing (dashboard, sample resumes, everything) as their Rezi site. Not quite sure why they keep this running and don't just merge the two.
What is an AI Resume Builder?
Ah, the core of our discussion – the Artificial Intelligence (AI) resume builders.
Many of the AI builders on the market have been trained to understand thousands upon thousands of winning resumes.
Because landing that interview isn't easy.
AI resume builders don't just format and edit your resume. They utilize machine learning and natural language processing (NLP) to enhance your job applications in a multitude of ways.
Benefits of an AI-Powered Resume Builder
Here are some of the benefits you wouldn't get if you tried writing your resume from scratch.
Wrapping Up:
In a landscape where the job search process is becoming increasingly automated and digitized, leveraging the prowess of AI in crafting your resume isn't just a smart move; it's an essential one.
AI resume builders help you create a document that places your best foot forward (similar with a digital business card) and it's a must-have AI tools for job seekers.
Frequently Asked Questions (FAQs)
What is the best AI to make a resume?
There are several amazing AI resume builders on the market, but my favorite three are KickResume, Rezi, and TealHQ.
What is the best free AI resume builder?
If you're on a budget, I still recommend using my top three favorite resume builders. While the upgrades cost a small fee, you can still create a very professional resume with their free versions.
How do I get AI to rewrite my resume?
This is super easy, just use an AI resume builder! They write winning resumes in record speed that match to relevant keywords of the dream job you're applying for. Some of my favorites are KickResume and Rezi.