6 Best AI Voice Changer Tools for Creators, Gamers & Streamers
Last Updated on September 5, 2023
There are so many ways the best AI voice changer tool can be a super one of those AI tools that quickly become your favorite.
Whatever your use case might be, you'll love the best AI voice changer tools. You can also check out my complete list of AI Voice Generators if you're looking to create a voice from scratch for business purposes.
I'll walk you through the key features of each and help you find the right one for your workflow.
Voicemod
MetaVoice
Altered
What is the Best AI Voice Changer?
Here's a quick list of the leading platforms that I checked out.
1. Voicemod
Metaverse-Friendly

Voicemod positions itself as a real-time voice changer for the Metaverse. Of course, you can use it on any platform where you're talking to people in real-time, as it's definitely one of the most popular platforms for voice changing.
You simply download the Voicemod app on either Mac and Windows, and then follow the prompts to augment your voice. While Voicemod has been around for awhile, they're staying ahead of the curve by adopting AI voices that were trained on professional actors to give you lots of options.
Voicemod Features
Here's what I loved when I tested it out.
Voicemod Pricing
You can use it for free with limited features or upgrade to the Pro plan for $5 a month.
Voicemod Verdict
Voicemod is an easy-to-use voice changer for live interactions and streaming. Check it out to see if you like the voice options they have.
2. NyVox
Celebrity Voice Changer

If you're a Windows user, you can try out this up-and-coming voice changer featuring 100+ celebrity and other interesting voices.
Nyvox Features
While it's website looks a little builder-basic, here's what it can do for you:
Nyvox Pricing
You can become an Alpha Tester for $10 a month on Patreon.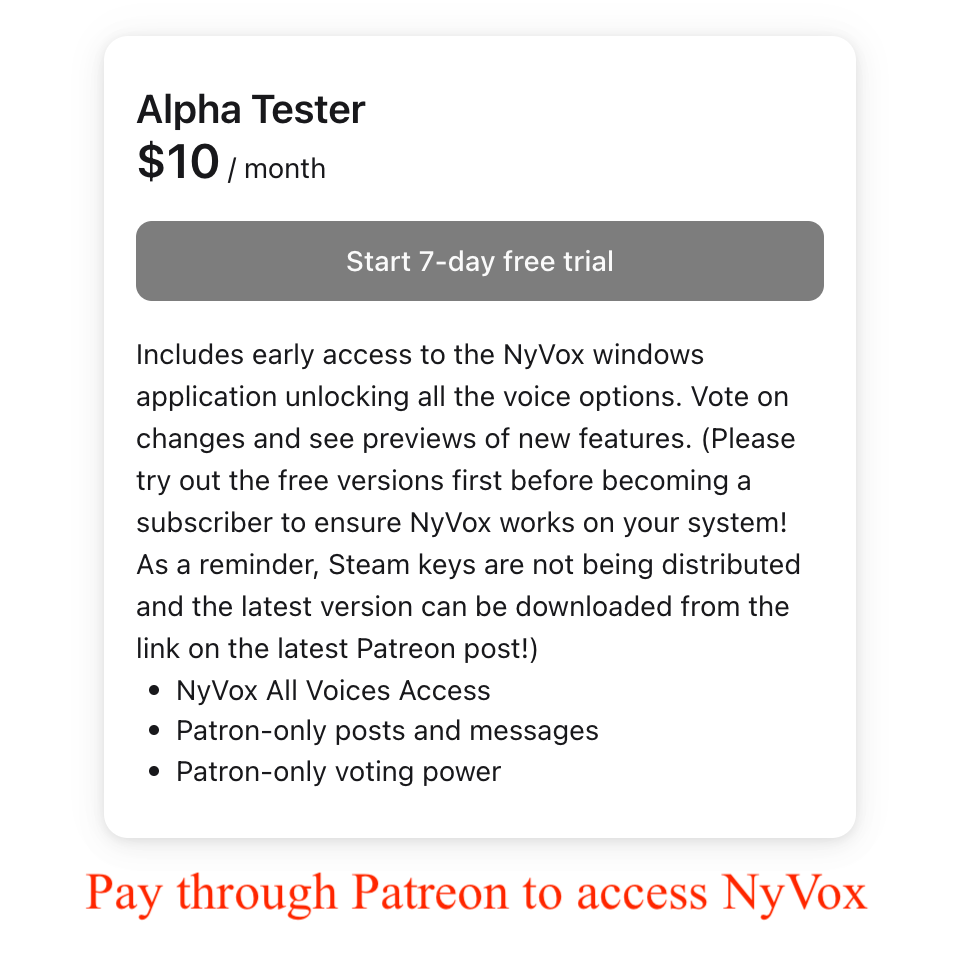 Nyvox Verdict
Gamers and streamers on Windows who want to use celebrity voices should definitely check out NyVox. It's still in its infant stage, but definitely worth checking out.
3. MetaVoice
Most Realistic Voices

MetaVoice offers both real-time and recorded voice changing, and I found its voices to be the most realistic-sounding option I've heard yet.
Metavoice Features
Here's my pros and cons of the platform.
Metavoice Pricing
Paid plans for MetaVoice Studio start at $10 a month for 42 voices and up to 30 minutes of audio per month. You can pay per minute if you go over, or upgrade to higher plans. You can also use 8 voices for free for personal use.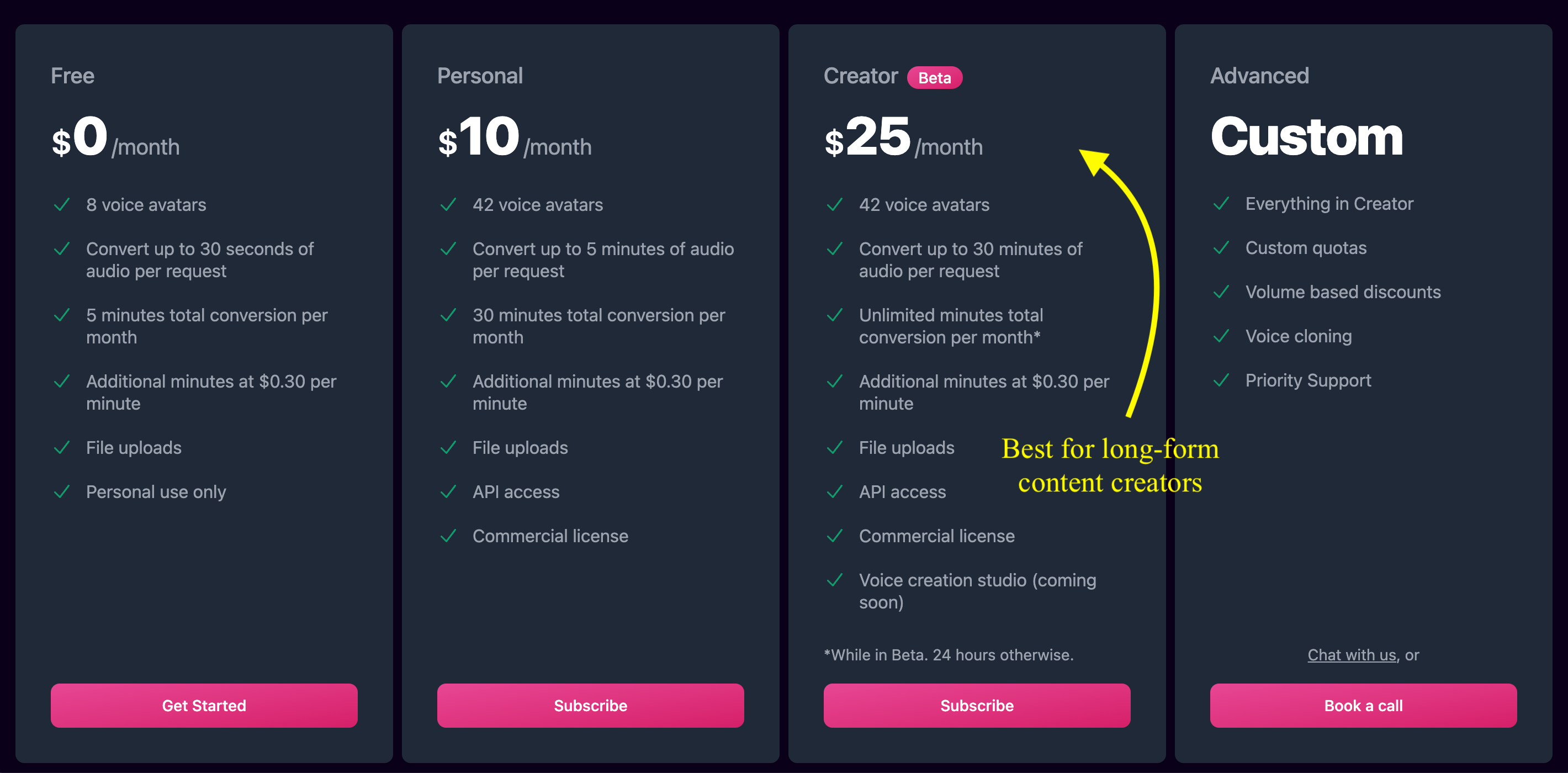 Pricing for MetaVoice live isn't available. Apply for alpha access for more info.
MetaVoice Verdict
If you want your voice filters to have the highest quality possible, especially for recorded content, I highly recommend MetaVoice.
4. Altered
Best Voice-Over Editing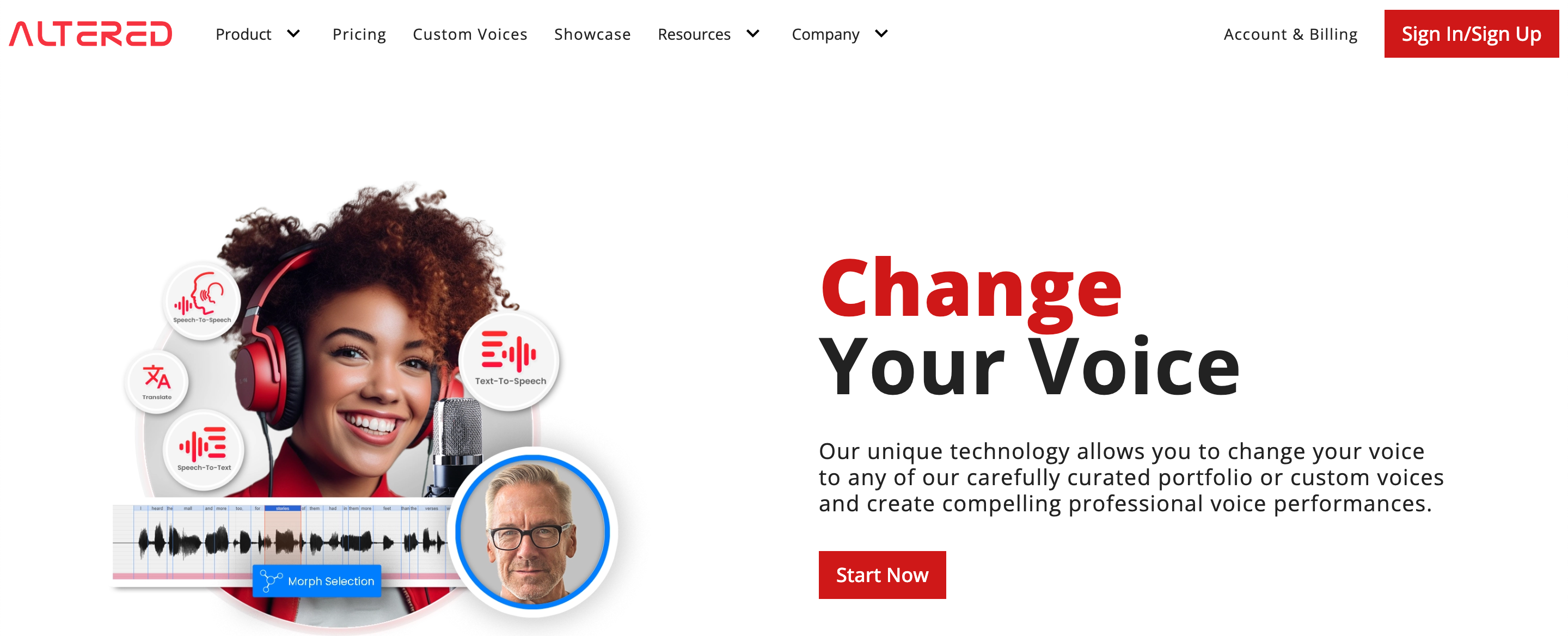 Altered's website positions it as a voice changer for game designers who need to create several characters but don't want to hire unique voice actors for each.
It's also being used for content creation and film projects as well.
Altered Features
And there are a ton more AI editing features that I couldn't list here!
Altered Pricing
Start with the Basic plan at $5 per month for 25,000 AI tokens and based features. (Token usage varies depending on the task.)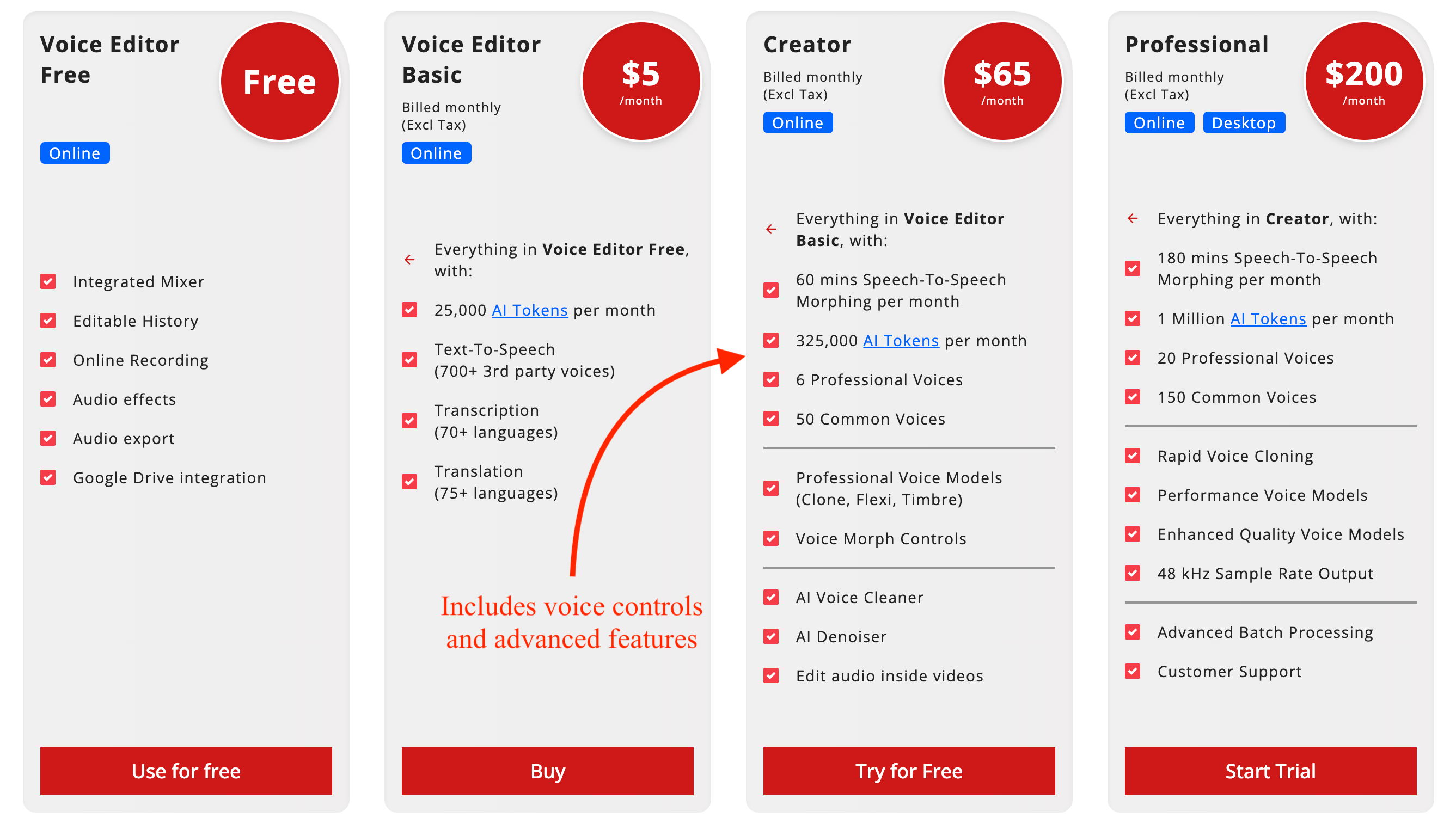 Altered Verdict
Altered is the best voice changer for post-editing, hands down. If you're creating games, content, or film and TV, this is the tool you want to try.
5. Koe Recast
Great for Beginners

Koe Recast is an easy-to-use voice changer for pre-recorded audio.
You don't have to download an app because you can use their AI voices and features on the web in your browser. (Or download the desktop version.)
Koe Recast Features
Koe Recast Pricing
Paid plans start for $10 a month to access all 23 voice effects and up to 2 minutes of audio per file. You'll need to pay $25 a month to use recordings for commercial purposes.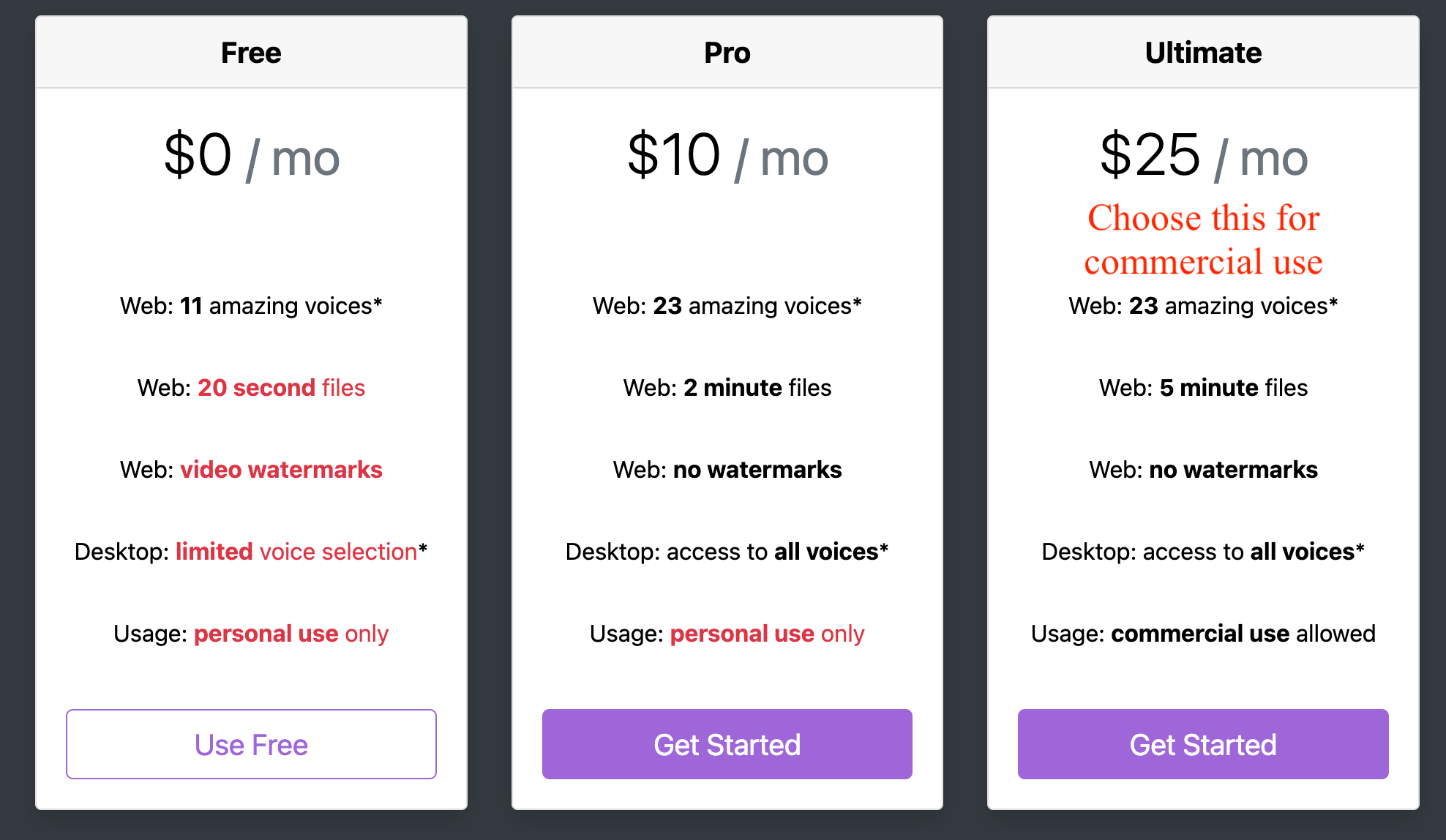 Koe Recast Verdict
If you're not into downloading apps and want to change your voice online in your browser, be sure to give Koe Recast a try.
6. Voice Changer Client
Anime Voices

Voice Changer Client is a free voice-changing software that caters to a specific type of user—namely, anime fans.
This Japanese-developed software for Windows, Mac, and Linux allows you to change your voice into Japanese-developed characters like the free-use character Tsukuyomi-chan or Amitaro.
Voice Changer Client Pros and Cons
Voice Changer Pricing
Voice Changer Client is a totally free voice changer software.
Voice Changer Verdict
If you're an anime lover, Japanese speaker, or want to add something unique to your streams and content, you'll want to check out Voice Changer Client.
What is an AI Voice Changer?
AI-powered voice changer tools take input from your voice and transform it into a completely different voice using artificial intelligence.
Instead of applying simple effects like traditional voice changers, artificial intelligence can analyze your voice and apply effects dynamically to create more realistic effects.
Some AI voice changers can augment your voice, such as during streaming or live conferencing, while others adjust recorded audio files. Some apps can handle both.
What to use AI voice changers for?
People use voice changers for many different reasons:
What to know before using an AI-powered voice changer
AI-powered voice changer tools are trained on a specific language, so most work best in English. (Voice Changer Client is the exception—it works best in Japanese.)
You want to speak clearly and loudly into the microphone for best results. Avoid background noise as much as possible.
Real-time voice changing uses a lot of CPU, so it's often best to use a separate machine just for that program.
Frequently Asked Questions (FAQs)
Which voice changer app has the best AI voices?
Metavoice has the best-quality sounds. Altered has the most features for adding an AI voice to pre-recorded audio.
What's the best free AI voice changer software out there?
Try Metavoice or Voicemod's free plans to get started with AI voice changing.
How can I change a male voice into a female voice during streaming?
Real-time AI voice changers Voicemod, NyVox, MetaVoice Live, and Voice Changer Client can change a male voice into a female voice while streaming.
What's the best AI celebrity voice generator?
NyVox has some really good celebrity voices, but it's only available for beta testers on Windows right now.