7 Best AI Interior Design Tools in 2024 (Tested & Compared)
Last Updated on September 5, 2023
Want to redesign a room? Furnish a new home? Or create a stunning interior design proposal for a client?
Then you'll want to check out the best AI interior design tools, all of which can make the design process 10x easier with the help of cutting-edge artificial intelligence features.
These AI tools are perfect for interior designers, interior design enthusiasts, and DIY-loving homeowners.
Below, you'll find my top 7 picks, why I chose them, and how they performed during testing (with screenshots, of course!).
*Disclaimer: This post may contain affiliate links, which means I'll receive a commission if you purchase through my links, at no extra cost to you. Please read full disclosure for more information.
What is the Best AI Interior Design Tool?
To test these interior design apps, I chose two photos from the free stock website Unsplash.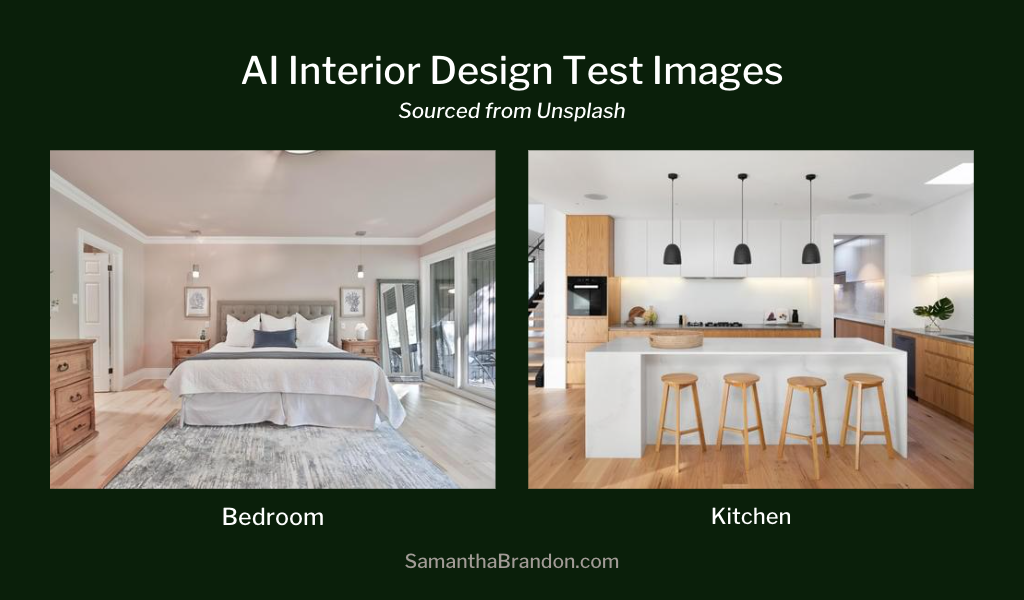 So how do these AI-powered tools perform when redesigning this bedroom and kitchen?
Let's take a look.
Full List of AI Interior Design Tools
1. Spacely AI
Most Advanced

Spacely AI is a super intuitive interior design AI tool.
The best part is that you can fine-tune your generated images until you get exactly what you want.
Spacely AI Features
Spacely Test Results
I chose to render these rooms in the "Ryokan" style, which takes cues from traditional Japanese inns. (They also had styles named Y2K and Famous Wizard Movie, which I would love to try next.)
Here are the results: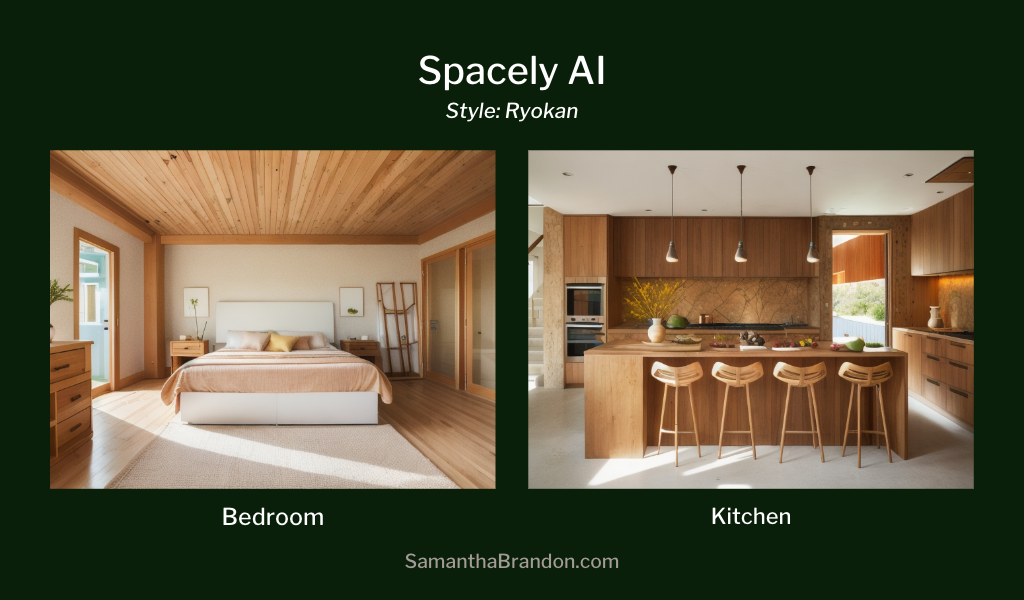 As you can see, if you're an interior designer you can imagine how different a space would look with different styles to help present to your client.
This is also a great AI real estate tool to help buyers reimagine a fixer-upper.
Spacely Pricing
Paid plans start at $30 per month. Get started with a 3-day free trial.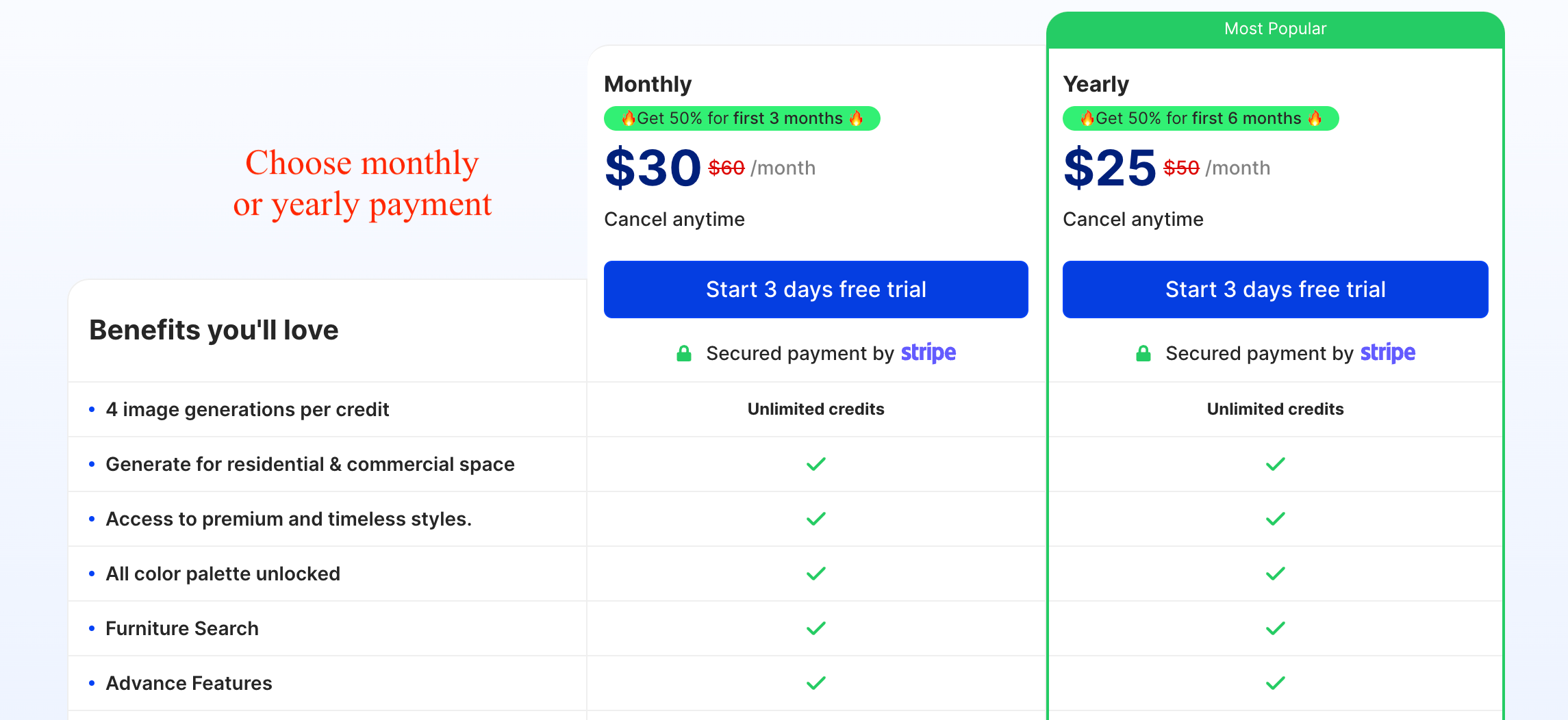 Spacely AI Verdict
The design process of Spacely AI rocks. This interior design AI isn't like other apps. Instead of submitting a prompt and crossing your fingers, hoping you get what you want, you get full control over the output.
2. RoomDeco
Unique Styles

Don't let RoomDeco's simple interface fool you. You can generate a lot of unique styles that you won't find in other apps.
RoomDeco Pros and Cons:
RoomDeco Experience
I chose a "Scandinavian" style: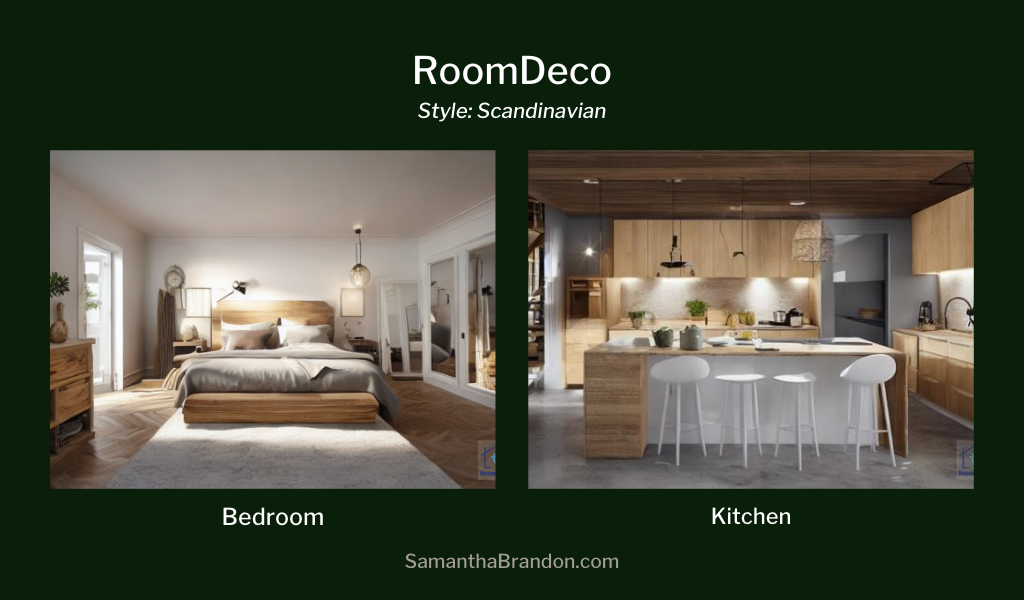 You can see how the render is a little messier than Spacely, but maybe that's the price you pay for faster rendering.
Room Deco Pricing
Pricing starts at $15 per month for the most basic plan. Upgrade for more styles. Professionals must pay for the Pro plan to use images for professional use.
You can also buy credits or theme packs on top of a monthly subscription.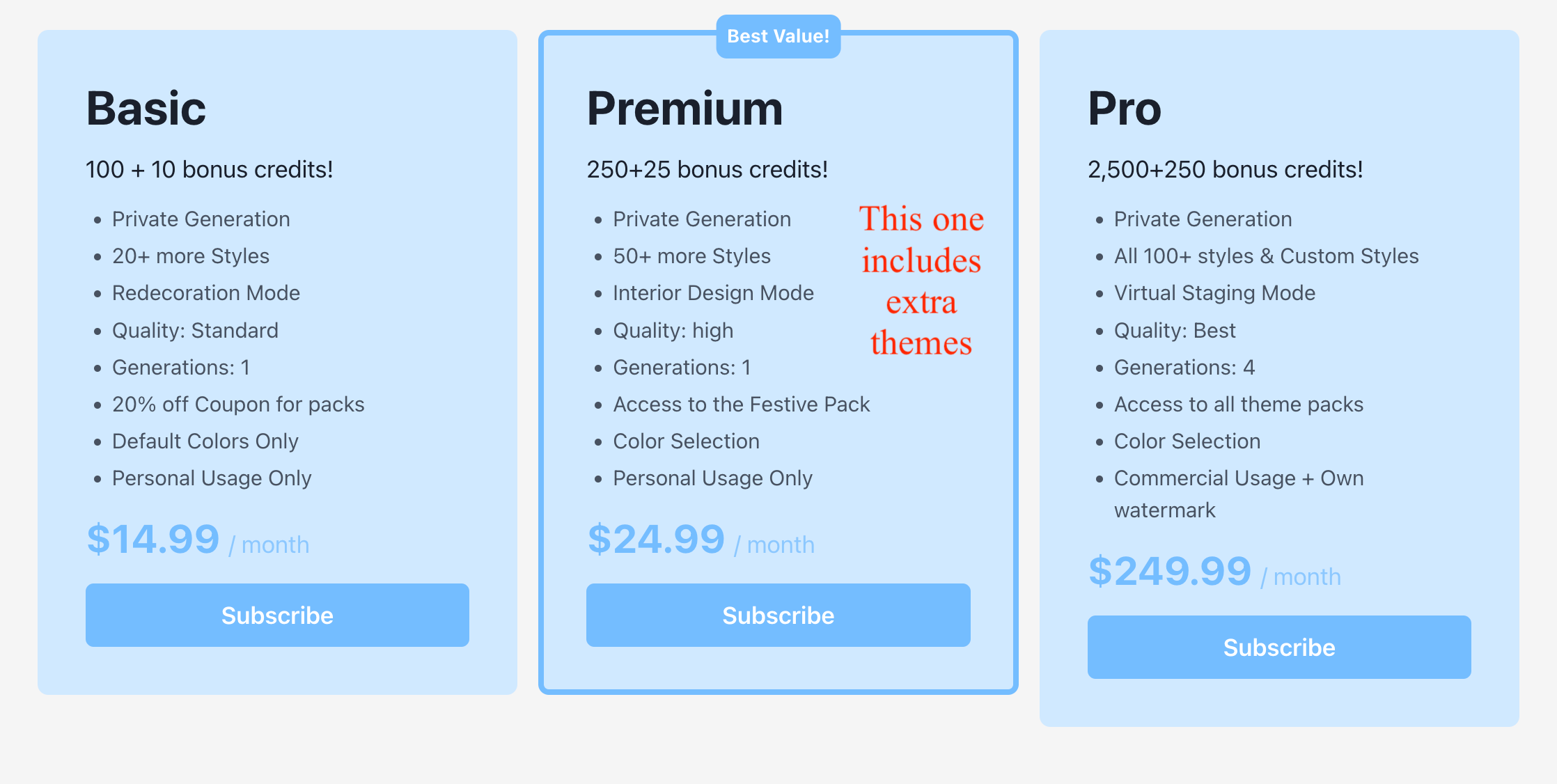 Room Deco Verdict
RoomDeco is fun to use and gives you creative options you won't find anywhere else. It won't give you perfectly polished designs, but you'll certainly generate some great design ideas.
3. Gepetto
Easy to Use

I find Gepetto's simple interface extremely easy to use. At the same time, it provides a few extra options that give you more control over the output.
Gepettos Features
Gepetto's Test Results
I chose the "Hampton" style, and here's what I got: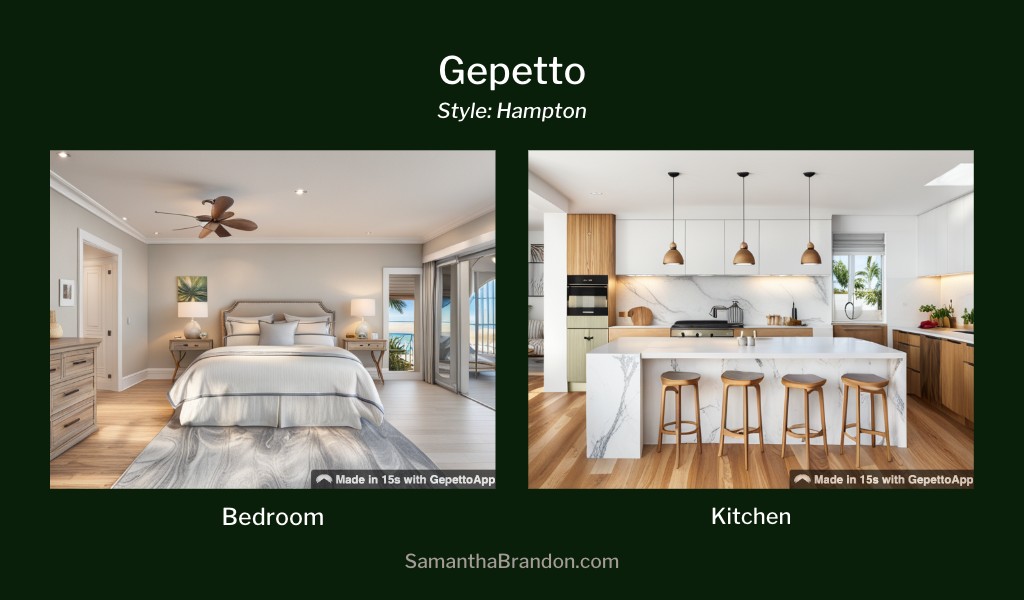 Gepetto Pricing
Gepetto costs 40 Euros a month (about $43 USD). You'll get 7 free renders by signing up for a free account.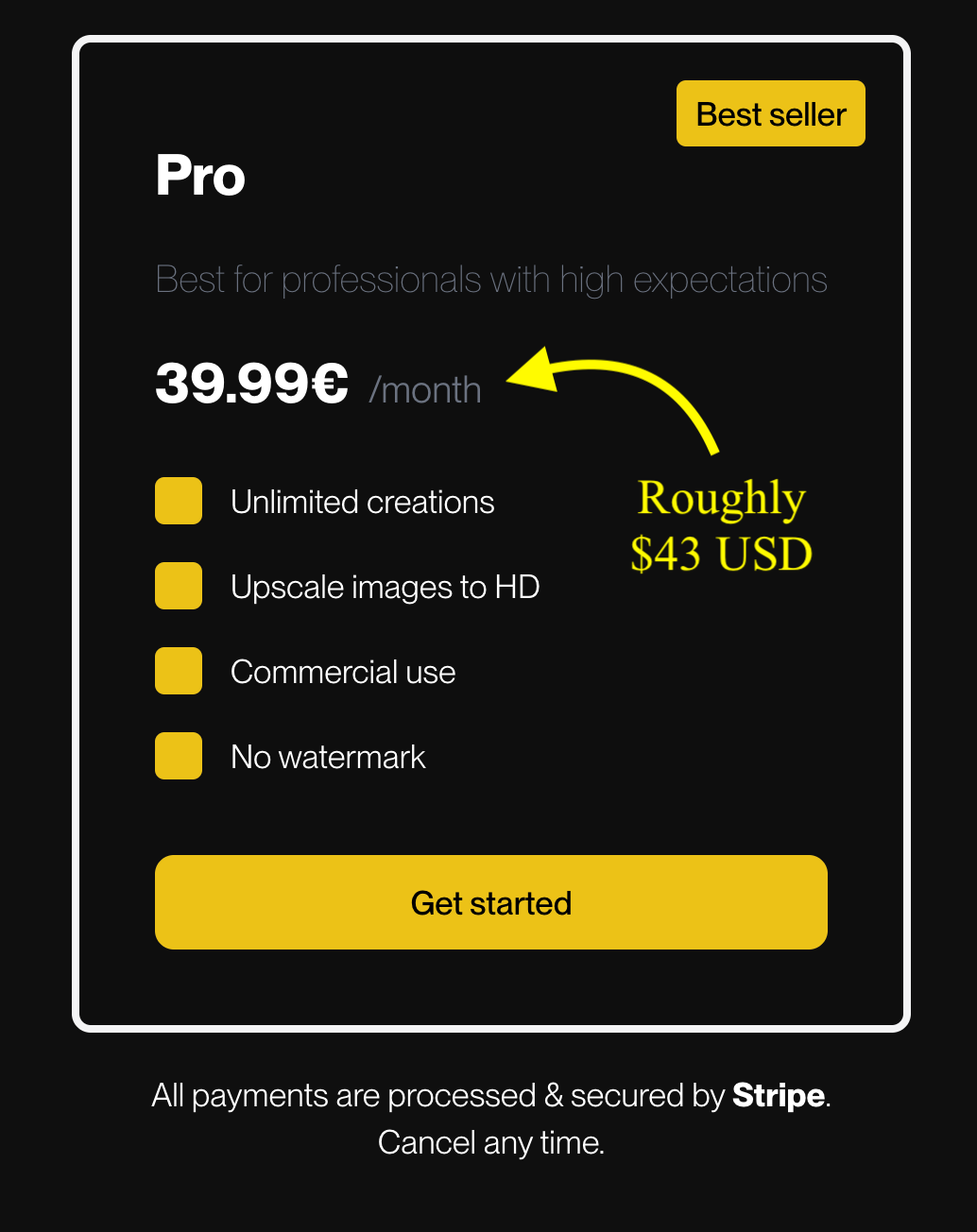 Gepetto's Verdict
This app is simple but powerful and easy to use. If you're looking for an easy way to get started, or want to try mixing some styles, definitely try Gepetto for some fun.
4. Visualize AI
Great for Professionals

Visualize AI is a powerful AI interior design app with plenty of features for professional interior designers and DIY enthusiasts. But more uniquely, they have features that can help out even architects.
Visualize AI Features
Visualize AI Test Results
I chose "Cottagecore," and this is what it rendered for me: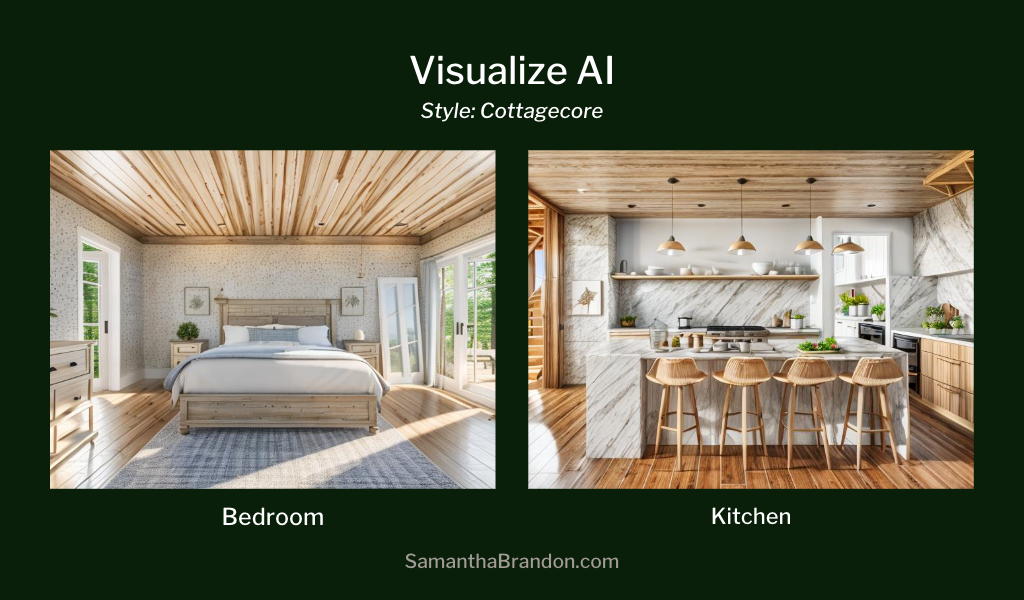 Visualize AI Pricing
Start with the Basic plan at $19 per month for 400 credits. You get 3 credits for creating a free account.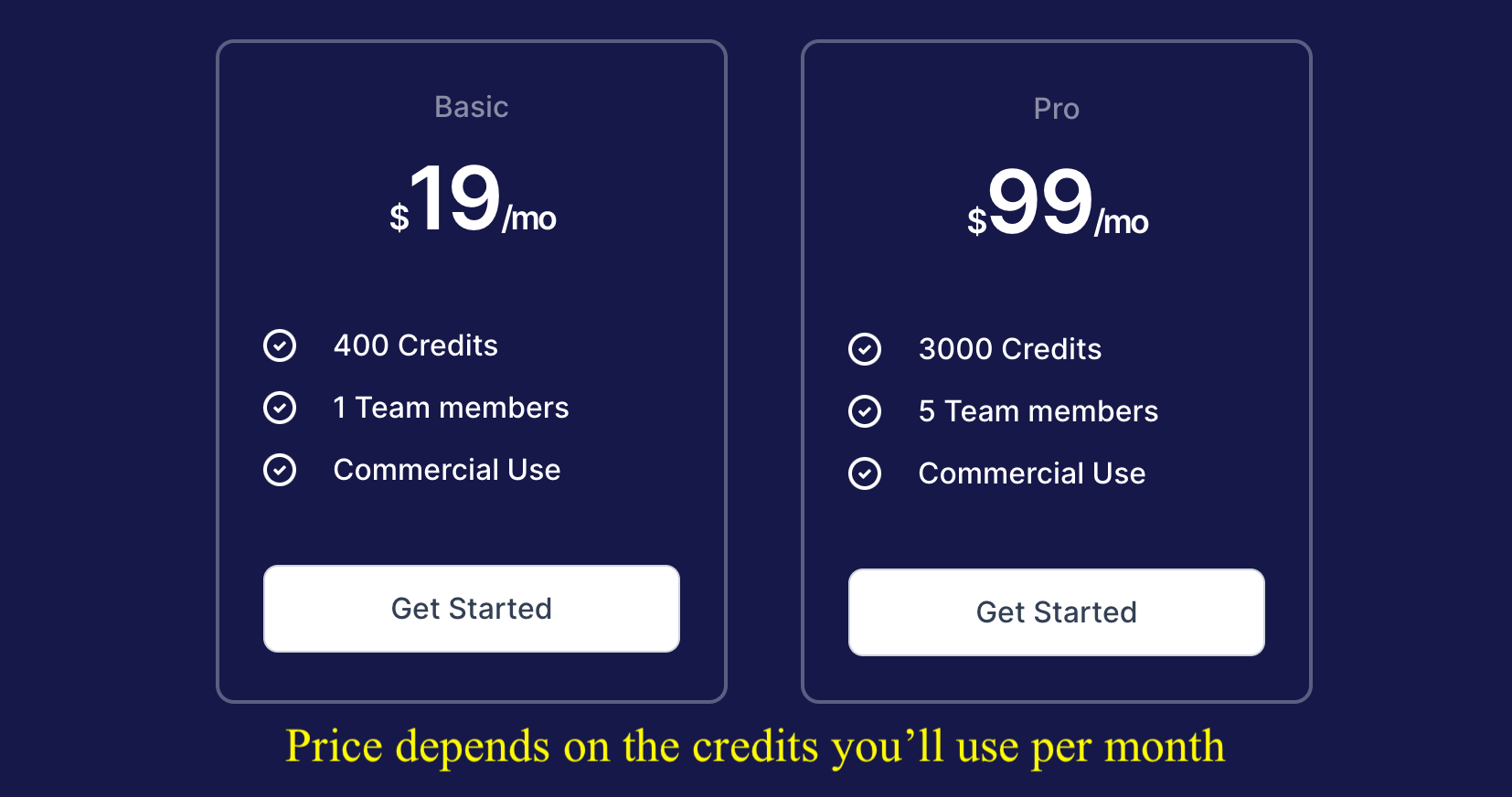 Visualize Verdict
Visualize AI is great for professionals who want to generate interior design ideas, architecture, or furniture designs with great detail.
5. DecorMatters
Most Addictive

DecorMatters brings something entirely new to the equation. This is an interior design game, where you create interior designs with a community of like-minded people.
I spent way too much time on this one thanks to its fun platform, but it really is a game.
DecorMatters Pros & Cons
DecorMatters Pricing
You can unlock unlimited usage of furniture for $20 a month or buy packages of coins (2,000 for $2).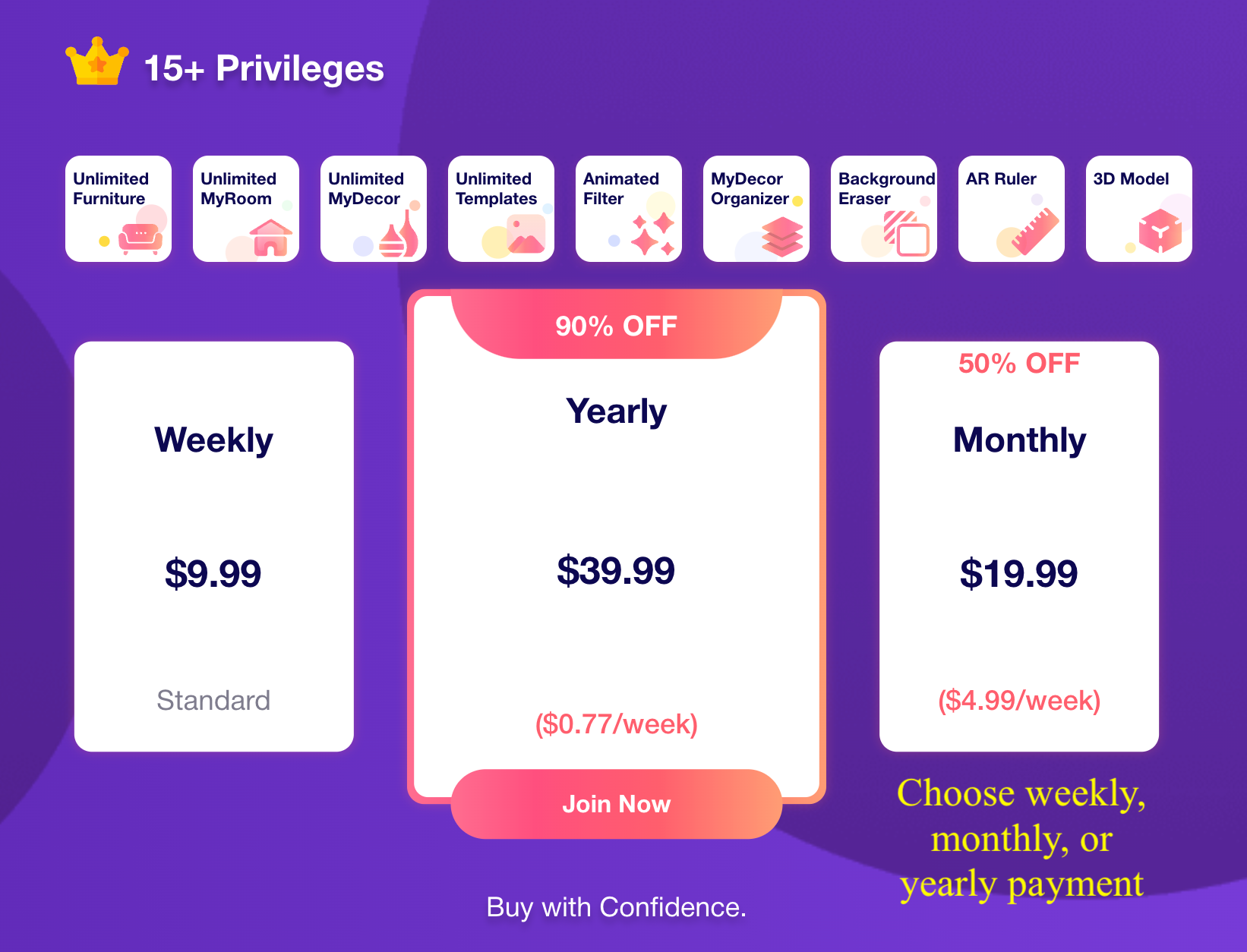 DecorMatters Verdict
If you love interior design and want to find a community of people to create designs with, you might enjoy DecorMatters. Prepare to get hooked along the way.
6. Homestyler
All-In-One Tool

Homestyler isn't just an AI-powered app, but it's an all-in-one interior design app that can help anyone from amateur to interior designer create stunning designs.
Here's What Homestyler Can Do:
HomeStyle Results
I chose the "Glam" style, and here's what I got: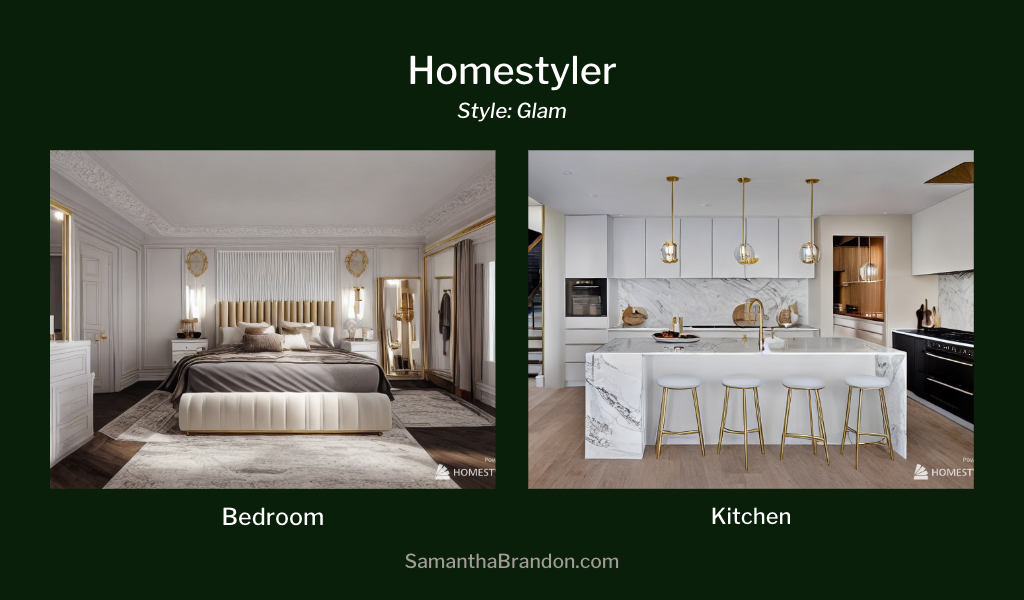 HomeStyler Pricing
For watermark-free renders and more advanced features, plans start from $5 a month.
You can also buy one-off packs of renders or AI credits on-demand ($5 for 20 credits).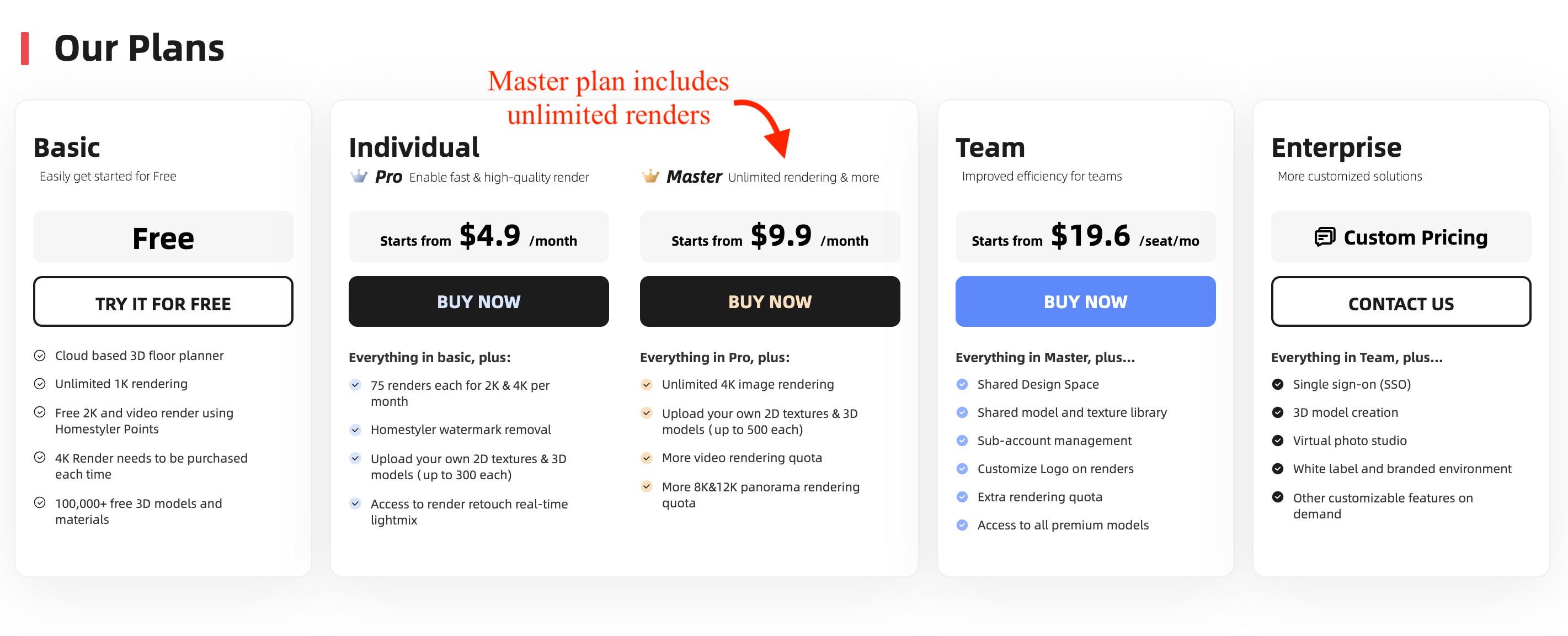 HomeStyler Verdict
Homestyler provides a powerful suite of tools for the professional interior designer, though homeowners will get some great use out of it, too.
7. REImagine Home
For Home & Garden

REImagine Home is a fast and easy AI interior design tool. Not only can it do your inside rooms, but it can also handle backyards, pools, decks, and other outdoor spaces.
Here are the key features of REImagine Home:
REImagine Test Results
I chose the "Mid-Century Modern" style, and this was the result: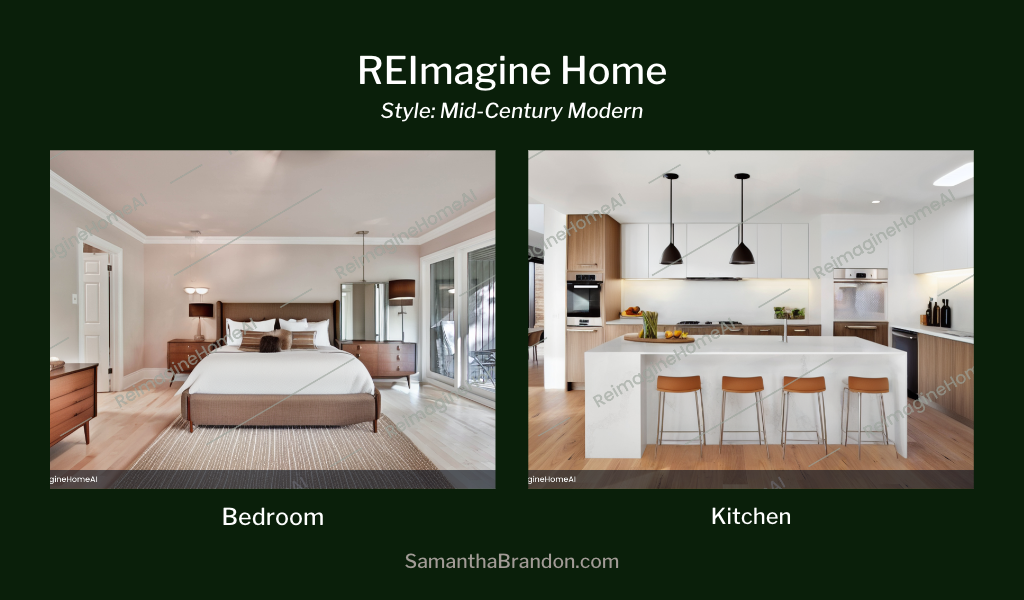 REImagine Pricing
You can buy one-off credit packages to use whenever you need (instead of a monthly subscription). Packages start at $19 for 10 downloads.
Plus, you can render dozens of images and only pay for the ones you download.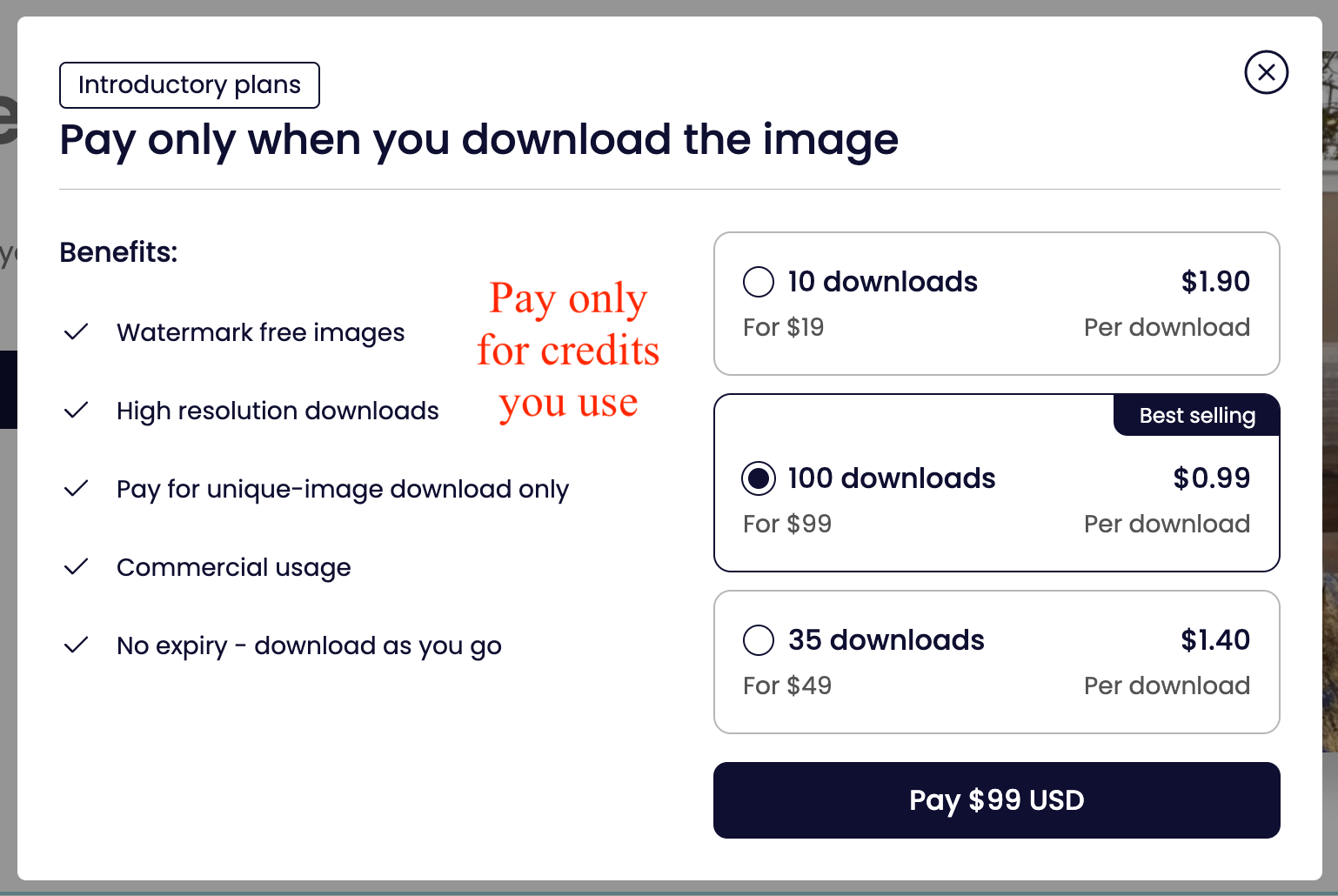 REImagine Verdict
REImagine home is a great way to generate ideas for your entire home, inside and out, so I encourage both homeowners and interior designers to check it out.
What is an AI interior design tool?
An AI interior design tool is software that uses artificial intelligence, deep learning, and advanced algorithms to render interior designs based on your input.
Most will let you upload a photo of your room, then select the style you'd like to decorate it in.
Then, using its knowledge of images of other spaces and what each style looks like, it'll render a new image of your room with new design elements in the chosen style.
How do AI interior design software tools work?
AI-powered interior design software uses artificial intelligence and machine learning algorithms to analyze video and image input of a room layout and then augment the image with a new design.
These tools also use natural language processing to understand what you're asking them to create. For example, suppose you ask the tool to design a room in a "Scandinavian" style. In that case, it reads your prompt, looks through its neural network to find examples of Scandinavian design, and then generates it into your image.
Other tools have AR capabilities, which allow them to add 3D objects into your space virtually, so when you point your camera lens at your room, you can visualize how certain design elements will look in your space.
They're very similar to an AI art generator, but use the photo that you upload to change it.
Frequently Asked Questions (FAQs)
Can AI interior design tools replace an interior designer?
Not likely! Yes, AI-powered interior design tools can generate good ideas, but they can't evaluate those ideas and decide if they're on-trend or if they'll work in the space. They also can't purchase items and put the room together. The interior design industry is still safe 🙂
Can AI design my room?
Yes! Try one of the best AI interior design tools reviewed in this article and see for yourself 🙂
What are the best free AI interior design tools?
AI-powered interior design software REImagine Home allows you to generate tons of AI designs for your room, and you'll only pay for the images you want to download watermark-free. Most other tools will give you a few free credits to try before you buy, but you'll need to pay to keep using them.
Which interior design AI tools are best for interior designers and the interior design industry?
Visualize AI and Homestyler have the best professional features. As for the best-looking design renders, I recommend Spacely AI.