Disclaimer: We partner with some awesome companies! If you purchase through our partner links, I may receive a commission, at no extra cost to you. Please read full disclosure for more information.
If you're in the process of applying for a job, then odds are you're trying to find a quicker and more effective way to write one or even dozens of unique cover letters— which is exactly where the best AI cover letter generators come in handy.
If you're just getting started with the job application process, I highly recommend heading over to check out the best AI resume-building softwares first. These will help you write both the resume AND the cover letter.
But if you're resume is slick and polished, you need an AI cover letter generator that will:
I've personally tested out all the software here and I'm posting the cover letter examples it created for me.
Let's see which ones outperformed the competition.
What Is The Best AI Cover Letter Generator?
For the purposes of this review, I'm going to utilize my own credentials and my history as as an ER pharmacist or clinical pharmacist.
Clinical pharmacy has vastly different roles and skills required than your community (retail) pharmacist, so I want to see if these AI cover letters can properly pinpoint the different skills required.
1. KickResume

Let's kick off the list with KickResume's AI cover letter writer (pun totally intended).
As their name implies, they also are an AI resume builder, but also specialize in creating AI cover letters. They utilize the same language model that ChatGPT uses (GLP4), which helps it create a personalized cover letter for your future employer.
Let's see how it did in my testing (you can find the full KickResume review here).
KickResume Features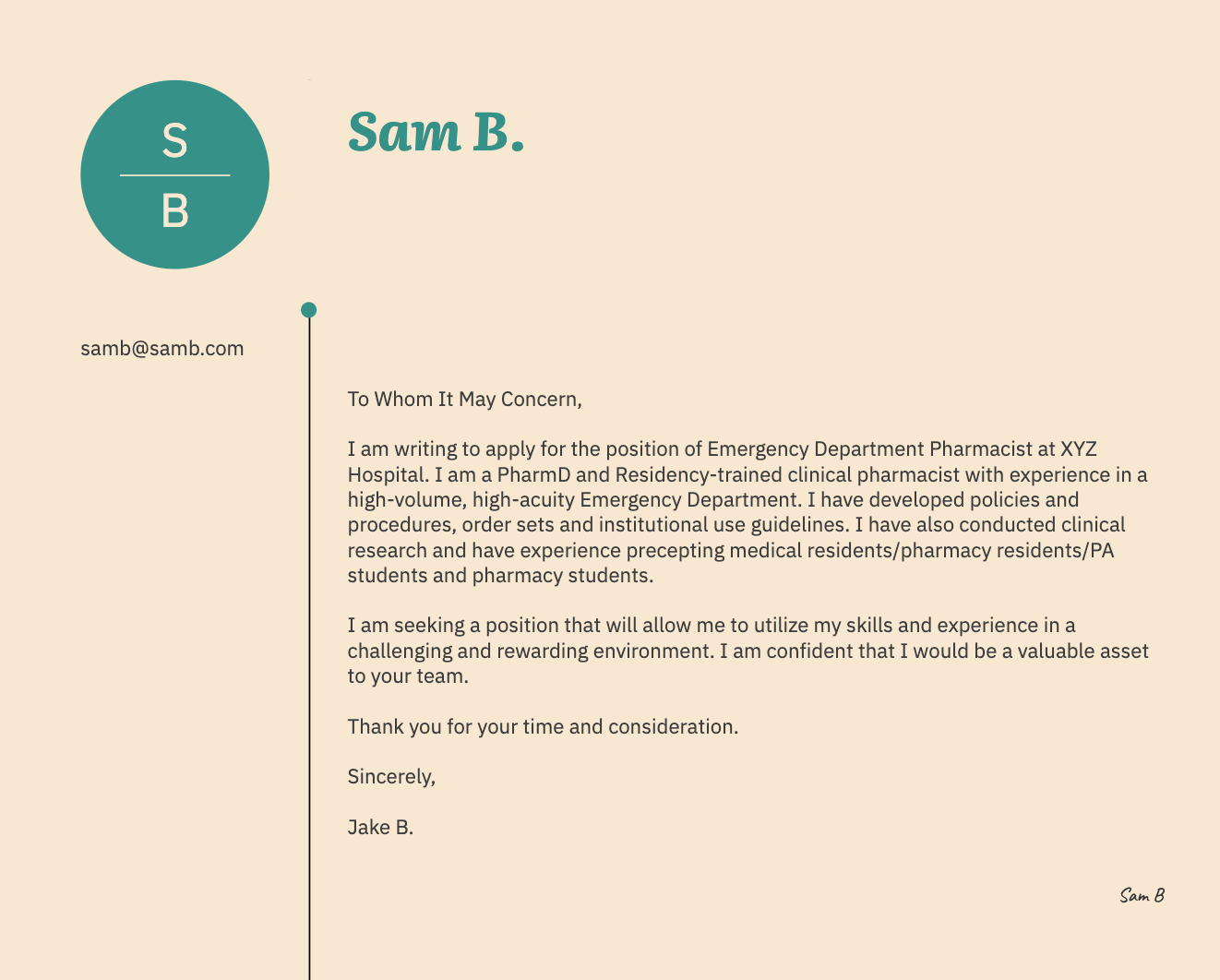 KickResume Pricing
You can test it out for free, but you'll get very limited options. I recommended upgrading to get full access to all the templates.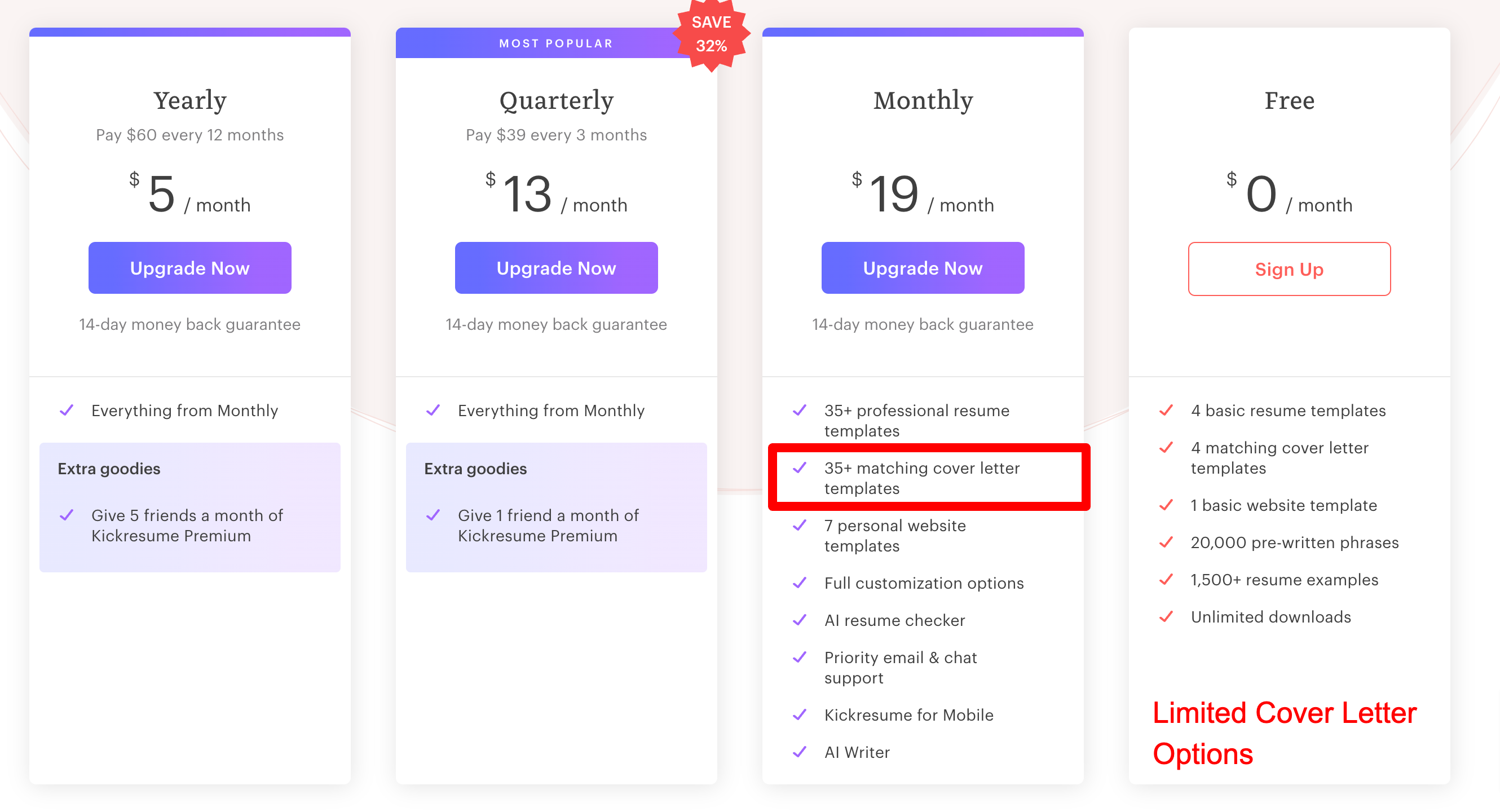 KickResume Verdict
If you need to create an impressive cover letter, KickResume gets the job done in seconds. It's one of my favorite resume builders, but you may need to customize the cover letter a bit more to meet your needs.
2. Teal HQ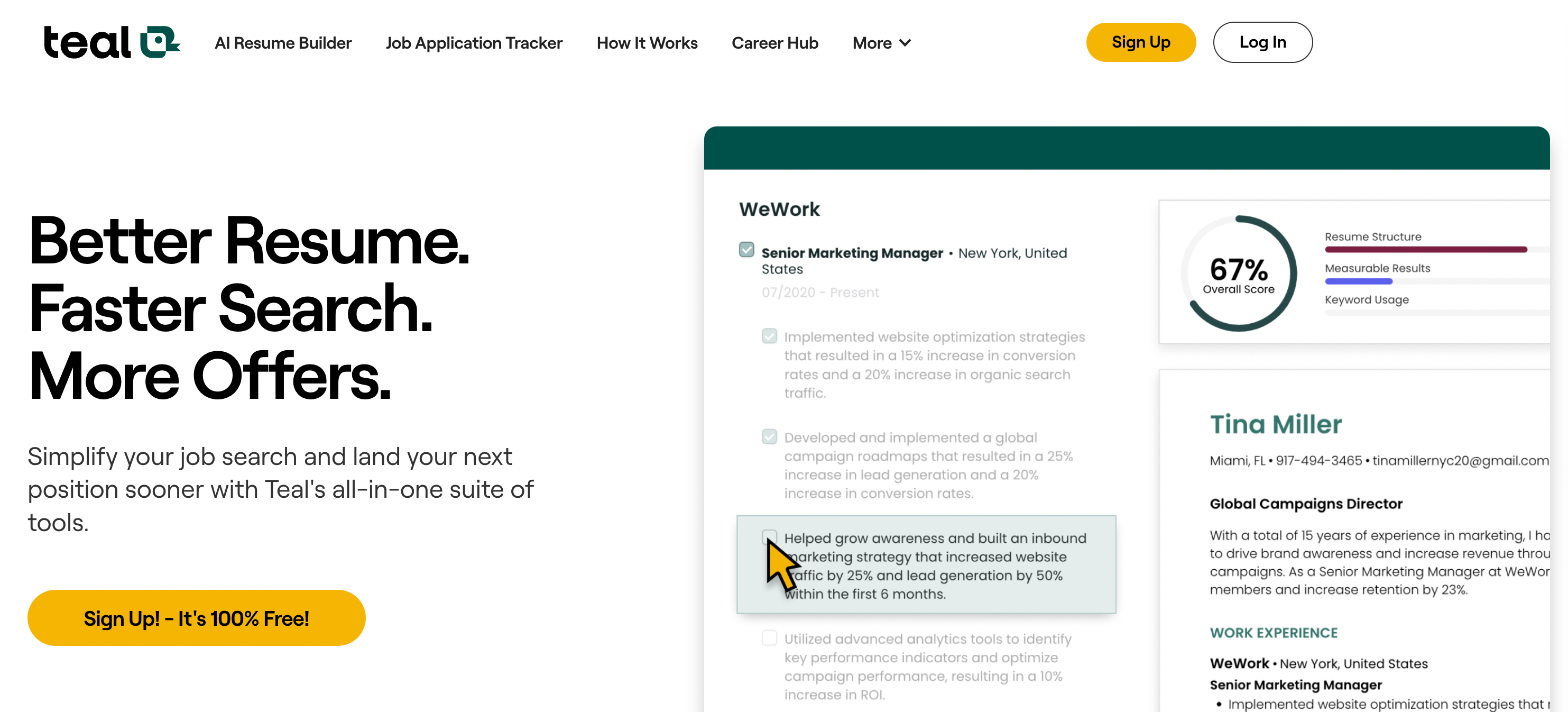 Teal HQ is another resume writer on the market that also specializes in AI-powered cover letters.
If you've read my Teal HQ review, then you'll know this software also serves as a "job tracking" dashboard, which makes cover letter writing a cinch.
Where Teal HQ goes beyond the basic AI cover letter builder is that you actually match a real job (from your job tracker) to the cover letter builder.
Teal HQ Pros and Cons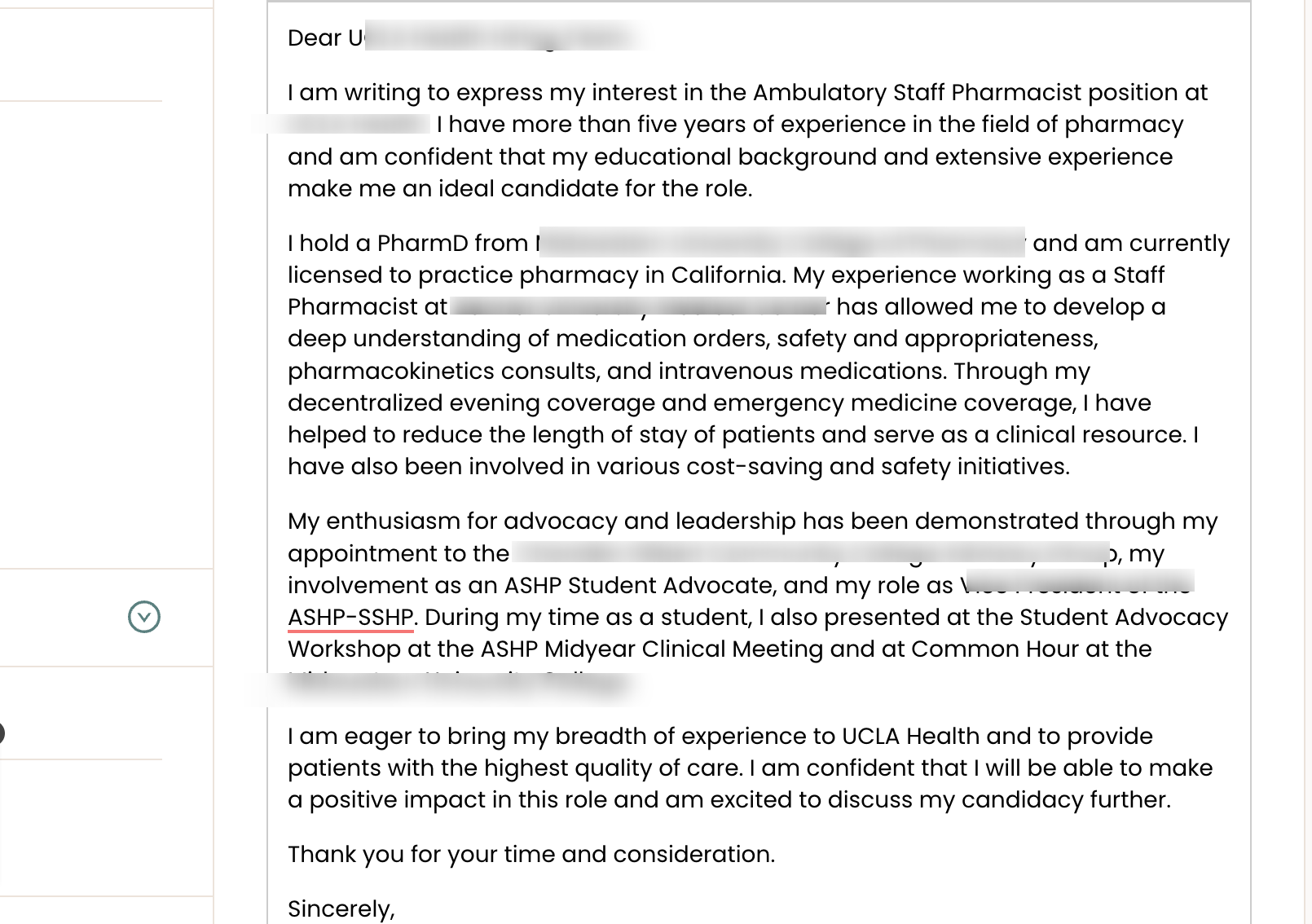 Teal HQ Pricing
Teal HQ's pricing is by far the most fair, as you can choose a non-subscription option (a one-time payment), which I love. I figured $9 one-time was a reasonable cost for writing cover letters.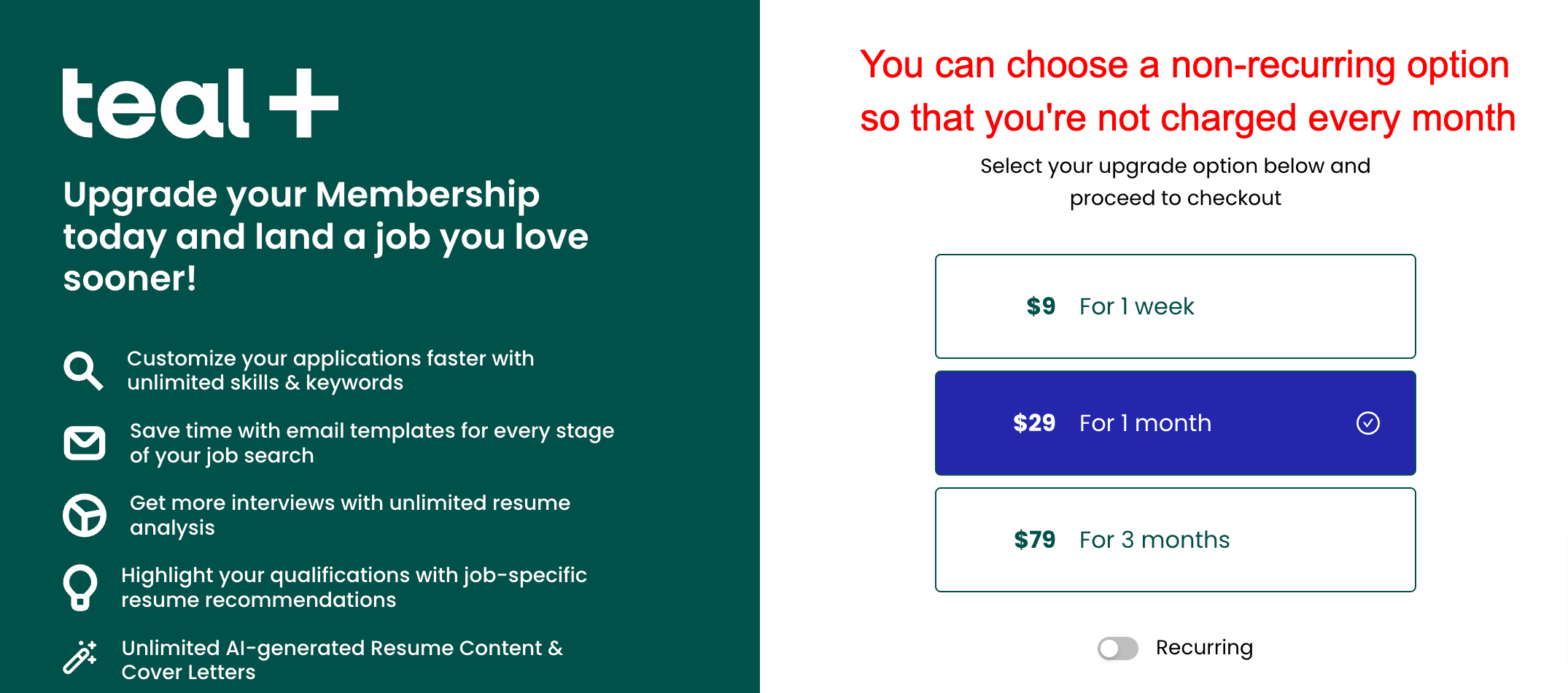 Teal HQ Verdict
So far, this has created the most personalized, custom cover letter of all the programs. Unfortunately, you can only access it if you utilize their resume builder, but I think it's 100% worth it.
High-Quality Output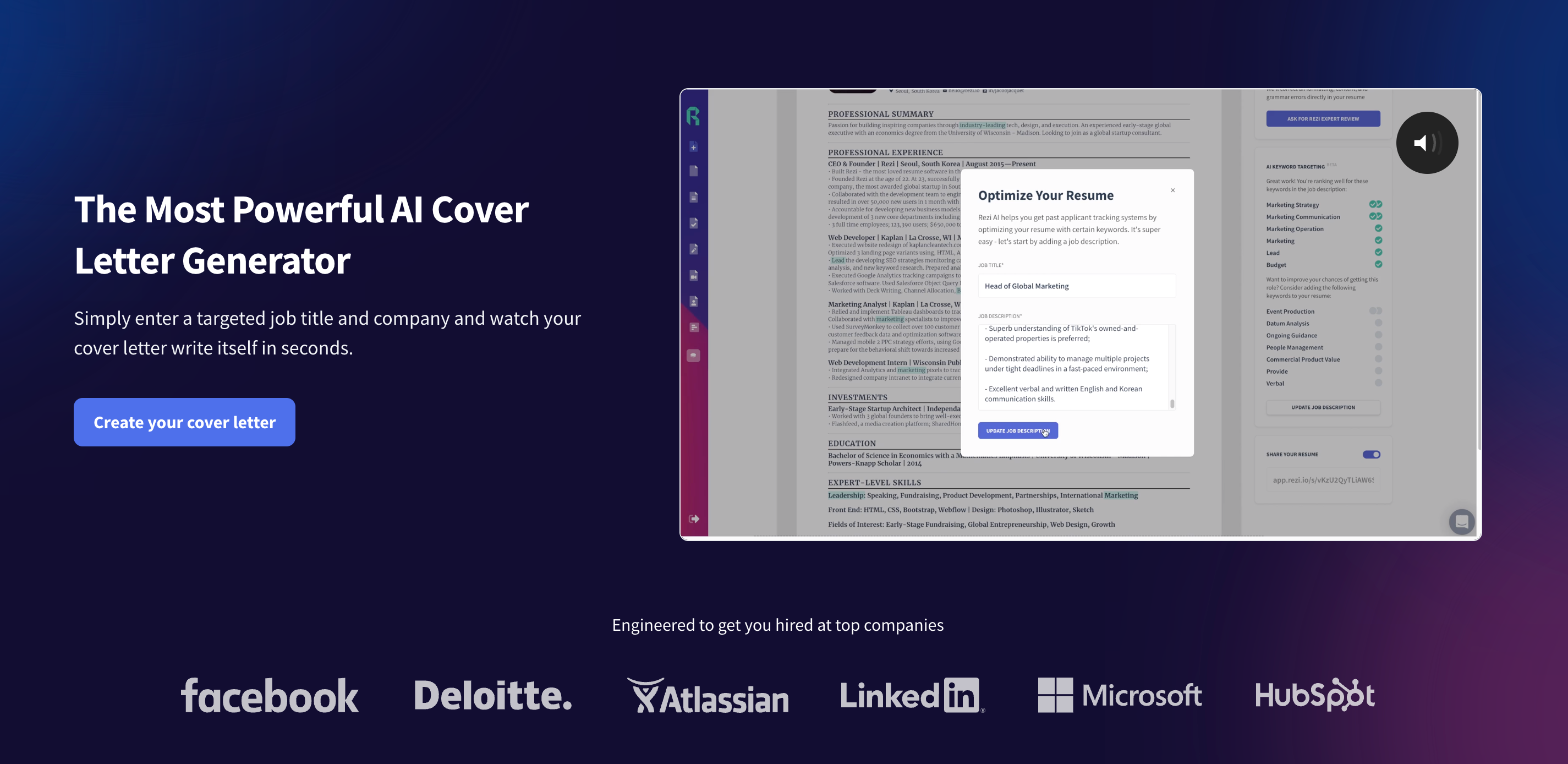 Rezi AI is another platform that promises to create the most compelling cover letter for job seekers. While their resume builder is top-notch, the AI cover letter feature is still in its beta mode.
Let's check out how it compares to the competitors.
Here's the free cover letter version: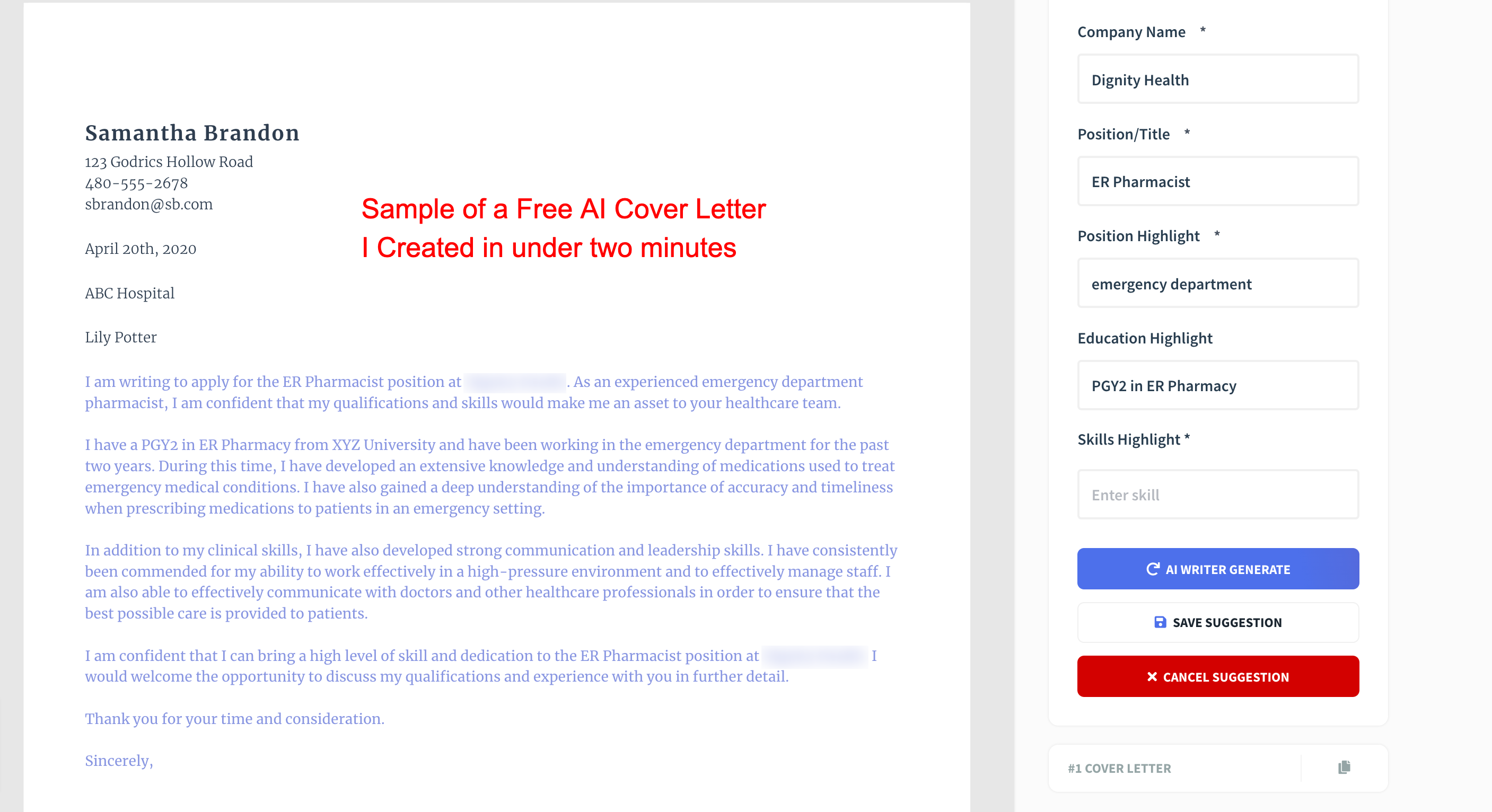 What you see above was a quick cover letter that I generated with the free version. To use the resume builder, add more skills, and bring in a more customizable experience, then upgrading is the way to go.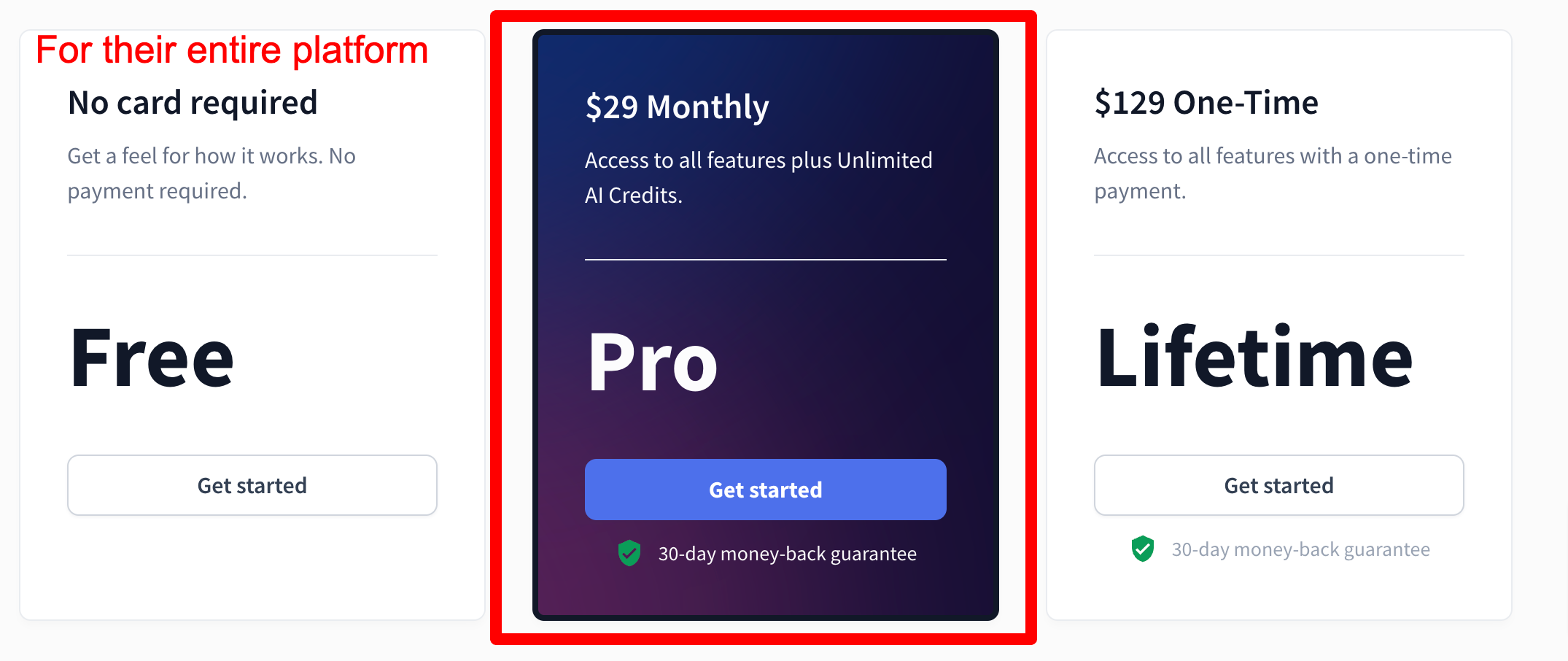 Rezi AI's created an amazingly descriptive and customized cover letter for your job application. I would say they had some of the highest-quality letters I tested, but the formatting and lack of templates left a lot to be desired.
4. LazyApply
Free Cover Letter Generator

LazyApply offers free cover letter writing services, and it's probably one of the simplest, most basic AI cover letters I've experienced.
This is good if you just need a quick starting point to build off of, but bad if you're looking for a program to write a convincing letter for you.
Here's an example of what it made for me:

Lazy Apply Features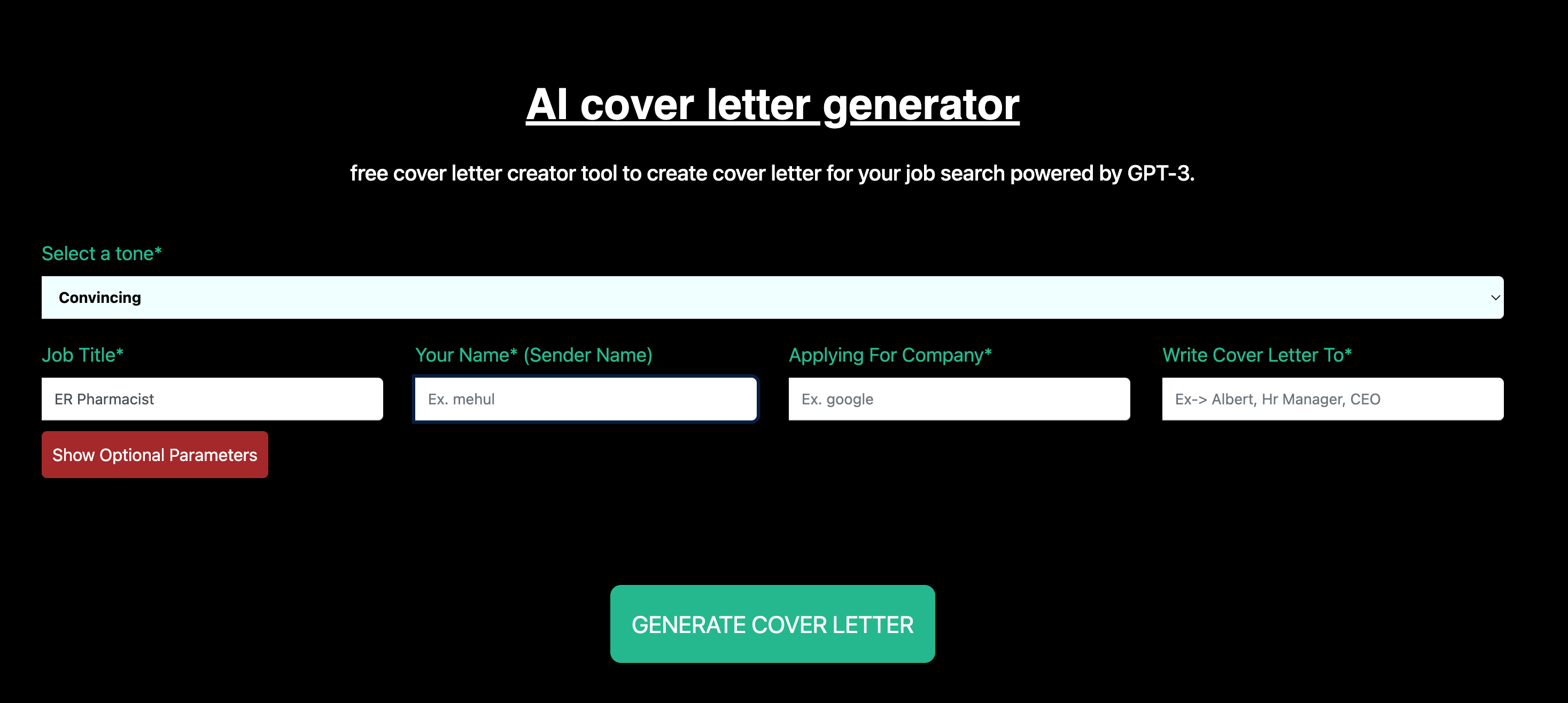 LazyApply Pricing
Totally Free!
LazyApply Verdict
Honestly, it wasn't worth my time. I would rather head over to ChatGPT and give it more information so that it can draft a more in-depth professional cover letter. This one just wasn't very convincing from a recruiting standpoint.
5. Cover Letter AI by Wonsulting
Super "In-Depth" Descriptive Cover Letter

If you recognize the name Wonsulting, it's because they also have a popular suite of tools that are dedicated to the entire job seeker's journey. I've already delved into a full ResumAI review. Here are some of the main things their company offers: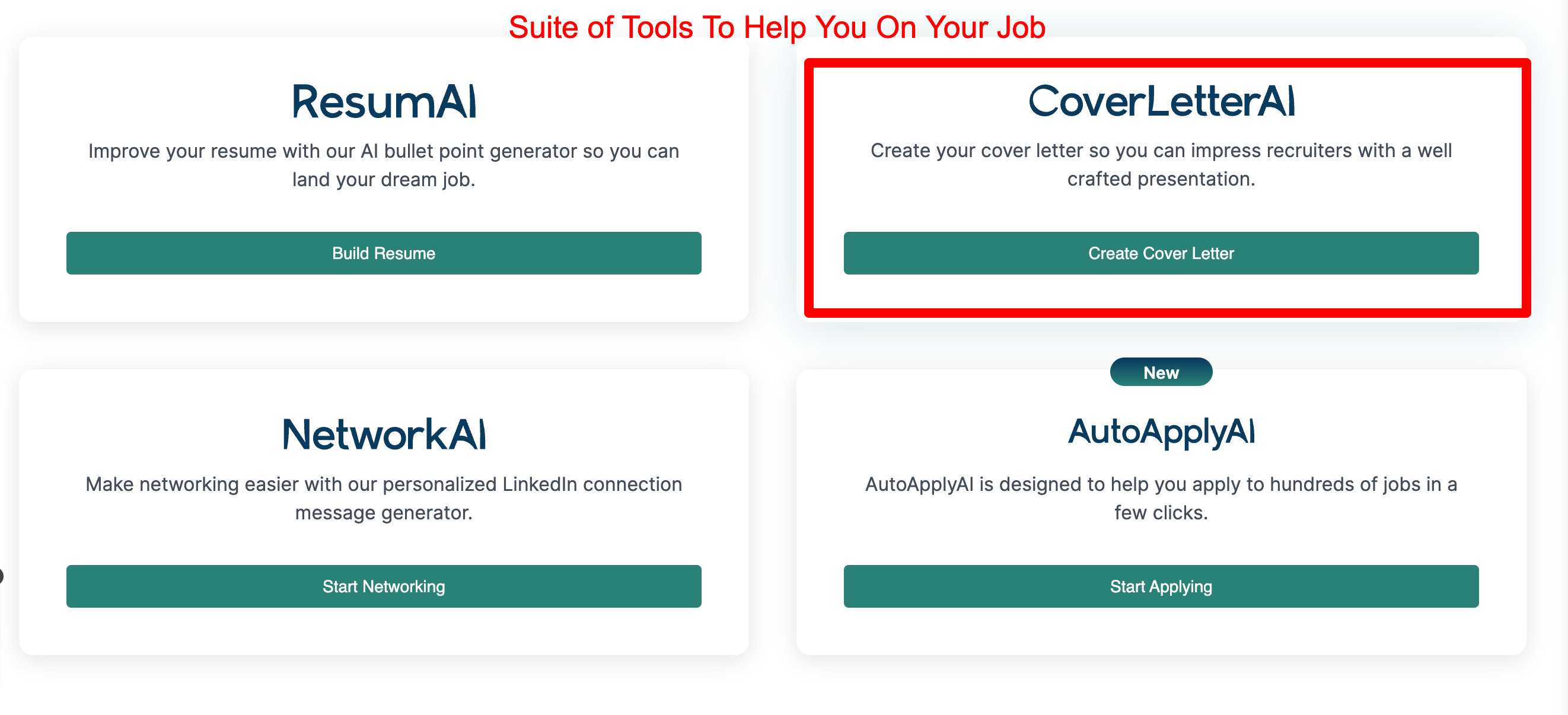 Fortunately for us, they have a cover letter generator independent of their resume builder, so let's see how it pans out.
Cover Letter AI Pros and Cons
Cover Letter AI Pricing
I was so surprised that this was completely free. They should charge because I would have happily paid for what I received. The caveat is, that if you want to create more than one cover letter, you need to upgrade.
Cover Letter AI Verdict
Wonsulting is a genius because they created one of my favorite cover letters amongst their competitors. It was super detailed, and I loved that you could just upload your resume to their platform. Highly recommend them.
6. CoverDoc AI

At this point in my reviewing process, I was wondering how any other company could possibly compete. Because honestly, so many companies have fantastic cover letter creators that you can't really go on.
So I decided to test out CoverDoc last, mostly because they seemed to have a few tricks up their sleeves. Let's look at them:
CoverDoc AI Features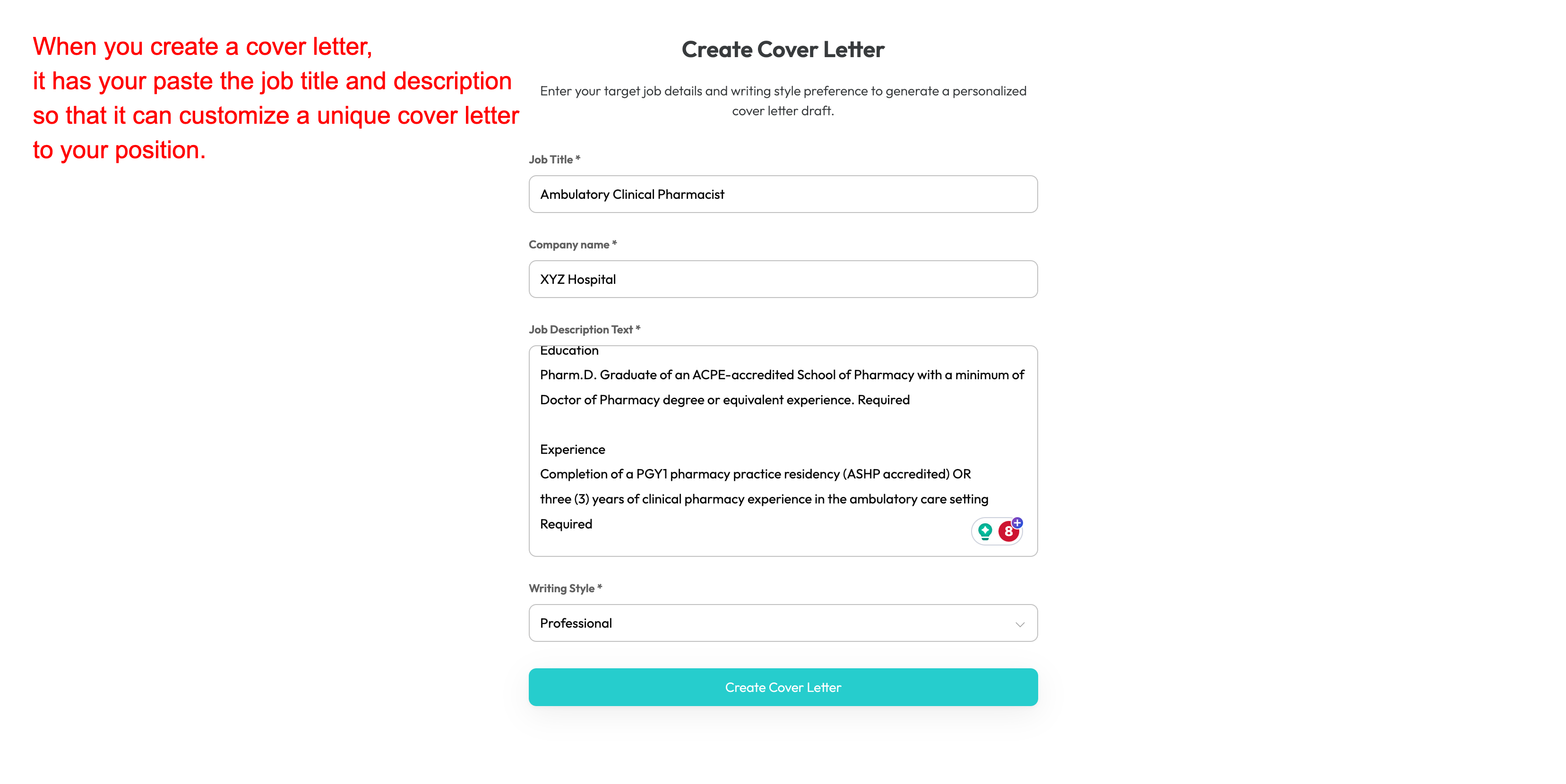 CoverDoc AI Pricing
You can purchase PER COVER LETTER. I wish every company offered this because I personally hate subscriptions. I always forget to cancel them in time, and they know that.
The sneaky part is you do have to purchase 5 credits at a time ($10). You can't just purchase one.

CoverDoc AI Verdict
Overall, I was extremely impressed with both the cover letter created by CoverDoc and the scoring/interview features that came along with it. I don't think you can go wrong with them.
5. ChatGPT
In-Depth Cover Letter

How can you possibly discuss writing an AI cover letter without talking about ChatGPT?
ChatGPT can be used for so many things that involve the writing process, so generating cover letters are no exception.
Now, the difficult part with this is that garbage in, garbage out. If you don't feed it great, relevant information, then you're going to get basic, non-convincing letters in return.
After messing a bit with it, here's a letter I generated:
ChatGPT Cover Letter Experience
Here's a list of things I told ChatGPT to develop my cover letter:
I told ChatGPT a little bit about myself and pasted my resume into the chatbot.
I then copied & pasted the job description that I was applying for.
Then, I asked it to create a "standout" cover letter that sounded persuasive, pulled from my skills and told the recruiter why they would benefit by adding me to their team.
Here's what it came up with: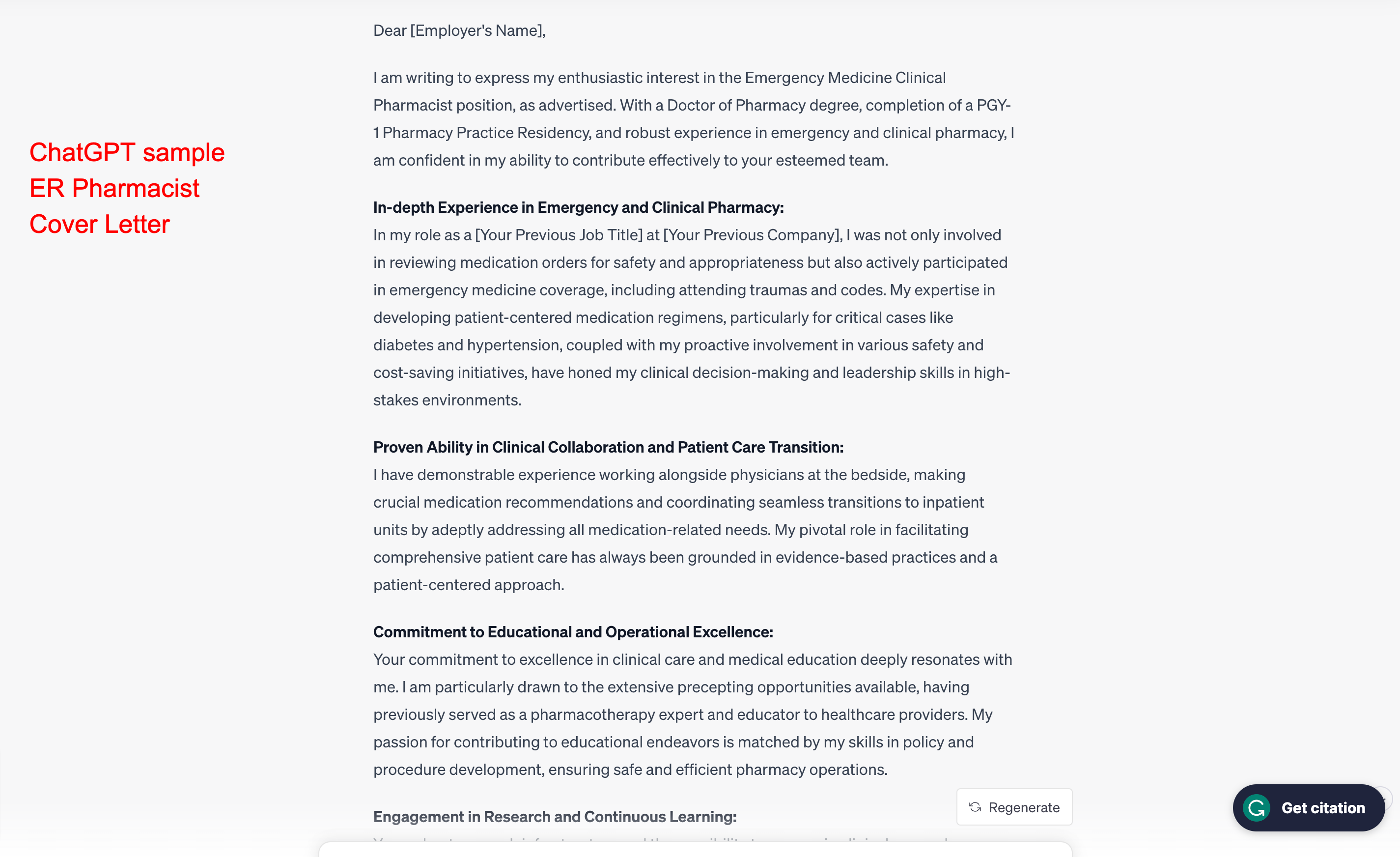 I couldn't even fit the entire cover letter in this image, but it was a fantastic cover letter. From here, I could easily ask for unlimited cover letters that are each specific to the job I'm looking for.
ChatGPT Pricing
You can use the free version, but that only gives you access to ChatGPT 3.5 and not 4.0 (which I think is much better!). Upgrade for $20 monthly to get the pro version.
ChatGPT Verdict
ChatGPT by far, delivered one of the best cover letter examples for my job search. It was in-depth, thorough, and specific to the post. Unfortunately, you'll be on your own for formatting and you definitely need to upgrade to 4.0.
What is An AI Cover Letter Generator
In today's fiercely competitive job market, standing out is more than just about having a stellar resume. Your first impression often begins with a cover letter—a compelling narrative that underscores your credentials, passion, and suitability for a position. You want to impress them.
With the surge in artificial intelligence applications in various industries, it was only a matter of time before AI made its mark in cover letter creation (resume builders have already been prominent in the market).
Enter the AI Cover Letter Generator.
Understanding AI Cover Letter Generators
At its core, an AI Cover Letter Generator leverages machine learning and natural language processing to craft personalized cover letters tailored for specific job roles.
It can ask for the job you are applying to, ask for your resume to learn more about you, and then craft a great cover letter to help you land the interview.
Key Features of AI Cover Letter Generators:
Industry-Specific: Traditional templates can often feel generic, but AI generators can learn and apply details specific to the role you're applying for.
Pull Information From Your Resume: Many will pull education, work experience, and skills into your cover letter. Be sure to have a great resume to pull from.
Optimization: Using data from successful cover letters and feedback loops, these generators continually refine the output to increase the chances of success in capturing a recruiter's attention.
Time Efficiency: The speed at which these generators work is commendable. What would usually take hours can now be done in minutes, ensuring you don't miss out on applying for that dream job.
Consistency: Matching your resume's tone and details with your cover letter is vital. AI generators can ensure consistency across documents, presenting a cohesive personal brand.
Are They Really Effective?
While AI cover letter generators can be incredibly efficient, the human touch remains irreplaceable. Here's a breakdown:
Pros:
Speeds up the cover letter creation process.
Reduces the anxiety of starting from scratch.
Ensures keyword integration, increasing chances of passing ATS systems.
Cons:
Might miss out on personal anecdotes or unique stories you want to share.
Can sometimes sound too generic if not reviewed and personalized post-generation.
Doesn't replace the need for human review to ensure context and emotional resonance.
Conclusion
An AI Cover Letter Generator is an excellent tool for anyone looking to streamline their job application process.
However, while AI can lay the groundwork, it's essential to infuse the final product with personal touches, anecdotes, and passion that machines cannot replicate. With a combination of AI efficiency and human touch, your cover letter will surely leave an unforgettable first impression!
Frequently Asked Questions (FAQs)
Is there a free AI to create a cover letter?
Some of my more favorite cover letter generators offer free versions (such as Wonsulting Cover Letter AI or ChatGPT). Typically, you'll find you'll only gain access to basic features when building for free.
What is the AI that writes good cover letters?
The highest-quality cover letters I have discovered so far have been Teal HQ, Wonsulting Cover Letter AI, and ChatGPT.
Does Word have a cover letter generator?
Microsoft Word offers many cover letter templates for you to choose from, but it is not an AI writer in itself.