9 Best AI Note Taker Apps to Make Meetings Easier
Last Updated on May 1, 2023
Has this ever happened to you?
You're in an important meeting, listening to your boss share a complaint you received from a customer when suddenly your phone whirrs in your pocket. It's your partner.
You instinctively open up your phone to find… a cat meme. But it's pretty funny. You stifle a laugh and slip it back into your pocket.
Oh crap. You didn't hear a single word your boss just said. What did I miss?
In this new world of endless online meetings, it's too easy to get distracted. Who has the attention span to remember everything that was said over the course of 60 minutes?
Fortunately, we don't have to remember everything anymore. And we don't have to force ourselves to stay alert so we can take perfect notes for every meeting.
Today, we have AI note-taker apps. These apps record every word spoken in your meeting, create a full transcript, and generate scannable summaries that you can read in 5 minutes or less. These guys don't miss a thing.
Want to try this amazing technology for your business?
Keep reading to discover the 9 best AI note-taker apps and find the perfect one for your use case. You can also find tons of AI productivity or tools here.
Otter
MeetGeek
Gong
What is the Best AI Note Taker?
Here's the complete list of the note-takers if you're in a hurry.
Best for Beginners

Otter AI is the OG transcription and note-taking app for individuals, businesses, and educators. It's the perfect place to start if you want something simple and fast to stay on top of your meetings.
If you'd like to learn more, check out my full Otter AI review, where I examine the features, pros and cons, and pricing in more depth.
Here's what I like about Otter AI:
Otter Pricing
You can get started with Otter for free with up to 300 minutes per month and 30 minutes per conversation.
At $17 per month, the Pro plan gets you advanced features and a quota of 1200 minutes and 90 minutes per conversation.
If you need more minutes, the Business plan gets you 6000 of them—and up to 4 hours per recording (at $30 per user per month).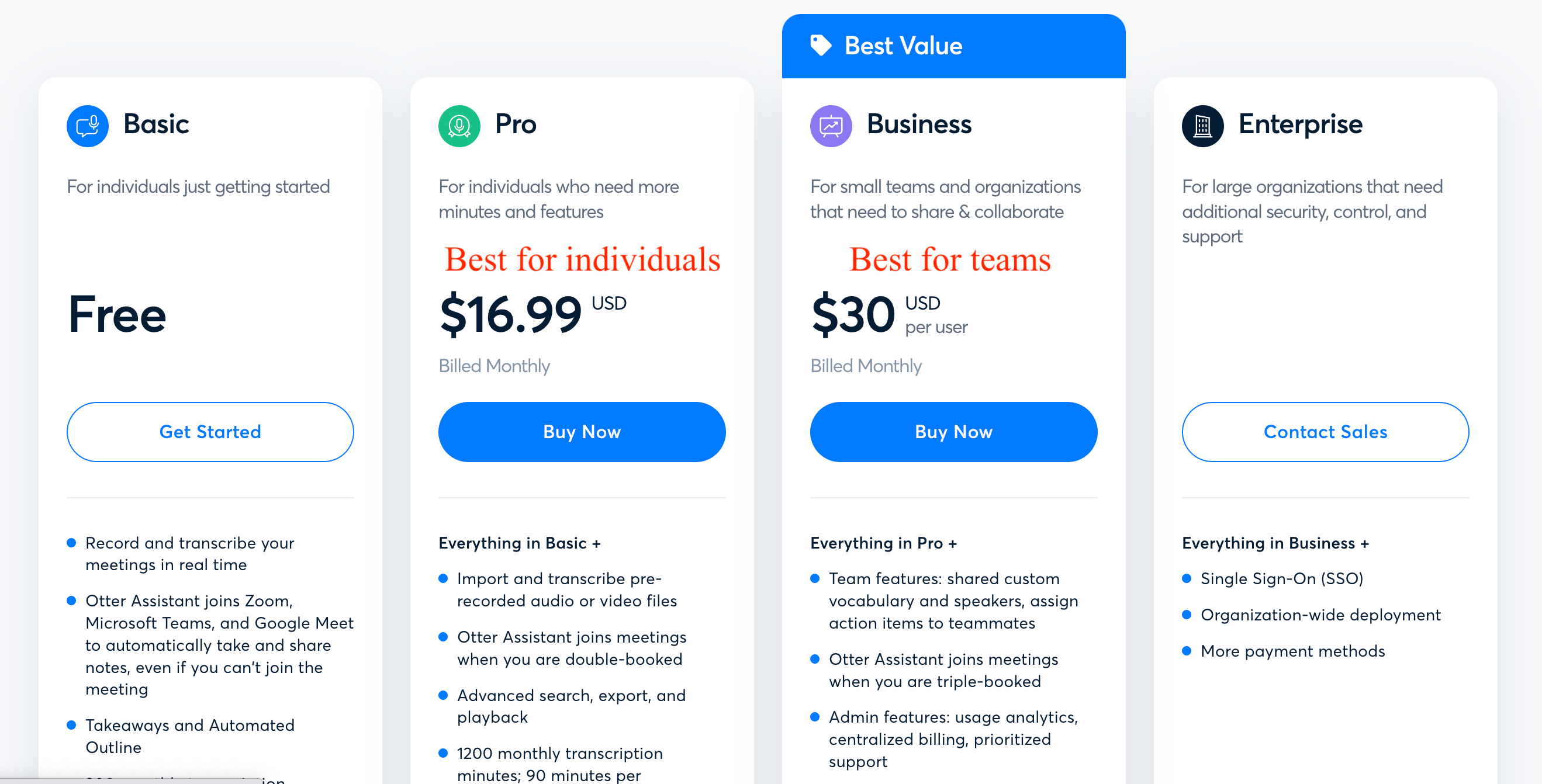 Otter Verdict
Otter AI is a great place to start if you're new to AI note-taking apps. It's got something for everyone and provides a smooth and fast experience from start to finish.
2. Supernormal
Great for Digital Agencies

Supernormal is another solid AI note-taking software that automates many of the tedious tasks around meetings, including translating meeting notes and exporting notes to a CRM or other tool.
Here are the top features of Supernormal:
Supernormal Pricing
Record up to 20 free meetings on Google Meet with the free plan, or start with the Pro plan at $24 a month for 1,000 minutes. You can upgrade to higher-level plans for more minutes.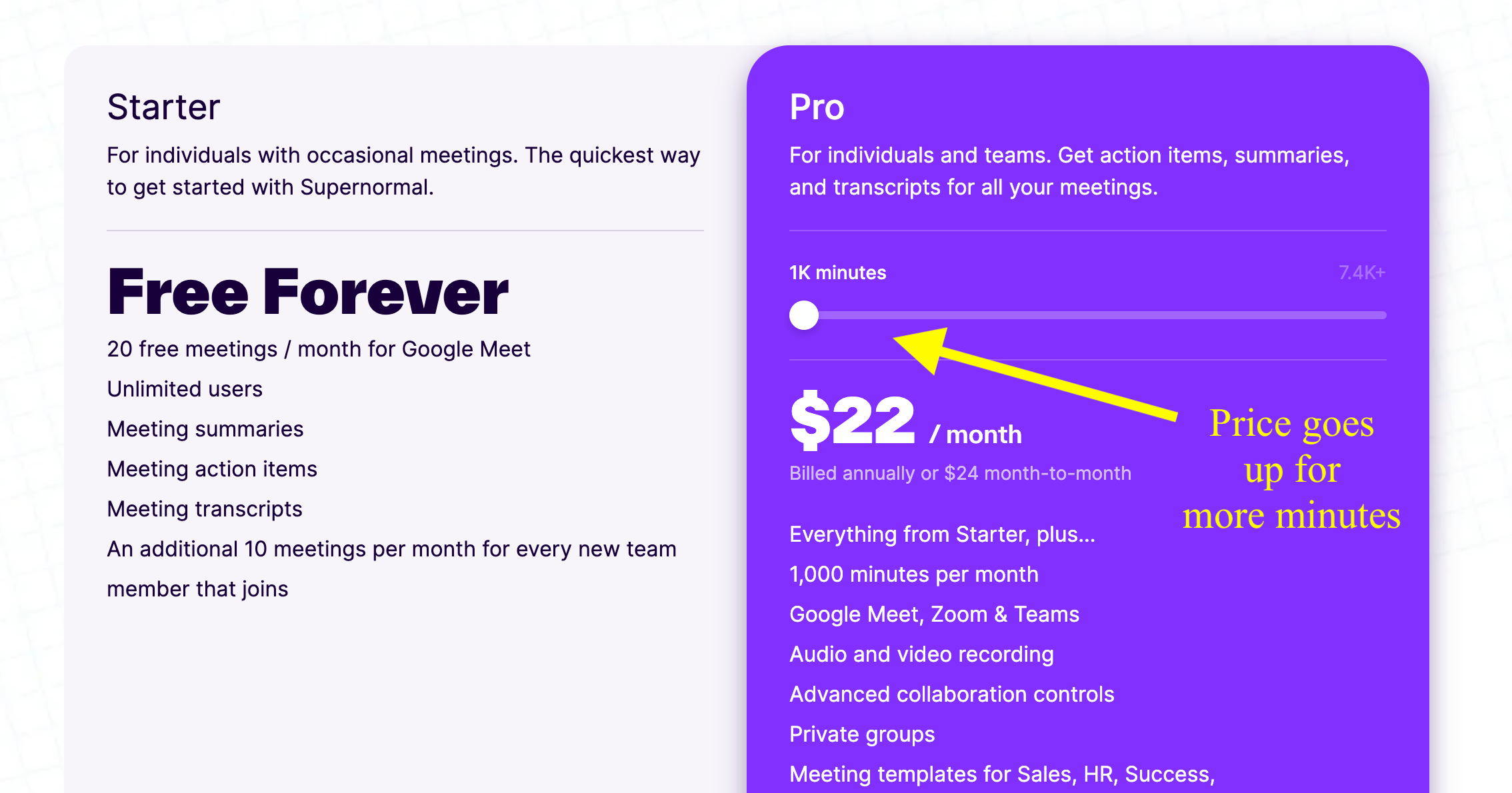 Supernormal Verdict
Digital agencies and multi-functional teams that want to track and draw insights from diverse types of meetings will benefit from Supernormal's smart note-taking abilities.
3. MeetGeek
Smart Meeting Analytics

MeetGeek is a powerful AI note-taking app and meeting assistant with all the same features as other popular note-taking apps. However, MeetGeek stands out because of its meeting analytics feature, which can help managers improve meetings for the entire team.
Here's a breakdown of MeetGeek's top features:
MeetGeek Pricing
Start for free with 5 hours of transcription a month and 1 month of video storage, or upgrade to the Pro plan for $15 per user per month for 20 hours of recordings per month, 6 months of video storage, and unlimited transcription storage.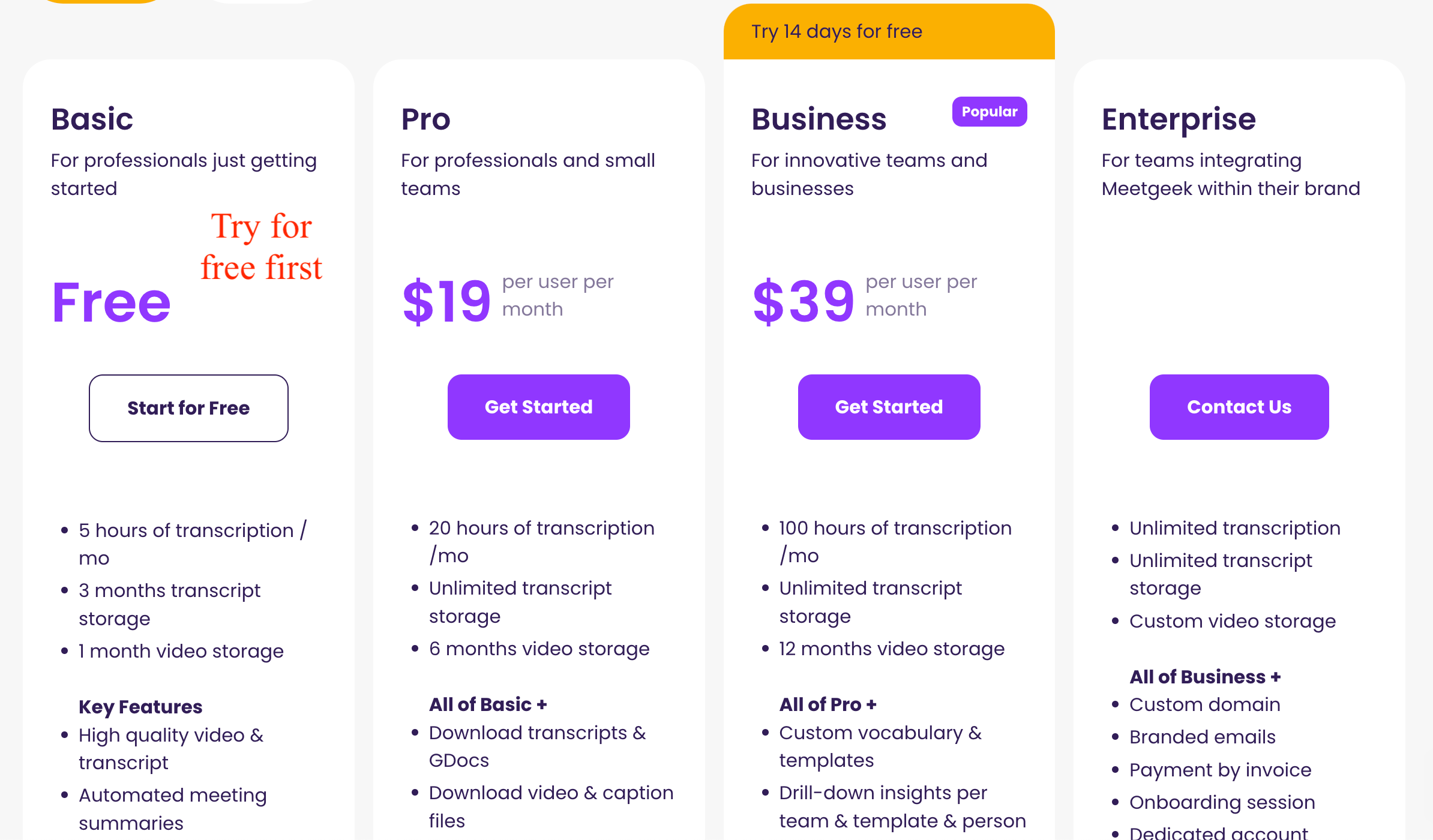 MeetGeek Verdict
Managers, take note—MeetGeek will not only help your entire team to stay on the same page, but it'll also help you improve your overall meeting experience and boost your team's performance over the long term.
4. Colibri
Live Meeting Captions

Colibri is a type of hummingbird found in Central and South America with beautiful blue and green markings and black wings. And it's also a great AI-powered note-taking app with a ton of helpful features.
I'm not going to go into the basic note-taking features, since all of these apps cover the same basic functions.
Here is where Colibri specifically shines:
Colibri Pricing
Record up to 5 hours of meetings a month (40 minutes per recording) for free, or upgrade to the Start plan at $20 per user per month for 20 hours of meetings (and 90 minutes per recording). Higher-tiered plans increase the total and per-meeting time you can record.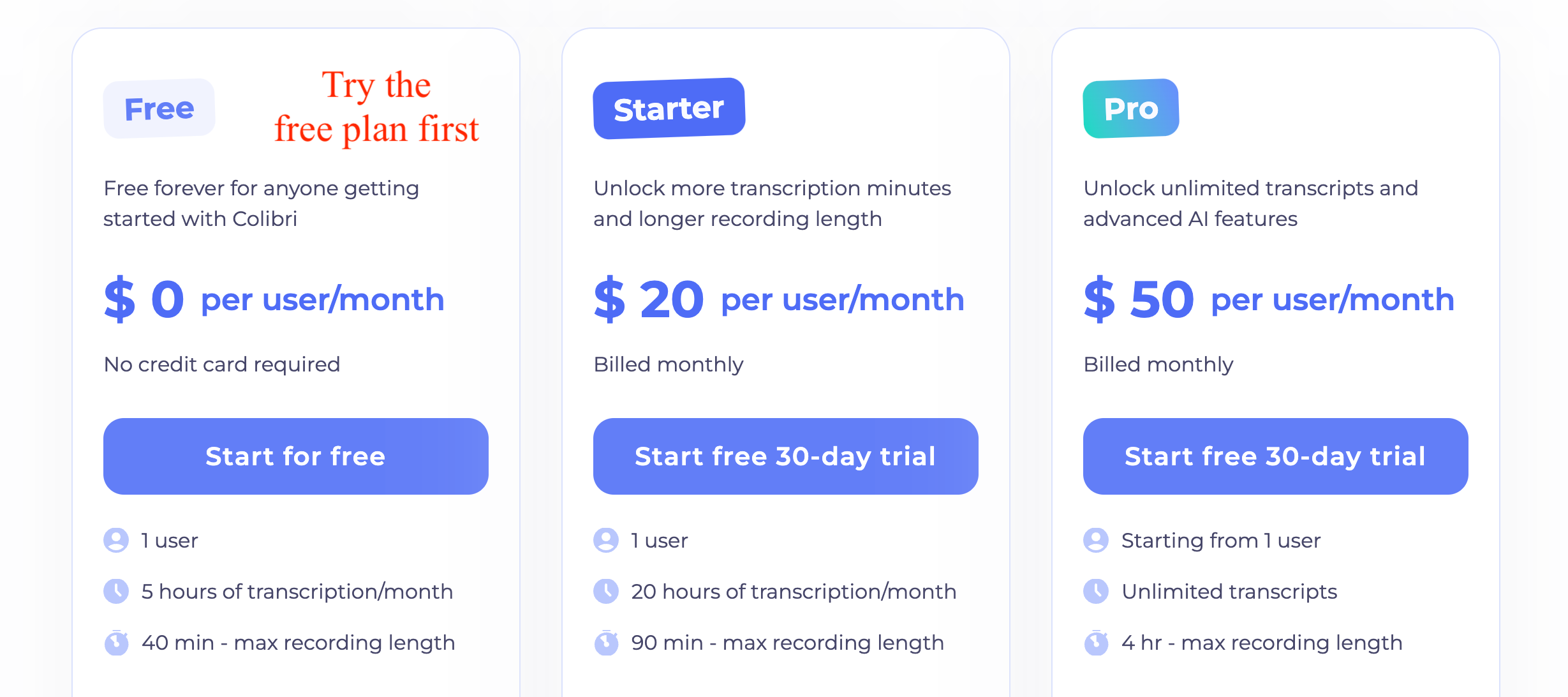 Colibri Verdict
While Colibri doesn't make smart notes (yet), it is a lightning-fast transcription app that works for many different meeting platforms. And if you want live captions in Zoom, this is a great choice for you.
5. Notes by Dubber
Great for Enterprises

Notes by Dubber helps you to transcribe, organize, and share your notes with others.
Let's take a look of some unique features offered by their note-taking service:
Notes by Dubber Pricing
The lowest-tier Professional plan starts at $19 per user per month for 20 hours of transcription and up to 2 hours per meeting. You can start with a 30-day free trial.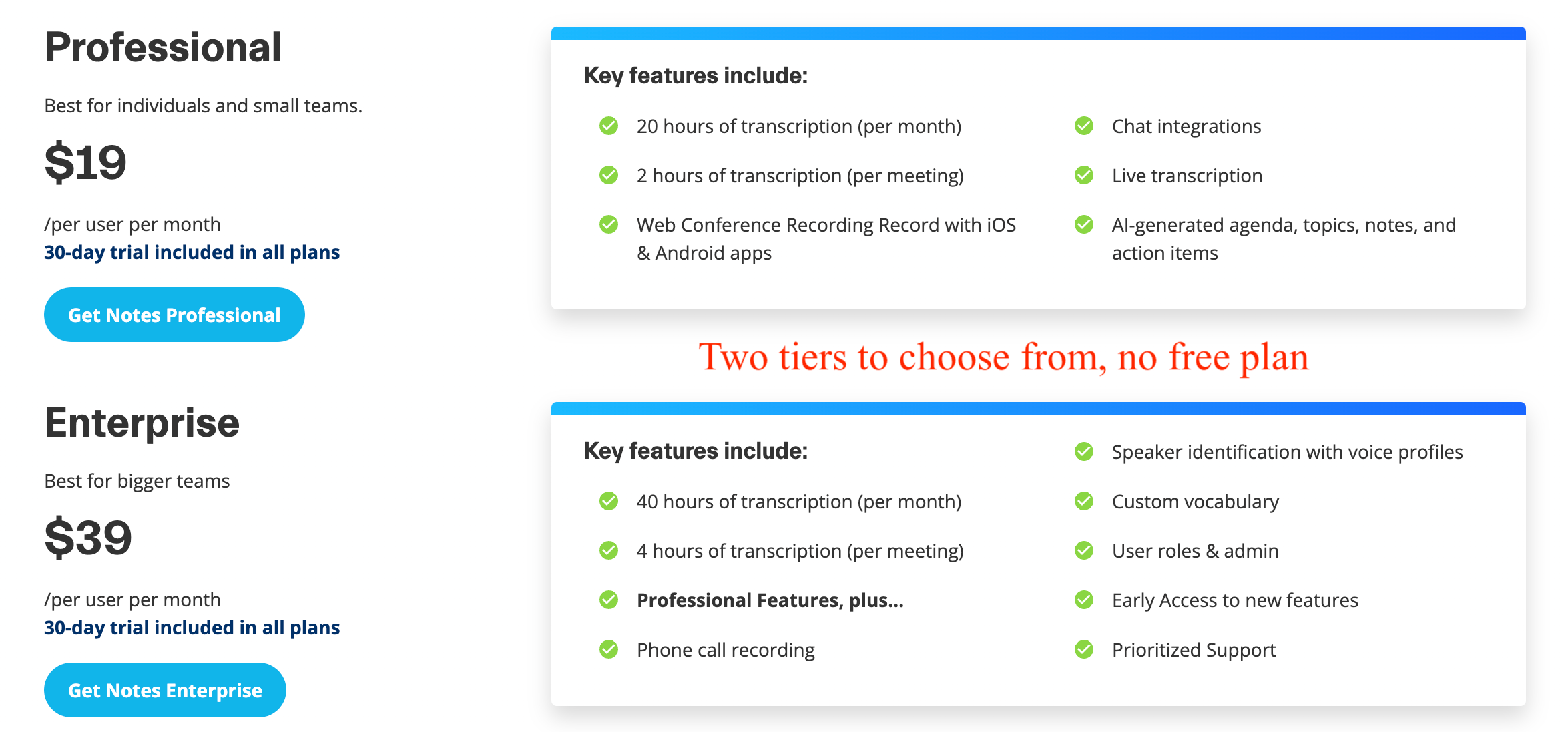 Notes by Dubber Verdict
While some of the conference software and integrations seem a bit outdated, Notes by Dubber seems like a good fit for enterprise-level companies who rely on tried-and-true software and need a reliable tool that works with their existing setup.
6. Sembly AI
Multilingual Support

Sembly AI is a versatile AI note-taking and transcription app whose biggest advantage over other apps is its ability to understand and transcribe multiple languages. I was impressed that besides English and other European languages, Sembly AI can also understand other languages like Japanese.
Here are some highlights of Sembly AI:
Sembly AI Pricing
You can start with the free version, which lets you record 4 hours a month in English and keeps your meeting notes for 3 months. The Professional plan, at $10 a month, removes your monthly record limit, keeps your meeting notes forever, and lets you transcribe in all available languages.

Sembly AI Verdict
For international teams or people who speak multiple languages, Sembly AI gives you way more options for generating smart notes from your meetings.
7. Avoma
For Fast-Growing Startups

Avoma isn't just an AI note taker; it's a "meeting lifecycle assistant." In other words, it can help you prepare for the meeting, record the meeting, and extract notes and takeaways from the meeting (covering the before, during, and after-meeting process).
Here are the quick and dirty breakdown of Avoma:
Avoma Pricing
Individuals can use Avoma for free for recording and transcription, and basic features. Or upgrade to the Start plan for $24 per user per month for more features. (Higher-tiered plans give you unlimited transcriptions and advanced features.)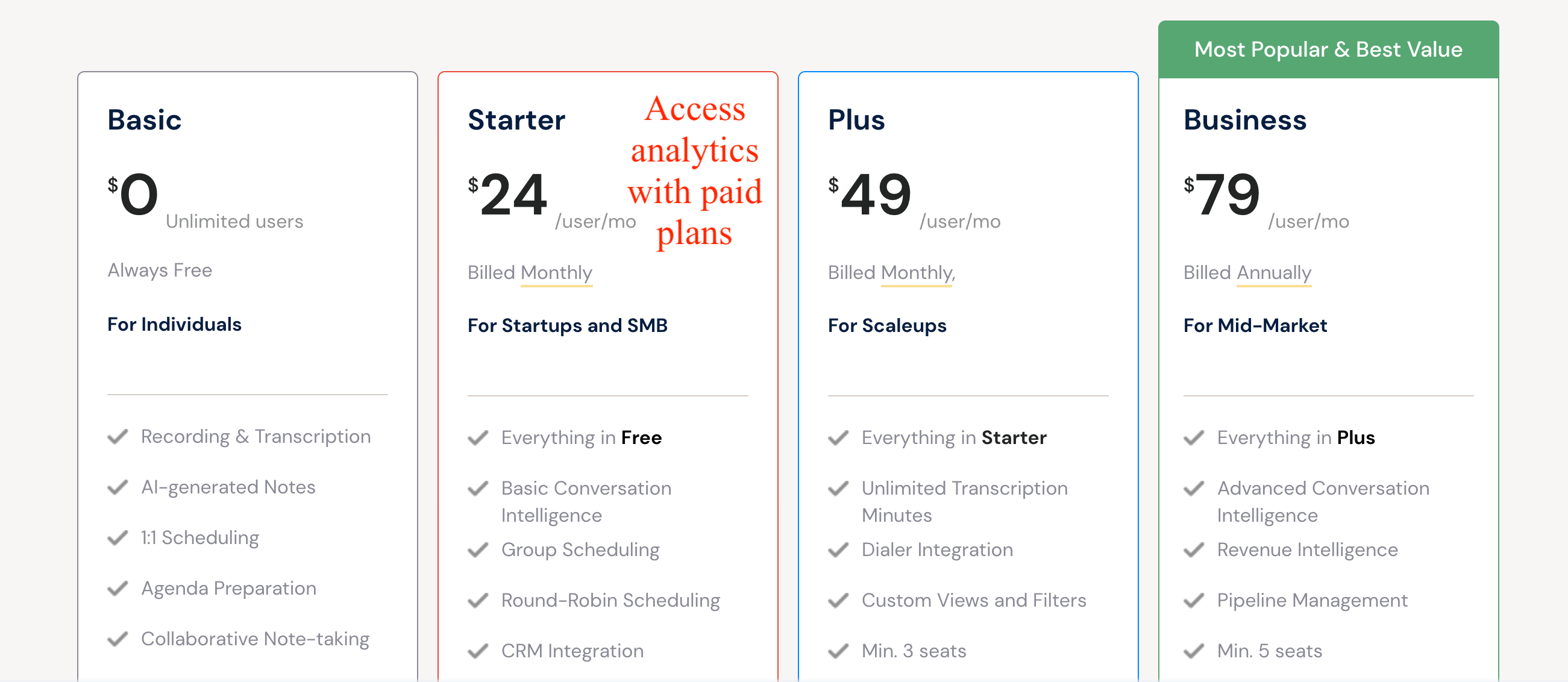 Avoma Verdict
Fast-growing startups and growth-minded businesses will get a lot of use out of Avoma—it won't just keep track of your meetings and decisions, but you'll also be able to track sales outcomes of meetings and glean helpful insights about the way you run your business.
8. Fireflies AI
Best Integrations

Fireflies AI has all the features you'd want in an AI transcription and note-taking app. Where it really shines is its intuitive use of integrations.
Here's what I like about Fireflies AI:
Fireflies Pricing
You can try out the free version, with limited transcription and 800 minutes of storage, but you won't get the integrations. The Pro version, at $10 per seat per month, gets you unlimited transcription credits, 8,000 minutes of storage, and AI-powered summaries.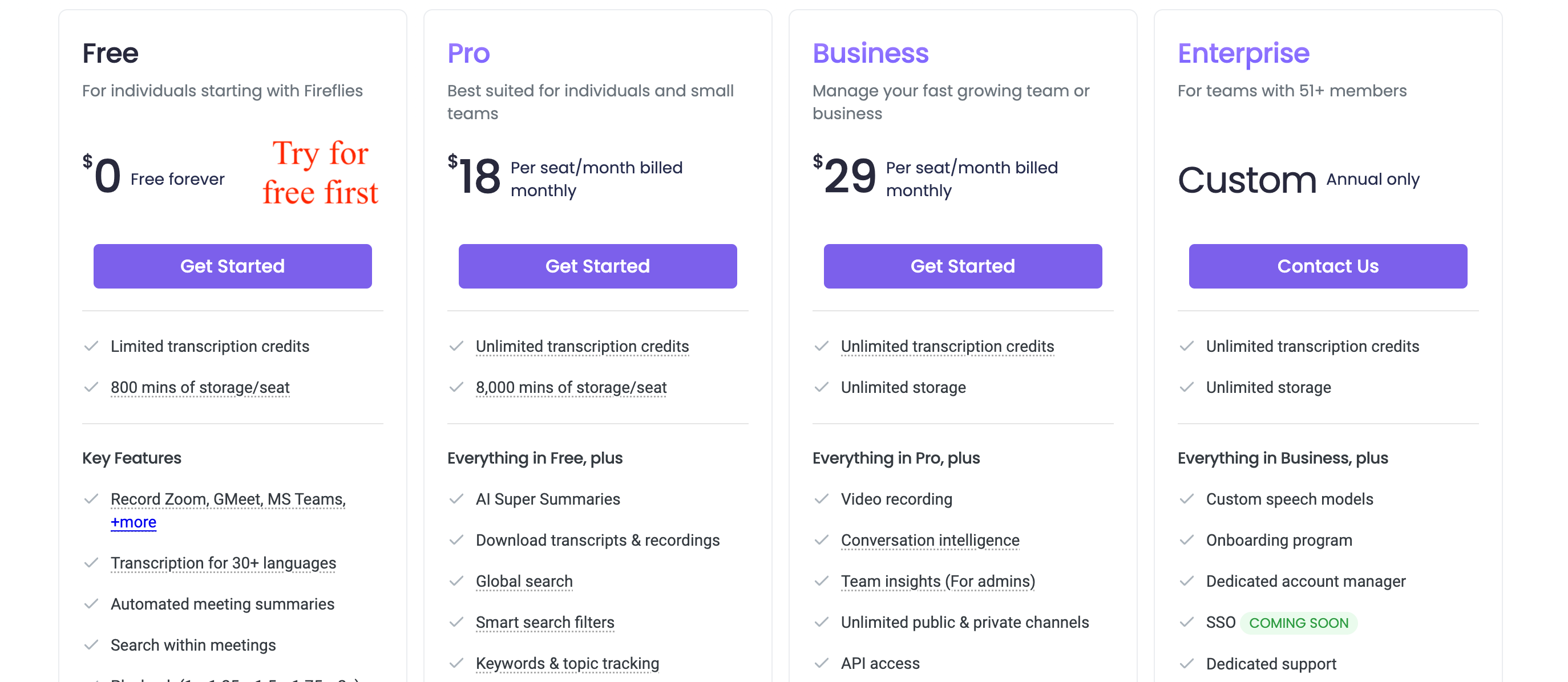 Fireflies Verdict
Fireflies AI has the potential to save you tons of time by integrating with your favorite tools. But it's best to try it out to see if you like its features before going all-in on this app.
9. Gong
For Sales Teams

Gong is like an AI note-taking app on steroids, designed specifically for sales teams who want to use data to improve their sales performance.
Here are the best features of Gong:
Gong Pricing
Pricing depends on your team size and the type of license you choose. Contact Gong for pricing details.

Gong Verdict
Gong is a no-brainer for sales teams that want to use AI to track conversations and get the most out of every sales relationship.
What is an AI Note Taker?
AI note-taking apps record meetings and conversations, generate transcriptions, and write notes that summarize and organize key points of the discussion.
They replace the need for human note-takers in a meeting and allow everyone to focus on the conversation without worrying about writing everything down.
Most will also take an audio and video recording of the meeting and sync it with the notes, allowing you to review key moments of the meeting in one click.
Benefits of Smart Meeting Notes & Note-Taking Apps
Frequently Asked Questions (FAQs)
Which AI note-takers have a free plan?
AI note-taking tools with a free plan: Otter AI, Supernormal, MeetGeek, Colibri, Sembly AI, Avoma, and Fireflies AI.
Are there privacy issues to consider when using AI note-taking tools?
Any time you will be recording a meeting, check the applicable laws of your area so you don't violate someone's privacy. In some places, you must let the person know you will be recording them.
Which AI note-taker apps support GoToMeeting?
Colibri, Notes by Dubber, Avoma, Fireflies AI, and Gong work with GoToMeeting.
Which AI note-takers support Cisco WebEx?
Colibri, Notes by Dubber, Avoma, Fireflies AI, and Gong work with Cisco WebEx meetings.