9 Best AI Presentation Software in 2023 to Nail Your Next Pitch
Last Updated on May 25, 2023
Presentations have come a long way from the old days of clicking through slides on a projector or flipping cardboard panels like Don Draper in Mad Men.
When Powerpoint exploded onto the scene in 1987, presentations became weightless, endlessly customizable, and easily duplicated and shared. Since then, an endless array of presentation makers and cool templates have made slide creation a breeze.
Today, we are witnessing a new evolution in presentation tools—the advent of AI presentation software. These tools will write your script and slides and design your entire presentation for you with the power of AI technology.
This is the future of presentation software.
Keep reading to discover the nine best AI presentation software and AI presentation makers you should know in 2023.
Decktopus
Presentations
Sendsteps
What is the Best AI Presentation Software?
Here's a quick list of all the AI presentation software that was tested.
Best AI Presentation Software
Great for Small Businesses

With Decktopus' AI-powered presentation maker, you can generate persuasive slide decks to help you reach your business goals. You simply fill out a few prompts and then watch the presentation maker create a nice rough draft presentation for you. From there, edit it to customize it to your needs.
Here's what I like about Decktopus:
You can create a presentation in two ways: either from scratch or with Decktopus' AI assistant. Choose the Decktopus AI tool to create slides automatically.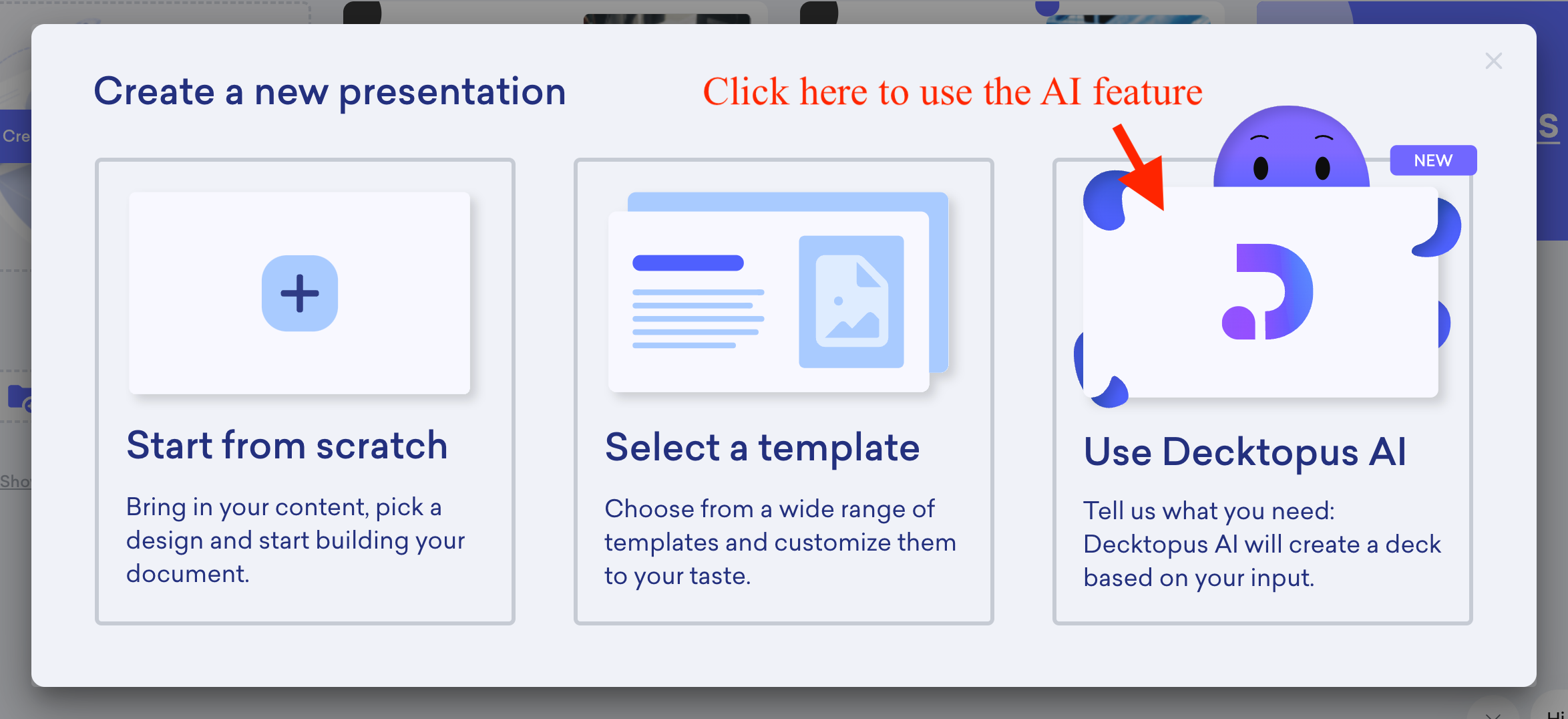 Next, tell Decktopus what your presentation is about.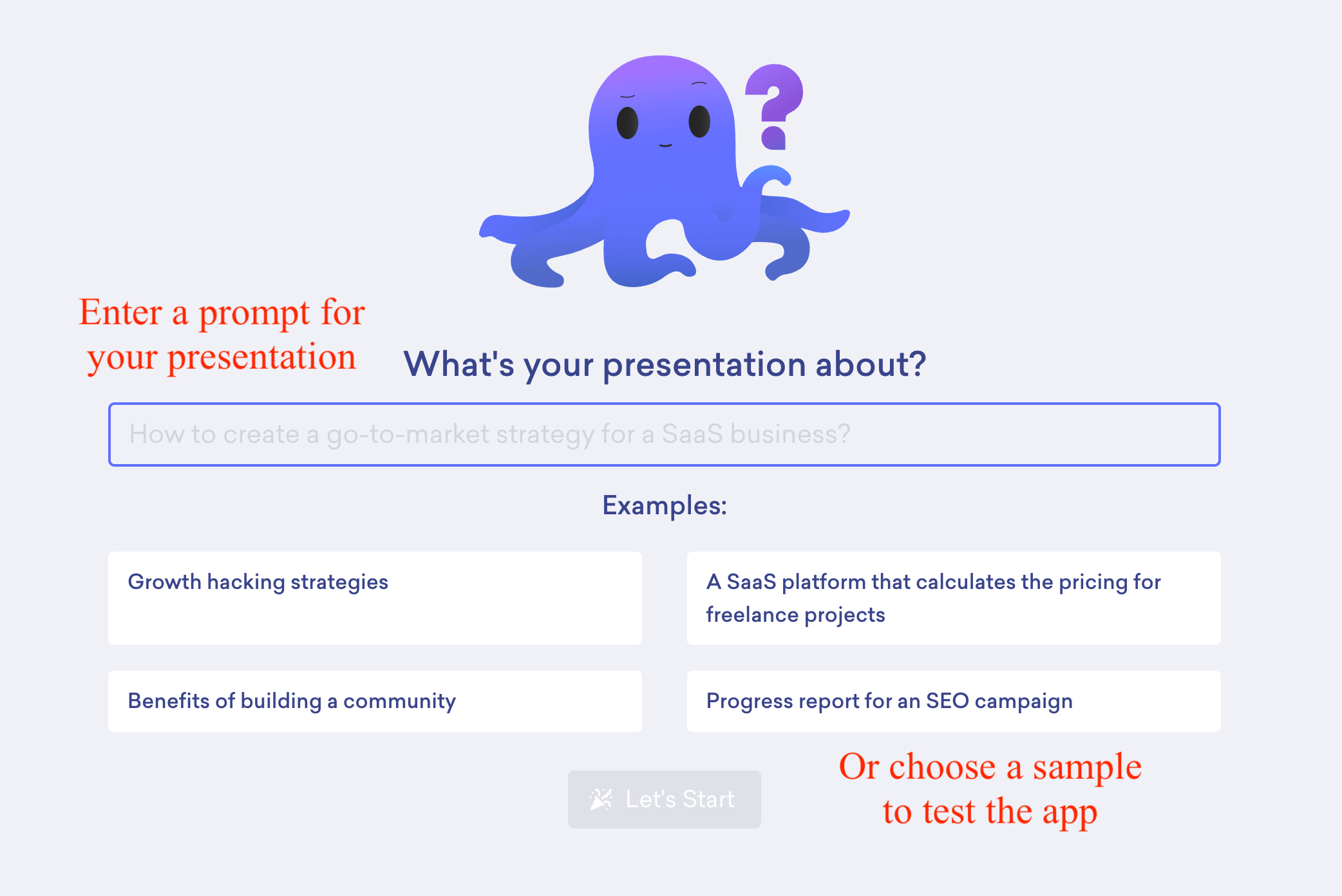 Define your audience.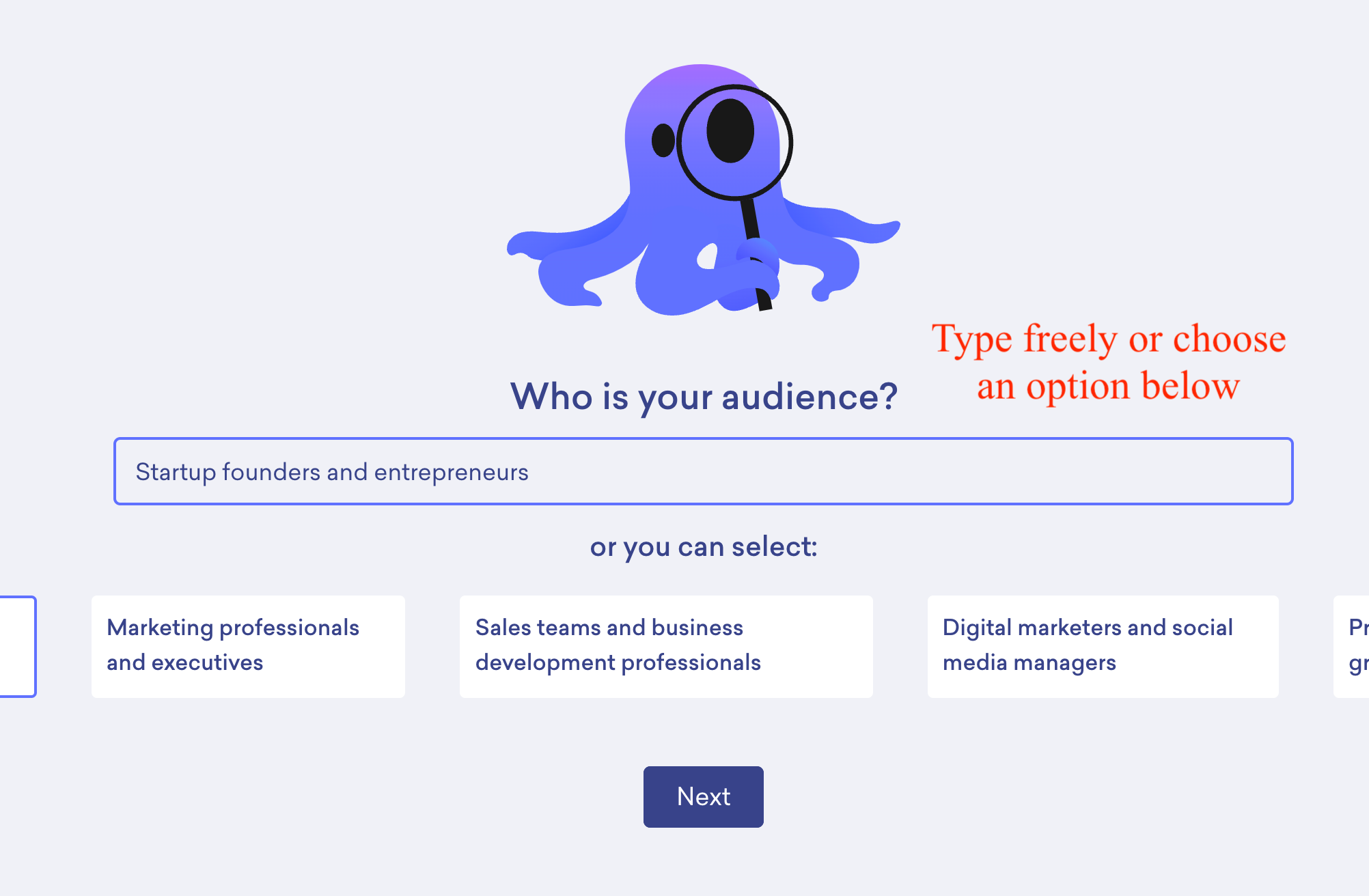 Then set the goal for the presentation.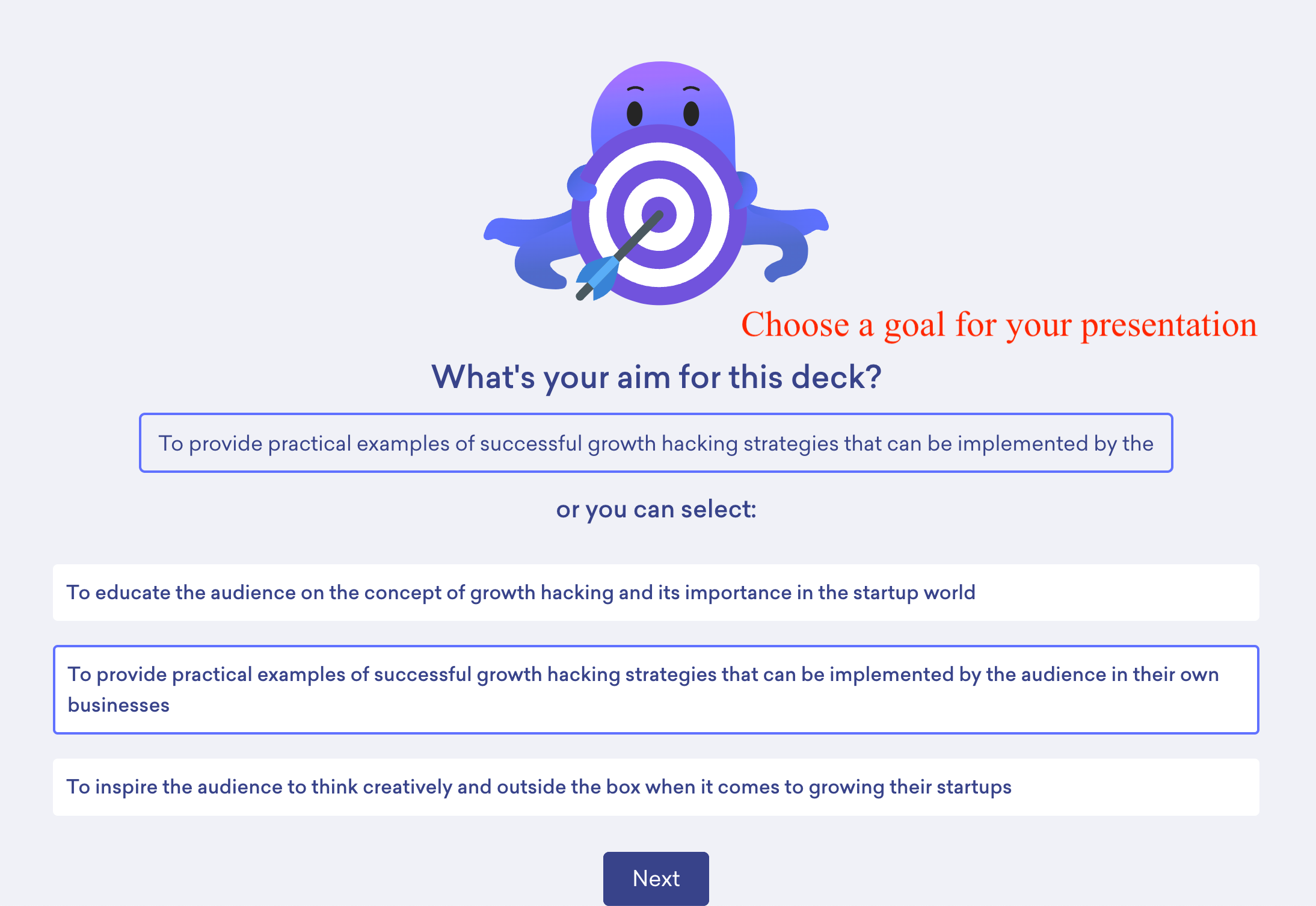 Next, specify the time you have to share your slides.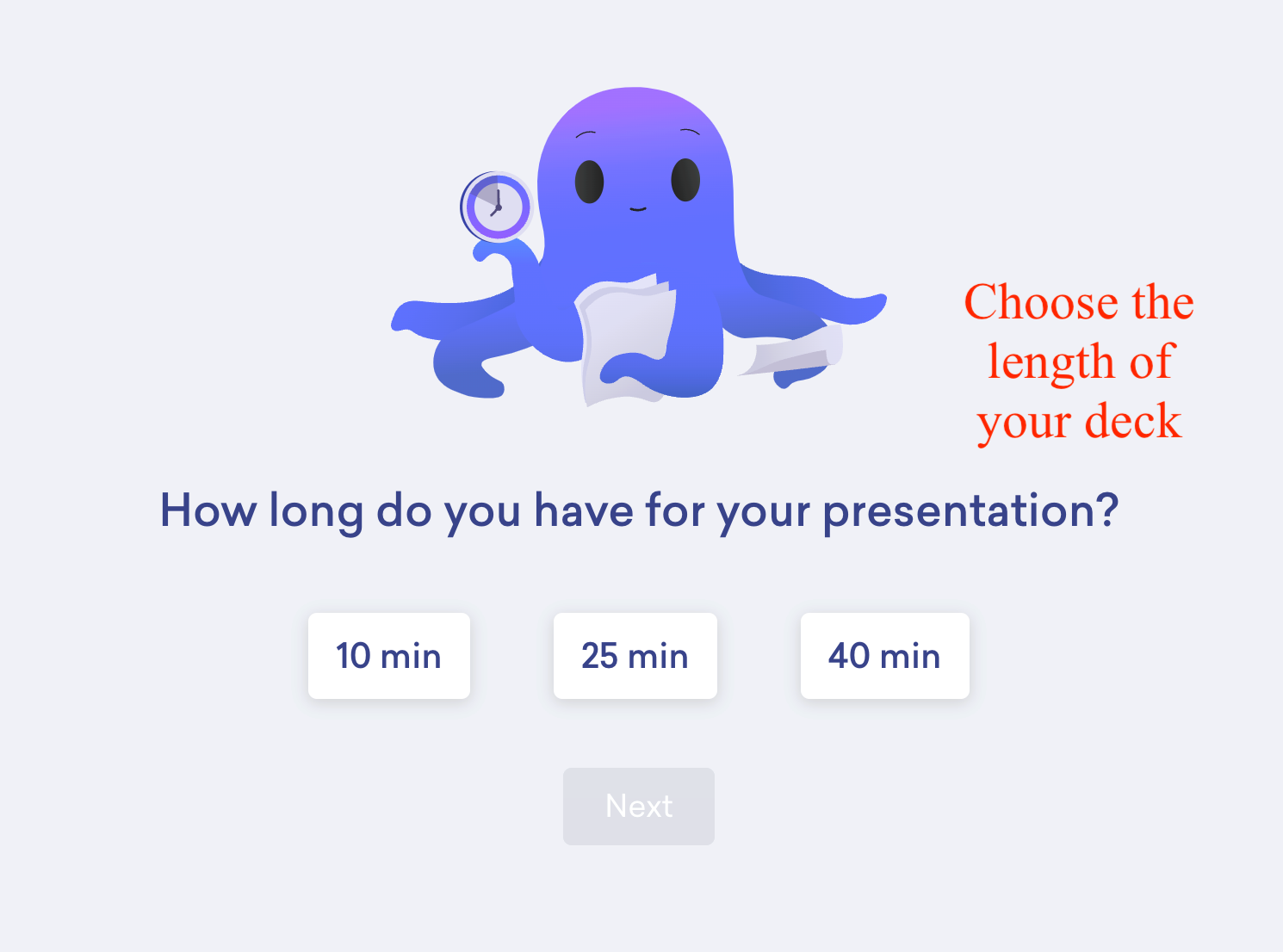 Finally, choose one of the preset templates and click "Generate Presentation."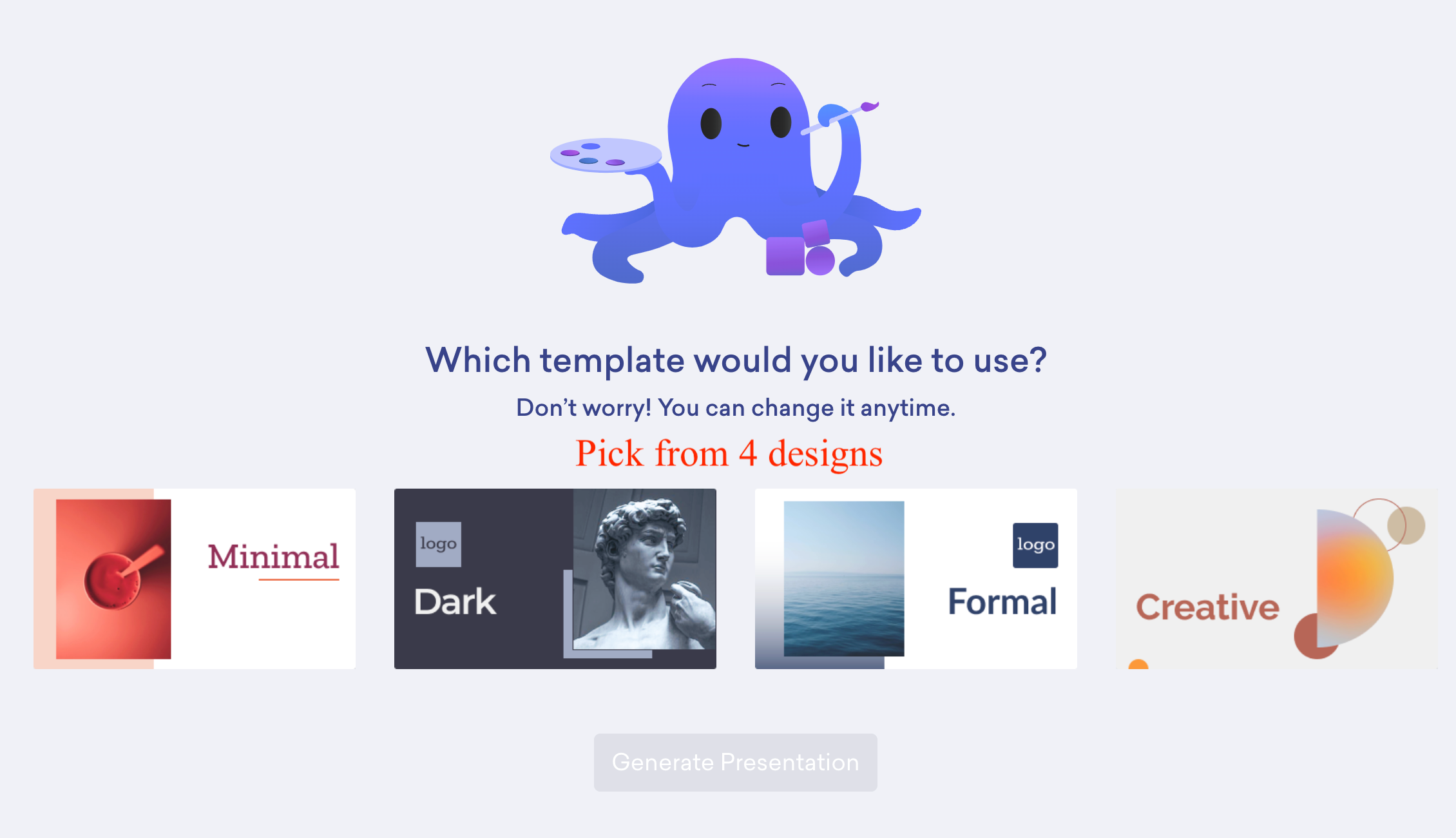 This is what it generated for me: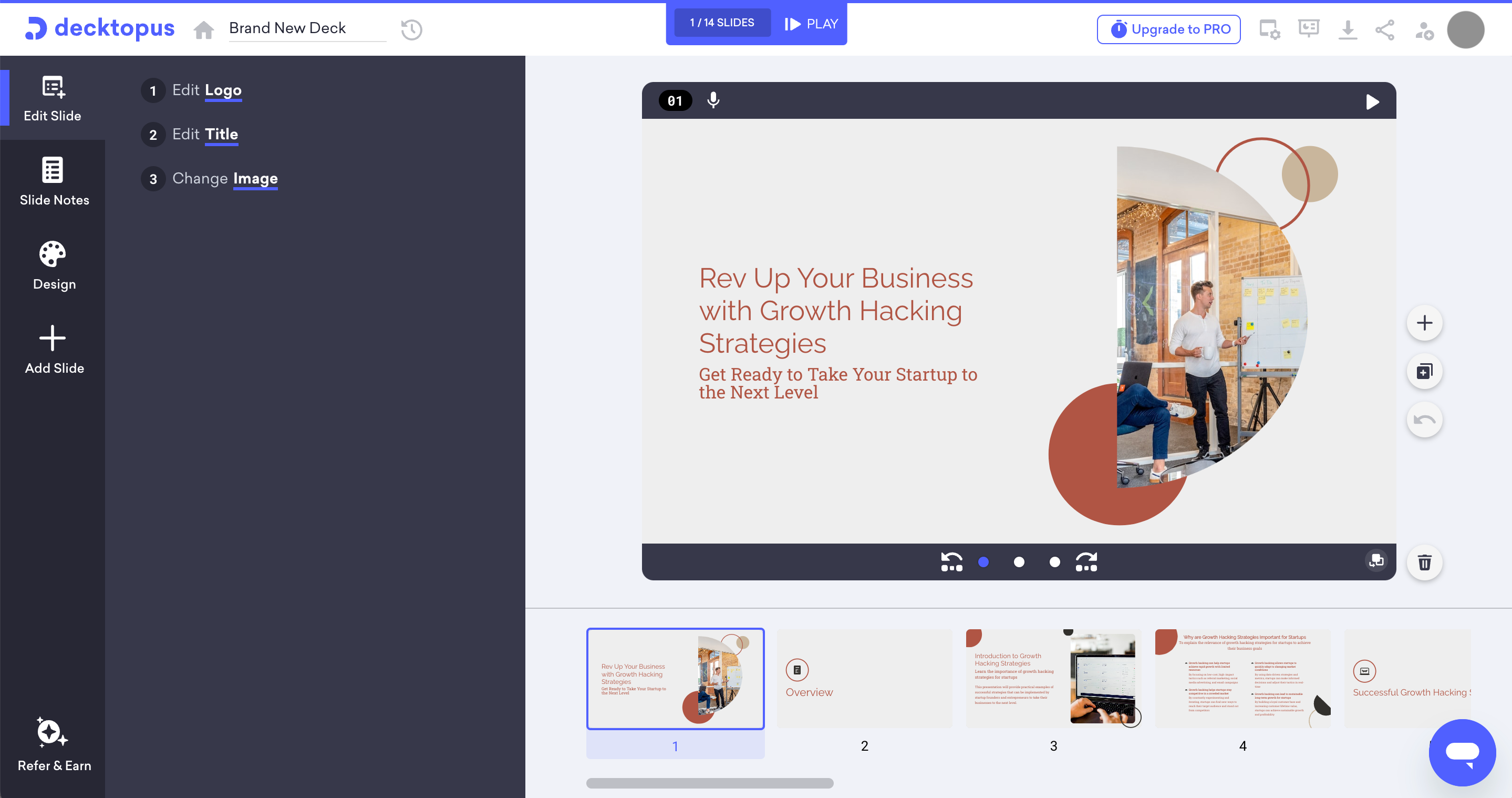 Individuals can use the Pro plan for $10 a month. Teams pay $36 per user per month for extra credits and branding features.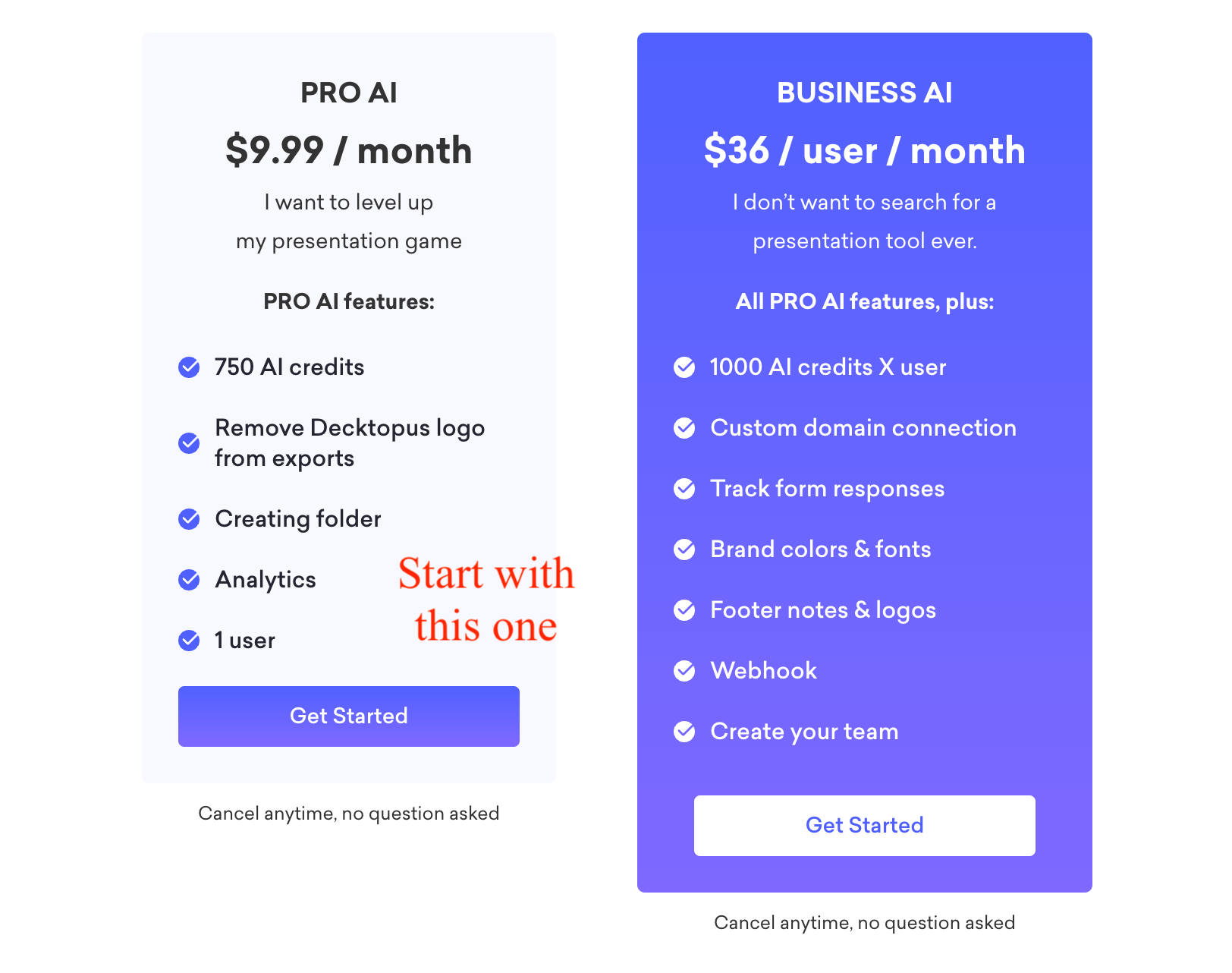 Decktopus Verdict
Businesses that need to make convincing presentations to grow their business will benefit from Decktopus' strategic AI-generated slide decks.
2. Canva Magic Presentation
Best Free AI Presentation Software

Canva, one of the most popular online design platforms today, has its own AI presentation maker called Magic Presentation.
Here's where Canva's Magic Presentation tool shines:
How to Use Canva's Magic Presentation Tool
Inside Canva, click the Magic Presentation button.
Write a short description of your presentation for the AI assistant.

Choose a template and click "Create my presentation."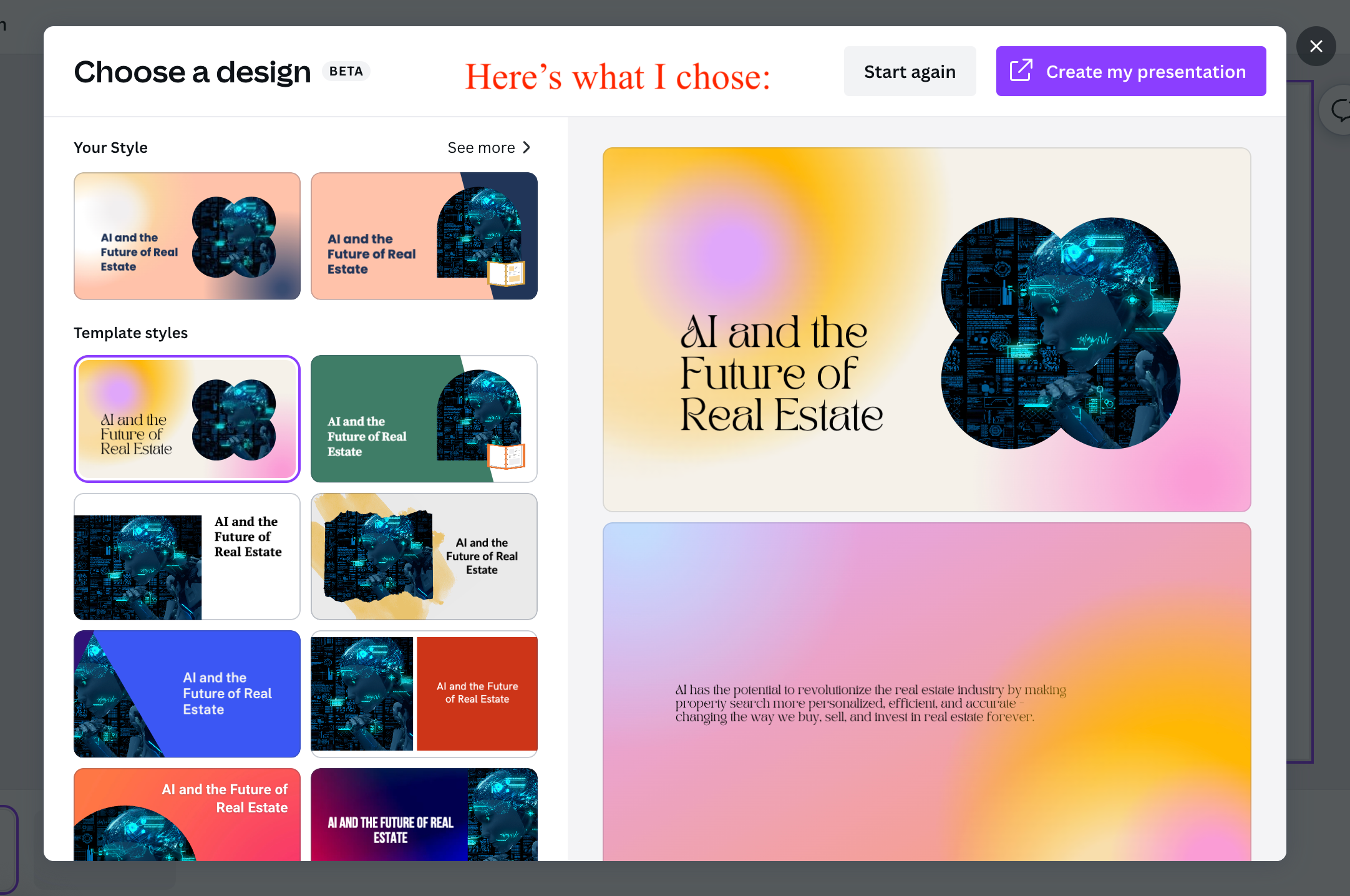 Use Canva tools to edit and update the design.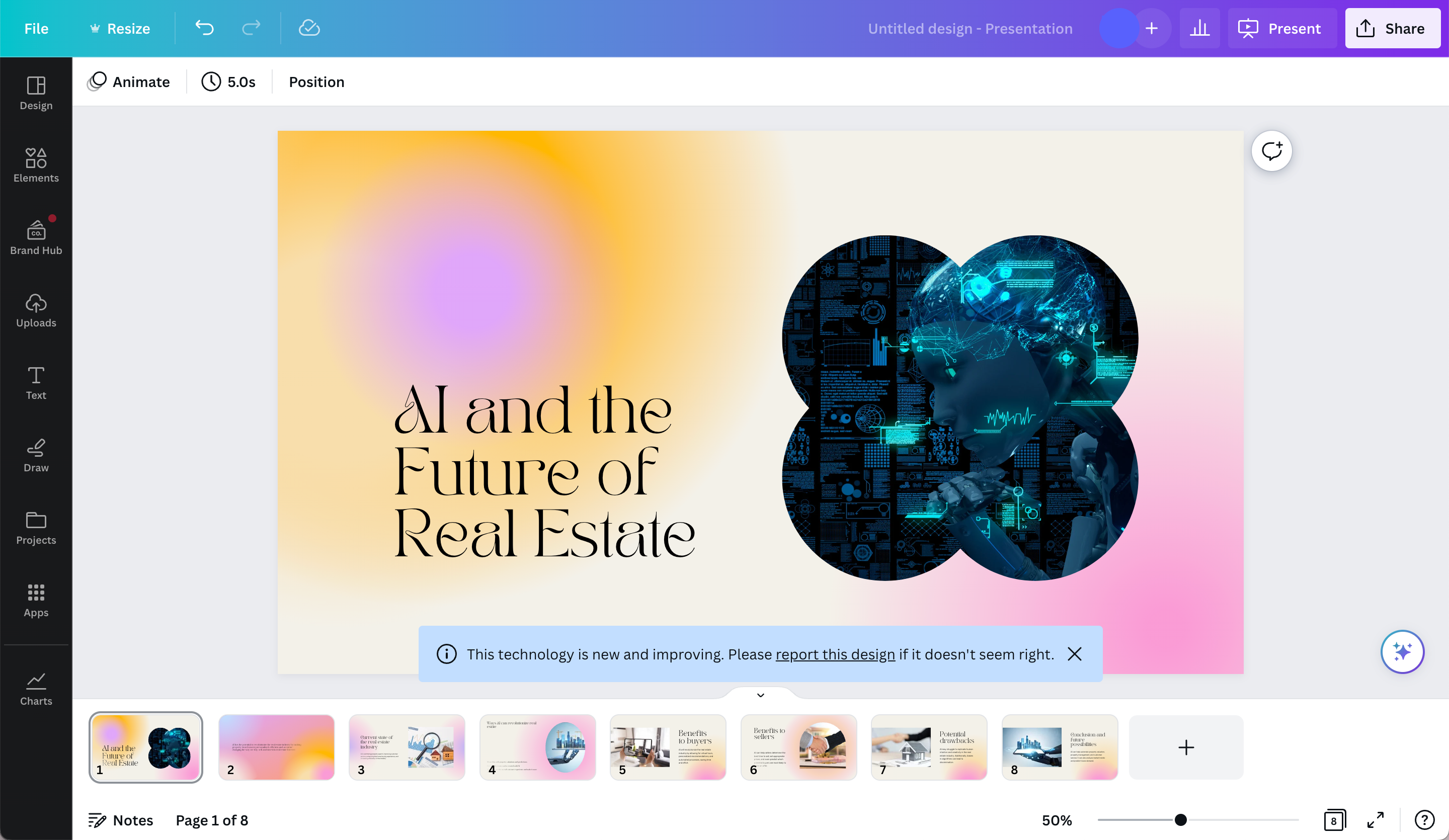 (Canva also has a Magic Writer tool to help you generate more text for your slides or notes.)
Canva Pricing
Canva is free to use with limited access to stock images, fonts, and features. (At the time of writing, you can use the AI design feature for unlimited generations on the free plan.) Upgrade to the Pro plan to access all professional design features for $13 a month or $120 per year.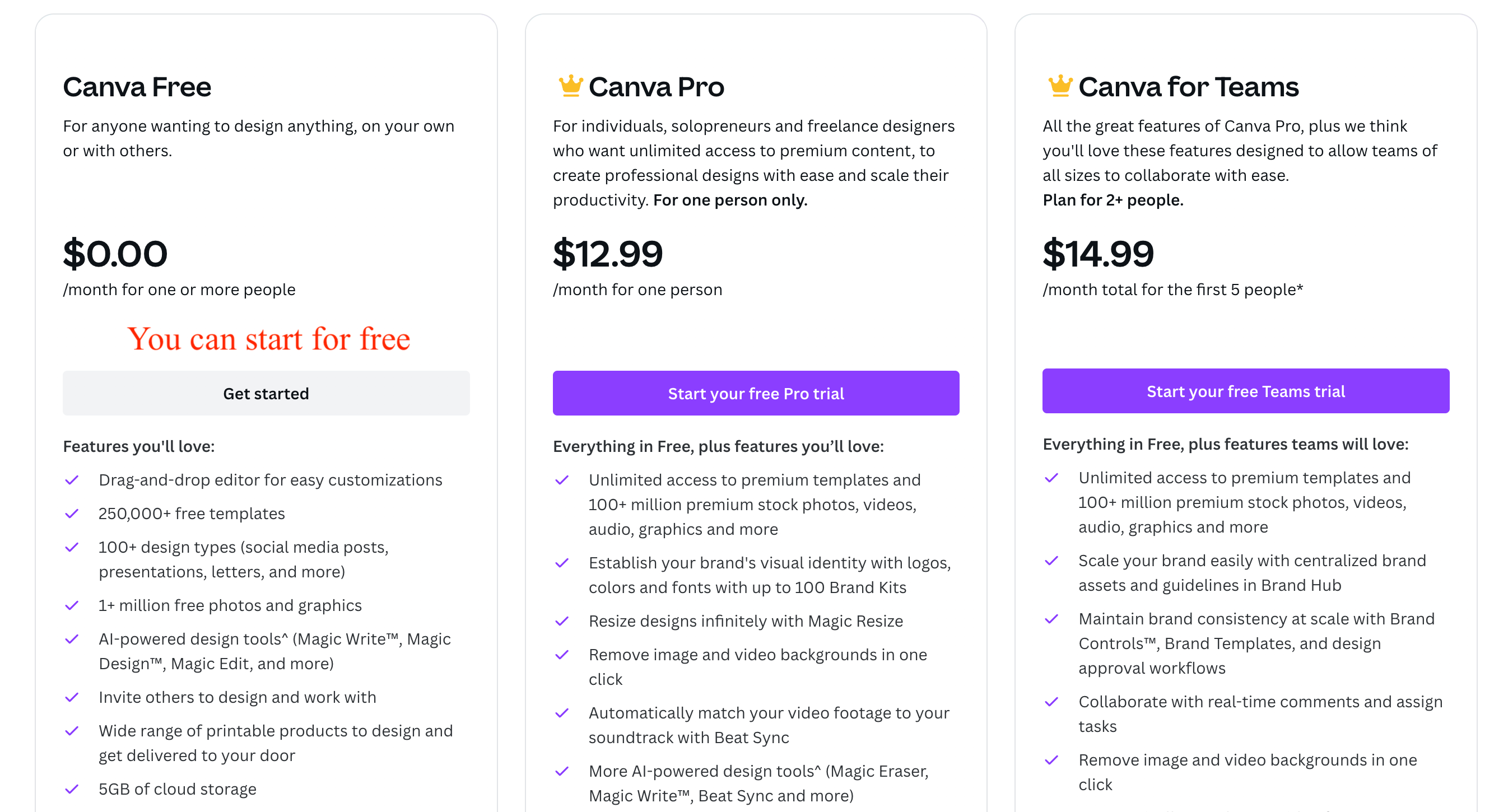 Canva Verdict
If you want the best-looking slides and don't mind customizing them, Canva's Magic Presentation tool is a great option for quickly generating presentations. It's also the best free tool that's out there.
3. Presentations AI
Great for Startups

Presentations AI is a lightning-fast presentation generator that uses strategic templates to make sure you nail your presentation every time.
Here are the best features of Presentations AI:
How to Use Presentations AI
To generate a presentation from scratch using the AI assistant, click "Use an AI Template."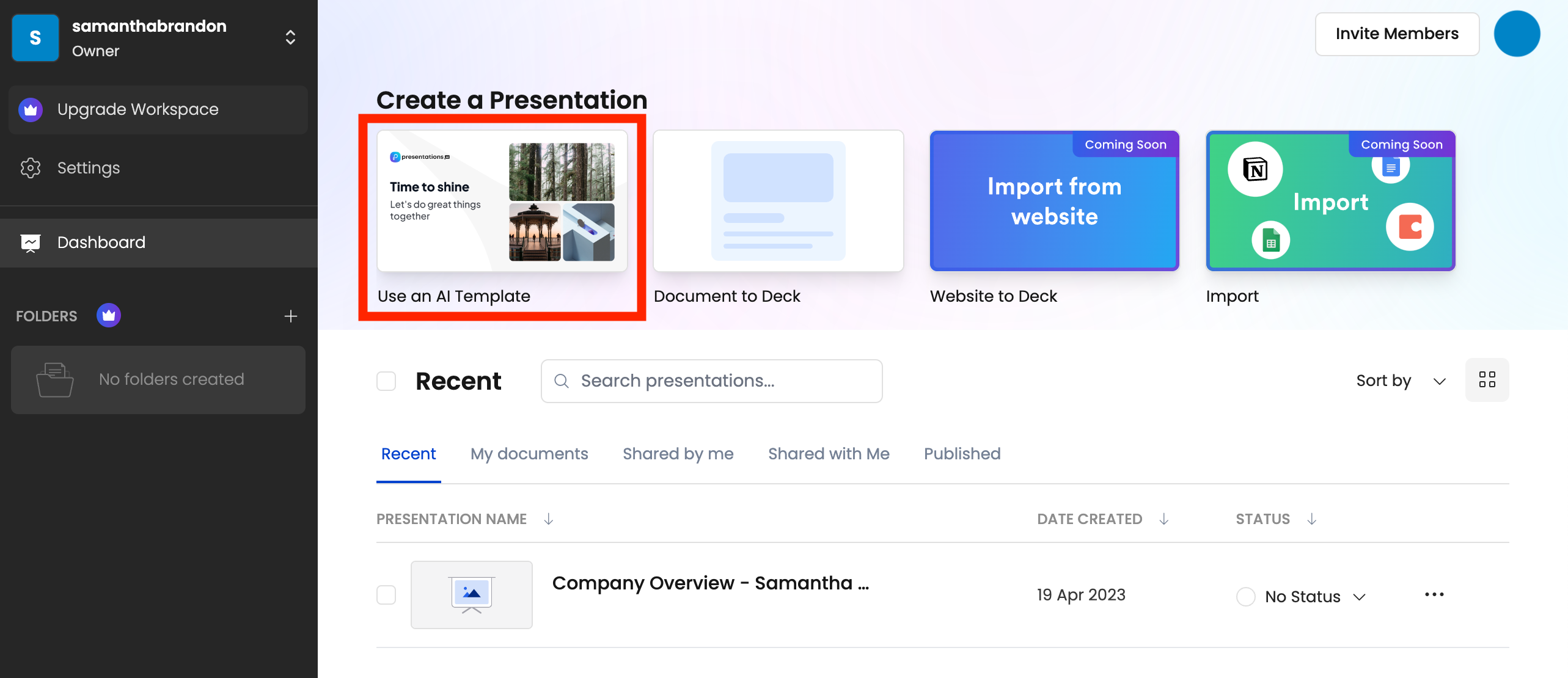 Choose a template for your presentation from the list. (You can't scroll through them all, but you can search for what you want.)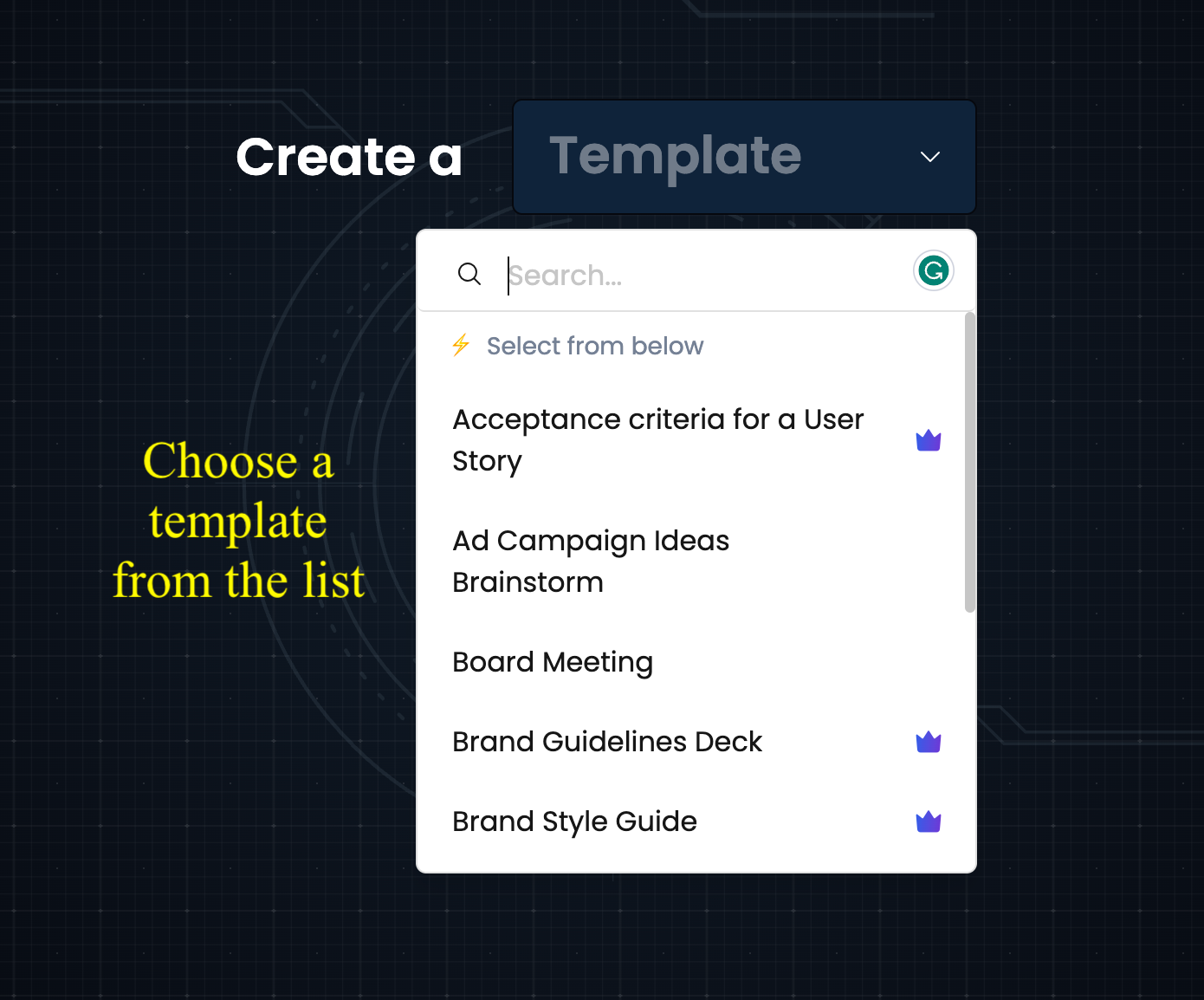 Make sure your business type is selected in the second drop-down. (You set this when you create your account.) Then click "Generate."

After a few seconds of loading, you'll get your basic presentation, which you can edit until it's ready to present.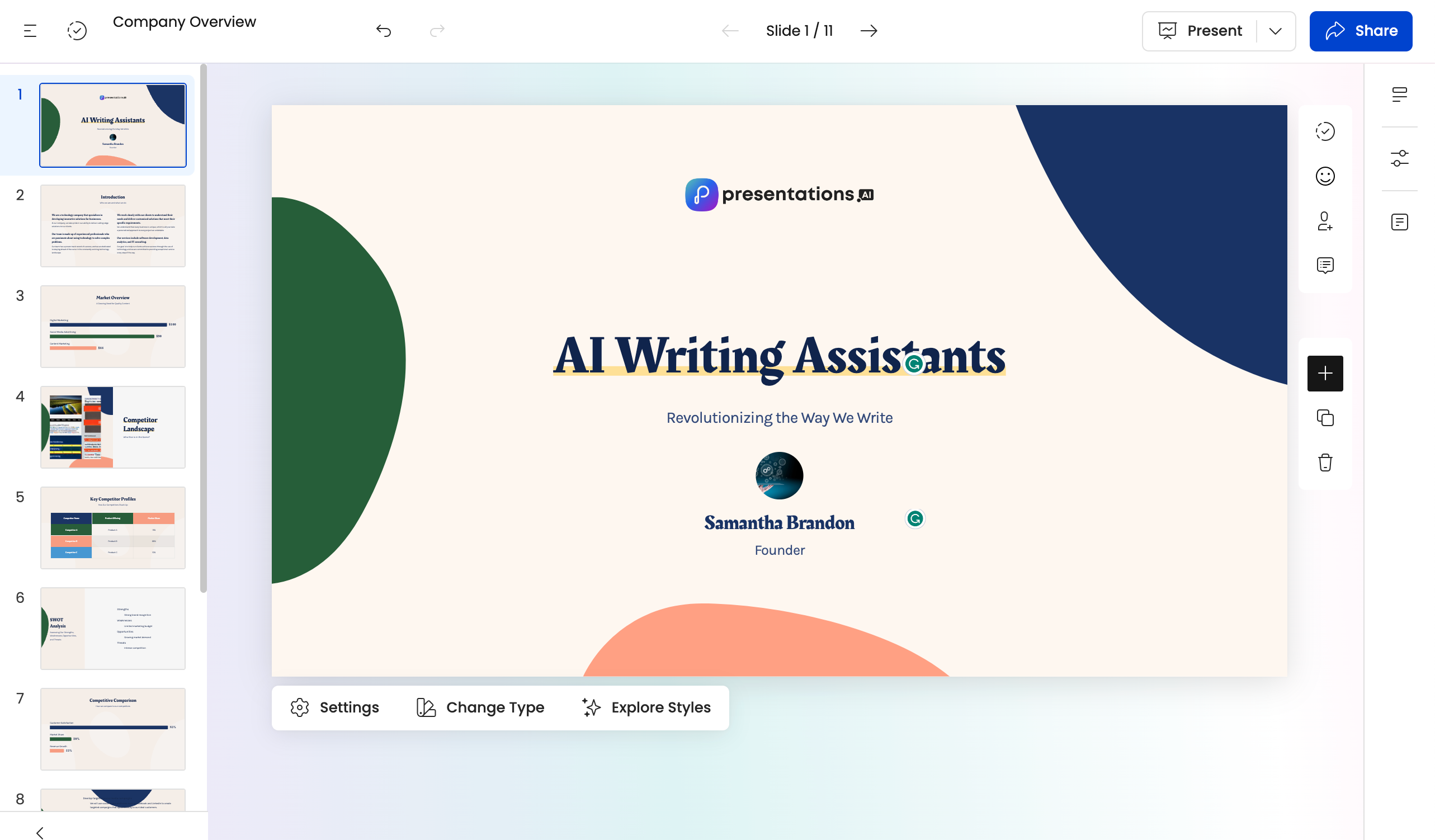 Presentations AI Pricing
At the time of writing, Presentations AI was offering beta pricing. The basic plan is free (regularly $120 per year) for unlimited decks but with limited AI credits. Teams can use the software and get extra features starting at $399 per year.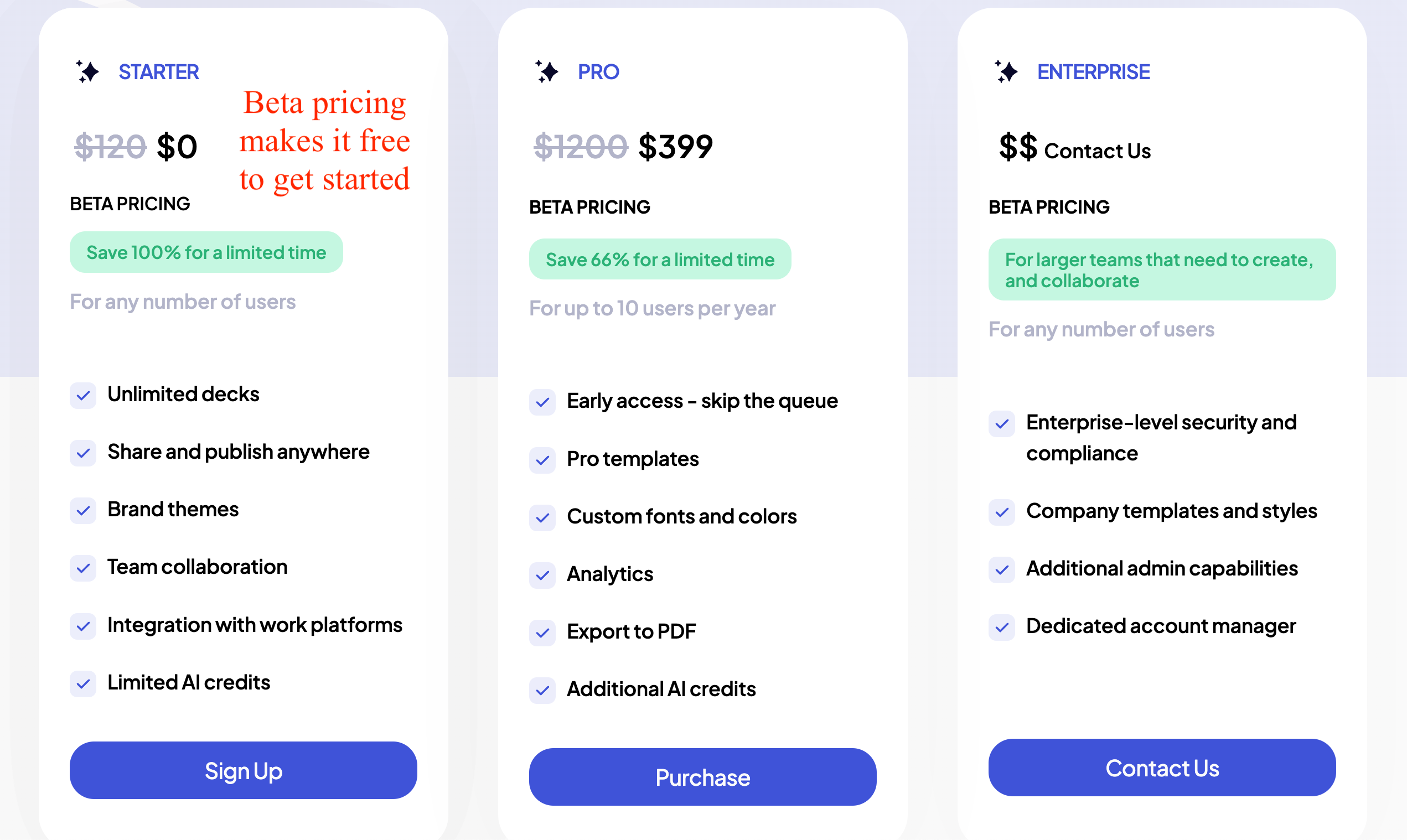 Presentations AI Verdict
Startup founders who wear many hats (like client management, marketing, development, sales, and possibly more) will benefit from Presentations AI, and its ability to generate specialized presentations for many different business needs.
4. Slides AI
Google Slides Add-On

If you're a Google Slides user, check out Slides AI. This app takes a script or long-form description of your presentation and transforms it into a fully-designed Google Slides deck -right inside of Google Workspace.
Here's where Slides AI shines:
How to Use Slides AI
After installing the tool, open a new Google Slides presentation and click "Extensions" in the toolbar. Under the Slides AI menu, click "Generate Slides."

Enter your pre-written script or notes for your presentation. This isn't an AI text generator, so asking the AI assistant to write about a topic won't help. You give Slides AI the text to work with, and it'll summarize and organize it into slides for you.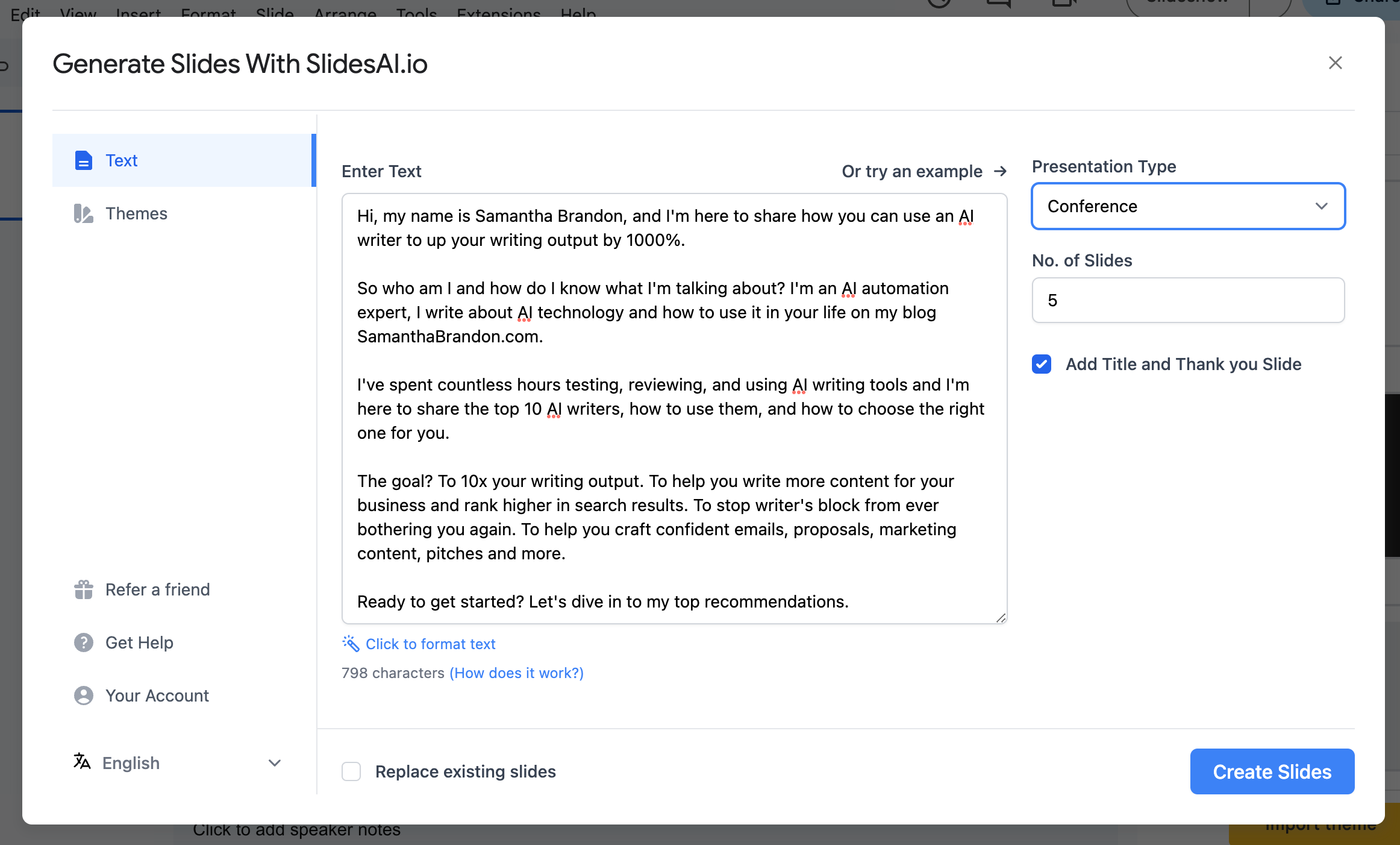 Choose your presentation type and the number of slides, then check "Replace existing slides" (so you don't have a blank slide at the beginning).
To change the theme, toggle to the Themes menu and choose one for your presentation.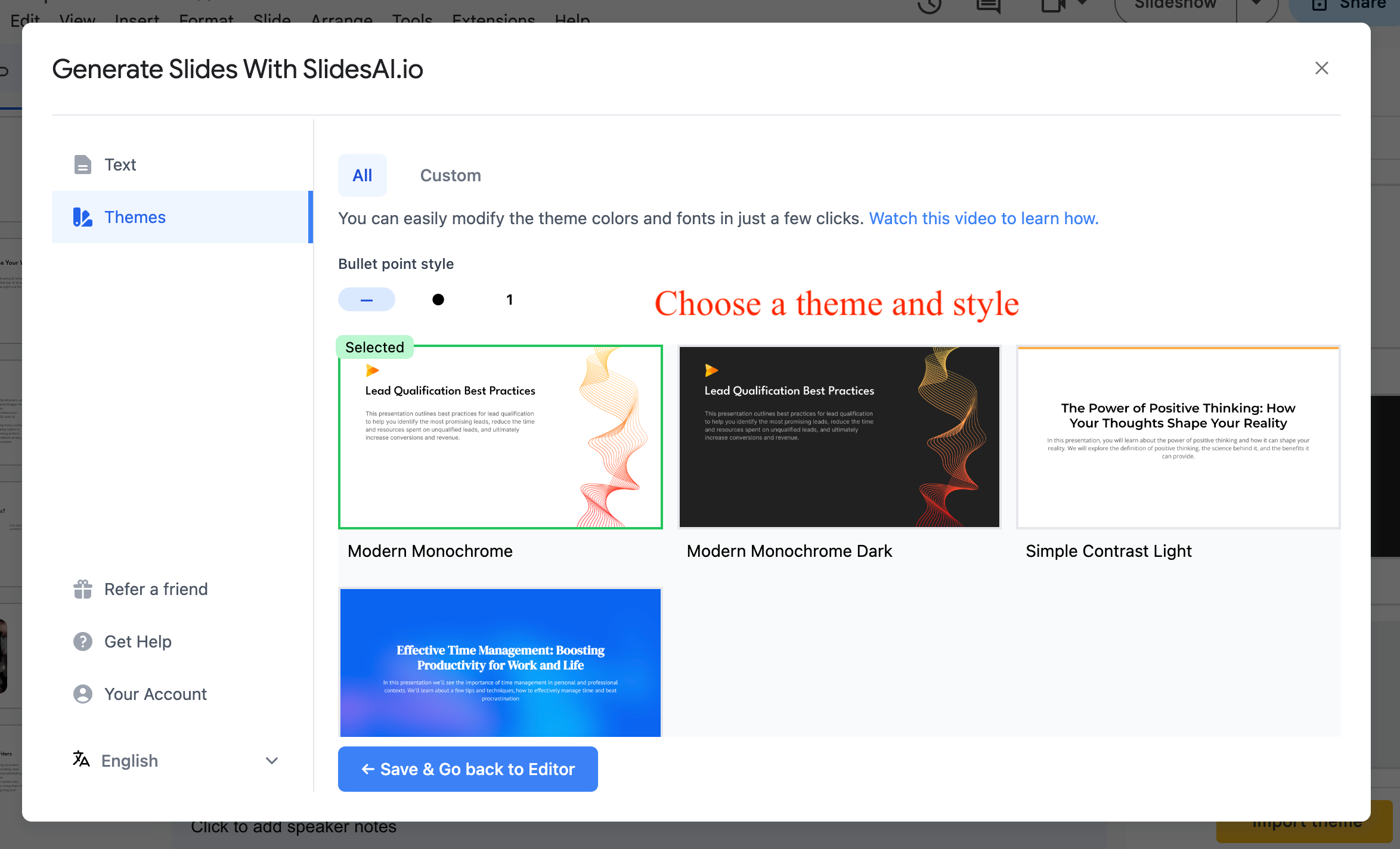 Go back to the Text menu and click "Create Slides."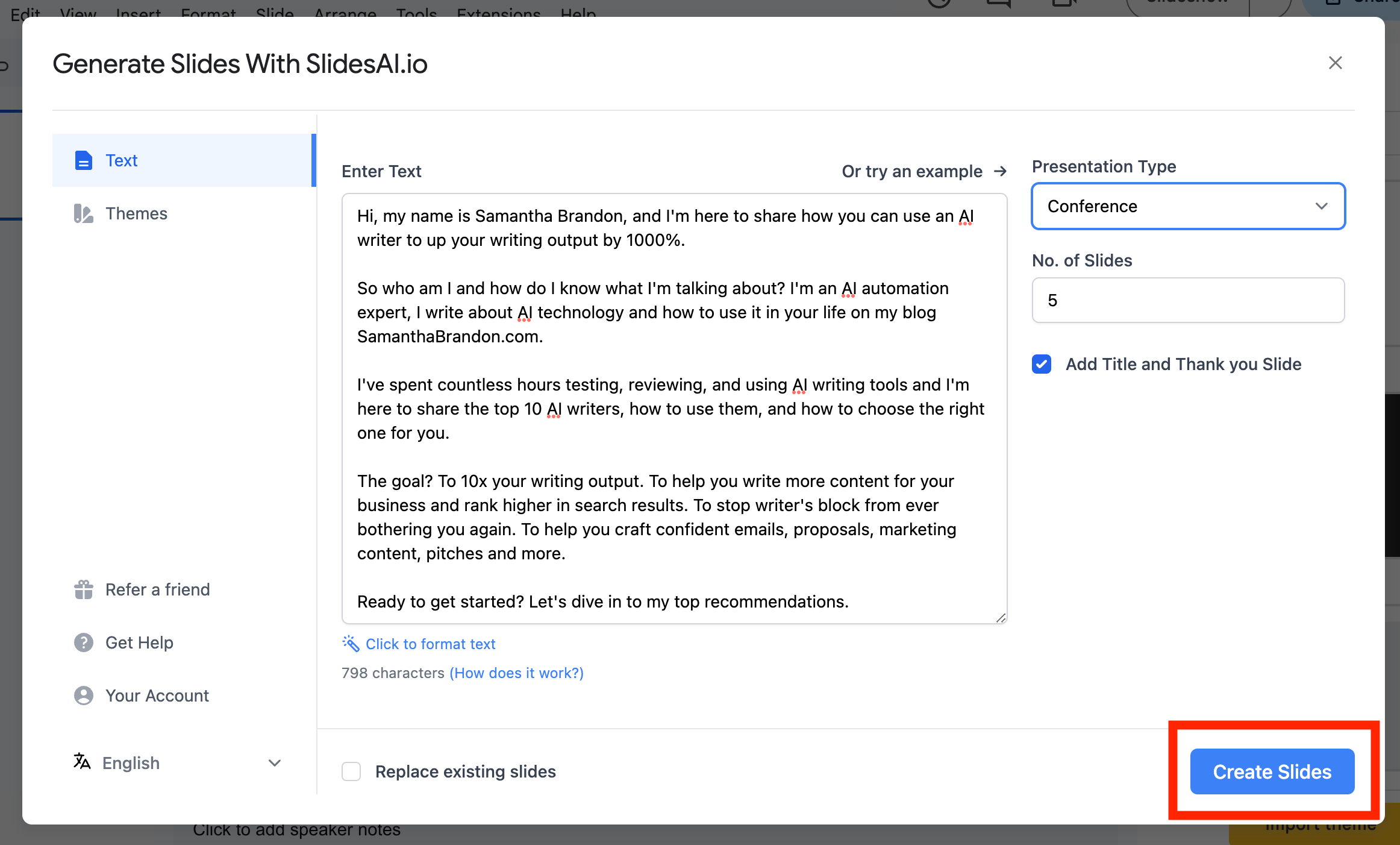 In a few moments, you'll have a full Google Slides presentation to edit and use.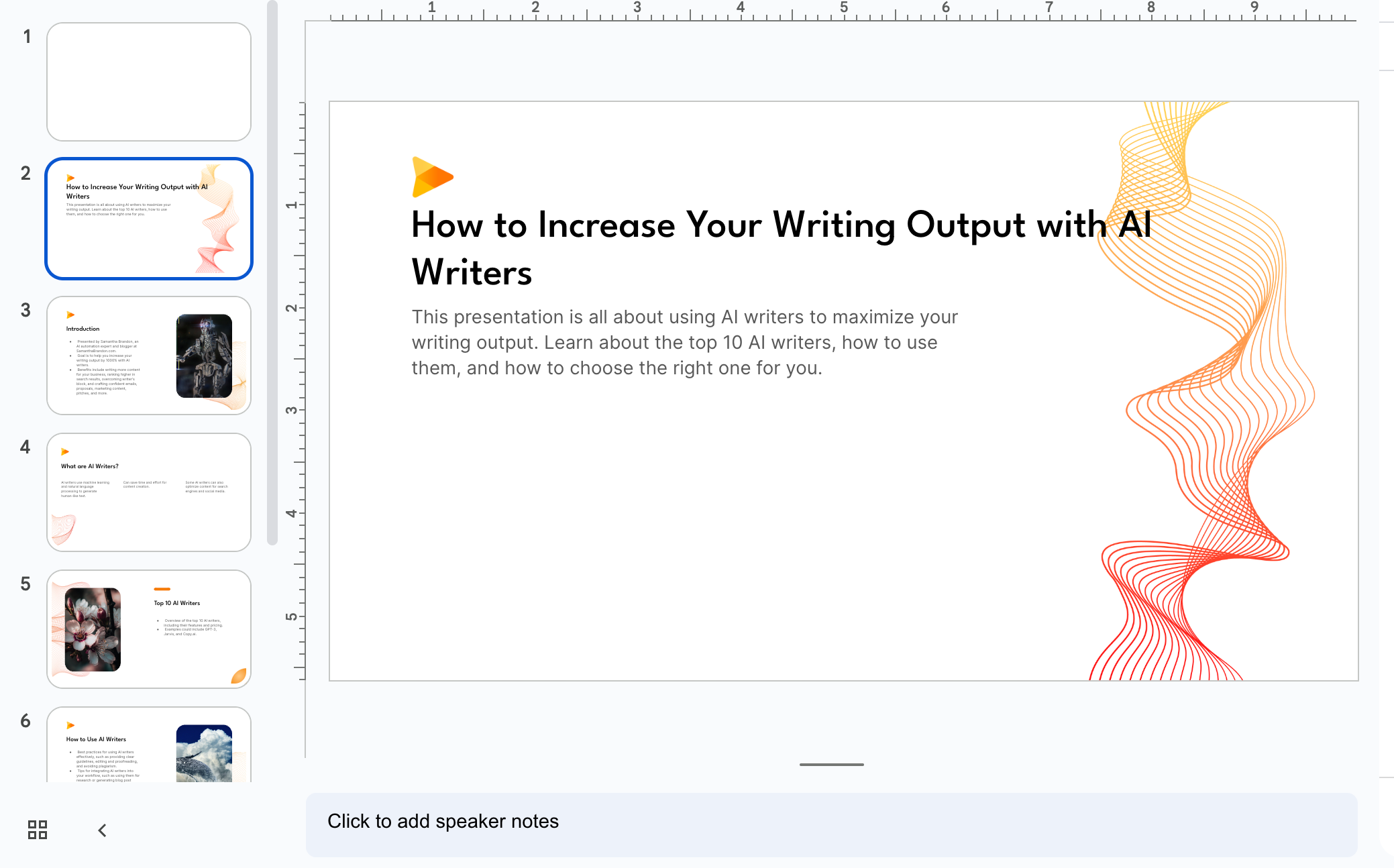 Slides AI Pricing
Slides AI has a free plan that covers three presentations per month and up to 2,500 characters of input per presentation. You can upgrade to the Pro plan for $10 a month, which bumps up your quota to 10 presentations and up to 6,000 characters of input per presentation.

Slides AI Verdict
As this is the only tool that works beautifully with Google Slides, it's a must-try for any Google Workspace user.
5. Beautiful AI
Amazing Graphs and Icons

I've had a lot of time to play with Beautiful AI, and I absolutely love it. You can check out my full review of Beautiful AI to see all my thoughts on this AI presentation tool.
To summarize, here are the highlights of Beautiful AI:
How to Use Beautiful AI
Click "Create New Presentation" and choose the "Designer Bot AI" option.

Fill in the prompt you'd like the AI bot to follow when it creates your slides.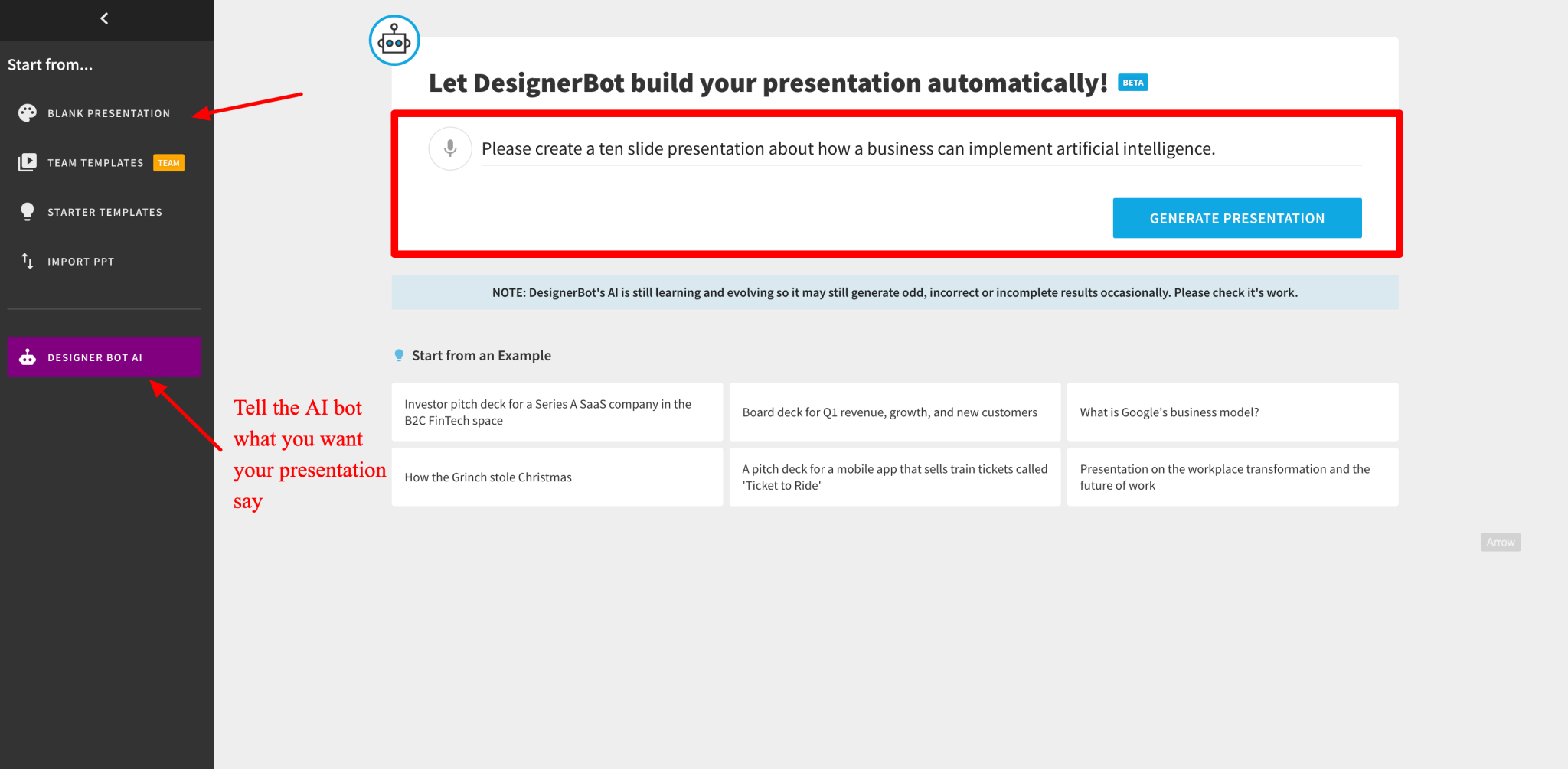 After you get the output, you can add more pages, edit layouts, and update the design until it's ready to use.

Beautiful AI Pricing
Paying monthly sets you back $45 per month for the Pro plan, but if you pay annually, it comes out to $12 a month. The dramatic difference in price means that paying annually is a much better deal. Until you decide, you can try it with the 14-day free trial.

Beautiful AI Verdict
If graphs, visuals, and layouts are important to you, Beautiful AI is a powerful tool to add to your collection.
6. Sendsteps AI
Best for Educators

Sendsteps AI differs from other AI presentation tools in an important way. It creates interactive quizzes that test your audience on their comprehension of the topic. This is why it's great for educators needing a presentation software for the classroom.
Here are some pros of using Sendsteps AI:
How to Use Sendsteps AI
Click the button that says "Generate my presentation" to access the AI tools.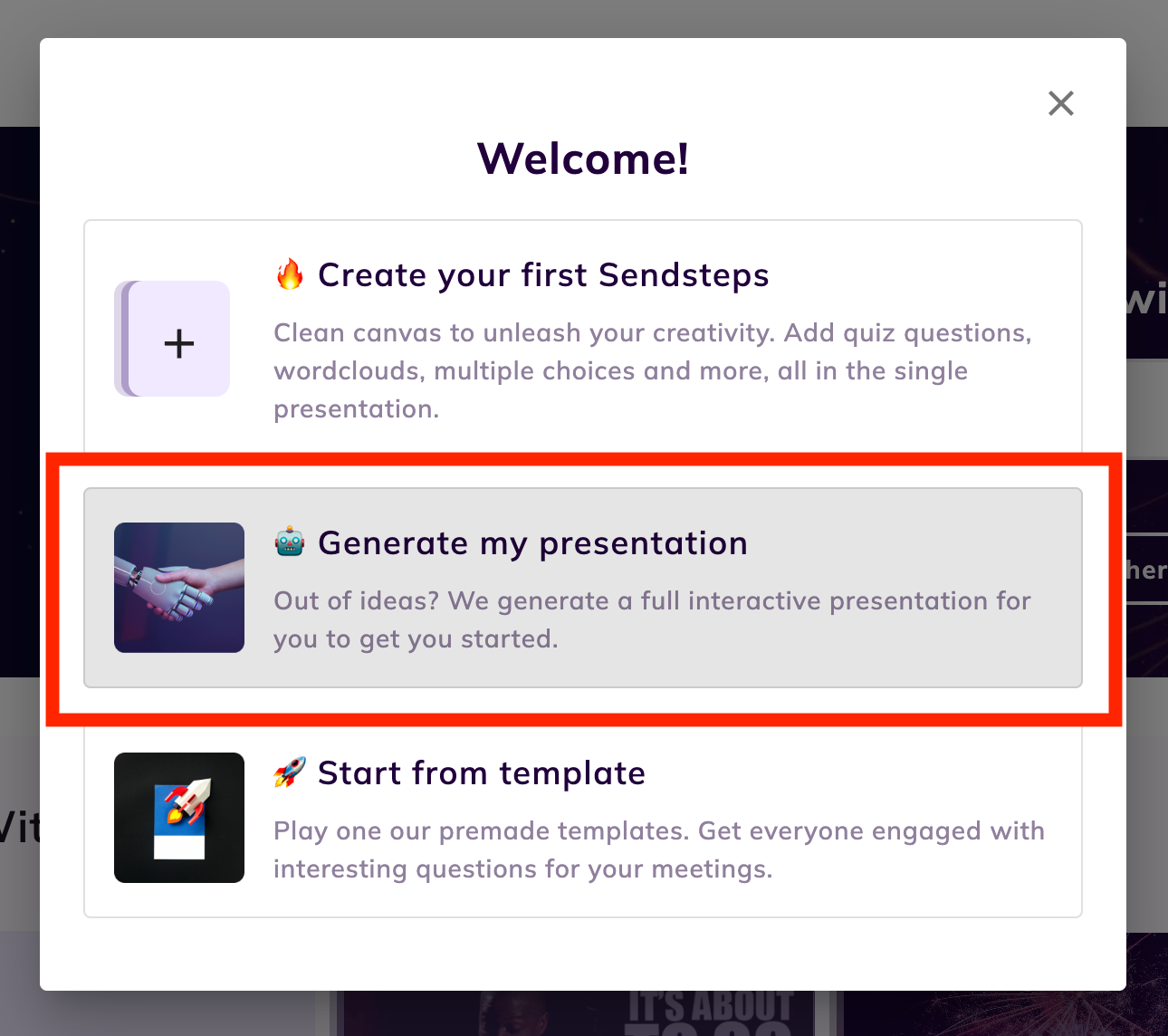 Then input a prompt for your presentation. Once you've got your prompt the way you want it, click Next.

Choose a language for your presentation.

Choose the audience you're presenting to.
Pick one of the AI-generated titles for your presentation.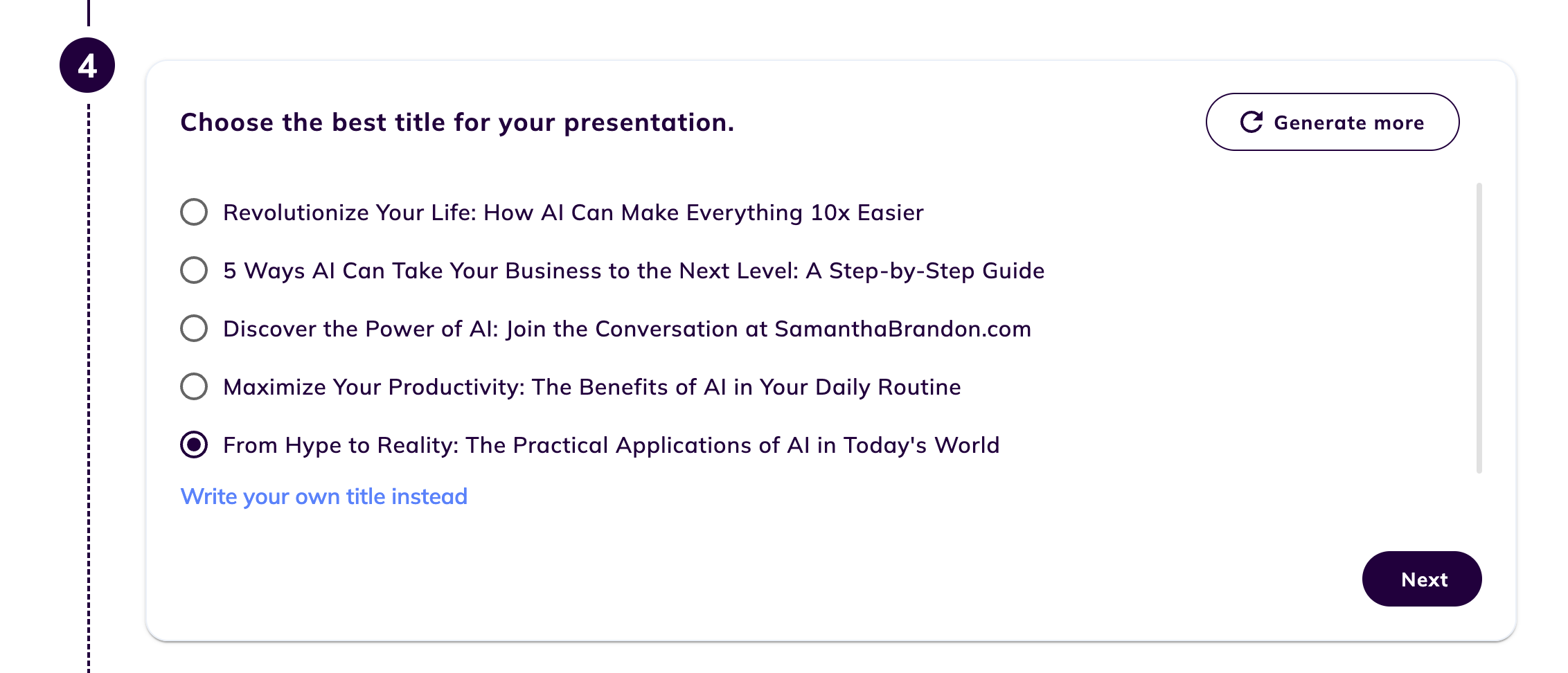 Finally, choose a length for your presentation and click "Generate My Presentation."

Voila! Your presentation and quiz are served.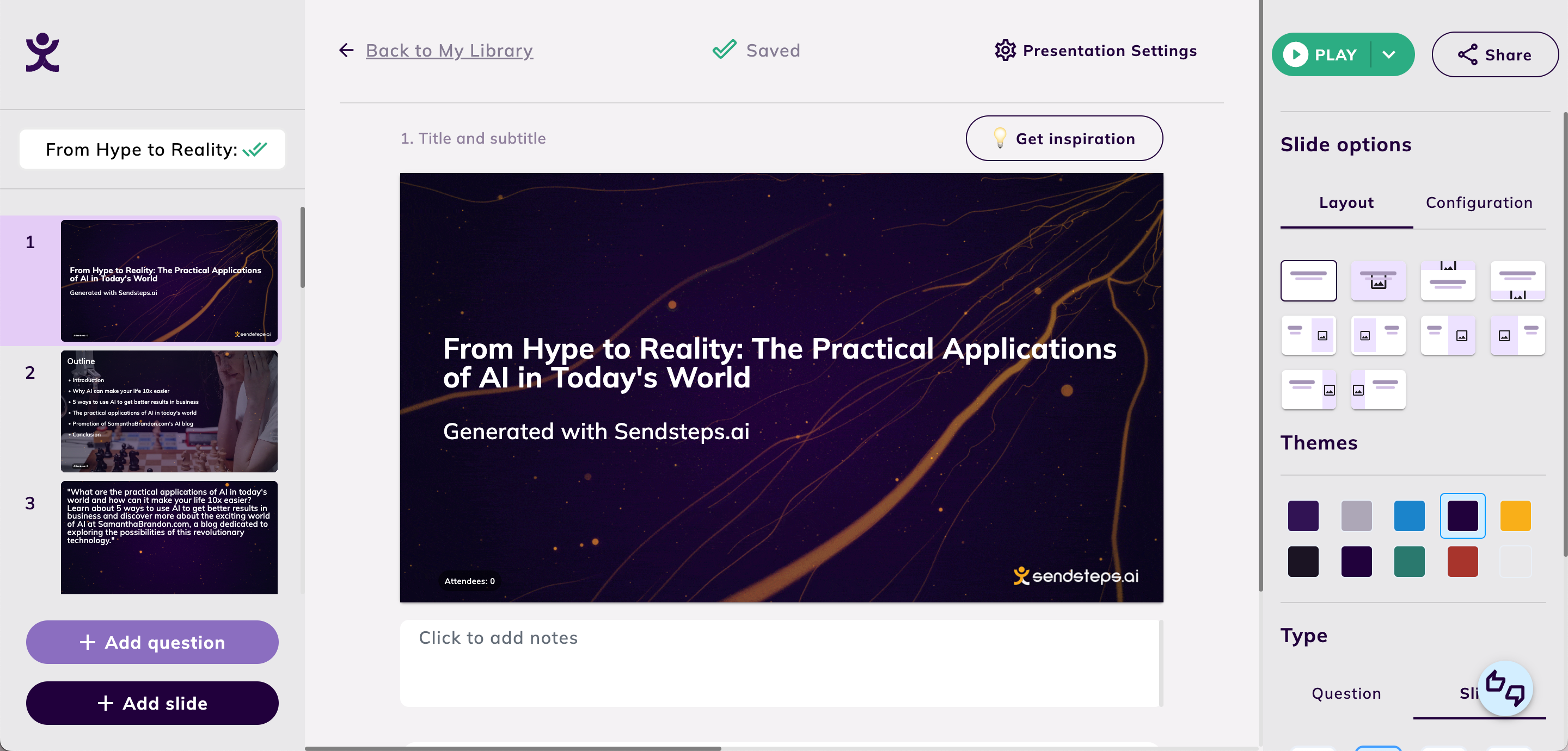 Sendsteps Pricing
You can use Sendsteps AI for free to generate up to 2 presentations per month. The Starter plan gives you unlimited presentations and quiz questions for just $14 a month.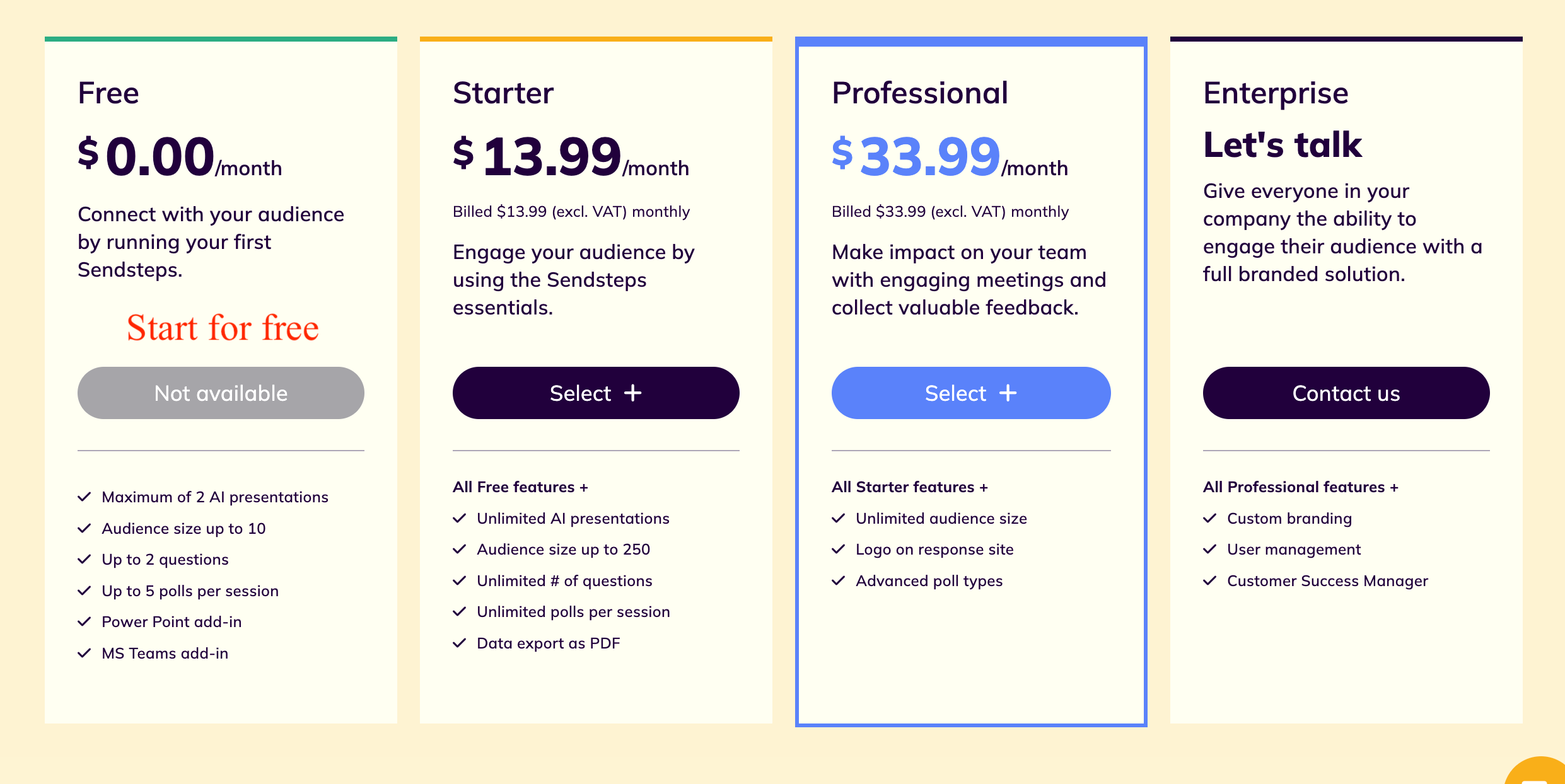 Sendsteps Verdict
If you're teaching an audience and want to check their comprehension, check out the Sendsteps AI presentation maker.
7. DeckRobot
AI Powerpoint Designer
Attention, Microsoft Powerpoint lovers (or those who are forced to use it at the office). DeckRobot makes it easy to design and format Powerpoint slides with the power of AI.
No, this app won't write your presentation for you. Instead, it takes a set of basic Powerpoint slides and automatically formats them for you according to your specifications.
Here are the best features of DeckRobot:
How to Use DeckRobot
I haven't been able to test out the software yet, but here's the basic flow you'll follow inside the app:
Download the app as a Powerpoint plug-in.
Set your brand guidelines and standard templates inside the app.
Create a new presentation or open an existing one.
Use the app to automatically format your slides based on your settings.
DeckRobot Pricing
Pricing wasn't available on the website at the time of writing. You can schedule a demo call with the DeckRobot team for more information.
DeckRobot Verdict
If you're part of a mid- to large-scale business that operates solely in Powerpoint, this could be a huge time-saver for your workflow.
8. Tome AI
Sleek Slide Design

Tome AI isn't interested in helping you create a great slide deck. Instead, it wants to be your storytelling assistant. Instead of creating slides, it creates beautiful digital presentations (called "tomes") that tell the story of your business or brand in an engaging way.
Here's what I like about Tome AI:
How to Use Tome AI
Start by clicking the pink "Create" button.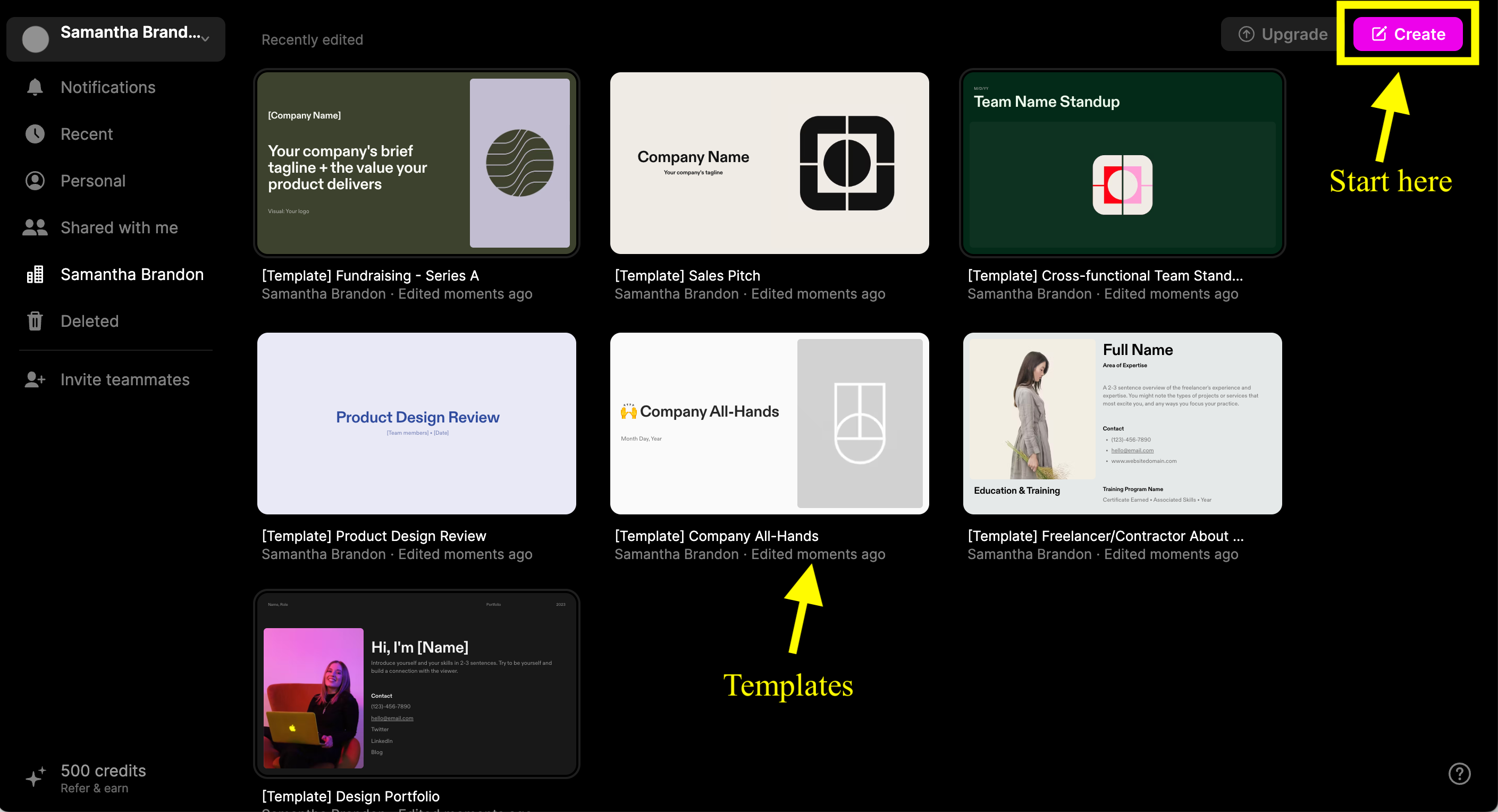 Click "Create presentation about…" and submit your prompt.

Tome will generate your presentation, which you can edit with themes, design options, and use more AI prompts to add images, new slides, and more text as needed.
Pricing
Tome is free for individuals to create as many presentations with the tool as they'd like, but you're limited to 500 AI credits. (It's not clear how many credits are used each time.) For $10 a month, you upgrade to unlimited AI credits and more advanced features.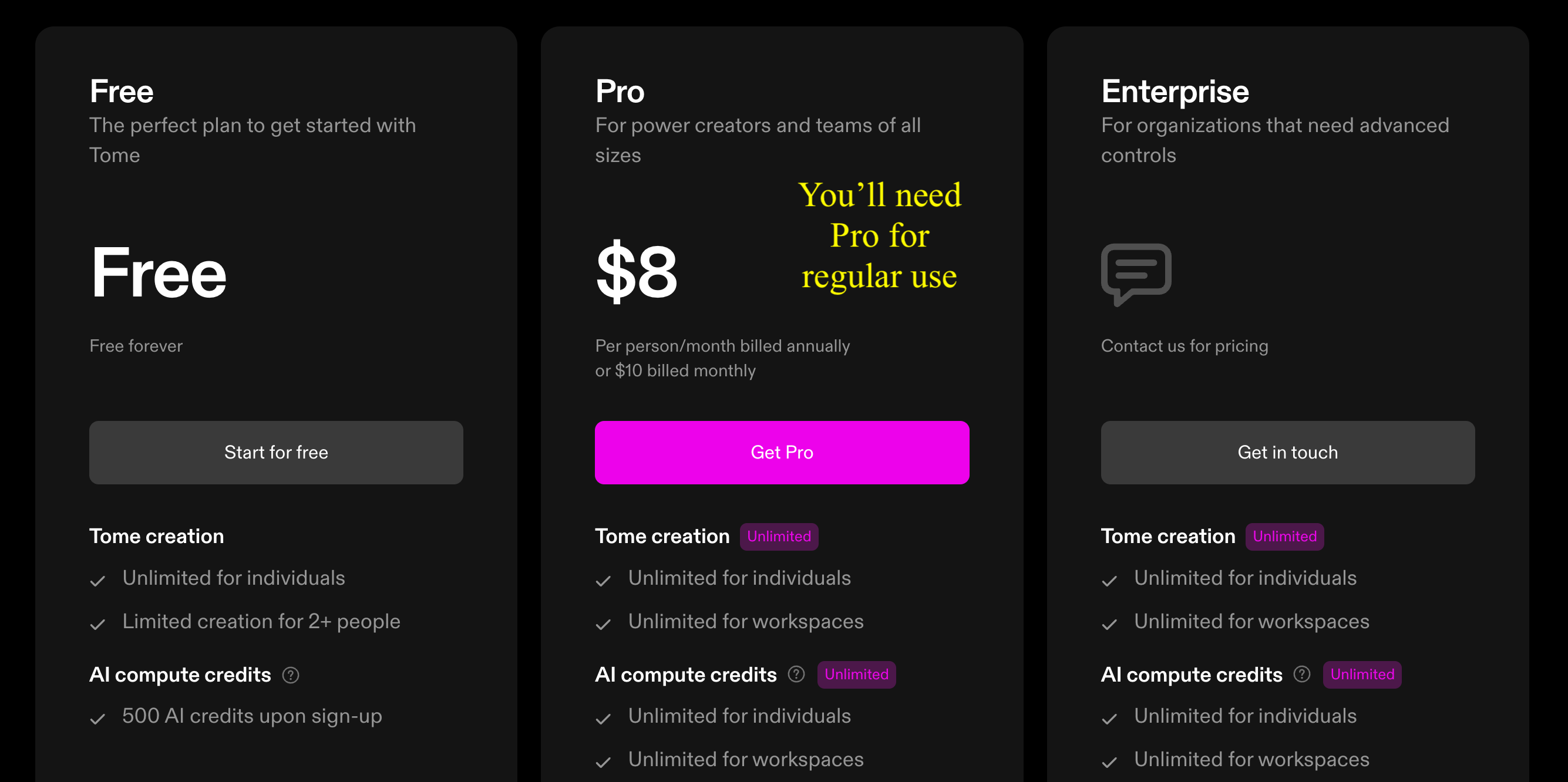 Tome Verdict
Tired of boring slide decks? Try Tome for visually stunning presentations that will set your business apart.
9. Synthesia
AI Video Presentations

Synthesia is not your grandma's slide deck generator. This presentation maker generates talking-head tutorials with lifelike AI avatars that deliver your presentation on camera.
It's insanely accurate and uber-realistic (nothing like those terrible voiceover generators that sound like a cheap version of Siri). You can check out my full list of AI video generators as well.
Here's some of Synthesia's features:
How to Use Synthesia
I haven't been able to test out this tool yet, but here's how it works:
Choose a template for your video.
Select the AI avatar you want as your speaker.
Add your script.
Edit and polish the video.
Export and share.
Synthesia Pricing
The Personal plan is affordable at $30 per month for 10 video credits per month. You can contact the company for more details on the Enterprise plan if you need more than that.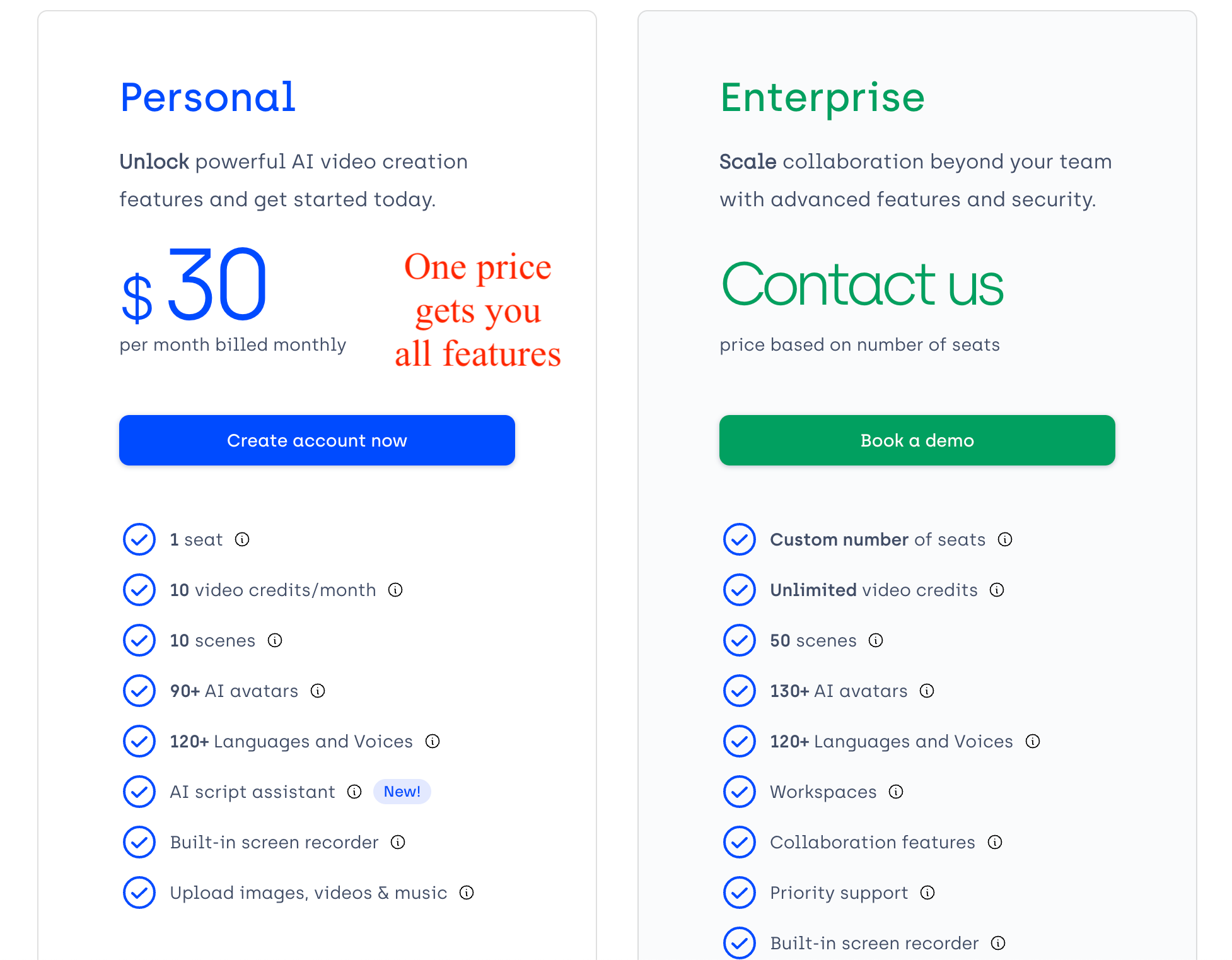 Synthesia Verdict
If you'd like to make video presentations on your topic, but lack the time, budget, or ability to do it yourself, you've got to try Synthesia.
What is an AI Presentation Software?
AI presentation tools use cutting-edge technology like artificial intelligence, machine learning, and sophisticated algorithms to assemble presentations based on a prompt.
They can help you to:
How Do AI Presentation Tools Work?
AI presentation tools are based on computer programs that can process and write human-like text. These programs run from gigantic data sets called large language models (LLM), which is what runs the famous AI chat app ChatGPT.
Other AI presentation tools that design or format slides come loaded with smart algorithms that decide how to position words on the screen or how to format the layout on each slide.
Some software applications can also generate images based on the presentation topic using AI image generators like DALL-E.
Why Use AI Presentation Tools?
If you've ever had to create a presentation for work or personal use, you know how time-consuming (and frustrating) it can be.
AI presentation tools help you:
All in all, AI presentation tools help you to make the best presentation possible with the least amount of effort, so you can nail your next pitch, inspire your customers, or engage your audience more effectively.
Frequently Asked Questions (FAQs)
Which AI tool makes Powerpoint presentations?
Decktopus, Beautiful AI, Sendsteps AI, and DeckRobot can generate Powerpoint slides.
What is the best AI presentation software for Google Slides?
Slides AI is an add-on for Google Slides, allowing you to generate slides within the app.
Which AI presentation tools can create PDF presentations?
Decktopus, Canva, Presentations AI, Beautiful AI, Sendsteps AI, and Slides AI can be used to create PDF presentations.