Ads have been around longer than you think.
The first one we know about was etched by an Egyptian over 5,000 years ago, telling a story about the man's lost slave and his quest to find him. (He wove his carpet business into the story, and the rest was history.)
A few centuries later, people started posting ads on church doors and printing them in newspapers. Now we see them everywhere, on digital screens and out in the real world.
While the medium itself hasn't changed much, the way we make ads has changed dramatically. Original ad creatives were painstakingly sketched by hand before newly developed design software moved ad creation to the computer age.
In this article, I'm sharing an app that's bringing the latest revolution to ad creatives—complete automation by AI. I'm talking about AdCreative AI, a fast-growing AI design software to create highly targeted ad creatives in a few clicks.
The question is: Will your business benefit from switching over to AI-generated ad creatives? And does this app actually deliver on its promise?
Let's unpack this and more in this full-length AdCreative AI review.
AdCreative AI
What is AdCreative AI?

AdCreative AI is the only AI tool that fully automates ad creation for your brand's ad campaigns.
Upload your brand colors, describe your business, and explain the ads you want to create, and AdCreative's AI engine will generate 100s of unique ad creatives for your ad campaign (and all this in seconds).
The app also rates each ad according to how likely each one is to convert into a sale.
Besides generating ad creatives, AdCreative can also write sales copy and generate social media creatives designed for engagement.
It claims to have served over 100,000 clients so far. And it's won several awards from the G2 reviews site. It seems to be a very well-respected and successful software platform.
How Does AdCreative AI Work?
The AI software behind AdCreative has been trained on thousands of ad campaigns, and continues to refine itself with machine learning.
It also seems to know several popular ad layouts, and it can mix and match design elements to create effective ads.
It utilizes natural language processing technology such as GPT-3 or GPT-4 to automatically create natural-sounding ad copy.
Now that you understand how this software works, let's take a look at the app itself to see how it works.
AI Ad Creation Software: Full AdCreative Review
In this section, I'll walk you through the main screens of the app so you can see what it looks like and how it works. Then I'll show you how the app performed during testing.
Platform Overview
When you log into AdCreative, you'll be taken to the main dashboard. When I first logged into the app, it took me on a tour of the features, which I found really helpful.
This is what you'll see on your main home screen. At the top, you can toggle through brands you've created and change your language. In the main part of the screen, you see the full list of brands you've generated projects for.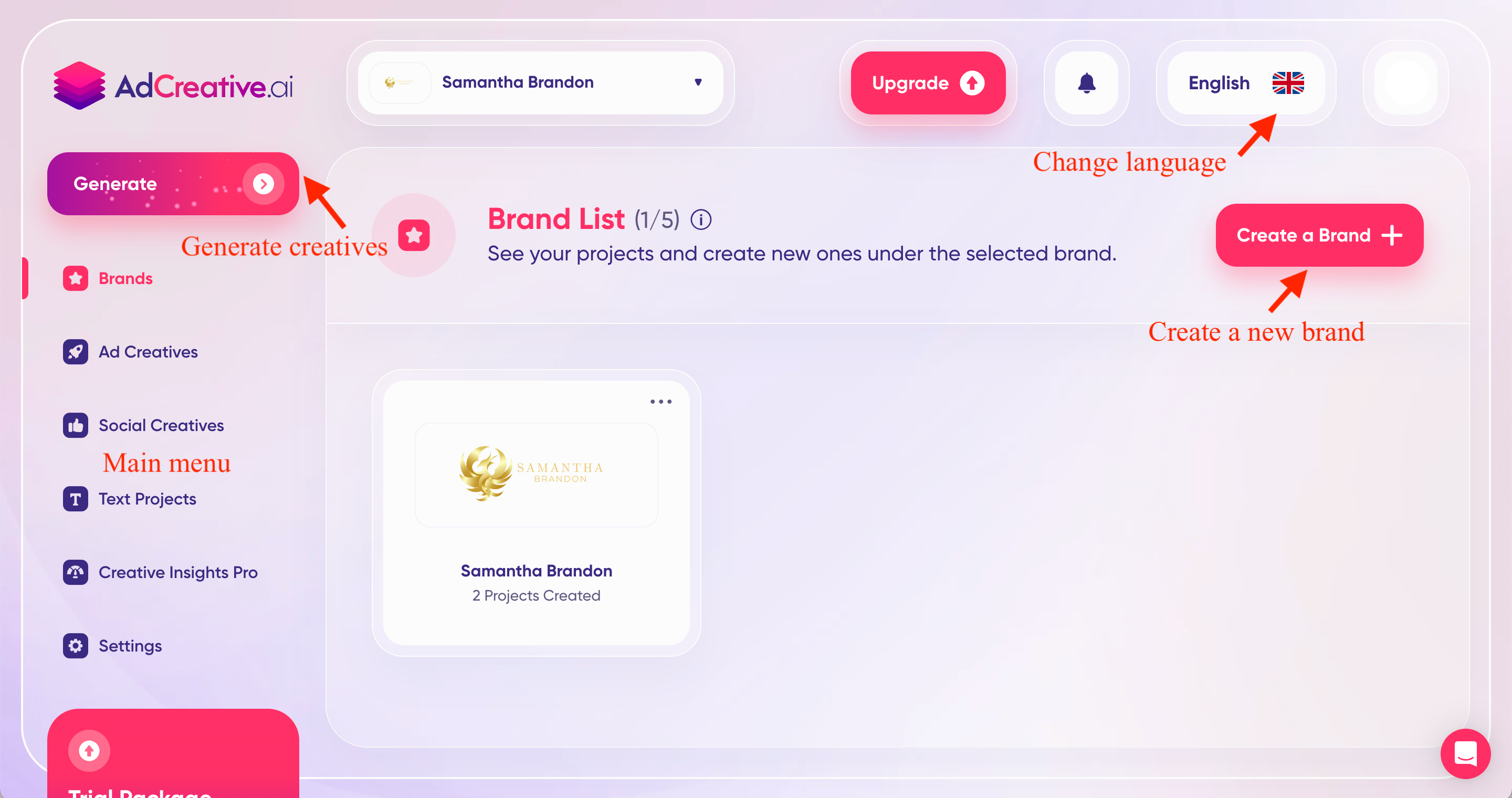 On the left sidebar, you'll find all the options for generating ads. The Generate button takes you to the screen to generate something new—you can choose between Ad Creatives, Social Creatives, and Text Projects.
Choose Brands to create a new brand or manage existing ones.
The generator options on the sidebar (Ad Creatives, Social Creatives, and Text Projects) take you to the dashboard for each project type. Here you can view existing ad campaigns or generate more.
Finally, Creative Insights Pro is an ad auditing feature where you can connect your ad accounts to get feedback on existing ad creatives.
Let's dive deeper into these features to see how they work.
AdCreative AI: All the Main Features Explained
1. Brands
This feature allows you to create brands for your ad campaigns. To create one, you'll set your brand name, add a logo, and choose your brand colors. You can also generate brand colors automatically from the logo.
Besides this, you can:
This feature is helpful to keep your campaigns organized. Simply choose the brand you want to generate ads for, and you'll get consistent ad creatives with consistent branding every time.
(The amount of brands you can set depends on your pricing plan. See the Pricing section below for more information.)
2. Ad Creatives
This is the key feature of AdCreative, which generates ROI-focused ad creatives.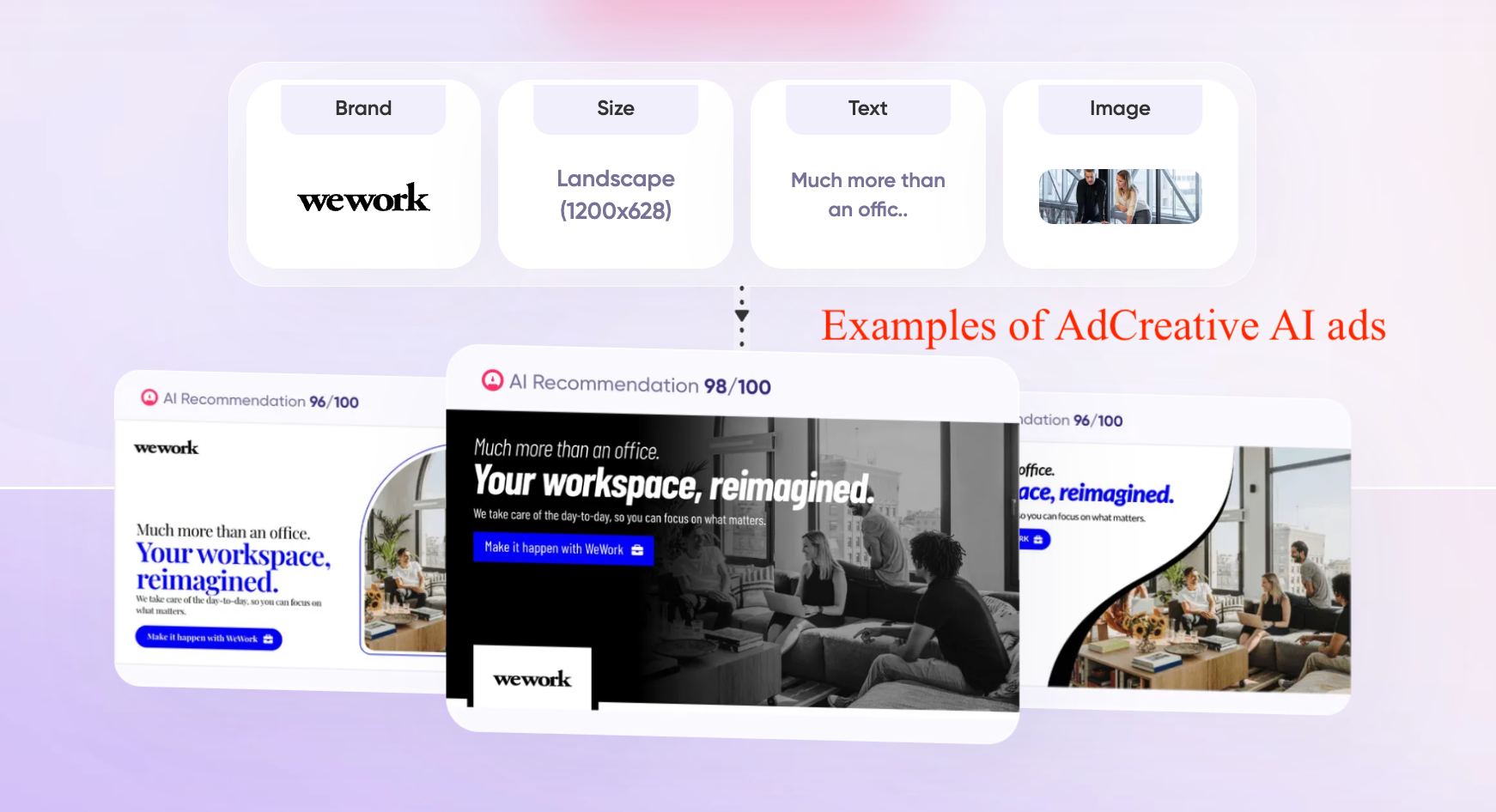 To use Ad Creatives, choose the brand you want to generate ads for, then choose an ad size.
(All the main social media ad sizes and display ad sizes for web-based ad platforms are covered.)
Write a few lines to describe what the ad is about and optionally choose a target audience for the ad. (They recommend keeping your target audience description to 1 to 3 words for best results.)
After you do this, you'll be taken to a screen to generate or write copy for your ad. AdCreative's AI writer can generate copy automatically, and you can even choose between multiple variations for each section of the ad.
But if you want full creative control over the ad copy, you can write the copy yourself.
Once the copy is set, you can choose a free stock image or upload your own image for your ad campaigns. You can choose multiple images to give the AI designer more to work with.
(When I tested the app, it was also offering paid stock images, which gave the ads a more polished look. Each one cost just $5. It's a pretty good deal if you can sidestep more expensive stock photo plans.)
Finally, once you've chosen your parameters, you'll click Generate and wait a few moments while the app generates hundreds of optimized ad creatives for you.
On the last screen, you can scroll through hundreds of ad options, all with different layouts and brand color combinations. Each one gets a score out of 100 based on how likely it is to convert.
You'll use one credit for each ad you choose to download. (Generating creatives is totally free.)
If you want to tweak the settings on your generated ads, you have two options. The Edit All button allows you to update your settings (like updating the ad copy) and re-generate all your ads at once. Or, you can choose the Individual Edit button to tweak the settings for a single ad.
(There is no way to edit or fine-tune the designs after they've been generated.)
If you want to see how this performed and what kind of ads the app generated for me, check out my test results in the next section.
2. Social Creatives
This feature claims to generate optimized ad creatives for social media engagement (rather than conversion). But as you'll see in my testing, this feature created ads that were very similar to Ad Creatives. I don't fully understand what this feature brings to the table.
3. Text Projects
Under Text Projects, you can use AdCreative as an AI writer to generate copy for your ad campaigns. It uses tried-and-true copywriting formulas, similar to what you'd get with Jasper AI or Copy AI.
(Discover more amazing AI writers in my round-up of best AI writers.)
To use this feature, you'll set a tone for your copy (like "Casual" or "Professional"), then write about the brand or product you'd like to promote. As a final step, you can add a call-to-action for the piece of copy and set a language to write the copy in.
4. Creative Insights Pro
Creative Insights Pro connects your ad accounts to the app so it can analyze your existing ad creatives. It uses AI-powered insights to help you learn from and improve your creatives.
I don't have any ad accounts, so I wasn't able to test this feature, but I'm sure it would be helpful to analyze all of your ads in one place.
This feature supports Meta Ads, Google Ads, LinkedIn Ads, and Pinterest Ads.
5. Other Helpful Features
Ad agencies who want to use AdCreative for their clients have the option of upgrading their account to white-label the software for their own agency. This feature costs $150 per month, so it would only be for an agency that gets a lot of use out of this platform.
Test Results: How Did The App Perform?
Part 1: Brands
To get started with testing, I created a brand using my blog name and logo. The app automatically suggested my brand colors based on the logo, which was convenient.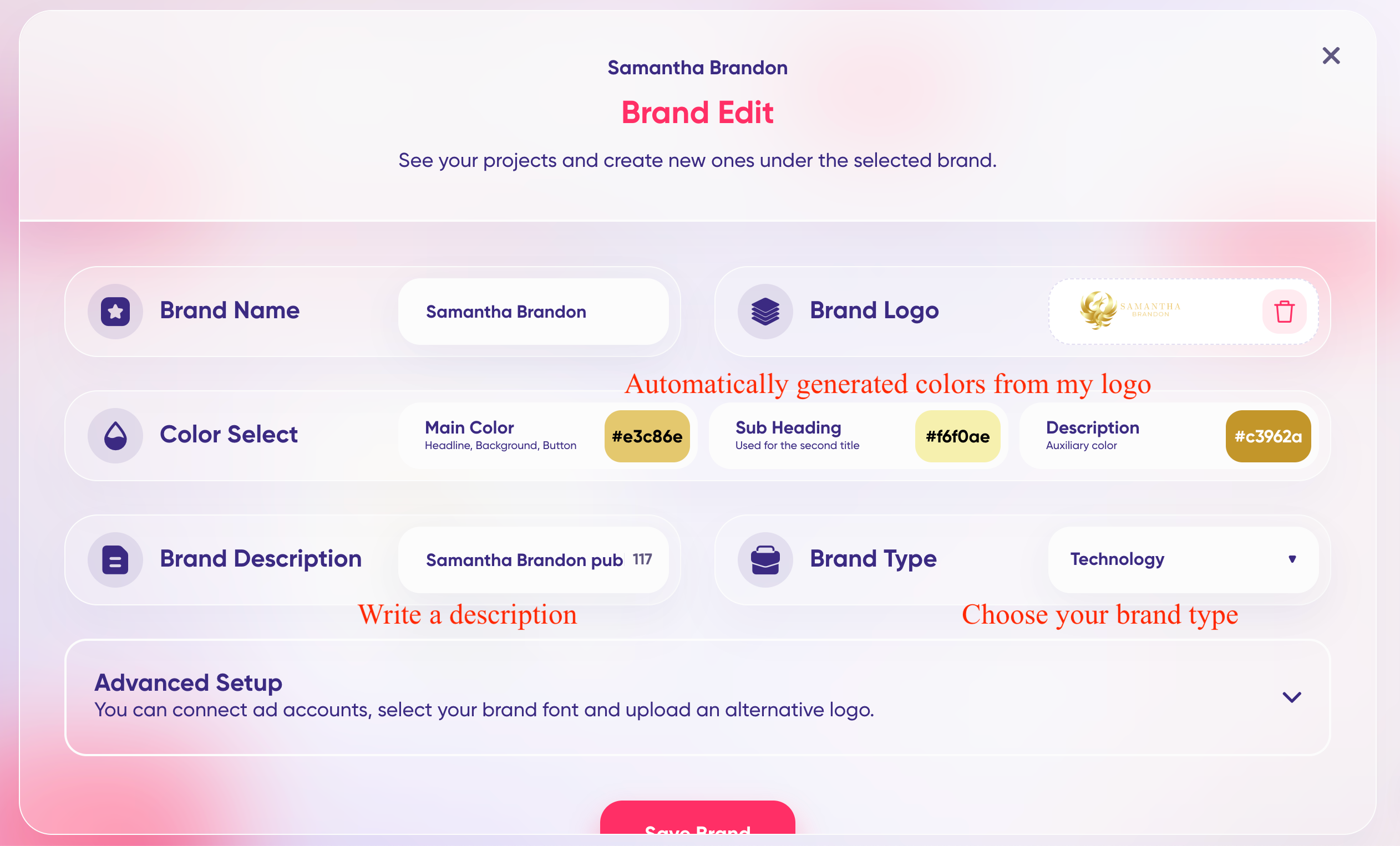 I added a simple brand description and chose the category "Technology" for my brand.
(I'm assuming that the category helps the app choose the design. If I were to create more ads, I would definitely experiment with changing this category to see what new designs I get.)
Later on, I would find out that my chosen colors didn't work well for ads, but I guess it all comes down to trial and error.
2. Ad Creative Test
I chose Landscape Size (1200 x 628) and wrote a description like this: "Discover how to automate your life and business with free content from AI expert Samantha Brandon."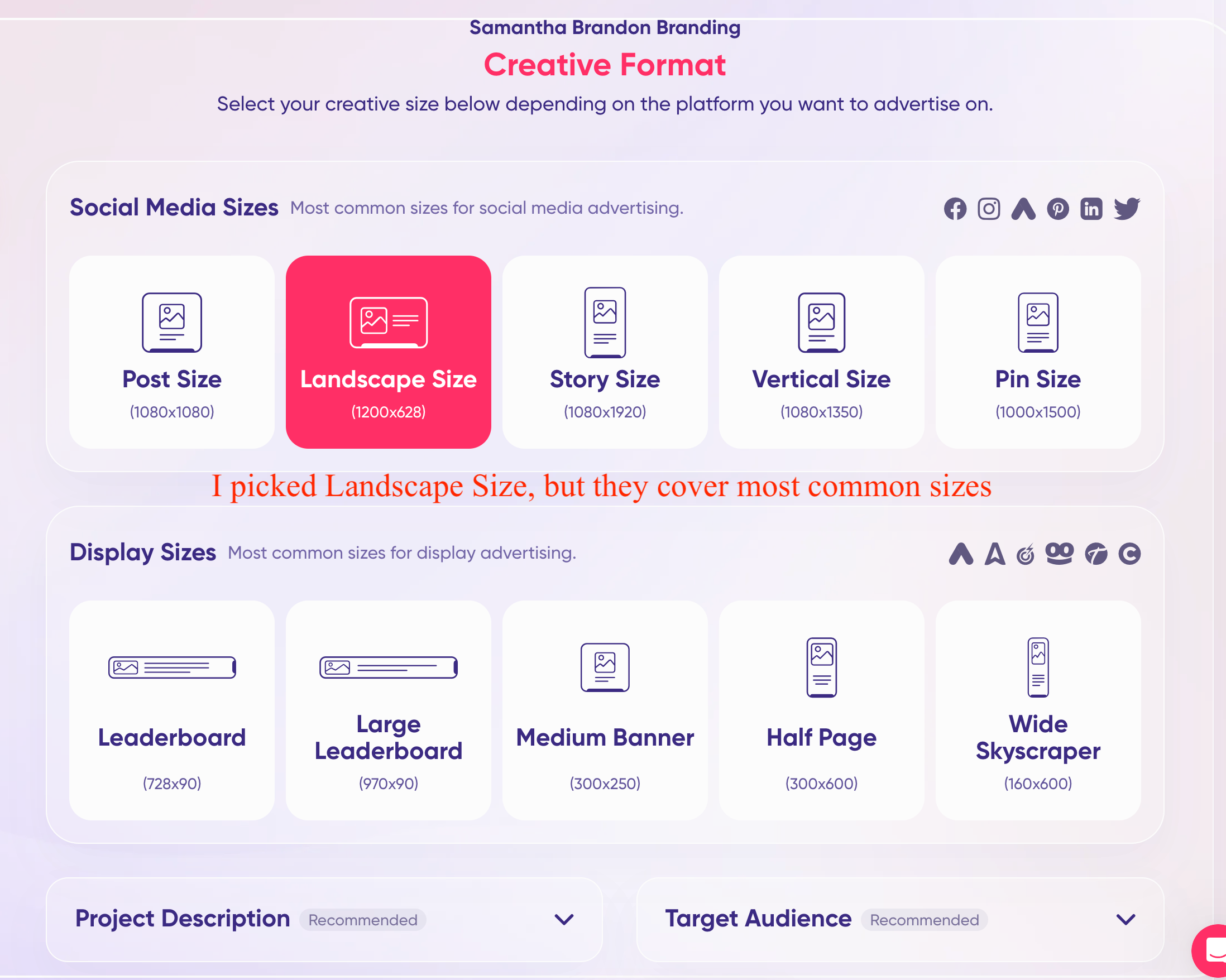 For my target audience, I chose "business professionals."
I wanted to see how the AI bot would write the ad, so I asked AdCreative to write it for me. This is what I got.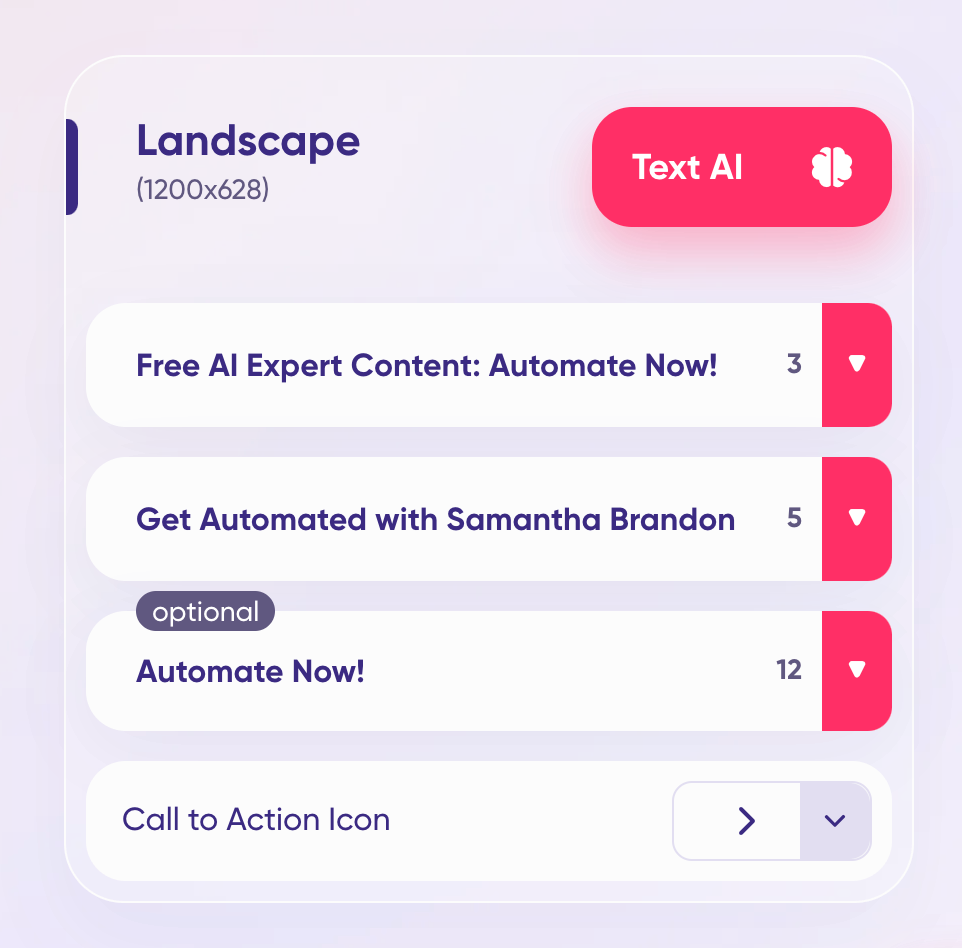 You can choose between multiple versions of the ad copy, so I picked through the options to find what I liked.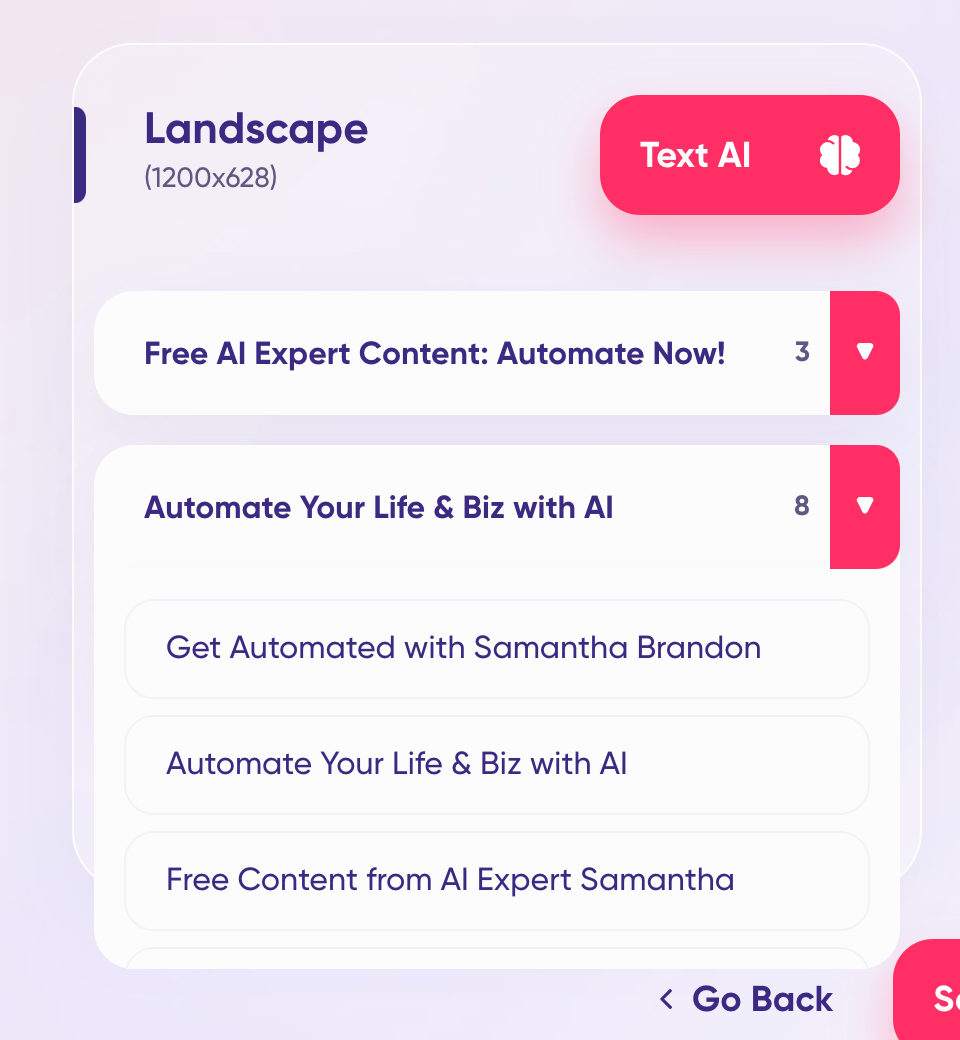 Ultimately, I didn't like the subhead, so I wrote it myself.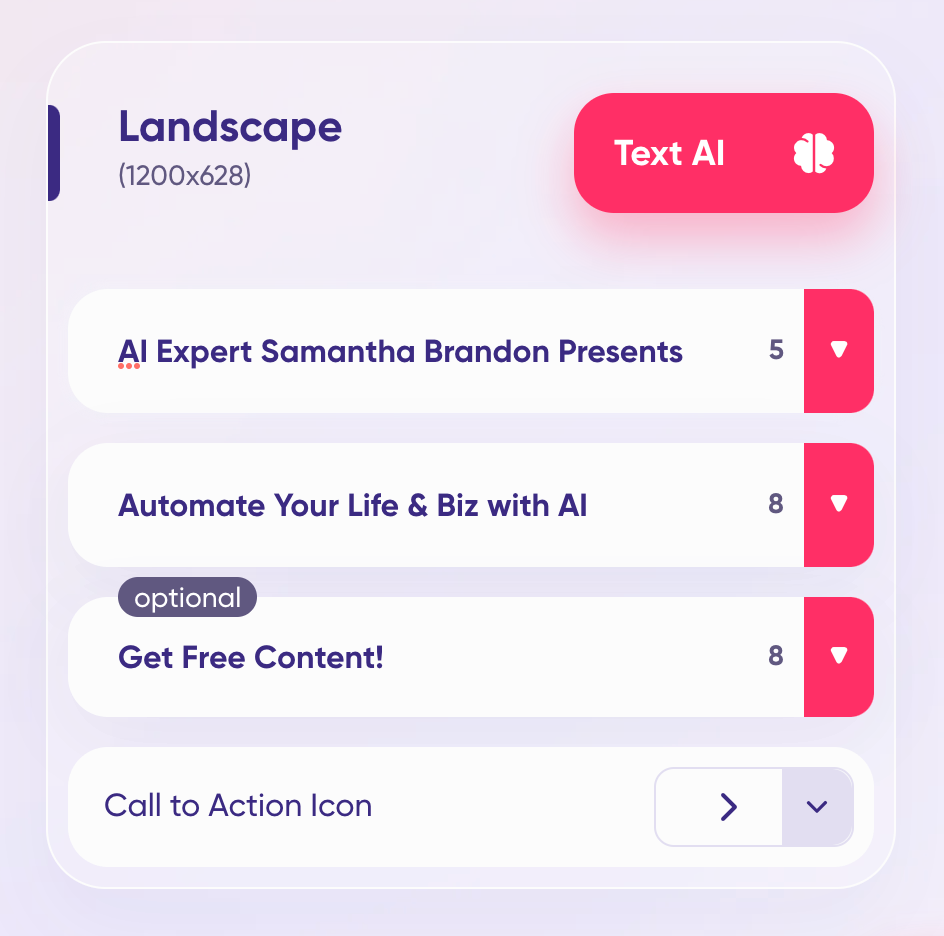 You can also set any icon you'd like for the call to action, but I stuck with the default arrow.
It gave me a preview of the ad.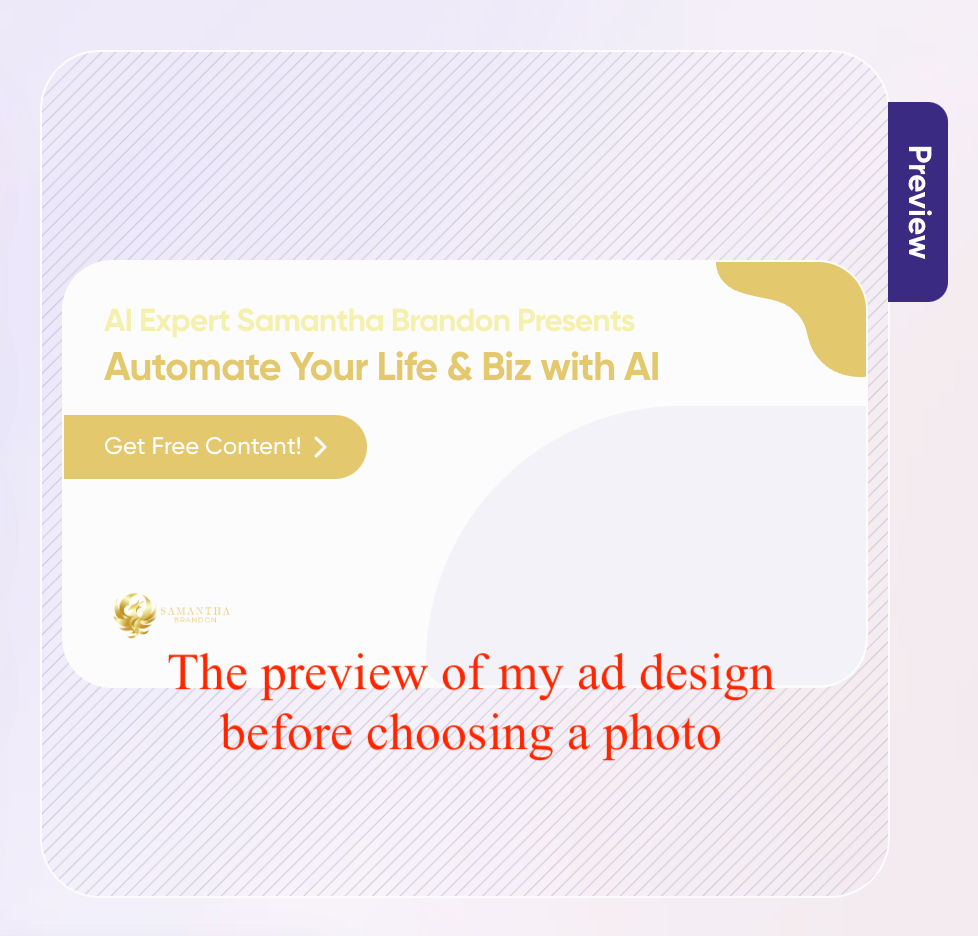 Next, it was time to choose a background image.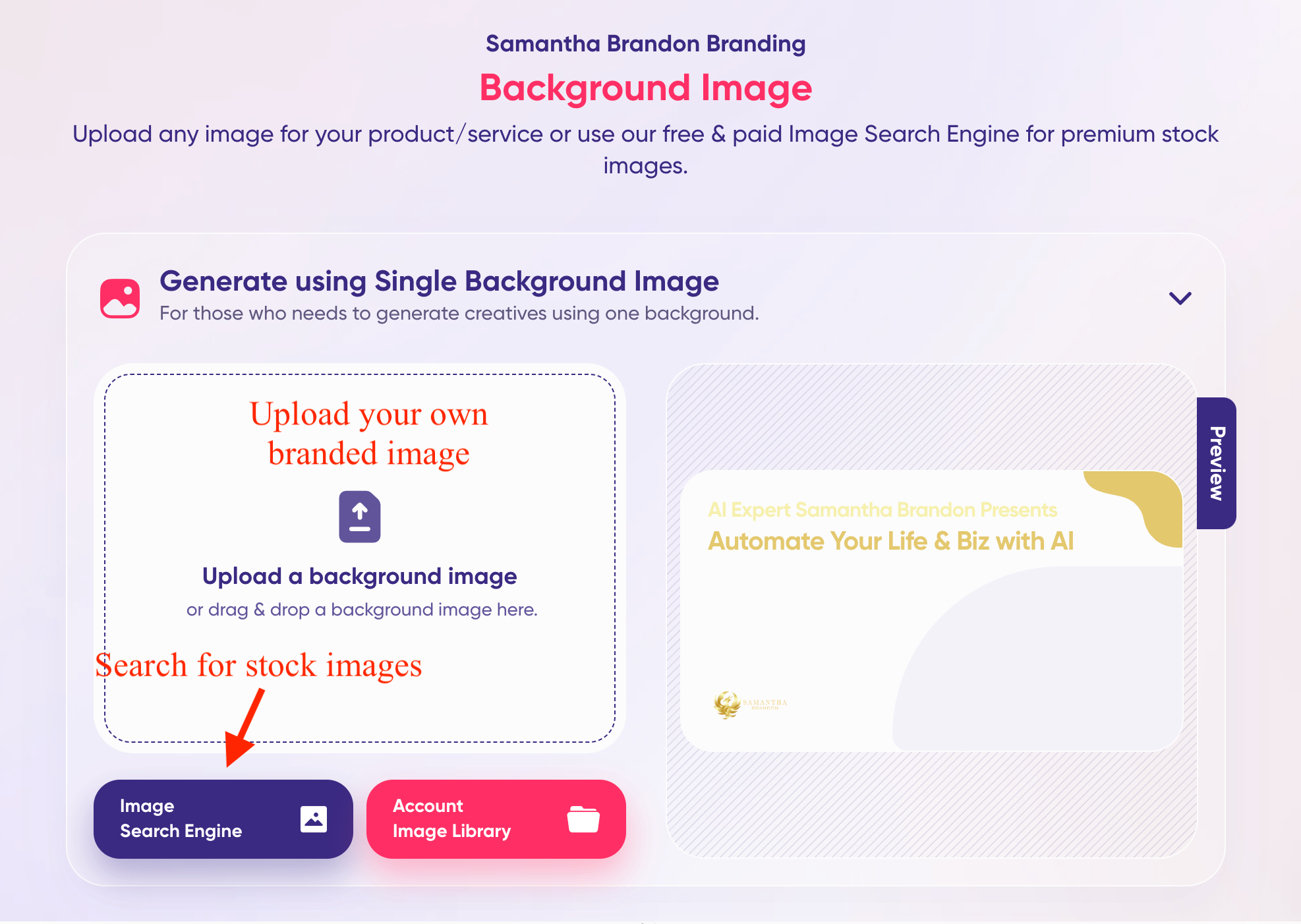 I used the stock image search and looked for "Happy Business Person Computer." That sounded like a good fit. I picked one of the free options for my ads.
Finally, I generated my ad creatives.
And here's what I got: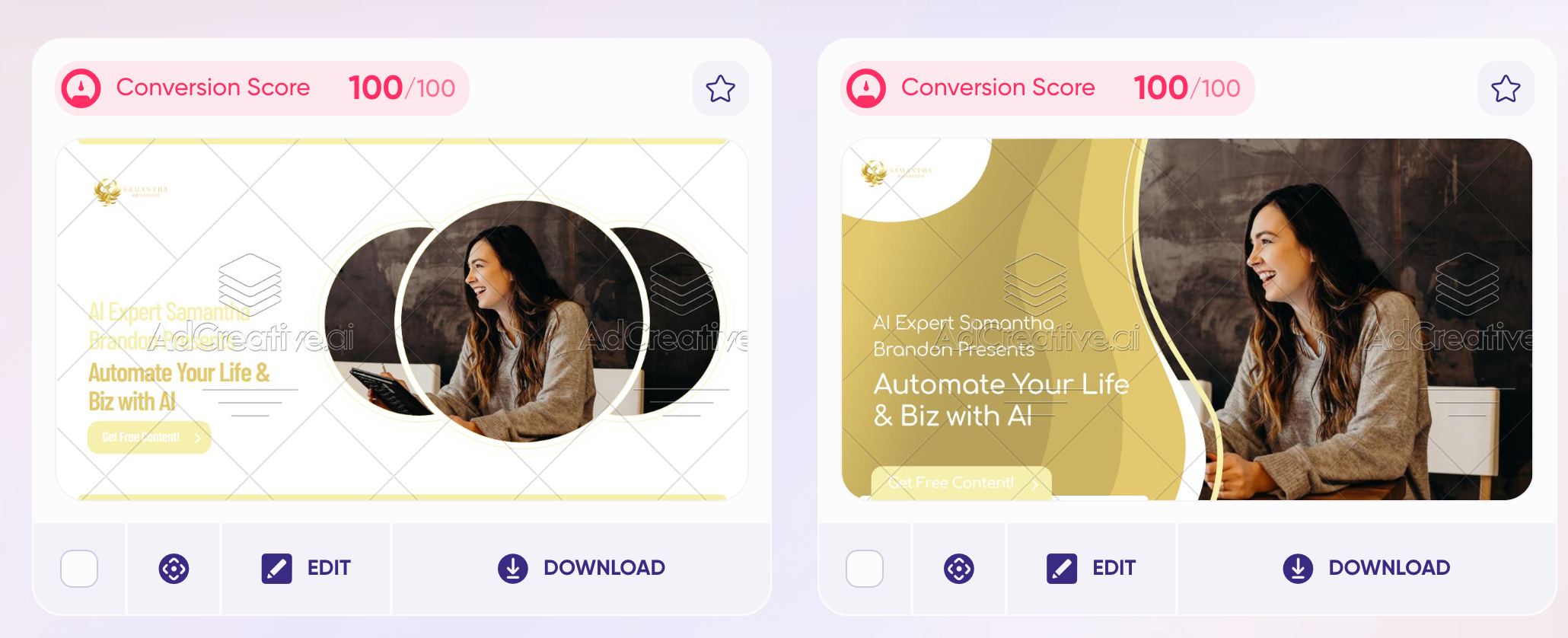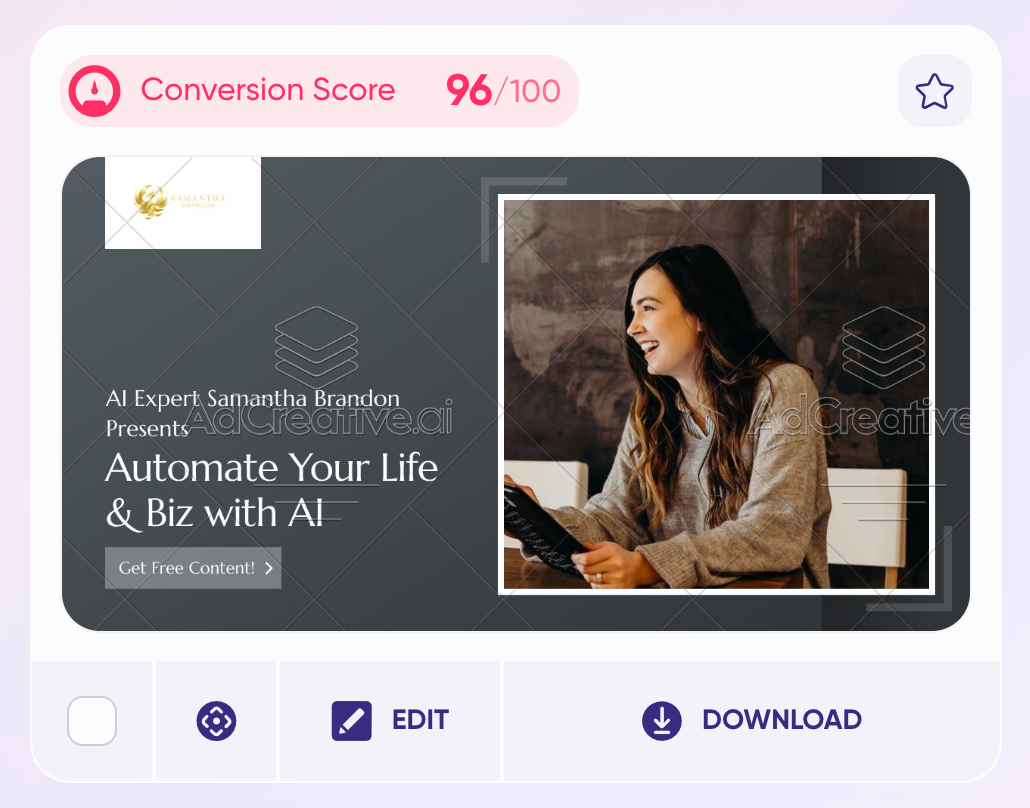 Looks like I might need to adjust my brand colors for readability, but it generated some ads that I really liked and could see myself using (would probably be better to use my own photo, though!)
Here's a couple I downloaded, so you can see them in full resolution: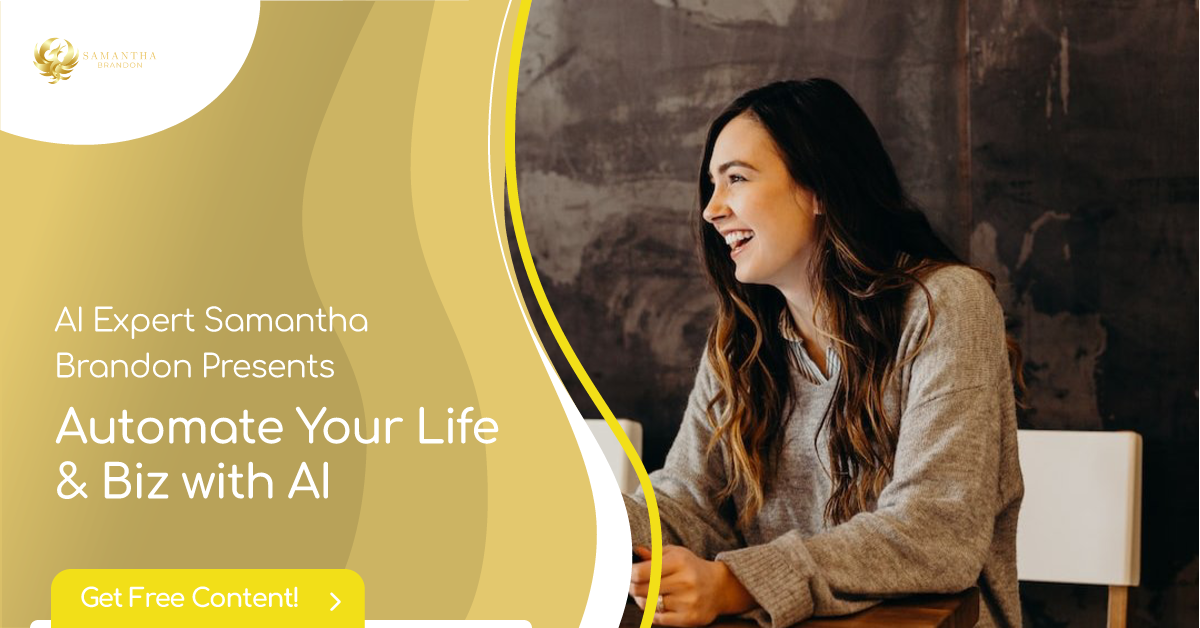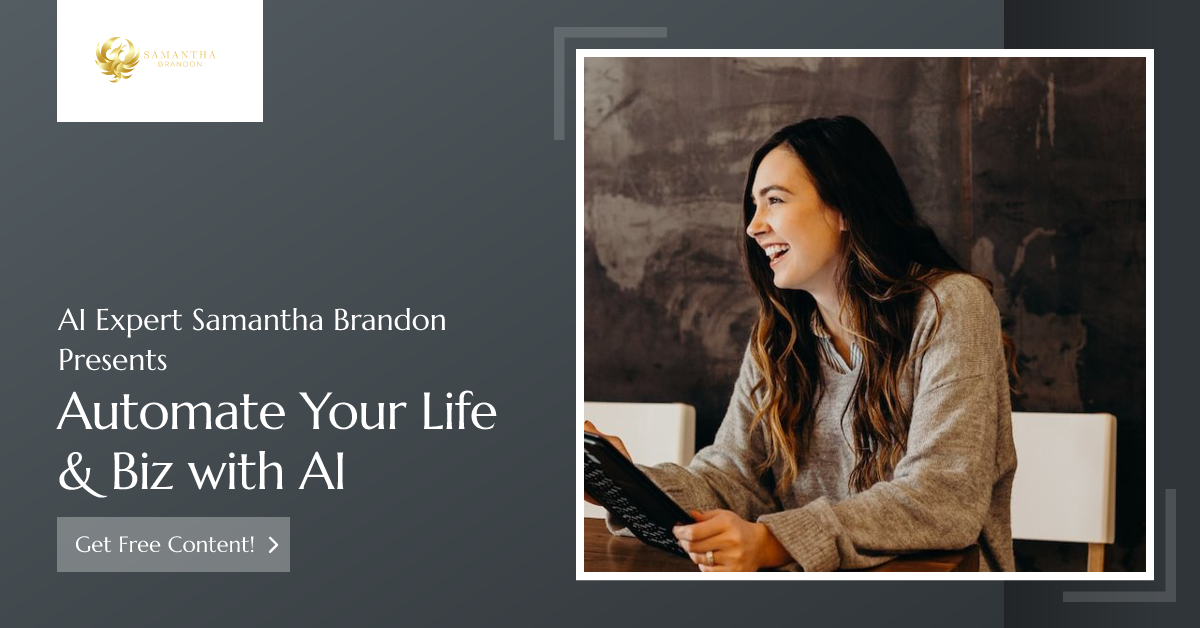 3. Social Creative Test
Next, I tried the Social Creatives generator.
I chose the square social media post size and entered this description: "I publish free content to help you automate your life and business. How would you automate your life if you could?" (I hoped that it would generate an engagement-boosting post like this one.)
My target audience was the same as before, business professionals. Again, I asked the AI bot to generate my text. But it surprised me when it gave me the same ad-like copy I got with Ad Creatives.
Here are some social creatives the app generated for me: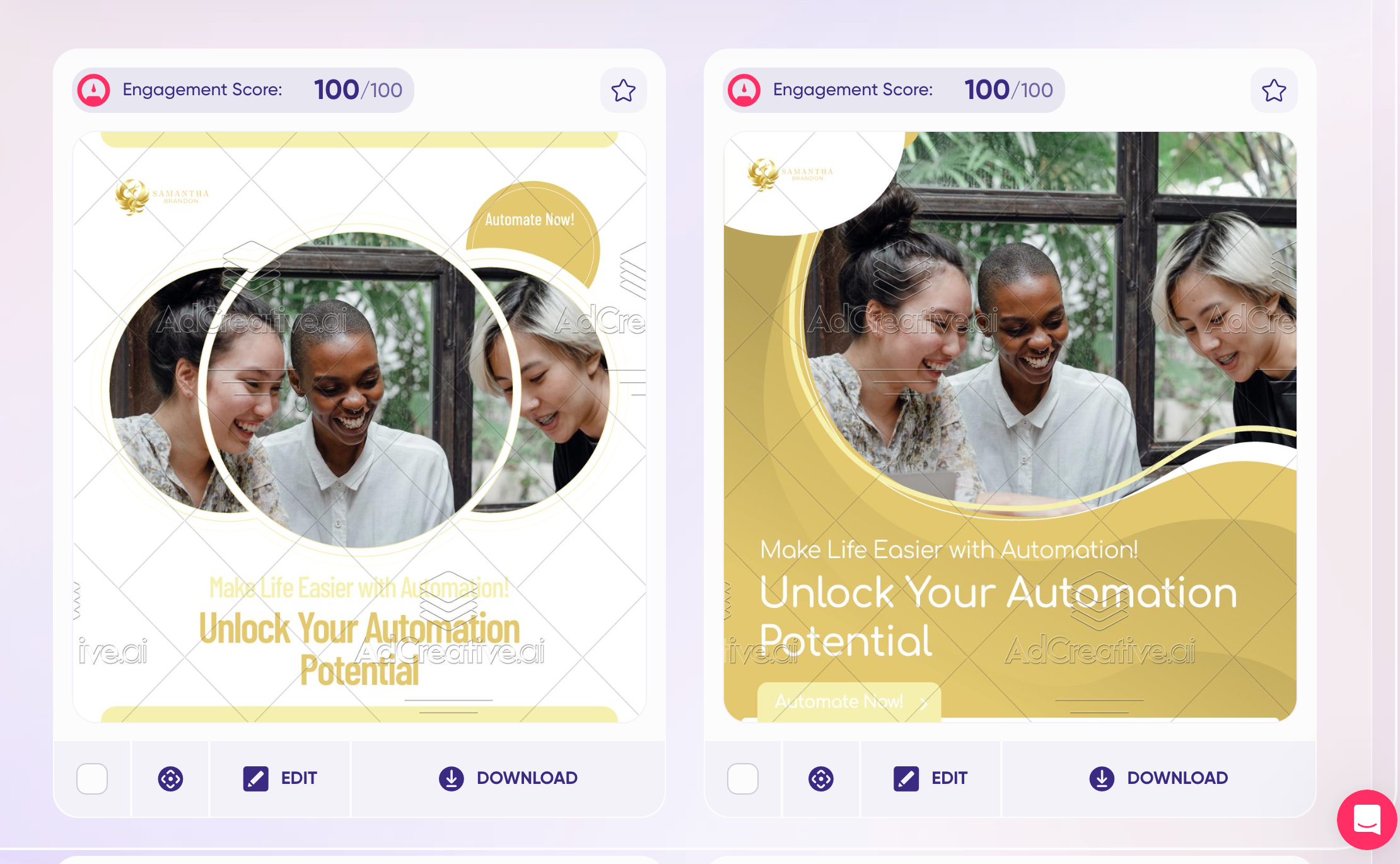 Sure, they're fine, but they still look like an ad. I don't see how this is supposed to generate engagement. As far as this feature, I don't think I would use it in my workflow.
4. Text Projects Test
To test the AI writing chops of the app, I chose the Before-After-Bridge copywriting formula. Here was my input: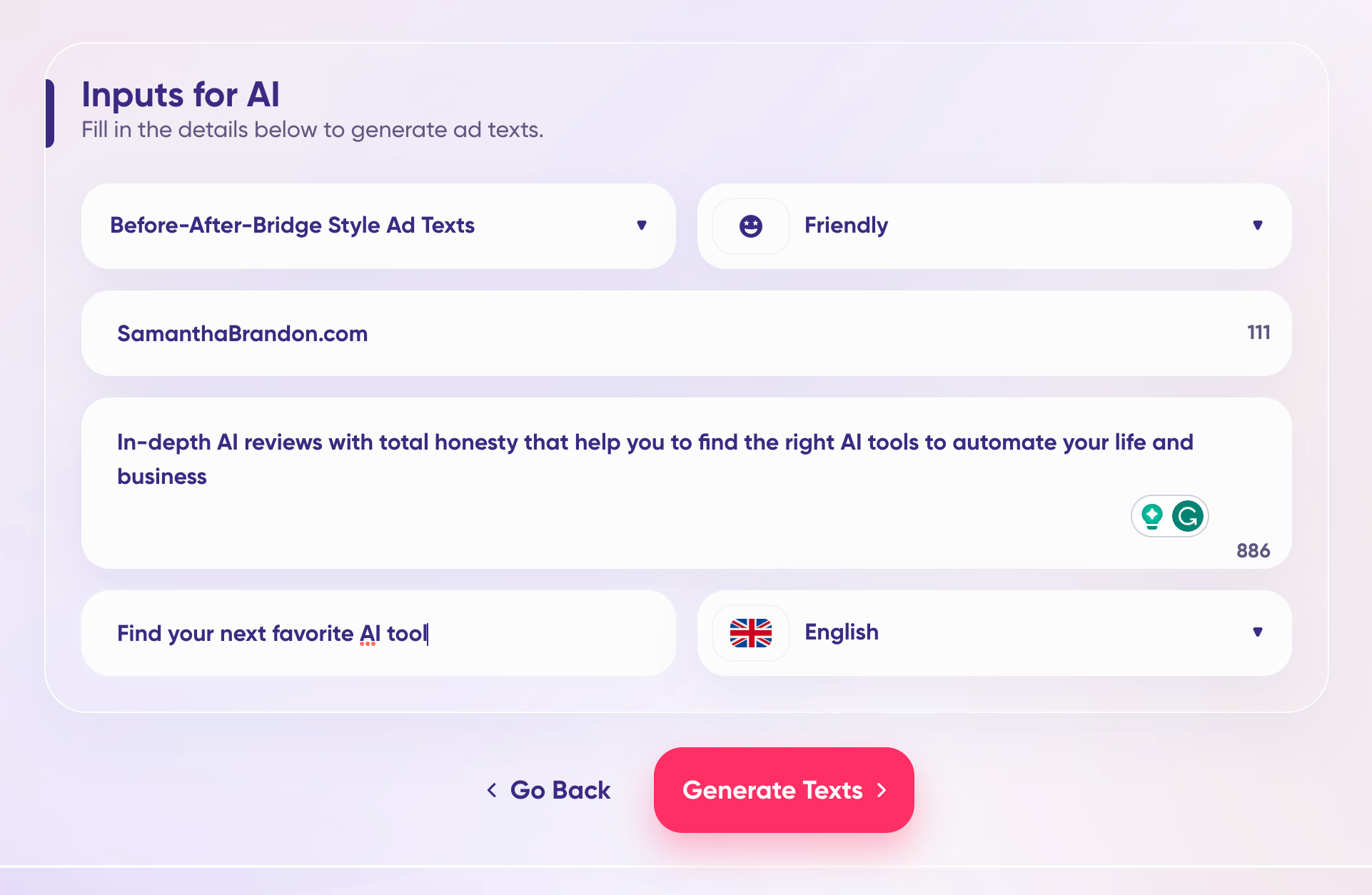 And this is what the writer produced: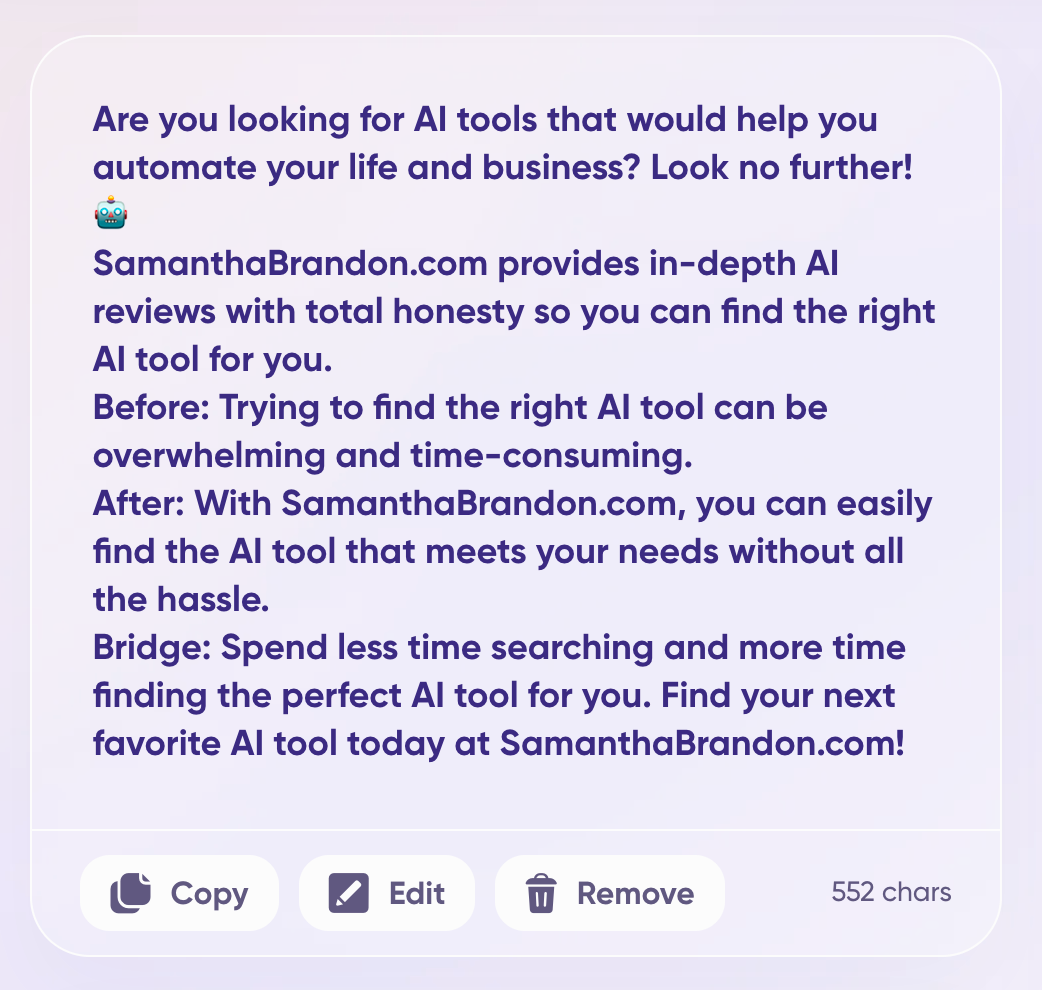 The copy was pretty good, actually! I could definitely use it in an ad if I wanted to.
If you don't like the text, you can use the built-in text editor to rewrite it.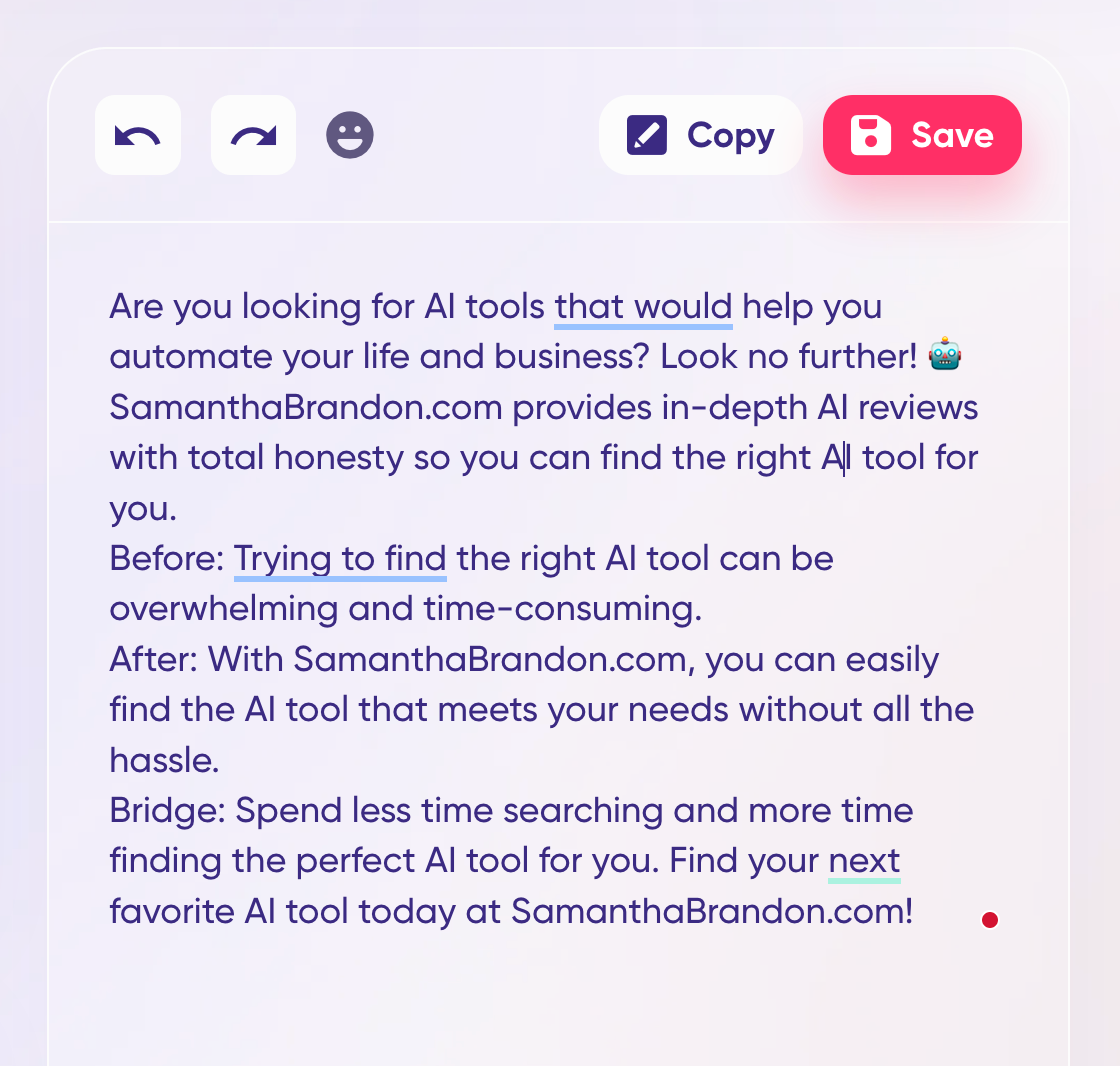 You can also click the trash can under the generated copy to delete a draft. Each time you delete something, the AI will learn from your preferences and fine-tune its writing style for you. You can also edit your inputs and re-generate the text whenever you want.
The text editor is very basic with an undo and redo button and an emoji button. There's no way to add headers or any formatting. But I don't see why Google ads or Meta ads would need headers or formatting, so this is probably sufficient.
You can save your documents from the editor and access them in this tab later.
AdCreative AI Costs
The pricing model is super complicated. To sum up the 11 different pricing options, the price depends on how many ad credits, brands, and users you want.
I'll try to make this simple.
AdCreative has 3 categories of pricing plans: Startup, Professionals, and Agencies. You can imagine that the Startup plans are the most affordable while Agency plans are more expensive. Monthly pricing ranges from $29 per month to $670 per month and above.
Within each category, they have 4 different pricing tiers. All plans give you access to all the features listed above. The only difference is the number of ad downloads, brands, and users.
Startup plans start at $29 per month and allow you to download 10 to 100 ads per month and create 1 or 2 brands depending on your plan. The plans also support 1 to 4 users, perfect for smaller businesses.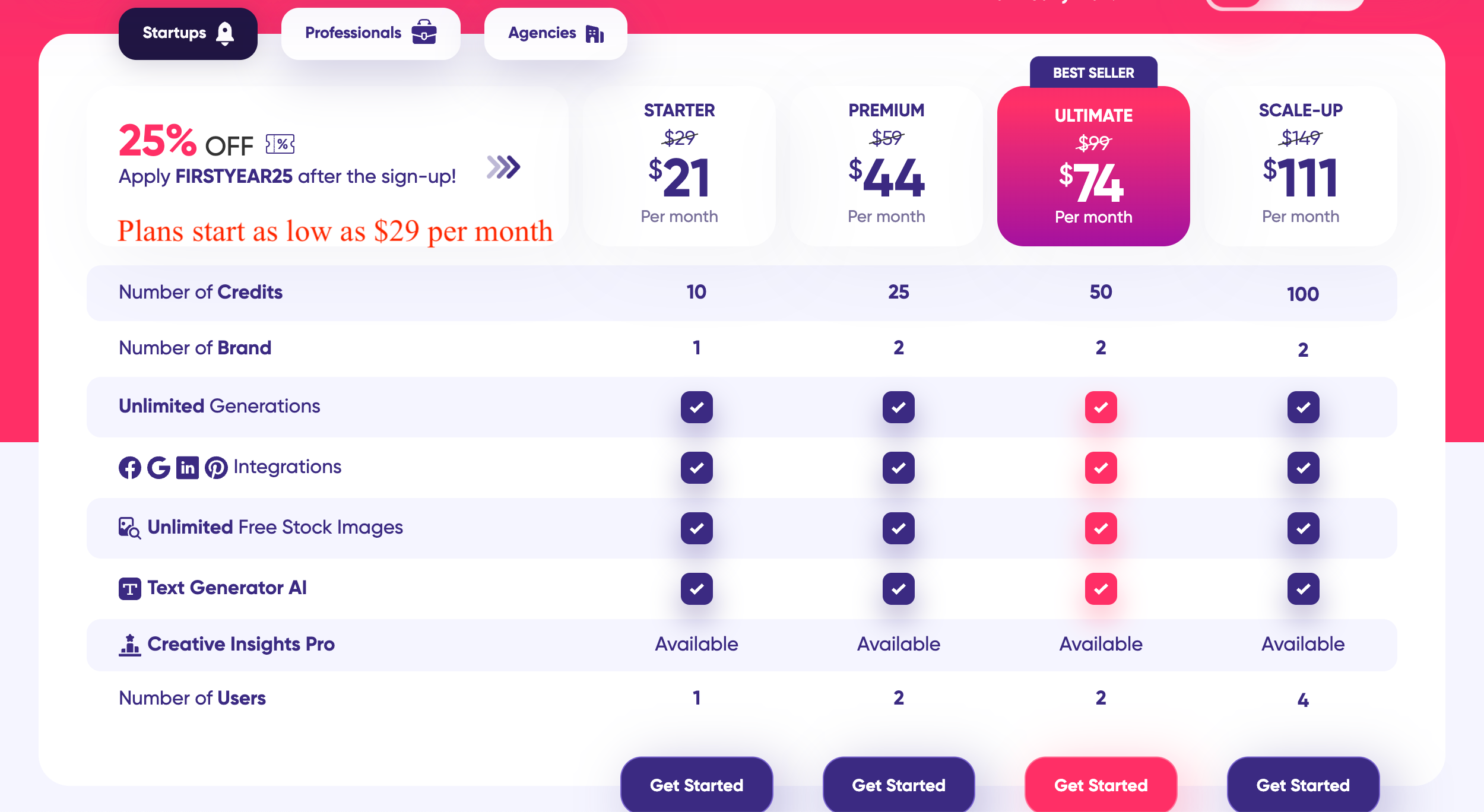 Professional plans start at $189 per month and provide 100 to 500 ad downloads per month, up to 20 brands, and up to 15 users.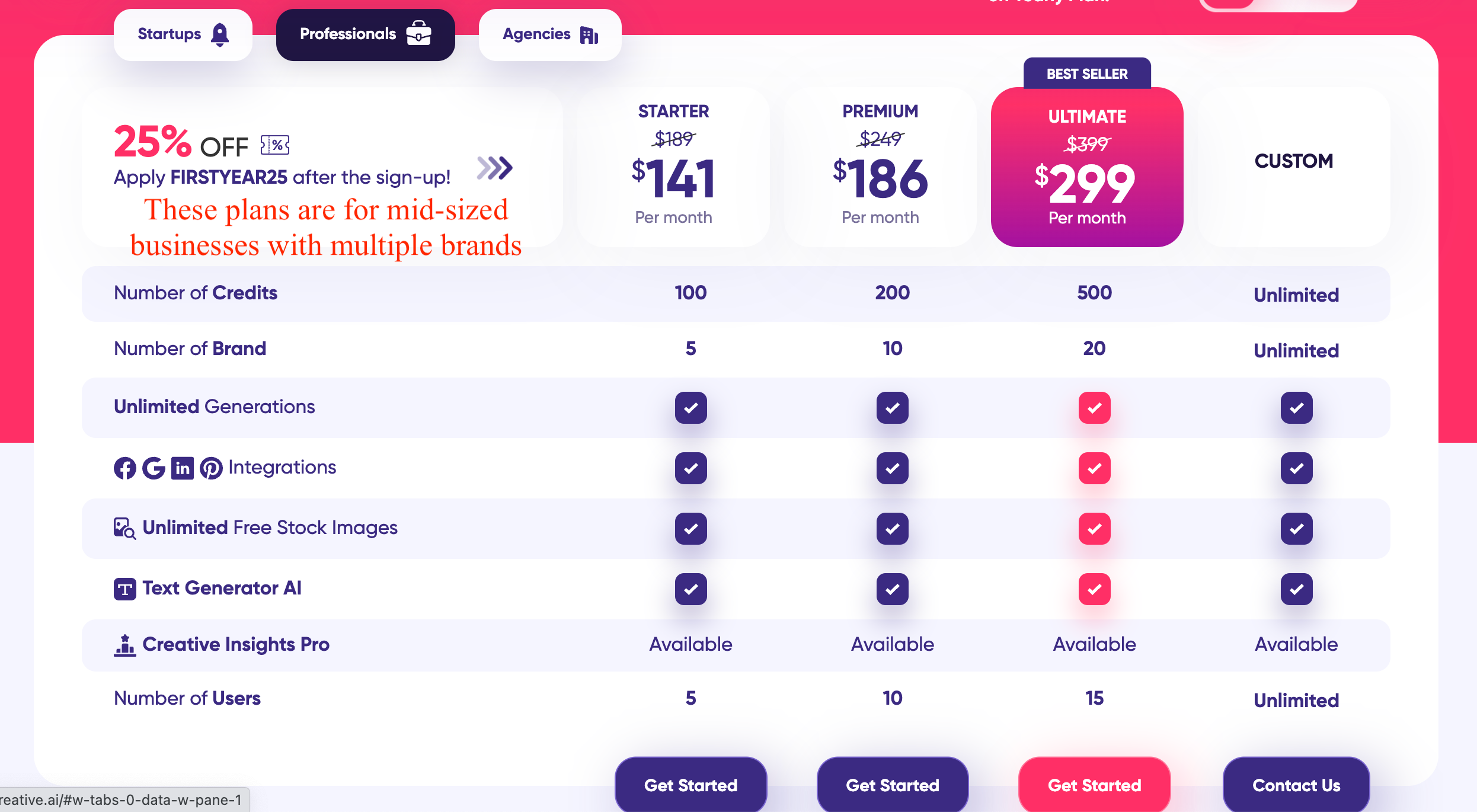 Agency plans start at $670 per month and provide 500 to 2000 ad downloads per month, up to 200 brands, and up to 40 users.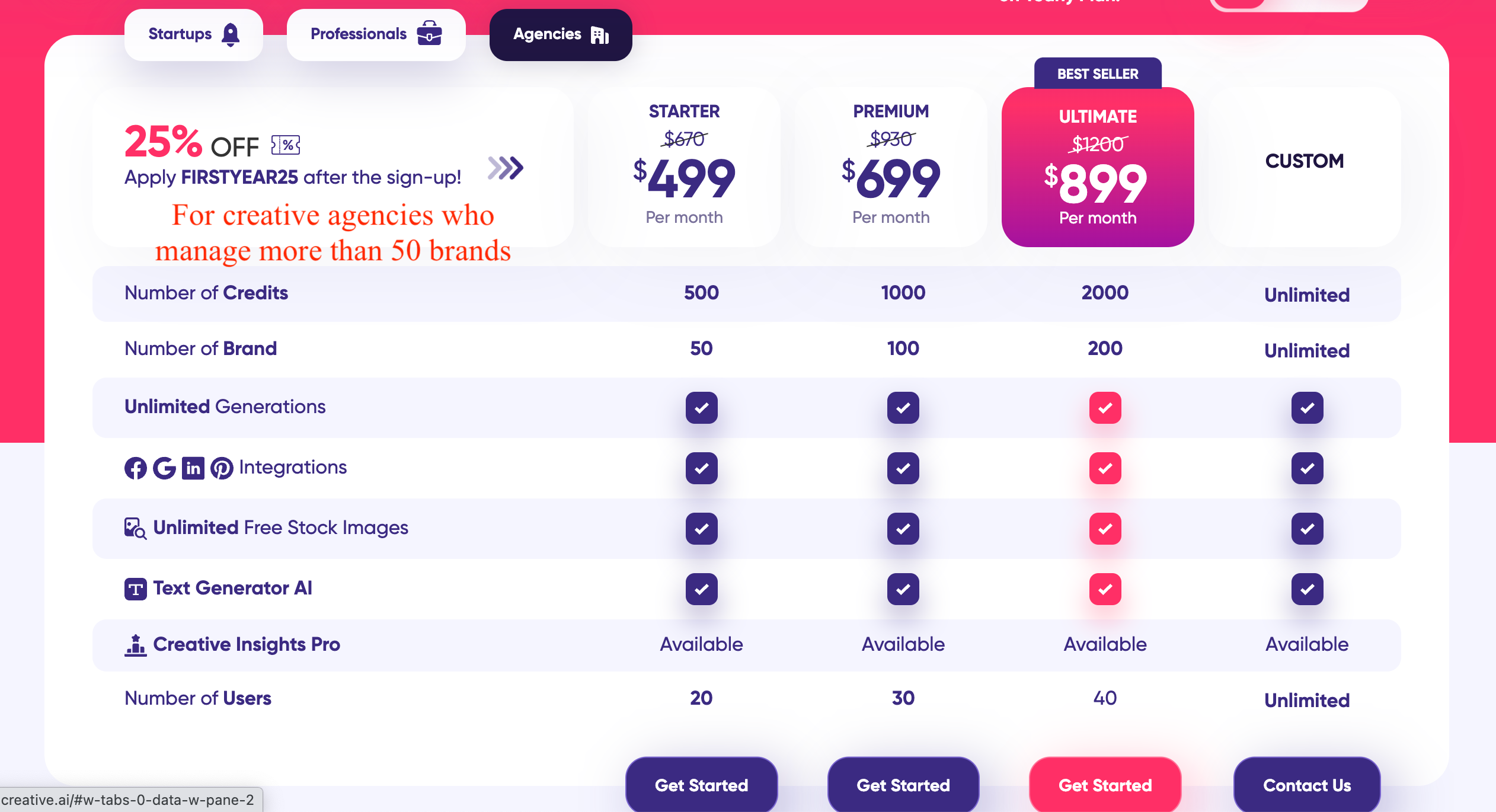 There's also a Custom plan option for enterprises that want unlimited ads, brands, and users. You can contact AdCreative to generate custom pricing for your organization.
(Currently, AdCreative is running a campaign where you get 25% off the price for the first year.)
To get started, you can sign up for a free trial, which gives you 10 free ad credits. Remember that ad generations are unlimited, and you'll only use ad credits when you want to download something. This gives you plenty of space to test out the app and see if it works for you before you decide to subscribe. (And you can download 10 different ads during your free trial, which is a great deal.)
AdCreative AI Pros and Benefits
What are the pros of using this AI platform?
AdCreative Cons and Warnings
What should you be careful about when using this app?
Alternatives to AdCreative
While there aren't any apps out there that can do what AdCreative does, you can find alternatives to some features in these apps:
1. Celtra
Celtra doesn't generate ads from scratch, but it does allow businesses to create ad creatives at scale with an intuitive interface—changing the language, color and style, and copy in a click.
2. Alison
Alison analyzes your ad creatives to determine what makes them successful, so you can use that insight for your ad strategy going forward.
You can also compare your ads with those of your competitors to find opportunities to improve the conversion rate of your own ads.
3. Smartly.io
Smartly.io doesn't generate ads, but it can manage your campaigns in one place and automate some of the tedious workflows that are a part of running ad campaigns.
Canva Magic Design features, which are part of a free or paid Canva account, allow you to generate layouts for your designs with a text prompt. You could use this to generate ads for a campaign, but it's not as specialized as AdCreative.
For generating sales copy, Jasper AI—aka the OG of copywriting tools—can't be beat. You can generate anything, from sales copy, to creative stories, to love letters, and more.
My Take Home
My take? AdCreative AI is a powerful app and a great concept. It's no wonder this app is blowing up—it's got a lot to offer for the right business.
This app would be great for businesses that need to create a lot of ads and get the information out quickly, but don't have branding guidelines or a creative team. In fact, this is a game-changer for small businesses and startups.
For brands with strict guidelines and established branding, this probably won't cut it.
While the app offers white-labeling of its services, I don't see how an agency would benefit from this. It seems more like a way to circumvent an ad agency so a business could create ads by itself.
TL;DR – If you want to create powerful, optimized ad creatives for your business that follow your brand colors and images, and you don't have a creative team, dedicated ad agency, or design skills—AdCreative will be your new best friend.
Frequently Asked Questions (FAQs)
Is AdCreative AI worth it?
AdCreative AI is great for brands that want to generate ad creatives quickly. It's not suited for businesses who want to fine-tune their ads or who have strict branding standards.
What is the payment method for AdCreative AI?
You can use a debit or credit card to pay for a subscription (Visa, Discover, MasterCard, or American Express).
How do you create ad campaigns with AdCreative AI?
Start by creating a brand with your name, colors, and info. Then choose an ad size, write a description of your ad, and choose a photo. With that information, AdCreative AI will generate the copy and hundreds of ROI-focused ad creatives for your ad. Choose your favorite out of 100+ options, and download each ad for 1 credit.
Can you create ad banners with AdCreative AI?
Yes, the app supports ad banner sizes.
How can AI create ad creatives?
AI software is trained on thousands of ad formats and pieces of sales copy. Based on that data, it's learned how to put together a successful ad. All you need to do is give it some parameters (brand info, product info, and description of your ad), and it will generate hundreds of variations of ad creatives for your offer.
Is there an alternative to AdCreative AI?
There's no 1-to-1 alternative to AdCreative AI, but you could check out Celtra, Alison, or Canva's Magic Design feature for some of the same features.
Does AdCreative AI support Google ads?
Yes, you can create Google ads with the app. You can create display ads and ad banners in Google ads sizes, like Medium Rectangle, Leaderboard, and more.