Best Jasper AI Alternative in 2023: 10 Top Picks
Last Updated on February 13, 2023
If you've been on the internet for more than five minutes, you've probably heard of the AI writing tool called Jasper AI.
It's a big favorite in the AI writing world, and for good reason. (I've written a full-length review of Jasper AI if you want to learn more.)
But Jasper's not everybody's cup of tea. You may be looking for other features, a lower-priced app, or just shopping for more options when it comes to an AI writer.
What are the Best Jasper AI Alternatives?
If you're looking for a Jasper AI alternative, I've got you covered as I've tested all the AI writers on the market. You can also check out my articles that break down the best story generators and best novel writers.
Copy AI
Most Powerful Writer

Copy AI is one of the most powerful AI content platforms available right now. It features hundreds of tools that can write everything from website copy to a love letter in just a few clicks.
I find Copy AI extremely easy to use, even for beginners to AI writing. But that doesn't mean it's not powerful. On the contrary, the AI is trained by copywriting professionals to make sure it writes powerful copy that brings in more clicks and sales.
(By the way, I've written a full-length review of Copy AI if you want to see how it works, as well as a head-to-head comparison with Jasper.)
Here's the low-down on what you get with Copy AI:
Pricing
Pricing is simple—generate up to 2,000 words per month for free, or pay $59 a month for unlimited words.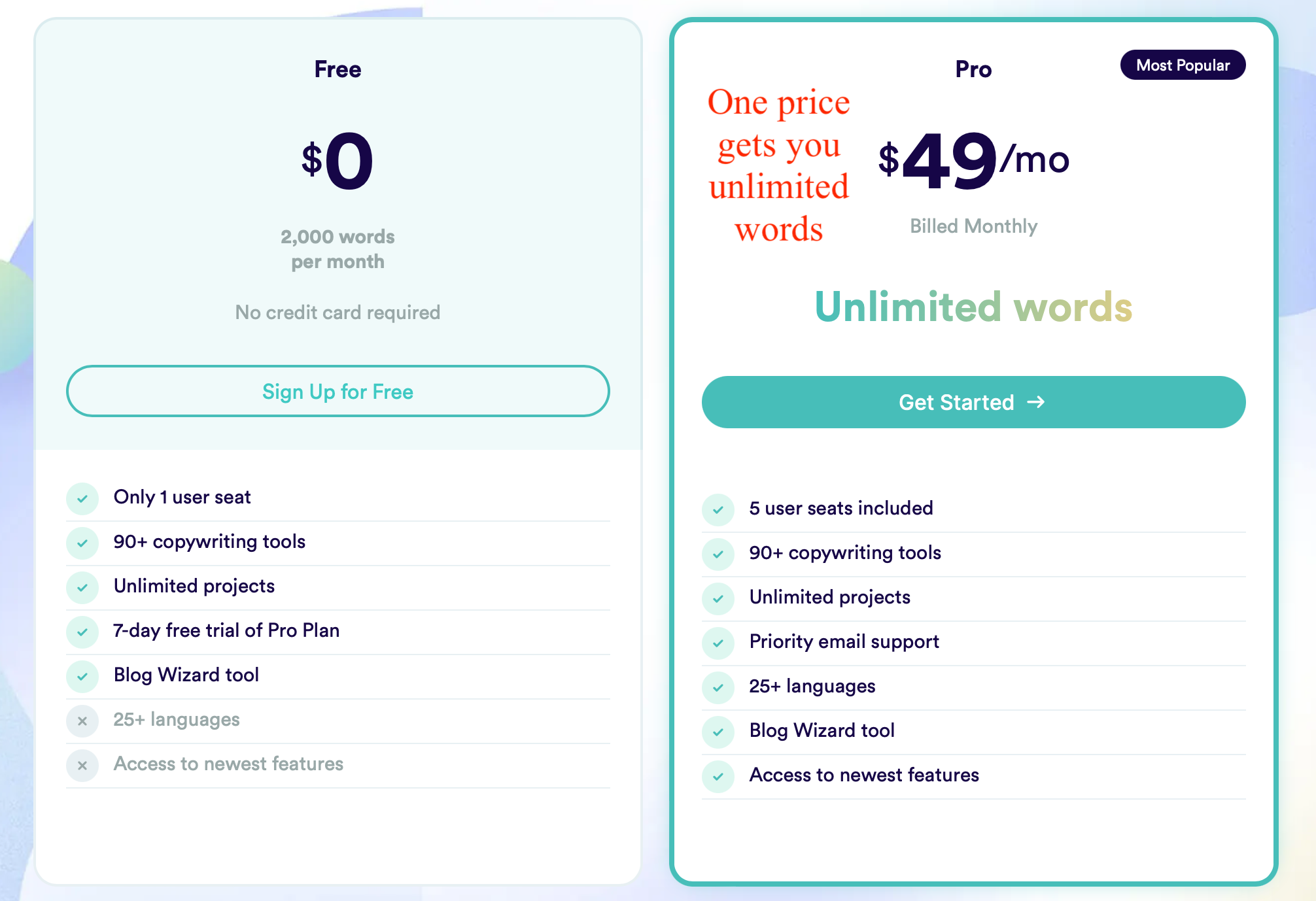 Verdict
Copy AI is a strong alternative to Jasper AI. It features the same high-quality writing you'd expect from Jasper, a similar command tool, a better long-form content tool, and more templates.
Writesonic
Fastest Article Creation

Writesonic is a powerhouse AI writing tool, much like Jasper. It excels at article creation—it'll write you a 1500+ word blog post in just twenty seconds. In addition, you can use Writesonic to generate multiple types of content and copy for your business, like Facebook or Google ads, website copy, emails, and more.
While it doesn't have as many templates as Jasper, it does cover most of the same features. In addition, Writesonic's algorithm has been trained on high-converting copy, supports SEO integrations, and has a similar feature to Jasper Chat (a ChatGPT alternative) called Chatsonic.
Here's Where Writesonic Shines:
Pricing
More affordable than Jasper AI. For 160,000 Premium words a month, you'll pay $66. (Compare that to $99 a month for 100,000 words in Jasper.)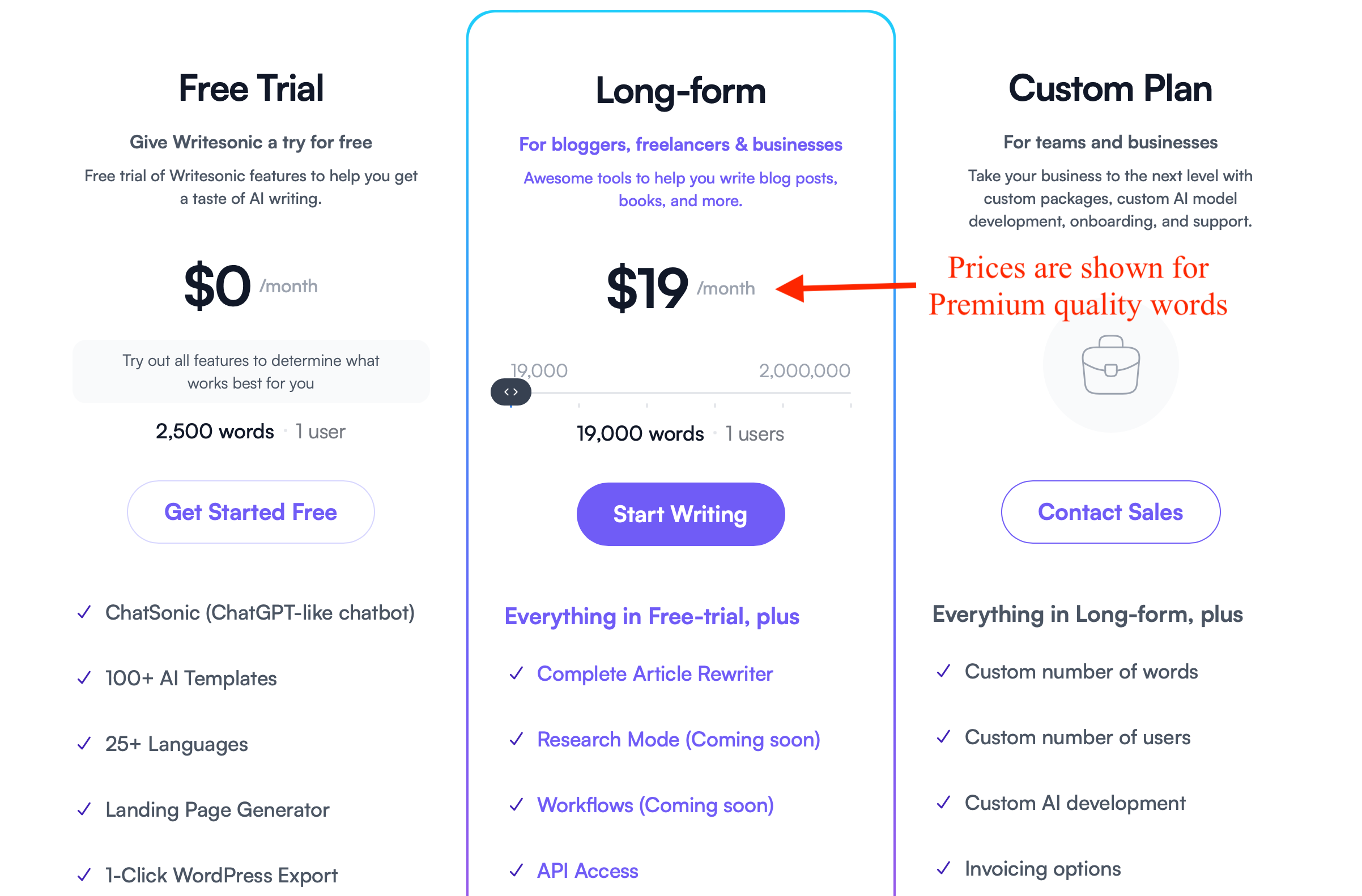 Verdict
Writesonic is a solid Jasper AI alternative with most of the same features, high-quality writing, and plenty of templates for personal or business use. And it's all available for a lower price.
Rytr
Most Budget-Friendly

Rytr is a full-featured AI writer with many templates to create anything from ad copy to landing pages, creative stories, and more.
The main benefit of Rytr is its super affordable price. It may have a slightly lower writing quality than other tools like Jasper or Copy AI, but it's still a great return on your investment for such a low price.
I've already published another article where I tested and reviewed Rytr if you want to read more. It held up to testing and produced high-quality content.
Here's the quick and dirty on Rytr:
Pricing: You can generate up to 5,000 characters on the free plan or upgrade to the Starter plan at $9 a month for a monthly allowance of 50,000 characters and access to all features. For $29 a month, you get unlimited characters.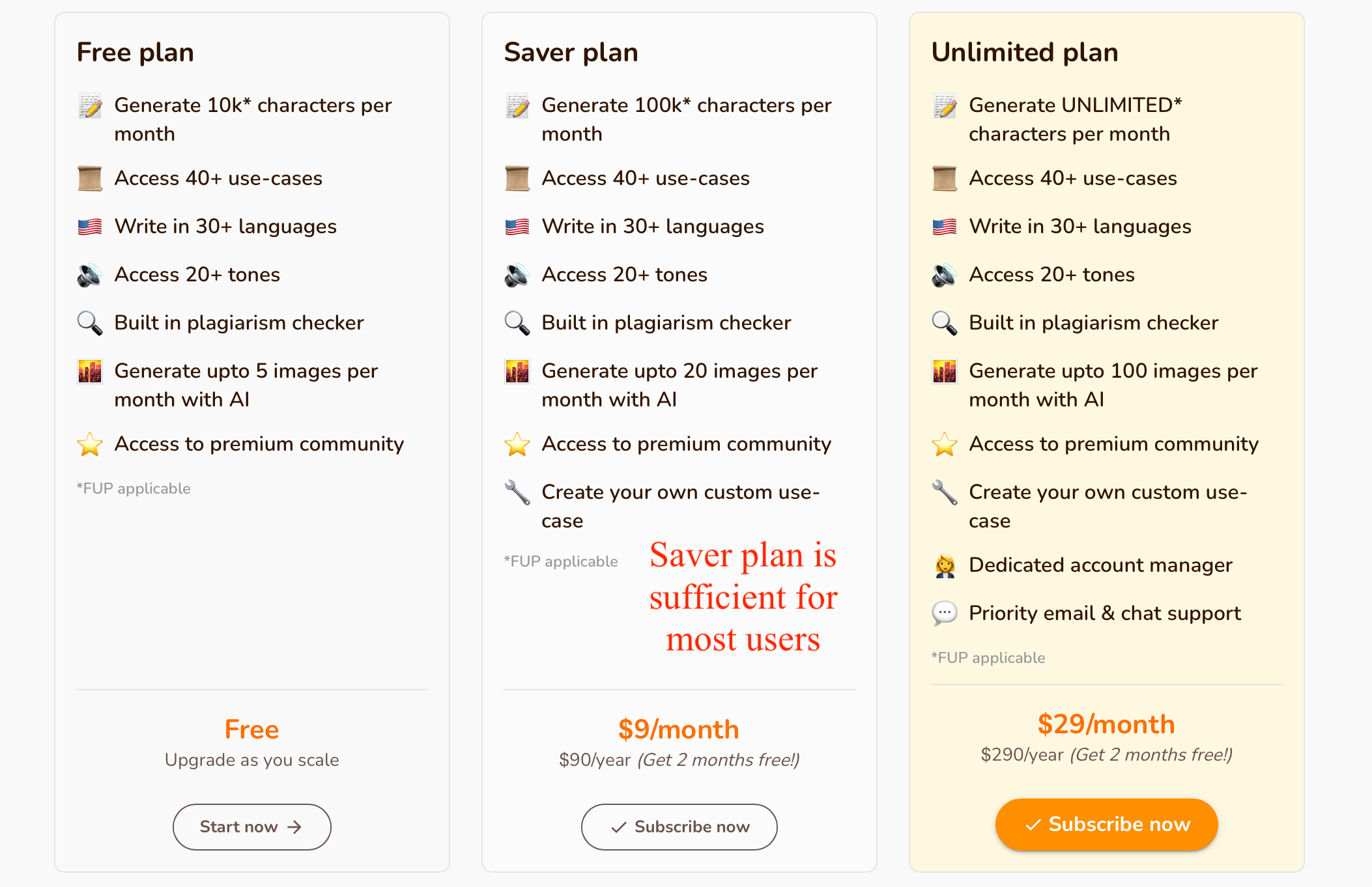 Verdict
If you want a budget-friendly alternative to Jasper or other AI writing tools, look no further than Rytr. While it doesn't have the extra bells and whistles of the more expensive options, it's sufficient for most use cases.
Frase
Great for SEO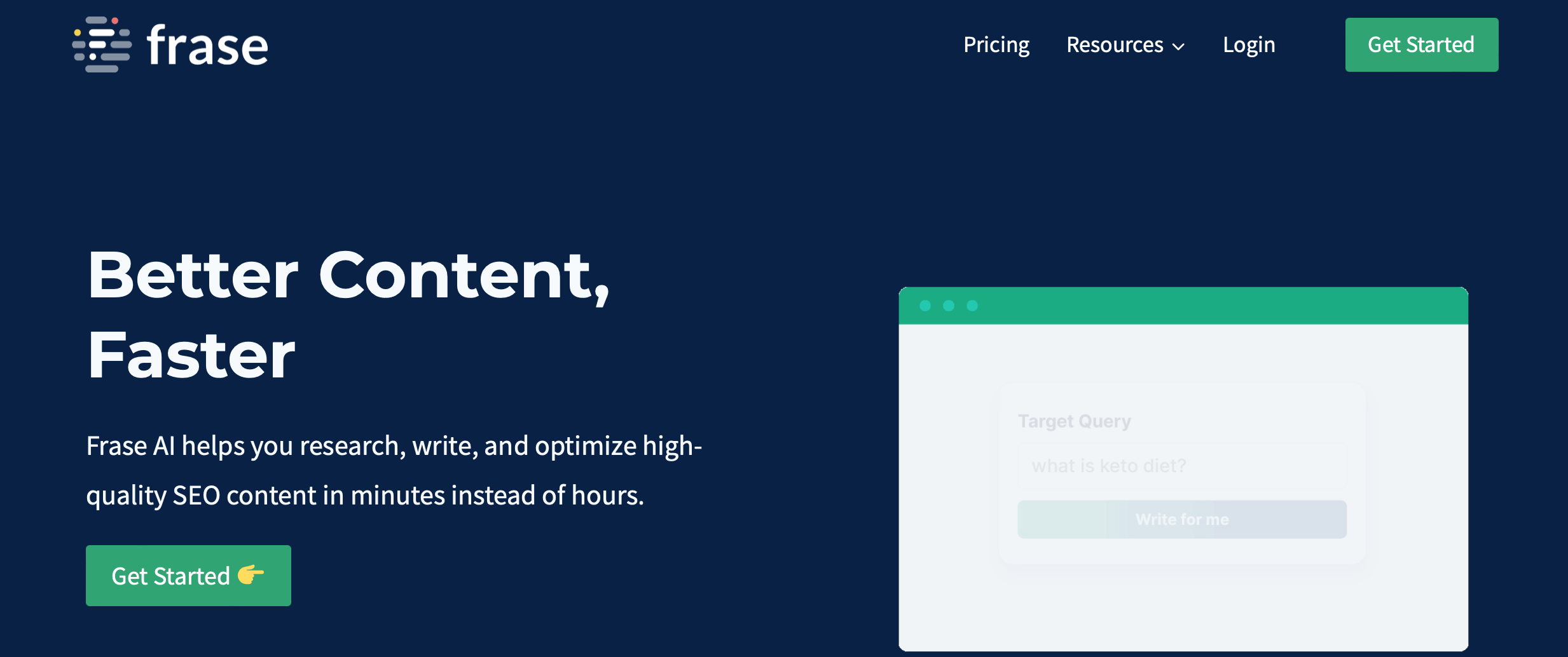 Frase offers more than an SEO integration—it provides a suite of SEO tools alongside the built-in writer, so you can ensure the articles you generate will rank higher in search results. This gives it a huge advantage over other AI writers, in which you have to pay two different subscription fees to get the same thing.
Here are the key features of Frase:
Pricing: Solo users can write four articles a month for $15. For more frequent publishers, $45 a month gets you 30 articles, and $115 a month removes the article limit altogether.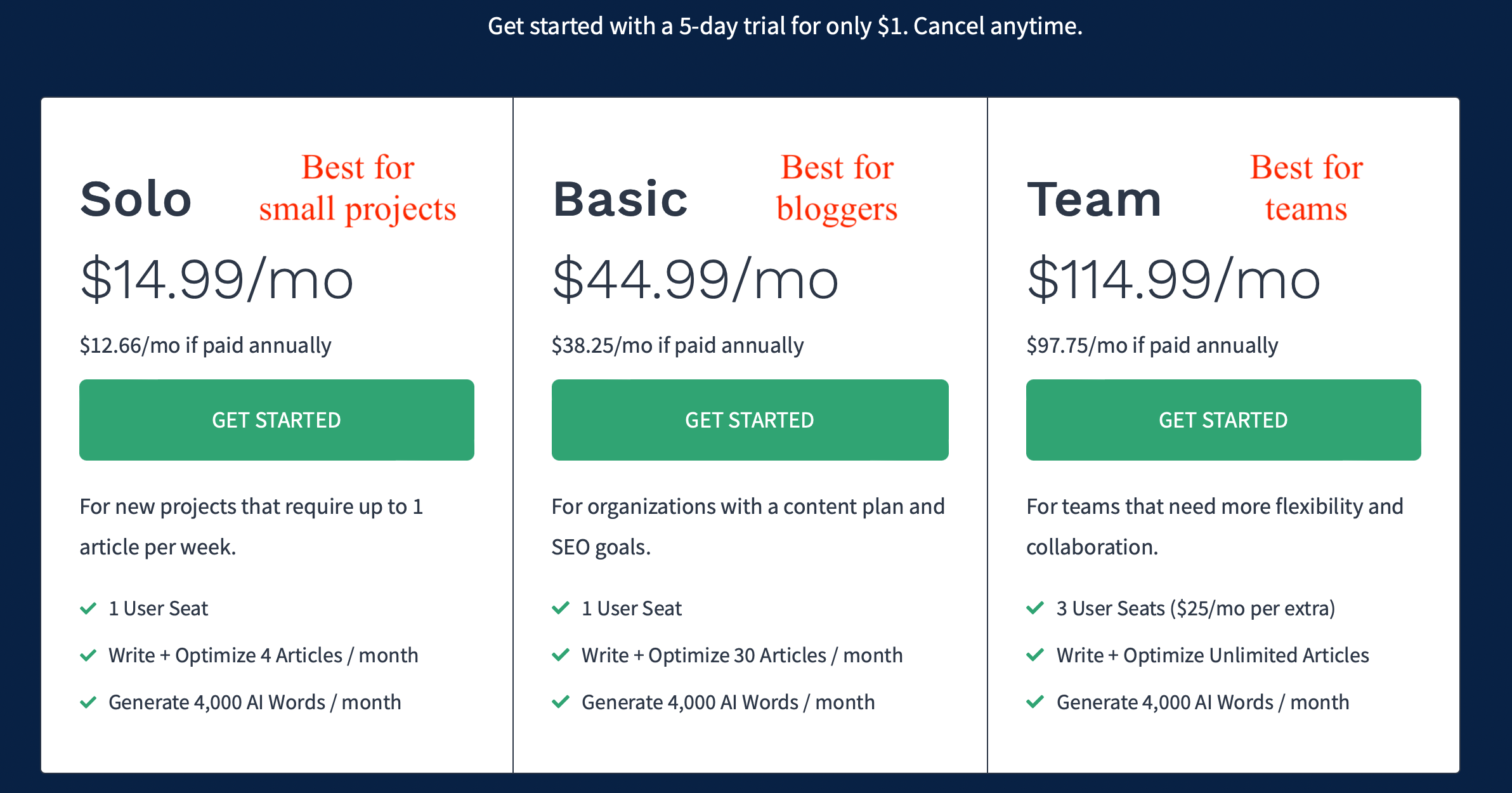 Verdict
If you're focused on getting your blog posts to rank, generating SEO-optimized blog articles more quickly, or creating AI-generated content briefs for your writers, consider making Frase your go-to AI writing app.
Hypotenuse
Great for Visual Brands

Hypotenuse AI is another excellent AI writing tool that shines in product descriptions and Instagram captions for lifestyle brands, fashion, and interior design (though it can handle all kinds of products).
It also writes blog posts, web copy, ad copy…practically anything a visual e-commerce brand would need, as well as generating high-resolution AI images.
Here's what I like about Hypotenuse:
Pricing
The Starter plan includes all the tools, 200 images, and up to 25,000 words for $29 a month. Upgrade to the Growth plan to get up to 87,500 words, unlimited images, and plagiarism checks.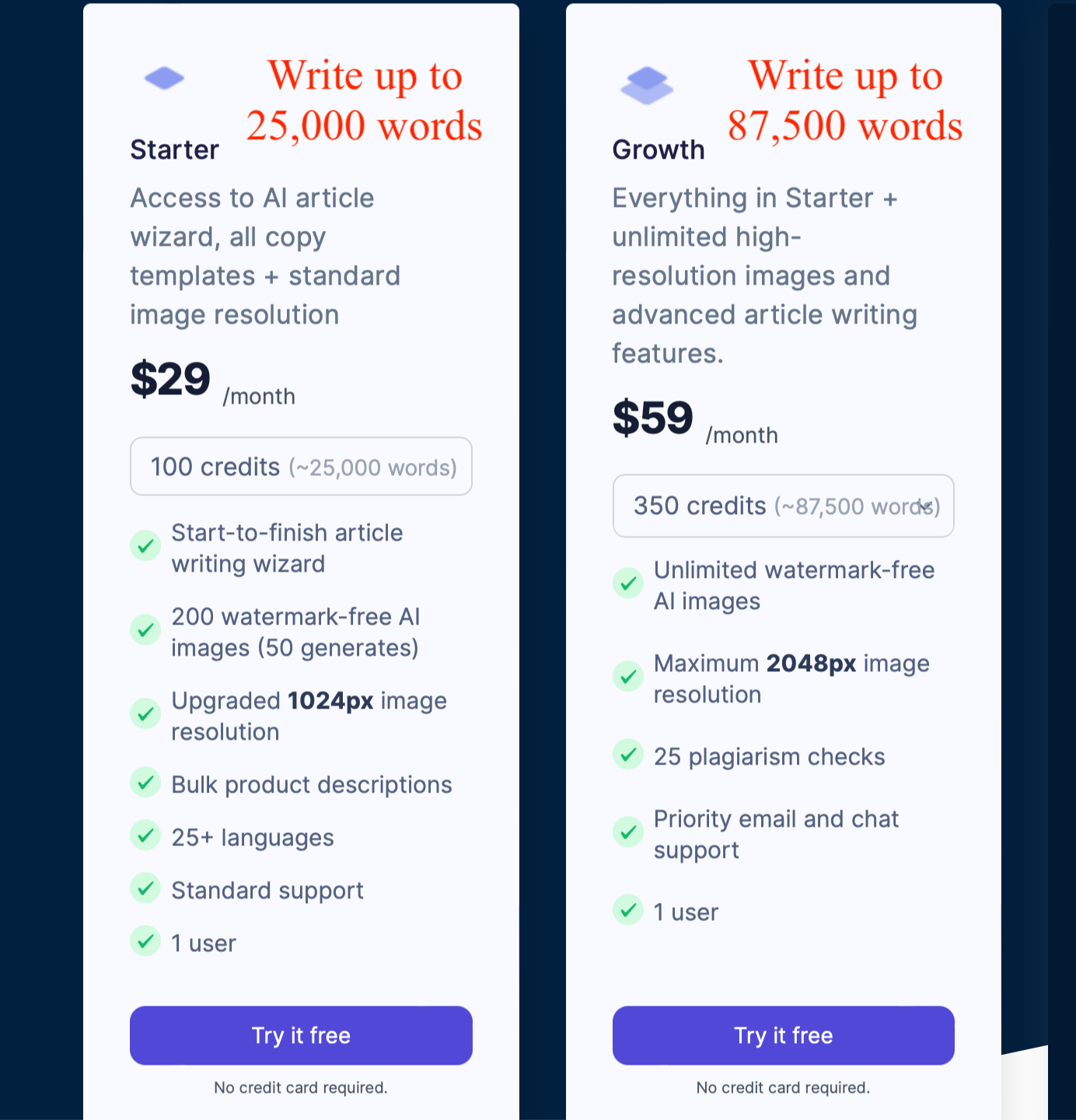 Verdict
Hypotenuse is a great fit for product-based businesses that want to maintain a sophisticated tone as they create blog posts, ads, product descriptions, and other types of content to promote their products.
Outranking
Best Content Strategy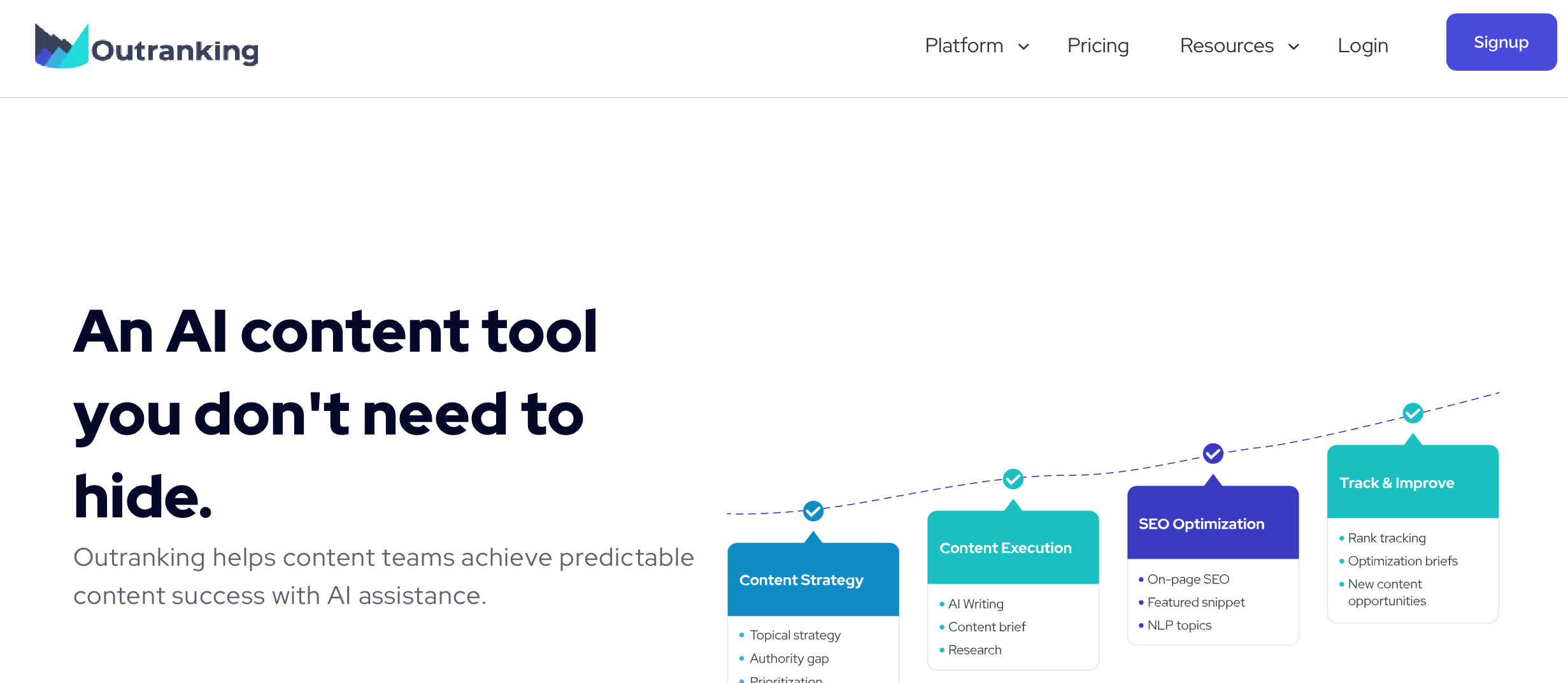 Outranking is an AI-powered SEO specialist that also happens to write content. It can do keyword research, create SEO-optimized content briefs, write articles, and help you optimize your content for search.
Here are the key features of Outranking:
Pricing: Plans start at $79 for a single user on one domain. The basic plan allows you to write 10 articles. The Pro plan includes fact-checked writing, 1 team member, multiple domains, and up to 20 articles for $149 a month. The Company plan gets you 2 team members, all the features of the Pro plan, and 30 articles a month.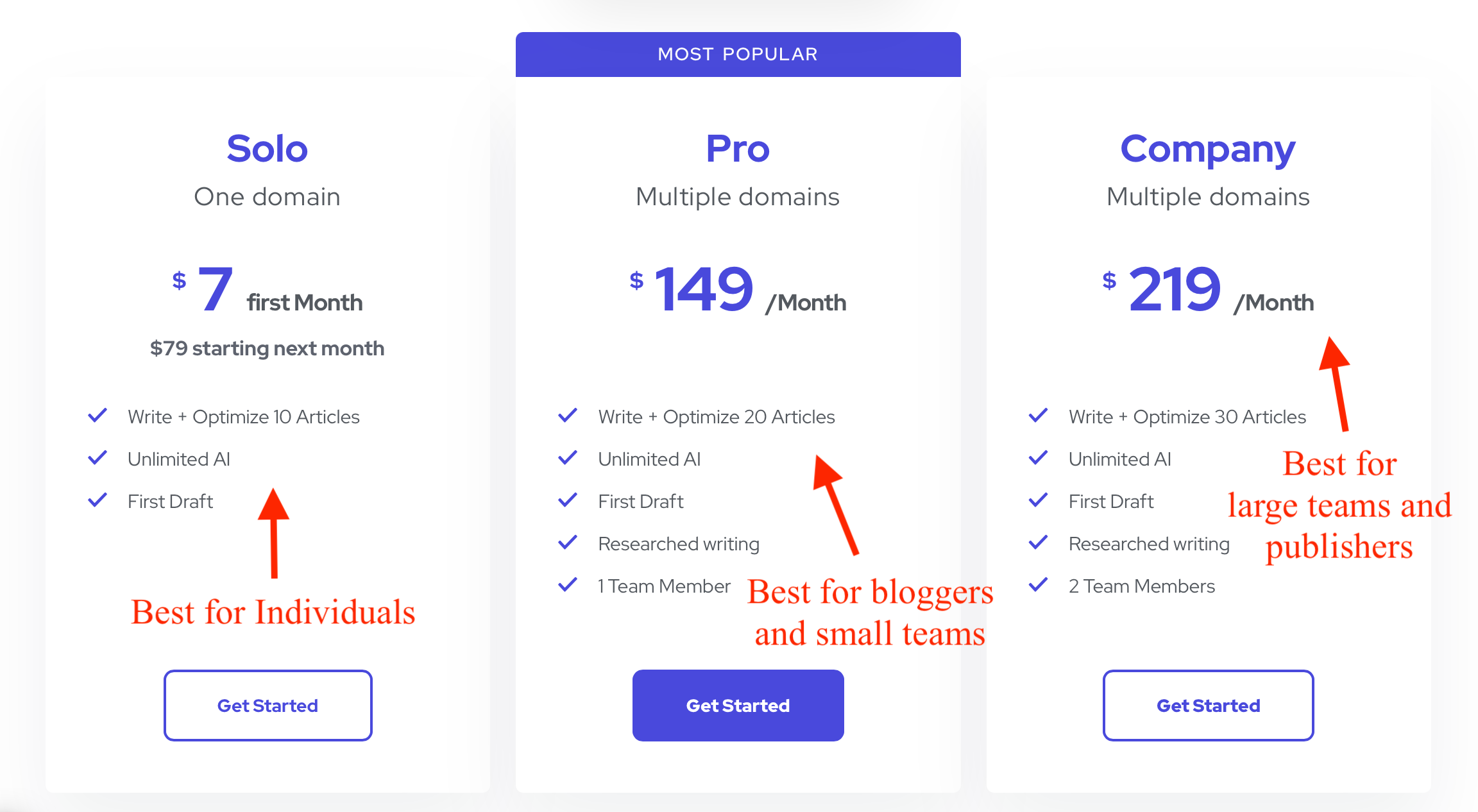 Verdict
If you're laser-focused on writing superior blog articles and skyrocketing your content to the top of Google search results, Outranking is for you.
Copysmith
Great for E-Commerce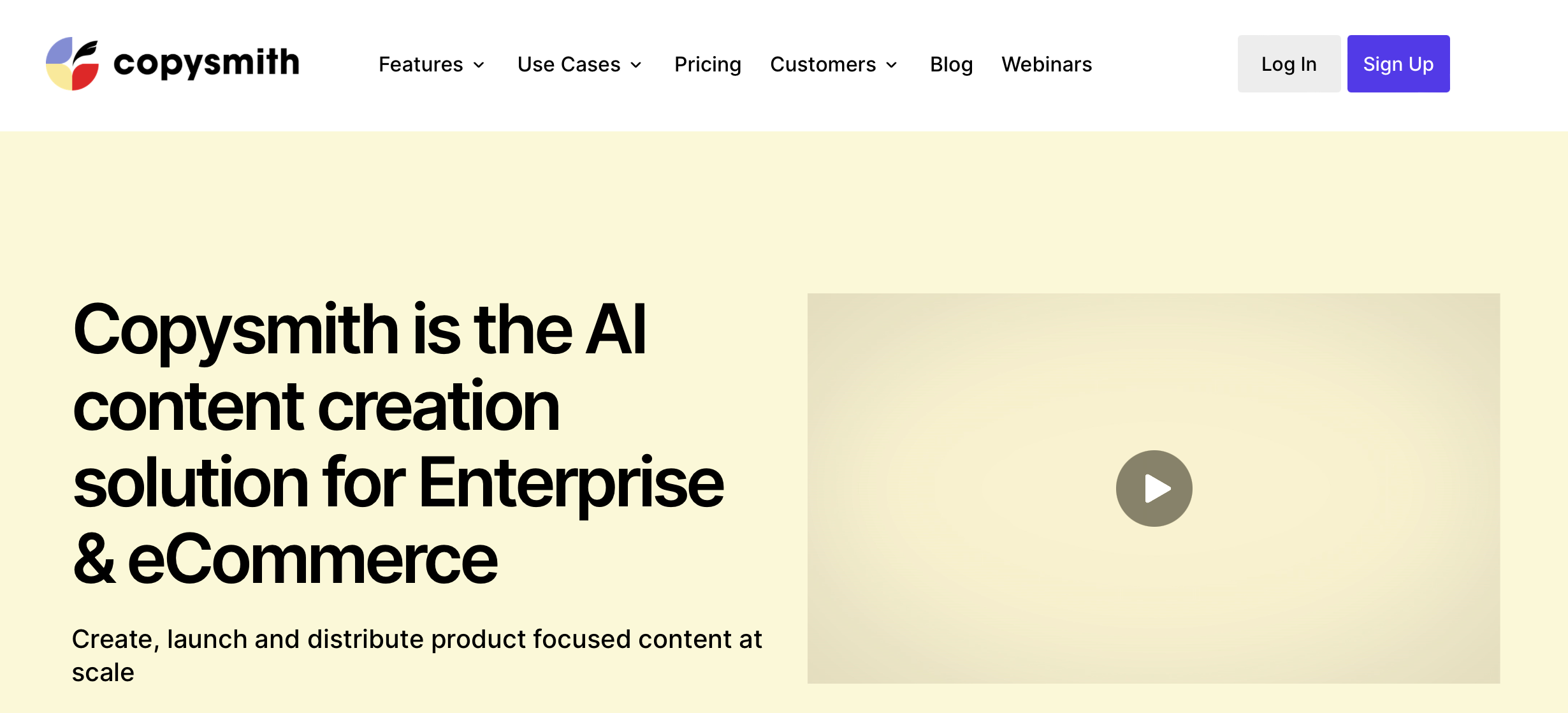 Want an AI tool that can plan and create marketing campaigns for e-commerce products? Look no further than Copysmith.
This tool helps you generate product descriptions, ads, social media posts, landing pages, and more based on your lineup of products, all organized under strategic campaigns for your brand.
Here's what you get with Copysmith:
Pricing
The Start plan gives you 20,000 words and 20 plagiarism checks for $19 a month, plus support for 5 users. The Professional plan bumps that up to 80,000 words and 100 plagiarism checks, plus support for 10 users. If you pay annually (starting from $190 a year), your unused credits will roll over every month.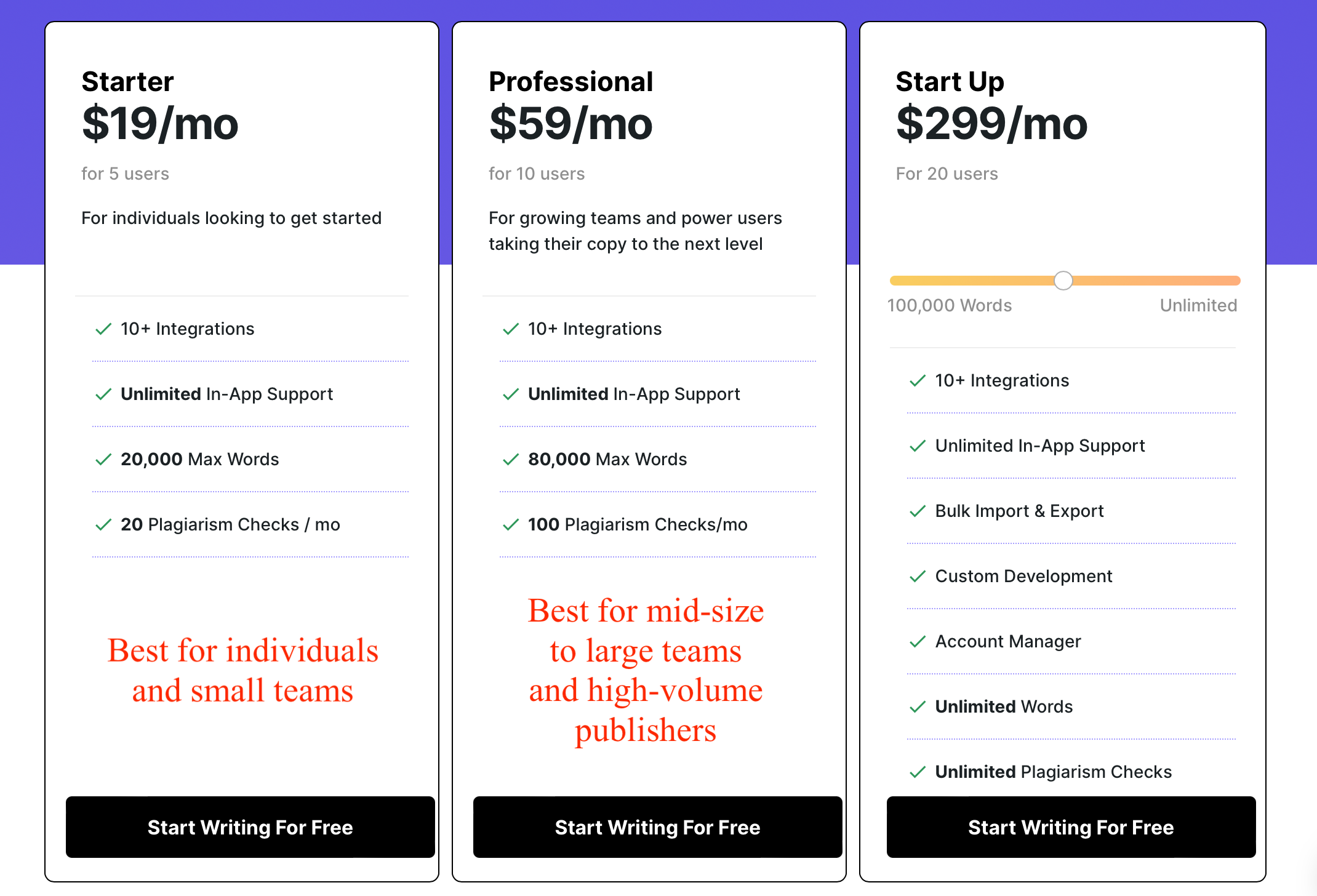 Verdict
Copysmith is an excellent tool for e-commerce marketing teams that want to save time creating multiple pieces of copy that work together in strategic campaigns.
Scalenut
Best Content at Scale

Scalenut is designed for companies that want to create content quickly and at scale rather than fine-tuning each into perfectly-written masterpieces.
Because of that, its tools focus on creating and optimizing blog posts with minimal time and effort.
Here's what I like about Scalenut:
Scalenut Pricing
The Individual plan, for $29 a month, provides you with 100,000 AI words, 5 SEO reports, and all AI writing templates. At $79 a month, the Growth Plan gives you unlimited words, 30 reports, 30 topic clusters, access to Cruise Mode, and other advanced features.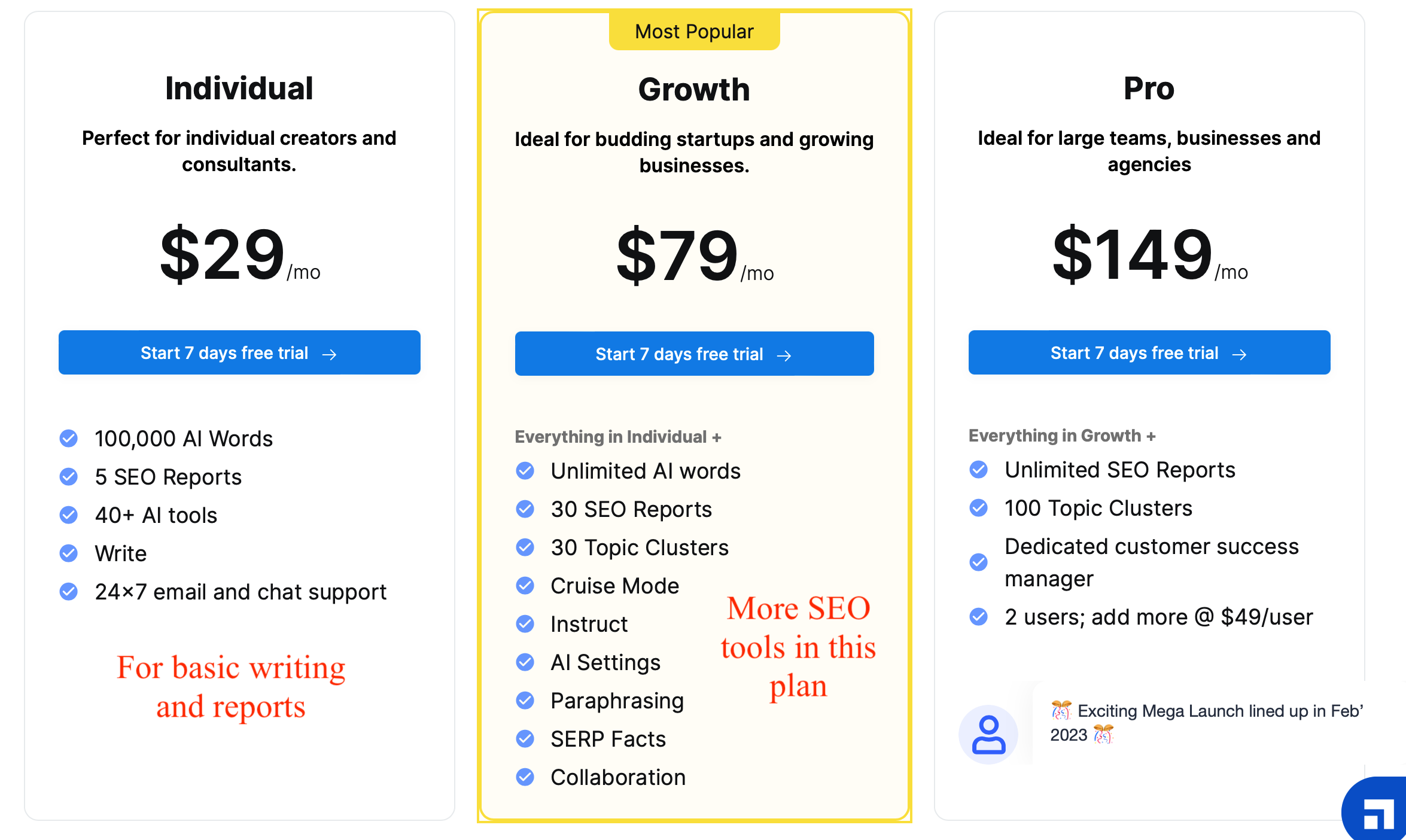 Verdict
Scalenut is a great option for fast-growing companies that want to write long-form articles at scale and get exposure quickly.
Novel AI
Great for Novelists

While most AI writers focus on creating marketing content and copy, there's another category of tools called AI story generators that excel at creative writing.
One of my favorites is Novel AI, specifically designed to help novelists craft engaging stories with the help of creative AI storytellers.
Here's what you get with Novel AI:
Pricing
All plans give you unlimited credits, but you can upgrade for a larger memory capacity. Plans range from $10 to $25 per month.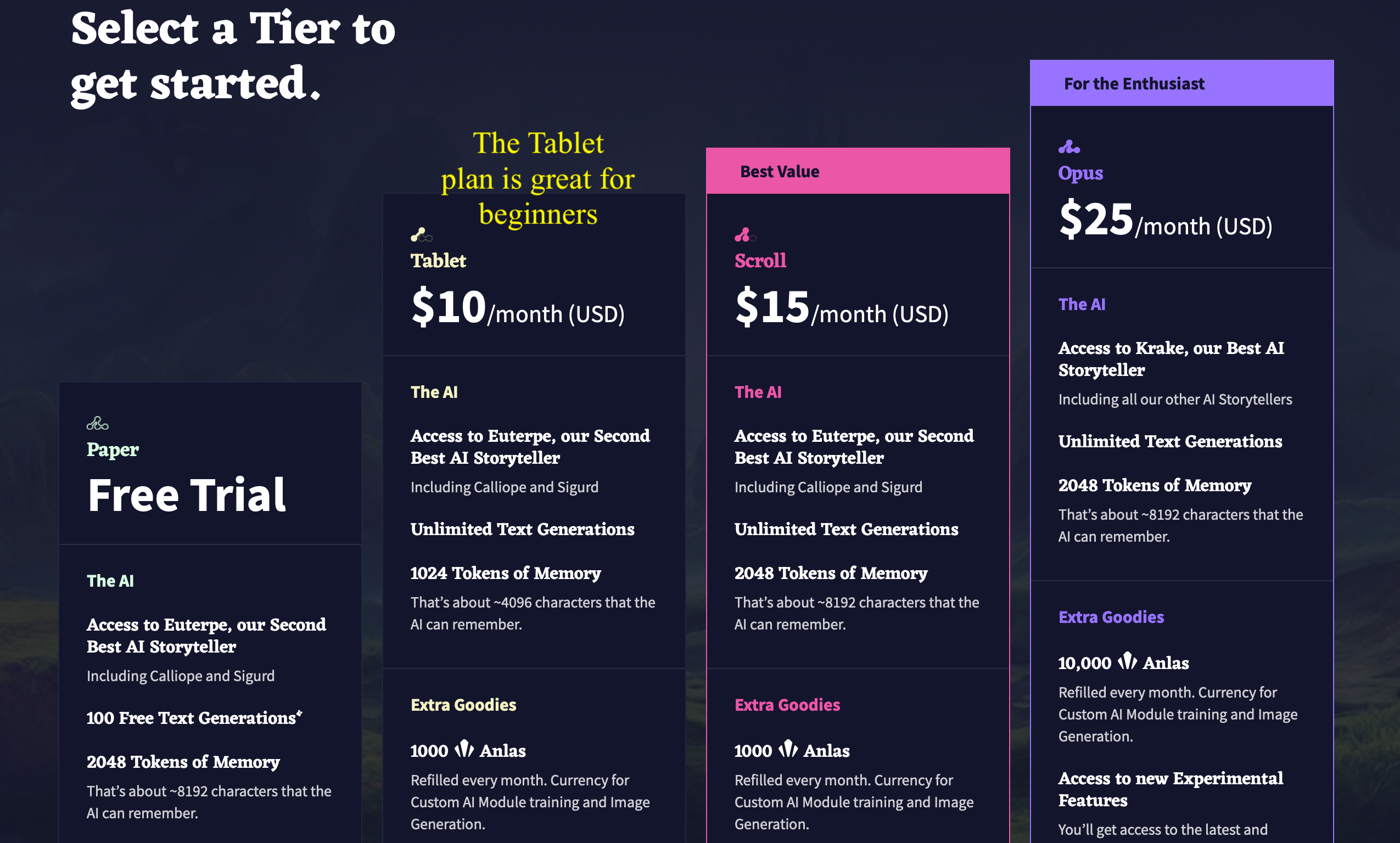 Verdict
Novel AI is one of the best Jasper AI alternatives for creative writers since it's specifically designed for that purpose, and its unique features make writing fun.
Sudowrite
Most Creative

Sudowrite is another creative-story-focused writing app similar to Novel AI. The difference with Sudowrite is that it's great for beginners.
The app is easy to navigate and use and teaches you how to write better by suggesting ways to improve your stories.
Here are some key features of Sudowrite:
Sudowrite Pricing
The Hobby & Student plan is great for beginner writers, with 30,000 AI words per month at $19. Established writers will get a lot of use from the Professional plan, providing 90,000 AI words for just $29 per month.

Verdict
Sudowrite is a great alternative to Jasper for creative writers that want a distraction-free workspace or beginning writers who want to improve their writing skill.
What is an AI Writer?
AI writers are software applications that write for you. They can write everything from blog posts and ads to personal letters and novels. To use one, you give the bot an idea of what you want it to generate, such as "blog ideas to promote dog food" or "a social media post about how AI will change the world," and the app writes you a piece of content that fits that description.
Many AI writing apps give templates that make generating specific content easier.
How Does AI Writing Software Work?
AI writing software uses the power of artificial intelligence to understand language and write content based on a prompt.
AI writers use machine learning to figure out how human language works. They can parse written content, understand its meaning, and then write a natural-sounding, appropriate response.
Considering whether or not to use an AI writer? Here are the benefits:
Why You Should Use an AI Writing Tool
Frequently Asked Questions (FAQs)
Which AI Writing Software is Best for Google Ads?
If you want to write ads, you'll want an AI copywriting tool like Jasper. My favorite Jasper AI alternatives are Copy AI, Writesonic, Hypotenuse, and Copysmith.
Is There a Free Alternative to Jasper AI?
Rytr is a great low-cost AI writer and Jasper AI alternative with a generous free plan.
Which is Better? Copy AI or Jasper AI?
It depends on your use case. I find Jasper AI to have better writing quality and more versatility overall—not to mention its ChatGPT-like Jasper Chat and AI image generator—but Copy AI has more templates and a better blog post generator.
What AI Writer is Better Than Jasper AI?
It all depends on your use case. Check out this full article to see my top choices for Jasper AI alternatives.
How Much Does Jasper AI Cost?
Jasper AI starts at $59 a month for 50,000 words and goes up from there. If you're looking for Jasper AI alternatives, see my full article for more.