10 Best Digital Planners to Supercharge Your Productivity
Last Updated on March 21, 2023
It's time to get organized. Whether you've got reminders, to-dos, and calendar events all over the place and feel frazzled trying to keep everything under control, or you're simply looking to replace your paper planner with a digital one, I've got you covered.
This is the best roundup of digital planners you're going to find. Why? Because I'm not just listing up PDF planners, I'm bringing you the very best cutting-edge digital planner apps that are going to cut your planning time in half, plus make it way easier to stay calm and get things done during your day.
(Side Note: If traditional planners are more your style, I've also picked up some of the best PDF-based digital planners, which you'll find in the second half of this article.)
Ready to find your next digital planner and finally get organized without the paper trail?
Let's dive in.
Motion
Trevor
Sunsama
What is the Best Digital Planner?
As mentioned before, here's the breakdown of the five best digital planners. But if you scroll, to the bottom half of this article, you'll find the best PDF digital options as well.
Best Digital Planner List:
1. Motion
All-In-One AI Scheduler

This ain't your grandma's paper planner. Motion is an all-in-one to-do list, calendar, and meeting scheduler that takes all the stuff you need to do and automatically fits it into your schedule based on the due dates you've set, the priority of each task, and the events you've already scheduled in your calendar.
If events get moved around or things take longer than normal, no sweat—Motion automatically shuffles your tasks around to ensure everything gets done on time, even letting you know when you're overbooked.
It's like having a personal assistant taking care of your digital planning—who never sleeps or takes a day off.
Here's what I like about Motion:
Motion's Pricing
Subscribe to the Individual plan for $34 a month or sign up your team for $20 per user per month, which includes task sharing among your team members. The app provides a 7-day trial to test it out before you commit.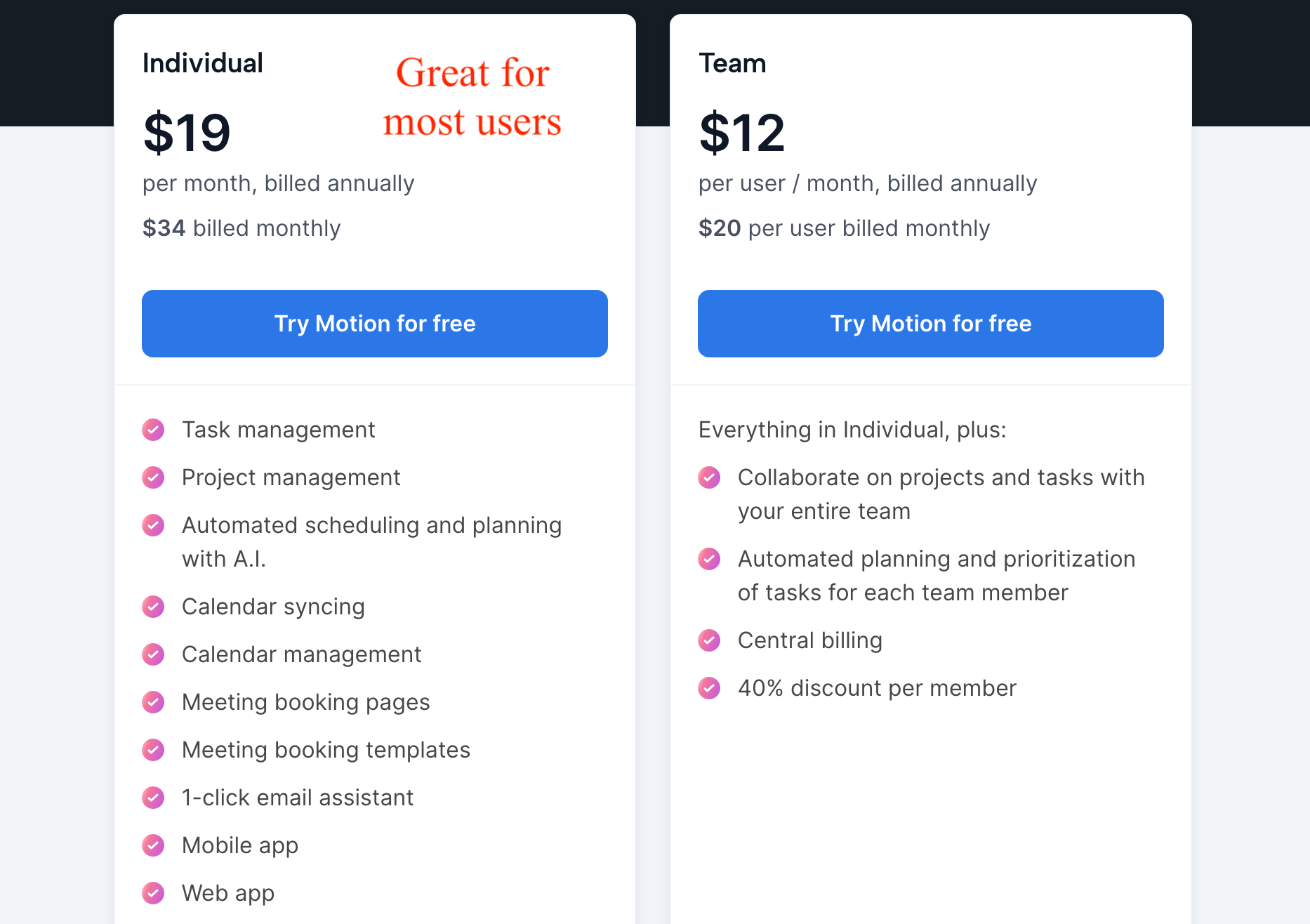 Motion's Verdict
Motion is the perfect planner for someone who wants to get more stuff done without having to write everything down and then rewrite when the schedule goes haywire. But since it doesn't integrate with other task management tools, it's best for people who are looking for just one app to manage their tasks and schedule.
2. Reclaim
AI Scheduler for Teams

Like Motion, Reclaim is a powerful AI-based planner that automatically plans out your workday based on the tasks you want to finish and the events in your calendar. The great thing about Reclaim is that it integrates with tons of different apps like Slack, Zoom, Todoist, Asana, and ClickUp, so it can pull in your tasks from many different places and schedule them on the fly.
The aim of Reclaim, as the title goes, is to win back your time and make it more intentional, so the app prompts you to schedule regular "habits" like exercise or blog writing that often get pushed to the end of a busy week. Instead, Reclaim works to prioritize those habits first and schedule your tasks around them, so you can make time for them.
Here's what I like about Reclaim:
Reclaim Pricing
You can use Reclaim for free just for time blocking without advanced features. Upgrade to the Pro plan for $8 a month and get unlimited habits and calendars, or choose the Team plan for $12 to get all the integrations and the ability to schedule meetings with AI.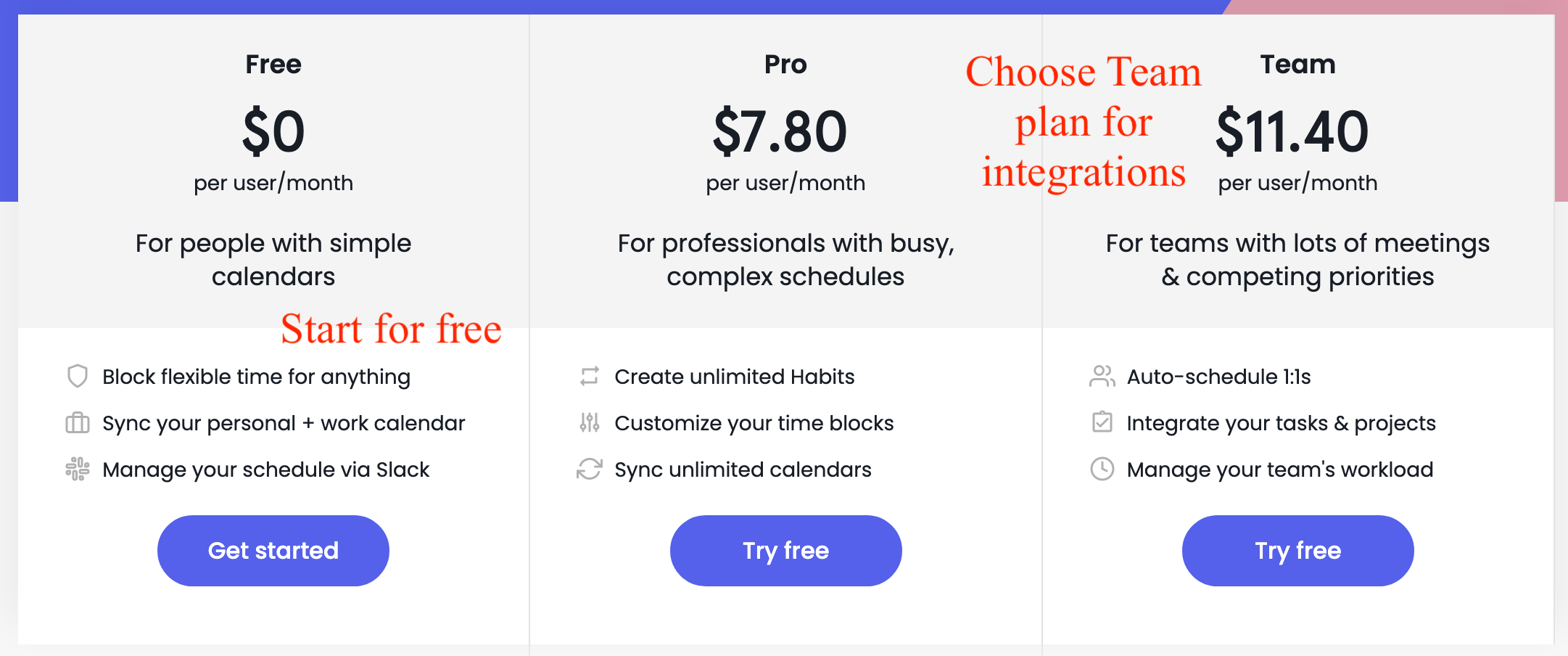 Reclaim Verdict
Reclaim is for productivity-minded individuals who already keep their tasks organized inside of an app and want to connect their smart digital planner with their existing to-do lists. It's also for people who want to build healthier habits or find time for a side project amid the craziness of each day's tasks.
3. Trevor
Budget-Friendly AI Scheduler

So you want to get the benefits of an AI-based digital planner app but don't like the high price point of Motion and Reclaim? If so, you definitely want to check out Trevor, a budget-friendly AI scheduler and planner that can dramatically reduce the time it takes to plan your day for less than the price of a latte.
Here's where Trevor shines:
Trevor Pricing
You can make use of Trevor on the free plan, which gives you the ability to connect to one Todoist account and one calendar and time block with basic AI features as much as you want. Upgrade to the Pro plan for advanced features and to have the AI learn from your scheduling habits for just $4 a month or $30 a year.

Trevor AI's Verdict
Looking for a budget-friendly AI-powered planning app? You've got to check out Trevor.
4. Sunsama
Distraction-Free Digital Planner

Sunsama is a digital daily planner that helps you decide what to focus on and gives you a single checklist for your day in a distraction-free format.
While it doesn't schedule tasks for you, it does bring in different feeds like calendar appointments, email, Slack messages, and to-do list apps in one place that you can drop into a shortlist of tasks for your day.
The genius of this app is that it asks you to set the time you think each task will take. It calculates the total time it'll take to finish everything and then compares that with the actual time you have during the day. Then you can remove tasks that aren't a priority and adjust so everything fits.
When you're finished, you've got a short list of tasks that covers everything you need to worry about for the day, so you can focus on just finishing that list and not looking at anything else.
Here's what's great about Sunsama:
Sunsama Pricing
Sunsama costs $20 per month to use, but you can take it for a test drive with a 14-day free trial.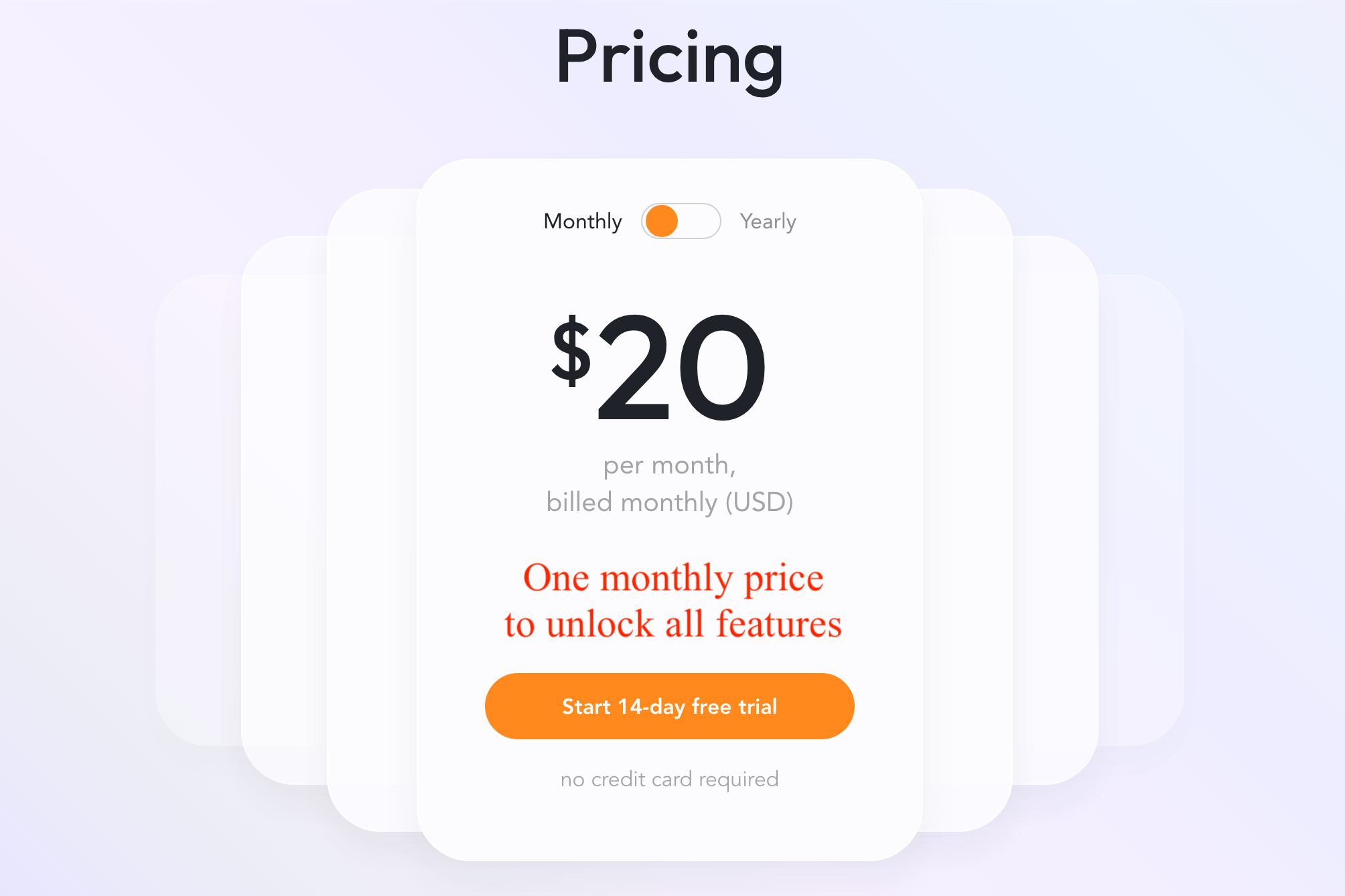 SunsamaVerdict
Sunsama is a great digital planner tool for people who want to plan their own schedule but make it as easy as possible. It's also great for people who easily get pulled off course by checking different apps and want to have a single to-do list without any distractions.
5. Akiflow
Smart Time-Blocking Assistant

Akiflow is an up-and-coming digital daily planner app that brings in tasks from multiple sources, like Google apps, task managers, calendars, and a couple thousand more apps, consolidating them into a single feed so you can plan your schedule with everything that's demanding your attention that day.
While it doesn't have the flashy AI features of other apps, it provides a simple solution for busy professionals who are overloaded with different apps and feeds and who want to make sure everything gets done.
Here's what Akiflow gets right:
Akiflow Pricing
Akiflow costs $25 a month for the Premium plan. Test it out with the 7-day free trial.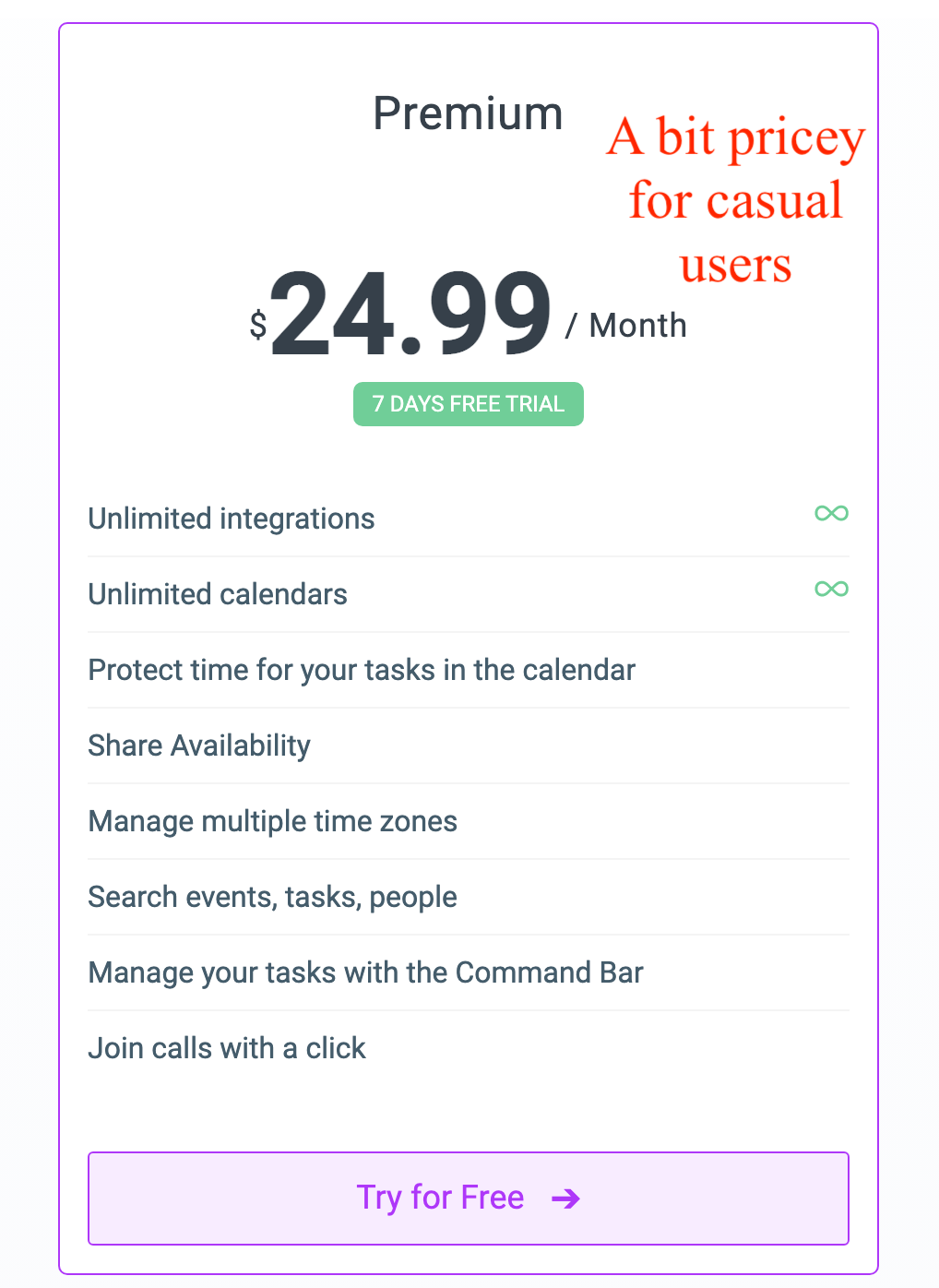 Akiflow Verdict
Akiflow is a simple solution for people who have lots of information coming at them from different places and want to manage all of their responsibilities in one place. And it's great for people who don't want the hand-holding of apps like Sunsama.
Best PDF Digital Planners
Don't want a smart digital planner? Love to write to-dos by hand, cross things out, and enjoy a paper-like experience on your digital devices? If so, PDF digital planners are the solution for you!
I searched through the top-rated PDF-based digital planners available online, and here are the gems I found:
1. Premium Digital Planner by AmethystGarnet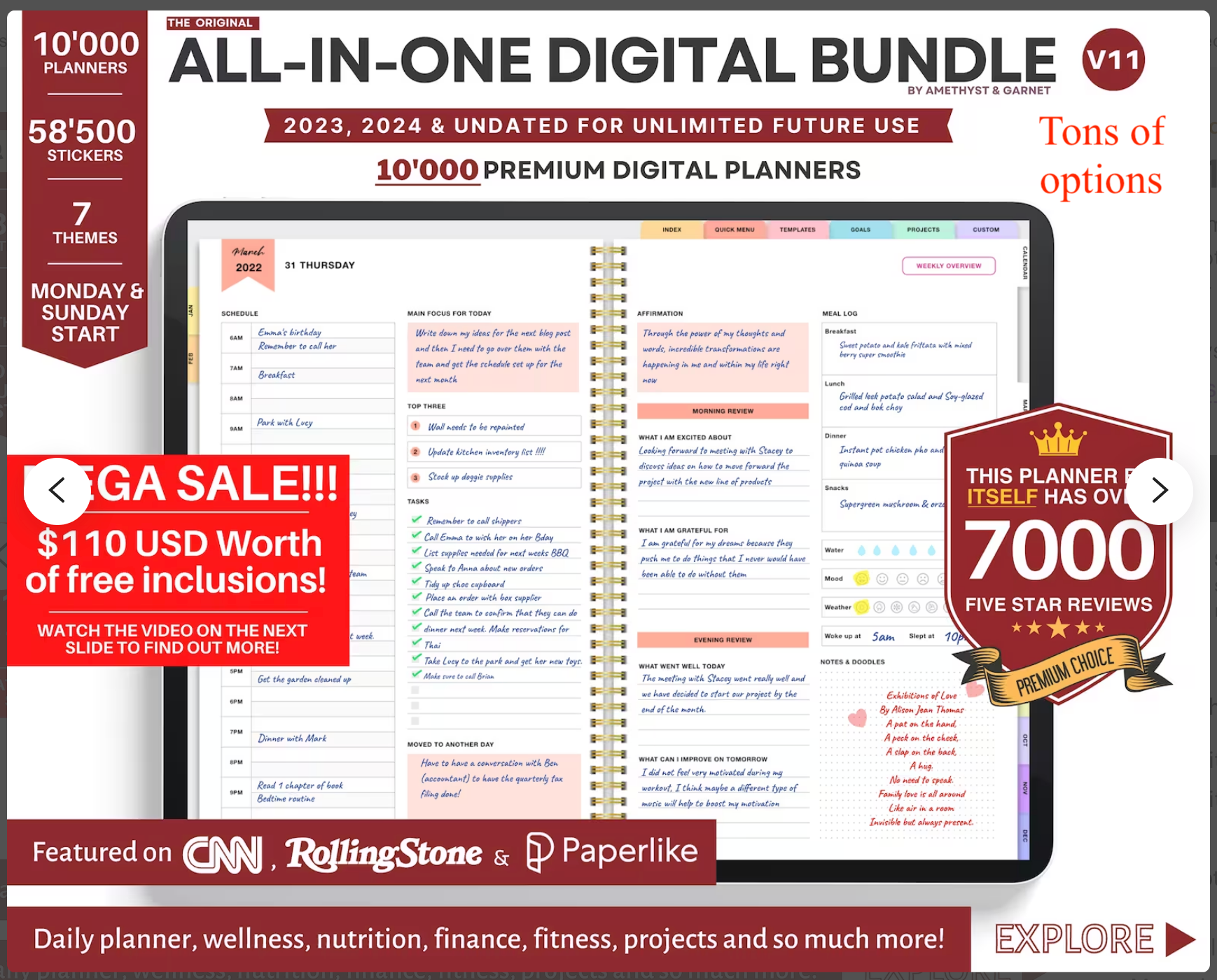 This is the most raved-about digital planner on Etsy, with more than 7,000 reviews and counting, all adding up to a 5-star rating. It features 10,000 digital planners for wellness, fitness, business, finance, and more.
You can customize the planner with more than 50,000 stickers and 7 different themes (including rainbow, pastel, jewel tones, and neutral). Plus, it includes an undated digital planner that you can use forever.
2. Digital Planner by HappyDownloads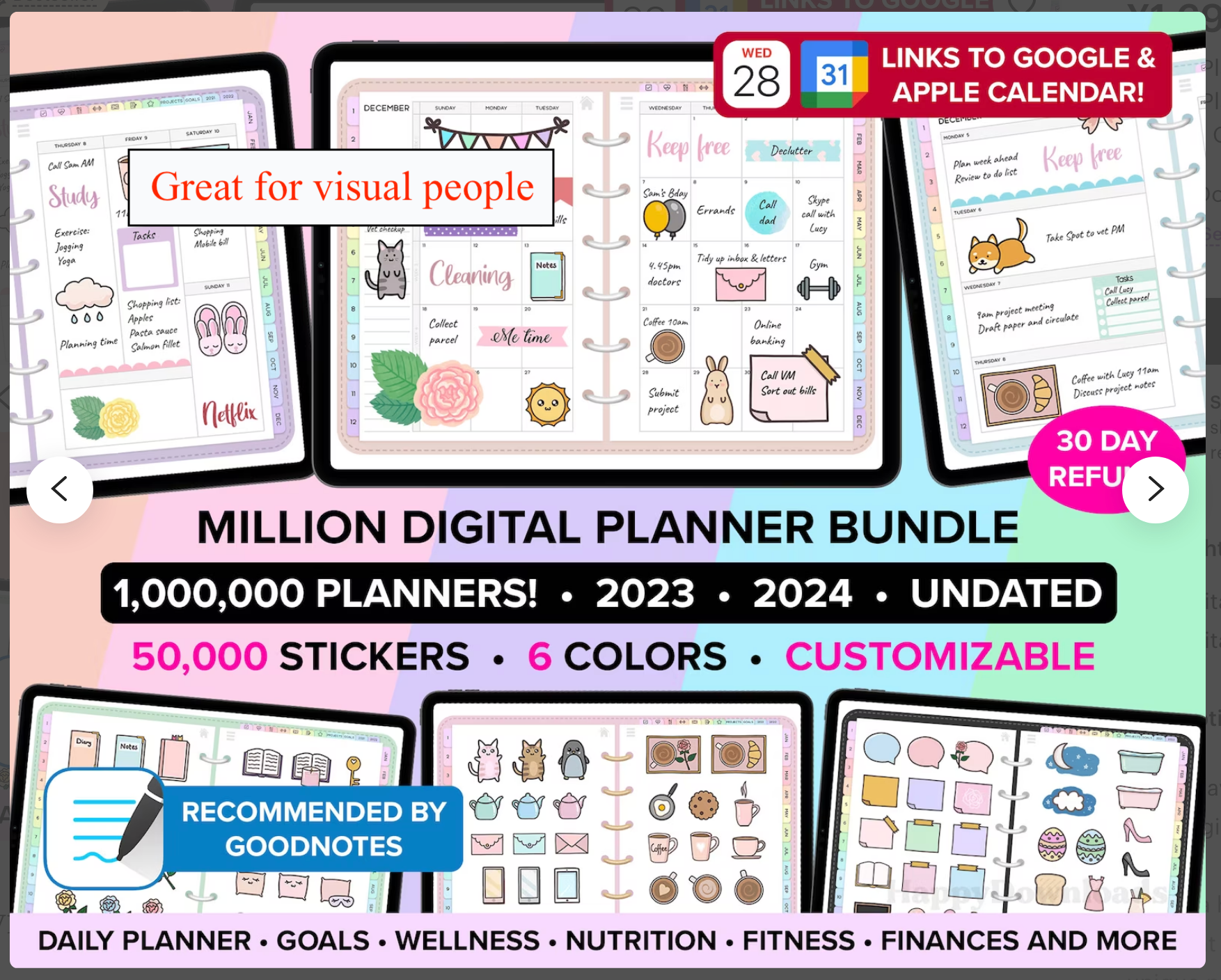 This was the second-highest-rated digital planner on Etsy, and for a good reason. Its customizable planners give you 1 million(!) different options for your daily planner pages (think gratitude journal, mood tracker, meal planners, habit tracker, and more), and it's great for visual people with its rainbow colors, fun stickers, and 500 covers to choose from.
You can also find extension packs for other types of planners, like a travel planner, student planner, business planner, and more, from the same shop.
This planner also allows you to set reminders in your Apple or Google Calendar for things you've scheduled, giving you the best of both worlds. And it comes with an undated version, so you can use it every year.
3. Custom Digital Planner by Plannerscollective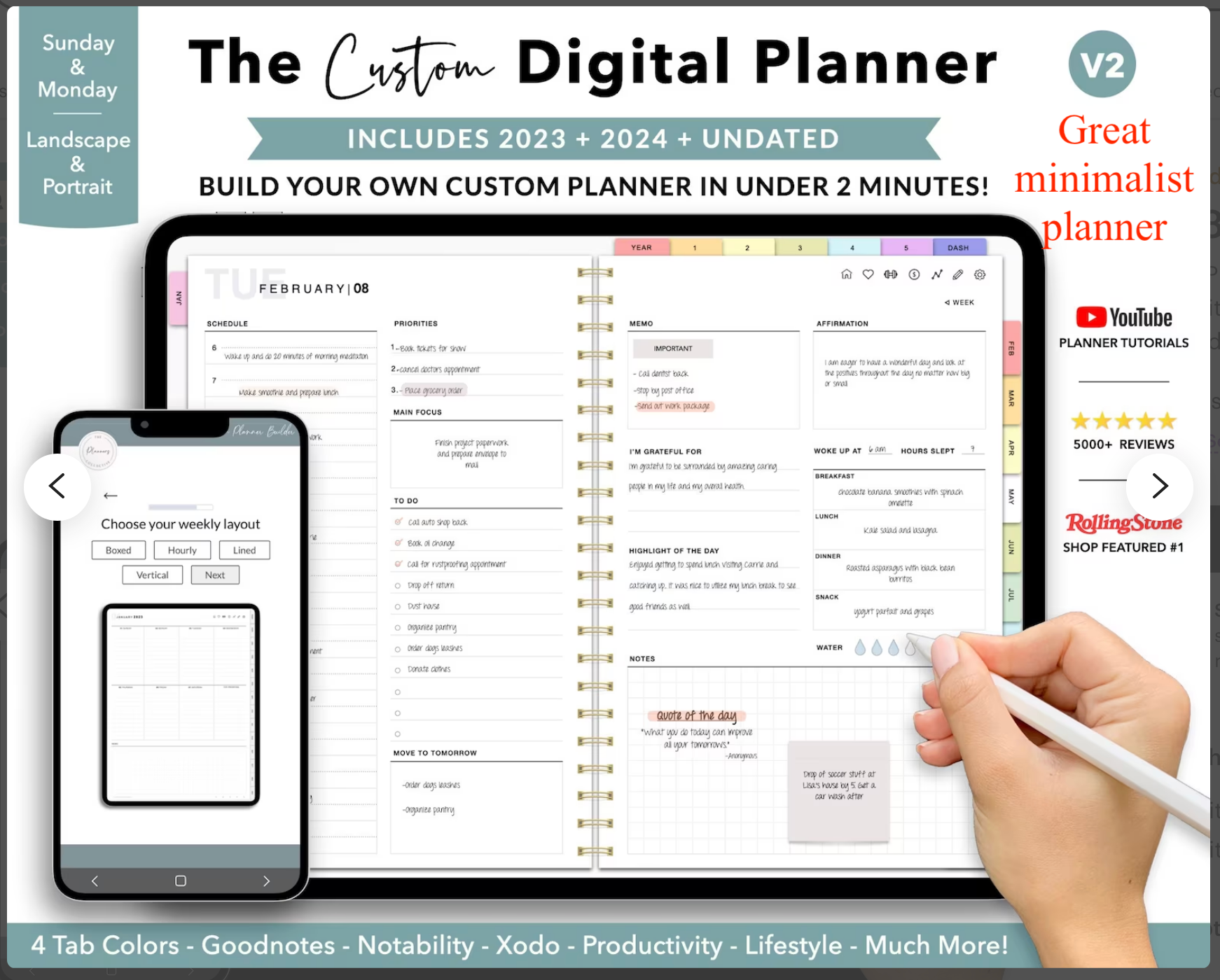 This digital planner by Plannerscollective is a beautiful minimalist planner with a ton of options for templates and custom pages. You can track every area of your life with pre-designed pages and 10 different blank page designs, plus more than 2000 stickers and a ton of custom covers.
You can customize the colors of this planner, but it's a more minimalist design without the cutesy stickers or bright colors of the other options. It comes with an undated version, so you can use it again and again.
4. ADHD Digital Planner by FutureADHD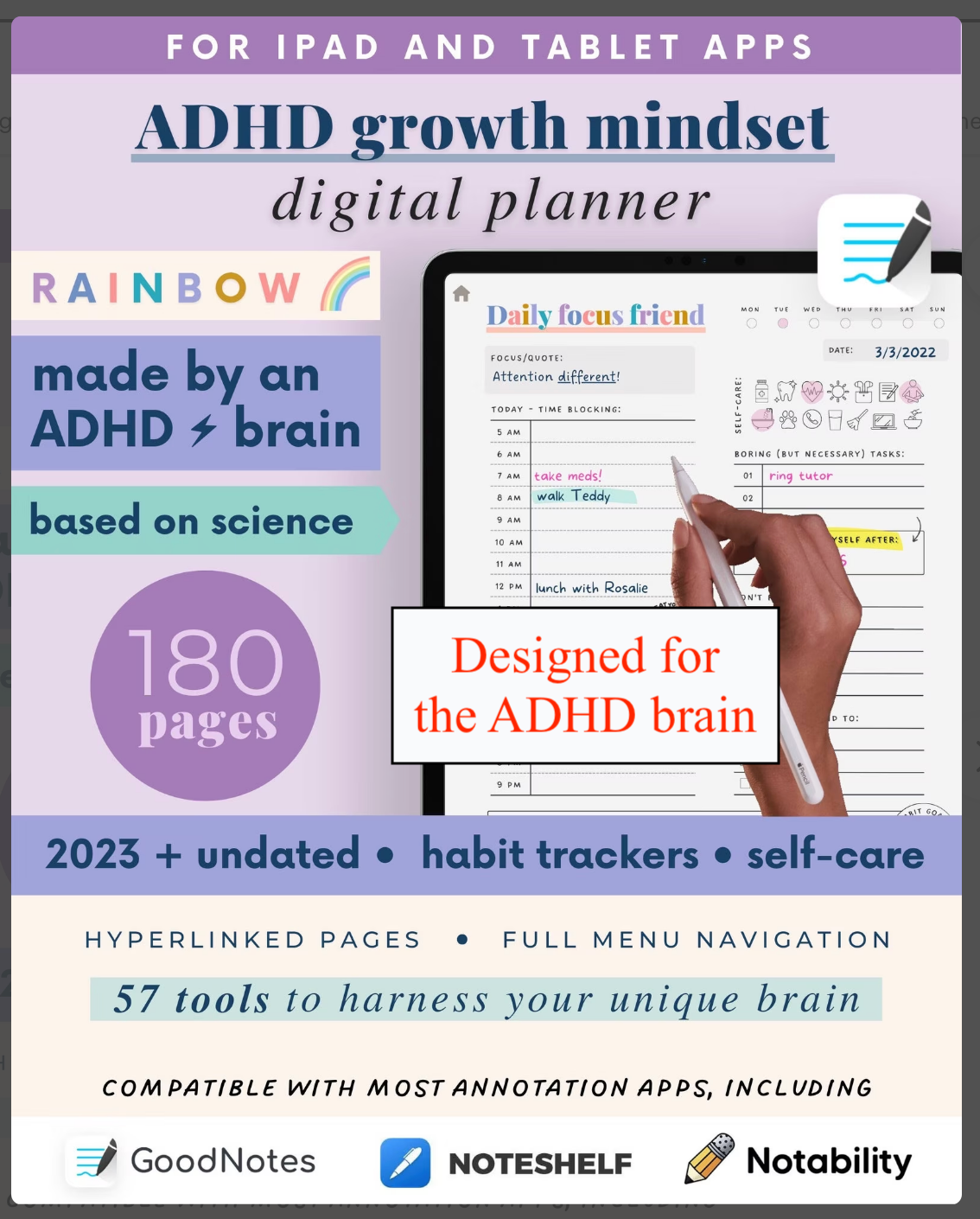 This was the top-rated ADHD-optimized planner on Etsy. Designed by an ADHDer, it has tons of helpful features for an ADHD brain to stay organized, complete with scientific explanations for each design choice. If you're neurodivergent, it's worth checking it out to see if it works for you.
This planner also includes free lifetime updates, so you can get a new, dated version every year.
Digital Planner with Reminders by MyDailyPlanners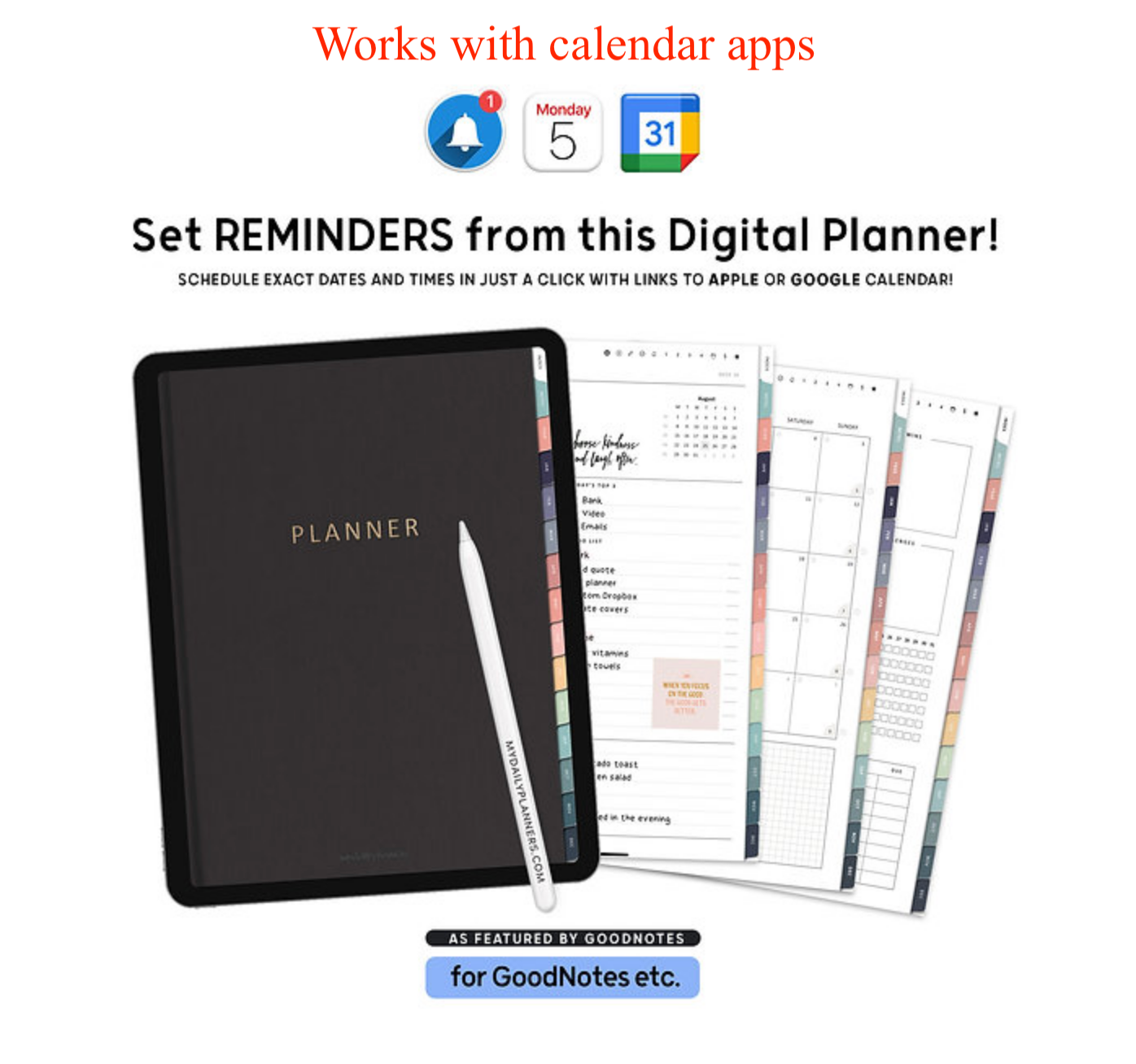 This planner was recommended by the GoodNotes app, a popular app for writing in digital planners. This one works with GoodNotes and allows you to set reminders in Google Calendar and Apple Calendar.
It features monthly pages, weekly pages, daily pages, and a dozen or so more sections for different types of tracking and note-taking. If you love GoodNotes and want a simple but beautiful planner, check this one out.
What is a Digital Planner?
A digital planner takes the traditional concept of a paper planner (a helpful tool that allows you to plan out your tasks and appointments) and makes it digital!
Digital planning can be done in two ways: through the use of a smart digital planner app, like Motion, Reclaim, or Sunsama (reviewed above), or with a PDF-based digital planner (basically a paper planner layout in a digital format, with tabs, links, and other digital features).
Whether you use a smart planner or a traditional-style digital planner is up to your personal planning style. If you're looking for suggestions, I've reviewed the best digital planners in both categories in the sections above.
So why go digital in the first place? Why not stick with a paper planner?
Why Use a Digital Planner?
There are a ton of benefits to going digital, including:
That said, I have a special place in my heart for smart digital planners, especially those that use AI. I am an AI and automation tech blogger, after all. Digitizing your daily calendar is right up there with digitizing your networking habits (like a digital business card).
What is a Smart Digital Planner?
A smart digital planner is a type of digital planner that uses tech like AI, machine learning, and task management functions to keep track of your to-dos and appointments and sometimes even schedule them into your calendar for you (in the case of AI-based planners).
Some of my favorite smart digital planners are Motion, Reclaim, and Trevor.
Now here's why you should consider using a smart digital planner, in my humble opinion:
Why Use a Smart Digital Planner?
Frequently Asked Questions (FAQs)
What's the best digital planner app?
I recommend Motion, Reclaim, or Trevor, which automatically schedules your tasks and appointments into your calendar using AI. I use Motion as my personal planner, and I love it.
What is the best free digital planner?
Trevor and Reclaim are free digital planner apps. Paperlike offers a free PDF digital planner that looks really good.
Are digital planners worth it?
Yup! Digital planners are always available through all your devices, don't get lost or damaged, and save you time by using digital tools to simplify your planning flow!
Do you have to buy a digital planner every year?
Nope, if you buy an undated digital planner, you can reuse it year after year!